(Last updated on December 10th, 2021)
Adobe Premiere Pro CC or After Effects CC, which editing software is better in 2021?
See our complete review and get the ultimate comparison between the two to help you decide which one is the best editing platform for YOU.
Premiere Pro and After Effects are two widely used applications in the video production and film industry. They are different tools for different functions. Premiere Pro is an expert video editing application that has become the industry standard in recent years. After Effects is a compositing tool that is used for advanced visual effects and graphics.
In fact, both tools work together quite well. Video is generally edited in Premiere Pro, then seamlessly transferred to After Effects via dynamic link. In After Effects, the compositing work that is done will automatically appear in your Premiere timeline without having to transfer back and losing valuable pixels. 
Related: Premiere Pro vs Premiere Rush | Which One To Pick? (2021)
However, both applications can be utilized in similar ways for different types of users. We used both of these applications extensively, read over hundreds of customer reviews, and put together a comparison that, despite it being a close call, reveals a winner.
Comparison at a Glance
1. Interface
Winner: Premiere Pro. When booting up, Premiere Pro will look a bit more user-friendly and functional than After Effects. This is only emphasized when using the programs. Most beginners think with a non-linear editor's brain, rather than a compositor or animator's brain. The interface of Premiere will have the average person churning out videos on day one. Whereas After Effects will need some serious tutorial watching and trial and error.
2. Ease of Use
Winner: Premiere Pro. Because of its more user-friendly interface, Premiere Pro wins the ease of use category. This non-linear program was designed for editors to get hooked into using it. And once you start using it, you will! After Effects, on the other hand, has a serious learning curve. But once you're over that hump, After Effects becomes a more powerful machine in terms of advanced visual effects.
3. Basic Effects
Winner: Premiere Pro. Most effects that After Effects can do, Premiere can do as well. Granted, the effects aren't as good on Premiere as After Effects, the average editor will have everything they want at their disposal with the single application of Premiere.
4. Advanced Visual Effects
Winner: After Effects. Here's where After Effects steps up to the plate. With tools like Keylight and Rotoscoping, After Effects has the ability to create 3D motion graphics, whereas Premiere doesn't. After Effects also prides itself on advanced text animation and graphics. While it's true that Premiere can do most of the things After Effects can do, After Effects does them better.
5. Animation
Winner: After Effects. First of all, cartoon animation is possible with After Effects and not with Premiere. But as far as other animation, like text and motion graphics, After Effects is superior to Premiere.
6. Text
Winner: After Effects. After Effects is at its best when it is used with Premiere. Premiere does the editing and After Effects does the text and visual effects. While Premiere can do a lot with text, After Effects is a total winner on this front. After Effects even has the ability to add 3D motion to text.
7. Workflow
Winner: Premiere Pro. To edit efficiently, Premiere Pro holds all of the cuts and edits while After Effects adds the visual effects. Using Adobe's Dynamic Link, Premiere Pro and After Effects can be used seamlessly. So much so that every change and effect you make with After Effects, the change will also be reflected in Premiere.
8. Pricing
Winner: Tie. The pricing here is a tie, as both programs cost $20.99 per month and $399.88 per year. There is also student, teacher and business pricing available.
Short Verdict
Premiere Pro is our winner. The power of the tools you get with Premiere are above and beyond what the vast majority of any editor would need. The motion tracking, stabilization, color correction, audio engineering, basic motion graphics and visual effects make this editing platform the most versatile in the industry.
After Effects, in its own right, is a compositing tool used for advanced visual effects. This means that if you're seeking a more specialized visual effects application, After Effects might be the right application for you.
Get a Special Discount On Our Top Picks!
---
BEST OVERALL PICK FOR PROFESSIONALS
---

Adobe Creative Cloud
Get all 20+ creative apps and services for photography, design, video, UX and more.
at adobe.com
---
BEST FOR PROFESSIONAL VIDEO EDITING
---
Adobe Premiere Pro
Quite simply the best video editing software on the planet, used by professionals.
at adobe.com
---
BEST FOR MOTION GRAPHICS & VISUAL EFFECTS
---
Adobe After Effects
The industry-standard motion graphics and visual effects software out there.
at adobe.com
---
1. Interface
The interfaces of Premiere and After Effects are different and specialized. Because both can be manipulated in a way that best suits you, these applications really serve the user best.
Here's what the Premiere interface looks like in its editing view.
You can see the four main panels: Source, Program, Project, and Timeline. From the bottom left project panel, you can take your clip into the upper left source panel and manipulate the footage before putting it into the bottom right timeline panel. Wherever your cursor is on the bottom right timeline panel, you see in the upper right program panel.
Between these, you have the tools for easy access. The interface makes sense to a first time user after a short time of toying around, or even after a short tutorial.
Here is the After Effects Interface: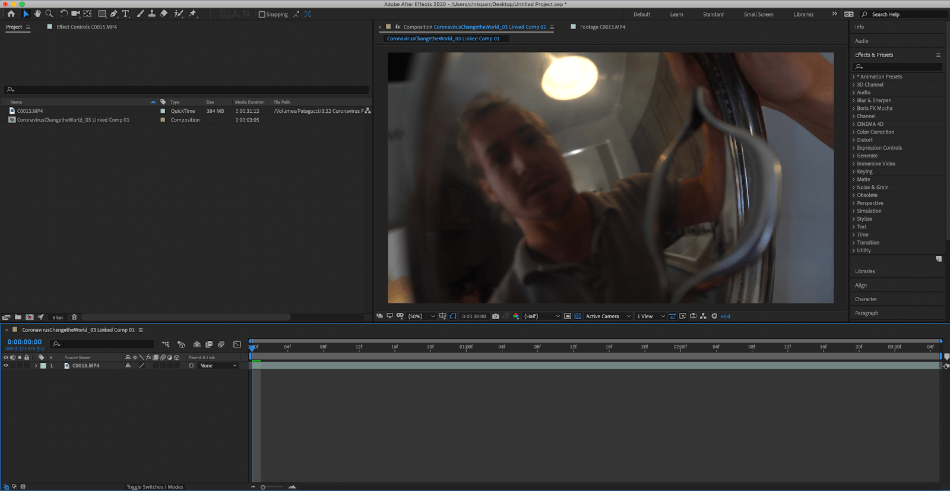 You can see a slightly similar interface, also with four main panels. This time you have the upper left project panel, the bottom timeline panel, the upper middle composition panel, and the upper right effects panel.
The difference in After Effects is that the interface is designed for compositing use. This means that you can manipulate the footage in the composition panel, as well as in the timeline panel. The bulk of manipulation in Premiere is done in the effects panel, whereas you see what you're doing in the program panel.
All in all, the interfaces of each are specialized for their uses. Premiere in editing and After Effects in compositing.
Winner: Premiere Pro
2. Ease of Use
Premiere Pro is the clear winner here. While Premiere is an editing application, primarily used and designed for experts or professionals, it can still be used by beginners. In fact, after initial bootup and a few minutes of playing around with it, a first timer could edit the very basics.
After Effects, on the other hand, would take much more time for a first timer to pick up and use effectively. Fortunately, because it is a heavily used program, there are hundreds of tutorials available, some for a very discounted rate or for free on Youtube.
This can be explained by who it is designed for. The user is what drives each Adobe program and how it functions. Premiere Pro for its editors and After Effects for its visual effects and animators.
Premiere is very well designed for beginners to get started using the platform but also for that same person to grow and evolve into using more and more advanced editing techniques. Because the program evolves with you with its frequent updates, as long as you are using the platform somewhat frequently, you will not only keep up with the updates but learn and grow with it.
Winner: Premiere Pro
3. Basic Effects
Premiere is known for its effect integration, as well.
One of the most used effects for beginner filmmakers and experts alike is the warp stabilization effect. This effect can be customized in a way that stabilizes footage to limit any warping around the edges.
Another effect commonly used within Premiere that packs a punch is Lumetri Color. This color correction tool is almost as powerful as a professional color correction software. It even has its own tab for a unique and custom interface. Lumetri Color also has built-in luts that can be matched for just about every camera in the industry, from beginner DSLRs to cinema cameras.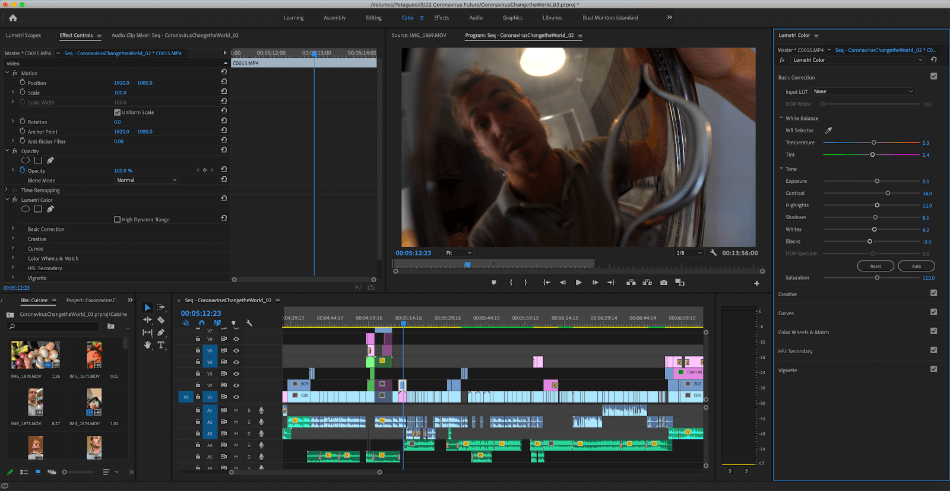 One aspect of all effects on Premiere is keyframing. This allows for all effects to be manipulated and animated. Its simplest use comes with opacity, or fade. You can set a keyframe to be 100% opacity, then 0% opacity 2 seconds later. This will fully fade out the footage in 2 seconds. Now consider applying that same effect, not to opacity, but to motion. This animates just about anything you'd want. And add in their "fade in" and "fade out" effects, it makes for smooth animation.
After Effects obviously has all of this and more. But that requires taking the footage into After Effects, to begin with. Premiere is the winner here because all of these effects can be done in one program. That being said, the basic effect tools in After Effects are superior but more complicated to use and result in laggy playback for your standard computer processor.
The basic effects of After Effects aren't really available, as many of its tools are designed for specific and advanced use. There are, however, plugins available that make the learning curve much shorter so you can tap into those advanced effects with a basic understanding.
Winner: Premiere Pro
4. Advanced Visual Effects
Here's where After Effects truly shines. The advanced visual effects are so much better than Premiere's that one commonly used technique is to take the footage you are editing in Premiere to After Effects via Adobe's Dynamic Link. You can do this by right-clicking a clip or sequence of clips and choosing "Replace with After Effects Composition." This will automatically open up After Effects with the clips that were highlighted.
The visual effects in After Effects are astounding. The green screen keying is industry standard in After Effects. With the utilization of the Keylight effects in After Effects, one has total control of the chroma key. Compared to Premiere's ultrakey, Keylight takes the cake.
Another effect in After Effects that is powerful and commonly used is the rotoscoping tool. Here, you can select pixels that you want to isolate and add effects to. You can simply do this by selecting the pixels in each frame, but After Effects rotoscoping will track and isolate the necessary pixels of the subject you select in the first frame. Obviously, without a flat background, there will be some minor manual adjustments necessary, but After Effects will do the bulk of the work for you.
The motion tracking within Premiere is pretty good, but it doesn't stand a chance against After Effects. You will have to take the footage into After Effects via Dynamic Link and suffer the lag, but the tool is far superior.
Another tool that is a little known secret is the transparent export feature in After Effects. Here you can export a video with a transparent video that can be used for further editing in any platform you choose, not just Premiere.
The 3D effects in After Effects are also astounding. This can be compared to Motion for Apple's Final Cut Pro. But it's even better! Here you can make impressive text effects, as well as advanced animations. We'll get to that next!
Winner: After Effects
5. Animation
While it is possible to do basic animation in Premiere Pro, very few people use the software for that purpose. 2D text animation and basic motion graphics are great with Premiere, but anything more advanced, and you'll quickly run into trouble.
After Effects, however, is an animation and compositing workhorse. Even cartoon animation is possible with After Effects.(click here for AE animations)
The keyframes and expressions that are utilized in After Effects make advanced animation possible. It does take a little getting used to and expertise build-up, but to have a software that you can create industry standard animation with at your fingertips is pretty remarkable.
Winner: After Effects
6. Text
Working with text in After Effects is a primary reason many users get the program. Because you can take footage from Premiere into After Effects via Dynamic Link, putting text on clips is a breeze.
The reason After Effects is more powerful at text placement is that it isn't limited to 2D animation like Premiere is. With After Effects, you can do text animation in 3D, even utilizing the 3D motion tracking effect with existing footage.
Premiere does have more than enough text effects to satisfy the average user, but an easy way to take your projects to the next level is with the animations After Effects allows you to create.
Winner: After Effects
7. Workflow
Workflow is the process of getting from a completely unfinished project to a final product. Because After Effects and Premiere have different functions, the workflow is also different.
Premiere's workflow is pretty simple compared to After Effects because editing a timeline is simpler than editing and compositing a project. After Effects can be clunky when cutting a clip and keeping together the audio and video. It is best used when in tandem with Premiere Pro.
Because the workflow is simple in Premiere, the most efficient system is to edit your project in Premiere and transfer the clips you want to After Effects via the Dynamic Link. That way, half of your workflow is already completed right when After Effects opens up. Then you can use the program for what it was designed for.
This symbiotic relationship between Premiere and After Effects is best utilized when you use both programs for what they were designed for.
Winner: Premiere Pro
8. Pricing
| Product | Regular Price | Discounted Price |
| --- | --- | --- |
| Adobe Creative Cloud | $52.99/month | Check here |
| Adobe Premiere Pro | $20.99/month | Check here |
| Adobe After Effects | $20.99/month | Check here |
Premiere wins this contest, hands down. That is because, in order to properly use After Effects, you will also need to have Premiere. But, let's say you are strictly an animator and/or compositor. Premiere and After Effects are the same price at $20.99 per month. It's either that or $239.88 per year.
If you're worried about pricing, then it's probably most important that you have Premiere as a program, as editing and basic effects will be your priority.
If you want access to the other Adobe Creative Suite applications like Photoshop, Lightroom, Illustrator, InDesign, Animate, Dreamweaver, and Audition, they have a subscription plan for that as well. This price would be $52.99 per month or $599.88 per year.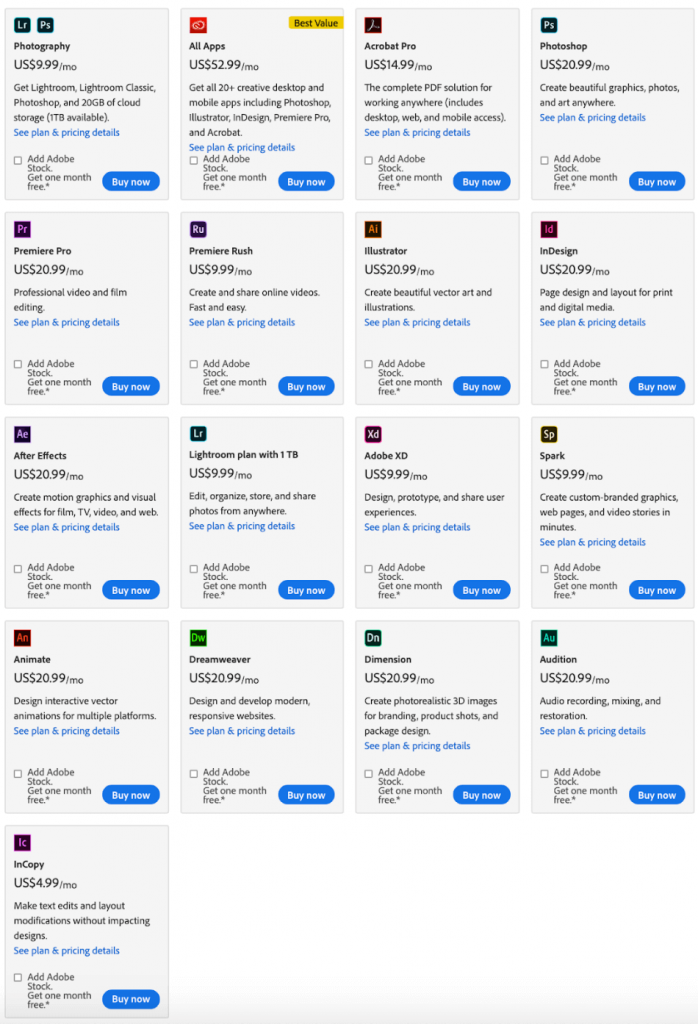 There are student plans that are significantly lower in price. There are also teacher, school and business plans as well.
Winner: Tie
Final Thoughts
After Effects and Premiere, while somewhat similar in interface, differ greatly in function. They are best when working in tandem via Adobe's Dynamic Link. Premiere Pro is the industry standard in editing video and film, while After Effects is the industry standard for visual effects and text animation.
Premiere Pro does have the ability to do many of the functions that After Effects has, just not as advanced. Because of this, if you're a professional filmmaker or editor, it is in your best interest to have both of these programs at your disposal.
However, if you're a beginner, then it's better to start with Premiere Pro as an editing platform and upgrade to get After Effects if you're in need of more advanced compositing.
Chris is an LA-based filmmaker and video editor who has a passion for writing and creating video content. He has produced and edited a wide variety of projects, most notably his documentary series "Off the Cuf," which explores the world's most fascinating and obscure communities. He has over 10 years of experience under his belt and is known for explaining complex concepts in simple, easy-to-understand way.
He is extremely familiar with all the top video editing software out there such as the Adobe Premiere Pro, Adobe After Effects, Final Cut Pro, iMovie, Adobe Animate, and DaVinci Resolve. Chris also has extensive know-how of top graphic design & photo-editing tools, including Photoshop, GIMP, Canva, Snappa, and more.