(Last updated on January 9th, 2023)
We looked at both programs, comparing their strengths and weaknesses against each other. Read this in-depth Adobe Illustrator vs. Procreate comparison to find out which program is right for you.
Procreate and Illustrator have been looked at for how well they work for graphic design projects. Both apps will be judged in terms of their features, pricing, and more. For each area, they'll be rated on a scale of one to five.
Overview of Procreate
Procreate was designed to work exceptionally well with the iPad Pro and Apple Pencil workflow. The precise pressure sensitivity, user interface, and extensive brush collection make this program an excellent choice for digital illustration.
Pros
Cheap price with a one-time cost.
Low learning curve that it's perfect for beginners.
Works well with iPads for the Apple Pen support.
Cons
Not as ideal for making logos for not being a vector-based app.
Only works on iPad and iPhones.
Not as much of an industry-standard app.
Overview of Adobe Illustrator
Adobe Illustrator is a vector-based program, great for creating assets that need to be resized repeatedly, like logos, mobile designs for various device sizes, posters, flyers, typography, and more.
Pros
An industry-standard application used in various industries.
Vector-based graphics are ideal for creating logos, print projects, and web graphics.
Works well with other Adobe applications such as Photoshop.
Cons
Expensive price for $20.99/monthly that will add up over time.
Not as ideal for detailed illustrations considering it's a vector-based program.
Steep learning curve.
The Short Verdict
Both Adobe Illustrator and Procreate are fantastic programs with a ton to offer, specialized for different needs. If you need to create a logo or resizable graphic, use Illustrator. If you want to paint digitally with real-life textures, Procreate is the right program for you.
Comparison At a Glance
1. Features
Winner: Tie. Both Procreate and Illustrator are loaded with great features for their software focus. Procreate is fantastic for digital illustration, while Illustrator does anything and everything vector.
2. Pricing
Winner: Procreate. Procreate wins for pricing. The app only costs $9.99 via the App Store, versus an endless subscription required by Illustrator.
3. Illustration
Winner: Procreate. Procreate wins as a great illustration app. The painting set up is natural, with tons of brushes and tools that make sketching and painting so easy to work with.
4. Logo Design
Winner: Adobe Illustrator. Illustrator is much better than Procreate to create logos. Why? The program is vector-based, meaning you can resize the logo to any resolution, making it ideal for branding assets.
5. Compatibility
Winner: Adobe Illustrator. Illustrator is available for both Mac and Windows and works across iPad, desktop, and mobile (Adobe Sketch is a sister program of Illustrator). Procreate is only available for iPad with its sister app for iPhones, Procreate Pocket.
6. Learning Curve
Winner: Procreate. Procreate is an easier tool to learn than Illustrator. Both have tons of resources to learn the program. Procreate is beginner-friendly and lets you jump right in.
7. Longevity
Winner: Tie. Both Illustrator and Procreate will stand the test of time. They have great features and continue to upgrade the program to fit the ever-changing software landscape.
Now, let's delve into the details.
1. Features
Procreate
Procreate is king for digital painting, with tons of brushes, tools, and anything you need to make beautiful art.
Procreate comes with 190 brushes. You can also import Photoshop brushes into the program. Illustrator also has brushes, letting you stylize existing paths or draw paths while applying the brush stroke simultaneously.
Procreate does not support vector objects and will convert all layers to pixels. You create layers manually, allowing you to paint over or under base layers, merge layers, and more.
Procreate lets you make frame-by-frame animation using Animation Assist. Features include onion skinning, letting you see your previous frame as you work the next clip. You can adjust frames per second and how the video loops. You can share your video as a GIF, PNG, or MP4.
Procreate also has drawing guides. You can adjust the opacity, thickness, grid size, and toggle on Assisted Drawing. Procreate also lets you add text, allowing you to import new fonts and customize the text with ease. In terms of sharing, the connection with ProcreateFolio is great for sharing your art with the community and getting feedback.
The features are so numerous that areas it lacks in are so minor. For having so few issues of wanted features, only a half-point has been taken off the score.
Adobe Illustrator
Adobe Illustrator is vector-based, while Procreate is raster-based. Illustrator can link or embed outside assets. In certain cases, Illustrator will convert them into path-layers when the file type is applicable.
Illustrator used to have a workaround with animation using Flash. However, Flash Player is being discontinued and will not run in 2021. As of right now, Illustrator does not directly create animation.
You can create animations combining Illustrator and Photoshop, creating your frames in Illustrator and putting them together in Photoshop. Illustrator makes a layer for every object in your project and lets you organize layers by groups.
Illustrator has everything you need to create curves and lines using the pen tool and curve tool. You use the Bezier handles to adjust the line perfectly. Illustrator also has guides that you can adjust to help you line up everything exact.
You can also turn on the snap to grid feature, which automatically will adjust your object to be aligned. To create straight lines in procreate, you draw and hold the line until it becomes straight.
Illustrator connects to Adobe Typekit, a super helpful library with over 1,000 fonts that come automatically with your Adobe subscription.
The app has the sharing platform of Behance. It can helpfully connect to an Adobe Portfolio, automatically uploading new creations to your showcase website as well. Illustrator has many custom tools to create everything vector, from elaborate vector art to logos and graphics.
With all of these innovations and features, it's easy enough to overlook the program's limitations for being restricted to vector graphics. For that issue, only half a point was taken off the final score.
Winner: Tie. In terms of features, both Illustrator and Procreate excel in their specialty. Procreate is amazing for digital painting. Illustrator creates vector graphics with ease. Both have a ton of features that accomplish their end result beautifully.
2. Pricing
Procreate
Procreate only costs $9.99 at the App Store with no strings attached. You get free updates for life. That's all you need to pay.

For being so simple with no subscriptions required, it's easy enough to recommend the app as a cheap choice. With an inexpensive one-time cost, Procreate gets a perfect score.
Adobe Illustrator
Meanwhile, Adobe Illustrator requires an Adobe subscription. The options include:
$20.99/month for Adobe Illustrator on desktop and iPad. This plan includes 100 GB of cloud storage.
$52.99/month for all Adobe apps, including Illustrator. There are over twenty apps in total. This package also includes 100 GB of cloud storage. If you are a teacher or student currently enrolled, you can get this same plan for $19.99/month.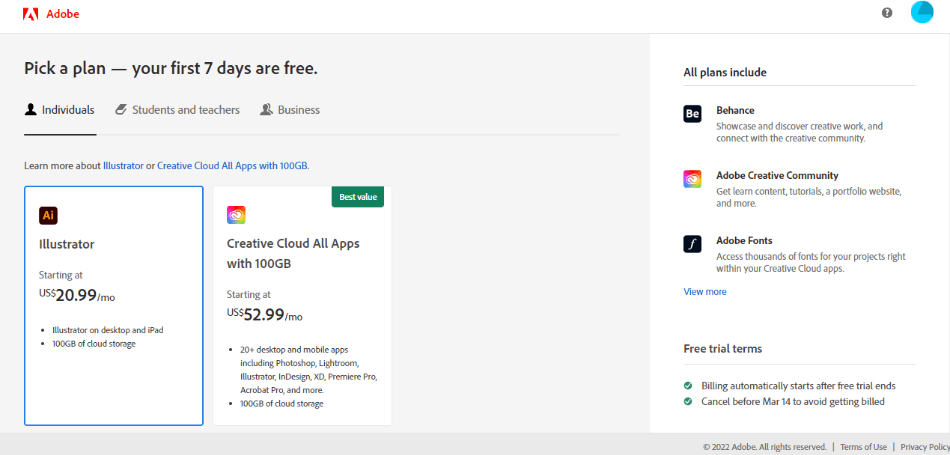 Adobe Illustrator ranges from $239.88 to $635.88 per year! That gets insanely expensive quickly. For being so costly, two and a half points were taken off the score.
Winner: Procreate. Procreate wins over Adobe Illustrator for price. While Procreate is just a one-time low-cost, Illustrator requires a current, active subscription. Procreate is the best choice overall, saving hundreds of dollars in the long run.
3. Illustration
Procreate
Procreate has 190 brushes in total, and you can also import Photoshop brushes and custom brushes to add to the collection. The tools are organized by medium, including Sketching, Inking, Drawing, Painting, Artistic, Calligraphy, and Airbrushing.
You can also customize the brush within Procreate and adjust the stroke path, taper, shape, grain, rendering, etc.. Procreate gives you the most precision when it comes to brush design.
To blend in Procreate, you can use effects like Gaussian blur or the powerful Smudge tool. The Smudge tool is fantastic for blending harsh edges and mixing colors. You can control the tool's strength using the opacity feature and move color as much as you want. Smudge is great for realism and adding shadows.
Color in Procreate is a versatile feature that allows you to switch between a traditional color wheel, palettes, and more. You can import color schemes or make a palette from a photo.
In the Colors panel, you can use the Harmony tool to find colors that work well together using the Complementary, Split Complementary, Analogous, Triadic, or Tetradic setting. This feature is great for creating a harmonious color look for your work.
Procreate has so many options for creating compelling drawings. The amount of control you have over the brushes, colors, and mixing is ideal for any digital artist. With so much customizations available, Procreate gets a perfect score when it comes to drawing.
Adobe Illustrator
Drawing in Adobe Illustrator is very different than traditional methods because you use shapes and lines to define a drawing mathematically. Often, artists will start with a sketch and bring it into Illustrator to design over.
Illustrator has a great feature called Image Trace that will convert your image into a vector drawing. If you use Image Trace, I recommend that your sketch be as finished and clean as possible to reduce the amount of cleanup later.
Adobe Illustrator has several types of brushes: Art, Pattern, Scatter, Calligraphic, and Bristle brushes. These don't work like traditional brushes, and each has a unique purpose.
Art Brushes create hand-drawn, realistic strokes that are even, Pattern brushes are used to create repeating patterns, and Calligraphic resembles strokes made by a calligraphy pen. Lastly, Bristle mimics a natural bristle brush, and Scatter brushes are used to create shading effects.
Blending is very different in Adobe Illustrator. You can blend between objects or use the mesh tool. Both of these tools use gradients to create a blended look.
Mesh tools create the most realistic-looking objects in Illustrator, using a grid to define transition points and how the colors flow.
Illustrator uses a rectangular color picker for finding colors, using the color slider to select a different hue. You can save color palettes using the Library feature. The library feature can be especially helpful when creating content that requires a specific color palette.
With some learning and tinkering, Illustrator can work well for drawing. That being said, it will take some time to make the program work for your drawing style. For that issue, a point was taken off the final score.
Winner: Procreate. Procreate is the better choice for illustration. Painting, sketching, anything drawing related is what the app was built for.
Procreate's focus on digital painting makes this a better illustration choice over Adobe Illustrator. The painting is intuitive, mimics traditional brushes extremely well, and has great blending tools.
4. Logo Design
Adobe Illustrator
Adobe Illustrator is the best application to create vector-based graphics, such as logos. There are tons of tools helping you refine your final shape. Powerful tools, such as the shape-builder tool, let you combine shapes to create a perfect final composite.
These tools have made Illustrator such an industry-standard when it comes to logo creation. The amount of control you have over shape and color for logo designs cannot be overstated. For being so ideal, Illustrator gets a perfect score.
Procreate
Procreate, like Adobe Photoshop, is a raster-based program. Procreate users have posted external tutorials teaching you workarounds for this feature.
These methods are tedious and involve converting the raster image in different software that is vector-based. Time-consuming, to say the least. And for that consumption of time, it gets a point taken off the score.
Winner: Adobe Illustrator. Overall, if you need to create a scalable graphic, I recommend building it in Illustrator to save you the headache. The app uses vector shapes, allowing you to create graphics that can be resized infinitely. Procreate is solely a raster-based program.
5. Compatibility
| | | |
| --- | --- | --- |
| | Procreate | Adobe Illustrator |
| Desktop | No | Yes |
| iPad | Yes | Yes |
| iPhone Alternative | Procreate Pocket | Adobe Fresco |
Adobe Illustrator
Adobe Illustrator is available on Windows and Mac, desktop and iPad! The iPad app was just released in October 2020 and is more limited than the desktop version. Nevertheless, having the iPad option is great for designers who work with multiple devices in their workflow.
Illustrator also works great with many Adobe applications. Adobe Fresco is a fantastic sister app for Illustrator, able to create pixel and vector layers within the same project. The application is very powerful. Other apps that Illustrator works great with are Adobe Photoshop and InDesign.
The program works so well on a variety of applications that it doesn't matter what type of operating system or device you're using. With such versatility, Illustrator gets a perfect score in this department.
Procreate
Procreate was designed for the iPad with the Apple Pencil. You can only use the application on the iPad. If you want the best user experience, you should also use the Apple Pencil. The exclusivity is a huge dealbreaker if you are a Windows-based user.
Procreate also has a sister app called Procreate Pocket. This app is designed exclusively for iPhones. Procreate has no desktop version. For being so limited in the platforms you can use the app with, Procreate get two points taken off of its score.
Winner: Adobe Illustrator. Overall, Illustrator is available on more operating systems and devices, making it the clear winner. Procreate is limited to the iPad only and is going to be a major dealbreaker for users who prefer desktop applications.
6. Learning Curve
Adobe Illustrator
Adobe Illustrator has a high learning curve for most new users. The complexity is because the program is vector-based, meaning all graphics are made using geographical and mathematical commands, rather than clicks and strokes made with pixels.
Drawing in vector can be difficult at first. The medium is completely different than traditional sketching. Once you learn the concepts of Bezier curves, anchor points, paths, and fills, the program gets a lot easier.
Illustrator's interface is jam-packed with buttons. The UI can be very overwhelming. They have over twenty tools on the left side, features of the currently selected tool up top, and more navigation on the right side. It is easy to get lost in the app.
To learn Adobe Illustrator, there are in-app tutorials using the Learn Panel and dozens of tutorials online. Adobe has step by step instruction, with many video lessons to teach you everything from the basic to advanced techniques.
Adobe Illustrator makes all assets using vectors, a technique completely different from a traditional drawing method. Vector drawing can take some time to get used to. For being so time consuming, two points were taken off the score.
Procreate
Procreate was created specifically to make the digital illustration process intuitive. The app was designed specifically for the iPad and Apple pencil, making the UI and interactions feel very natural.
Procreate's user interface is clean and simple. The UI keeps the buttons to a minimum, making the dark interface easy on the eyes. All of the additional features are hidden away from view, allowing you to focus on the artwork.
If you have questions with Procreate, there are many resources for you. Online, there is a Procreate Handbook where it goes over absolutely everything. This online manual guides you through the basics like the interface and shortcuts to learning about the brushes, colors, and effects.
There are also video tutorials and an extensive community forum where Procreate moderators and other users answer inquiries.
All things considered, Procreate has an easier learning curve than Adobe Illustrator. This is why the app gets a perfect score for being so easy to use for first-timers.
Winner: Procreate. Overall, Procreate is much easier to use than Adobe Illustrator. The program is focused on digital illustration, making it easy to jump right in.
7. Longevity
Adobe Illustrator
Adobe Illustrator has a huge family of applications supporting it. Illustrator works great with Adobe Photoshop, Fresco, InDesign, and more. You can easily transition from one app to another, great for a creative's overall workflow.
Illustrator is seen as an industry-standard application. The app is taught in college courses and can be required for jobs in the graphic design industry. Adobe continues to adapt its software. Recently, they added an iPad app for Illustrator, a huge improvement.
Considering that Illustrator has been around for quite some time and continues to make innovations, it's an app with staying power. It could use some more features but they're mostly minor inconveniences. This is why the app only gets half a point taken off of its score.
Procreate
Procreate was named the App Store's best selling app of 2018. Procreate is highly regarded are one of the best drawing apps on the market, curated for digital artists. The program makes digital painting second nature.
Procreate also continues to update its software, free updates in perpetuity for all of its users. With so much innovation present in the program, the areas of improvement are so small that only a half-point has been deducted from the final score.
Winner: Tie. Both Illustrator and Procreate are highly regarded in the creative industry. They have the longevity that will stand the test of time. Overall, both apps are highly regarded and used throughout the industry. From this perspective, they will both stay put.
| | | |
| --- | --- | --- |
| | Adobe Illustrator | Procreate |
| Platforms | PC, Mac, iPad | iPad, iPhones |
| Graphics | Vector-Based | Raster-Based |
| Best For | Professionals | Beginners |
| Pricing | $20.99/monthly | $9.99 (one-time) |
| Discounted Price | Check here | No Discount |
Final Thoughts
Getting Illustrator or Procreate depends on your needs as an artist.
If you are looking to paint digitally as a professional or newbie, get Procreate. The app is only $9.99, a great value, and gives you a ton of features. You can create beautiful, complex artwork with this app, no question.
If you are looking to create anything vector, get Illustrator. Illustrator is industry-standard for creating logos and any graphics that need to be resized. In the professional industry, it's a vital tool to learn. You don't want to waste time creating a graphic in a raster-based program only to have to redo it at another resolution.
If you need to create a variety of assets, both vector and raster, get both. These apps add a ton of capability to your creative toolbox.
Frequently Asked Questions (FAQs)
Is Procreate better than Illustrator?
Procreate is better, depending on what you are doing. Illustrator is best for vector-based work, while Procreate is great for digital illustration.
Does Procreate do vector?
No, Procreate does not support vector. Procreate is a raster-based program.
Do professionals use Procreate?
Yes, professionals use Procreate, especially digital illustrators. Procreate is one of the best digital illustration tools on the market.
Does Procreate come free with iPad?
No, Procreate is a paid app for $9.99, available for download via the App Store.
How much does Adobe Illustrator cost?
Illustrator costs a monthly fee to use it. You'll need to pay $20.99 a month to download and use Illustrator off of Adobe's Creative Cloud platform. You can also subscribe to all the Creative Cloud apps for $52.99/monthly.
Is Procreate the same as Adobe Illustrator?
No, Procreate and Illustrator are very different types of graphic design applications. Procreate can only be downloaded for iPads and iPhones while Illustrator works on iPads and desktop environments of Windows and Mac. Also, Illustrator handles vector-based graphics that are more ideal for print projects while Procreate uses raster-based graphics that are better for digital illustration with different brushes.
Anne is a filmmaker and writer with a passion to bring stories to life. She has created several short films, specializing in stop-motion animation. Anne has over eight years of filmmaking experience, and she is always ready to share her knowledge with other creators. She started her company Anne Gets Creative in 2020.
Anne is extremely familiar with many Adobe programs: Photoshop, Illustrator, InDesign, After Effects, Premiere, and Audition, to name a few. She has also worked with other programs such as Procreate, Canva, iMovie, and Final Cut Pro. She always strives to give the best software reviews, researching diligently so her readers don't have to.