(Last updated on August 9th, 2021)
Photoshop and Illustrator have both been the top applications in the realm of graphic design for many years.
Read this in-depth Photoshop vs. Illustrator comparison to help you decide which one is the best graphic design platform for your needs.
Photoshop has become such an industry-standard for photo editing that it's practically a verb within the cultural lexicon. Since coming about in 1990, it's been one of Adobe's key creative applications and for good reasons. The numerous features and plugins it's adopted over the years have made it an essential component of everything from photo manipulation to editing components for videos.
Illustrator is perhaps most notable as the vector program that has become a staple of the designer scene. Far older than Photoshop for having been in development environments since 1987, it's become better recognized internally for its specialization in the development of logos, print, and web design for its vector-based graphic environment.
Considering both programs serve a similar function within familiar industries, it can be quite a challenge to select which one is the superior application for your needs. Here's how they shape up against each other.
Photoshop vs Illustrator: Comparison at a Glance
1. Interface
Winner: Photoshop. While Illustrator does boast plenty of tools to work with, Photoshop provides the simplest and easiest interface to work within.
2. Features
Winner: Photoshop. Photoshop's extensive features such as adjustments, effects, and color controls to layers give it plenty of room to both create original content and retouch existing work.
3. Ease of Use
Winner: Photoshop. Thanks to a simple interface, Photoshop is simple enough to jump right in with its organized toolsets.
4. Draw Controls
Winner: Illustrator. Though Photoshop does offer a wealth of raster-based control, Illustrator's vector-based drawing makes it ideal for details.
5. Fonts
Winner: Illustrator. While Photoshop can certainly be tailored to accompany plenty of fonts, Illustrator comes out on top in this department.
6. Effects
Winner: Photoshop. The plentiful effects of Photoshop allow for superior visual controls to have just the right balance of color, highlights, textures, and much more.
7. Formats
Winner: Illustrator. Not only does Illustrator serve the purposes of fitting formats perfectly suited for printing, but its vector environment makes it easy enough to transfer to other programs.
8. Pricing
Winner: Tie. Both applications cost exactly $20.99/month.
The Verdict
It's not easy to draw a comparison between Photoshop and illustrator as both software have different uses. Photoshop is used for web images and video, while illustrator is for web design, animation, and print. Both software are essential applications. 
Both platforms have such different applications that we can't pin down one winner in the realm of graphic design. It's Photoshop for web images and video, and Illustrator for web design, animation, and print. Given how much overlap they have, in addition to their functionality with each other, it's a tie between the two of them as they are both essential applications.
Get a Special Discount On Our Top Picks!
---
BEST OVERALL PICK FOR PROFESSIONALS
---

Adobe Creative Cloud
Get all 20+ creative apps and services for photography, design, video, UX and more.
at adobe.com
---
BEST FOR GRAPHIC DESIGN & IMAGE EDITING
---
Adobe Photoshop
The world's most powerful image editing and graphic design software.
BEST FOR VECTOR EDITING & ILLUSTRATION
---
Adobe Illustrator
The best vector graphics and illustration software used by millions of creators & artists.
at adobe.com
---
1. Interface
While Photoshop and Illustrator have similar interface layouts, they are quite different. Both feature similar windows for the many layers, tools, effects, and information. They're very much customizable, as well, to be as dense or simplified as possible for whichever work environment you prefer most.
However, when it comes to how the interfaces initially appear and what level of customization they offer, Photoshop is the clear winner here.
The organization is laid out in a way that never makes it too overbearing. The layers and tools are aligned with enough ease of navigation to get you up and running with little direction. It's an interface that has stood the test of time as not too much has changed over the years. It's also become a lot easier to customize with its snapping of windows to specific sections with the icon-based tool window that allows for far less clutter on the screen when requiring the essentials for most projects.
By comparison, Illustrator is a bit more intimidating in this department. While there's certainly a more open nature with a lot of screen real estate for the biggest view of the palette, it requires a bit of getting used to in terms of where to go first and what windows are best suited for your workflow environment.
Also, if you plan on getting greater details out of your photos and work heavily within HDR, the Aurora HDR'19 plugin for Photoshop is an absolute must for vastly improving the definition and resolution of whatever you're working on.
Winner: Photoshop
2. Features
Illustrator has many options to craft intricate designs, especially when it comes to the fine details you might need to add to more elaborate projects. The vector-based environment gives a lot of freedom in terms of how much can be manipulated within the design of your dreams. Illustrator is also preferable for what it offers in the realm of vector art and text in terms of smoothing things out and keeping all things managed on a micromanagement level.
Naturally, Photoshop has been an essential asset when it comes to photo manipulation, making it easy enough to slide in an image and tweak it to be ready for placement on a printed page or insertion on a website. But there are a great many functions it can perform as well. The masking functions have only grown easier to use with age, making the program easy enough to pluck a subject out of the background and place it within a design.
Other fine features include Object Selection, Select Subject, Select and Mask, and Content-Aware Fill. In particular, the Content-Aware Fill is significant if you plan on removing elements of different photos without doing a lot of rotoscoping.
Additionally, Photoshop has a number of plugins and new features that continue to be added to this day to give a wider range of usability for all things pixel and raster-based.
However, it should be noted that while Photoshop offers some vector tools as well, they are not as intricate or intuitive as Illustrator. One such plugin that will be of great use for those who want easier control switching between color palettes is the Chameleon Adaptive Palette, making it easy enough to swap out colors without much work.
Winner: Photoshop
3. Ease of Use
Photoshop's interface has changed little in the past few years, and for a good reason. It's designed to be simple enough to open up and get to work on drawing or editing without being bogged down by too many windows. The free-hand drawing tools are easy enough to understand, and the organization of layers is well assembled with great flexibility in adjustments. The retouching tools are also intuitive enough that it doesn't take much training to drop in and dress up a few images to be a little bit brighter and a tad more colorful.
Illustrator's tools are far denser by comparison, which can be a bit intimidating, despite the usual vector assembly making it easy to push and pull objects without much loss in detail.
However, the more lavish designs will weigh heavy on some systems for all the data in the vector objects. This can make the program a towering assortment of layers to sift through and force some computers to work a bit harder to process the graphics. While this level of attention to detail can bring about some great work, it's not exactly the easiest program to work through when designs become more intensive.
In this category, it's not just that Photoshop's current workflow is the easiest to use but that its very construction for many years has made it such a welcoming application for most jobs, considering its range spans across numerous devices in different iterations, making it more applicable for those who prefer working off tablets.
There's also a commitment to improvement with the Adobe Photoshop Improvement Program, designed for users to make the application better suited for their needs and address anything that may be missing.
Winner: Photoshop
4. Draw Controls
Photoshop's drawing controls are certainly friendly enough for tablet pens to deliver pressure-sensitive designs. With a number of different brushes to utilize with different specs for each, it's easy enough to weave whatever artistic vision you have dreamed up to appear on the screen. As far as free-hand design goes, the simplicity works well enough for most designers.
That being said, if you're seeking far more control with your drawings in terms of minor details and don't care to micromanage with raster images, Illustrator has freedom for the detail-oriented designer. This is mostly due to the vector environment, making minor shifts in lines or changes in scale a few clicks away from a fix.
Unlike raster drawings, you need not worry about resolution or loss of detail when tweaking different layers. You can also give an incredible amount of smoothing and angularness to your drawings with full control over how they appear.
Also worth noting about this aspect is how well the designs can transfer over to the likes of Adobe Animate as they are both vector programs.
While Photoshop's tools certainly make it more ideal for 3D animation software in terms of crafting textures and mattes, Illustrator better serves the 2D side of things with similar tweakable features.
Whereas 3D programs of 3D Studio Max and Blender are merely bound by whatever the rasterization of files can export, a lot of Illustrator information can easily make the migration over to Animate for better control of a 2D vector animation.
So if you think your graphic design duties will spill over into the area of film and motion media, Illustrator would be best suited for these types of projects.
Winner: Illustrator
5. Fonts
A major difference between Photoshop and Illustrator is how they handle text. Photoshop's text options are fairly straightforward but don't allow for a whole lot of innovation. If you're just looking for simple insertion of titles with some minor additions of effects, it's a suitable application.
However, if you desire a lot of control with your font to make it uniquely your own, Illustrator is the program to seek. The text is fully customizable in that tweaks can be made in the program for how individual letters will appear more engaged with the design.
This can be especially handy for those working in print who want their words to leap off the page the moment they come out of the printer. The ability to take hold of the fonts and bend them for the perfect layout makes Illustrator a clear choice for graphic designers. The Fontself plugin is an absolute must for full control over your fonts.
Worth noting, however, is that Photoshop has made some leaps and bounds in this department that are catching up to the level of control in Illustrator. This includes such new features in recent years as the integration with Adobe Fonts, the Fontself Maker plugin allowing for better editing of the text, and the ability to match the font of a flat picture via Adobe Sensei.
Even if these additions don't quite allow it to topple Illustrator's greater vector controls, these updates do make the race in terms of typography a bit closer than one might expect.
Winner: Illustrator
6. Effects
This is a trickier topic to address as it more or less highlights the very limitations of raster vs. vector. Though Illustrator is well-suited to making vector graphics that can meet print standards to a tee, Photoshop's many effects are grand in scale and simple enough to produce.
The attachments and controls for layers have a lot of freedom in allowing everything from distortions to shadows to blurs with numerous variations and values throughout. By comparison, Illustrator is a bit more held back by the more analytical design modifications.
The many brushes Photoshop has to offer have become quite extensive over the years, making Photoshop much more preferable when it comes to drawing and painting. With greater control of patterns and fills, crafting a vibrant design is incredibly easy for those confident enough to wield a digital pen on a tablet.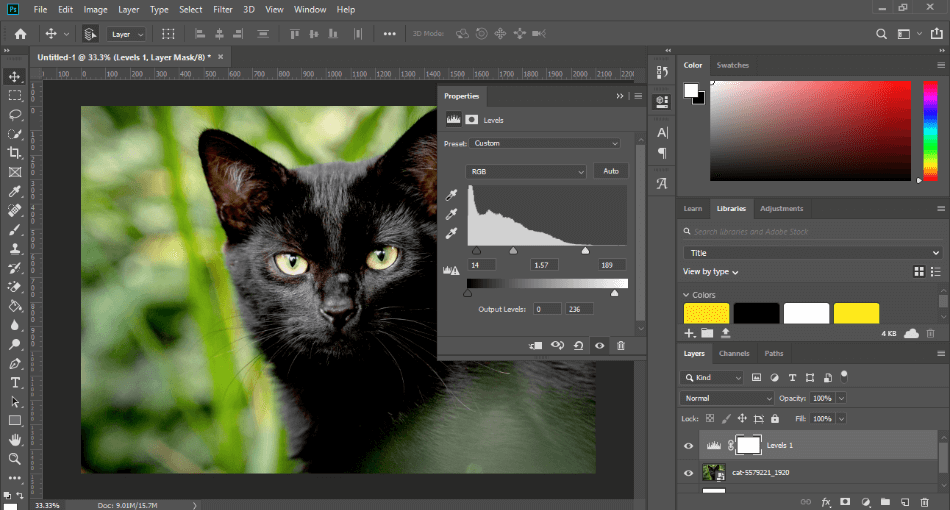 Another unique effect you can't get in Illustrator is the 3D effect Photoshop allows you to place upon titles. Text can easily be given a 3D kick in animation in the Cinema 4D Renderer, making the application exceptionally ideal for those working more in the realm of motion graphics with Cinema 4D, After Effects, and other video software.
It should be noted, however, that Illustrator is not too far behind in this department as a number of plugins such as Cineware and Gold Rush have allowed them to catch up in the video department.
But one area where Photoshop absolutely blows Illustrator out of the water is in its tablet support, particularly for the iPad. The iPad version of Photoshop has much of the same layout and has touch-specific features that can make it a breeze to use without the need for a mouse.
Photoshop files edited on the iPad retain the same PSD format making it enough to continue working on your Photoshop project when on the go. Whether using a tablet pen or just your finger, the application is surprisingly responsive and flexible enough to support graphic designers when transferring between devices.
Lastly, there's the integration of the Lightbox application, which has a greater range of getting down to the nitty-gritty of making your photos exceptionally sharpened. Even better, Lightroom also works through iPad, so the same workflow can also go mobile as well.
Winner: Photoshop
7. Formats
While most Adobe programs can speak well enough with each other in terms of recognizing file formats, there's something to be said about how much of the format carries over into other programs. Photoshop files can be brought into Illustrator but won't match up perfectly or bring in layers.
On the other hand, Illustrator works well enough to integrate with the likes of InDesign, XD, Animate, and Premiere Pro. The functionality is quite flexible to the degree that there's little worry in transferring vector artwork. The many formats also make the program best suited for the more information on designs seen in annual reports and brochures.
Winner: Illustrator
8. Pricing
| Product | Regular Price | Discounted Price |
| --- | --- | --- |
| Adobe Creative Cloud | $52.99/month | Check here |
| Adobe Photoshop | $20.99/month | Check here |
| Adobe Illustrator | $20.99/month | Check here |
Similar to most products in the current iterations of the Adobe products, both applications have the same price of $20.99/month. Additionally, they come bundled with the complete Adobe Creative Suite for $79.49/month or $52.99/month with an annual plan.
Given the price difference, it'd be beneficial to pursue the complete package as it not only includes both programs but complementary programs that will come in handy for organization and touching up projects.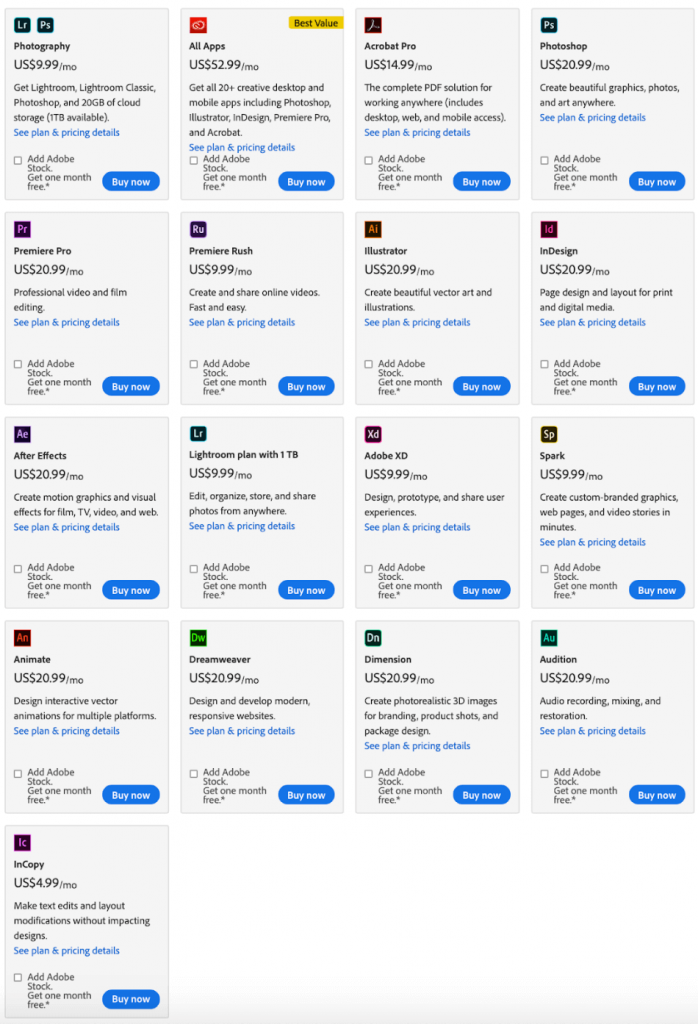 Winner: Tie
Final Verdict
The ultimate call of which application is superior rests mostly on the needs of your industry.
If your work involves a lot of photo manipulation and graphics for web and video, Photoshop is clearly the superior application for its effect controls and integration. The wide range of tools allows for complete control to churn out assets that span from animation to web.
If your work is more about print and exact measurements, Illustrator wins in this department as most detailed projects demand keeping things accurate in terms of design and color for team meetings.
For graphic design in general, however, both serve different purposes. It's likely you'll require both if you're involved in both print and web.
FAQ
Should I use both Photoshop and Illustrator?
Yes. Photoshop and Illustrator vary in how they handle raster and vector graphics. They can do both, but they specialize in one more than the other. So if you're seeking the fullest control of detail in your projects, it's recommended you use both in tandem.
Is Photoshop good for logo design?
In terms of how much control you have over font and drawing, no. Illustrator's controls are far better suited when it comes to designing logos.
Which application is best for video?
Photoshop. The tools within Photoshop make it accessible enough to create detailed assets for motion video as well as matte paintings and textures for 3D animation software.
Which should I use for web design?
Illustrator. Not only does Illustrator have a better workflow to be web design-friendly, but the organization makes it easy enough for web developers to extract assets and elements.
Chris is an LA-based filmmaker and video editor who has a passion for writing and creating video content. He has produced and edited a wide variety of projects, most notably his documentary series "Off the Cuf," which explores the world's most fascinating and obscure communities. He has over 10 years of experience under his belt and is known for explaining complex concepts in simple, easy-to-understand way.
He is extremely familiar with all the top video editing software out there such as the Adobe Premiere Pro, Adobe After Effects, Final Cut Pro, iMovie, Adobe Animate, and DaVinci Resolve. Chris also has extensive know-how of top graphic design & photo-editing tools, including Photoshop, GIMP, Canva, Snappa, and more.