(Last updated on November 15th, 2021)
Adobe Photoshop or Adobe Lightroom, which software should you choose in 2021?
For a head-to-head comparison between Adobe Photoshop and Adobe Lightroom, read this article to learn which is the best tool for you.
Adobe Photoshop and Adobe Lightroom are two of the most widely-used image and photo editors for both professionals and amateurs. Both can be used for basic image manipulation and to turn photos into stunning works of art.
However, while both Photoshop and Lightroom can manipulate images, they're fundamentally different in terms of features, ease of use, extendibility, etc. Both products run on Windows and Mac operating systems, and both have a role in your arsenal of tools for producing stunning images, depending on what you're trying to do.
For this comparison, we'll be looking at the FULL desktop versions of Photoshop and Lightroom included with Adobe's Creative Cloud subscription. Photoshop and the latest versions of Creative Cloud apps (including Lightroom, Premier, and other Adobe applications) are only available with a month-to-month or annual plan.
Related: How to Buy Adobe Lightroom (up to 60% off)
While Adobe has other Photoshop versions available – Photoshop Elements and mobile OS versions – only the desktop version has the full range of features available for professional use.
Under the Creative Cloud subscription, you can get Lightroom in two versions – Lightroom Classic (LrC) and Lightroom (Lr). For this article's purposes, we'll note the differences between Lightroom (Lr) and Lightroom Classic (LrC) by using Lr and LrC abbreviations when there are differences between the two. The workflow for the two versions differs slightly.
Photoshop vs Lightroom: Comparison at a Glance
1. Ease of Use
Winner: Lightroom. Lightroom (LrC and Lr) is a straightforward, simple-to-use, powerful photo editor for image manipulation. Adjusting saturation, changing hue, adjusting tone curve, splitting tones on an image, sharpening an image, making lens corrections, and rotating images across three axes is a simple matter of adjusting sliders.
Cropping an image is as easy as drawing the area you want to crop and pressing the "enter" key. Adding a vignette to emphasize the subject is simple as well. For portrait photography, Lightroom is the clear winner. For example, Whitening teeth involves using a circular brush and drawing over the area that you'd like to whiten.
2. Learning Curve
Winner: Lightroom. The interface of Lightroom is organized for the most common photo manipulation tasks. Tools are located on the right side of the interface and grouped according to function. To access a tool, click on the arrow next to the desired tool and drag the slider's handle to adjust the setting. Alternately, you can drag color levels (located in the upper right side of the interface) up, down, left, and right to change them directly.
Photoshop has a steep learning curve to do even the most basic image manipulation, and tools are embedded in the interface in places where they're difficult to find.
3. Advanced image manipulation
Winner: Photoshop. While photo manipulation in Lightroom is easier, Photoshop is superior for advanced image manipulation. Photoshop supports powerful image editing tools such as masking, opacity, and layering to produce stunning images. Photoshop also supports 3D image manipulation, basic video editing and turns still photos into videos. Lightroom has no support for video.
4. Color Correction
Winner: Tie. Photoshop has a robust set of color correction tools for adjusting vibrance, hue, saturation, and contrast levels. Lightroom also has a powerful set of color correction tools that are simple to use.
5. Text and Graphics
Winner: Photoshop. Lightroom doesn't support adding text directly to images and falls flat on its face when manipulating graphical objects.
Like its even more powerful cousin Illustrator, Photoshop allows you to layer objects, manipulate them directly, merge layers, and add text to paths. Circular text, for instance, is easy to add to an image in Photoshop, and text can be manipulated using bevels and blended using gradients.
6. Pricing
Winner: Tie. Both Photoshop and Lightroom (LrC and Lr) are included in the Adobe Creative Cloud subscription. It's no longer possible to purchase either program as a standalone software package. Annual subscription rates run as high as $599 per year, with verified educators and students' discounts.
7. Extendibility
Winner: Lightroom. Lightroom is the go-to choice for professional photographers, and as such, there are many presets available for it. Presets allow for one-click image manipulation and are available at very reasonable prices. Photoshop plugins tend to be limited to brushes, and using stylized image presets requires in-depth knowledge of how to use layers.
The Verdict
Lightroom and Photoshop are powerful image manipulation tools. While Photoshop has become the industry standard for image manipulation, Lightroom is superior for working with photographs and images that require adjustments for artistic purposes and better suited for portrait and landscape photography.
Both Photoshop and Lightroom have a place in your toolbox, depending on what you're trying to do. Amateur and professional photographers will find Lightroom to be the fastest way to produce stunning images but may find it limited when creating more artistic and edgy images that combine graphics and text with layers and opacity variations.
Get a Special Discount On Our Top Picks!
---
BEST OVERALL PICK FOR PROFESSIONALS
---

Adobe Creative Cloud
Get all 20+ creative apps and services for photography, design, video, UX and more.
at adobe.com
---
BEST FOR GRAPHIC DESIGN & IMAGE EDITING
---
Adobe Photoshop
The world's most powerful image editing and graphic design software.
BEST FOR PROFESSIONAL PHOTOGRAPHERS
---
Adobe Lightroom
Lightroom offers top-quality photo editing tools from your computer, tablet or phone.
1. Ease of Use
Adobe designed Lightroom for photographers, and when you open the application, you'll understand why.
All the Lightroom functions center around what you need to do to a photograph – from color balancing, adjusting shadows, adjusting exposure, setting clarity and dehazing, and adjusting vibrance and saturation. While Photoshop supports the same functions, the tools to adjust your photos are buried in a complex menu structure and are often confusing on the toolbar.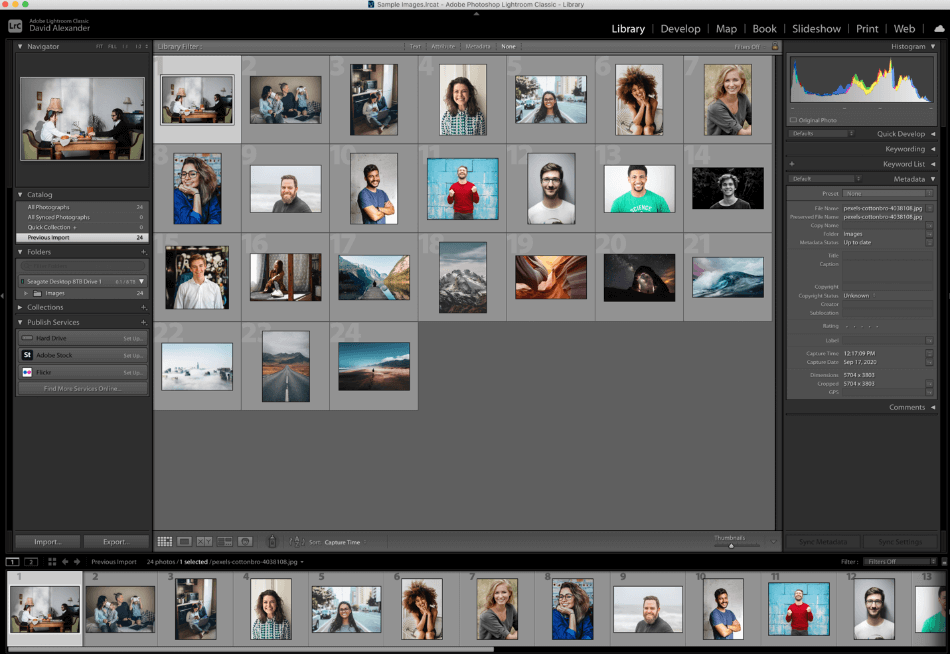 Visually, Lightroom and Photoshop couldn't look more different. Photoshop's powerful tools are located on a toolbar, and toolbars can be easily customized and rearranged for your workflow. Lightroom is optimized for photograph manipulation, and the most common photo adjustments are in easy-to-use sliders.
If you're a portrait photographer, you'll find it far easier to whiten teeth using Lightroom rather than Photoshop. In Lightroom Classic, on the other hand, you click on the mask icon on the top of the toolbar, select "Teeth Whitening," set the amount, set the brush size, and draw over the subject's teeth.
In Photoshop, you'd have to create a mask layer, draw the mask, and manually adjust the mask layer's brightness and arrange the layers accordingly.
Another easy-to-use feature of Lightroom is vignetting. While Lightroom comes with a few presets, you can easily adjust the type, width, and amount of vignetting to be applied to your subject. Photoshop supports vignetting, but you'll have to add a mask layer, draw a mask, adjust the layer's brightness, then merge or export the image.
Since Lightroom was designed for photographers, it's simple to import your photos and keep them organized into albums. Lightroom also allows you to add a watermark easily, and you can import a transparent PNG file (a signature or logo, for example) to add to your photos.
Photoshop has a similar ability to layer a transparent image (or add a signature using text) to your images. Lightroom allows you to store your exported preset and apply it to all your pictures.
Winner: Lightroom
2. Learning Curve
The Lightroom interface is intuitive, with practically no learning curve. Photoshop's learning curve is quite steep. While the tools are powerful, figuring out how to do something as basic as adjusting hue requires you to get through several layers of nested menus, or figuring out where a tool is on the interface.
Image geometry manipulation – the X-Y-Z adjustment of images – is far simpler in Lightroom than in Photoshop. When you click on Geometry in Lightroom, the program places a translucent grid over your image, and you slide distortion, vertical, horizontal, and rotation axes accordingly. Lightroom also gives you the option of constraining your image's crop, so as you manipulate your image along an axis, you can keep the same image dimensions automatically.
Noise reduction and image sharpening is another way that Lightroom is superior to Photoshop. Using Lightroom's sliders, you can easily make your image grainier for a more vintage look, or sharpen a grainy photo to look more contemporary.
Any photographer who's used a lens that gives image distortion – wide-angle lenses, for example – knows the difficulty of making the images flatter with less distortion. Lightroom automatically detects the metadata in digital images for the camera used and gives you the option of removing lens distortions with one click.
Winner: Lightroom
3. Advanced Image Manipulation
There's a reason that "photoshopping" has become a common word. Photoshop is the de-facto tool for advanced image manipulation. It gives you the ability to remove objects, replace one object with others, blend areas using a variety of brush tools, and create an image so good that it's indistinguishable from reality. Photoshop's ability to create double exposures is unequaled.
While Lightroom offers significant advantages for photographers wishing to improve their images' quality quickly, Photoshop is the clear winner when it comes to highly advanced photo manipulation. Photoshop uses "layers," and every Photoshop effect can be applied to a single layer or to multiple layers. In Photoshop, you organize your image layers on the screen's right side, with the topmost layer overlaying those underneath it.
Layering allows for the creation of stunning works of art. Working with transparency and masks, you can quickly turn a dull photo into a masterpiece. While the time required to create a work of art using a photograph in Photoshop may be significant, the tools allow for subtle manipulation of light and shadows in objects.
In Photoshop, you can add text layers to photos, turning an image into a poster, a meme, or anything else you can think of. Once you've gotten your picture just right in Photoshop, adding a text layer is a simple matter. If you save your image in the native Photoshop format, you can go back to it repeatedly and tweak your settings until you get it just right.
Photoshop also shines when it comes to blending options. In Photoshop, you can bevel, emboss, detect edges, contour, overlay with colors and gradients, and make subtle blending adjustments. Photoshop also allows you to fill any area with a pattern derived from an image.
Photoshop also gives you the ability to turn an image into a 3D object and to adjust rotation along three axes. While you might not find yourself doing this very often, creating 3D text on objects can add pizazz and turn otherwise dull text into something noteworthy.
Another essential thing that Photoshop does that Lightroom doesn't is to work with video. While Photoshop isn't a full-fledged non-linear editor like Premiere or Final Cut Pro X, you can perform basic video edits in Photoshop and turn images into GIF files and video files. However, rendering time is substantial compared with an NLE. Lightroom has no support for video.
Winner: Photoshop
4. Color Correction
Photoshop allows you to adjust colors finely and to replace one color with another using the eyedropper tool. If you want to turn black shoes to red, Photoshop will enable you to do so easily. In recent Photoshop versions, Adobe has included one-click filters to perform dozens of operations to images, including color adjustments.
On the other hand, Lightroom also allows for significant color correction. With the plethora of free or low-cost presets available, adjusting color, saturation, hue, and balance are as simple as clicking on a preset. Lightroom also allows you to create and store presets, which can then be added to your image library and create a series of photos with the same look and feel. If you like the preset you've made, others might too, so you can save it and sell it online.
Lightroom's built-in tools such as burn (darkening) and dodge (lightening) make it simple to adjust shadows on any part of an image using its adjustable brush tool. For instance, you can easily highlight a subject in the image, darken selected objects in the background, lighten a subject's hair, and emphasize any object in the photo quickly.
One way that Photoshop is superior to Lightroom, however, is how easy it is to use built-in filters. Photoshop comes with dozens of advanced image filters, ranging from oil painting to stained glass, brushstroke, paint daubs, and sketch effects, all of which are easy to control and apply.
Turning a nature photograph, for instance, into an oil painting, is as simple as two clicks in Photoshop. In Lightroom, you'd have to perform upwards of a dozen separate adjustments to achieve the same effect.
Winner: Tie
5. Text and Graphics
If you want to add text or graphics to an image, you're out of luck if you use Lightroom. Using Photoshop's advanced set of tools, however, you can quickly overlay an image with multiple layers of text or graphics and adjust each layer to be just right.
Since Lightroom is primarily a tool for photographers, the only way to add text is, for example, to add a watermark to your image. While that's useful to limit online image theft, it's not foolproof.
Photoshop allows you to place a watermark over an entire image, rendering the image unusable by anyone. Photoshop's watermarking ability uses layers and adjusts the transparency of your watermark image or text layer. If you're sharing your photos with someone for purchase, it's best to use a watermark that renders them unusable.
If you're looking to spice up your images with graphic elements or to add exciting or eye-catching overlays to your images, Photoshop makes it easy to do. Using Photoshop's built-in set of brushes and stamps, you can easily add to your photos. With a worldwide community of Photoshop users, you can find any brush or stamp you might need at little or no cost.
Winner: Photoshop
6. Pricing
| Product | Regular Price | Discounted Price |
| --- | --- | --- |
| Adobe Creative Cloud | $52.99/month | Check here |
| Adobe Photoshop | $20.99/month | Check here |
| Adobe Lightroom | $9.99/month | Check here |
Gone are the days when you can buy Photoshop or Lightroom for a one-time charge. A few years ago, Adobe changed its pricing model from a one-time cost to subscription-based, so you'll have to shell out money every month (or year, for its annual plans).
But it's not all bad news. Adobe's subscription model makes sure you're up to date on the newest releases of their software, making bug fixes and patches easy (and automatic) to apply. When you subscribe to Adobe's Creative Cloud, not only do you get Photoshop, but you get Lightroom as well. For the low cost of $9.99 a month, you get both Photoshop and Lightroom.
Suppose you want to take advantage of everything that Adobe has to offer, including cloud storage, an Adobe Portfolio, and Behance. In that case, you'll need the more pricey Adobe Cloud Creative Suite, which includes all of Adobe's flagship offerings, as well as a place to showcase your work without having to buy a domain name or website.
Adobe's Creative Cloud Suite includes not only Photoshop and Lightroom (Lr and LrC), but Adobe Illustrator for even greater graphic image manipulation than Photoshop.
And along with Adobe's Creative Cloud Suite, you'll get access to (nearly) everything Adobe has to offer. Adobe's entire line of products are designed to work together seamlessly, so using, for example, a PSD (native Photoshop) file in After Effects (Motion Graphics software) doesn't require any image conversion.
If you're an educator or student, Adobe offers a substantial discount on both monthly and annual plans, provided you have proof of your employment or student status.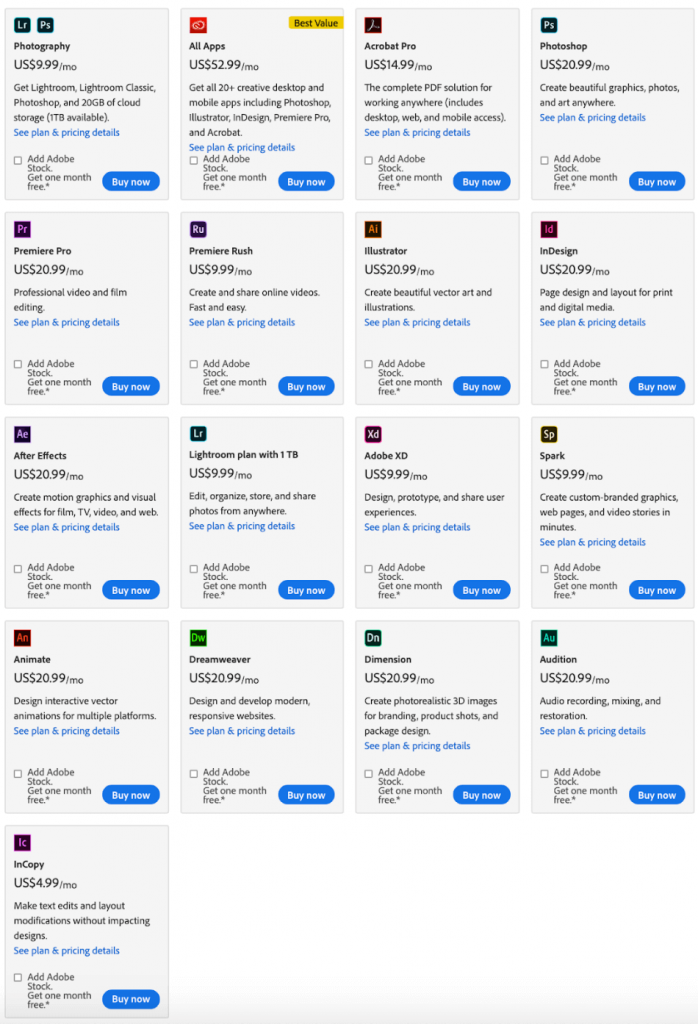 Winner: Tie
7. Extendibility
The Lightroom user community is huge, and as such, lots of people have created useful plugins to streamline your workflow and make sure your images are consistent in look and feel. If you're a fan of black-and-white photography, you can pick up Lightroom Presets for little or no money and apply them to your set of photos.
The advantage to using presets is twofold: First, your workflow is streamlined and more efficient. Second, you can apply a consistent look and feel to all of your photos. If you're looking to break into photography as a profession, you can establish your branding and look through consistency.
Once you get adjustments just right, you can save your preset. If you'd like to make a little money on the side, you can sell your Lightroom preset online without having to pay Adobe a royalty or licensing fee. Whether you make your own presets or download them, presets are a huge time-saver, making producing stunning photos as simple as a few clicks.
You can also find extensions for Photoshop, but they aren't as useful (or affordable) as Lightroom presets. They also tend to be limited to brushes or multi-layer templates that require an in-depth knowledge of Photoshop to make them useable.
Winner: Lightroom
Final Verdict
Adobe Lightroom and Adobe Photoshop are different but complementary tools for image manipulation. If you're looking to easily and quickly adjust your photos for professional-looking results, stick with Lightroom. If you're looking for greater flexibility for manipulating images and needing to add graphic design elements to your images, go with Photoshop, but keep in mind that there's a pretty steep learning curve to accomplish basic image manipulation.
Your best option? Edit your photos in Lightroom, and open them in Photoshop and add anything else you might need.
Frequently Asked Questions (FAQs)
Is Photoshop suitable for beginners?
If you're looking to do basic image manipulation to turn ordinary photos into stunning ones, stick with Lightroom. While powerful, Photoshop can be overwhelming at first, although Adobe has plenty of easy-to-follow tutorials to teach you how to use it effectively.
What do professionals use?
Most professional photographers use Lightroom, but quite a few use Photoshop for tweaking their photos in ways that Lightroom doesn't support.
Which is better, Photoshop or Lightroom?
That depends on what you want to do. If you have lots of time on your hands and don't mind learning advanced techniques, go with Photoshop. Photoshop can do everything Lightroom can, but it takes more time. If you need to create composite (layered) images, go with Photoshop. But if you're looking to make your landscape or portrait images stunning, or you want to produce a large number of images with a similar look and feel, Lightroom will work better for you.
Should I use Lightroom or Lightroom Classic?
Lightroom Classic is superior to Lightroom because it allows you to manipulate your images with greater finesse and add low-cost (or free) plugins to get the perfect image.
How is Lightroom different from Photoshop?
Lightroom is used for retouching photos, whereas Photoshop can be used for retouching photos, adding graphical elements, adding text, and layering multiple images. Lightroom has an intuitive, easy-to-learn interface, while Photoshop, although more powerful, has a steeper learning curve.
Do professional photographers use Lightroom?
Yes. Most professional photographers use Lightroom to retouch portrait photos, landscape photos, and photos of all types. Lightroom is suitable for both amateur and professional photographers and is used hand-in-hand with Photoshop to produce stunning photos and works of art.
Is Lightroom good for beginners?
Definitely. Lightroom has an intuitive, easy-to-use interface, and you can be up and running with Lightroom with no formal training whatsoever. Lightroom is so enjoyable and easy to use that you'll find yourself going back to it, again and again, to retouch and experiment with any photos to produce professional-looking results.
David is an Emmy Award-Winning producer (2019 Lone Star EMMY) and a 2020 Lone Star Emmy Award nominee as Video Editor/Motion Graphic Artist/Sound Engineer. He also received the 2018 Bronze Medal at the Greek Event Awards.
He is a videographer, motion graphic artist, video editor, writer, and podcast producer. He is extremely familiar with all aspects of editing: animated graphics, text, color grading, and sound editing. David is also the Creative Director and Founder of Houston Creative Media, an international production company with offices in Houston, Athens, Vienna.