(Last updated on June 21st, 2021)
Adobe Photoshop or Photoshop Elements, which product is better for you?
We've researched both Adobe Photoshop and Photoshop Elements extensively, combing through reviews and testing the software head-to-head. Read on to see which one fits you best.
Adobe Photoshop is one of the oldest players in the game. The software, created in 1987, has been upgraded into the creative mammoth that it is today. Everyone uses it from photo editing to media asset creation. The capabilities of the program make it one of the best pieces of software today.
Photoshop Elements is a newer program, created in 2011. The software was designed for beginners and hobbyists to make photo editing a fast and efficient process. Elements' features include over fifty guided edits, AI-powered organization, and streamlined batch edits, making this program great for quick editing.
For the sake of clarity, we will be referencing Adobe Photoshop as "Photoshop" and Photoshop Elements as "Elements" throughout the review.
Comparison At a Glance
1. Features
Winner: Adobe Photoshop. Adobe Photoshop gives you the most advanced editing capabilities, unmatched by most programs, completely outranking Photoshop Elements. Elements gives you the most basic version of Adobe tools. While you can still create great basic edits using Elements, Photoshop gives you much more precision.
2. Ease of Use
Winner: Photoshop Elements. Hands down, Elements is the winner over Photoshop. You can easily jump right in and get started without having to spend hours learning the basics of the program. The software was designed for beginners, an upgrade over built-in editing programs on a device, but less daunting than Photoshop.
3. Pricing
Winner: Photoshop Elements. Elements beats Photoshop for the price. Elements costs a one-time price of $99.99. While a hundred dollars is still a pretty penny, overall, it costs far less over time than getting the subscription-only Photoshop.
4. Longevity
Winner: Adobe Photoshop. Photoshop is an industry-standard. While learning the software nuances is quite the hurdle, the payoff is huge because of its vast capabilities. The program is also updated frequently, keeping Photoshop ahead of the curve.
5. Compatibility
Winner: Adobe Photoshop. Photoshop works on both iPad and desktop, working seamlessly with the Adobe Creative Cloud Suite. Elements is meant to be used as stand-alone software, limited by its raster-only system.
6. Workflow
Winner: Tie. Elements is incredibly easy to use. Batch editing is much faster and more efficient in Elements over Photoshop. However, Photoshop is extremely customizable. The user can easily tailor the workspace to fit their needs best.
7. Users
Winner: Adobe Photoshop. All creative professionals use Photoshop. Photographers, graphic designers, and video editors are just a few of the professions that use Photoshop. Elements is for the beginner or the hobbyist. Because of Elements' limited capacity, it is not a choice for everyone.
The Verdict
Photoshop is the industry standard tool that can tackle everything from photo editing and graphic design to animation and digital painting. Photoshop Elements is a stripped-down version of Photoshop and offers limited features and functionalities. Photoshop comes with a steeper learning curve compared to Photoshop Elements.
These programs are created for different users. Adobe Photoshop is one of the best and most powerful programs for creative professionals. However, the software complexity and range of capability are not suited for a beginner or hobbyist. Photoshop Elements fills this role, creating user-friendly software that lets anyone jump in and create good edits quickly without a huge learning curve.
Get a Special Discount On Our Top Picks!
---
BEST OVERALL PICK FOR PROFESSIONALS
---

Adobe Creative Cloud
Get all 20+ creative apps and services for photography, design, video, UX and more.
at adobe.com
---
BEST FOR GRAPHIC DESIGN & IMAGE EDITING
---
Adobe Photoshop
The world's most powerful image editing and graphic design software.
BEST FOR BEGINNERS & PHOTO HOBBYISTS
---
Photoshop Elements
A simpler version of Photoshop CC. Great for beginners and photo hobbyists
1. Features
Elements lacks many of the features of Photoshop. While they are similar and can both do basic edits, Photoshop gives users the utmost control in image design and the ability to do many things.
If you have worked with Photoshop, Elements will feel extremely limiting. It has many of the key features of Photoshop without the advanced controls. Elements was mostly designed to edit photographs on a consumer level.
Meanwhile, Photoshop can do animation, 3D design, and illustration, to name a few of its abilities. The Photoshop workspace is also fully customizable, allowing the user to choose between workspaces that just make the most sense for the projects. There are workspaces like Essentials (all the basics are out in front) or Photography (perfect for photo editing). Elements also has customizations built-in for the layout, but it is more limited.
In Photoshop, each tool can be adjusted to the utmost detail, unlike Elements.
For example, let's talk about the text feature in Elements. You don't have access to an extensive Adobe fonts library with Typekit. You also don't have the character window, leaving you unable to adjust kerning, leading, or tracking (an essential feature for a graphic designer). Each Elements tool is a dumbed-down version of a Photoshop tool, giving you less control over the final image.
In terms of color, Elements has RGB, Grayscale, Bitmapped, and Index. Photoshop has all these color features, and Duotone, CMYK, Lab, and Multi-Channel. Unlike Elements, Photoshop can export in CMYK and has extensive color theory capabilities, giving print-based industries the most color control in the finished product.
With guided edits, Elements has over 50 options and is more user-friendly. Photoshop has many lessons and guided tutorials. However, these tutorials are more teach-yourself, rather than doing it step-by-step for you.
Elements' guides take you from the beginning of an unedited image to the final edit with very easy to follow steps.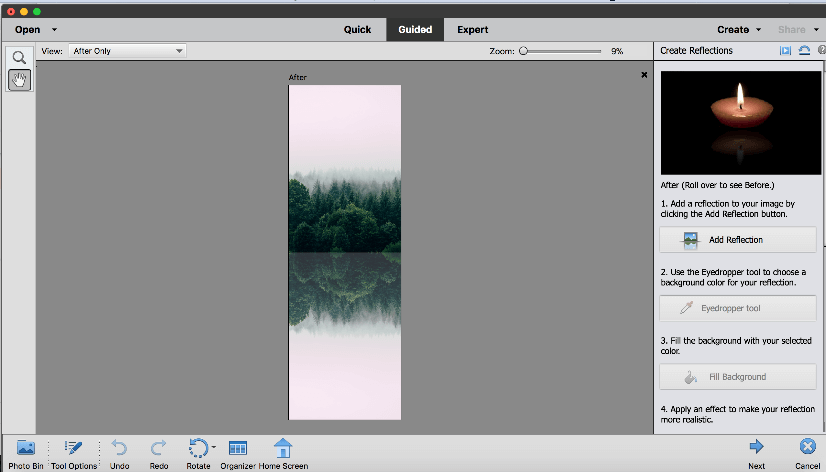 Elements does not support vector formats, thus omitting the pen tool. Elements also doesn't support smart objects. Smart Objects in Photoshop retain all image data from vector or raster images, allowing the user to make non-destructive edits to the smart layer.
Overall, Photoshop gives you more control and possibilities. While the editing capabilities are still powerful in Elements, you can't get the same precision level for your work.
Winner: Adobe Photoshop
2. Usability
Elements is much easier to use than Adobe Photoshop. The software is designed for quick editing while Photoshop is meant for precise manual edits.
Adobe Photoshop, first designed back in 1987, has been upgraded repeatedly, with software engineers adding features with every update. The software is pixel-based and supports vector objects (only individually editable if rasterized). While the software is great in terms of what it can do, learning is time-consuming. The edits are done completely manually by the user.
On the other hand, Photoshop Elements has simply three modes: Quick, Guided, and Expert that you can switch between at the top of the page.
Quick offers basic fixes such as spot correction or cropping. Guided mode leads the user from start to finish on an edit, such as creating a reflection, fixing skin tone, or adding a black and white filter to a photograph. Expert gives you the closest Photoshop experience, with tool-buttons on the left.
Elements also has AI built into the program, called Adobe Sensei, which helps the user sort and organize the photos. Adobe Sensei creates smart tags, recognizing similar faces, time-stamps, locations, and subjects. Photoshop does not have this feature. To organize photos similarly, you must use a separate program such as Adobe Bridge.
Elements is also great at editing large batches of images quickly. The program's simplicity and layout make the editing process faster than Photoshop's crowded UI.
Overall, Elements makes it easy to jump right in and use the program. Basic, quick edits are at your fingertips. Unlike Photoshop, you won't get swallowed up by features and instead can focus your energy on creating.
Winner: Photoshop Elements
3. Pricing
| Product | Regular Price | Discounted Price |
| --- | --- | --- |
| Adobe Creative Cloud | $52.99/month | Check here |
| Adobe Premiere Elements | $99.99 (one-time) | Check here |
| Adobe Photoshop Elements | $99.99 (one-time) | Check here |
Photoshop Elements takes the cake as the best price for the software. You can only get Adobe Photoshop through Creative Cloud, a subscription-based software. Meanwhile, Elements is a one-time purchase.
Pricing options for Photoshop Elements 2021:
$99.99 for just Photoshop Elements.
$79.99 to upgrade Photoshop Elements from a previous version.
$149.99 bundle to get Photoshop Elements and Premiere Elements together. (Premiere Elements is a basic video-editing software.)
$119.99 bundle to upgrade both Photoshop Elements and Premiere Elements from a previous version.
$79.99 bundle price for both Photoshop Elements and Premiere Elements if you are a student or teacher. You have to provide current enrollment information to be eligible.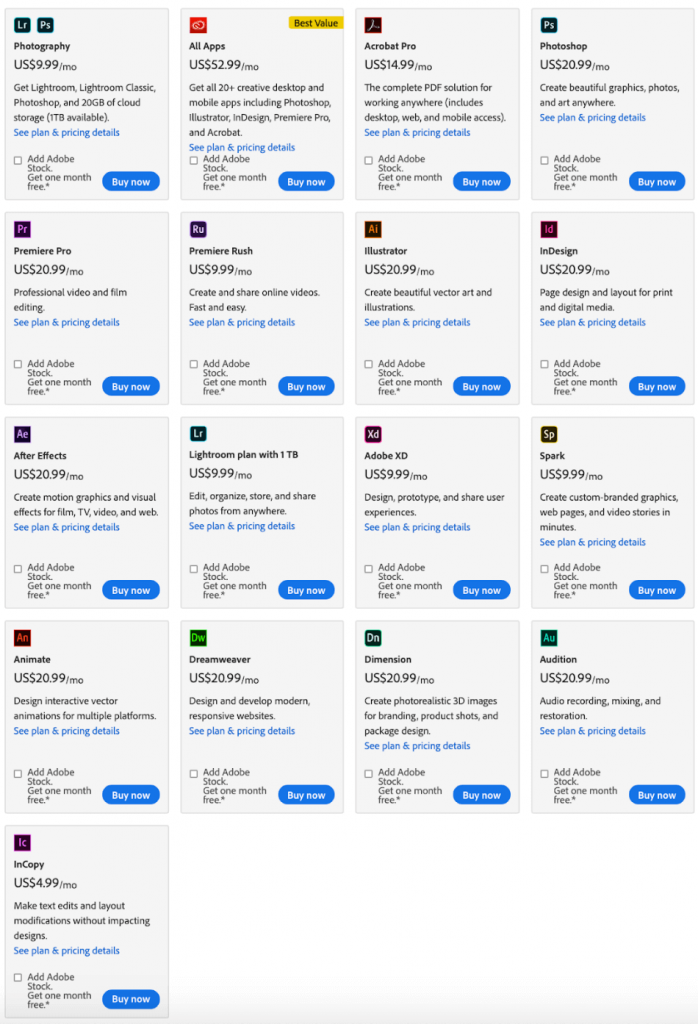 Pricing options for Adobe Photoshop:
$9.99/month or $119.88/year for the photography bundle. This subscription includes Adobe Lightroom with 20 GB of cloud storage.
$20.99/month or $251.88/year for Adobe Photoshop. This subscription includes Adobe Fresco.
$52.99/month or $635.88/year for the full Adobe Suite. This package includes all Adobe Creative Cloud apps, including Adobe Photoshop, Lightroom, Premiere, InDesign, and more.
$19.99/month or $239.88/year for the full Adobe Suite if you are a student or teacher. Again, you must prove that you are currently active.
It is worth noting that all of the monthly Adobe subscription prices listed above are only available if you sign up for the year subscription, paid at a monthly rate. Adobe does offer month to month subscriptions, but they are much more expensive.
All in all, of course, it's much more affordable to buy Photoshop Elements. All of the yearly bundles for Photoshop are more than the one-time purchase of Photoshop Elements. In terms of value, Photoshop Elements is a great deal.
Winner: Photoshop Elements
4. Longevity
Photoshop wins out for longevity. Time and time again, the software has led as one of the best programs in the creative industry. While Elements has emerged as a great editing alternative for the average newbie, Photoshop will stand the test of time.
Industry professionals don't widely use Photoshop Elements. There are many limitations to the software, narrowing the audience to hobbyists and beginners. There are also many photo editing programs on the market that are good alternatives to Photoshop Elements, including GIMP or Krita. If free or cheap software can achieve the same result as Photoshop Elements, what's keeping this software competitive?
On the other hand, Adobe Photoshop outperforms most programs in terms of features and compatibility with the Adobe family of software. Because Adobe Creative Cloud is so incredibly useful in the creative space with its huge variety of programs, many companies use it as their family of software. Photoshop is a keystone of this package.
Also, Elements is much newer software than Photoshop. Many people don't know about the program, released in 2011, because it came so late in the game. Photoshop has been around for a very long time.
Overall, Photoshop has set the standard for photo editing software, reaching a wide audience both because of its capability and because it's been around for over 30 years and still going strong.
Winner: Adobe Photoshop
5. Compatibility
Photoshop is a much more compatible software overall. Unlike Elements, Photoshop supports vector files, allowing users to also use Illustrator and use vector-based smart objects in the Photoshop file.
Both Photoshop and Elements are available for both Mac and Windows. Both will let you use the software on up to two computers, one at a time. Photoshop is available on iPad, too, while Elements is only available for desktop.
Adobe Photoshop collaborates fully with the rest of the Adobe Suite, with features to directly open the current work in different software. Vector-based objects retain their image data, allowing you to alter the vector without losing its quality. Elements works as a stand-alone program, best partnering with Premiere Elements.
Photoshop Elements is limited to only raster files, making it incompatible with Adobe's vector software. Not including vector files is a big limitation in Elements that makes it much less powerful than Photoshop.
Winner: Adobe Photoshop
6. Workflow
As for workflow, both Photoshop and Elements have their strengths and weaknesses. While Adobe Photoshop is more customizable, Elements' workflow is very straightforward.
Photoshop uses windows and has a magnetic snapping feature that allows the user to place windows in a way that suits them best. You can save custom workspaces to come back to later. Photoshop also has built-in custom workspaces designed around projects such as photography or 3D images.
The windows list in Photoshop is extensive, with over twenty options. You can bring up a history panel, giving you a list of your previous actions in the software. You can use the histogram feature to get tonal and color information about the image as you edit. The options are extensive.
Elements, however, couldn't make the workflow simpler to use. While a user could get lost within the many features of Photoshop, Elements has a rigid UI structure that is seamless. Most of the UI is rigid and unchanging. In Expert mode, you can create a custom workspace. There are fewer windows for you to choose from, but the software still includes the essentials:
Photoshop's workspace is extremely customizable, able to be adapted for any user. Elements creates a natural workflow, making edits fast and simple. Photoshop is great for professionals who want to have a program that can be tailored to them. Elements is great for hobbyists and professionals that want simple edits, fast and efficiently.
Winner: Tie
7. Users
Elements is targeted towards hobbyists and primarily edits photographs. Photoshop can do everything from simple animation to 3-D graphics. The software is ubiquitous in professional settings, thus making it a staple software for all working creatives to learn.
Who are the people that use Adobe Photoshop? Professions include:
Graphic Designers: Photoshop incorporates smart objects, allowing a graphic designer to work between vector-based software like Illustrator and raster-based photoshop. Illustrator is great for creating clean shapes, while Photoshop is great for painting and finishing touches on an image. For example, a graphic designer might create a full logo shape in Illustrator and then finish the coloring process in Photoshop.
Filmmakers: Photoshop has the timeline window, allowing the user to create frame by frame animation. While After Effects is a much more powerful animation tool, Photoshop is great for creating quick animations like GIFS.
Editors: Editors need a variety of assets to make their work pop. While InDesign is great for putting everything together, Photoshop is an easy application to fine-tune photographs and assets to add to print work.
Photographers: Photoshop gives photographers ultimate control over their images. From layering to masking to powerful tools such as liquify, professionals can get the most out of their photographs.
Then who uses Photoshop Elements?
People who have never used editing software before. If your editing knowledge stops at the built-in default editing available on devices, then Photoshop Elements may be a great next step. Elements gives you more than the default program without overwhelming the user, like Photoshop.
Photographers looking for quick batch editing: Photoshop does not have as streamlined an approach to batch editing as Elements. While Photoshop has action tools that allow users to batch edit, it is not straightforward.
Photoshop is essential in the creative space, giving you the ability to collaborate easily with other creatives. Overall, more people have a use for Adobe Photoshop than Photoshop Elements. Elements is a beginner only platform while Photoshop is the industry standard.
Winner: Adobe Photoshop
Final Thoughts
If you don't plan on becoming a professional photographer, designer or only want basic photo editing functionality, get Photoshop Elements. The software has fewer capabilities than Adobe Photoshop, but enough to enhance your photographs better than the default software on your phone or laptop.
If you want to become a professional photographer or work in the creative industry, do Adobe Photoshop. Photoshop is worth the learning curve and gives you so much more control over your images.
Lastly, should you switch from Adobe Photoshop to Photoshop Elements? If you are just a hobbyist and only need basic editing features, yes. You will be able to do simple edits, and the organizing feature of Photoshop Elements might be a useful function for you. Over the years, you will save a lot of money because of the one-time purchase versus the recurring Photoshop fee. If you want advanced creative control, stay with Adobe Photoshop.
Frequently Asked Questions
Is Photoshop Elements the same as Photoshop?
No, they are completely different programs. Photoshop Elements is a minimal version of Photoshop, easier to use but lacking in full features, thus limiting creative control.
What is Photoshop Elements used for?
Photoshop Elements is primarily used for beginners editing photographs. Photographers, editors, and hobbyists all use it.
Is Photoshop Elements a one-time purchase?
Yes, once you buy Photoshop Elements for $99.99, you have the software for life.
Is Photoshop Elements good enough?
It depends on what you are using the software for. Yes, for hobbyists, but no for professionals because you don't have enough creative control.
Chris is an LA-based filmmaker and video editor who has a passion for writing and creating video content. He has produced and edited a wide variety of projects, most notably his documentary series "Off the Cuf," which explores the world's most fascinating and obscure communities. He has over 10 years of experience under his belt and is known for explaining complex concepts in simple, easy-to-understand way.
He is extremely familiar with all the top video editing software out there such as the Adobe Premiere Pro, Adobe After Effects, Final Cut Pro, iMovie, Adobe Animate, and DaVinci Resolve. Chris also has extensive know-how of top graphic design & photo-editing tools, including Photoshop, GIMP, Canva, Snappa, and more.