(Last updated on December 10th, 2021)
Adobe Premiere Pro or Adobe Premiere Rush? which video editing software is better in 2021?
See our this ultimate Premiere Pro vs. Premiere Rush comparison to see which editing platform is right for you.
We have used both Premiere Pro CC and Premiere Rush CC extensively, as well as reviewed hundreds of customer comments to craft an ultimate comparison to help you determine which software is best.
Adobe has been at the forefront of media editing software for the past couple of decades. The rise in Photoshop subscriptions allowed them to launch the video editing platform of Adobe Premiere. Because of its sleek design and constant updates for their loyal fanbase, Premiere quickly rose to become the industry standard for professional editors.
In more recent years, with the growing demand for more user-friendly platforms like iMovie, Sony Vegas, Windows Moviemaker, and Filmora, Adobe released Premiere Rush. Premiere Rush is designed for a different group of users than Premiere, as it is much simpler to use but doesn't offer nearly as many effects and tools.
Comparison at a Glance
1. Interface
Winner: Premiere Pro CC. Premiere Pro's preset and custom interfaces give access to more features and tools within the click of a button. While Premiere Rush's interface is great for beginners, Premiere Pro gives you complete control of your work station.
2. Ease of Use
Winner: Premiere Rush. Premiere Rush is a great program to get started on. Adobe has specifically crafted this program to make videos with little editing experience in an efficient and orderly manner.
3. Effects
Winner: Premiere Pro CC. The number of effects, tools and features you have with Premiere Pro is staggering when compared to Adobe Rush. Not only do you have presets effects like Lumetri Color and Warp Stabilizer, but you can import third-party plugins with Premiere Pro.
4. Text
Winner: Premiere Pro CC. With Premiere Pro CC you have total control over text. While Premiere Rush has built-in presets of titles and text that work very well, the program is designed to be basic and fast.
Premiere Pro, on the other hand, is a bit more time consuming but it allows you to change font, styling, color, drop shadow, thread, and animation via keyframes. On top of that, you have access to After Effects through Premiere Pro to turn your text into 3D animation and more.
5. Workflow
Winner: Premiere Pro CC. The workflow with Premiere Pro, while a bit more complex, is much wider in scope than that of Premiere Rush. Premiere Rush is designed for a new editor so the workflow matches that requirement. Premiere Pro, however, is totally customizable from the interface to the tools you have access to.
6. Longevity
Winner: Premiere Pro CC. One of Premiere Pro's greatest assets is its access to constant updates. This, coupled with the fact that you could be experimenting with effects for months, means that you can learn and grow with the program and develop your editing skills, even maybe turning them into a career.
7. On-the-Go
Winner: Premiere Rush. Premiere Rush is tailored for fast and efficient editing techniques. Pair this with access to a mobile application and you have a great on-the-go editing platform that can turn your videos into nicely crafted productions.
8. Pricing
Winner: Premiere Rush. While both software are included in the Adobe Creative Suite, Premiere Rush is offered for a slightly less rate than Premiere Pro. Premiere Rush is $9.99 per month while Premiere Pro is $20.99 per month.
The Verdict
Premiere Pro is the industry standard in video editing, while Premiere Rush is a beginner-friendly video editor offering basic features and functionalities. Premiere Pro boasts a more powerful feature set and comes with a steeper learning curve compared to Premiere Rush.
Premiere Pr is designed specifically for professional editors, whereas Premiere Rush is more suited for on-the-go video editing. The two video editors, while remarkably similar in style, vary greatly when used extensively. Upon seeing these platforms for the first time they may look identical, but each software has a customer base that is quite different.
Premiere Rush contains presets that you will commonly see in popular YouTube videos and media across the internet. It also has a very user-friendly interface that just about anybody can pick up on. But Premiere Rush's greatest asset is that it gets you trained in on the Adobe system so you can use its superior platform someday: Premiere Pro CC.
Get a Special Discount On Our Top Picks!
---
BEST OVERALL PICK FOR PROFESSIONALS
---

Adobe Creative Cloud
Get all 20+ creative apps and services for photography, design, video, UX and more.
at adobe.com
---
BEST FOR PROFESSIONAL VIDEO EDITING
---
Adobe Premiere Pro
Quite simply the best video editing software on the planet, used by professionals.
at adobe.com
---
BEST FOR SIMPLE, ON THE GO VIDEO EDITING
---
Adobe Premiere Rush
A streamlined version of Adobe Premiere Pro. Works on computer, phone, and tablet.
at adobe.com
---
1. Interface
As they say, function follows form. That is especially true for the design of an editing platform's interface. The function can be determined by the way tools are arranged in the interface.
The interfaces of Adobe Premiere Pro and Premier Rush, while similar in style, vary greatly. Premiere Rush's simple interface with its massive playback screen and minimized effects panels surrounding it focus on the video playback. This is because the user is generally less experienced with video and thus follows the cue of what shows up on playback.
As can be seen by its simple design, Premiere Rush is a great tool for beginners. Most users can pick this up for the first time and crank out a video. And all of this can be explained by its interface. Many tools are available on the sides in minimized fashion. You have access to audio tools, preset transitions and text, color correction panels, cropping tools, and cursor tools.
But the main attraction is the video playback and timeline. This design allows the user to steadily scale up their use of tools, features and effects without being overwhelmed upon first look.
Premiere Pro, on the other hand, has a much more intimidating interface. That is because the platform was designed for more experienced professionals. As can be seen, the video playback is the main panel, but it is not the center of attention. Instead, each panel is similarly represented. The source, effects, playback, and timeline panels are all equally distributed on the interface.
Premiere Pro is the winner of this interface category because it is designed using so much more thought and consideration towards professional use. While Premiere Rush can be scaled up, there is a threshold you reach with the features and effects. Premiere Pro's scale is almost infinite as you can do just about anything thought possible in the world of video editing. If you can dream it, you can do it on Premiere Pro.
Winner: Premiere Pro CC.
2. Ease of Use
Premiere Rush is specifically designed for its ease of use.
Premiere Pro was built for editors about 30 years ago, then turned into a mass consumer platform about 15 years later. Premiere Pro then grew its customer base and quickly rose to become the industry standard for professional video editors. Because Adobe's focus on crafting Premiere Pro was to keep up with the demand for professional video editors, the demand for a simpler product developed.
That was when they developed Premiere Rush. Premiere Rush is intended to be used by first-time video editors and those who are somewhat new to video editing. While there are many benefits to this platform, its ease of use is its greatest asset.
The interface, workflow, effect presets, transitions, text, and audio are simple to use and only scratch the surface of the features enabled on Premiere Pro. This allows for a friendly platform for new users.
Adobe's integration of transition and text presets in Premiere Rush aid in its ease of use. In the right-side panel, you have access to many of the most common and simple video transitions. Here you'll also find text presets for sleek and simple text effects, which often show up in Youtube videos and media across the internet. This easy access to simple tools allows for a simple way to make videos of higher production value.
Winner: Premiere Rush.
3. Effects
Premiere Pro is the video editing platform that is most associated with its advanced effects and tools. Because of this, Premiere Pro is the clear winner of this category.
While you have access to some of the basic effects in Premiere Rush, Premiere Pro holds the most effect features of any editing platform in the game.
For example, the full extent of Premiere Rush's effects panels is shown below. Here you can see easy access to audio, text, transitions, color correction and cropping.
Now, with Premiere Pro, the effects offered in Premiere Rush are the tip of the iceberg. As you can see below, each clip has an effect panel where you can add any of the preset effects offered on Premiere Pro, in addition to many third-party effect plugins. The effect tab even has its own interface setting.
With Premiere, you have extensive control of compositing, on top of the simple cropping tools offered with Premiere Rush. Premiere Pro also provides professional audio engineering tools, as well as professional color correction tools in its Lumetri color effect. This color correction tool also has its own interface for maximum control, as can be seen in the picture below.
On top of this, Premiere Pro has advanced effects like warp stabilizer and distortion tools for montage editing. Premiere can even be dynamically linked with Adobe's compositing software, After Effects, for complete animation and compositing control. Long story short, Premiere Pro is the powerhouse when it comes to effects compared to any editing software in the industry.
Winner: Premiere Pro CC.
4. Text
Premiere Rush has a decent selection of preset text effects. Via its Adobe stock tab, there is an array of professional looking titles and text templates. It's easy to use, as well. You simply take the title and drag it onto the timeline wherever you prefer. The font and styling can then be customized in the right hand panel.
While this might seem like an advanced system, it just scratches the surface of the text and title capabilities on Premiere Pro. With Premiere Pro, you have full manipulation at your fingertips. This can be seen relatively clearly through the graphics preset interface that Premiere Pro offers, as seen below.
Here, you can customize the text completely. You can add drop shadow, stroke, change the font, change the color, adjust the sizing of each individual character, align, change the threading and spacing, and add keyframes to the text.
Adding keyframes is what sets Premiere Pro apart from Premiere Rush and just about any other editing platform. Keyframes allow the adjusting and animation of the text. This is a game-changer when wanting to make text appear more dynamic. Add the ease-in and ease-out effect to the keyframe for a smooth entry and you've got yourself a professional looking title.
Winner: Premiere Pro CC.
5. Workflow
The workflow for Premiere Rush is designed for a first-timer. Its straightforward design allows for minimal thought and easy workflow. Simply add in the clips you want to edit and craft in the timeline using the playback video panel. One thing that makes Premiere Rush's workflow more efficient is the importing process. Premiere Rush is designed to import the footage in the order you wish to edit it. As seen below, you can choose the order of how the clips are imported.
Despite Premiere Rush's ease of use, Premiere Pro is the workflow winner. This is because the platform is designed for professional use and thus has superior workflow technology. There are multiple ways in which you can import footage, including not importing it, but rather using the media browser in the program to bring footage into the project.
From here, Premiere's workflow is customizable. You have access to several different preset interfaces, such as graphics, color, effects, and editing. But what's most useful to workflow is that Premiere allows you to create a custom interface, save it, or even set it as your primary editing method. This will enable you to edit with whatever workflow fits your editing technique and style.
Winner: Premiere Pro CC.
6. Longevity
When we categorize longevity, we are comparing the long-term use of Premiere Pro vs Premiere Rush. This aims to determine which editing platform a user can continue to use as they improve their skills and work their way through their editing career.
Premiere Pro is the clear winner of the longevity category. Premiere Pro continually updates their program with the newest specs, features, and bug patches. Another reason Premiere Pro wins the longevity category is because of its loyal base of users. If you encounter an issue with the software or are seeking help with an effect, chances are that another user has faced a similar scenario. It won't be long before you can find a piece someone has written about it or a tutorial to help.
Premiere Rush has regular updates, as well. But if you're looking to grow as an editor, this might be a good platform to start on, but you'll eventually want to make the switch over to Premiere Pro.
What might be ideal is to use Premiere Rush as a first-timer, experiment with the platform on a few videos to get the hang of the adobe arrangement and tools, then make the upgrade to Premiere Pro where you can continue to learn and grow, and create better videos.
Winner: Premiere Pro CC.
7. On-the-Go
While it is the overall better program, using Premiere Pro on-the-go can be quite cumbersome. This is why Premiere Rush wins the on-the-go category.
Premiere Rush even has a mobile phone application. Granted, you don't have access to as many features on mobile as you do on a computer, it still works for many filmmakers. With the mobile phone app Premiere Rush, you can import footage, edit in a magnetic timeline, and export a video. While it seems simple, this is an amazing feat.
Winner: Premiere Rush.
8. Pricing
| Product | Regular Price | Discounted Price |
| --- | --- | --- |
| Adobe Creative Cloud | $52.99/month | Check here |
| Adobe Premiere Pro | $20.99/month | Check here |
| Adobe Premiere Rush | $9.99/month | Check here |
Both Premiere Pro and Premiere Rush are part of the Adobe Creative Suite and can be purchased on a subscription basis for $599.88 per year or $52.99 per month. With the Creative Cloud, you actually have access to both Premiere Rush and Premiere Pro, along with access to a wide array of other programs, including Photoshop, Lightroom, After Effects, and many more.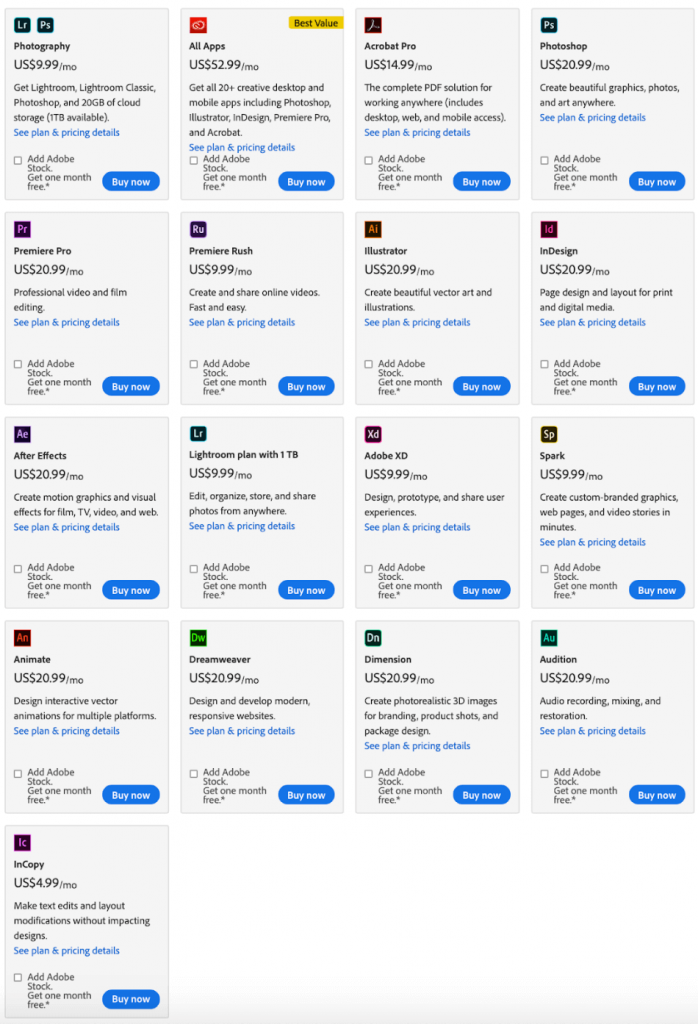 Bought singularly, Premiere Rush CC is $9.99 per month, while Premiere Pro CC is $20.99 per month.
Winner: Premiere Rush.
Final Thoughts
Premiere Pro is the industry-standard video editing tool boasting a powerful feature set, while Premiere Rush is a fast and beginner-friendly video editor with an intuitive interface. If you are new to video editing, go for Premiere Rush. But if you want to be a long-term video editor, Premiere Pro would be the better choice.
Premiere Rush is a great platform to get started on. You will quickly learn how to import footage, use a timeline, add effects and titles, and export a final video. You will also learn the ins and outs of editing and that which techniques can expedite the editing process and enhance your creativity.
However, to really learn and grow, Premiere Pro is the best option to switch over to when you feel comfortable enough as an editor. If you've edited on other platforms like Final Cut or Avid, you can also skip the Premiere Rush phase and go directly onto Premiere Pro. Premiere Pro is not just the better of the two when compared with Premiere Rush, it is also the industry standard for professional editors, and for a good reason.
Chris is an LA-based filmmaker and video editor who has a passion for writing and creating video content. He has produced and edited a wide variety of projects, most notably his documentary series "Off the Cuf," which explores the world's most fascinating and obscure communities. He has over 10 years of experience under his belt and is known for explaining complex concepts in simple, easy-to-understand way.
He is extremely familiar with all the top video editing software out there such as the Adobe Premiere Pro, Adobe After Effects, Final Cut Pro, iMovie, Adobe Animate, and DaVinci Resolve. Chris also has extensive know-how of top graphic design & photo-editing tools, including Photoshop, GIMP, Canva, Snappa, and more.