(Last updated on June 18th, 2021)
Adobe Premiere Pro or DaVinci Resolve, which editing software is better in 2021?
Read this ultimate Adobe Premiere Pro vs. DaVinci Resolve comparison to find out which one is the best editing platform for you.
Adobe Premiere Pro CC and DaVinci Resolve are two of the most used editing software, if not the most used. From hobbyists to professionals, both of these software harness enough power to edit a blockbuster feature film or a home video. In fact, both do exactly that and everything in between.
And, best of all, unlike programs like Final Cut Pro X, both Davinci Resolve and Adobe Premiere Pro are available on a wide array of software.
For simplicity sake, we will refer to Adobe Premiere Pro as "Premiere" and DaVinci Resolve as "DaVinci."
Comparison at a Glance
1. Interface
Winner: Adobe Premiere Pro. Both DaVinci and Premiere have similar interfaces. The difference is that Premiere has been in the video-editing game for a bit longer, therefore it has had more time to fine-tune the interface to precisely what you require as a video editor.
2. Audio
Winner: Adobe Premiere Pro. Premiere prides itself on its audio engineering tools. On top of that, Adobe offers a professional audio mixing program called Audition, which provides seamless transitioning to and from Premiere.
3. Text/Graphics
Winner: Adobe Premiere Pro. The text and graphics involved in Premiere are quite extensive. You can apply complex compositing and sleek titles right within the program.
4. Color Correction
Winner: DaVinci Resolve. DaVinci Resolve was originally a color correction program, specifically designed for professional colorists. As of recent, Blackmagic has extended DaVinci's offering to allow users to video-edit complex projects and has entered the video-editing industry.
5. Ease of Use
Winner: Premiere Pro. Both of these programs require a steep learning curve. That being said, because DaVinci is designed for a slightly higher expertise level, Premiere is the easier of the two to use for a first-time editor.
6. Tools
Winner: Adobe Premiere Pro. Premiere Pro offers a wider array of tools and features to its users. On top of that, the user base is larger, so there are more tutorials and solutions available online via blogs or videos to help you progress as an editor.
7. Pricing
Winner: DaVinci Resolve. DaVinci Resolve is offered for a flat rate of $299. Premiere, however, is priced at a subscription fee of $20.99. While this is cheaper in the short-term, you'll feel more inclined as an editor to subscribe to the full Creative Cloud, which is much more expensive at $52.99 per month.
The Verdict
Premiere Pro is the industry standard in editing video and film, while DaVinci Resolve is a great option for users that focus heavily on color correction. Overall, Premiere Pro is the better option thanks to its extensive array of tools and features, audio engineering capabilities, and constant bug-fixing updates.
DaVinci Resolve has historically been a color-correction platform used by industry professionals. Just recently, DaVinci has added improved video-editing capabilities like audio tools and easier clipping features. This has catapulted the program into an industry player for not only color-correction, but also video-editing.
That being said, the better of the two programs is Premiere Pro. For years, Premiere has been growing its platform, base, and improving its tools. While a new and better competitor can always swoop swoop in and overtake some of Premiere's customer base, Adobe is constantly improving its video-editing features to fit its user base, who are mostly professionals.
This fierce persistence by Adobe to maintain the best media tools and quickly evolve with the market keeps Premiere among the preferred programs in the video-editing industry.
Get a Special Discount On Our Top Picks!
---
BEST OVERALL PICK FOR PROFESSIONALS
---

Adobe Creative Cloud
Get all 20+ creative apps and services for photography, design, video, UX and more.
at adobe.com
---
BEST FOR PROFESSIONAL VIDEO EDITING
---
Adobe Premiere Pro
Quite simply the best video editing software on the planet, used by professionals.
at adobe.com
---
BEST FOR MOTION GRAPHICS & VISUAL EFFECTS
---
Adobe After Effects
The industry-standard motion graphics and visual effects software out there.
at adobe.com
---
1. Interface
The interfaces of DaVinci and Premiere are similar in many ways. The reason why Premiere wins this category is that Premiere was the first one to design its unique interface design while DaVinci hopped on later. While smart on DaVinci's part, Premiere has superior control as it's simply been in the game longer.
Let's take a look at the DaVinci interface. While each panel is customizable, the general interface that boots up the very time closely resembles what many editors use.
DaVinci has a more specific customer base, as many of its users focus heavily on color-correction. This means that users generally have large monitors or a two-monitor setup. The DaVinci interface is designed appropriately considering that fact.
While most tools are easily accessible via one interface in DaVinci, it can be a bit overwhelming for users that are editing on laptops or smaller desktops. While each panel can be customized, this shows that the platform is made for more experienced users, rather than widespread use.
Premiere Pro also allows users to customize each panel. They can quickly switch between interfaces simply using the top navigation panel with access tabs for the color-correction, audio, graphics and text, dual monitors, and the basic editing interfaces.
Overall, we are most impressed with the Premiere interface, as the tools are easily accessible, the timeline is organized, the panels are arranged for simple and effective use, and the whole interface can be switched for quick access to specific uses.
Winner: Adobe Premiere Pro
2. Audio
Even though DaVinci has made drastic improvements to its audio engineering tools in recent years, Premiere Pro has better audio tools. It also provides easy access to its sibling program, Adobe Audition, for professional use.
Let's first take a look at what DaVinci has to offer. One tool in particular that DaVinci has is an audio overlay option, which allows you to view the audio waveform on top of the video in the source panel. This allows you to playback the selected clip while also noting what is going on with the audio via the waveform for that specific clip.
Using the keyframes in DaVinci, it's fairly simple to add fades, manipulate the curve of the fade, and remove segments from clips. You can easily click the audio clip in the timeline on top to add a keyframe and drag the volume of the audio between the keyframes. A curve keyframe is already in place. No additional steps are required for that as it'd in Premiere.
DaVinci even provides access to Fairlight, a specific audio mixing platform. While this program has a steep learning curve and is recommended for professionals, you can do what a lot of audio mixing companies can do. That's pretty intensive and has gotten a lot of high-end professionals excited about their software.
That being said, Premiere does have a lot of specific audio features that are top of the line, making this program higher in performance value. One tool that is commonly used among video-editors is the synchronize tool. This allows you to select two audio clips that were recorded at the same time and synchronize them. This is commonly used on video and audio that are recorded separately, which is often the case with bigger budget productions.
Automation modes in Premiere will take away the tedious task of making countless keyframes to manipulate the audio sample, have certain portions of your audio match each other, and sound consistent. This saves bundles of time and is regarded as one of the lesser-known but powerful tools that Premiere offers.
Winner: Adobe Premiere Pro
3. Text/Graphics
The in-program text and graphics for both Premiere and DaVinci are top of the line when it comes to video-editing programs. The only other possible rival is Avid Media Composer that can stand a chance against these two industry-standard video-editing platforms. However, if we had to choose a winner in this category, it would be Premiere Pro because of its font selection, motion tracking, a huge array of plugins, and effects.
DaVinci does, however, put up a good fight in the text department. In previous versions of DaVinci, using text for subtitles and captions was just about the extent of it. With an updated array of features, you can now add complex titles with sleek fonts and masking tools that can create text of high production value.
DaVinci also provides seamless access to Blackmagic's graphics interface, Fusion. With Fusion, you can create high performing titles that are top of the line. Fusion even gives access to 3D titles. As you can see in the screenshot, Fusion titles are differentiated in DaVinci, as the specialty of the text is evident and superior to regular titles.
This is similar to Adobe's After Effects (see its comparison with Premiere Pro) when used in tandem with Premiere. However, After Effects provides much more opportunity for customizable text. With After Effects, you can add motion graphics to the text to allow the animation to appear natural and sleek.
This animation style is even possible in Premiere, for most users. Premiere allows you to control the masking and keyframes, as well as font, size, leading, thread, color, stroke, glow, and so much more. On top of that, all of these aspects can be animated. That provides gives users the opportunity for full control and creative limits that are much higher than that of DaVinci.
Winner: Adobe Premiere Pro
4. Color Correction
While Premiere Pro has a wide array of color correction tools, DaVinci is not only better of the two but is the single best color correction video-editing platform in the industry. This can be attributed to its years of being an exclusive color correction program. Professional colorists who dedicate their entire career to color correction would seek out DaVinci for its powerful color correction features. Now, DaVinci has video-editing capabilities, as well. But just a few years ago it was solely a coloring program.
One of DaVinci's nifty coloring tools allows you to compare your current clip to stills of previous clips so you can accurately match the tone, mood, and color palette of the project. This is a simple yet useful tool that colorists have been demanding for years. DaVinci is just the first one to do it.
Let's now take a look at the DaVinci coloring interface. This is well organized, simple, and provides a node tree for intricate clip coloring. The node tree allows you to implement RGB node splitting for even more complex coloring ventures and works seamlessly within the project.
Of course, DaVinci gives access to color wheels for the manipulation of saturation, highlights, mids, shadows, vibrance, and much more. This is the simplest method of coloring but still allows for complex color palette generation. Curves and waveforms are also available for either comparison or actual manipulation. So you have access to several different methods for accomplishing the same task.
Another fantastic feature that DaVinci provides is the keyframe coloring editor. It allows you to gradually apply or remove a color correction applied to a clip over time. This is great for clips where the exposure or color changes over time, and you would like to match up the entire clips to remove that dynamism. This is an effect that is unparalleled in any other editing platform.
Premiere Pro also provides extensive color correction tools. With its color wheels, curves, and waveform panels, color correction is a breeze in Premiere. These tools, however, lack the sheer power that DaVinci provides. However, they do the job for almost all projects.
Winner: DaVinci Resolve
5. Ease of Use
Both Premiere Pro and DaVinci Resolve require a fairly steep learning curve. Both of these editing programs are the industry standard for professionals. Thus, the tools and features provided are designed for editors who have years of experience. Premiere, however, happens to be the easier of the two to learn.
Because Premiere has a larger user base, there are many tutorials online on blogs and Youtube. In fact, if you're having difficulty applying a specific effect or maneuver, there is surely a tutorial out there somewhere for you. This is actually one of the strongest selling points for Premiere that few people talk about.
The learning curve for DaVinci is a bit steeper, as it was originally a color correction platform for professional colorists. This makes the program designed for even higher-end professionals that have years of experience. Of course, it is possible to pick it up as a first-time editor as there are helpful blogs and video tutorials online, the offerings for the Premiere user base are just much larger.
Winner: Adobe Premiere Pro
6. Tools
Both DaVinci and Premiere provide access to an extensive array of effects like glow, stabilization, green screen keying, text and titles, and compositing. In fact, the tools offered by Premiere and DaVinci are very similar in many ways. The reason why Premiere wins this category is because of the wide array of masking and keyframing capabilities.
The basic compositing that Premiere allows you to do is actually quite complex, even for experienced editors. While many users will simply take their project to After Effects via Adobe's Dynamic Link, many of these effects can be applied within Premiere. Obviously, the timeline does expand and get quite large as you continue to add layers, but these effects are possible which is unparalleled when compared to DaVinci.
While DaVinci does have keyframing and compositing features, these are fairly recently added and require some improvements before matching up to the features in Premiere.
Winner: Adobe Premiere Pro
7. Pricing
| Product | Regular Price | Discounted Price |
| --- | --- | --- |
| Adobe Creative Cloud | $52.99/month | Check here |
| Adobe Premiere Pro | $20.99/month | Check here |
| DaVinci Resolve | $299.99 (one-time) | No Discount |
DaVinci Resolve 16 has a flat rate of $299. However, with the purchase of a Blackmagic camera, the video-editing software is free. Using this software with a Blackmagic camera makes sense, as the software is specifically designed for this. Of course, the software can be used for most camera and video file types, but the Blackmagic file types are extra seamless when used in DaVinci Resolve.
Premiere Pro has a bit more of a complicated pricing plan. The single app of Premiere Pro costs $20.99 per month. However, if you also want access to other Adobe Creative Cloud apps like Photoshop, Lightroom, Audition, Media Encoder, and Adobe Animate this subscription would cost $52.99 per month. However, Adobe often has deals where the whole Creative Cloud is offered for $29.99 per month.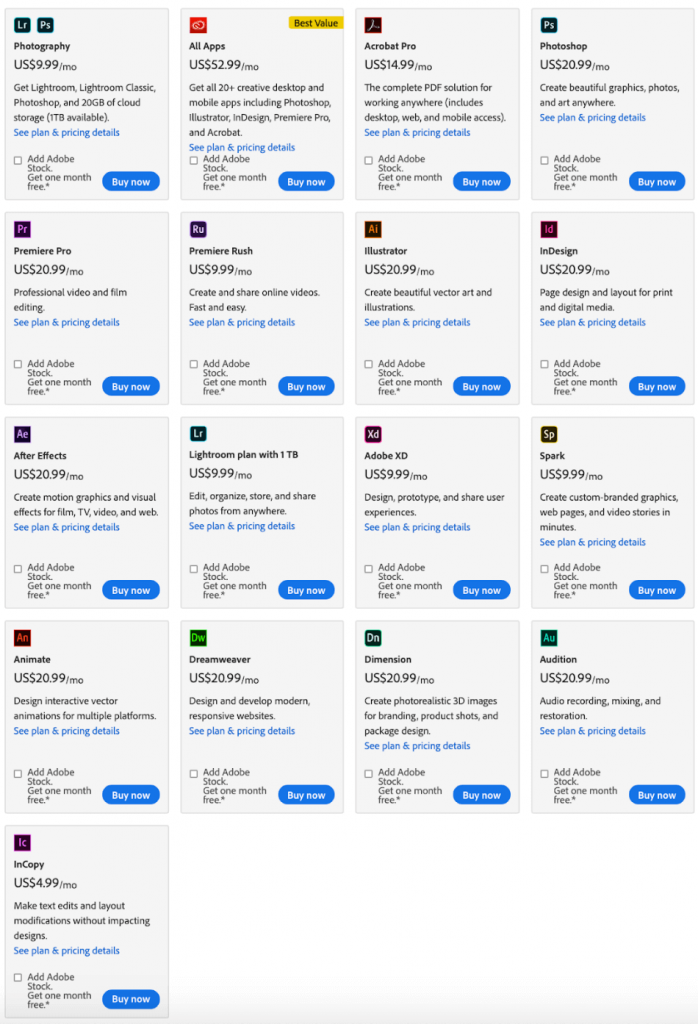 On top of that, Adobe offers student pricing, teacher pricing and business plans that range in prices and support more devices with a single subscription.
Winner: DaVinci Resolve
Final Thoughts
Both Premiere and DaVinci are sure to be two big players in the video-editing and film industry for many years to come. The trajectory is clear that both platforms are onboarding more and more users when compared to other platforms that have historically been popular in the industry.
However, if we were to choose one over the other, the best video-editing platform would be Premiere Pro. Because of its large user base who post tutorials and support each other in the video-editing community, the extensive array of tools and features, audio engineering capabilities, compositing power, and constant updates that improve bugs, Premiere is our platform of choice.
DaVinci, however, is a great option for users that focus heavily on color correction. If you're a colorist looking to learn more about editing, this could be the platform for you.
Frequently Asked Questions
Is DaVinci Resolve as good as Premiere?
While this is up for debate among the film industry, our consensus after using both video-editing platforms extensively and reviewing hundreds of customer reviews, Premiere Pro is currently the better program. DaVinci, however, is a great tool for video-editors that focus heavily on color correction. When it comes down to it, every editor is different and requires different tools, including the entire video-editing program.
Is Premiere Pro free?
While Premiere Pro does offer a free 7-day trial, a subscription plan is required afterward. The pricing varies depending on your plan but the full rate for Premiere Pro is $20.99 per month.
Is DaVinci good for Youtube?
DaVinci is a great program for professionals in the industry, whether you are editing a commercial feature film or a video for YouTube.
Does DaVinci Resolve free support 4k?
While there are obvious limitations to the free version of DaVinci Resolve, possibly the most cumbersome is that the program does not support video over 4k UHD resolution.
Chris is an LA-based filmmaker and video editor who has a passion for writing and creating video content. He has produced and edited a wide variety of projects, most notably his documentary series "Off the Cuf," which explores the world's most fascinating and obscure communities. He has over 10 years of experience under his belt and is known for explaining complex concepts in simple, easy-to-understand way.
He is extremely familiar with all the top video editing software out there such as the Adobe Premiere Pro, Adobe After Effects, Final Cut Pro, iMovie, Adobe Animate, and DaVinci Resolve. Chris also has extensive know-how of top graphic design & photo-editing tools, including Photoshop, GIMP, Canva, Snappa, and more.