(Last updated on December 7th, 2021)
Affinity Designer or Adobe Illustrator? Which software should you pick and why?
Read this in-depth Affinity Designer vs. Illustrator comparison to find out which software is right for you.
Affinity Designer is a powerful vector-based program designed by Serif. The program can create beautiful vector graphics and illustrations. The accuracy and detail offered is incredible. Notably, the program can also switch between raster and vector design.
Adobe Illustrator is one of the best vector-based programs currently on the market. The tools have been upgraded and improved over the decades, making the program user-friendly and a design standard.
If you're in a hurry, see the summary of the comparison below.
Comparison At a Glance
1. Features
Winner: Adobe Illustrator. Overall, Adobe Illustrator has more tools than Affinity Designer. The software has more specialized tools, helping expert designers perfect their work.
2. Pricing
Winner: Affinity Designer. Adobe Illustrator is only offered in a subscription-based model, the lowest price being $20.99/month. Affinity Designer is available as a one-time purchase of $49.99.
3. Longevity
Winner: Adobe Illustrator. Adobe Illustrator has been the industry standard for decades. Affinity is very new to the game. While a full Affinity suite may be a giant competitor to Adobe in the future, right now, Adobe is still the ubiquitous family of software in the creative professional world.
4. Compatibility
Winner: Tie. Adobe Illustrator and Affinity Designer are compatible with both Mac and Windows users. Both programs have limitations when trying to use their native files in other programs.
5. Ease of Use
Winner: Affinity Designer. This program, while still requiring a bit of learning, is easier to use than Adobe Illustrator. Affinity Designer sticks closer to the essentials, leaving the interface more intuitive and less cluttered.
6. Users
Winner: Tie. Both programs are used by hobbyists and professionals alike. Affinity Designer and Adobe Illustrator are powerful programs that create great vector graphics, designing professional-level results.
7. Learning Curve
Winner: Tie. Both Adobe Illustrator and Affinity Designer have resources to guide you through the world of vector graphics. While vector drawing can be an alien topic to most, you will be an expert in no time by following tutorials.
Affinity Designer vs. Illustrator: The Verdict
Overall, both Affinity Designer and Adobe Illustrator are powerful vector-based programs. Illustrator is great if you currently use many Adobe Creative Cloud applications.
If you are looking for a budget-friendly switch or only need a vector creator, Affinity Designer is the right option for you.
Get a Special Discount On Our Top Picks!
---
BEST OVERALL PICK FOR PROFESSIONALS
---

Adobe Creative Cloud
Get all 20+ creative apps and services for photography, design, video, UX and more.
at adobe.com
---
BEST FOR VECTOR EDITING & ILLUSTRATION
---
Adobe Illustrator
The best vector graphics and illustration software used by millions of creators & artists.
at adobe.com
---
BEST FOR GRAPHIC DESIGN & IMAGE EDITING
---
Adobe Photoshop
The world's most powerful image editing and graphic design software.
1. Features
Overall, Adobe Illustrator has more features than Affinity Designer. There are more tools to refine your project and ease the design process overall. Affinity has all of the essentials, just not the extra tools that go the extra mile.
Features of Affinity:
Uses the powerful Personas tool to organize your workflow. The personas are separated into Designer (Vector-based design), Pixel (Raster-based design), and Export (For exporting your project.).
Affinity Designer has an incredible zoom of over 1,000,000%. Precise zoom makes the program incredibly accurate.
Three times faster than Adobe Illustrator. Can pan and zoom at 60 frames per second.
Has live gradients, adjustments, and effects. The program lets you preview curve edits and transforms live as you create them.
Able to organize via layers and color tagging.
Has both CMYK and RGB color modes, allowing you to design for both screen and print.
Able to create raster and vector in the same project. This dual editing feature is an incredibly helpful tool that is better than Adobe Illustrator. Normally, you would have to switch to an external application to create in raster. Using layering techniques and the Personas, Affinity makes this switch seamless.
Can create multiple artboards in one document, a perfect set-up for multi-page projects.
Has a powerful iPad version of Affinity Designer.
Retains a history of up to 8,000 changes, including history snapshots too.
Features of Illustrator:
Creates excellent vector-designs, allowing you to create resizable logos, graphics, icons, and more, scalable for any size without losing resolution.
Freehand tools to allow you to create vector shapes freely.
Adobe Fresco, the sister iPad application, is great for creating freehand vector shapes.
Can design custom typography.
Comes with many templates organized by the final media. (Web, mobile, etc.)
Works seamlessly with the rest of the Adobe creative suite, Adobe Photoshop, InDesign, and After Effects, to name a few.
Great for creating complex designs. Contains many specialty tools, allowing you to tweak your design with precision.
It can create multiple artboards, allowing you to create different versions of a logo or multi-page documents.
Has workspaces to organize the layout of the program. The program allows the user to create a custom workspace or select a default option. You can choose from Automation, Essentials, Essentials Classic, Layout, Painting, and more. You can also create custom key commands, optimizing your workflow further.
Supports both CMYK and RGB color modes.
A few features that Adobe Illustrator has that Affinity Designer does not:
Image Trace: A tool in Adobe Illustrator that traces a raster image and converts it into a vector.
Warp Tool: A tool that allows you to distort and reshape a selected object.
Meshes: A mesh object is a multicolored object in Illustrator where colors can flow and transition fluidly on an object. The colors are smooth and seamless.
Overall, both Adobe Illustrator and Affinity Designer are powerful programs. Illustrator gives you a bit more control over small details and has more specialized vector tools overall.
In terms of essentials, Affinity Designer has everything. In a few years, Affinity could easily pass Illustrator in terms of features.
Winner: Adobe Illustrator
2. Pricing
| Product | Regular Price | Discounted Price |
| --- | --- | --- |
| Adobe Creative Cloud | $52.99/month | Check here |
| Adobe Illustrator | $20.99/month | Check here |
| Affinity Designer | $49.99 (one-time) | No Discount |
Affinity Designer wins in terms of price because it's available as a one-time purchase of $49.99. Meanwhile, Adobe products are only usable via an active subscription.
Affinity Designer also has brush bundles and more that are available at an additional price. To get the iPad version, you have to pay an additional $19.99.
Adobe Illustrator's lowest cost is $20.99/month with a yearly term. If you want a month-to-month plan, the price goes up to $31.49/month. For you to use the program, your subscription must be currently active.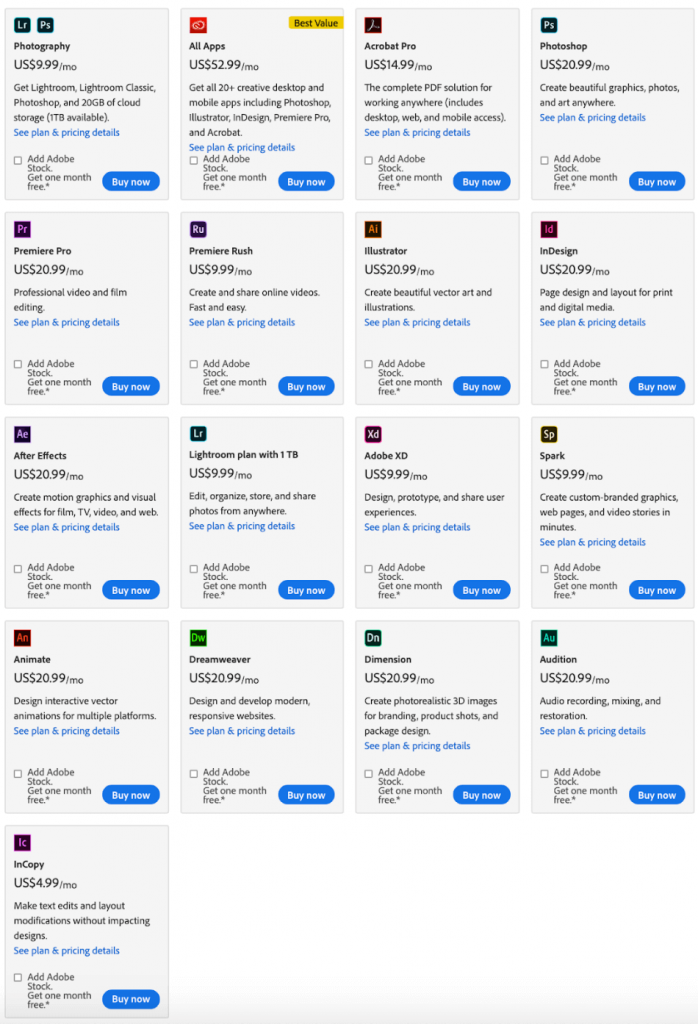 Meanwhile, if you decide not to get the newest Affinity program, you will still have the old one.
Adobe used to have a one-time fee model. Moving to a subscription program was disheartening to many loyal customers. Ultimately, Affinity gives you back control, allowing you to forever have the software without additional hidden fees.
Overall, Affinity Designer is a great value and will save you a ton of money over time. You would spend $251.88/year versus Affinity Designer's one-time cost of $49.99. Affinity wins the price category by a landslide.
Winner: Affinity Designer
3. Longevity
Adobe Illustrator is the industry standard for vector graphics. While Affinity Designer is a great alternative in terms of functionality, Affinity hasn't been embraced as much as Adobe Creative Cloud. Until Affinity increases its suite of programs, Adobe will still have a leg up.
Adobe has been the software mammoth of the creative industry. Businesses use their huge suite because of the huge range of capabilities and compatibility between applications.
Adobe Creative cloud has specialized tools for everything from video editing (Premiere), photo manipulation (Photoshop), desktop publishing with great collaboration tools (InDesign), and Animation (After Effects).
Because so many businesses require knowledge of Adobe programs to be eligible for a job, many universities worldwide offer collegiate courses on this software. To work in the professional sphere, creators must have at least some knowledge of this software.
In comparison, Affinity only has three programs: Affinity Photo, Affinity Designer, and Affinity Publisher. These programs would effectively replace Adobe Photoshop, Adobe Illustrator, and Adobe InDesign.
While these programs are great, this doesn't cover the wide range that Adobe has to offer. They are still missing video editing and 3D designs, to name a few faults.
Adobe also advances their software much more often than Affinity. Adobe updates their software every month, adding features and fixes bugs, adapting their programs to get even better. Affinity does software updates every several months, delaying innovation and bug fixing to come on a regular schedule.
At this point, Adobe still reigns on top and seemingly looks like they will do so forever. Until another program can create the same breadth as Adobe, they will still lag. Affinity may get there in the future.
Winner: Adobe Illustrator
4. Compatibility
Adobe Illustrator and Affinity Designer work for Mac and Windows machines. Both programs also have an iPad application.
Affinity Designer is mostly compatible with Adobe Illustrator. The .ai files work completely if it is saved with PDF compatibility. If it's not saved with this option, the file is still openable in Affinity, but textures, brushes, and illustrator styles may not be fully supported.
Most Adobe Illustrator brushes are compatible with Affinity Designer. Sometimes, the brushes need to be converted. It is a simple process with many guides online on how to do this.
Affinity Designer files, .afdesign, cannot be opened by any program other than Affinity Designer. This lack of compatibility is a limiting factor. Also, Affinity cannot export the file as an Illustrator file. You can jump through hoops, converting to Photoshop or PDF, but the transition can be messy and a hassle.
Adobe Illustrator is very compatible within its family of applications. It works especially well with Adobe Photoshop and InDesign. These programs can retain the vector attributes, allowing you to resize within those programs without losing resolution.
In terms of opening Adobe Illustrator in other applications outside of Adobe, you are able to with exceptions. Often, it will be converted into a PDF, losing some Illustrator data.
Both Affinity and Illustrator have their pros and cons when it comes to compatibility. They are very compatible in some ways and limited in others, especially limited with external programs.
Winner: Tie
5. Ease of Use
Affinity Designer wins out for ease of use. The interface is less confusing than Illustrator overall. Affinity Designer doesn't have as many features, keeping the user more focused on creating the project at hand.
Illustrator is more difficult and complicated to use because it offers more features. These features include a myriad of effects, filters, the mesh tool, and blend tool, to name a few advanced tools that Affinity Designer is missing.
Affinity has a clean user interface, aiding in its ease of use.
For ease of workflow, the user can switch between personas Designer, Pixel, and Export. Designer lets the user design vector shapes and tools.
The Pixel persona allows you to create raster shapes and tools, and Export gives you the perfect layout to export your final image.
In comparison, Illustrator doesn't guide you as much through the design process. While Illustrator does provide custom workspaces and very useful default ones, the number of buttons and options can be daunting.
Illustrator is great for professionals who need the most advanced program out there. While still requiring a learning curve, Affinity Designer makes the process a bit easier by sticking closer to the essentials.
Winner: Affinity Designer
6. Users
Both Adobe Illustrator and Affinity Designer have a wide audience. They create fantastic final designs and are user-friendly. Hobbyists and professionals use both programs.
Adobe Illustrator has been around for decades in comparison with its newer competitor, Affinity Designer.
Illustrator has advanced through the years, becoming more user-friendly and developing powerful sister applications like Fresco that make the design process even easier.
The program is used by graphic designers and artists to create logos, flyers, brochures, and more, any medium that needs to be made in various sizes and resized without losing quality.
Affinity Designer is a newer program, released in 2014, that also creates great vector and raster graphics. The program is a great choice for creative professionals and the general public aiming to create their own visuals for their media. Because of its low-cost and killer results, both groups flock to the program.
Winner: Tie
7. Learning Curve
Both Affinity Designer and Adobe Illustrator have a steeper learning curve than raster-based programs. For beginners, drawing in vector can feel alien. Fortunately, both Designer and Illustrator have many lessons to help support you along the way.
Adobe Illustrator has a great support system online. They have a huge community forum that you can utilize, sorted by program, and able to be sorted by relevancy. Online, there are thousands of conversations, with peers and Illustrator experts answering questions daily.
Adobe Illustrator also has 24/5 support, Monday – Friday, allowing you to chat, talk over the phone, or email an Adobe expert. They can help you with any problems in the program, from compatibility issues to bug workarounds.
Adobe Illustrator also has a ton of lessons available online and in-app. They have videos with step-by-step guides with explanations of tools and techniques.
External resources, such as professional teaching platforms and free YouTube tutorials, are also available for new and current users.
Affinity Designer has many tutorials online to teach you the tools of a designer. They have lessons sorted from Basic to Advanced, also sort by specific tools. There is also a PDF manual that you can use and an in-app index to find the questions you are looking for.
Unlike Illustrator, Designer does not have phone contact. You can email support, and there is an active forum online. From here, you should be able to find everything you need.
There are also many lessons and tutorials available externally. Users and professionals have created videos online to guide you through basic and advanced lessons.
Overall, both Adobe Illustrator and Affinity Designer have great support systems, complete with a roadmap on using the programs.
Winner: Tie
Final Thoughts
Adobe Illustrator and Affinity Designer are fantastic vector-based programs. They both create final professional designs, have great user-interfaces, and contain amazing tools for the user. Deciding between the two applications depends on what your needs are.
If you are looking to enter the professional graphic design space or continue to use many of the Adobe Creative Cloud applications, Illustrator is still the best choice.
Many companies use Adobe Suite because of its versatility; therefore, learning Illustrator can be a must. If you use the full Creative Cloud suite, getting another application on top of this subscription price doesn't make sense.
If you are a hobbyist or only need one vector-based program, get Affinity Designer. It does almost everything that Illustrator does and is much cheaper overall. Why pay more for the same final result?
Frequently Asked Questions
Is Affinity Designer better than Illustrator?
Illustrator is better in having more features, having more longevity as a current software standard in the industry, and being very compatible with the Adobe Creative Cloud Suite.
Affinity Designer does all of Illustrator's basics and creates great final designs for creative professionals at a fraction of the cost.
Do Illustrator brushes work in Affinity Designer?
Illustrator brushes can be converted to work in Affinity Designer. You can also create custom brushes in the program.
What is Affinity Designer used for?
Affinity Designer is a vector graphic design solution used by professional graphic designers and creatives. The vector graphics are used to create logos, assets, posters, and more to resize without losing resolution.
Is Affinity Designer good for beginners?
There is a steeper learning curve for Affinity Designer, especially in comparison to raster-based programs. Drawing in vector can feel strange at first, and fortunately, Affinity has many tutorials to help you learn the process.
Anne is a filmmaker and writer with a passion to bring stories to life. She has created several short films, specializing in stop-motion animation. Anne has over eight years of filmmaking experience, and she is always ready to share her knowledge with other creators. She started her company Anne Gets Creative in 2020.
Anne is extremely familiar with many Adobe programs: Photoshop, Illustrator, InDesign, After Effects, Premiere, and Audition, to name a few. She has also worked with other programs such as Procreate, Canva, iMovie, and Final Cut Pro. She always strives to give the best software reviews, researching diligently so her readers don't have to.