(Last updated on November 2nd, 2022)
What software is best for motion graphics? Which one is within your price range? Find out in this look at the best applications for creating motion graphics.
Motion graphics have been featured in advertising and filmmaking for quite some time. The medium used to be one that required advanced knowledge of animation. Now you don't even have to know how to draw a straight line thanks to a number of apps.
Motion graphics can be as simple as text or elaborate as a moving and talking character. There's such a wide range of different projects you can create. You may be using them for a new ad campaign or just want to experiment to create a viral video.
Related: Is Adobe After Effects Available for One-time Purchase?
So which application is best for the task? Well, we've compiled a list of the six best applications for creating motion graphics to answer that very question. You may be surprised by some of these entries.
1. Adobe After Effects
After Effects has been Adobe's top application for motion graphics and visual effects since 1993. The software focuses primarily on visual effects and digital compositing. Some examples include removing backgrounds from video for a green-screen effect or placing computer graphics into a scene.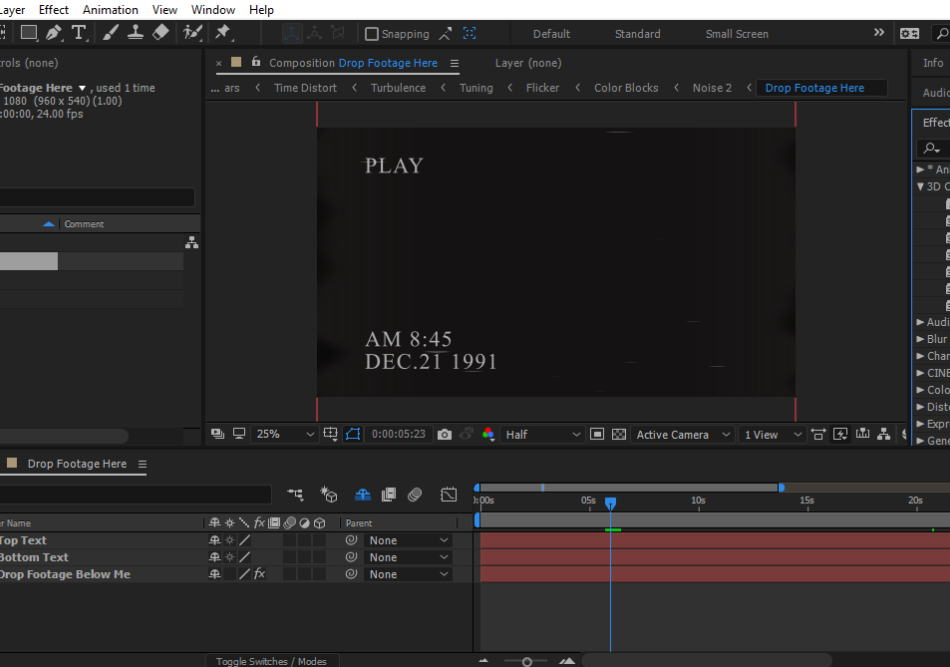 After Effects is ideal for handling motion graphics with its various animation tools. The app has become a staple in film, television, and video games. It can also be retooled with plugins and scripts to create web animations as well.
Pros:
After Effects is exceptional at merging different video formats. Motion graphics assembled in the program can easily be composited with live-action footage or even 3D animations. After Effects is also strong at compositing (removing backgrounds) that it's built for more than just motion graphics.
After Effects is highly customizable with scripts and plugins. These additions can make more elaborate motion graphics all the easier to manage with simplified processes and tools. These scripts can be of great benefit if you're trying to create motion graphics with many moving parts or animations for websites.
After Effects integrates well without other Adobe Applications. It can recognize layered files from Photoshop and make export to Premiere easily. Adobe Media Encoder, which comes bundled with Premiere, is a handy addition that allows you to render After Effects and Premiere projects at the same time.
Cons:
The subscription pricing model can add up over time with a cost of $20.99 a month. The price can be a bit spendy for those not using the program professionally.
While After Effects is excellent at crafting motion graphics, the video editor side of the program is not very good. If you're working on a bigger project that requires audio and video editing, you'll need to use a separate video editor like Adobe Premiere.
After Effects can be pretty taxing on your computer, considering it can generate detailed previews while you're working. You'll need a solid computer to handle the heavy reliance on memory.
Short Verdict
Considering how much the app is capable of performing After Effects is an essential application. It's a multi-use app that can aid in motion graphics and compositing and several visual effects. There's so much that can be accomplished with its powerful tools that it's worth the price.
2. Adobe Animate
If you want to both design and animate simultaneously, Adobe Animate is an exceptional application. Originally known as Adobe Flash, the program is capable of creating and animating vector graphics. It used to be for web animation and games but now functions more as a general animation and motion graphics software.
Animate can be used to create old-fashioned 2D animation with its frame-by-frame tools. You can also use it to create tweened animations with merely clicking and dragging. The animations created can be exported either as a completed video or an image sequence brought into video editing applications.
Pros:
Adobe Animate is perfect for vector-based motion graphics. You can easily edit all the assets, even after they've been animated. This aspect can be a real timesaver if you don't want to switch between apps.
The animation tools within animate are top-notch. Everything from motion paths to easing of timing can be accomplished with ease. This is all thanks to the Tween tools that can make automation in animation simple enough to implement and customize.
The interface is organized enough for a speedy workflow. Having the timeline present at the bottom and a preview window that generates previews quickly will make the process proceed faster. You won't have to spend much time checking the timing or waiting for renders to confirm how well your project is coming along.
Cons:
Adobe Animate is best suited for vector graphics. If you're working with non-vector artwork, you may convert it. That conversion can increase the memory strain of the program, considering slow vector-based programs run with too much information.
While most of the tools for animating are simple enough to understand, the motion graphics tweening tools can be a bit complex. It will take some time to learn the many components of animating layers. The learning curve is pretty steep in this area.
The exportation formats are relatively limited. You can either render the animation out as a video with a small number of codecs or an image sequence brought into a video editor. Either way, you'll most likely not have a finished product when you render within Animate.
Short Verdict
With enough training, Adobe Animate is one of the speediest applications for assembling motion graphics. The convenience of having drawing and tweening tools at your fingertips is ideal for animators who want a one-stop program. If you're working in vectors, there's no need to jump between apps when you can edit on the fly.
The program isn't as strong at animating non-vector images, though. While it can accomplish this aspect, it's a heavy drain on your computer's memory. Due to these limitations, Animate is best recommended for motion graphics artists who work strictly in vector artwork.
3. Adobe Photoshop
This may come as a surprise to some, but even Photoshop is capable of motion graphics. Adobe's flagship product has been chiefly known for its contributions to photo editing and digital illustration. With its many advancements, however, it's also capable of video.
Photoshop now contains a video feature that is built mainly for developing animated GIFs. While simple enough for making GIFs, it can be wielded for more elaborate animations and video. The video option uses a frame-by-frame technique for stitching frames together, akin to the classic animation methods.
Pros:
It's convenient to have Photoshop as both the assembler of motion graphics assets and the video editing program assembling them. You can quickly jump between developing your motion graphics assets and then animating them for motion with enough training. This is preferable if you don't like jumping between different software.
With the tools present in Photoshop, several styles can be accomplished quickly. This allows for more elaborate paintings and even rotoscoping to become a part of your motion graphics with ease. Those already familiar with Photoshop should have a minor issue using this process to transform their illustrations into animation.
The use of design boards is a unique way to keep your motion graphics organized and easily editable. The simpler motion graphics can be adjusted with ease when placed in grouped layers. Compared to the likes of After Effects and Premiere, there's a certain sense of simplicity to it.
Cons:
Photoshop doesn't have the most intuitive layout for assembling motion graphics. You'll have to navigate the interface and read up on some tutorials to configure the program for making videos properly. While it's possible to get used to this setup, it's not ideal for those just starting in motion graphics.
The timeline tools for creating videos are minimal. It's pretty basic if you're used to developing motion graphics frame-by-frame. If you want to check the timing of your motion graphics, however, you're basically on your own trying to eyeball the results.
The workflow process requires a lot of time to perfect. The more intricate motion graphics will require some extensive knowledge of animation and timing to deliver desired results.
Short Verdict
Photoshop is more of a make-shift app in terms of how well it can develop motion graphics. There's a simplicity to the frame-by-frame layout that will make animators feel right at home. The more novice motion graphics artists, however, may find the lack of animation tools frustrating.
Since the tools for developing animation are limited, Photoshop is best suited for those already familiar with some traditional animation basics. For intermediate or advanced artists, Photoshop can be effective at creating the most detailed motion graphics. Be aware, however, that the layout will take some getting used to.
4. Cinema 4d
Cinema 4d is perhaps best known for composing visual effects for movies and television. The 3D software has been used in films like The Polar Express, Beowulf, and Tron: Legacy. Though primarily for 3D, it can be used to accomplish 2D/3D hybrids of motion graphics.
Pros:
Cinema 4d can handle elaborate motion graphics. There's a high level of detail that can be added with shaders and texture unwrapping tools. These features take some time to learn but are capable of producing detailed videos.
The tools for developing 3D and 2D models are numerous and powerful. The most detailed models can be created for titles, objects, or characters. There are few limits to how simple or complex you want your models to appear.
Cinema 4d has fast workflow. Its many tools allow for easy duplication of animations and actions so you're not animating and designing the same thing over and over. This can be a crucial feature for animating numerous characters and objects with lots of repeating movement.
Cons:
This application isn't for beginners. Given that it operates primarily as a 3D program, there's quite a bit of foreknowledge required for developing motion graphics in Cinema 4d. Some intermediate knowledge of apps such as After Effects is required to jump into this interface and workflow.
Most 3D programs generally don't come cheap, and Cinema 4d is no exception. The application costs a monthly fee of $59.91. So unless you're working on some exceptional motion graphics that will make a hefty profit, it may not be beneficial to invest in this program for motion graphics alone.
Though Cinema 4d is quite powerful, it requires an equally powerful computer to utilize its many capabilities. If you're working on denser projects, you'll most likely need a computer with an updated processor and a hefty amount of RAM. You may even need another machine to help aid in rendering if your motion graphics are longer and more complex.
Short Verdict
Among all the apps on this list, Cinema 4d is the heaviest of investments for both time and money. If you're willing to commit both, however, this app can be mighty. It's capable of generating motion graphics that can occupy a 3D space with a high level of detail.
However, with its node system and dozens of features, Cinema 4d is more of an advanced motion graphics app. Considering all its parts, those who will get the most out of it will be those seeking to jump into 3D as well. On that basis, it can only be recommended if you're willing to learn about the detailed aspects of computer animation and visual effects.
5. Adobe Premiere Pro
Though primarily known as a video editor, Adobe Premiere Pro is capable of motion graphics. Developed in 1991, the long-running video editor has advanced beyond the basics of cutting and rendering. Additional tools have allowed for editing everything from color to audio.
Clips and images dragged onto the timeline can be animated for crafting motion graphics. Simply click on the Effects tab, click on your clip, and you'll have several animation tools to use. The tools are pretty similar to After Effects, so Premiere's animations won't take much time to learn.
Pros:
Premiere Pro has the convenience of being a video editor first. This aspect is incredibly convenient for those who want to push out a finished product in one app. There's no additional exporting required into another video editor program.
The tools in Premiere Pro are very similar to After Effects. The app uses the same method of diamond-shaped keyframes and a few familiar keyboard shortcuts. After Effects users will feel right at home using this app.
The interface is incredibly organized and neat. Since each animated layer houses the animation in an effects panel, the timeline can have far less clutter. Compared to After Effects, it's a much tidier program.
Cons:
Premiere Pro is primarily more of a video editor than a motion graphics app. Despite being reasonably versatile, the tools for motion graphics are relatively limited. Compared to other applications, this app requires a lot of tinkering to craft motion graphics.
As with most Adobe products, Premiere Pro requires a subscription fee. The price of $20.99 a month can add up to quite a bit over time. Because it costs so much, it's essential to consider both your budget and projects when deciding on this app.
There are not many tools present when it comes to assembling motion graphics assets. While the program can handle simple shapes and titles, it's not well-suited for designing moving characters and objects. You'll have to rely on Photoshop or another illustrator program to create such assets.
Short Verdict
Premiere Pro is capable of being both a video editor and motion graphics assembler. For bare-bones graphics of shapes and titles, it can accomplish this with ease. If you import some Photoshop assets, you can also animate those with enough practice of the effects tools.
Considering the capabilities, Premiere Pro is a robust intermediate motion graphics program. It moves fast enough for those familiar with After Effects yet is simple enough to render out a completed video in a rush. It's best suited for being used with other Adobe programs, so you may want to invest in the complete Creative Cloud package.
6. Blender
As a direct competitor to 3D Studio Max, Blender has been a rising star of 3D animation applications. The software is free to use and is rather intricate in its capabilities. The features have become so detailed that the program is now used in animating feature films.
While mostly being known for 3D animation, Blender can handle motion graphics as well. The ability to model, texture, animate, and even position the camera gives the animator complete control over every aspect of assembly. The 3D space places few restrictions on what can be accomplished in this program.
Pros:
Blender is an open-sourced and free-to-use application. This means the app is not only free to use for any project but also easy to customize. There's no shortage of customizable plugins to select from online to make Blender work the way you want it to.
Being a 3D application, Blender has the most accessible camera to use. While other applications require some trickery for camera effects, this app presents a simple camera to animate. There are also more unique camera effects you can generate.
Blender comes bundled with enough tools to make it more of a one-stop shop for motion graphics. It features an elaborate animation editor for getting the timing just right and video editing features. You can quickly churn out a completed video from this program alone.
Cons:
Blender is the most complex of motion graphics apps to learn on this list. Since the app was primarily intended for intricate 3D animation, it can take some time to figure out the motion graphics side. You're going to want to invest in some tutorials for this app.
To bend Blender for motion graphics, you'll have to reconfigure quite a bit of the program. While this aspect can be accomplished with various plugins and scripts, there's quite a bit of retooling required compared to other applications.
The learning curve is incredibly steep for Blender. The good news is that there's no shortage of tutorials and guides to find online. The bad news is that you'll have to comb through quite a bit to accomplish even the most basic of 2D motion graphics.
Short Verdict
While Blender is a bit more complex than other motion graphics apps, it's also uniquely intricate for being a free and open-sourced piece of software. Given that there's no cost, it's worth your time to learn not just for the motion graphics but for its primary 3D capabilities.
It also has plenty of features to justify its usage. The animation tools are incredibly detailed to fine-tune your work, and the video edit function gives it a distinct advantage over other 3D programs. Blender is not only the cheapest option for motion graphics but perhaps one of the more elaborate.
Which one do you choose?
For hobbyists and those seeking to jump into motion graphics professionally, your best option would be Blender. The application is free to use so there's no major financial investment. It takes some time to learn but will be incredibly valuable for developing elaborate 3D animation.
If you're a professional seeking to produce industry-quality work, all of the Adobe apps listed are the ones you should consider. Since there's variations between them depending on the project, it's best to go with the complete Adobe Creative Cloud package at $52.99 a month.
Cinema 4d is one of the more expensive apps on this list and the learning curve is quite steep. It's a heavy investment that the purchase can only be justified if you're a professional. To get the most out of Cinema 4d, you'll also want to use it more for detailed 3D animation and not just motion graphics on your projects.
Frequently asked questions
How much is After Effects?
Adobe After Effects can be purchased under the Adobe Creative Cloud subscription plan. The cost is $20.99 a month to use just the program, or you can pay $52.99 a month for access to the entire Adobe library. Considering you'll most likely need Adobe Premiere to finish the video and audio editing of your motion graphics projects, it's a better deal to go with the complete Creative Cloud.
Is Adobe Animate is free?
Adobe Animate requires a subscription fee to use. There's a seven-day trial period, however, where you can use the program for free. After that period, you'll have to pay $20.99 monthly to use the animation application. Additionally, you can buy the entire Adobe catalog of apps for $52.99 a month, which is highly recommended considering you'll need Premiere Pro in conjunction with Animate.
Can I download Photoshop for free?
Adobe Photoshop only comes for free in the form of a seven-day trial period. You will have to pay a subscription fee for your motion graphics projects, but you have more options in this department than other Adobe applications. Photoshop can be purchased all on its own for $20.99 a month, or you can get it in the cheaper Photography bundle for $9.99 a month. The Photography bundle additionally includes Lightroom and Lightroom Classic.
Is Premiere Pro worth the money?
Premiere Pro costs $20.99 a month and encompasses color correction, audio edits, graphics, and more. For all these features, it's worth the price. The only alternative for the application is Premiere Elements, a consumer-grade version of the software with a one-time fee that is severely limited. Premiere Elements can accomplish the more basic video editing elements but isn't as adept at visual effects.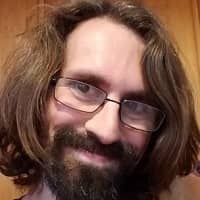 Mark McPherson has been working as a video editor and content writer for over ten years. His background started in animation and video editing before shifting into the realm of web development. He also branched out into content writing for various online publications. Mark is an expert in video editing, content writing, and 2D/3D animation.