(Last updated on October 11th, 2021)
Wondering what's the best alternative to Adobe Premiere Pro? Here are the best Premiere Pro alternatives.
Adobe Premiere Pro is one of the best editing programs on the market and is regarded as an industry-standard. However, the subscription-only model doesn't come cheap, and you may want an alternative choice.
Whether it comes down to a cheaper option, different features, or curiosity, let's take a look at what else is out there.
1. Adobe Premiere Elements
Adobe Premiere Elements is part of the Adobe family. The program is a simpler version of Premiere Pro and available as a one-time purchase for the full license. You can make finished work without the hassle of a crowded, feature-laden program.
Price
All of these prices are a one-time fee for a lifetime subscription to that version. If you want a newer version later, you will have to buy it. Adobe will give you a small discount to buy the upgrade.
Premiere Elements: $99.99 (Upgrade from an older version is $79.99)
Photoshop Elements and Premiere Elements Bundle: $149.99 (Upgrade from an older version is $119.99.)
Photoshop Elements and Premiere Elements Bundle, Teacher and Student Plan: $79.99 If you are a currently enrolled teacher or student, you can get the full bundle at this discounted price.
Pros
Price: The price is a one-time fee for a full subscription. You get a discounted price if upgrading from a previous version of Premiere Elements. You can also bundle the program with Photoshop Elements.
Free Trial: Adobe offers a one-month free trial of the program before buying.
Short Learning Curve: Premiere Elements is easy to learn. The program walks you through the tutorials step-by-step.
Various Editing Modes: There are three editing modes, Quick, Guided, and Expert. In Quick, you can make fast edits, making a finished video with a few clicks. Guided mode lets you do specific edits, like trimming a clip or adding an adjustment layer step-by-step. Expert gives you the full editor, sandbox-style, giving you the most creative control.
Easy Sharing: In Premiere Elements, it is easy to share your project with various mediums. You can export directly to your computer, a disc, social media, and more.
Internal Resources: The program comes with music files, graphics, titles, transitions, and effects to add to the video.
Cons
Paid Upgrades: You must pay for the new software; the upgrades aren't free.
Limited Features: The program is meant to be a simpler video editor. With this simplification, you get fewer features overall and less creative control.
Clunky Interface: While Adobe upgrades the program regularly, the current interface still feels clunky and outdated.
Short Verdict
Adobe Premiere Elements is great for the beginner. You can easily make simple edits, using guided edits to work even faster. Overall, it's good for newbies or hobbyists looking for a basic editor.
The program is not a good choice for people looking for a professional-grade video editor. You don't get enough control over the final image. If you are looking to professionally work in the film industry, this program will not make the cut.
2. Sony VEGAS Pro
VEGAS Pro is a video editor from Sony that can do complex video and audio editing. The program has different tiers of editing available to you, from the basic plan of VEGAS Pro 18 Edit to VEGAS Pro 18 Suite, with plans in between.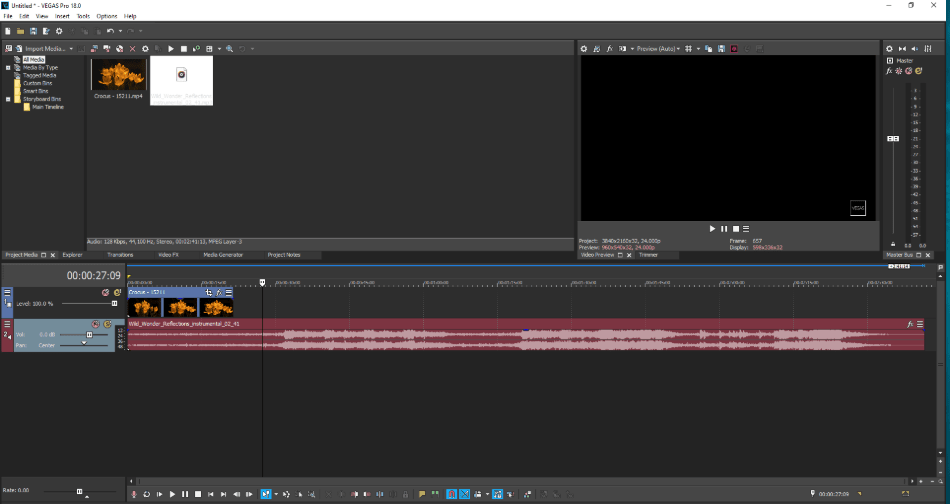 Price
You can buy Sony VEGAS Pro through a subscription model or as a one-time purchase. There are four different tiers, listed from lowest to highest below:
VEGAS Pro 18 Edit: $549.00, one-time purchase VEGAS Pro 18 Edit is the most basic editor with no extra features. You get basic video and audio editing.
VEGAS Pro 18: $799.00, one-time purchase Vegas Pro 18 adds in SOUND FORGE Pro 14, a multi-channel audio editor plus VEGAS Prepare, a digital media asset manager.
VEGAS Pro 365: $26.99/month ($323.88/year), subscription model VEGAS Pro 365 gets you everything plus VEGAS Hub and VEGAS Transfer. You also get 100 GB of storage on Microsoft Azure Cloud.
VEGAS Pro 18 Suite: $999.00, one-time purchase You get the most extras with VEGAS Pro 18 Suite. You don't get VEGAS Hub, VEGAS Transfer, or storage on Microsoft Azure Cloud. These features are only with VEGAS Pro 365.
The product comparison is confusing for the VEGAS brand. The tiers' complexity makes it difficult to assess your options and make the best choice for you.
Pros
Great Non-Linear Editor: Sony VEGAS Pro is a fantastic non-linear editor, keeping the system simple.
Flexible Price Model: You can buy the software outright or do a subscription model.
Clean Interface: The program's interface is clean and intuitive.
Advanced Audio Editing: Sound Forge, a feature that comes with the top three editing tiers, lets you repair and master your audio at the highest level of precision. The program is integrated seamlessly, allowing you to switch to Sound Forge quickly without skipping a beat.
High-Quality Effects: You can apply up to 128 effects on a single clip in VEGAS Pro or higher. VEGAS Pro Suite will offer even more plug-ins to use on your projects.
Cloud-Storage: Right now, cloud-storage is just available for the 365 version.
Cons
Confusing Price Packages: The pricing model and what you get with each is confusing. The higher the plan, the more features you get for the most part.
Extensive Download: Depending on the program you get, the download process is cumbersome with many steps.
Buggy: The program tends to crash.
Pricey: All of the choices are expensive, with the one-time purchase options starting over $500.
Short Verdict
Sony Vegas Pro is a great contender in the world of professional video editing. While the pricing options are confusing, the company is adaptive, adding more features and integrations year after year. The user base is loyal for a reason. They come back for the great features and intuitive program.
3. Final Cut Pro
Final Cut Pro is a professional-grade video editor by Apple. The program offers essential editing features, as well as advanced effects. Final Cut Pro is easy to use, intuitive, and a great value. You pay once and get the updated program for life.
Price
Final Cut Pro is available on the Apple Store for $299.99, a one-time purchase.
Pros
One-Time Purchase: One-time purchase to own the software in perpetuity.
Free Trial: Try the program free for 30 days.
Free Upgrades: After buying the software, you get free upgrades for life.
Interface: Clean and intuitive. You can create custom layouts and choose between presets, including Default, Color & Effect, Organize, and Dual Displays.
Effects and Resources: In Final Cut, you get video effects, audio effects, and transitions. These features are customizable, with many options to choose from.
Color Correction: You can do precise correction or auto-correction for your project. You can also go deeper with color, using Color Curves to fine-tune color control points. The Match Color tool lets you even match color and brightness from one clip to another.
Text: There are 183 templates for title overlays, all customizable. They have cinematic themes and 3D ones.
Exporting: Advanced exporting options are available for Final Cut Pro. You can do common formats as well as output for discs, web, email, and Apple devices. You can share directly to social media sites and in qualities as high as 4K.
Learning Curve: The program is intuitive and relatively easy to learn.
Color-Code Clips: You can set clips into Roles, defining each clip individually. As an example, when you set labels, you can divide clips, defining B-roll and dialogue. You choose your labels and colors, thus organizing your footage.
Support for 360-Degree Video: You get extensive support for this type of editing, perfect for VR.
Integration with Mac Touch Bar: Final Cut Pro seamlessly integrates with the touch bar, letting you adjust by sliding and tapping for basic editing.
Sidecar Feature: You can add another display by using your iPad. Sidecar lets you do this easily.
Smart Conform: Use AI technology to crop video for different resolutions automatically. This feature is perfect when creating content for different social media platforms.
Captioning: Advanced captioning capability. You can embed them or create a separate file.
Cons
Mac Users Only: Final Cut Pro is not for Windows users, only Mac.
No Motion Tracking for 360-degree video
Expensive: You will have to shell out almost $300 to get this software.
Features Oversimplified: In comparison with higher-level programs like Adobe Premiere Pro or DaVinci Resolve, you get less control over detail adjustment. The color correction and audio editing are less advanced.
Short Verdict
Final Cut Pro is a great choice as a film editing suite. The software is powerful and continually upgrading. You get the software in perpetuity; no additional upgrade purchase is required.
Many professionals rely on this program to meet their editing needs. Final Cut Pro is an excellent choice as a film editor, giving you a great value and powerful program.
If you need a program that offers the most advanced controls and detail precision, you may want to find a different option.
4. DaVinci Resolve
DaVinci Resolve is a powerful film editing program used by Hollywood professionals and hobbyists alike. Here, you can do everything from edit video to extensive color correction and more.
The application, developed under DaVinci Systems, is now owned by Blackmagic Design, acquired back in 2009.
Price
DaVinci Resolve has both a free and paid version:
DaVinci Resolve 17: Free This software is a full video editor with visual effects, color correction, audio postproduction, and motion graphics.
DaVinci Resolve Studio 17: $295 This software includes all features of the free version plus DaVinci Neural Engine, many Resolve FX filters, Fairlight FX audio plug-ins, HDR grading/scopes, andstereoscopic 3D tools.
Pros
Compatibility: The program is compatible with Linux, Windows, and Mac users.
Fantastic Non-Linear Video Editing
Price: Both free and paid versions are great programs. Free DaVinci Resolve is a powerful stand-alone application that is enough for advanced film editing. The paid version gives you even more features and is a one-time fee of $295 for a lifetime membership. This plan is a reasonable price, especially in comparison to other applications on the market.
Free Upgrades: You get free upgrades for life. Buy once and never again.
Structured for All Users: DaVinci Resolve has a price point for everyone. The free editing software is fantastic, and you can continue to upgrade to the full, Hollywood-level editing suite, complete with equipment custom-made for DaVinci. They have something for everyone and many options to make your editing experience even better.
Extensive Learning Resources: Online, DaVinci Resolve has a comprehensive training portal with many classes. Here, you can learn everything from color grading to audio mixing and more. There are also training manuals and online exams to extend your education further.
All-in-one Design: Instead of switching between programs, like for Adobe users, you will do everything all within DaVinci Resolve without leaving the application. You can do audio, video, visual effects, graphics, color correction, and motion graphics all in the same app.
Dedicated Workspaces: The program is divided into seven pages, Media, Cut, Edit, Fusion, Color, Fairlight, and Deliver. Each page is dedicated to specific parts of the editing workflow, keeping you organized and focused on the task at hand.
Cons
Expensive Upgrades: The additional equipment that Blackmagic Design pushes users to get is very pricey, each piece costing hundreds to thousands of dollars apiece. Their most expensive piece is over $30,000! (DaVinci Resolve, while having cheap price points for the hobbyists, is also meant to be used by Hollywood studios or Broadcast, both with millions at their disposal.)
Steep Learning Curve: The program will be difficult to learn for newbies. While there are many resources available on DaVinci's website and external sources, learning the program will be a challenge because of the sheer number of features.
Buggy: DaVinci Resolve 17 has been reported to be buggy by some users. The program is still in its first beta release, so fixes and updates should be released in the near future. If you want a more stable program, DaVinci Resolve 16 is available for download.
Free Version Missing Features: The only catch with DaVinci Resolve is that the free version is missing the extra features you would get with the Studio version. (With that being said, the free editor is incredible and still gets you a lot. It's a great tool to start with as a beginner/while trying out the program.)
Short Verdict
DaVinci Resolve is a gem in the marketplace of film editing. They provide software that gives you room to grow, giving you a fantastic free starting point and many great tools and features you can upgrade with. The program itself is versatile, giving you color correction, editing, visual effects, motion graphics all-in-one! Definitely worth trying.
5. Filmora
Wondershare created Filmora in 2015. The program was meant for both beginners and professionals, with subsequent programs Filmora X and FilmoraPro to fit the user's needs. The program is a good value and fits seamlessly with its resource library.
Price
Filmora has plans for both individual use and business use. If you have a plan for more than five people, Filmora leads you to an online form to request a quote. Here are the plans for both individuals and businesses for Filmora X (Filmora9 for Business Plans):
Perpetual Plan: $79.99, one-time fee You get access for life and updates for all versions of Filmora X. (Versions beyond X are not included.) There is no watermark on your exported projects, and you get free tech support. You can add Filmstock, an online resource library of royalty-free effects, video, audio, and images, for $9.99/month.
Subscription Plan: $49.99/year As long as you are subscribed, you will get the latest version of Filmora. You get all the features, no watermark on exported projects, and free tech support.
Bundle Subscription Plan: $159.87/year You will get all the Subscription Plan features plus unlimited downloads from Filmstock Standard Library and new effects every month.
Business Annual Plan: $155.88/year for one user (Goes up in tiers per user, up to $701.40 for five users) You get all the editing features of Fimora9. You will also get free updates, tech support, permission for company use, multi-user control, 1-1 sales report, flexible payment options, and no attribution required. There is a five-user limit for this payment plan. For bigger groups, you will need to request a quote.
Student Discount: $7.99/month to $69.99, lifetime plan Through Student Beans verification, you can get a student discount. You must be an active student to get this plan.
FilmoraPro is a completely different program, meant for professional use. The pricing works as follows:
Free Plan You get all of the features of the program with free updates. There will be a watermark on all exported projects and no tech support.
Lifetime Plan: $199.99, one-time fee for a perpetual license You get all the features, free updates, no watermark, and tech support.
Subscription Plan: $119.99/year, billed annually Same features as the Lifetime Plan.
The pricing for Filmora is straightforward and reasonable. You can do everything from buying the software outright in perpetuity to getting a subscription plan that gives you the latest and greatest. There are options for everyone.
Pros
Price: All of the pricing options are reasonable. Wondershare gives you both flexible subscription plans and lets you buy the software outright.
Free Trial: You can try out Filmora for free. All projects exported will have the Filmora watermark until you purchase a paid plan.
Huge Resource Library: Filmora connects seamlessly with Filmstock, a stock library with effects, photos, videos, and audio. There are both paid and free resources.
Filmora X features:

Easy-to-use interface with an intuitive design.

Preset Motions to quickly add movement to images and videos.

In-app music and sound effects.

Built-In video effects to add filters, overlays, transitions, motion graphics, and titles.

FilmoraPro features:

Custom effects that have adjustable parameters and many presets.

Advanced editing modes to give you options while trimming and editing your video.

Keyframes to animate aspects of your project. You can animate the position, volume, size, and opacity for effects, video, and audio.

Audio Compressor to help you make your sound consistent.

Easy Learning Curve for Filmora Pro: This program is intuitive and simple, meant to let beginners jump right in without a long learning process.
Free Tech Support: Available for all paid plans.
Learning: Video Tutorials and written lessons are available online. Inside the app for Filmora X, there are Quick Start lessons to quickly get familiar with the program. Online, there are full guides for both FilmoraPro and Filmora X.
Longevity: Filmora continues to improve, updating its current version and releasing new versions in the future. Continuous updating keeps the program relevant and fresh with new features.
Cons
Confusing Program and Pricing Tiers: There are Filmora and FilmoraPro, two completely different programs. Filmora is meant for beginners, while FilmoraPro is a professional editing program. You can't upgrade from one to the other.
Higher Learning Curve for FilmoraPro: FilmoraPro is meant for professional video editors who need the most control over their video content. That being said, the program is more advanced and requires a longer learning curve.
Search Feature is Limited in Support Center
Short Verdict
If you are looking for a basic video editor, Filmora X is perfect for you with its intuitive interface and design.
If you need advanced video editing, FilmoraPro has you covered with advanced controls that give you the utmost precision over your final video. The prices are reasonable for the programs, and they both create great finished products.
Read our review of Filmora here.
6. Movavi
Movavi offers a wide range of applications for media creation and editing. They have programs for video, screen recording, and photo editing. They also offer media resources to complement your program. At Movavi, you can buy specific programs to fit your needs.
If you want to see a detailed review of Movavi, click here.
Price
There many pricing plans for Movavi, each plan for one PC activation at a time. They are divided up into Video, Screen Recording, Photo, Work, and Education Tiers. The bundling is scattered and disorganized. For this review, we will be exploring a few options that include video-editing.
Movavi Video Suite:
Video Suite: $149.85, one-year license You get the Video Editor Plus, Video Converter Premium, and the Screen Recorder. You also get free updates.
Video Suite + Picverse Photo Editor: $209.80 one-time purchase, lifetime license You get everything in the Video Suite package plus Picverse Photo Editor.
Video Suite Business: $334.85 one-time purchase, lifetime license You get the same features as the Video Suite plus priority support. You don't get free updates.
Video Editor Plus:
Video Editor Plus Lifetime Plan: $59.95, one-time purchase, and lifetime license You can edit film clips, add effects and transitions, make keyframe animation, mark in the timeline, and process 4K video quickly. You also get a built-in media pack.
Video Editor Plus Subscription Plan: $39.95, one-year license You get all of the features of the Video Editor Plus.
Video Suite Lifetime Plan: $149.85, one-time purchase, lifetime license You get everything in the Video Editor Plus plans, with the addition of media file conversion and screen recording.
Movavi Unlimited (All eleven Movavi programs):
Movavi Unlimited: $1615.60, one-year license You get all eleven Movavi programs plus full access to the effects store.
Movavi Unlimited Business: $2749.60, one-year license You get all eleven Movavi programs plus full access to the effects store. This license is for businesses specifically.
These are just a handful of bundles offered on the website. While the bundling can be confusing, the pricing model is very customizable because you can get just the programs you need.
Pros
Connects with Storyblocks: Movavi works with Storyblocks to give you access to stock video, image, and audio resources. Here you can sign up for a subscription plan to get unlimited downloads of content.
Extensive Support Library: Online, there are user manuals, video tutorials, searchable libraries, and more. You can also contact support directly via ticket.
Free Trial: Download the program and try it out. For the Movavi Video Suite, you get a seven-day trial period, and all exported videos will have a watermark. There are additional functionality restrictions as well.
In-App Tours: As soon as you open the app, the program will automatically give you tips and tricks, helping you learn the program quickly.
Easy to Learn: The program is simple and intuitive. The interface is clean and not distracting. While the program isn't too advanced, you will be able to jump right in and make beautiful, finished work.
Filters: Dozens of filters to add to your video. You can add noise, colored filters, retro looks, and more.
Transitions: Apply dozens of different transitions to your video. You can adjust the duration and content of the transition.
Text: Add title motion graphics to your videos.
Stickers: Add stickers to overlay on your video.
Adjustments: Adjust color, motion, crop, rotate, and more within the tool section. You can also enhance audio.
Additional Tools included in Movavi Video Suite:

Convert Video: Convert videos from one format to another.

Record Computer Screen: Use this widget to record your screen into videos and screenshots.
Cons
Confusing Bundling: They have separate applications and all-in-one programs. The tiers are scattered, and features per program (Business versus regular in particular) are not always clear.
One Activation key Per Computer: You cannot download one license on multiple computers. If you want the program on more than one device, you will have to buy a second license.
Simple Features: This program is not for the professional user looking for the most control over their final image. The adjustments are broad and don't let you make precise edits.
Short Verdict
Movavi is great for people who want to pick and choose their bundles. While it can make a great project, the video editor itself is basic and does not have the advanced features of a high-power film editor.
If you need a simple editor that's easy to learn, Movavi is perfect for you. However, if you need the utmost precision in an editing program, it won't quite make the cut.
7. Lightworks Pro
Lightworks is an award-winning non-linear video editor. The pricing of this program is flexible, used by industry professionals as well as hobbyists. The founder has promised that one day the software will be open-source.
Price
Lightworks has four tiers of pricing with no subscription option. You buy individual activations:
Free Try the program out, no cost. The main caveat is that you can only export your video in 720p, and the options are more limited.
Month License: $24.99 You can explicitly set the number of month-activations. If you want the program for exactly three months, you can get that. You will get updates as well.
Year License: $174.99 You can set the number of year-activations that you want, up to two years at a time. In addition to updates, you also get the Boris Graffiti packages. You will also get one additional complimentary activation.
Outright License: $437.99 This license will never expire. You will only get minor updates, not major ones. Included are the Boris FX and Boris Graffiti features. You will also get one additional complimentary activation.
The packages for Lightworks are very flexible. Dividing up the software into activations is helpful when switching devices or deciding if the program is the right fit for you. If you need to get the software for a team, it also makes it easy to buy many licenses at once.
Pros
Separate Workspaces: Lightworks organizes your workflow into four parts, Log, Edit, VFX, and Audio, keeping your workflow smooth and streamlined.
Color Correction: Adjust coloring and lighting in your workflow, fixing levels with precision.
Import/Export Formats: Lightworks can export a huge range of formats, including 4K. The program works with many formats for importing.
Pricing: The pricing tiers are reasonable and customizable for your needs. You can even buy the program outright. You can try out the program for free indefinitely. (Albeit, it is a limited version of Lightworks.)
Compatibility: Works on Linux, Mac, and Windows systems.
Multicam Editing: You can generate auto edits to sync group clips easily with just one click. You can cycle through different cameras, making editing so much easier.
Many Effects: Lightworks has over 100 built-in effects presets. They have plug-ins for visual effects and text effects with Boris FX and Boris Graffiti, respectively.
Unique Hardware Available for Purchase: You can get keyboards and consoles built specifically for Lightworks, making the whole process even more seamless.
Learning Resources: Online, there are video tutorials, FAQ pages, and a community forum. You can contact technical support if you have a support plan by emailing them. There is also a self-support area to guide you through common Lightworks issues.
Includes POND5: Lightworks works with POND5, a huge library of royalty-free HD and 4K stock video.
Autosaves your work, protecting you from losing important project information.
Cons
Clunky Interface: The interface feels clunky and outdated.
Steep Learning Curve: To learn the program, you must go through tutorials and lessons to truly grasp all of the features and workflow.
Buggy Program: Tends to crash if you do too many processes at once. Depending on your system, it can crash a lot.
Free Program is limited:

Few text/transition options

It can only export in 720p
Short Verdict
Lightworks Pro is a program that will accomplish advanced video editing needs. The pricing is flexible, customizable for your budget, timeframe, and license needs. With effects plug-ins, you can do everything in this editor.
Lightworks is geared towards advanced users and is a bit too technical for the beginner.
8. Movie Maker 10
Movie Maker 10 is a simple video editor for Windows. The program gives you basic editing functions to make projects quickly and easily. Movie Maker is great for beginners.
Price
The program comes in two plans, Free and Pro:
Free The program is completely free. You get basic editing, 720p exporting, slideshow templates, audio capability, text captioning, limited photo overlay, transitions, photo editing, and an in-app music editor.
Pro: $14.99, one-time purchase You get the free features, plus quick tools, full HD exporting, unlimited photo overlays to video, more video transitions, and fast/slow-motion effect.
The free program gives you all of the essentials. The Pro version gives you a few more, and the price is low.
Pros
Easy learning curve: You can jump right into the program without lengthy tutorials. The tools are simple and easy to use.
Clean Interface: The interface is clean and easy to navigate.
Basic editing functions: You can join and trim clips.
Exporting: You can export 720p for free users and full HD for Pro users.
Audio: You can edit sound right in Movie Maker, trimming and adding audio effects. You can also add built-in music tracks to your project.
Video Filters: You have several filters to choose from, giving your film an artistic look.
Cons
Only available for Windows users.
Free Program has limitations:

Ads run on screen as you work.

You can only export up to 720p. Pro lets you do full HD.

Limited photo overlay to video.

Fewer video transitions, and you don't get to speed up or slow down footage.

Limited Features: The program does not have advanced tools or functionality. Everything is basic and limited.
Short Verdict
If you want a simple video editor, Movie Maker is a great tool. You can do basic editing easily. If you need advanced features, you will need to look elsewhere.
9. iMovie
iMovie is a video-editing application designed by Apple. The program is meant to be used by beginners. The features are limited to the essentials with basic adjustment controls. iMovie is great for users looking for a basic, free editor.
Price
Completely free.
Pros
Compatibility: Can work on iPhones, iPads, and Mac desktop computers.
Great Workflow: You could film and rough edit a video on your phone, finish basic edits on iMovie, and then finish it in Final Cut Pro. (It exports directly from iMovie.)
Fast Learning Curve: This program is easy and simple, great for beginners who don't want to get bogged down with complicated editing.
Price: This program is completely free! Updates are free as well.
Interface: The interface is clean and uncluttered, intuitive in design.
Help Resources: While the program doesn't require much learning, it comes with a user guide built-in. Here, you can read through all of the functions of iMovie. You can also contact Apple Support directly.
Audio: Comes with royalty-free audio built-in to the program. There is theme music as well as sound effects. You could do everything from add animal noises, sci-fi tech sounds, or playful background music.
Titles: iMovie comes with dozens of title effects to choose from. The animation is built-in. You can customize the font characteristics such as font, alignment, and more.
Backgrounds: iMovie comes with built-in backgrounds for you to add to your movie. There are static and animated options.
Transitions: There are transition options built-in to iMovie. Adding them is as simple as drag-and-drop.
Simple Adjustments: You can easily control saturation, temperature, contrast, and more right in the editor by dragging to adjust. There are one-click adjustments, auto-correcting color, matching the coloring to other clips, changing the white balance, and balancing the skin tone.
Easy Sharing: Send your movie directly to social media or iMessage. You can publish directly to YouTube or Facebook.
Movie Templates: With a few clicks, make a film using movie templates to make trailers or films. You can choose the genre, type in movie titles and credits, pick a logo, and more.
Fun Effects: Split-screen, greenscreen, stabilizers, and more are all built-in.
Cons
Mac Users Only
Limited Features: If you are looking for an advanced program, iMovie won't cut it. The features are basic and meant for simple edits.
No 360-degree editing, multi-cam, motion tracking, or tagging capabilities.
Short Verdict
iMovie is great for beginners looking for a basic editor. The program is missing many advanced features and lacks precision over adjustments. If you need an editor without bells and whistles, iMovie is perfect for you.
Final Thoughts
Clearly, there are many alternatives for Adobe Premiere Pro. It's up to you which one will suit you best.
In comparison, all of these options have lifetime purchase options, many are completely free, and all of them are at least a basic video editor, some going above and beyond. You can definitely find an alternative that will work perfectly for your needs.
Best Beginner Editor: iMovie (Movie Maker 10 is a good alternative for Windows users)
iMovie does simple video editing, no advanced controls. The program is free, easy to learn and use, and great for beginners. The workflow from iPhone to Desktop is seamless, making the process even simpler.
Best Intermediate Editor: Final Cut Pro
Final Cut Pro is a very intuitive, powerful program that lets you jump right in without much effort. You can do advanced edits or just stick to basic ones.
There are many effects, transitions, and more features already included in the application. This program is great for users who want to jump right in.
Best Editor for Advanced Users: DaVinci Resolve
DaVinci Resolve has pricing solutions for everyone. You can just use the free, powerful editor or upgrade to the Studio version, adding even more features. The program lets you do everything from editing to color correcting right inside the same program. DaVinci Resolve is an incredible editor.
Best Free Editor: DaVinci Resolve
This editor is free forever and powerful as a stand-alone application. The features are advanced, and the program is all-in-one, helpful for users who don't want to get a slew of applications.
Best Pricing Tiers: Lightworks Pro
Lightworks gives you the most flexibility with its pricing tiers. You buy license activations, giving you the option to buy in yearly, monthly, or lifetime increments.
Each activation is stand-alone, letting you download on different systems. You even get an additional complimentary license for yearly and lifetime plans.
Frequently Asked Questions
What can I use instead of Premiere Pro?
Here, we post nine alternatives: Adobe Premiere Elements, Sony Vegas Pro, Final Cut Pro, DaVinci Resolve, Filmora, Movavi, Lightworks Pro, Moviemaker 10, and iMovie. Our best free editor overall is DaVinci Resolve.
Is there a free version of Premiere Pro?
You can do a free trial of Premiere Pro for seven days. There is no free version that you can use forever.
What video editor do YouTubers use?
The most popular programs that YouTubers use are Adobe Premiere Pro, iMovie, or Final Cut Pro.
Is DaVinci Resolve better than Premiere Pro?
Both applications are fantastic choices for professional-level video-editing. Overall, Premiere Pro has more features, constant updates, and more audio tools than Davinci Resolve.
Anne is a filmmaker and writer with a passion to bring stories to life. She has created several short films, specializing in stop-motion animation. Anne has over eight years of filmmaking experience, and she is always ready to share her knowledge with other creators. She started her company Anne Gets Creative in 2020.
Anne is extremely familiar with many Adobe programs: Photoshop, Illustrator, InDesign, After Effects, Premiere, and Audition, to name a few. She has also worked with other programs such as Procreate, Canva, iMovie, and Final Cut Pro. She always strives to give the best software reviews, researching diligently so her readers don't have to.