(Last updated on January 9th, 2023)
Clip Studio Paint vs. Photoshop. Which application is the better choice when it comes to digital graphic design and illustrations? Find out in this head-to-head comparison of these two art programs.
Photoshop and Clip Studio Paint are both programs used for design. As such, we'll be reviewing them in how well they work in areas of interface, features, and more. They will then be rated on a scale of one to five.
Overview of Clip Studio Paint
Clip Studio Paint has had quite the history in how it became the artist-friendly application it is known for today. Initially known in Japan as Comic Studio, the program first came about in 2001 from the Japanese graphics software company Celsys.
It would later hit the US market in 2007 under the name Manga Studio to better appeal to the emerging artist appeal of creating comics in the Japanese style.
Though the program was first used for only creating black and white art with only spot color, it has evolved since into a versatile application that is not only capable of crafting comics but animation as well. The application is capable of both raster and vector art.
Pros
Very intuitive design that makes it an easy-to-use application.
Plenty of features that are ideal for most artists.
Cheaper one-time cost when compared to Photoshop.
Cons
The interface is not as clean and organized.
Limited plugins and supports.
Doesn't offer much for integration with other pieces of software.
Overview of Adobe Photoshop
Photoshop has been Adobe's most notable software for being so versatile in its artistic capabilities. The raster-based application has been significantly used since 1990, often referred to as a verb for altering images.
The program has made massive strides over the years to be integrated with everything from video to animation assets.
It's also worth noting that as Adobe has expanded its application library, Photoshop has also been better built to work in conjunction with most of them for various projects.
Pros
Industry-standard application that can be used in multiple professions.
Integrates well with other Adobe applications.
The interface is incredibly easy to use.
Cons
Expensive monthly cost.
Steep learning curve for all the features.
Could use more features for illustration artists.
Short Verdict
Clip Studio Paint is best used for comics and animation while Photoshop is best used for concept art and general illustrations. For comic artists and animators, Clip Studio Paint would be the right choice. For artists who dabble in a little bit of everything, Photoshop is the right choice.
Comparison At a Glance
1. Interface
Winner: Photoshop. Appearing both clean and customizable, Photoshop has a more friendly interface.
2. Tools
Winner: Tie. Both programs have several handy tools that are equally as powerful at drawing.
3. Features
Winner: Clip Studio Paint. The notable features within Clip Studio Paint are uniquely specific for artists.
4. Ease of Use
Winner: Clip Studio Paint. Designed with artists in mind, Clip Studio Paint has a simple enough workflow that most artists can hop right into the program without detailed instruction.
5. Integration
Winner: Photoshop. The glorious thing about Photoshop being within the Adobe family is that it can seamlessly integrate with its other multimedia programs.
6. Plugins
Winner: Photoshop. The range of plugins for Photoshop is boundless in their possibilities.
7. Pricing
Winner: Clip Studio Paint. Not only does Clip Studio Paint have the benefit of a one-time purchase pricing model, but the price itself is relatively cheap for such licensing.
8. Support
Winner: Photoshop. With a long history behind it, Photoshop has spawned not only a dedicated support network but an entire community of developers and artists willing to divulge.
You May Also Like
Photoshop vs GIMP | The Ultimate Battle (2023)
1. Interface
Adobe Photoshop
Photoshop's layout has a level of organization that is spread out to be relatively clean to get the most from the interface as possible. Everything from the layers to the brush tools is laid out in a compartmentalized way, never to crowd the screen and only pull up necessary windows when they're needed.
Brushes can be configured from the toolbar that only opens the attributes for when you need them tweaked. Once you've configured your brush through a series of easy-to-read sliders and boxes, you can merely click away, and the menu will be hidden for when you next need it.
And if for any reason you don't dig that larger area for the canvas and like having everything out in the open, the customizing features have been tuned for users to make the interface as neat or cluttered as you wish. With such an ease of customization, Photoshop only get a half-point deduction for the slight learning curve of all the program's many features.
Clip Studio Paint
By comparison, Clip Studio Paint has a more intimidating layout considering how much has to be out in the open. The canvas can go relatively small if you find yourself in need of brush sizes and color at the same time.
Yes, there's a convenience with having everything laid out in front of you, especially if you're doing graphic work on a tablet. But if you are doing mobile work, you better hope your tablet is large enough to handle the comparatively smaller work environment.
In terms of how Clip Studio Paint looks, it echoes much of the same layout present in Photoshop that any user familiar with that program can easily find their way around this application with little instruction.
To the application's credit, there's a handiness to having the animation tools line up the way they are in an environment that is far more favorable to animators than that of Adobe Animate. It's also a customizable interface, but some of the more elaborate functions will require quite a bit of open windows.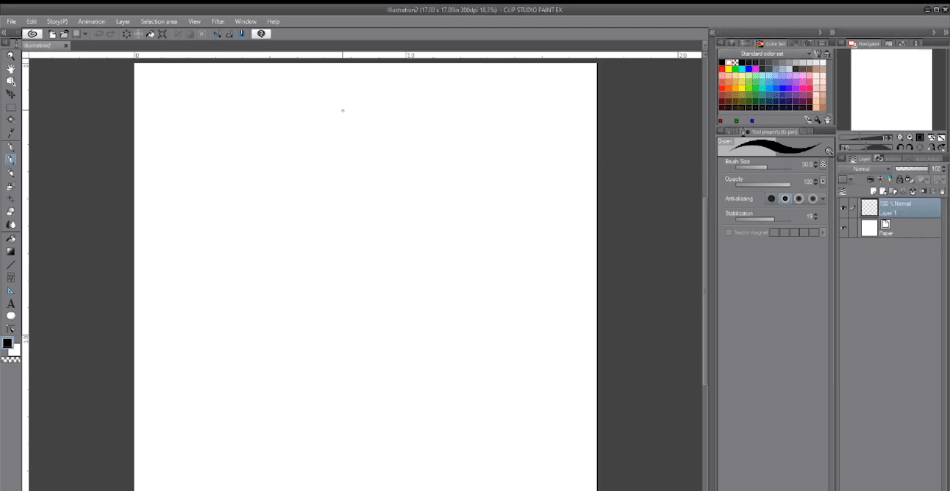 With the extra bit of learning and organization required for the interface, Clip Paint Studio get a point removed from its score.
Winner: Photoshop. Since both Photoshop and Clip Studio Paint have many similarities in how their interfaces appear, this category ultimately comes down to how easy it is to work with these applications.

Seeing as how Photoshop not only has a cleaner initial layout but also boasts customizable features to suit the user better, it's clear that Photoshop wins out in this category for providing more options that are viable to a neat workflow.
2. Tools
Adobe Photoshop
Photoshop offers a wealth of controls to make tablet pens work the way you want them to with pressure-sensitive functionality in terms of the drawing controls.
For customizing brushes, the software has the benefit of the versatile and universally recognized ABR extension. This notable file name can be used for adding in all sorts of different brush extensions you can find online, presented in an easy-to-read window for quick access.
Another critical tool to keep in mind is the liquify tool, which can make minor touch-ups to any digital artwork and will be a lifesaver for those who can't help by scrutinizing every detail in their work.
There's only a few areas where Photoshop lacks in when it comes to RAW photo editing and vector graphics. Since these areas are relatively small, only a half-point has been taken off the final score.
Clip Studio Paint
Clip Studio Paint also has a vast array of design tools that are a breeze to use. The shape tool, the balloon tool, and the frame border tool create comic panels, a worry-free task that is far more intuitive than Photoshop.
The brushes also come in all sorts of varieties and work with excellent control for touch-sensitive tablet pens. In addition to the color wheel and other color tools, there's a surprising vista of options for artists at their fingertips.
The brushes do have some limitations compared to Photoshop but matches most of the same specs. For being so similar, Clip Studio Paint also gets a half-point reduction for the minor issues of improving the tools.
Winner: Tie. This is a severe category to judge because both applications seem to be trying to be pleasing to different ranges of needs. Photoshop has the benefit of more filtering options with effects, while Clip Studio Paint has the best brush sets by far (without the use of plugins).

Since it's too close to call given their varying degrees of robust and lacking tools, this category is a tie.
3. Features
Adobe Photoshop
Though Photoshop seems most notable by the general public as a photo-manipulating software considering the name, it hasn't skimped in recent years to cater to artists seeking to use the program for drawing and animation.
That being said, it can't be overstated how handy the masking tools have evolved, making it easier to strip out or replace a background.
Though this feature seems more inclined for photo edits, it can also be a handy tool for those who need to scan in sketches and use them as the basis for their drawing, letting one customize just how much of such a layer you want to see.
The addition of adjustment layers to better toggle each aspect of an illustration's color and effects is also a welcoming feature that gives a detailed control level. That being said, the limitations when compared to Clip Studio Paint ultimately led to one point being taken off the final score.
Clip Studio Paint
When it comes to features specifically for artists aiming to replicate as much of the pen and paper experience as possible, Clip Studio Paint simply astounds in this department with its level of unique features.
Their brushes of varying quality offer various drawing and painting techniques and the most powerful tools of the G-pen and real pencil for the most authentic-looking drawings.
Another cool aspect for designers is that you're sick of staring at that blank white canvas every time you're at a loss for an idea; you can switch it out for a dark theme to reduce eye strain.
As for color, the detailed color wheel present within Clip Art Studio simply can't be beaten for artists seeking the specific of pleasing hues to add to their canvas. With such an astounding variety, Clip Studio Paint gets a perfect score.
Winner: Clip Studio Paint. From the standpoint of an artist's needs, Clip Studio Paint just offers far more than Photoshop in terms of futures.
4. Ease of Use
Clip Studio Paint
Given that Clip Studio Paint originally started life as an essential comic creation tool, it has been designed to benefit the artists who have a clear vision for their visual projects.
Brushes can be easily accessed by the neatly designed categories of ink brushes, dry brushes, painting brushes, airbrushes, effects, and blenders.
The best benefit of using Clip Studio Paint is that so many of its features for artists require little if any program's retooling to get everything up and to run in a short amount of time. Whether you're seeking to create concept art, comic art, or animated videos, all can be accommodated well within the program. This why we're giving the application a perfect score.
Adobe Photoshop
Despite being one of Adobe's most intuitive programs, Photoshop does take some time to master if you're seeking it out for digital art specifically.
While it can produce the same type of content as Clip Studio Paint, it requires a bit of tinkering with the program to find just the right brush, the proper layout, and the suitable coloring method.
Since Photoshop is also quite versatile in catering to several different projects, it's a powerful application. It requires a powerful computer. If you're working on an older machine that's lacking in RAM, you could be struggling through the drawing process, waiting for the program to catch up with your pen movements.
For these major limitations, one point was taken off the final score.
Winner: Clip Studio Paint. Though Photoshop is capable of quite a bit, it is ultimately Clip Studio Paint that is the least daunting in its specific targeting of the illustrating users.
5. Plugins
Clip Studio Paint
Clip Studio Paint has an odd history with plugins. It was only possible for plugins to be available in the Japanese version of the program but not the US release. Thankfully, times have changed, and Clip Studio Paint now offers more customizations in the form of assets.
The many asset selections include custom-made brushes, materials, and comprehensive libraries of all sorts, be it image sets or 3D objects.
Brushes can be customized to replicate the effects of chalk, glitter, and specific paintbrushes of varying degrees in bleed and texture. The material catalog assets can be of great use for crafting such textures as fur or fish scales. These plugins are both free and paid.
Despite how handy some of these plugins are, they just can't quite compare to the variety offered by Photoshop. For this reason, one point has been taken off of its score.
Adobe Photoshop
Photoshop, catering to users of all sorts for decades, has plenty of plugins for optimal customizations. For artists, in particular, the ABR brush extension has far more range in customizations than that of Clip Studio Paint.
Whereas Clip Studio Paint seems to have a handful of useful assets, Photoshop has thousands of possibilities in its numerous plugins that have been developed over the years to better cater to users of all sorts, from graphic design and comic artists.
With so many powerful plugins to choose from, Photoshop gets a perfect score.
Winner: Photoshop. Photoshop just has a more significant number of plugins by number and the most versatility in terms of what can be accomplished with extra help from developers.
6. Pricing
Adobe Photoshop
Adobe offers a few different subscription models for Photoshop. On the most basic package, Photoshop can be attained for $20.99/monthly on an annual plan or $31.49/monthly if you'd instead go month to month.
This Photoshop version can be used on desktops and iPads and comes bundled with Adobe Fresco for drawing and painting projects.
The addition of Fresco is going to be a key feature when considering pricing because there's a much cheaper package that bundles Photoshop with Lightroom for only $9.99/monthly on an annual plan.
But unless you plan on using Photoshop for more intricate photo work, there's not much a graphic designer, comic artist, or animator would benefit from having Lightroom since that application is specifically for photo touch-ups.
However, if you just want it all, you can purchase the entire Adobe Creative Suite library for $52.99/monthly. This can be of great benefit for those who wish to prepare their artwork for the web with plenty of web-specific applications.
For being so expensive, two points were taken off of the score.
Clip Studio Paint
Clip Studio Paint has a much different pricing model that favors a one-time purchase instead of a subscription. $49.99 will get you Clip Studio Paint Pro, the version best suited for the primary artistic needs of character art, concept art, and illustrations.
For the artist who has far grander ambitions, Clip Studio Paint EX is the complete package at $219, capable of producing comic books and animation.
That's pretty cheap as it is, but the program is even less expensive when considering that there is indeed a subscription version as well. Both Pro and EX can be bought with a subscription either monthly or annually, and the price ultimately depends on what devices the software will be used.
Under the premium plan ($8.99/monthly for Pro or $14.99/monthly for EX), you can run the program on up to four devices (including tablets and phones).
If, however, you know you'll only be using this program on your phone, you can purchase the cheapest of plans that run $0.99/monthly for Pro and $6.49/monthly for EX.
This category's clear winner is Clip Studio Paint and not just for the obvious choices in either one-time purchasing or subscription models.
What's most remarkable about the program on this level is that it can tailor to be as economical as possible for any situation, whether you're a business seeking to get value out of having Clip Studio Paint on most workstations or you're an artist working on a strict budget.
And if you don't quite have a fancy desktop built for heavy-duty handling projects, the $0.99/monthly cost of Pro seems like an incredible deal. With so many options and most of them being cheap, Clip Studio Paint gets a perfect score.
Winner: Clip Studio Paint. Clip Studio Paint is the obvious winner of this category. You don't have to buy a subscription to the program and even the subscription choice is far cheaper when compared to Adobe's monthly rates.
7. Support
Adobe Photoshop
Being Adobe's star product, the company has made sure to offer as much support as possible for the highly iconic application of Photoshop. Help with the software, ranging from basic installations to intricate errors, is available for users in phone numbers to call, tickets to submit, and forums to pose questions.
Speaking of the forums, they're an absolute treasure trove of valuable information for skillsets ranging from beginner to expert. There's a handy user guide and some easy-to-read instructions to get you used to the environment and the workflow process for those just starting in the program.
When you're confident enough, you can delve into a wealth of tutorials available on the website. Check out their selections on full courses in design, inspirational tutorials to get the creative juices flowing, and even specific tutorials for using Photoshop on mobile devices.
Despite Photoshop's tutorials being a little more crowded, requiring users to do a bit of searching for specific projects, Adobe's wide range of support is more pleasing for how much is offered.
While it's helpful that Adobe is willing to answer questions over the phone, the exceptional abundance of tutorials, both internal and external to Adobe, simply can't be beaten.
Suppose you can't find a particular project through the tutorials on their website. In that case, there is no shortage online of Photoshop users willing to divulge their tricks of the trade, covering everything from graphic design to comics to animation.
With loads of options when it comes to support, Photoshop gets a perfect score.
Clip Studio Paint
Clip Studio Paint doesn't quite have the same wealth of support. The first thing you'll see on the support page will be a categorized selection of frequently asked questions, ranging from licensing to error messages. Help can be requested in a forum for asking questions and a support desk for submitting directly.
The support desk is operational 24 hours a day and seven days a week for inquiries, comments, and requests. These sections are relatively basic though they do seem to be decently responsive in all issues.
However, it is with the tutorials where Clip Studio Paint will appear far more friendly for artists. Their tutorial section of the website is brimming with all sorts of tutorials categorized by concept art, painting, character art, drawing, comics & manga, animation, and numerous other projects.
This can be an incredibly welcoming experience for artists who have a specific goal in mind and want to go straight to the particular project they want to produce.
Want to reproduce the classic inking effects of comics? There are some digital inking tutorials for that. Want to create some animation with perfectly timed lip-synching? There's a handful of tutorials for that as well.
Looking over everything that Clip Studio Paint offers, it's much more limited compared to Adobe's offerings. For this reason, one point was taken off the score.
Winner: Adobe Photoshop. Adobe wins out for offering more support and tutorials that outnumber and outshine that of Clip Studio Paint.
| | | |
| --- | --- | --- |
| | Clip Studio Paint | Adobe Photoshop |
| Platforms | Windows, macOS, iPad, iPhone | Windows, macOS, iPad, iPhone |
| Stylus Support | Yes | Yes |
| Best Suited For | Professional illustrators on a budget. | Creative professionals in a variety of industries. |
| Pricing | $49.99 (one-time) | $20.99/monthly |
Final Verdict
Photoshop and Clip Studio Paint are both capable of the same type of projects, but they're designed with different users in mind.
Photoshop is best used as an everything sort of program for crafting everything from graphic design to photo edits to illustrations. Clip Studio Paint is best used for comic art, concept art, illustrations, and animation.
Since both programs excel in different areas, it's a tough choice to which one is best for artists in other areas. For this reason, this showdown is a tie, and that users should consider the full extent of the projects they seek to create when choosing one.
Comic artists, animators, and painters will be at home with Clip Studio Paint, while more general artists should stick with Photoshop.
Frequently Asked Questions (FAQs)
What's the difference between Photoshop and Photoshop Elements?
Photoshop Elements is a cheaper and more stripped-down version of Photoshop that is better suited for basic and non-professional image editing.
Which projects are best suited for usage with Clip Studio Paint?
Clip Studio Paint is built explicitly for crafting paintings, sketches, comics, and animation.
Which application is best suited for designing comic books?
Clip Studio Paint has more specific comic book artists' tools that it's easier to utilize than Photoshop.
Which application is best suited for concept art?
Oddly enough, Photoshop is better suited for concept art with its versatility for plugins and customizations.
How much does Photoshop cost?
Photoshop costs $20.99/monthly to use with the Adobe Creative Cloud. However, you can get a cheaper price if you go with Adobe's Photography Plan. This plan costs $9.99/monthly and additionally includes Lightroom and Lightroom Classic for editing photographs.
How much does Clip Studio Paint cost?
Clip Studio Paint costs a one-time fee of $49.99. There's no additional subscription fees to pay. You can, however, choose to pay a cheap monthly rate of $0.99/monthly.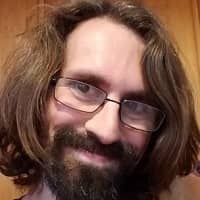 Mark McPherson has been working as a video editor and content writer for over ten years. His background started in animation and video editing before shifting into the realm of web development. He also branched out into content writing for various online publications. Mark is an expert in video editing, content writing, and 2D/3D animation.