(Last updated on May 19th, 2021)
DaVinci Resolve is capable of both video editing and color correction. But is it better suited for industry professionals or first-time filmmakers? Find out in this detailed review of DaVinci Resolve.
DaVinci Resolve first came about in 2004 as a multi-purpose piece of video editing software. Developed by a team that had initially worked on color correction applications, the software could not only color correction processes but also visual effects and high-quality video editing.
Having been acquired by Blackmagic Design, DaVinci continued to make astounding improvements over the years as it kept with video editing technology. Aspects of non-linear editing, HDR color grading, compositing, and various encoders have improved the software with each release.
As more than just a video editor, DaVinci has been branded as being capable of handling far more than just cuts and transitions. Everything from color to audio can be tweaked with great ease inside the program. So revered is the program that it has been used on such Hollywood productions as The Avengers and The Hunger Games.
If you search DaVinci online, you may notice you'll find hardware as well. Blackmagic Design has expanded into creating special keyboards to make the editing process smoother. You can even find Speed Timers bundled with the software at some online resellers.
Pros and Cons of DaVinci Resolve
Pros
The powerful post-production tools can accomplish everything from small edits to detailed compositing.
The application is free to use without any big limitations, devoid of watermarks and restricted outputs.
DaVinci Resolve acts as a one-stop application for videos considering its capabilities in everything from editing to color correction.
Cons
You'll need to acquire the paid version of DaVinci Resolve Studio if you want to render 4K video and higher framerates.
The learning curve is quite steep considering the dense amount of tools and options for editing video.
The program banks on heavy CPU usage, meaning you'll need to have a powerful computer to keep up with your editing projects.
Short Verdict
DaVinci Resolve is a compelling piece of video editing software that can meet the demands of editors who require either detailed or high-quality video.
Get a Special Discount On Our Top Picks!
---
BEST OVERALL PICK FOR PROFESSIONALS
---

Adobe Creative Cloud
Get all 20+ creative apps and services for photography, design, video, UX and more.
at adobe.com
---
BEST FOR PROFESSIONAL VIDEO EDITING
---
Adobe Premiere Pro
Quite simply the best video editing software on the planet, used by professionals.
at adobe.com
---
BEST FOR MOTION GRAPHICS & VISUAL EFFECTS
---
Adobe After Effects
The industry-standard motion graphics and visual effects software out there.
at adobe.com
---
1. Interface
Much akin to various Adobe products, DaVinci Resolve tries to present it within one window and organized pages. Multiple pages can be switched between to change out the interface for whatever tools you need at particular stages of the editing process.
The Media page is equal to that of the Assembly page in Premiere, better built for organizing your various clips and graphics. The nitty-gritty of editing can be accomplished either through the Cut or Edit menu, depending on what kind of editing you require.
Fusion is where everything visual effects and motion graphics can be accomplished. The page Color should be evident as being built for color correction. Fairlight is for making audio tweaks, and Deliver is where the final render will be completed with tools for exportation.
Seeing as how the pages are divided by different parts of the editing process, it would seem that the application is pretty straightforward. Comparatively, however, DaVinci's pages for dividing up the interface are rather par for the course.
Looking at the program relative to other video editors, DaVinci Resolve is not as intuitive as one may assume. The interface issue primarily deals with the conflict between the thumbnail-based library and the node-based color correction tools.
The thumbnails for the library may please amateur editors who appreciate the images instead of file names to sort through, while professional editors may find it frustrating. On the opposite end of the difficulty spectrum is the node tool, a process more familiar to pros than first-time editors.
The interface has thankfully been built in such a way to accommodate specific skillsets. Beginners can edit through Cut and Color, while more advanced editors can use Edit and Resolve pages for more complex functions.
The only significant issue with the presentation of DaVinci Resolve is that, even if with the pages sectioning off specific panels, it can seem crowded and daunting. Once you become comfortable with navigating around the many areas, you'll be surprised just how smoothly it to use.
2. Editing
DaVinci utilizes the familiar non-linear format of editing to make professional editors feel right at home using the software. Baring a striking resemblance to that of Premiere Pro, simply cut, drag, and alter your footage across the timeline the same way you would any other non-linear editor.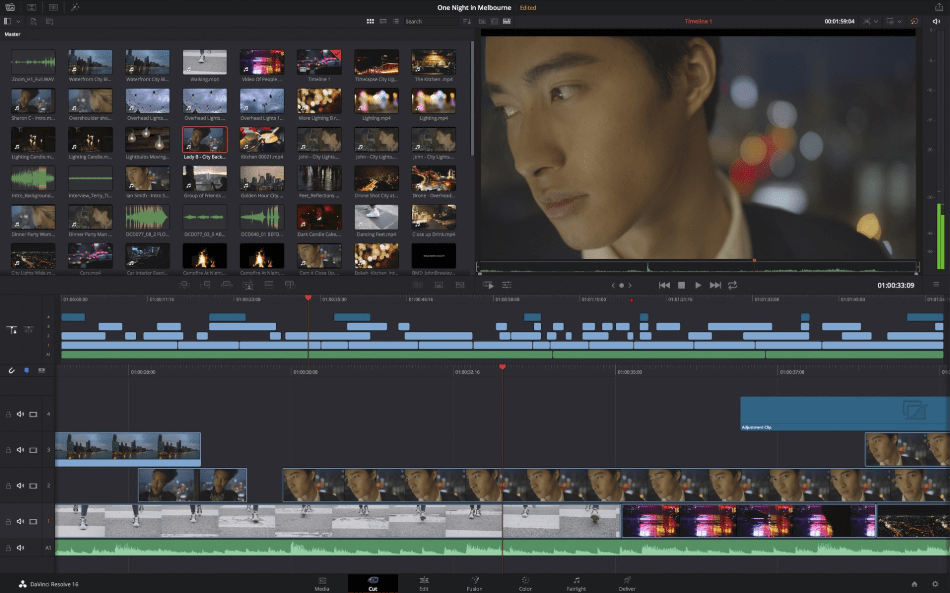 Multicam editing is also a pretty smooth experience with the tools present to make managing such a task less daunting. Up to 16 cameras worth of footage can be edited together. You can even utilize different audio tracks and color correct camera footage with relative ease and accurate synchronization.
Further complimenting the intuitive nature of the program is the ability to detect scene cuts. The DaVinci Neural Engine will scan your footage for changes in the picture and make cuts accordingly. This most beneficial for those who are working off previously edited videos.
The various options offered for editing in terms of the interface make the program suitable enough for beginners and experts in the field. The timeline and editing tools are pretty similar to other programs as well, that those even mildly aware of such programs shouldn't have much issue jumping right into a project.
3. Tools
As with most professional-grade video editing software, DaVinci Resolve has been developed to be a one-stop shop. Elements of color grading, audio altercations, visual effects, and motion graphics are all possible through this one program.
In terms of color grading, the presentation and capabilities are top-notch. The Color page presents just about everything you need for such a task. Such panels include selecting four color wheels, a color warper with plenty of tools, and color scopes to check the energy wave patterns.
If you desire far more control than the aforementioned color panels, you can click on over to the Resolve panel to find the most advanced color editing tools in the form of node control. This page will give you complete control over overlapping and connecting element to create the most picture-perfect video with highly customizable functions.
Transient detection is an incredibly excellent tool for those editing long stretches of footage. The tool works by automatically detecting certain words and beats within your footage and creating markers for each spot. This can be immensely handy if editing long presentations, podcasts, or monologues.
The tools for editing just about every aspect of video can be tailored for either beginners or experts. The methods of adjustments include waveforms, histograms, vectorscopes, parades, and even chroma keys. This allows you to get as intricate as you wish to make your audio and visuals look and sound crisp.
4. Features
With all things considered, DaVinci Resolve has loads of advanced features that tower over the competition. Compared to Adobe Premiere Pro and HitFilm Express, DaVinci has features that are either equal or better and is noticeably cheaper as well.
One of the most valuable features when it comes to color grading is that of the Color Warper. The Warper has simple enough tools to make profound changes regarding specific colors but carry such changes over into other parts of the timeline.
Targeted grading is going to be of great benefit for those who require specific color changes. Color grading can be accomplished via masks to section off particular areas that need some correction in hues. The DaVinci Neural Engine makes this possible.
If you upgrade to DaVinci Resolve Studio, there's so much more you can do. Video quality in the studio version has been upped to 3820×2160, and the framerates can exceed that of 60fps. This is an absolute must for anybody who finds themselves shooting 4K footage and wants the best results from their footage edits.
The choice to upgrade ultimately comes down to how much power and control you desire from your video editing projects. Those just starting in the industry should be just fine with the free version's feature and then consider whether they need the extra boost of the Studio version.
5. Workflow
DaVinci Resolve has divided up much of the workflow process into various pages, as stated with the interface. These pages can be a handy road map for maneuvering through each step that nears you closer to a completed video.
Footage can be imported into the application as simple as dragging and dropping files right into your library or onto the timeline. Folders can also be imported directly if you have everything neatly organized the way you like it within your drive.
Let's say that your project is the simplest of editing jobs. You've got a short piece of footage that just needs to be trimmed down. You don't have any need for fancy transitions or the insertion of graphics. You just want a simple trim. For that task, you would proceed to the Cut page.
On the Cut page are the tools for fast work. It's the page you'll be using most if you're on a time crunch and need to make some minor tweaks as quickly as possible. Cut gives you everything you need for the bare essentials of editing.
Denser projects should be edited via the Edit page. This iteration of the interface offers a few more panels for keeping an eye on various audio levels and transformations of footage and graphics. Think of this part of the interface as the professional editor page, bearing a resemblance to Adobe Premiere Pro.
It's not just Premiere Pro that shares a likeness. Nearly everything regarding titles, transitions, Multicam edits, and footage stabilization will be of remarkable resemblance to various other editors of similar functions. Even the node interfaces are not too much of a hassle to master for those who have dabbled prior.
6. Ease of Use
With everything DaVinci Resolve offers, it can seem like quite a complex application to wield effectively when first opening the program; the application does indeed have level intimidation. While there is a learning curve, the app does become easier to master over time when tackling more professional projects.
One of the ways that DaVinci Resolve tries to speed up the process is through hardware. Under most bundles of the software, you can acquire the Speed Editor keyboard. The keyboard allows you to use both hands for the editing process easier than relying on a mouse and keyboard.
The Speed Editor differentiates from the traditional editing tools in that it relies more on dials for scanning footage and source tape buttons. Using this helpful peripheral can significantly speed up the process. The fact that it pretty comes bundled alongside most online retailers of DaVinci Studio makes it easy to recommend trying it out while editing.
DaVinci Resolve doesn't do too much to differentiate itself significantly from the slew of other non-linear video editors, and that's surprisingly a good thing. For professional video editors, making the jump to a program that doesn't replicate much can be a headache, but that doesn't seem to be much of the case here.
If you've worked in Adobe Premiere Pro, there's a lot of familiar overlap within the Edit page. This mainly applies to the ability to drag and drop footage on the timeline and marking your clips within and out points.
It should be mentioned, however, that DaVinci Resolve requires quite a powerful computer to run smoothly. You'll also need to invest in the Studio version if you want the most power, considering this professional app can recognize up to 9 GPUs for the best results. The free version limits that GPU usage considerably.
The most appealing aspect for those planning to use DaVinci Resolve within an office or team environment is that the application supports collaboration. A combination of remote plugins and automation management can aid in bringing a project together with an entire team.
7. Pricing
| Product | Regular Price | Discounted Price |
| --- | --- | --- |
| Adobe Creative Cloud | $52.99/month | Check here |
| DaVinci Resolve Studio | $295 (one-time) | No Discount |
The pricing of DaVinci Resolve ultimately comes down to how many features you want. There is simply DaVinci Resolve and the more advanced version of DaVinci Resolve Studio. Both versions differ in their pricing.
The good news is that DaVinci Resolve, in its basic version, is free to use. Previously known as DaVinci Resolve Lite, the program can provide high-quality video editing without such freeware restrictions as watermarks or limited lengths of video.
The bad news is that those desiring grander quality and higher frame rates will have to shell out for DaVinci Resolve Studio, and it's not exactly the cheapest. The Studio version will run you a one-time fee of $295. While you can do quite a bit in the regular version, Studio has numerous functions that'll be more ideal for professional editors.
However, compared to other video editors, DaVinci Resolve Studio is not a massive blow to the bank. Thankfully, the free version isn't too knee-capped in terms of how extensive the range of tools and output formats.
The best part, though, is that you can start using the free version for learning the program and addressing your immediate needs. This means there's no huge initial investment or trial period to see if the program is suitable for your video editing needs.
However, it should be noted that while you can download Studio off the Blackmagic site, you'll need to purchase the serial code elsewhere online. The great news is that this competition has led to some retailers offering bundle packages, where you can receive a Speed Editor tool for free.
Also, suppose you're seeking better control of your editing environment and don't mind spending the extra cash. In that case, you can take a look at Blackmagic's many editing pieces of hardware similar to the Speed Editor keyboard.
8. Support
The DaVinci Resolve website offers an extensive and rather charming page of tutorials and guides. Simply titled Training, the website provides a wealth of material that can train you to become a certified professional in using the application.
Just about every topic when it comes to using DaVinci Resolve is covered in this section. Such issues include an introduction to editing, the art of color grading, Fusion VFX, Fairlight audio production, and managing media.
Not only can you watch an informative video on each topic, but you can also download project files, allowing you to both follow along and experiment on your own. If you learn more through reading than video, you can choose to either download PDFs or purchase books that guide you through the program.
What's most impressive about DaVinci is how willing the site is to help out with finding third parties. Whether you need to find a specific training course or want to purchase some DaVinci-specific hardware, there are more than enough options available so that you're not searching online for your video editing needs.
DaVinci does have a support center, and the interface is pretty unique. You can find the Support page in their footer, and from there, you can easily navigate between which technical issues you are having with the app.
If it's a product-specific question, you can select support by product. If it's a desire for new drivers, you can find downloads, support notes, and news items all in one table. If you just need a specific question answered, you can see that answer through either their forum, email, or phone call.
Final Thoughts
DaVinci Resolve does feel like the complete package of a video editor. Everything you need is present to deliver stellar results with the aid of in-depth color correction tools, elaborate audio control, and so much more. The interface can be as primary or dense as you desire.
While that all may sound like elements you can get from other video editors, it's ultimately the extra additions to the program that make it shine brighter. The most significant divergence is that various online bundles of DaVinci Resolve Studio come with the time-saving Speed Editor keyboard, ideal for editors desiring better control.
The application also makes a great case to try it out. In its free version, you can still produce quality videos without any limitations. If you then desire more power or higher quality, the Studio version will become all the more appealing for its full range of speed, power, and outputs.
You may want to try out the free version first, considering the learning curve is a bit steep. Once you've cleared that minor hurdle, however, you'll learn why DaVinci Resolve is one of the top-tier video editing applications on the market today.
Frequently Asked Questions
Is DaVinci Resolve free?
DaVinci Resolve comes as both a paid studio version and a free version.
Is DaVinci Resolve good for beginners?
DaVinci Resolve has been built to be easy enough that first-timers shouldn't have any issues jumping right into the program.
Is DaVinci Resolve better than iMovie?
iMovie is a more straightforward program that is less taxing on your computer, but DaVinci Resolve has far more features and is much more potent in video editing
Does DaVinci Resolve free to have a watermark?
There is no watermark present on videos rendered through the free version of DaVinci Resolve.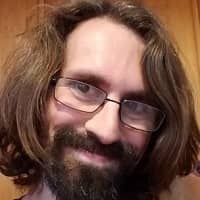 Mark McPherson has been working as a video editor and content writer for over ten years. His background started in animation and video editing before shifting into the realm of web development. He also branched out into content writing for various online publications. Mark is an expert in video editing, content writing, and 2D/3D animation.