(Last updated on May 19th, 2021)
Final Cut Pro has been a staple of video editing software for Macintosh computers. But does it still hold up in its current version to be a top application for filmmakers? Check out this review on just how the latest.
Previously titled Final Cut X, Final Cut Pro has been attempting to bridge the gap between professional editors and consumers. Think of it as a combo of the denser professional-grade editing software with all the ease of the less-featured iMovie.
Initially developed in the late 1990s, the software quickly rose from the advantages by being a Mac-based application. Aspects of native hardware with firewire for transferring and specific software like Quicktime video encoding helped launch the program into being more of an industry standard.
While Firewire and Quicktime soon became obsolete, Final Cut continued onward. It has grown to consume a hefty portion of the video editing market, most notably for Mac users, as the most accessible piece of editing software to use on the platform with the most professional tools.
Pros and Cons of Final Cut Pro
Pros
The magnetic timeline feature can make linear editing proceed with great speed.
The robust tools are powerful enough for projects big and small, whether you're an amateur editor or seasoned professional.
Final Cut Pro runs incredibly fast for generating real-time previews that make for a speedy workflow.
Advanced editors will appreciate the applications 4K support for the highest-quality of video.
Cons
Final Cut Pro does not work on PC computers so its market is limited to Mac users.
The unorthodox timeline will take some getting used to for editors who are more used to editing in a non-linear format.
Final Cut Pro lacking features in motion tracking which may not be appealing for those shooting drone footage.
Short Verdict
Final Cut Pro may be costly, but it's a video editing application that is easy enough to use for beginners and capable of producing high-quality videos for industry professionals.
Get a Special Discount On Our Top Picks!
---
BEST OVERALL PICK FOR PROFESSIONALS
---

Adobe Creative Cloud
Get all 20+ creative apps and services for photography, design, video, UX and more.
at adobe.com
---
BEST FOR PROFESSIONAL VIDEO EDITING
---
Adobe Premiere Pro
Quite simply the best video editing software on the planet, used by professionals.
at adobe.com
---
BEST FOR MOTION GRAPHICS & VISUAL EFFECTS
---
Adobe After Effects
The industry-standard motion graphics and visual effects software out there.
at adobe.com
---
1. Interface
Final Cut Pro is undoubtedly one of the neater video editors in terms of its interface. The five-panel layout is perfectly proportioned, so it doesn't feel like you're squinting at the timeline or cataloged footage. Of course, these panels can be customized as well.
First-time editors don't have to worry too much about figuring out the perfect workspace combination. Like Adobe Premiere, Final Cut Pro features different inspector interfaces for video, color, and audio.
The handiest feature of organizing the interface is easily toggled panels to either be on or off. So if you ever find yourself requiring a more extensive preview window to check your footage, you can merely switch off one panel and then quickly turn it back on when needed.
While the interface can be customized to however you wish, the initial setup is relatively clean, with all the tools and windows evenly spaced. This is an exceptional design that works well on monitors, both big and small.
2. Editing
Final Cut Pro differs from most video editors to make things easier and automate the process. The most notable aspect is the unconventional timeline, which favors linear editing more than non-linear editing standards in most editor programs.
Those who find themselves only making simple edits to one piece of footage on the timeline should have no issue getting used to the editing process. Cutting out footage and having the timeline snap ideally into place will be a significant time-saver for those working on essential projects.
The denser projects that require non-linear editing are a bit trickier to master. Going from Premiere to Final Cut Pro was quite the experience, and I found myself having to get used to the flow of moving around clips. After a while, though, I got used to making short videos with ease.
The only part of the timeline that can be tricky to get used to is the magnetic timeline. The timeline has been designed so that when sliced clips are cut, the sides close around the space. As someone who edits mostly in Premiere, this took a bit of getting used to.
You can even specify your edits by specific angles if you're doing Multicam editing. Thanks to the Angle Editor, you can sync up to 64 angles and view 16 of them at once. Editing through this particular window is so intuitive that it's no wonder why Final Cut has been branded as one of the more advanced Multicam editors on the market.
Naturally, the Angle Editor is only going to be of great use to professional editors who need to sort through dozens of cameras all shooting the same sequence. It's not recommended for those who simply have a 2-3 camera sequence considering the learning curve in getting used to this level of editing.
The application is compelling to the point that real-time previews are some of the smoothest I've ever seen. A solid Mac system will handle the memory demands of Final Cut Pro and deliver fast previews as well as renders, rarely leaving you in the dark when waiting for the complete picture to load.
Thanks to the new processing engine, even compositing has been sped up in the latest version of the application. Capable of handling multiple graphics processors, Final Cut Pro can work with up 28 CPU cores for the fastest renders.
There's also support within the program for those armed with an Afterburner card or a Pro Display XDR. This is crucial for those who are working with video requiring specs for High Dynamic Range content.
3. Features
One of the latest new features to grace Final Cut Pro concerns the usage of AI-assisted tools. The most compelling of these advancements is the ability to crop your video for social media automatically. So if you're shooting with a widescreen lens but want that vertical phone look, this tool can take out a lot of the hassle in such reformatting.
While other editing programs have a similar means of cropping footage with automatic motion detection, Final Cut Pro's functionality sticks out for giving you a better preview. You can see how the vertical video will appear and witness just what is being cut out from the sides of the screen.
The preview area gives a firmer control to decide what is most important if the AI doesn't show all the critical aspects of the video in vertical form. You can keyframe the cropping yourself for the best edits if the automatic crops don't quite do the job, though most of the time, they seem on point.
As with the best video editing software, Final Cut Pro also features robust color correction tools. Once again, some AI comes to the rescue to provide automatic adjustments to everything from color balance to exposure. Of course, you do have the option to configure master, shadows, mid-tones, and highlights manually.
You may notice that Final Cut Pro's color wheels for these adjustments look a bit different, but they operate the same way very much. You can also switch over to Color Boards if you find that more to your liking. Also, if it wasn't obvious, the color grading tools work exceptionally well with HDR video.
While Final Cut Pro does seem adept at being a suitable editor for such big projects involving 360-degree and 4K footage, it still lacks some areas. Namely, motion stabilization is a critical function that isn't there. The lack of support in this area may not make it a good choice for shooting drones or point-of-view videos with lots of movement.
You can, however, get a bit more support if you bring Motion into the equation. This additional piece of software from Apple is adept at 2D and 3D titles, transitions, and real-time effects, in addition to working well with 360-degree footage. The software isn't free, however, so keep that in mind.
With the proper hardware, Final Cut Pro also supports video that comes through VR headsets. This means that you can accurately monitor just how your 360-degree footage will appear when viewed in a VR setting. It's also less of a headache to edit in such a way where you can see everything within such vast footage.
4. Workflow
Final Cut Pro does have a learning curve in trying to learn its many ins and outs. Once these areas are conquered, however, you'll find that the program has built to be exceptionally speedy with how lightning-fast it zooms through the workflow process.
The most notable aspect of the workflow is automation. Automation is quite handy when dealing with the organization of your clips. Clip organization can be a hassle when working with multiple files.
The addition of the Smart Collections tab can be a great way to keep all your clips together by keywords. Using this function can quickly set up rules for how your footage will be categorized. It is an ideal solution for those who need to edit a multi-camera shoot of concerts and similar projects.
Another helpful tool when it comes to importation is how Final Cut Pro can recognize certain shots. If you turn on the Find People portion of the import page, the application can sort through your footage and tag it by particular shots and the number of people in each clip.
The Find People tool isn't perfect, obviously, but it can be of great use for those who find themselves needing a quick means of separating medium shots from long shots. This tool is ideal for those editing interviews.
Taking full advantage of macOS, the app also supports MacBook Pro and its custom Touch Bar. The Touch Bar can be customized to show timeline tools, editing tools, or other tools for easy access. While not an essential component for pros who can navigate one window just fine, this edition is notable for first-timers who make workflows less intimidating.
While Final Cut Pro may have been designed with both pro and amateur editors in mind, some aspects will resonate better for some than others. If you're new to video editing or only dabbled in some minor consumer-grade apps, you may find the setup relatively easy to get used to.
5. Ease of Use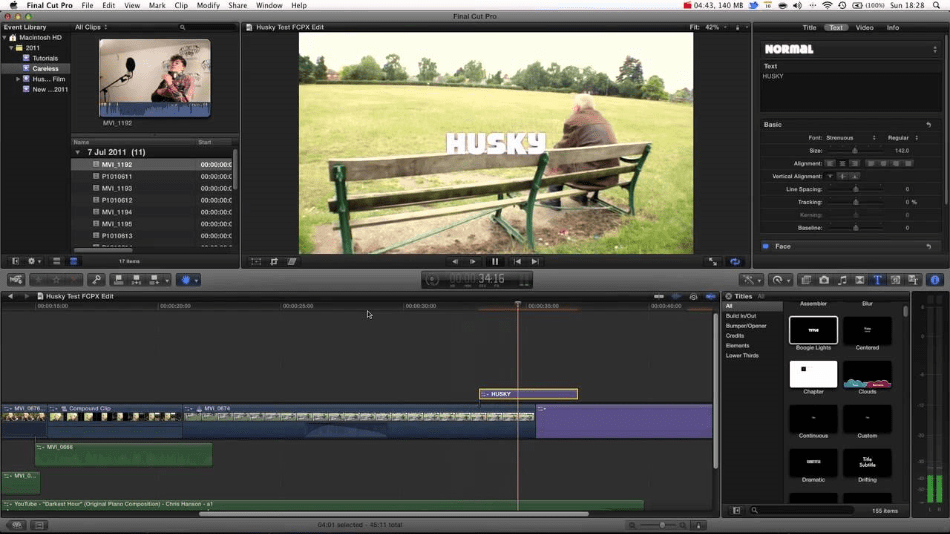 Professional editors who have already used other editing software may find the different timeline interface a bit cumbersome. Compared to other pro editing software out there, Final Cut Pro will require extra training to master this crucial aspect of the editing process fully
The interface can often be of great concern for the easily intimidated user. The good news is that the customized design toggles and perfectly sized panels ensure that tailoring the tools is not a nightmare of micromanagement. You won't have to do much hunting around for the proper layout, either.
Unlike other video editing programs, Final Cut Pro doesn't start up with a splash screen or guided tour of the program. While this isn't wholly necessary for those willing enough to learn independently, it's a bit concerning that the only help you get from the start is some text-based User Guides accessed within the program.
Despite some seemingly dated design choices, the public interface is so incredibly intuitive it may be one of the easiest to use that isn't consumer-grade. This assembly makes the program the perfect marriage of being simple enough to use yet powerful enough to produce professional-level videos.
6. Output
As far as the rendering outputs go, Final Cut Pro is pretty powerful in this department. The high-quality 4K XAVC-S format can be rendered out well. They can even produce the web-friendly compression format of H.265.
With the aid of the add-on Compressor, you can also support the outputs of 360° video, HDR, HEVC, and MXF. Accomplishing everything from compressed web videos to high-quality renders further cement just how versatile the program is for any skillset.
In terms of project files, users should be aware that Final Cut Pro will only work on Mac environments. So if you're working in a team environment where editors have different computers and systems, Final Cut is not ideal for teams that are not exclusively working on Mac devices.
7. Pricing
| Product | Regular Price | Discounted Price |
| --- | --- | --- |
| Adobe Creative Cloud | $52.99/month | Check here |
| Final Cut Pro | $299 (one-time) | No Discount |
Final Cut Pro is thankfully priced at a reasonable rate given the power of the program. For a one-time fee, the application can be used for only $299. There's no upgrade, however, so this is pretty much the price you'll be paying for any significant updates with the software.
Compared to other programs, the one-time fee alone will be enough to draw for other programs that specialize in subscriptions. Monthly payments can nickel and dime you if you intend to get a lot of use out of the software.
While $299 may seem like a lot compared to monthly payments, the program is pretty much paid off after two years compared to the competition. The fee also doesn't seem as much compared with other one-time-fee apps that tend to run much higher.
One aspect of being aware of is that downloading the software will require a lot of space. The download itself is 3GB alone, so make sure you have a computer powerful enough to handle such a powerful piece of video editing.
Another vital point to keep in mind is the price of add-ons. $50 is what it will cost you to integrate the program with Motion and Compressor. These two applications are absolute must-haves if you know you're going to be working in motion graphics.
Final Cut Pro does have a 30-day free trial you can take advantage of if you're considering the program but are not quite sure you want to invest. It's a long enough trial that you should have enough time to learn the essentials and maybe even compare it to iMovie to see just how many features you'll be gaining and if you need them for your projects.
8. Support
On the Apple website for Final Cut Pro, you can find a host of various support materials under Resources. In addition to granting access to guides and help desks, it can't be overstated just how much supplemental content Apple provides.
In Documentation, Apple offers detailed user guides for Final Cut Pro, Motion, and Compressor. This documentation can be accessed through an online directory, a downloadable PDF, or Apple Books.
The fundamentals of Final Cut Pro can be quickly learned through the section labeled Ripple Training. It is here where you can learn everything from the basics of the program to in-depth techniques from experts in the field.
Plenty of web tutorials can also be accessed by many developers. Tutorials include videos from LinkedIn Learning, tips from PremiumBeat, Motion demonstrations by Simon Ubsdell, and even presentations from the Final Cut Pro Summit.
In terms of communities to seek guidance, tips, or just share your expertise, Apple lists plenty of options to consider. Apple has its forum, but you can also find Final Cut Pro communities at such third-party forum sites as Boise Cutters, SFCutters, San Diego Mac Video Production User Group, and many more.
There are also blogs to consider as FCP.co contains plenty of Final Cut Pro news, and FCPworks is a perfect place to seek expert advice. And, believe it or not, there are dedicated Final Cut Pro podcasts listed here as well.
Keep in mind, everything mentioned here is only the support available via Apple's website. If you poke around online, you can find leagues of Final Cut Pro tutorials and walkthroughs in various videos and forums.
Final Thoughts
As far as video editing software goes for Mac environments, Final Cut Pro remains the best in the business. It's competent enough to handle industry-level work with its wide ranges of features and outputs. It's also easy enough to use that first-timers won't be intimidated by the interface.
Macintosh computers will already cost you a pretty penny, so it'd be most beneficial to have editing software to take advantage of the operating system. Final Cut Pro makes excellent use of all of the macOS advantages, even if you won't find yourself using all of its bells and whistles.
Getting used to the most linear-based timeline and the methods of the organization may take some time to master, and it's worth noting this learning curve. This information mainly applies to editors who have worked with different programs on the market before, considering there are many key differences from the likes of Adobe Premiere.
Final Cut Pro does a great job at providing stellar video editing for amateurs and pros, suiting just about any project. For being such a multi-purpose editor, it's by far one of the best editing pieces of software for Mac users to pursue.
Frequently asked questions
How much does Final Cut Pro cost?
Final Cut Pro costs a one-time fee of $299.99.
Is Final Cut Pro for Mac only?
Final Cut Pro can only be used on Mac devices that use macOS.
Is Final Cut Pro free?
Final Cut Pro can be downloaded for a free 90-day trial, but you will have to pay for it after that time expires.
Why Final Cut Pro is so expensive?
The price tag for Final Cut Pro is so high to accommodate the better features that surpass iMovie.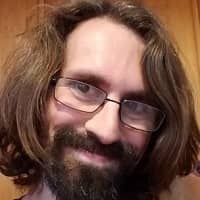 Mark McPherson has been working as a video editor and content writer for over ten years. His background started in animation and video editing before shifting into the realm of web development. He also branched out into content writing for various online publications. Mark is an expert in video editing, content writing, and 2D/3D animation.