(Last updated on June 8th, 2021)
Adobe Premiere Pro or Final Cut Pro, which editing software is better in 2021?
Read this in-depth Premiere Pro vs. Final Cut Pro comparison to find out which one is the best editing platform for you.
Adobe Premiere Pro CC and Final Cut Pro X are among the most used editing software, if not the most used. From hobbyists to professionals, both software harness enough power to edit a blockbuster feature film or a home video. In fact, both do exactly that and everything in between.
NOTE: One aspect that sets Premiere apart from Final Cut, is that Premiere can be used on both Mac and Windows operating systems. At the moment, Apple has restricted the use of its Final Cut Pro products to only Apple operating systems. That being said, Final Cut Pro is tailored explicitly for its operating system, whereas Premiere is more versatile.
Also note that when we refer to "Premiere," we are referring to Adobe Premiere Pro CC 2021. And when we refer to "Final Cut" we are referring to Final Cut Pro X 2021.
Comparison at a Glance
1. Usage
Winner: Final Cut Pro X. Final Cut prides itself on a simple, easy to use platform where one person can import footage, seamlessly playback clips with effects on them, export and share from one computer in an efficient way.
2. Workflow
Winner: Premiere Pro. Because the interfaces of both Premiere and Final Cut are similar, so are the workflows. And the verdict of this category really depends on the user. This totally depends on if you are seeking a fast, simple and user-friendly platform, or if you're looking for something advanced and customizable. However, Premiere Pro takes the cake because it's system is utilized to get things done the best way.
3. Ease of Use
Winner: Final Cut Pro X. This is what the program was designed for, and it shows. From initial bootup, a first time user would be able to figure out the basics just by experimenting around. Whereas with Premiere Pro, it would take a tutorial or two before you can really dive in, which can be intimidating to some.
4. Pricing
Winner: Final Cut Pro X. If you don't want a small headache each month, the one and done pricing of Final Cut Pro is the way to go. For $299.99, the program is yours forever. That being said, Premiere's $20.99 price would get you just over a year of the program before it becomes more expensive than Final Cut. But its $52.99 cost of the entire Adobe Creative Cloud Suite would get you only about a half year before it becomes more expensive than Final Cut.
5. Color Correction
Winner: Premiere Pro CC. Premiere has superior color correction features, plain and simple. Where there is a lot you can do to bring blown out footage back and add a cinematic correction to your footage in Final Cut, Premiere steps up the game with its Lumetri Color effect and built-in Luts.
6. Audio
Winner: Premiere Pro CC. Final Cut does provide a fast and easy audio solution with it's "analyze and fix audio problems" effect. But if you really want to make your project shine, Premiere's tools are far superior and allow for total manipulation.
7. Text/Graphics
Winner: Premiere Pro CC. Similar to audio, Final Cut has fast plugins that allow for sleek looking text and titles. However, if you want the total professional feel for your production, Premiere's text, especially when utilizing After Effects, allows for complete manipulation.
8. Customer Support
Winner: Final Cut Pro X. Apple's customer support network is pretty good, especially when compared to Premiere's often long and confusing support.
Short Verdict
Both Final Cut and Premiere Pro are used by beginners and professionals. Each software has its strengths like Final Cut's pricing and ease of use, and Premiere's customization and color correction.
Premiere Pro is the clear winner here. It might be easier to pick up Final Cut and use it on day one, but if you want to advance your skills and keep up with the ever-changing film industry, Premiere Pro is the obvious choice.
In short, Final Cut Pro X is for someone who films, edits, and exports their videos on one computer, one software, from start-to-finish. Premiere Pro CC is more of a fully customizable workhorse that includes fine-tuning aspects of editing, project sharing, as well as essential editing tools.
Get a Special Discount On Our Top Picks!
---
BEST OVERALL PICK FOR PROFESSIONALS
---

Adobe Creative Cloud
Get all 20+ creative apps and services for photography, design, video, UX and more.
at adobe.com
---
BEST FOR PROFESSIONAL VIDEO EDITING
---
Adobe Premiere Pro
Quite simply the best video editing software on the planet, used by professionals.
at adobe.com
---
BEST FOR MOTION GRAPHICS & VISUAL EFFECTS
---
Adobe After Effects
The industry-standard motion graphics and visual effects software out there.
at adobe.com
---
1. Usage
Here are the main differences between Premiere and Final Cut.
Users
Premiere is generally used for slightly more advanced filmmaking, cinematic editing, and to be combined with After Effects for visual graphics use. Final Cut is generally used by filmmakers who shoot and edit on one computer and use Final Cut for its speed and simplicity, making it an ideal match for the efficient user experience that Apple products are synonymous with.
Usage
Final Cut takes longer to boot up, but once it's running it is known for its speed. Because Final Cut loads the clips into its project, there is less render time and more flawless playback. The clips snap into place and are easily understood for a first time user. Premiere, on the other hand, boots right up but draws the playback of the clip from its source file, saved on your computer or external hard drive. This means that if you delete or move the source file of the video, it will no longer appear in the editing platform. That being said, the project file is much smaller and usually boots right up.
Benefits
| | |
| --- | --- |
| Final Cut Pro X | Premiere Pro CC |
| Works well for first-time users | Supported on both Mac OS and Windows |
| Fastest editing platform on the market | Industry standard for professional editing |
| Comes loaded with VFX graphics | Frequently updated with new features |
| Designed for simple user experience | Advanced motion tracking and visual effect features |
| Fast rendering capabilities | Adobe's Project Manager feature allows the sharing of projects |
| Works with real-time effects | Top of the line color correction |
| Allows the use of multiple cameras | Audio engineering capabilities |
Disadvantages
| | |
| --- | --- |
| Final Cut Pro X | Premiere Pro CC |
| Complicated project sharing settings | Takes time to learn |
| Large project files | Need to render high-resolution footage to playback, depending on processing power |
| Only supported on Mac OS | Little confusing for first-time users |
| Not as many features | – |
| Compatibility problems | – |
Winner: Final Cut Pro X
2. Workflow
As with the workflow of.. well anything really, the more you use a software, the better you get at it. Both Final Cut and Premiere have the ability to customize your work station and shift panels around to however you prefer.
Here are two examples of what the programs look like loaded with footage and an existing timeline.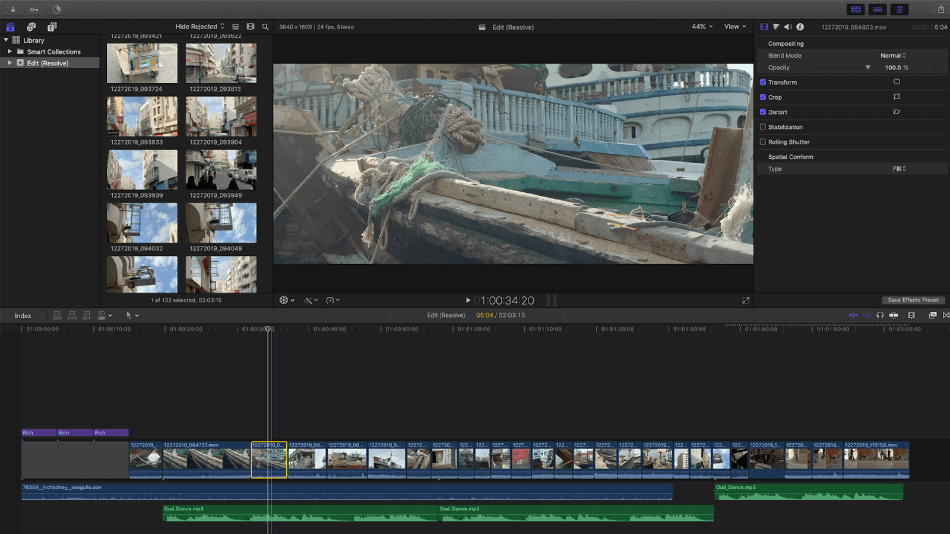 As you can see, they look relatively similar. Each with their own project clip, video/audio timeline, playback and effects panels. Because of this, we'll need to explore the nitty-gritty to get to the bottom of what editing software is right for YOU.
Both Premiere and Final Cut are non-linear editing systems. You might ask, what does "non-linear" mean? Well, when films were cut using film strips, editors would literally cut the film on the frame where they wanted a cut, then connect that segment to the frame of the next segment. Now with computers, not only can you move segments around the timeline easily, you also have access to all of your clips with the click of a button.
Winner: Premiere Pro
3. Ease of Use
Final Cut Pro X takes the cake with ease of use. As it is an Apple product, Final Cut is designed specifically for any user to pick it up and use it for the first time. That being said, Final Cut does offer a lot of advanced features like color correction, VFX and motion graphics.
Even with high-quality footage, like 1080p and 4k, Final Cut has no problem rendering and playing back. On the other hand, Premiere takes time to render 4k footage for playback based on the users computer and processing speed. However, Premiere does have the capability of viewing in ½, ¼, and ⅛ quality for seamless playback, whereas Final Cut does not offer this.
Winner: Final Cut Pro X
4. Pricing
| Product | Regular Price | Discounted Price |
| --- | --- | --- |
| Adobe Creative Cloud | $52.99/month | Check here |
| Adobe Premiere Pro | $20.99/month | Check here |
| Final Cut Pro | $299.99 (one-time) | No Discount |
Unfortunately, the pricing between these two platforms isn't cut and dry. Both platforms, however, have a free trial for at least seven days. This provides a good opportunity to experiment with both Premiere and Final Cut to see which works best for you.
The difference between the two platforms is that Adobe offers a monthly payment plan. This ensures that you have access to the newest and best updates of Premiere. These rates vary, as you'll soon see. Final Cut Pro X is a one time fee of $299.99. This, however, does not entitle you to the future updates to the platform.
Here's a breakdown of the pricing for Premiere Pro:
The single app, individual purchase of Premiere Pro CC is $239.88 per year. Either that or $20.99 per month.
Another option is to purchase the entire Creative Cloud, which includes Photoshop, After Effects, Premiere Pro, Lightroom, Illustrator, InDesign, Audition, and much more. Here's a full list of what Creative Cloud has to offer.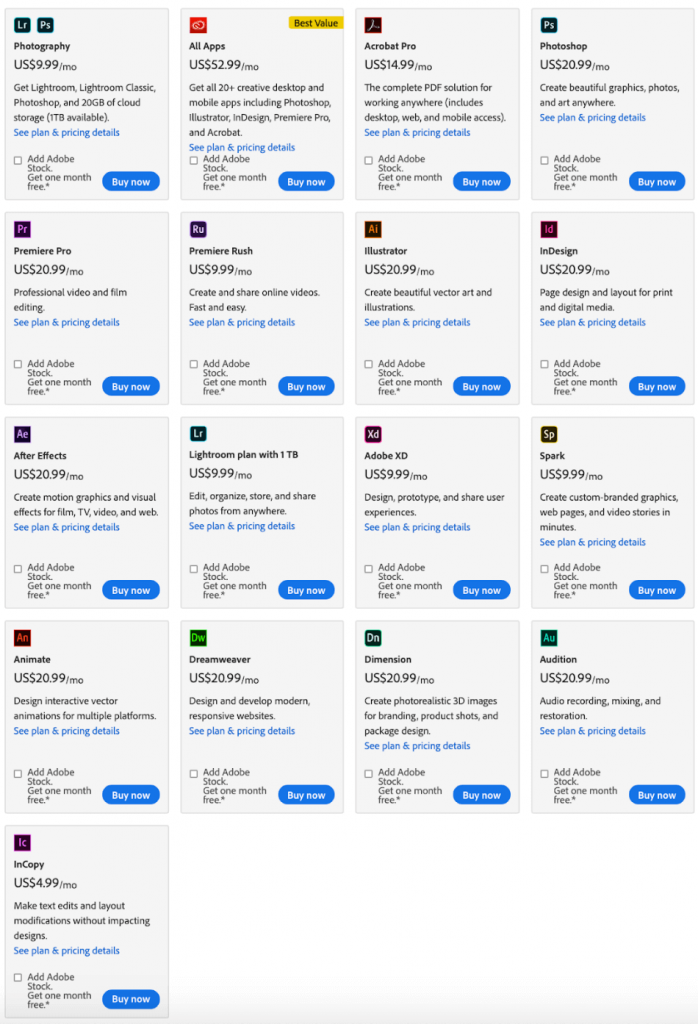 For Creative Cloud, Adobe offers $599.88 per year or $52.99 per month.
For more reasonable prices, there are student discounts if you have an active student email, as well as teacher and school pricing.
Winner: Final Cut Pro X
5. Color Correction
Color correction is one tool that can take your project to the next level. Fortunately, both Final Cut Pro and Adobe Premiere offer advanced color correction tools. However, both are different in their own ways.
Premiere offers color correction tools that are slightly superior to Final Cut. Here's an example of what Premiere looks like when the workstation is set to color.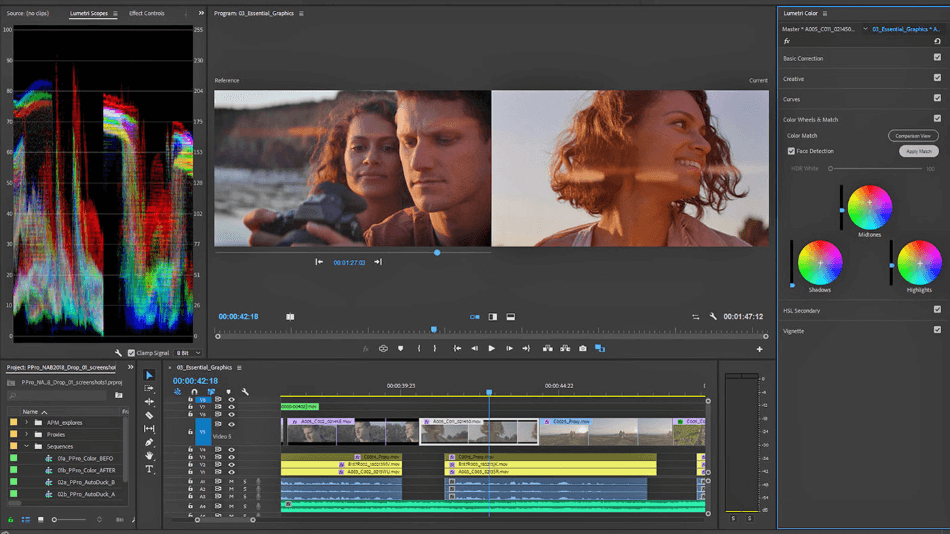 Premiere offers the Lumetri Color effect that can be used for "basic correction, creative, curves, color wheels and match, HSL secondary, and vignette." However, by just using the basic correction tools, you can do about 90% of what a professional color corrector could do. The next 10% would come in the other settings.
You can isolate colors and manipulate the saturation and hue. The shadows, highlights and mid-level colors can also be manipulated to get that cinematic look everyone is after. And to achieve this, Premiere is the best platform. In fact, to really maximize color correction, After Effects, a part of the Creative Cloud, offers even more advanced tools. To go even further, Premiere allows you to export your project to bring it to DaVinci, the highest performing color correction platform on the market.
Premiere also has built-in luts for every camera in the industry to get a fast and simple color correction to your footage.
Final Cut, on the other hand, offers similar yet slightly less superior tools. Here's an example of what Final Cut Pro looks like in the color correction platform.
As you can see, this is very similar to Premiere. However, it is more difficult to isolate and manipulate colors and perform advanced techniques. Final Cut Pro is also not as symbiotic with other color correction tools such as DaVinci and After Effects.
Winner: Premiere Pro CC
6. Audio
Audio is often labeled as the most important aspect of video production, despite it… well, not being video. That being said, both Final Cut and Premiere have amped up their audio engineering features in recent years to match the ever-evolving world of video production.
One of the sleekest and often used tools is audio synchronization, where you can take two audio clips and synchronize them, assuming they are of the same source audio. This can help to synchronize video to external audio via waveform. Both Final Cut Pro and Premiere have this feature.
Unlike Premiere, Final Cut Pro has a tool called "Analyze and fix audio problems." This will automatically choose the best settings and effects for optimal audio quality.
Premiere, on the other hand, has automatic audio features as well but the platform is tailored to in-depth mixing. These automatic features are not as easy as one-click like Final Cut, however. There are three features that you can manipulate from here, Latch, Write, and Touch.
On top of this automatic feature is a plethora of manual audio mixing tools and effects. The most popular being "gain", where if you want optimal audio, you must go in and individually change each clip to ideal decibels.
Winner: Premiere Pro CC
7. Text/Graphics
Working with text is fairly easy with both Final Cut and Premiere.
Final Cut has more user-friendly options like basic lower third text, titles from the browser and title text. From here you can change font and styling. There are preloaded 3D text effects on the Final Cut program. For more 3D effects, Apple's Motion platform offers seamless effects use. Adding motion to the text on Final Cut Pro X, however, is slightly deeper and more complicated.
For Premiere Pro CC, all of the text is totally customizable. So much so that when you first place text it appears wherever you clicked on the clip. From here, you can manipulate the font, styling, and motion, all in one place.
If you're looking for fast, easy and simple text to get your video out ASAP with less effort, Final Cut Pro is the program for you. On the other hand, if you're looking for advanced text effects, total customization and a more professional look that takes more time, then Premiere Pro is the program for you. To add on to that, with the Adobe Suite, you have access to After Effects, which has even more advanced customization and 3D text effects.
Winner: Premiere Pro CC
8.

Customization
While Final Cut Pro X doesn't provide the customization that a professional editor desires, it does allow you to set up a personalized workstation.
You can also create custom camera archives, custom metadata views, custom filters, and custom keywords for faster shortcut use on Final Cut.
Premiere Pro CC is the master platform for customization. Here you have total control of workstation setup where you can save multiple different interfaces, even though the workstations that come with it work very well. You can customize keyboard shortcuts for easy access to all tools.
You can also control which tools are available at quick access. You can set up for multiple monitors. You can even control all project sharing settings by exporting a shareable project file that even includes the front and back end of each clip that is used in the timeline. Even the length of that extension can be customizable.
9. Customer Support
While Adobe isn't exactly known for their customer support, they do frequently update their applications to fix bugs and conform the platform for the user. This applies especially to Premiere. They even ask for filmmakers and professional editors to communicate with them about what is and isn't working well. All the way into the nitty gritty.
Because of these frequent updates that fix bugs, a call to customer support is rarely necessary, if ever. Their updates work so effectively because projects can be opened in multiple different versions, so there is rarely an issue that can't be resolved.
Premiere Pro does have a call line, but it's customer reviews are lower than ideal.
Because Premiere is such a widely used editing software, chances are that someone out there has encountered your same problem. In fact, there's a high probability that someone has a fix for that problem on Youtube or some editing blog.
Final Cut Pro X has a similar network of users, but not quite as large. And, because it's focused on user experience, there are rarely problems with the platform. But when there are, it can be detrimental.
Final Cut Pro has a call line that you can call anytime. Because it's using Apple's network of representatives, the support is actually usually pretty good. However, wait times for calls are variable.
Winner: Final Cut Pro X
Final Thoughts
Final Cut Pro X can make wonderfully cinematic and dynamic edits. If you're shooting footage yourself and editing on one machine, you may be partial to this machine. But after a decent amount of time used, the platform may stale and you may get left behind.
Premiere, however, is the workhorse of the film industry. If you're a professional, this is your platform. Because the application is constantly updated and Adobe considers what is happening in the industry, this application will be the standard for years to come.
Chris is an LA-based filmmaker and video editor who has a passion for writing and creating video content. He has produced and edited a wide variety of projects, most notably his documentary series "Off the Cuf," which explores the world's most fascinating and obscure communities. He has over 10 years of experience under his belt and is known for explaining complex concepts in simple, easy-to-understand way.
He is extremely familiar with all the top video editing software out there such as the Adobe Premiere Pro, Adobe After Effects, Final Cut Pro, iMovie, Adobe Animate, and DaVinci Resolve. Chris also has extensive know-how of top graphic design & photo-editing tools, including Photoshop, GIMP, Canva, Snappa, and more.