(Last updated on April 18th, 2021)
See this in-depth InPixio review to see whether this program is right for you or not.
This review will cover inPixio's Photo Studio 10 and their bundle package, Ultimate. We will be going over the pros, cons, and uses of this software. Read on to see if inPixio works for you.
InPixio is a Paris-based company focused on creating intuitive photography applications. They have a series of individual programs, sold individually and bundled that deliver specialized features for editing. They aim to create powerful software that lets you edit with ease.
Pros and Cons
Pros
Pricing: Inpixio offers reasonable rates for their products, giving you an annual license. They also offer a lower fee if you want to upgrade from a previous version. In comparison to more expensive subscription-only plans on the market, their pricing is very reasonable.
Features: InPixio's Photo Editor and Ultimate package give you a ton of features to create beautifully edited photographs. You can do everything from cropping and rotating to adding filters and effects.
Fast Editing: Most of the tools in inPixio make quick edits. You can make major changes to your photos within a few clicks.
Easy Learning Curve: InPixio is easy to drop into and work from right off the bat. The layout is intuitive, and the tools are simple. If needed, there are also plenty of resources at your disposal.
Compatibility: The Photo Editor application works for both mobile and desktop, while the rest are only for PCs. The program also works for both Mac and Windows users, except for Eclipse HDR, which only works for Windows.
Trial Version: You can test inPixio before buying by downloading the trial version. Here, you can test the features and tools to see if it's a good fit for you.
Cons
Too Many Separate Applications: The features for these programs are spread out into separate applications. Switching between programs for a single project is clunky. If the programs were combined, the process would be streamlined.
Confusing Bundling: The price bundling of these programs is confusing. Some can only be bought with an individual license, while others can be purchased together in a bundle. No group combines all of the photography programs offered by inPixio. (Eclipse HDR is the excluded app.)
Limited Tools: In comparison to high-power Photoshop, inPixio's tools are simplistic and don't give you as much control over the final image.
Difficult Price/Feature Comparison: Before viewing pricing or an easy-to-read feature list, you have to fill out a registration form for every viewing. This process is cumbersome if you are looking for a quick comparison.
No Layering: This feature, an important part of non-destructive photo editing, is mostly absent from inPixio. The only layering available is within the photomontage feature in the Photo Cutter.
Get a Special Discount On Our Top Picks!
---
BEST OVERALL PICK FOR PROFESSIONALS
---

Adobe Creative Cloud
Get all 20+ creative apps and services for photography, design, video, UX and more.
at adobe.com
---
BEST FOR GRAPHIC DESIGN & IMAGE EDITING
---
Adobe Photoshop
The world's most powerful image editing and graphic design software.
BEST FOR PROFESSIONAL PHOTOGRAPHERS
---
Adobe Lightroom
Lightroom offers top-quality photo editing tools from your computer, tablet or phone.
Product Overview
InPixio is made up of seven applications, each specialized to do a specific function. Combined, they create a powerful program. The way inPixio markets its apps is confusing. I will explain each program's function and the bundling packages.
Here is a summary of what each mini-program does:
Photo Eraser: Erase people and objects.
Photo Cutter: Cut out the subject from the background and replace it with new images.
Photo Editor: This is your basic, all-in-one editor in inPixio. Here, you can crop, add effects, adjust values, and add frames/text to your image.
Photo Maximizer: Enlarge photos and minimize pixelization for printing.
Photo Focus: Sharpen blurry photos.
Eclipse HDR: Create beautiful HDR images using presets and adjusting tones.
Photo Transfer: Transfers photos from mobile to desktop.
Here are how the programs are bundled:
inPixio Photo Studio 10: Photo Eraser, Photo Cutter, and Photo Editor.
inPixio Photo Studio 10 Ultimate: Photo Eraser, Photo Cutter, Photo Editor, Photo Maximizer, and Photo Focus.
You can get Photo Maximizer and Photo Focus on their own.
Photo Transfer is only a mobile app, available on both the Google Play Store and App Store, bought individually.
Eclipse HDR is only available as an additional purchase, standalone app. The application is also only available for Windows 10.
Clearly, the setup is confusing. No all-in-one program or bundle contains all the applications.
Pricing
| | | |
| --- | --- | --- |
| Product | Regular Price | Discounted Price |
| Adobe Creative Cloud | $52.99/month | Check here |
| InPixio Photo Studio 10 Professional | $79.99/year | No Discount |
| Eclipse HDR | $59.99/year | No Discount |
Here, we will be looking at the Photo Studio 10 standalone program and inPixio's bundle package, Ultimate.
inPixio Photo Studio 10 Professional: $79.99/year. Later, if you want a newer version, inPixio offers a discounted upgrade fee. For example, if you were upgrading to Photo Studio 10 from a previous version, it would cost you $29.99 to upgrade.
inPixio Photo Studio 10 Ultimate: $319.99/year. In this package, you get inPixio Photo Studio 10 Pro, Photo Focus, and Photo Maximizer. Currently, they don't offer upgrades for this package.
An additional program that is not included in the bundles is Eclipse HDR and Eclipse HDR Pro (only available for Windows):
Eclipse HDR: $59.99/year. The features include easy HDR photo editing, over forty effects, natural image correction, surreal-artistic effects, and full in-app help.
Eclipse HDR Pro: $149.99/year. You get all of Eclipse HDR features, plus advanced color management, quality RAW image processing module, HDR Relight, HDR Denoise, custom presets, and batch modes.
A huge negative of inPixio's pricing is the lack of product and price comparison on their website. To see the price and list of features for a single program, you must enter registration information every time. This step is both frustrating and cumbersome for the consumer.
Overall, the pricing is reasonable, and they also offer sales of their products. At the time of this review, inPixio dropped the Ultimate package to be as low as $99.99/year. Overall, a great value.
Features
InPixio has many features, divided into separate apps within the program. Inpixio Photo Studio 10 comes with Photo Eraser, Photo Cutter, and Photo Editor. The Ultimate package adds Photo Maximizer and Photo Focus to the mix, while Eclipse HDR is standalone.
Let's start with the offerings in inPixio Photo Studio 10, organized by individual app.
Photo Editor
Preset Filters or Atmospheres: Choose from dozens of different presets to give your image a new look with a single click.
Textures: Add light leaks, grain, film, or other material textures to your image.
Cropping: Change the aspect ratio of your photo, adjusting the proportions and angle of your image.
Adjustments: Adjust the hue, temperature, saturation, exposure, and more of your image. You can also precisely adjust curves with the Tone Curve tool.
Gradients: Add linear or radial gradients to your image.
Paintbrush: Create a selection of your image and apply settings to it.
Auto-corrections: Fix red-eye, sharpness, noise reduction, de-haze, and perspective. Here, the options are quite simple, letting you make fast edits.
Effects: Fix color balance or add creative blur, film grain, or a vignette to the image.
Frames: Add a frame for your photo, choosing between styles such as adornment, retro, and more.
Overlays: Add text and stickers to your image.
Metadata: Edit the metadata of the image, writing a headline, description, copyright info as well as tag with colors, update the location, and more.
Quick Auto-Correction: Improve the photo quality with one-click. The program will make the changes for you.
Before/After viewing: Keep the original image and newly edited image side-by-side to keep track of changes.
Histogram: View the histogram of the images to see the color and light values.
Photo Eraser
Crop: Crop the image to a new proportion, re-angling and flipping it.
Erase: Remove distracting elements by selecting the area and applying the erase feature.
Correction Patch: Fill and clone parts of an image that are difficult to cover up. You select the replacement material, making the fix look more cohesive.
Clone Stamp: Manually paint one part of the image to another area.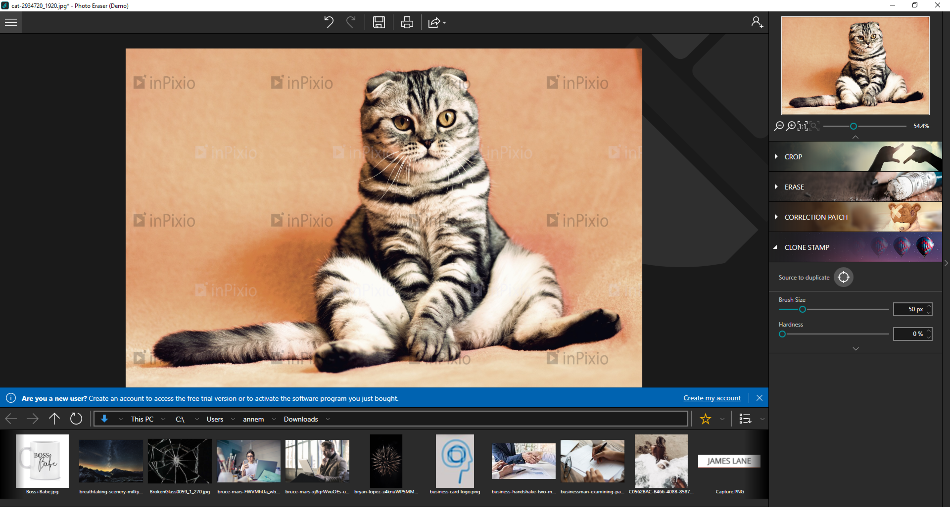 Photo Cutter
Cut Out Background: In this tool, you can cut out the background of an image. You mark either what you want to keep or remove, and the tool removes the area automatically, cutting out your subject from the background. You can choose the mode for the removed areas, picking a transparent background or a color.
Photomontage: Here, you can add a new background to your image, either using a built-in resource or upload your own. You can also add stickers, text, shapes or change the proportions of the photo.
Crop: You can change the photo's proportions, rotate/flip the image, or crop it.
Photo Maximizer
Maximizer: Here, you can add sharpness to your image and resize it, adjusting the resolution. The size of the image will be displayed here, showing the change from before to after. This feature allows you to enlarge photos and minimize pixilation.
Adjustments: Here, you can adjust tone, exposure, hue, and more.
Tone Curves: Here, you can change the tonal values of the photo.
Crop: You can crop the image and change the proportions.
Before/After View: You can change the view to before and after, comparing your new edits to the original.
Photo Focus
Presets: Preset sharpening settings for your photo. You can also create your own preset settings.
Adjustments: Adjust the temperature, brightness, and hue of the image and more.
Tone Curves: Adjust the color curves of the image.
Crop: You can crop the image, changing the proportions.
Sharpness: Adjust the sharpness of the image.
Creative Blur: Add a blur to the image. You can do a linear, radial, or custom blur.
Eclipse HDR Pro (Not included in either Photo Studio 10 or Ultimate):
Presets: Eclipse HDR Pro has many presets included in the application. You click to apply.
Timeline: This shows your editing history. You can even play through the timeline to watch your editing progression for your project.
Info: This panel shows the photo's data.
High Dynamic Tone Mapping: Gives your images an HDR look, adding detail and color range.
Exporting: You can export as a .tif, .jpeg, or a .exr file. You can also open the file in Photoshop, saving it as a .tif and automatically opening it in this program.
Natural Mode: This feature gives your images a more natural result as you edit.
Photographic Print Toning: Simulates the chemical process that replaces silver in the photo emulsion with a different metal tone, popular tones being sepia, gold, and platinum.
Transform: Flip or rotate the image.
White Balance: Set the white balance of the image with the eyedropper tool.
Overall, inPixio offers a ton of features with focused applications. With the programs put together, you get a ton of editing power at your disposal. Also, the program structure presents an issue.
My main criticism of the program is that these individual applications shouldn't be separate from each other. Rather, many or all should be combined to form one large application. This change would make the editing process simpler for the user, letting them stay in a single program rather than jumping between.
Most editors want an all-in-one program where they can start and end the editing process in one place. All of these tools are working with raster-based objects, so switching between doesn't make much sense.
It is also noted that the absence of advanced layering for non-destructive editing is a major negative for this photo editor.
The features are powerful and can be advanced, making inPixio better than most simple photo editors. However, the organization is lacking.
Learning Curve
InPixio creates a program that is easy to jump into without prior knowledge. The applications are simple and intuitive.
Unlike complicated competitors, you can easily start a project in inPixio without spending time in a tutorial. The tools are uncluttered and don't have a ton of bells and whistles. This simplicity makes it easy to apply a new feature without getting confused by the jargon.
In-app, there is a great hover feature that gives you a brief explanatory description of the tool. If you need more help, you can always go to the Knowledge base online. Here, you can search for questions, look at Getting Started tutorials, and tips and tricks for the program.
Online, they also have inspirational articles to help give you ideas for your next project. The articles are limited, but you shouldn't need too much support due to the program's simplicity.
If you need to speak to a person, you can always submit a request online. Here, you put your email, subject, and issue, submitting a request to customer service. You can also click on the chat feature, which will search articles automatically, or talk to a live support specialist.
Overall, the program is easy to learn with a low learning curve. You also have plenty of resources if you need help along the way.
Compatibility
InPixio is relatively compatible. They have programs for both mobile and desktop and Windows and Mac users. Eclipse HDR is an exception, working for Windows PC only.
InPixio Photo Editor works on the iPad, iPhone, and Android phones. Their other applications only work on a desktop.
They also have a Photo Transfer app, making the transfer of photos on your phone to desktop even easier; no cable or cloud account is required! InPixio lets you share directly to a few social media apps, sharing on Twitter or Flickr.
InPixio is compatible with its family of programs, letting you edit a photo from one application to another easily. For example, you can start a project in the Photo Editor, move it to the Maximizer, and finish it in Focus, easily transferring between.
InPixio does not save files in .psd format. However, in Eclipse HDR, you can save your project as a .tif and then open it in Photoshop directly from the application. They are not working on additional compatibility with Adobe programs. InPixio also works with RAW photo files.
Overall, inPixio is relatively compatible, especially within its own family of applications. The programs have some compatibility with outside companies but mostly work best within their group.
Longevity
The program also has a large family of applications, giving you more features and specialized tools. They have six desktop applications: Photo Eraser, Photo Cutter, Photo Editor, Photo Focus, Photo Maximizer, and Eclipse HDR. The Photo Editor also works for mobile, with an additional transfer app to bring photos from mobile to desktop.
InPixio routinely updates its program, adding new features and fixing bugs, creating a better user experience. Throughout the year, they will update their program.
For example, in their latest update, 10.4, they have fixed performance issues, optimized memory, updated the Raw library, added multi-language selection, and more. They are continuously improving their program.
As it stands, inPixio is a decent editor in the market. The bundle includes advanced features and standard editing essentials.
The interface is user-friendly and a great option as a straightforward program rather than a feature-laden, high-learning-curve option. They also provide a cheaper upgrade feature, encouraging a loyal fanbase.
If InPixio continues to update their features as they have, they will remain a contender in the world of photo editing.
Users
InPixio is meant for the beginner or hobbyist, not an advanced user. The program is not robust enough for the professional but does have plenty of options for a beginner.
People who need basic editing will find the program perfect for their needs. Each portion of Photo Studio has helpful, quick tools that produce fast edits. You can do powerful things like remove unwanted objects, change the color curves, add presets, sharpen an image, and more. However, you don't get ultimate precision.
Professional editors need an advanced, all-in-one system. Photo Studio causes you to jump from program to program to complete the same action: edit a photograph. The workflow is irregular and interruptive. The tools themselves are too simplistic, not giving you enough control.
Also, inPixio is not an industry-standard tool. While many companies require Photoshop as a skill, inPixio is a much smaller, less popular competitor.
If you need a basic program, inPixio is a great option for you. If you need a robust, complete editor, I would look elsewhere.
Mini Tutorial
I will show you a few features that inPixio has to offer while making a fun art piece. I want to create a balloon image with the universe behind it. Let's play around with inPixio and see what we come up with.
First, I'm going to open up my image of a balloon in the Photo Editor. (Of course, I am using the trial version, so there is a watermark throughout this tutorial. If you purchase the program, the photos are clear.)
I want the photo to have square proportions. I go to the crop tab and then crop it into the new size.
In Adjustments, I up the contrast and clarity.
Next, I go to Selective retouching and add an orange gradient.
There is a little bit of grain, so I go to Correction > Noise Reduction.
In Effects, I changed the color balance, dragging the center towards purple.
In Styles(LUTs), I choose Atmosphere 1.
At this point, I'm done in the Photo Editor, and I've realized I only want one balloon in the frame. I go to the upper left hamburger menu, going to InPixio Tools > Photo Eraser. This action takes my project to the Photo Eraser app. I go to the Erase tab, select the unwanted balloons, then hit erase. Just like that, they're gone.
I want to add more detail. I go to the hamburger menu again, going to InPixio Tools > Photo Maximizer. Now in Maximizer, I go to the Maximizer tab upping my resolution to 200 PPI.
Now, I want to cut out the sky from the photo. I need to switch apps. I go to the hamburger menu again, going to InPixio Tools > Photo Cutter. Here, I mark the areas I want to erase and keep. The program automatically takes out the areas I selected.
So now, I want to replace the sky with a photo of the universe. I then go to the Photo Montage Tab and add my own background to the image.
The colors don't look cohesive. So, I'm going to finish this in Eclipse HDR to give the photo as a whole more definition and make the colors work. I save it and open it up in Eclipse HDR. Here, I apply the preset Infrared. Wow! I love this look. We are done.
Here is the finished result. As you work, you will find limitations and surprisingly advanced tools within inPixio. You can accomplish basic and several advanced edits within the program.
Final Verdict
If you are looking for a simple photo editor, inPixio has some great options for you. The tools are simple and easy to use with many quick edits. You can make sophisticated changes to your photos without a huge learning curve.
If you need an advanced, all-in-one editor that gives you the utmost precision while editing, you will need to find a more advanced program such as Adobe Photoshop or GIMP. These tools, while requiring hours of learning, give you total control over the final image.
Frequently asked questions
Is inPixio free?
InPixio does offer a free photo editor alongside their paid products, but that label is deceptive because exported photos have a watermark. Compared to other programs on the market, inPixio's prices are a good value with annual licenses.   
How much does inPixio cost?
Their paid products range in price, going as low as $29.99 to upgrade to $319.99 for their full bundle package. They also have a deceptively free photo editor for Windows, but exported photos have a watermark.
Is inPixio any good?
InPixio is great for basic photo editing. You get everything from filters to adjustments, special effects, and more.
Does inPixio work on iPad?
InPixio Photo Editor works on the iPad and other mobile devices. The other programs only work on Windows or Mac desktop.
Anne is a filmmaker and writer with a passion to bring stories to life. She has created several short films, specializing in stop-motion animation. Anne has over eight years of filmmaking experience, and she is always ready to share her knowledge with other creators. She started her company Anne Gets Creative in 2020.
Anne is extremely familiar with many Adobe programs: Photoshop, Illustrator, InDesign, After Effects, Premiere, and Audition, to name a few. She has also worked with other programs such as Procreate, Canva, iMovie, and Final Cut Pro. She always strives to give the best software reviews, researching diligently so her readers don't have to.