(Last updated on March 1st, 2021)
See this in-depth Visme 2021 review to see whether this program is right for you or not.
Visme, a cloud-based editor designed to create stunning work for the non-designer. The program is versatile, and the projects are easy to make with readymade templates.
Visme was founded in 2013; its mission to have an easy-to-use graphics editor that makes beautiful content. Visme specializes in gorgeous infographics and presentations, but it can also do printables, charts, reports, and more. You get all the graphics, templates, and assets that you need.
Is Visme right for you? Read on to find out.
Pros & Cons of Visme
Pros
Access Anywhere: Visme is cloud-based, meaning your projects and files can be accessed and edited from anywhere. No software download is required.
Pricing: Visme has free options as well as tiered plans. You can use the free option indefinitely.
Ease of Use: Visme is easy to learn. Making a finished piece is quick and painless.
Support Resources: Visme provides free webinars, articles, video tutorials, and automated help chats to guide you through the program and teach you new concepts. You can also contact support directly, email-only, for the free plan. Direct chat is included for the paid plans.
Graphics: Visme comes with template, image, audio, video, and graphic resources.
Team Management: You can manage teams easily in Visme, assigning roles, organizing teams, set editing privileges, make comments on projects, and more. The team plans to give you everything you need to manage your employees.
Cons
Online Only: You must be connected to the internet to use Visme.
Pay Walls: You won't have access to all of the resources on Visme without a paid plan. Many features are for premium plans only.
Short Verdict
Visme is perfect for the non-designer. It offers tons of templates, an intuitive editor, and many support articles to help you get your project to the finish line. They curate plans for individual or team needs.
Visme is a great application, giving you the power to make beautiful graphics all on your own with little effort.
Get a Special Discount On Our Top Picks!
---
BEST OVERALL PICK FOR PROFESSIONALS
---

Adobe Creative Cloud
Get all 20+ creative apps and services for photography, design, video, UX and more.
at adobe.com
---
BEST FOR VECTOR EDITING & ILLUSTRATION
---
Adobe Illustrator
The best vector graphics and illustration software used by millions of creators & artists.
at adobe.com
---
BEST FOR PROFESSIONAL PHOTOGRAPHERS
---
Adobe Lightroom
Lightroom offers top-quality photo editing tools from your computer, tablet or phone.
Features
Visme offers a ton of features. Let's explore what they got:
Full-featured Online Editor: Visme gives you all of the essentials to edit your projects. After you pick a template, the editor makes everything simple, drag-and-drop style. I go over the editor in detail later in the review.
Accessibility: Access and edit your projects from anywhere. Visme is entirely cloud-based.
Text: Visme provides a basic text editor, allowing you to make captions, headlines, or text blocks for your work.
Media Resources: Visme gives you thousands of photos and graphics at your disposal. You will need a paid account to access the premium assets.
Brand Kit: Set colors, fonts, and templates for your brand. Available for team plans only.
Templates: The app provides many of templates. Visme divides them up into categories and gives you many choices within that set group. The components of the templates are customizable, making it easy to tailor the template for your brand.
Learning Resources: Visme provides articles, videos, and webinars to help you learn Visme and gain useful business skills.
Support: Visme provides email support, where you can directly contact a specialist. If you have a paid plan, you will also get chat support as well.
Team Management: Set branding guidelines, accessibility, assign roles, and more. Visme's team plans give you control over your team and the ability to allocate work.
Visme does not have advanced photo-editing features. The program has the essentials, but it doesn't go much beyond that. You don't have the utmost control over individual graphics, like a high-power editor such as Adobe Photoshop.
However, the benefit of this is that the editor is much simpler and easy to use. Making a finished product, while less customized, is quick and easy.
Visme gives you a lot of resources. Using their platform, you will be able to produce beautiful professional content.
Price
| Product | Regular Price | Discounted Price |
| --- | --- | --- |
| Adobe Creative Cloud | $52.99/month | Check here |
| Visme | Free | No Discount |
Visme has several price tiers. Let's explore them:
Free – This plan is free indefinitely. You can make up to five projects, get 100MB of storage, non-premium templates, charts, and widgets, download JPGs, and public projects. The Free plan is great for testing out Visme to see if it's right for you.
Standard – This plan is $25/month, billed monthly, $180/year, billed annually (you get a discount with the yearly plan).
You get everything in the Free plan plus up to fifteen projects, 250MB of storage, all premium assets (templates, charts, and widgets), no Visme watermark on projects, download as PDF, and 24/7 email and chat support. This plan is suited for individuals.
Business— This plan is $49/month per user, billed monthly, $348/year per user, billed annually (you get a discount with the yearly plan). You get everything in the Standard plan, plus unlimited projects, 10GB of storage, more download options (PPTX, HTML5, video, and GIF), and a Brand Kit.
In addition, you also get folder organization, slide and page library, analytics, third-party Integrations, privacy controls, upload videos & audios, annotation, and collaboration, and collect & store leads. This plan helps you manage your team and branding.
Enterprise—Custom Pricing decided with a Visme agent. You get everything in the Business plan plus 25GB storage, additional security measures, two-factor authentication, single sign-on (SSO), deep analytics, custom sub-domain, premium support, training and onboarding, advanced collaboration, and dynamic fields.
This plan is great if you want advanced features to run your business with additional support and security.
Visme has tailored plans to fit your needs. You can try and use the software for free or pick one of the plans to get more features. They have something for everyone, from individuals to teams. Visme has options for all.
Longevity
Will Visme stick around in the long term? At this rate, yes. They have tailor-made plans, continue to adapt, and their user base has grown tremendously.
Visme is competitive in the software market. They have a free option, just like Canva. Their editing suite is a great basic editor, easy-to-learn, and includes a ton of resources.
Visme was made to fit the niche of content creation for the not-tech-savvy. With their current platform, they are filling that niche.
Visme has tailored plans to fit both individual and team-based needs, widening its audience. If you are a party of one, needing to make visuals for your business, Visme has a plan for this.
If you have a large team that you need to organize and collaborate with, Visme also has a plan for this, giving you access to more team features. The tailored plans widen the audience for Visme.
Visme continues to add more features to its program. In 2020 alone, they added almost 100 new features and 2,500 new templates. They continue to adapt to the changing environment, making Visme more likely to stick around as they continue to up their game.
Visme's user base has also grown tremendously. By the end of 2020, their usage grew to 7 million users and continues to gain popularity. The application is used by big brands such as Unilever and IBM, to name a few examples.
Is Visme competitive with the high-power software market? No, but that isn't Visme's mission. In terms of a simple graphics editor, the software is competitive with its market, with similar options, including Canva or Snappa.
People looking for a direct Photoshop replacement will be disappointed by Visme's limitations in terms of editing. That said, Visme will continue to grow and adapt to the changing times. At this rate, it's not going anywhere.
Inside the Editor
The editor gives you a ton of options:
Text: You can add headers and titles, importing custom fonts if you have the team plans. The text editor gives you all of the word processing basics, letting you add symbols, make bullet point lists, change the text direction, and more.
Graphics: You can add shapes, icons, arrows, and lines. You can also add animated graphics and special effects, adjust the number of animation repetitions and the graphics' speed.
Data: Add graphs with ease, creating beautiful, customizable graphs, and other forms of visual data that are visually appealing.
Photos: Add stock images and upload photos of your own. In the editor, you can add frames, filters, overlays, flip, and crop them. You can also replace photos as you, making changes easy as you try different options.
Videos: In the editor, you can add video content. You can either upload your own or use the many stock videos available to you. They have everything from abstract footage to nature and business options.
Embed Online Content: All paid plans let you embed online content into your projects.
Audio: Add stock library audio or your own audio to your projects. You can also record voice overs directly into Visme.
Theme Colors: Choose from one of the many color palettes offered in Visme. Using a color palette will make your project look cohesive and visually appealing. If you have a paid plan, you can make your own themes.
Your Files: Upload your own files to the site. You can upload photos, videos, audio, and more, organizing your files with folders and labels, keeping items orderly.
Applications: Integrate external applications like Giphy, Google Drive, YouTube, Vimeo, and more. You use these apps to make QR codes, use Google Analytics, etc.
Help: Get help inside the editor. There is a chat box where you can look up questions/browse common topics.
Layers & Sections: The document is divided up into separate sections. There are layers in the document that you can move up and down.
Sharing: Here, you can publish for the web, share privately, or embed your work into a website. Publish for the web will make your project into a sharable link that you can share with other people or share on social media. You can share it privately, only allowing specific people access. Or, you can embed the project into a website.
Downloading: Here, you can download your work in different ways. You can download the project as an image (PNG or JPG), document (PDF), video (MP4 or GIF), or presentation (PPTX or HTML 5). The download options depend on what level plan you have.
Commenting: Collaborators can comment and mark up the work right in the project.
The editor has a good number of features, everything organized and intuitive. You can make a beautiful, finished piece in no time.
Learning Curve
Visme is an easy program to learn. The editor is straightforward, the website is organized, and the support is robust. With this application, you won't waste time trying to learn the program. Instead, you can jump right into creating.
The editor itself is intuitive and organized. There are tools on the left, comments, and slides on the right. At the top, you can access the main menu and add members to the document. The workspace is tidy, so you will not get lost in features.
Inside the editing module, there is a chat to look up any questions you may have while working. You don't even need to leave your project to get help.
There are basic lessons, advanced tutorials, and links to video tutorials and articles to help you with your project. The video tutorials walk you through topics step-by-step, and the articles link you to Visme's extensive blog, categorized by media type.
Visme provides free webinars on their site, designed to teach you best practices and tips & tricks. You can join and participate in live shows, asking questions in Live Q&A's or view the lesson later, available on-demand.
The webinars include titles "Visme 101", "How to Grow & Monetize Your Blog Traffic," "The Anatomy of the Perfect Email Newsletter," and more.
The lessons not only teach you how to use Visme to its highest potential but are also great resources to improve your media skills for your business.
If you need to contact support directly, they have an email option to get you in touch with a support specialist. On weekdays, email support should email you back within 1-2 hours. If you upgrade your plan to a paid tier, you will also get chat support.
Collaboration
Visme makes it easy to collaborate with team members. They offer team plans in the Business and Enterprise plans, complete with features to help you organize and manage your team.
For these plans, you can make Branding Kits, setting the brand fonts, logos, assets, and colors for your team, controlling what they access, and keeping your branding consistent across the board. You can also set permissions, controlling administrative privileges, and access.
You can invite members privately on a specific project by sending them an invite link to their email. When you send it, you can set the permissions and let them have commenting, viewing, or editing privileges.
You can also publish the project for the web, making it discoverable via a link. You can also embed the project into a website, making sharing easy.
In the projects, all members assigned to the work can comment on the work being done, providing feedback. You can markup, draw, pin, circle parts of the work to add comments. To manage the comments, you can resolve them as you go, delete them, and change the view to see just your comments or resolved comments in the archive.
Visme has curated its site for simple collaboration and team management.
Mini-Tutorial
So, what's it like making a project in Visme? Let's make a presentation together and find out. I need a put together presentation to pitch my business idea, Laura's Lemonade.
First, I choose a presentation template.
There are a ton of options to choose from. I choose the Creative template by clicking on "Edit" as I hover over it.
Now, I'm in the editing module. All I have to do is replace assets, drag-and-drop style. No complicated editing necessary. I can switch out photos, change themes, and more, all with a few clicks.
Now, I want to add new slides. After I click a new slide, a whole set of template themes are presented to me. I need an introduction slide next. I look through the options, clicking to add it to my project.
In a few seconds, I've chosen all the slides I want for the presentation. On to editing!
For this statistics slide, I want to change the percentage statistics into a graph to show my company's growth over the past year.
I click into the data section on the left-hand side to change this, picking out a graph. I delete the old statistics. Then, I can go in and change the values for my new graph, inputting my company's data, changing the appearance of the graph, etc.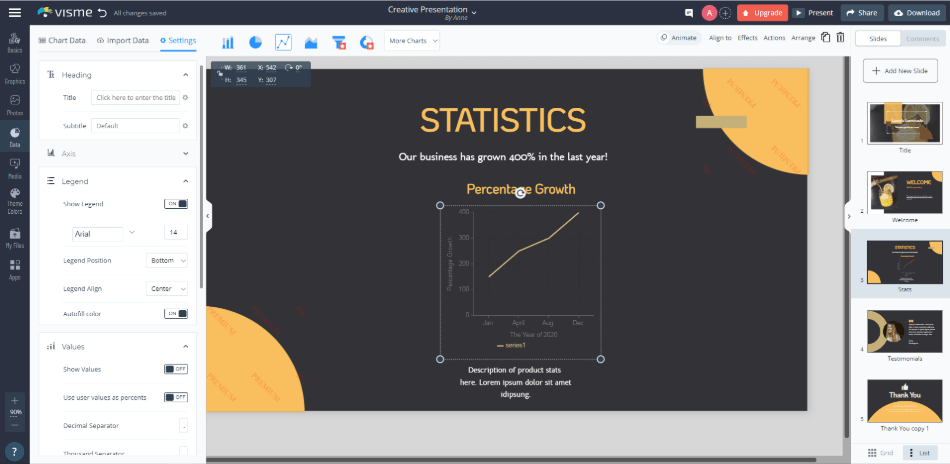 I do want my presentation to have music playing in the background. To do this, I go to Media > Audio and then pick out a song I want, or I could upload my own. I go ahead and pick a song from the library, clicking it to add it to my presentation.
Lastly, I want to add a fun GIF in the "Thank you" portion of my presentation. Visme has partnered with GIPHY, among other companies, to be integrated directly into the software. I go to Apps > Giphy and search for my GIF, clicking it to add it to my presentation.
Now that I'm done, I want to share it. I want to be able to share it will my whole team without much effort. For this project, I've decided to share it as a link. To do this, I go to "Share" in the upper right corner. Then, I pick Publish for Web, creating a public link for my project.
Now, I can use this link, copying it into emails, social media, wherever I want to share my new business pitch with the world! When I click the link, the presentation is ready to go and finished. I can easily click through and show my presentation.
And that's it! That's how easy it is to create finished, professional graphics in Visme.
Final Verdict
So, should you get Visme? That depends.
If you need to create a ton of media content for you or your business, Visme is great. Visme creates beautiful graphics and presentations, doing it all. You can make an infographic for one project, social media content for another. Visme is versatile and ready to take on the challenge.
If you are looking for a high-power editor that can do intensive photo-editing, Visme is not for you. That would be for a program like Adobe Photoshop. Visme is great for creating a project quickly from start to finish, but it doesn't have the capability of a high-power editing program.
Visme is meant for the technologically-unsavvy. It is ready to go as a jump-in application to make all of your content as quickly as possible. The result is presentation-ready material.
The best thing about the program is that Visme provides an unlimited free trial. I recommend trying it out. The program is powerful and creates beautiful things, so you might as well give it a shot!
Frequently asked questions
Is Visme really free?
Yes, Visme offers a free plan. While the free features are limited, you can use the free plan indefinitely.
How much does Visme cost?
Visme costs between $0 – $49/per month depending on your plan tier. If you want the Enterprise plan, that will be a custom amount decided with a Visme representative.
What is Visme?
Visme is a web-app graphics creator designed specifically to create stunning infographics and presentations.
How do I cancel Visme?
To cancel the paid plans, you go to the Account Settings and click "Cancel Subscription." You will then be able to use Visme until the pay period is up, and then it won't renew.
How do I print on Visme?
All you need to do is download your design and print it from your computer like any document. Visme recommends using the templates from the Printables category to ensure the best results.
How do I download a PowerPoint from Visme?
To download a PowerPoint, click "Download" in the upper right corner of the Visme editor. Then, the presentation will be downloaded and available to use.
Anne is a filmmaker and writer with a passion to bring stories to life. She has created several short films, specializing in stop-motion animation. Anne has over eight years of filmmaking experience, and she is always ready to share her knowledge with other creators. She started her company Anne Gets Creative in 2020.
Anne is extremely familiar with many Adobe programs: Photoshop, Illustrator, InDesign, After Effects, Premiere, and Audition, to name a few. She has also worked with other programs such as Procreate, Canva, iMovie, and Final Cut Pro. She always strives to give the best software reviews, researching diligently so her readers don't have to.