(Last updated on November 1st, 2022)
Affinity Publisher or Adobe InDesign? Which application should you choose when it comes to publishing? Let's answer this in a head-to-head comparison to find out which app is best.
InDesign has been Adobe's primary publishing application since 1999. It was previously known as PageMaker and was designed specifically for print jobs. Improvements over time made it possible to produce everything from magazine pages to product packaging.
Affinity's Publisher application is a far younger program for having only been around since 2019. As a successor to PagePlus, the program can handle desktop publishing projects. The application works on PC and Mac computers, with an iPadOS version recently added.
Both applications boast similar features. They each approach desktop publishing with the format of using master pages and utilizing CMYK colors. They're also capable of handling everything from magazines to brochures, and both work on PC and Mac.
It can be a tough choice concerning which application to choose for your publishing project with such similarities. For this reason, it's worth looking into the specifics of each application. Take a look at the differences between them as we dig deep into deciding which is the better software.
Comparison At Glance
1. Interface
Winner: Tie For using such similar layouts, the interfaces of both apps are so similar that there's no clear winner for this category.
2. Features
Winner: Adobe InDesign InDesign has added a wealth of features over the years to make it a highly versatile program.
3. Tools
Winner: Adobe InDesign Adobe continues to make astounding improvements to its publishing software that proves to make it the most innovative.
4. Text
Winner: Adobe InDesign There's so much more you can accomplish in InDesign with text that allows for hyperlinks and bookmarks.
5. Mobile
Winner: Affinity Publisher Unlike InDesign, Affinity Publisher has a recently released iPad version.
6. Price
Winner: Affinity Publisher With a one-time cost instead of a subscription fee, Affinity offers a cheaper application.
7. Support
Winner: Affinity Publisher The level of resources present for Affinity Publisher are so numerous and diverse that beginners can find plenty of guidance.
Short Verdict
While Affinity Publisher is a cheaper choice, Adobe InDesign has many additional features that make it a more robust program capable of more elaborate publishing projects.
1. Interface
Adobe InDesign places a lot of tools at your fingertips, and it can make for a pretty daunting first-time experience. There is some instruction that comes with InDesign the moment you open the program. You'll be offered tooltips and tutorials to help guide you through the process.
With a bit of practice, though, InDesign can be pretty easy to use. The layouts for everything from the canvas to the pages are easily accessible. Having such access leaves less time for searching for just the right tool or navigating to a specific page in your project.
Affinity Publisher is also quite similar to the look of InDesign. The toolbars and page organization windows have a similar placement. There's also an equivalent level of customization where you can rework the program to look however you wish for your workflow.
The only significant difference between the two programs in terms of the interface is the terminology. For example, InDesign has "placeholder text," which automatically fills a text block. Within Publisher, this text is called "filler text."
If you're coming over to Publisher from InDesign, you may find the program takes a bit of time to get used to the new terminology. If you're using Publisher for the first time, however, this shouldn't be an issue. IT should be noted that most of the vocabulary isn't wildly different.
The similarities between the two interfaces are so identical that we can't just choose a superior app for this category. They're equally as articulate and nuanced that the skill required for each is on the same level. Comparing InDesign and Publisher, it's a tie when it comes to the battle of interfaces.
Winner: Tie
2. Features
Adobe InDesign functions like Photoshop and Illustrator but with features designed specifically for complex publishing projects. The automation features are a real-time saver when it comes to saving styles and assets and setting up repeating page numbers and specific blocks of text.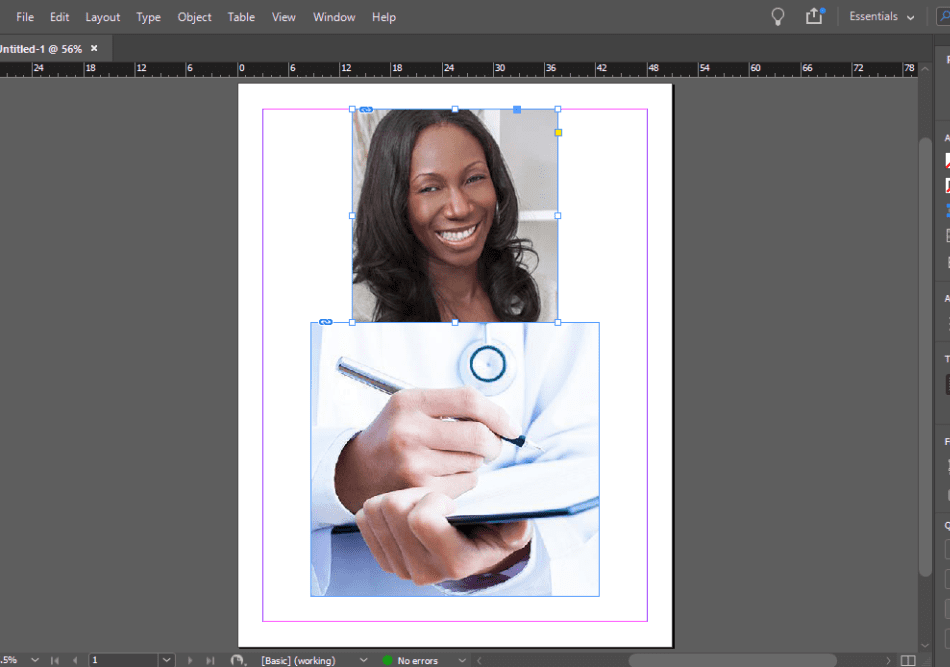 The more recently released features are pretty stellar. Video has become a big part of InDesign for creating more interactive online publications. There are editing tools right within the application so that you can choose just the right starting and ending points for your videos.
When it comes to reviewing your publication, InDesign has a fantastic preflight function. This feature works live as well, so you can track just how ready your document is before finishing it in real-time.
Affinity Publisher has most of the same features, but they're a tad easier to use with increased speed. Much like Adobe, Publisher integrates with Affinity's other programs, Affinity Photo and Designer. However, it is limited because it can't read the SVG file format, whereas Publisher can export SVG files without any issues.
There is still a lot of overlap that Publisher has with InDesign, though. You can pull off most of the same features with preflight checks, text decorations, and applying gradient masks. There's even surprisingly large language support for English, German, French, Spanish, Portuguese, Japanese, Italian, Chinese, and Russian.
However, the key to these features is how numerous, effective, and powerful they can be. InDesign is the clear winner on this level. While Publisher's features are easy to use, the characteristics of InDesign are reliable with stability suited for handling all of its many valuable functions.
Winner: Adobe InDesign
3. Tools
The tools present in Affinity Publisher are straightforward to use. This is due to the lightweight feel of how quickly the program loads and how fast the tools work. Compared to InDesign, the Publisher feels brisk with the pacing of the program.
Though a lot of the tools for Publisher are identical to InDesign, they're easier to use. Creating headers, footers, and page numbers are all the more intuitive with simple and powerful controls. The pan and zoom tools for viewing your layout are also incredibly smooth and easy on the eyes.
Adobe InDesign, however, has all of these tools and more. The tools for editing images are certainly a highlight with the amount of detail you can tweak. You can edit photographs in the program the same way you would in Lightroom for corrections and enhancements.
The tools for editing objects and assets also go beyond that of the Publisher. You can not only make adjustments to how a photo looks but have it recognized as a border for text. Artwork can also be edited if you've brought it over from a program such as Illustrator.
InDesign keeps adding more handy and powerful tools that it topples Affinity Publisher. The image and object editing tools alone make it worth using for your publishing projects. Coupled with the text tools, it's clear that InDesign's tools are the most effective.
Winner: Adobe InDesign
4. Text
The most important aspect of desktop publishing is to make sure your document is readable with easy-to-read and compelling text. Affinity Publisher hasn't skimped on this aspect. There are a variety of options present in the program when it comes to customizing text.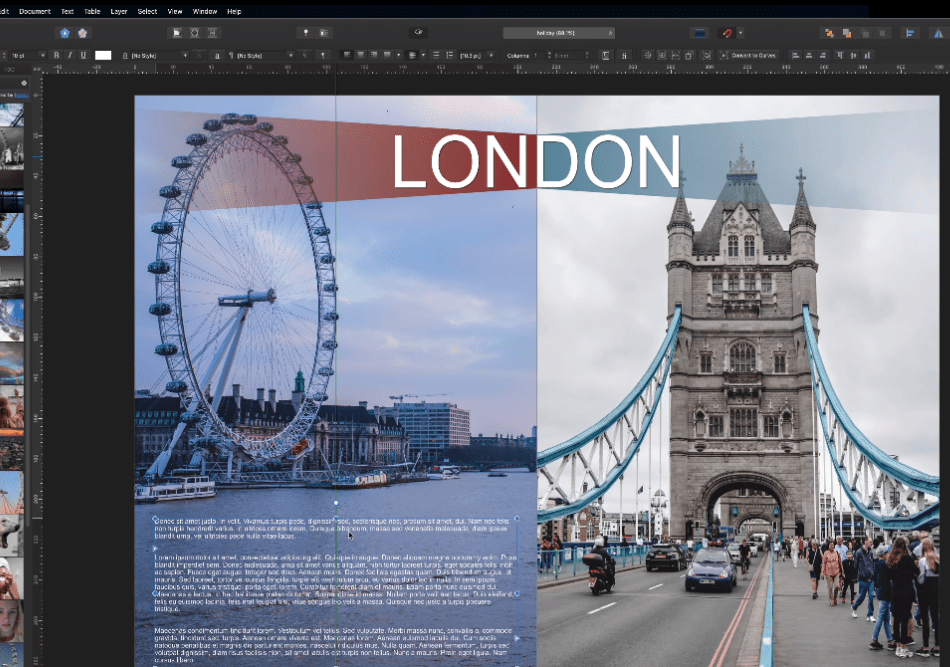 Styles for your text can easily be saved and duplicated across your document. This is an excellent solution if you're working on a multi-page layout and don't want to keep copying styles over and over. You'll also have complete control of the text in terms of drop caps, decorations, paths, and flow.
Affinity Publisher comes with support for OpenType to allow for the most significant access to different types of fonts. For publishers both novice and expert, this may be an essential feature. The abundance of font and text choices within OpenType is crucial for just about any publishing project.
Adobe InDesign can provide you with all of the same text functions but goes one step further. In addition to having the same font integrations and text styles, there are several excellent text options. You can reverse spell-check, wrap text around objects, and select from countless templates to find the right fit for your text.
A critical aspect worth noting about InDesign is that it's built to handle enormous blocks of text with no issue. Sure, you will notice the speed is not as fast as Publisher. That being said, the stability in InDesign is strong enough to handle the biggest blocks of text alongside the densest of photos and artwork.
In addition to InDesign's smart functions for wrapping text, there's little question which application is best for handling text. InDesign offers the most options for text customizations as well as the power to handle them. It's the perfect choice for the simplest of books to the most complex of magazine designs.
Winner: Adobe InDesign
5. Mobile
One of the latest additions to Affinity Publisher is that it has expanded onto mobile devices. In 2020, Affinity released an iPad version of their publishing software. There's no Android version at the moment as the mobile version seems only to be focused on tablets more than phones.
The iPad Publisher app doesn't look too different from the desktop version. It features much of the same interface and contains many of the same tools. The only significant difference is the presence of touch-friendly tools for quickly crafting intricate designs.
The iPad version is ideal for publishers who find themselves adding more artwork to their designs. Color formats or layers do not limit you; it's incredible how much of the desktop version is mimicked in this mobile variant. You can even create your shortcut keys if you've got a keyboard.
The best part about the mobile app is that it's cheaper. You can buy Affinity Publisher for the iPad for only $9.99. There's no additional cost or subscription you have to pay. Considering it's a lower price than the desktop version, it's worth considering if you've already got an iPad.
InDesign doesn't have a mobile application for either iOS or Android devices. The closest that Adobe has to a mobile publishing application would be Adobe Comp. This free app can save your projects for Photoshop, Illustrator, and InDesign.
While Comp is a free application, it doesn't hold a candle to InDesign. The features are limited, and there are fewer tools than you would find in InDesign on desktop computers. The best thing about the app is that it can sync with Adobe Stock if you have an account and sync with your other assets in your Adobe cloud account.
The choice in which version to use on mobile is easily Affinity Publisher. Everything about the mobile application replicates so much of the desktop version that it's almost a preferable option if you like the touch functions more than a mouse. Affinity Publisher wins for being so capable on the iPad.
Winner: Affinity Publisher
6. Price
| Product | Regular Price |
| --- | --- |
| Adobe Creative Cloud | $52.99/month |
| Adobe InDesign | $20.99/month |
| Movavi | $79.99/year |
As with all Adobe products on the Creative Cloud, InDesign is purchased as a subscription service. The cost is $20.99 a month to use the application with an annual plan. If you'd rather pay month-to-month, the price is $31.99 a month.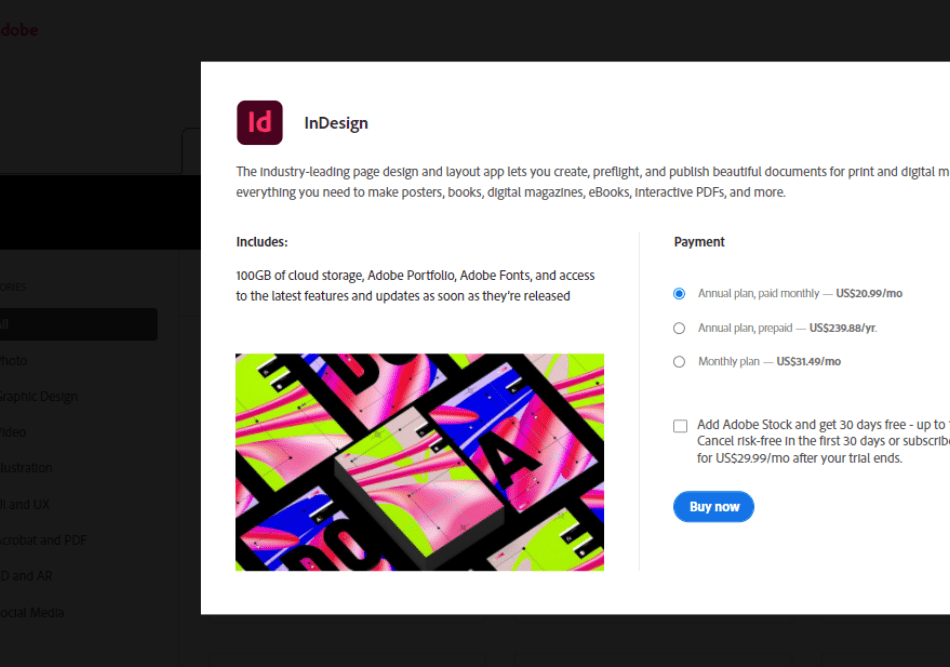 InDesign doesn't have a bundle deal if you'd also like to purchase Photoshop for creating graphics. If you also want Photoshop, you can add it on for an additional $20.99 a month. If you need software for creating art suitable for InDesign, you'll also need Illustrator.
The good news is that you can get a deal on buying InDesign, Photoshop, and Illustrator. The bad news is that it can be pretty expensive. The complete Adobe Creative Cloud will give you such access at the cost of $52.99 a month.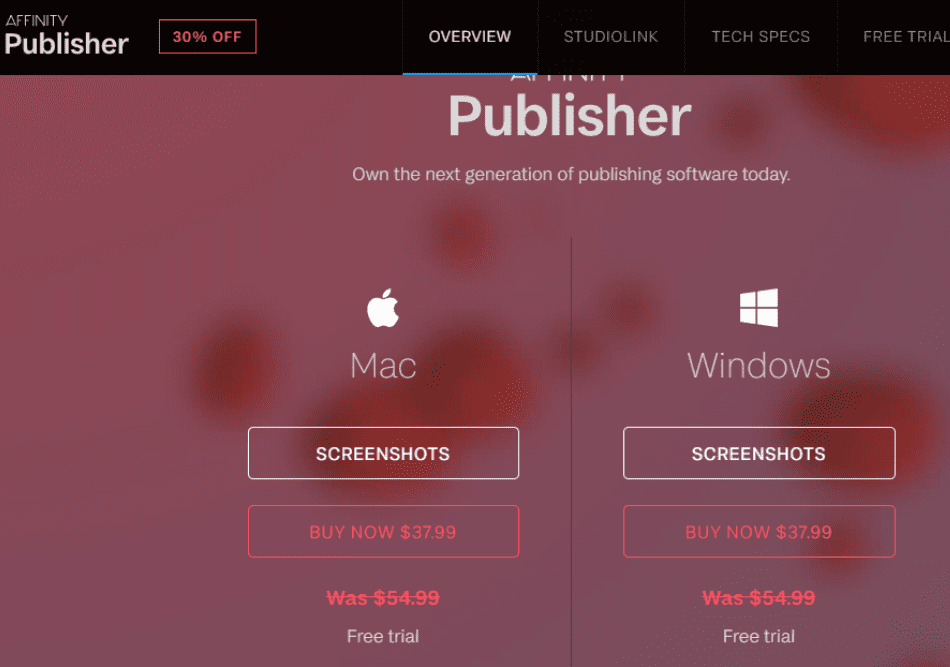 Affinity Publisher, by comparison, is a cheaper choice. The price to use the program is only $54.99 for lifetime access to the program. There are no additional fees or subscription costs for access to both the software and support.
That being said, Affinity also offers add-ons to the program. This includes templates for cookbooks and magazines, which can cost you anywhere from $20 to $30. You can sometimes get a deal on these additions if you keep an eye out for special deals and holiday sales.
The only crucial add-on for mobile users is Affinity Publisher for iPad. This mobile version of the program is quite similar to the desktop version and only costs $9.99. Just as with the desktop version, there's no subscription or additional fees.
Here's the breakdown of what the prices are for both:
Adobe InDesign: $20.99/monthly
Affinity Publisher: $54.99 once
Affinity Publisher for iPad: $9.99 once
Whether you're buying Affinity Publisher for desktop, iPad, or both, any option is the cheaper choice. The investment is so small that it's easy enough to justify the cost. Affinity wins this round quite easily.
Winner: Affinity Publisher
7. Support
InDesign comes with a plethora of support options. If you have technical questions, you can call the helpline or enter a ticket into their system. If you'd like a little guidance in creating a particular project, you can browse Adobe's many guides, tutorials, and their forum of other InDesign users.
Compared to Adobe's other apps, however, InDesign doesn't have as many helpful resources. There's a handful of guides and tutorials, as well as some forum threads to check out. The number of these resources is not as vast as Photoshop, though.
Affinity offers a slew of support options through its website. Regarding technical support, you can contact Affinity through email for info regarding orders and returns. A user forum is also present to ask questions, report bugs, and share your work for insight.
For resources, Affinity has a fine selection of video tutorials and guides to sift through. There's even a physical workbook you can order if you'd prefer to learn with a physical book. There are no current tutorials for using Publisher on the iPad, but that may change in the future.
Even for not having as many resources as Affinity's other two applications, Publisher does offer more than InDesign. There are more contact options, and the forums are not too dense that a publisher of any level can jump right in and ask questions. Affinity is the winner when it comes to export.
Winner: Affinity Publisher
Final Verdict
Adobe InDesign just has more of everything to make it the superior publishing application. The features are numerous, the powerful tools and the options for customizing your text and assets are astounding. There are few limits to your imagination in such a publishing program.
Affinity Publisher is undoubtedly a key competitor, though. Their speedy interface and tools are certainly going to be a draw for many. The price is also low, and the addition of an iPad version will entice the publisher on the go.
In time, Publisher may surpass InDesign. For the moment, however, InDesign is your best option for your publishing projects. The innovations that continue with every update make it an essential application for any skill set.
Frequently asked questions
What is Affinity Publisher used for?
Affinity Publisher can be used for just about anything that you can print. The layout options are ideal for creating elaborate book designs, newsletters, and magazine pages. You can also use it to design packaging labels for products and deliveries.
What is the difference between Photoshop and InDesign?
Photoshop is a multi-purpose graphic design program, while Adobe InDesign is explicitly focused on publishing. InDesign differs from Photoshop in that it streamlines the process of developing publishing materials with the right tools and a simplified interface. You can accomplish some of the same publishing projects in Photoshop, but you'll need to study up a bit on how to achieve this.
Is Affinity Publisher better than Microsoft Publisher?
Microsoft Publisher is a decent publishing program for beginners but doesn't offer as much functionality. Affinity Publisher gives you more options for customization and control, whereas Microsoft Publisher relies more on templates for creating basic designs. If you want more power, Affinity Publisher is the better application.
Is there a free version of Adobe InDesign?
Adobe InDesign can only be downloaded for free as a trial version. This version lasts for seven days and gives you access to all the functionality of InDesign. When that trial ends, you will have to pay the subscription price of $20.99 a month to continue using the software.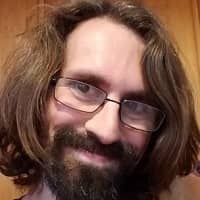 Mark McPherson has been working as a video editor and content writer for over ten years. His background started in animation and video editing before shifting into the realm of web development. He also branched out into content writing for various online publications. Mark is an expert in video editing, content writing, and 2D/3D animation.