(Last updated on November 2nd, 2022)
Is the color not looking right in your footage? Do you want to alter the color to convey a different mood? Check out this article on the top color grading software on the market to help get the most out of your video.
Color grading is perhaps one of the most important aspects of post-production when establishing a tone. It's a critical feature that separates a bright and bouncy sitcom from a dark and grimy thriller.
So which tools should you use for tweaking the color to be just right? There are several applications to consider, and you won't have to look far for most of them. Most of these apps are built right into video editors to worry about as many complicated plugin installations.
Here are five of the best color-grading applications you can use in your video editing projects. Some of them are free, and some require subscription fees. Some of them come standard with editors, and some require installation. Read on to figure out which ones are right for your video editing purposes.
1. Adobe Premiere Pro (Lumetri)
Since 1991, Adobe Premiere Pro remains Adobe's essential video editing software that has become widely recognized in the filmmaking industry. The application has become standard for everything from television programs at the BBC to major Hollywood productions such as Deadpool and Gone Girl.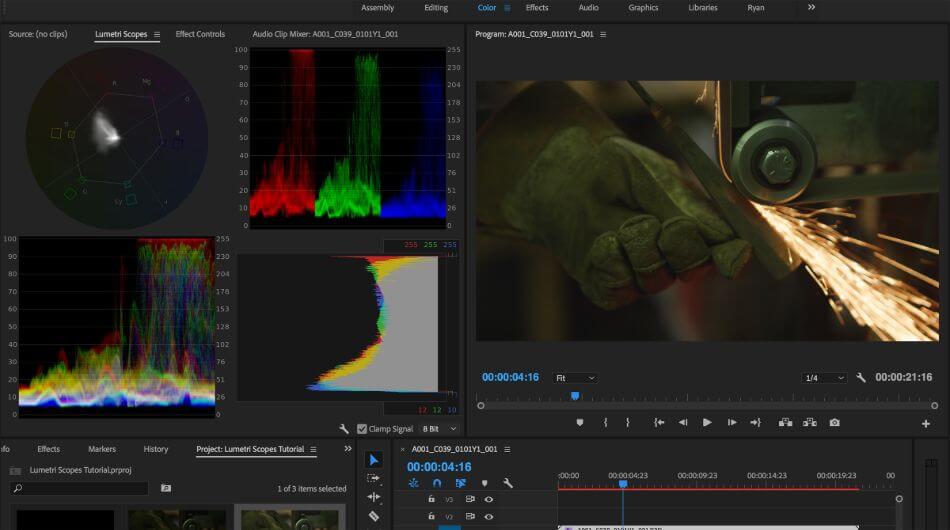 Adobe Premiere comes bundled with quite a bit of essential pieces. There are several handy presets for video and audio and the Adobe Media Encoder for rendering out your video at optimal quality. It also comes loaded with its color grading tools.
Pros
Lumetri comes standard with Adobe Premiere Pro, so there's no switching between applications. Color grading is already a pretty dense and detailed job, so it's nice to have one such application built right into a video editor.
As a part of the Adobe Creative Cloud line of applications, Lumetri has the benefit of cloud support. This aspect is incredibly beneficial for those who find themselves working from multiple machines and while on the go. You won't have to worry about local storage if you rely on the Adobe Cloud as well.
With the aid of Adobe Media Encoder, included free with Premiere, Lumetri can push out high-quality results. Though Media Encoder is a separate program, it will open automatically when performing exportation. Having everything you need right in front of you makes Premiere Pro more of a one-stop shop for video editing in more ways than one.
Cons
The subscription fee isn't the most expensive price for post-production software, but it does add up over time. You can use Adobe Premiere Elements for a one-time fee, but this consumer-grade version of the program is vastly limited in beneficial color grading options.
The interface of Adobe Premiere Pro can only be run at 64-bit. This means that to get the most out of the program, you'll need to make sure you're running it on a machine with stellar video hardware. If you're not, you may find yourself running into several errors.
While Premiere does come bundled with several tools, it cannot handle visual effects. You'll need Adobe After Effects if you want to work on that aspect, and it'll most likely mean you'll end up spending money on the complete Adobe Creative Suite, which will add up over time.
Short Verdict
Adobe Premiere Pro is an easy recommendation given both its prolific nature and complete package. Having such a powerful color grading tool as Lumetri on hand amid an editor and encoder will save a great deal of time for the most detailed of editors, making the somewhat steep investment worth the price.
2. DaVinci Resolve
Developed by Blackmagic Design, DaVinci Resolve has always been centered around color grading since its early days. The application has expanded in its many years of development to be far more than that as Blackmagic Design continues to push in the post-production market.
The Colors tab of the application reveals plenty of familiar color-grading tools. Color Match, Color Wheels, RGB Mixer, and more can be used to adjust the color of footage with great detail. For example, Color Match can match specific colors to that of the environment they occupy.
Pros
There's no subscription fee to use DaVinci Resolve, and you only need to pay a one-time price. The software roughly costs $300, and you're free to use the program for as long as you can make it last on your computer. Considering the competition and features, this is a good deal.
DaVinci Resolve has been used in a lot of Hollywood productions. For being so highly used in big movies, it has become an industry-standard application. This makes the program a good investment for those seeking to get into such an industry.
DaVinci Resolve is quite versatile as an app that is capable of more than just color grading. Features of node-based effects and face-tracking options make this one of the more advanced color-grading applications on the market.
Cons
The node-based system will be tricky to navigate for newcomers and those who are more used to more minor complex color grading applications. There are plenty of resources to tap to learn this system, but it will take some time to learn compared to other programs.
The learning curve for DaVinci Resolve is quite steep. Aside from getting used to working with nodes, the general layout and workflow require quite a bit of training to master, considering how divergent it is from other video editors.
DaVinci Resolve does not exactly play well with other programs considering it doesn't offer much integration with external programs. This can be a big headache for editors who need to go between 3D modeling and visual effects programs for their projects.
Short Verdict
DaVinci Resolve is undoubtedly one of the more powerful color grading editors, but it also comes at a hefty price tag. Considering the cost and the advanced node-based system, the application can only be recommended for professional editors who desire more control or those willing to put in the extra effort (and cash) to learn it.
3. Final Cut Pro X (Color Board)
Final Cut Pro has been such an industry standard to Mac users for decades that it has pretty much become the most optimal software for Macs. Staring life in the late 1990s, when it was initially known as Final Cut Pro, the program has expanded to iOS devices.
Since version 10.4.0, Final Cut Pro X has become more advanced in its color grading options. Their Color Board toolset has expanded since its creation, including color wheels, color curves, and color correction effects with stacking layers.
Pros
There's an undeniable convenience in having a color-grading application right within a video editor. Aside from not being an extra expense for those already using Final Cut Pro X, it helps that you don't have to go through the troubles of pushing around files or opening up extra programs.
Having been developed specifically for Mac computers, Final Cut Pro X runs exceptionally fast and is easy to use. Likewise, Color Board also delivers stellar results for how quickly you can see your renders of color grading within the preview windows. Most Mac computers can support Final Cut Pro X well enough so that you'll spend less time waiting for renders.
The interface of Final Cut Pro X has been simplified to such a degree that it's relatively easy to learn. The interface adopts all of the clean layouts associated with the consumer-friendly design of iMovie with all of the powerful tools related to professional editing programs. This goes double for the Color Board, which presents several handy color wheels and tools that'll be familiar for pros and visually straightforward for beginners.
Cons
Final Cut Pro X is exclusive to Mac operating systems. While this isn't a deal-breaker for those already using a Mac computer, this limitation doesn't make it easy to recommend going between computers. Naturally, it can't be recommended for those who work in a Windows environment.
While Final Cut Pro X does have a more intuitive interface, it will take some time to adjust to if you're used to other video editing programs. The one aspect that will get used to is the magnetic timeline, forcing editors to make their edits more linear than non-linear.
The application does not come cheap. While it is nice only to have a one-time purchase fee, that fee is $299.99. It's not exactly the most affordable of software and only reflects the expensive nature of Apple's closed hardware and software free of competition.
Short Verdict
It's hard to recommend Final Cut Pro X if you're not using a Mac and don't exactly have the funds to justify the hefty purchase price. But if you've already got a Mac and want one of the most influential editors for your machine, Final Cut Pro X is a good choice for professional editors.
Here's a detailed comparison between Final Cut Pro and After Effects.
4. Wondershare FilmoraPro
Filmora is quickly expanding as a rising video editing and color grading application, working on Windows and Mac. Having been used by over 77 million users, the software has become one of the most applicable of editors, best suited for developing YouTube videos.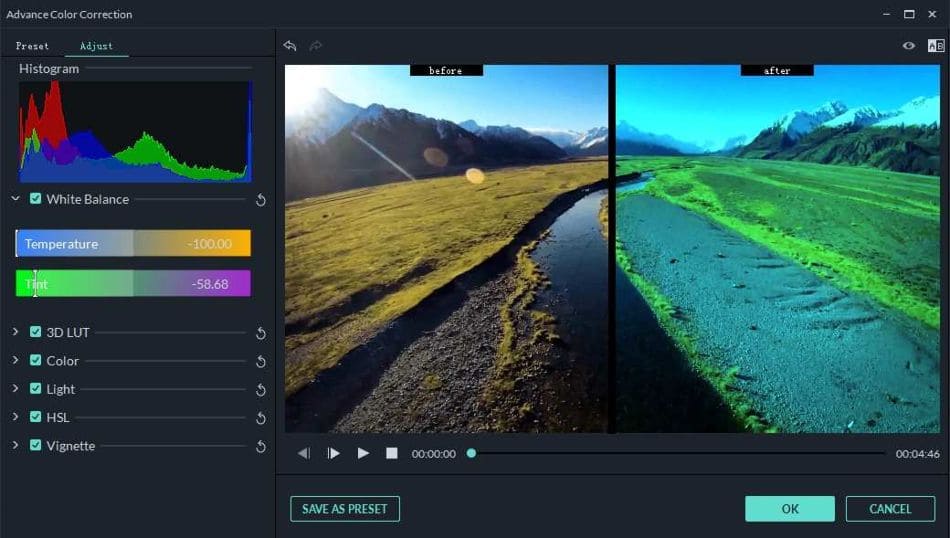 Among the application's many features, color grading has grown more advanced in the Pro version of the software. Color scopes provided include Parade, Vectorscope, Histogram, and Waveform. All of them are easy enough to navigate and manipulate for any level of the editor.
Filmora can be tried out for free but with several limitations, including watermarks. Thankfully, purchasing the application won't exactly break the bank. Unlike other color-grading editors, you have more options when it comes to buying Filmora, selecting between one-time fees or subscription models.
Pros
The best feature of Filmora is by far its intuitive nature. The interface will be familiar enough for most editors, including the different color wheels and scopes for color grading. Little instruction is required for navigating such an interface.
Perhaps the most enticing aspect of Filmora for the budgeted editor is the variety of pricing options. Users can choose from a one-time fee of $199 or a subscription plan that works out to be under $119 a year. Special pricing for teams and businesses exists as well if you're buying for multiple users.
Should you need some extra help, Wondershare does offer a detailed guide to making your way through various tasks in FilmoraPro. Everything from workspaces to video effects is covered so editors of any skillset won't feel intimidated.
Cons
FilmoraPro has a free version, but it's a minimal version. All of your footage rendered under this version will have a watermark, so it's more of a trial than a free version. Their website is also pretty cryptic for finding FilmoraPro, so make sure you don't buy the standard Filmora application more of a consumer-grade editor with limited features.
The support resources available from Wondershare are somewhat limited. While the website does offer FAQs, step-by-step guides, and video tutorials, the lack of a community forum hinders the scope of how much more can be accomplished and explored.
The application is rather taxing on your computer. It's not advisable to use FilmoraPro if you don't already have a top-of-the-line Windows or Mac machine. Computers lacking in RAM will find the application a bit slow, taking longer to load footage or render out exports.
Short Verdict
Filmora is a relatively inexpensive and versatile choice for editors seeking a relatively cheap application with color-grading technology. The interface is simple, and the tools are straightforward. If you've got a strong enough computer to handle the requirements, it's a solid choice for editing and color grading.
5. Lightworks
Lightworks is undoubtedly one of the oldest video editors for having been around since 1989. It is one of the earliest non-linear editing programs and has become widely recognized for winning the 2017 EMMY Award for pioneering digital nonlinear editing. The editing program has been used to such features as The King's Speech and The Wolf of Wall Street.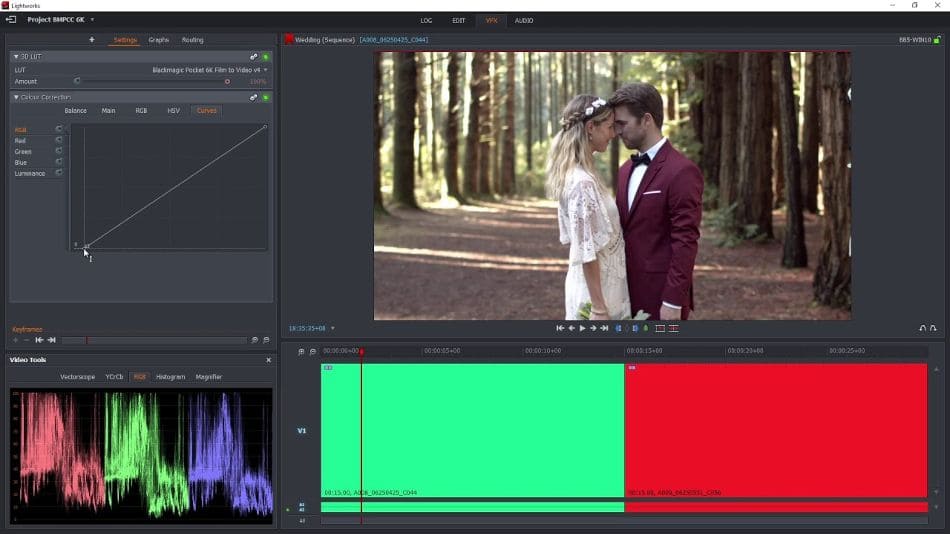 Coming in free and paid versions, Lightworks offers primary and secondary color correction. The application is highly adept at finding a way to fill in colors and hone details down to a minor pixel. The tooltips present also make learning this color-grading system a breeze.
Pros
Lightroom has been designed so that it is easily usable for both beginners and professionals in the post-production industry. Not only does it have more than enough resources to become oriented quickly, but Lightworks can be used on a variety of platforms that includes Windows, Mac, and Linux.
The tools for Lightroom are rather impressive, considering what is offered. Several presets are present that range over 100, and the optimized speed allows for faster previews of your color-corrected renders.
Lightroom comes loaded with some additional effects functionality bundled right into the program. This includes Boris Graffiti and FX packages that can place more advanced visual effects within your videos. This is only included in the paid version.
As far as licensing options are concerned, Lightroom offers plenty of opportunities for using the program. You can use either the free version (with reduced output), a subscription-based professional version, or simply pay a one-time fee.
Cons
In the same way that Final Cut Pro X is limited to Mac environments, Lightworks can only be used on Windows operating systems.
The free version of Lightroom is refined if you're making videos for YouTube or Vimeo. If you're aiming to render out the DVD or 4K video, you will need to purchase the professional paid version.
While Lightroom offers multiple options for paying for the professional program, the one-time fee choice is one of the most expensive video editing programs. Priced at $437.99, it's not a cheap choice, especially since to match up with the subscription price, you'd have to use it for four years.
Short Verdict
Lightroom will significantly benefit those developing simple online videos, considering you won't have to pay a dime to accomplish this. If you're seeking to push out more professional work in 4K, the professional version may be a bit too rich for your budget as it is one of the more expensive color grading programs.
Frequently Asked Questions
How do I use Lumetri in Premiere Pro?
Lumetri can be found in Premiere Pro by clicking on the Color tab of the workspace. This will open a panel for the Lumetri Color options. In this window, you'll be able to select from numerous adjustment levels and save different types of color presets. You can switch between workspaces or customize your interface to bring up this panel anytime during the editing process.
Is DaVinci Resolve 16 free?
DaVinci Resolve comes in both a free version and paid version. There's no trial period with the free version and no watermarks on top of your rendered footage. With the studio version, you'll have access to more advanced features for a one-time price of $295 from resellers. Look around online, and you'll be able to find a version of DaVinci Resolve with special editing keyboards as well.
How do you use the Color Board in Final Cut Pro X?
Color Board will start once you apply the Color Board effect to a video clip. Once you do that, the Color Board will open, and you'll have numerous options to choose from for altering the color. Aspects of tint, saturation, and exposure can be adjusted, and masks can be added to edit a specific portion of the footage. Be sure to look under the color inspector for Color Wheels and Color Curves for more color-grading tools.
How much does FilmoraPro Wondershare cost?
FilmoraPro has a few options when it comes to cost. The most popular plan is by far the one-time fee option, granting access to all features and tech support for $199.99. If you're seeking to use the program long-term and need the latest versions, you can pursue the $119.99/yearly subscription plan. There are also sales on these models, so keep an eye out for deals.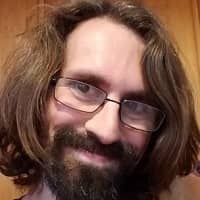 Mark McPherson has been working as a video editor and content writer for over ten years. His background started in animation and video editing before shifting into the realm of web development. He also branched out into content writing for various online publications. Mark is an expert in video editing, content writing, and 2D/3D animation.