(Last updated on November 2nd, 2022)
The power of Adobe Illustrator is incredible. The vector-based graphic software can accomplish quite a bit. But is there another way to use the product without a subscription? In this article, you'll find out if Illustrator can be purchased with a one-time payment.
Illustrator is one of the best and oldest Adobe applications. Devoted to vector graphics almost exclusively, the robust program is ideal for web-based and print-based materials. Think of it as the detailed art program that doesn't require a lot of drawing skills to use well.
It's also not a cheap program though. The subscription model for using the app can add up over time. With subscriptions seeming less appealing for a long-time investment, you may be wondering if it's possible to use Illustrator for a one-time fee. To answer this, let's look into how Illustrator has been priced for its various versions.
History of Adobe Illustrator CS
Adobe Illustrator has been used as a graphic arts program for developing artwork for print projects. This is because the application uses vector graphics to create artwork. Think of it as working with clay since the shapes you create can be easily pushed and pulled instead of the raster graphics present in Photoshop.
The program primarily uses CMYK colors which are best for printers. This makes Illustrator ideal for making bold and straightforward artwork for posters, pamphlets, brochures, and so much more. The artwork can even work well for creating website graphics.
Illustrator used to be a part of the Adobe Creative Studio. The Creative Studio era is had apps like Illustrator coming in physical packaging with a one-time price. There were also various bundles to help narrow and save on the primary apps you needed for your creative projects.
A problem with this model was that you would be dependent on that version forever. Adobe wouldn't reissue CDs of previous versions, and you were pretty much forced to upgrade if you uninstalled the program and lost the disc but still had the activation key.
Not only was this method inefficient for those making investments in such a program they intend to keep, but it made the software easy to illegally download. All of that would change with creating Adobe's Creative Cloud format for the majority of their creative apps.
What is Adobe Illustrator like now?
Adobe has moved the majority of its applications to the Creative Cloud. This platform allows for Adobe programs to be downloaded to any computer you choose. Programs are also kept updated so you can download the latest (or even older) versions.
Creative Cloud apps, however, require a subscription fee to use. Adobe Illustrator costs $20.99 a month to download and use from the Creative Cloud. This is the common price used for other Adobe applications such as Photoshop Pro, Premiere Pro, and many more.
There are some drawbacks and benefits to paying over time instead of one cost up front. The immediate flaw that most will notice is that you're paying month-to-month to use Illustrator. That price can add up over time and can be very expensive in the long run.
The benefit of this subscription is that you don't have to worry about paying for an upgrade. Adobe keeps its applications updated with patches regularly and new versions with new features every year. You can also easily install the program on different machines without much hassle.
Illustrator can also be purchased under the complete Creative Cloud package for $52.99 a month. This bundle includes Illustrator as well as all Adobe Creative Cloud applications. This will give you access to similar programs for developing similar artwork like InDesign and Animate.
What are the Alternatives?
The best way to go back to the one-time payment method of Illustrator CS is to, well, go back to that version. Seek out an older version of Adobe Illustrator CS online that you can purchase at a used price. Make sure the package you're buying has both the CD and the activation key.
The older version of Illustrator will not have all the same features as the current Creative Cloud version. If you're just seeking to create some graphics for print with simple altercations, you should be just fine with the Creative Studio version of the program.
You should know that places online will offer older versions of Illustrator that can be downloaded for free with activation keys. Be aware that these versions are prone to coming bundles with bugs and viruses that can infect your computer and make it unusable. If it doesn't look like a legit site, steer clear.
Since there's some danger in going down this road, you'll want only to use trusted websites. Avoid websites that seem shady with ads and don't reveal much information on the software. If possible, try to make sure you're buying from a trusted seller as well.
Adobe doesn't have much of a cheaper alternative when it comes to software similar to what Illustrator can deliver. Other programs such as InDesign and Animate can create vector graphics, but they're all priced about the same.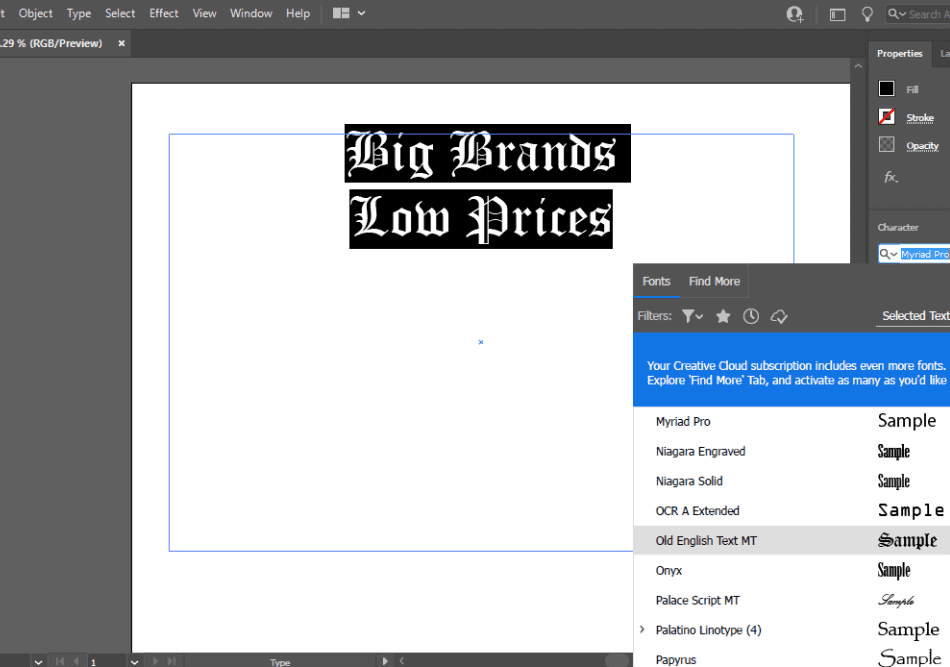 Photoshop can be purchased for cheaper under the Photography Plan at $9.99 a month. However, Photoshop requires some retooling to get the same effects as Illustrator. Since Photoshop deals more in raster graphics than vector graphics, you'll need to spend extra time learning the tools and features.
The raster graphics of Photoshop are far different from Illustrator in that it's not as readily formatted for print. Since Photoshop starts as RGB and doesn't have vector artwork tools as readily available, there's a big learning curve to accomplish the same aspects of Illustrator inside Photoshop.
If you only want to pay a one-time fee, you may be able to get some of the same features in the stripped-down version of Photoshop. Photoshop Elements only cost a one-time purchase of $99.99. You'll want to check the app's features, however, to make sure it has what you need.
Photoshop Elements isn't as recommended as an Illustrator alternative. This is because Photoshop Elements primarily a program targeted at photography. The tools for illustration are minimal and not well suited for print projects.
| Product | Regular Price |
| --- | --- |
| Adobe Creative Cloud | $52.99/month |
| Adobe Photoshop | $20.99/month |
| Adobe Illustrator | $20.99/month |
| Adobe Photoshop Elements | $99.99 (one-time) |
Which Route Should You Choose?
When looking at Adobe's other applications that are comparable, there doesn't seem to be much of a substitute for Illustrator. While Adobe does offer other vector-based applications that can develop the same kind of artwork, they all cost about the same. At that point, you might as well stick with Illustrator CC.
If you really just want to pay one-time fee instead of a subscription, try finding an older version before the age of the Creative Cloud. Seek out Illustrator CS6 if you can. That's the latest version of Illustrator before Adobe moved this application to a subscription service.
Caution should be used, however, when trying to find an older version. You can easily be duped into buying the program as a CD without an activation key or an activation key without the CD. Read carefully what is being offered and only use trusted websites for making this purchase.
If you don't want to go through all that hassle of tracking down a version of Illustrator CS, you're best off just going with the subscription service of Illustrator CC. It's the version that has the most updated tools and support, making it an essential piece of software for print and web publication.
Frequently asked questions
Can I get Adobe Illustrator for free?
Adobe Illustrator can be downloaded for free in the form of a seven-day trial period. You'll have access to all of the tools of the program during this time. However, you'll have to purchase a Creative Cloud subscription to use the application longer when that time ends. You can either buy a subscription for Illustrator alone or invest in the complete Creative Cloud for all the Adobe applications offered online.
How much does adobe illustrator cost?
Adobe Illustrator costs a subscription price to use professionally under the Adobe Creative Cloud. The cost is $20.99 a month with an annual plan. You can additionally pay for the complete Creative Cloud package for $52.99 a month, which will give you access to Illustrator, Photoshop, and many more Adobe applications.
What is the main purpose of Adobe Illustrator?
Adobe Illustrator works mainly as a vector graphics editor. Vector graphics carry more information than other formats, as with Photoshop being a raster-based graphics editor. Illustrator can Adobe's other comparable applications develop detailed shapes and colors built well for print jobs, such as posters, brochures, and pamphlets. It is also well-suited for creating art that will be used on websites because of its simplicity.
What is better, Photoshop or Illustrator?
Photoshop and Illustrator are used for different forms of graphic design. Photoshop deals mostly in raster-based graphics for developing art that has the look and feel of paintbrushes. Illustrator is a vector-based creative program that features intricate yet straightforward designs for print and web graphics. Which one is better ultimately depends on what types of creative projects you're developing.