(Last updated on November 2nd, 2022)
If you're a student studying in a creative industry, you'll most likely need to learn Photoshop. But can you use the program for free as a student? In this article, we'll go over how students can use Photoshop and if they can do so for free.
What is Photoshop?
Photoshop has been one of the most widely used applications from Adobe because it can be used in various creative fields. Unlike its title, Photoshop has grown to be more than just a program for editing photographs. It can still do all that, but improvements have expanded the application's abilities.
The brush tools are numerous and this has made it an ideal program for creating illustrations. The addition of Adobe Fonts makes it a solid choice for developing graphic design projects. The timeline feature also opens the door for animation and video rendered within the app.
In its current form, Photoshop is referred to as Photoshop CC. This title refers to the program being a part of the Creative Cloud, hence the CC in the title. You can only purchase the program through Adobe's Creative Cloud platform for a subscription fee.
Pros
Industry-standard tools and features.
Camera RAW filter is ideal for fast photography edits.
Plenty of plugins to better customize the program's many brushes and functions.
Cons
Expensive monthly subscription price.
Steep learning curve.
Requires a heavy-duty computer for more complex projects.
Can Students Use Photoshop for Free?
Photoshop CC can be downloaded as a free trial. The trial will last for one week and give you access to all the professional tools and features of Photoshop CC. However, when the trial ends, you will have to pay the monthly fee.
The cost for Photoshop CC is $20.99/monthly with an annual contract that includes 100GB of cloud storage space. A cheaper plan exists with the Photography Plan that includes Photoshop CC, Lightroom CC, and Lightroom Classic for only $9.99/monthly. That plan only includes 20GB of cloud storage, but you can upgrade it to 1TB for $19.99/monthly.
The other option to consider is the Complete Creative Cloud package. This plan is the most expensive at $54.99/monthly but gives you access to the entire Adobe Creative Cloud library. If you need more than 1-2 of Adobe's many creative apps, this is a better investment.
Is There a Discount for Students Using Photoshop?
While there is no free student version of just Photoshop CC, students can get a discount on the Adobe Creative Cloud catalog. This plan gives you access to the entire Creative Cloud library of applications, including Photoshop CC. The monthly price for this package is $19.99 with an annual contract.
This is a massive discount considering the alternative costs. Photoshop CC costs $20.99/monthly and only comes with 100GB of cloud storage. The Complete Creative Cloud plan costs $54.99/monthly without the discount which means you're getting a discount of 65%. So you're saving money whether you need only Photoshop or the entire Creative Cloud library of apps.
To qualify for this discount, you need to meet the following criteria.
Students:
13 years of age or older.
Part-time or full-time enrollment in an accredited institution or homeschool.
Student ID or tuition fee.
Teachers:
Part-time or full-time employment in an accredited institution or homeschool.
ID card, payslip, or email that identifies the institution.
The Student & Teacher Creative Cloud package is ideal for students working on several studies that require more than Photoshop. Lightroom, for example, is more beneficial for photography edits. Illustrator and InDesign are also better options for vector-based artwork and publishing.
Here is a breakdown of how the Student & Teacher package compares to Adobe's other pricing plans for Photoshop:
| | | | | |
| --- | --- | --- | --- | --- |
| | Photoshop CC | Photography Plan | Creative Cloud Complete | Student & Teacher Creative Cloud |
| Includes | Photoshop CC | Photoshop CC, Lightroom CC, Lightroom Classic | Photoshop CC, Lightroom CC, Lightroom Classic, Illustrator CC, InDesign CC, and more. | Photoshop CC, Lightroom CC, Lightroom Classic, Illustrator CC, InDesign CC, and more. |
| Cloud Storage Space | 100GB | 20GB or 1TB | 100GB | 100GB |
| Price | 20.99/monthly | $9.99/monthly (20GB Storage), $19.99/monthly (1TB Storage) | $54.99/monthly | $19.99/monthly |
How to Sign Up for Photoshop With a Student Discount
Here's our step-by-step guide on how you can purchase Photoshop with a reduced student rate:
Go to Adobe's website for Creative Cloud apps, located here. Click on the 'Students & Teachers' tab.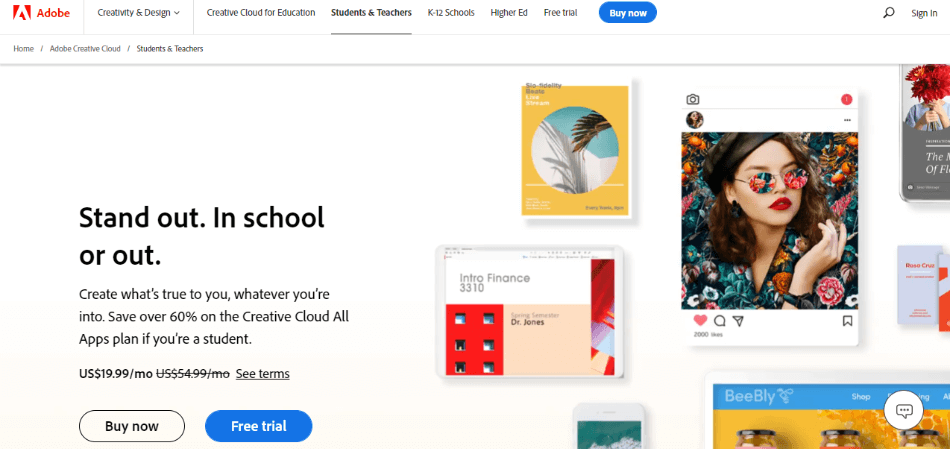 Click the button for either Buy Now or Free Trial. The Free Trial will take you through the same checkout process, but you won't have to pay anything for the first seven days. Be sure to cancel within seven days if you don't want to be charged.
You should now be on the first page of the checkout process. You'll start by selecting the payment plan. You can choose from either a monthly payment of $19.99 or an annual $239.88. Choose one and click Continue.
The next page will ask you if you want to add on the additional service of Adobe Stock, giving you access to stock materials. The cost is $29.99/monthly and gives you limited access a month to an extensive library of stock photos and video footage. You can either add this to your order or click 'No Thanks' to continue without it.
You'll now be asked to enter an email address to check if you have an Adobe account. If you've already set one up, you'll be taken through the process of logging in. If you haven't made one, you'll create one before continuing. This is also how Adobe will detect if you qualify for the student & teacher discount noted by your email address coming from the school. Make sure you use your school email address when purchasing if you want the discount. If the discount still isn't working, contact Adobe to confirm the qualifications.
After signing in and qualifying, you will be taken to the purchase page. Here is where you'll choose whether to pay by credit card or Paypal for your monthly subscription. You'll be automatically charged each month or year, depending on your chosen plan.
Once your payment is confirmed, the website should direct you to download the Adobe Creative Cloud Desktop application. This is what you'll use to install Photoshop. Once it finishes downloading, open Creative Cloud Desktop and navigate to All Apps to find Photoshop. Click the install button, and the program should start downloading and installing on your computer.
You should now have Photoshop ready to use on your machine. Don't forget to consider the other Adobe apps you have access to under this plan located in the All Apps portion of the Creative Cloud Desktop.
What If I Want to Cancel?
If you chose the Free Trial option for the Student & Teacher, you might intend to cancel the trial if it's not a good fit for you. If you want to avoid payment before the trial ends, you'll need to cancel the subscription. Merely uninstalling the program won't be enough to let Adobe know you don't want to continue using the app.
Here's a step-by-step walkthrough on how to go about canceling your subscription:
On the Adobe website, sign with the Adobe account you created. Find your payment plans located here: https://account.adobe.com/plans
You will then be led to a page where you should see the option "Manage Plan." Click that option and find the Student & Teacher plan you signed up for.
Now click on "Cancel Your Plan." This will take you through the cancellation process.
When finished, write in why you chose to cancel the plan.
Are There Free Alternatives to Photoshop?
If Photoshop seems too expensive, you can try these various free alternatives comparable to the app:
| | | |
| --- | --- | --- |
| Application Alternative | Pros | Cons |
| GIMP | Works on PC, Mac, and Linux systems. Heavy with features. Supports layer blending. | Steep learning curve. Complicated text tools. No RAW format support. |
| Krita | Mobile support for pen tools. Extensive library of effects and templates. Guides and rulers. | No RAW format support. Works slow. Lacking in font support. |
| Paint.NET | Layer support with blending options. Works with many file types. Extensive editing tools. | Old interface. Lacking guides. Lacking advanced photo tools. |
| Pixlr | Browser based. Customizable interface. Layers and history tools. | No pen support. Lacking guides and rulers. Requires Flash download. |
If you are sure that you want to buy Photoshop but at a discounted price, click on the link below.
Frequently Asked Questions
Is Photoshop free for students now?
Photoshop only comes for free in the form of a seven-day trial. The trial will give students access to all the tools and features of Photoshop. When that trial ends, you'll have to subscribe to a monthly or annual subscription service to continue using the application.
Can you get a student discount on Photoshop?
Yes, Adobe does offer a discount for students who want to use Photoshop. It should be noted the discount only applies to the complete Creative Cloud package, which includes Photoshop, Lightroom, Illustrator, and every Creative Cloud app. The price for students is $19.99/monthly, which is much cheaper than the regular price of $54.99/monthly
How can I get an Adobe Photoshop student discount?
You can get Photoshop with a student discount if you go to Adobe's website and sign up for the Student & Teacher version of the Creative Cloud apps located here. Click either Buy Now or Free Trial on that page to start the checkout process.
How does Adobe verify student or teacher status?
Adobe can detect if you're a student or teacher based on your email address. If you have an email address that goes through your school, that will serve as approval for the Student & Teacher version of the Adobe catalog.
Can you get an Adobe student plan without being a student?
No, you need to prove to be a student to be approved to purchase the Adobe Creative Cloud with a student discount.
How do I install Photoshop?
To install Photoshop, you'll need to download Adobe's Creative Cloud desktop application. This will download automatically once you pay for a subscription to Photoshop. Once the Creative Cloud Desktop is installed, it should start downloading Photoshop.