(Last updated on November 30th, 2022)
Photopea or Photoshop? Which application is best for your photography projects? We'll take a close look at both in this comparison of the two programs.
Whether you work with photos or digital art, you sometimes need an app that can create both well. It used to be that Photoshop was the only answer for such a multi-purpose application. Now there's more competition, making the choice a little more complicated.
What is Photoshop?
Adobe Photoshop is one of Adobe's most popular and widely-used applications. It started strictly as a photo-editing application. Nowadays, Photoshop is also used for graphic design, digital artwork, and animation.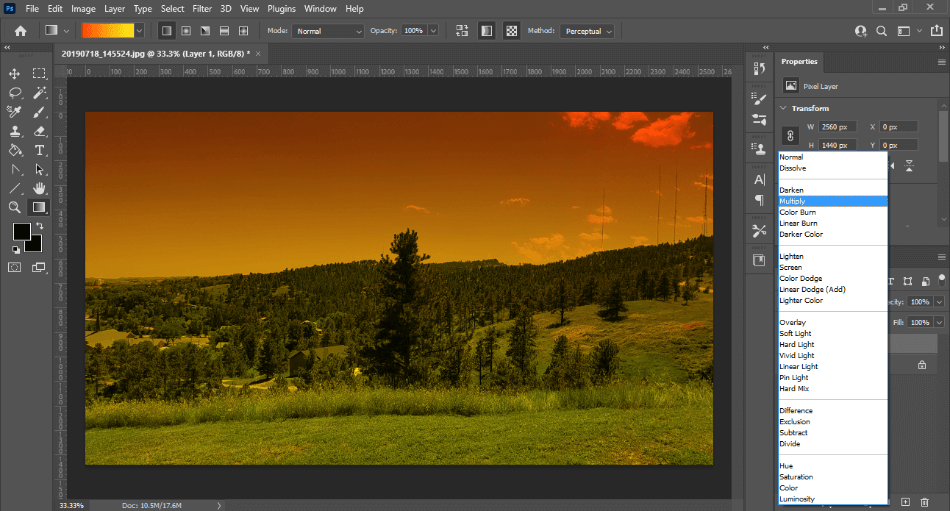 Photoshop has many new functions and features to use for just about any project. The timeline positioned at the bottom of the screen can help create animated GIFs or videos out of your layers using a simple snapshot process. The drawing tools come loaded with dozens of different brushes and infinite customizations.
One of the most powerful features of Photoshop is the Camera Raw Filter. If you're using the program specifically for making photography edits, you'll want to use this feature. With convenient sliders, it can make quick edits for temperature, exposure, and even color grading of your photographs.
Photoshop is versatile enough to work on PC, Mac, and even mobile devices as Photoshop Express. That being said, this competent program requires a strong machine to match its power. If your computer hasn't been upgraded, it may struggle to keep up with the app.
Photoshop's current version is Photoshop CC, referring to the Adobe Creative Cloud. This version of the program can only be downloaded online. You'll also need to purchase a subscription that charges monthly to use the program.
Photoshop CC costs $20.99 a month to use on its own. However, the software is cheaper if you go for the Photography Plan. This bundle is priced at $9.99 a month and additionally comes with the photograph-editing applications Lightroom and Lightroom Classic.
What is Photopea?
Photopea is a creative application that works right in your browser. There's no downloading or installation required. All you have to do is go to the Photopea website, and you can start on a project right away without much setup.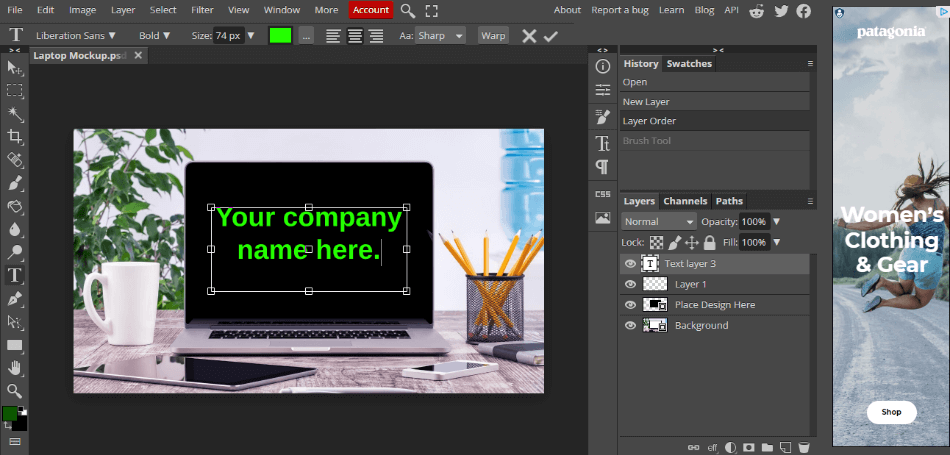 The application has been running since 2013 and has a lot of support for various browsers. Photopea currently works with Opera, Edge, Chrome, and Firefox. It can also handle a variety of image formats to import and export, including PSD, JPEG, PNG, DNG, GIF, SVG, PDF, and many more.
But Photopea is relatively comparable to Photoshop for more than just matching formats. The interface, in particular, bears a striking resemblance to Photoshop. When first loading the online app, I had to double-take to make sure this was Photopea.
This layout makes it easy for any Photoshop user to jump right in with little instruction. Having used Photoshop for years, it was remarkable how easy it was to find my way around. Everything from the draw tools to the text tools was easily accessible and simple to customize.
The tools function incredibly well for Photopea being a browser-based application. The drawing tools work exceptionally smoothly with how much control you have over illustrations. Using these tools with a stylus pen proves to be just as robust as going through Photoshop.
The impressive speed goes all around for every feature. Even with advertisements running on the page, Photopea responds incredibly well at photo manipulation and elaborate brushes. Comparatively, the app feels like using a lighter-weight version of Photoshop with the same core features.
Another highlight of first loading up the program is that it provides templates. If you're stuck on ideas for that flyer you need to design or that website to mockup, there's a small choice of templates to select from. They're limited and don't have a lot of detail, but they are an excellent way to jumpstart a project.
One of the biggest draws for Photopea is that it's a free-to-use application. There's no cost to start using the program when you load up the website. However, it should be noted that the application is ad-supported, so you'll have to deal with Google ads crowding a side of the screen.
There is a premium version of Photopea you can subscribe to if you want to stop seeing ads. For $3.33 a month, you can use the program without ads and get some additional features. There are also a plethora of pricing tiers for more team-oriented environments.
It should be noted that because Photopea only works in browsers, there are some limitations. Photoshop had the advantage of allowing for plugins for additional features and brushes. Photopea doesn't offer such add-ons.
Additional functions can be accomplished if you're handy with Javascript. Those who learn such code can use it in Photopea to execute image URL loading and a document conversation. However, if you want more features and customizations, you'll have to pay for the premium subscription.
You May Also Like:
Photoshop vs GIMP | The Ultimate Battle (2022)
How Do Photopea and Photoshop Compare?
Here's a rundown of the pros and cons of Photoshop and Photopea.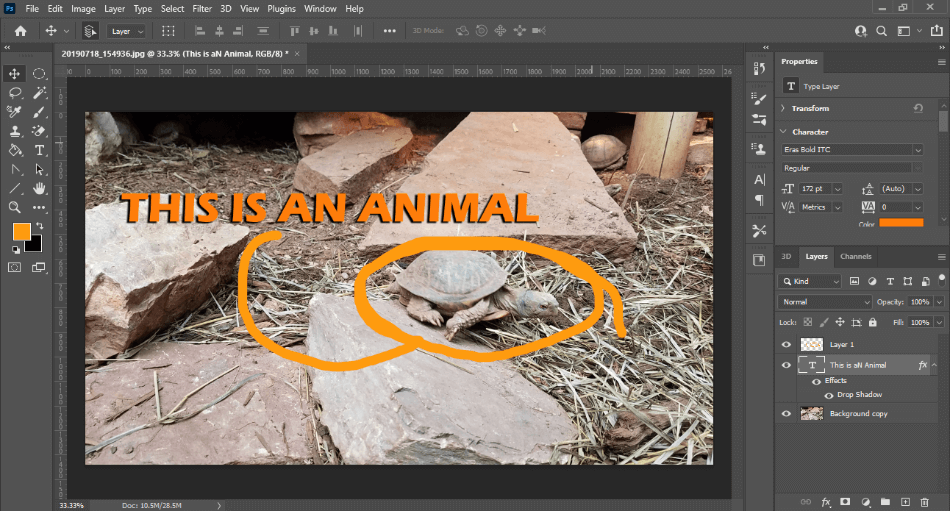 Photoshop
Pros:
An industry-standard program used in a variety of fields.
Powerful tools with smart technology.
Works on PC, Mac, and mobile devices.
Plenty of pricing options for the right fit.
Cons:
Subscription-only service which can add up over time.
Steep learning curve.
Requires a powerful machine to handle the application.
The subscription cost of $20.99/monthly for just the program or $9.99/monthly for the Photography Plan bundle can quickly add up over time.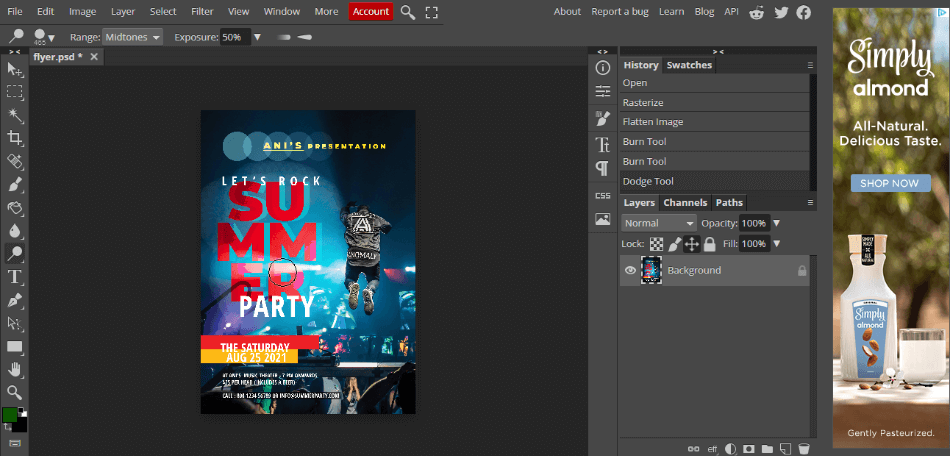 Photopea
Pros:
A speedy program that works in your browser.
Similar Photoshop features and interface.
Can save in the same formats as Photoshop.
There's no subscription fee or payment required to use the program.
Cons:
Limited tools when compared to Photoshop.
No mobile version of the application.
Ad-supported.
Requires a monthly subscription of $3.33/monthly for additional features.
| Product | Regular Price | Discounted Price |
| --- | --- | --- |
| Adobe Creative Cloud | $52.99/month | Check here |
| Adobe Photoshop | $20.99/month | Check here |
| Photopea | Free | No Discount |
Which Application Is Right for You?
The choice of which application is better ultimately comes down to what you need. There are critical differences in price and features that will be real deal-breakers for users. This makes a choice a little more nuanced rather than just choosing a clear winner.
If you need a full-service application for various purposes, Photoshop is a good choice. It's an expensive program but has plenty of features and tools to justify the subscription price. It's also an industry-standard application that you'll likely be using if you're in either photography or graphic design.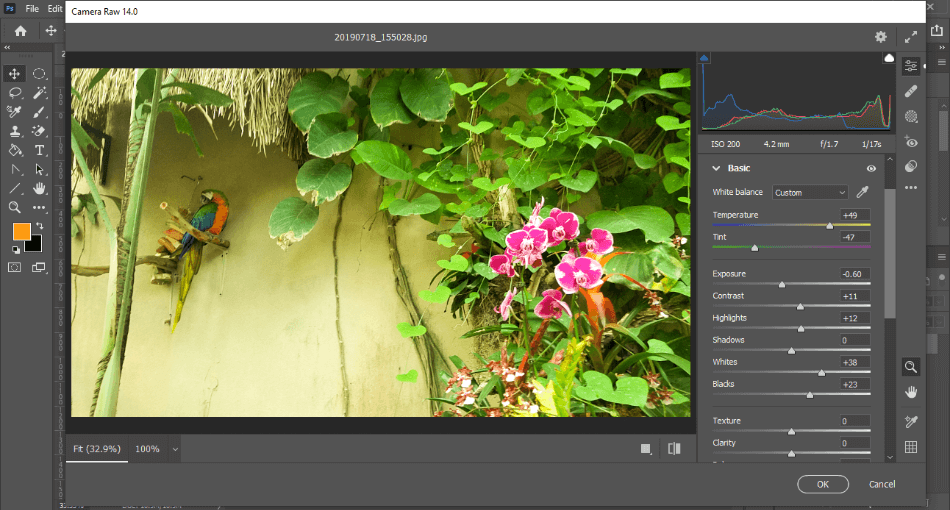 Photopea is best suited for those who only need to make basic Photoshop-style edits in a hurry. It's free to use, and much of its interface and tools are incredibly similar to Photoshop. The presence of templates also makes it ideal for those who need some inspiration quickly.
The differences between the two can be summed up as 'you get what you pay for'. If you want a lot of power, go with Photoshop. If you wish for speed and zero cost, go with Photopea.
Frequently Asked Questions
Is Photopea the same as Photoshop?
Photopea can accomplish the same functions as Photoshop but has a few key differences. One of the most significant distinctions is that Photopea works exclusively through your web browser, while Photoshop is an app you'll have to install on your computer. Photopea is also free to use as it is ad-supported.
Can I have Photoshop for free?
Photoshop requires a subscription fee if you want to use Photoshop CC or a one-time fee if you want to use Photoshop Elements. The only way to use Photoshop for free is in the form of a seven-day trial download. This trial allows using all of the Photoshop CC features for one week. When that week finishes, you will have to pay the subscription fee to continue using the application.
Is Photopea free to download?
Photopea is not only free to use but requires no download or installation. The application is ad-supported, though, so you'll have to deal with ads any time you use the program. You can stop seeing the ads and acquire more features if you subscribe to the premium service of $3.33 a month.
How much does it cost for Photoshop?
Photoshop CC costs a monthly subscription fee of $20.99 to use. You can also get Photoshop in the complete Adobe Creative Cloud package, priced at $52.99 a month. If you'd rather not pay for a subscription, you can invest in the less-featured Photoshop Elements, priced at $99.99 for a one-time fee.