(Last updated on November 1st, 2022)
Photoshop is constantly being updated with new features and exciting tools for any creative project. There's so much added that it can be tough to keep up with it all, spanning facial altercations to paintbrush advancements. We'll go over all these fascinating new features for Photoshop CC 2021 and Photoshop Elements 2021.
Photoshop 2021 New Features
Neural Filters
In the Filters menu, you can find an entirely new workspace with Neural Filters. With the aid of Adobe Sensei, this filter can make remarkable changes to your photographs. Using simple sliders, you can easily change the pose, age, and expression and even clear up skin blemishes. Photoshop could perform all this before but with detailed filter tutorials. Now there's smart technology present that makes these common photo touch-ups incredibly simple. Photographers who need to change expressions or smooth the skin of their subjects will get a lot of use out of this feature.
Sky Replacement
For those who spend a lot of time removing backgrounds from their photos, the Sky Replacement tool will be a real time saver. You'll find it in the Edit menu and can use it to find and replace the sky of any photo. With the sky detected, you can easily swap it out for several presets, including partly cloudy blue skies and cloudy thunder strikes. You can even upload your sky pictures to customize your photos with that one perfect shot you've got of the clouds.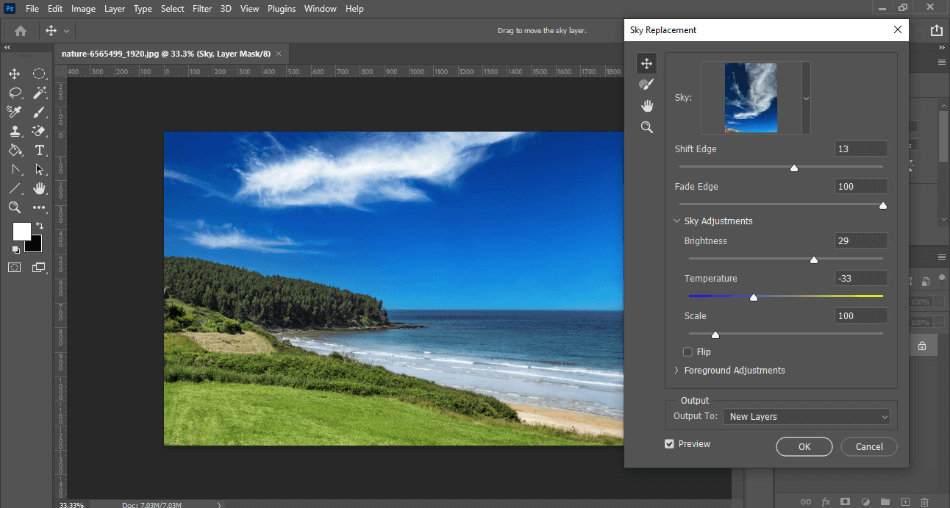 Pattern Preview
Photoshop can turn your designs into repeating patterns, and it just got easier. The Pattern Preview option allows you to get a real-time preview of your patterns as you design. You no longer have to settle on the pattern before creating it. You can watch as you rotate or scale a design and how it will affect the rest of a pattern. It's a helpful way to get a clear picture if you're trying to design a repeating pattern for a printed poster or presentation background. You can find this tool in the View menu.
Live Shapes
Photoshop has taken cues from Adobe Illustrator with improvements to the shape generation tools. The advancements in the shape and line tools allow you to edit shapes directly on your canvas the way you would an Illustrator. This feature will work best for graphic designers who are developing vector graphics. You may find yourself using Photoshop more than Illustrator with these handy tools.
Cloud Document Version History
A new Version History panel is present in Photoshop that now saves data within cloud documents. Once you've opened a cloud document in the program, navigate to Window > Version History, and you can access the history of changes made to that document. You can even take it offline if you need to by using the "Make available offline" option. This feature is convenient if you're working on multiple projects on the go or have to work with a remote team of creatives that all need to access the same documents.
Plugins & The Discovery Tab
The Creative Cloud desktop app now features many more third-party plugins that can be installed and used as quickly as you download them. More tutorials for some new features can be accessed directly through the Discovery tab within Photoshop. All of these extras aid in improving workflow for professionals and granting more resources for beginners.
Photoshop Elements 2021 New Features
Photoshop Elements' most significant selling point is how easy it is to use for beginners. That ease has only increased with the new features for Photoshop Elements 2021. Take a look at how the easy-to-use app got a lot easier for your creative projects.
Sketch Effects
If you want to give your photos more of an illustrative look, you can apply one of the many sketch effects to place your picture more within the realm of a 2D sketch. You can even paint on the effect with brushes that can give your photo the look of a pencil, colored pencil, and old paper. You can also use this tool to give your photograph a vintage look. Patterns can also be applied in the form of stars and hearts for the little details you'd like to add. This feature is ideal if you're trying more of an illustrative approach to photos you might want to use for headers or textbook drawings.
Motion for Static Images
Thanks to Adobe Sensei, Photoshop Elements has improved the tools for transforming your photographs into animated GIFs. 2D and 3D camera motion can now be applied to your photographs to give them a seamless motion, appearing more like a video than a still picture. Advertisers will get great use out of this feature for being able to develop moving ads fit for social media feeds, appearing subtle yet eye-catching with a simple movement.
Automatic Colorization
For those who use Photoshop Elements to bring life to old photos, the tools for placing color within black-and-white images have greatly improved. You can only easily add color to your photos with the click of a button but even choose to add only one specific color. This is best suited for fashion photographers who want to make their pictures pop. An example of this would be making the lips a bright red or a dress a vibrant blue while the rest of the background is in black and white.
Modern Duotones
If you're keeping up with the latest trends in color, you've probably heard about duotones, where two color tones combine to form a uniquely colorful and attractive look. Photoshop Elements has new tools that make this two-tone creation easy to apply. There are many customization options to change everything from the size to the gradient. You can even combine two photographs with this effect to create a double exposure effect. This feature may be of great use for advertisers and photographers but is just a lot of fun to play around with for any project.
Landscape Tools
In the same way that Photoshop CC has sky replacement tools, Photoshop Elements also has several environmental tools for quickly changing a scene. Not only can you replace the sky, but you can also remove haze and erase unwanted parts of the background. The Guided Edit can also make these changes happen in mere seconds with numerous templates to choose from.
Facial Features Adjustments
Using Photoshop Elements's improved facial feature adjustment tools, you can change the look of the eyes to the position of the face. These are essential features for anyone who finds themselves photographing people.
Shot Combining
Do you have two photographs you'd like to connect? Maybe you'd like to have a family photo that seems more seamless with the family who couldn't be in the shot. With Photoshop Elements's photo merging tools, you can combine your photographs to make one that doesn't just look like them together into a collage. Add more people to a family photo or attach two pictures for a long panoramic image. This feature is ideal for personal use with family photography and professionals who aim to create elaborately long photographs.
Improved Organization
The new visual view of sorting through your folders has been improved. You won't have to spend as much time sorting through all your folders seeking that one photograph you're looking for. The navigation for finding your images and pictures has been simplified with a visual thumbnail style and an easy means of sorting them by size, date, and more. It's pretty similar to how Adobe Bridge functions and is handy for those working with many photographs they plan to edit.
Now that you know the new features in Photoshop 2021 and Photoshop Elements 2021, click on the links below to get a special discount on these products.
Get a Special Discount On Our Top Picks!
---
BEST OVERALL PICK FOR PROFESSIONALS
---

Adobe Creative Cloud
Get all 20+ creative apps and services for photography, design, video, UX and more.
at adobe.com
---
BEST FOR GRAPHIC DESIGN & IMAGE EDITING
---
Adobe Photoshop
The world's most powerful image editing and graphic design software.
BEST FOR BEGINNERS & PHOTO HOBBYISTS
---
Photoshop Elements
A simpler version of Photoshop CC. Great for beginners and photo hobbyists
Frequently Asked Questions (FAQs)
When was Photoshop 2021 released?
Photoshop CC 2021 was first released in October 2020. The latest updated version was released in September 2021.
Is Adobe Photoshop 2021 a subscription?
Yes, Photoshop CC 2021 still costs $20.99 to use a monthly subscription. That being said, Photoshop Elements 2021 still only costs a flat fee of $99.99 for a lifetime license to the current version.
How do I get Photoshop 2021?
You can get Photoshop by going to Adobe's website and clicking on the Photoshop part of the website. You can either download a free trial or purchase a monthly subscription contract. Both options require you to set up an Adobe account and download the Creative Cloud desktop installation application.
How can I run Photoshop 2021 without a subscription?
You can only use Photoshop without a subscription if you go with Photoshop Elements 2021. This more straightforward version of the program only requires a one-time cost of $99.99.
How much does Adobe Photoshop 2021 cost?
Photoshop CC 2021 will cost you $20.99/monthly to use with 100GB of cloud storage. You can also get it for $9.99/monthly under the Photography Plan, which includes 20GB and Lightroom Classic for only $9.99/monthly (it can be upgraded to 1TB of storage for $19.99/monthly). If you'd rather pay a flat fee, the simpler Photoshop Elements 2021 is $99.99.
Is Adobe Photoshop Elements 2021 free?
No, Photoshop Elements still costs a flat fee to use. It costs $99.99 to buy for lifetime access to that version with a reduced price for upgrading.