(Last updated on January 9th, 2023)
Should you be using Photoshop for your design projects? Or is Illustrator a better choice for all things illustrated? We'll take a look at both of these design applications and let you know which one is best for your workflow.
In this head-to-head comparison, we'll be comparing how well these two apps perform with graphic design. The areas we'll focus on will include interfaces, tools, drawing, and more. These areas will then be rated on a scale from one to five.
Overview of Adobe Photoshop
Photoshop is one of Adobe's most powerful applications for graphics creation. It's hard to overstate just how much of an impact it has had on the creative industry. You've probably even heard the term Photoshopped uttered once or twice on social media when a photograph appeared digitally edited.
Photoshop has expanded to more than just being a photography editor. The brush tools have made it ideal for digital art, and the numerous features have made it capable of producing animation. It creates a variety of projects and works well at integrating with other Adobe programs.
Pros
The powerful tools can make fast work of most projects.
The variety of features aid in photo editing, digital art, graphic design, and animation.
A host of plugins can add automation and support for whatever project you're working on.
Cons
There's a learning curve to the app's many tools and features.
The interface will take some time to get used to.
The monthly cost can get expensive over time.
Overview of Adobe Illustrator
Illustrator has been one of Adobe's oldest graphic editing programs, created in 1987. It's a graphic design program that can create visuals with vector graphics. These graphics differ from Photoshop because they contain more information for making more detailed edits to shapes and colors.
Illustrator has become a widely used program in the industry of graphic design. It has been used to create logos, posters, website designs, and so much more. It was awarded the best vector graphics editing program in 2018 by PC Magazine for being used in various projects.
Pros
The application is easy to draw with intuitive tools.
The use of CMYK is ideal for print and web projects.
Photographs can automatically be transformed into vector-based color shapes.
Cons
Vector-based graphics limit how many projects you can accomplish.
You'll need a heavy-duty computer to handle that program's large memory requirements.
The costly monthly subscription model.
Adobe Photoshop vs. Adobe Illustrator: At a Glance
1. Interface
Winner: Adobe Illustrator. With some learning, Illustrator's interface can be as versatile as it is powerful.
2. Tools
Winner: Adobe Photoshop. The tools within Photoshop are ideal for any number of graphic design projects.
3. Drawing
Winner: Tie. Each application is incredibly strong in its own specializations of drawing.
4. Plugins
Winner: Adobe Photoshop. The plugins available for Photoshop are superior for aiding in several areas, from brushes to automation.
5. Output
Winner: Adobe Photoshop. Photoshop's many recognized file types are better suited for various outputs and usable in other programs.
6. Price
Winner: Adobe Photoshop. Under Adobe's Photography Plan, Photoshop is the cheaper application considered.
Short Verdict
Photoshop is an all-purpose graphics program. It is capable of far more features than Illustrator. If you need to design more than just logos and concept artwork, Photoshop is a better choice than Illustrator.
1. Interface
Photoshop
Photoshop's interface is quite vast that it can be intimidating. With so many toolbars and windows present, first-time users may be lost at first. That being said, the level of customizations with the workspace is ideal for several different projects.
Photoshop's interface can be retooled to aid everything from photography edits to animation. With so many capabilities, however, the learning curve is steep. So while Photoshop's interface can be handy once it is figured out, we had to take off a point for the learning curve required.
Illustrator
Illustrator is a bit more straightforward in how it presents itself. You won't have to reorganize the window for most projects to assemble the perfect workflow experience. Just about everything you need can be accessed from the toolbars on the opposite ends of the screen.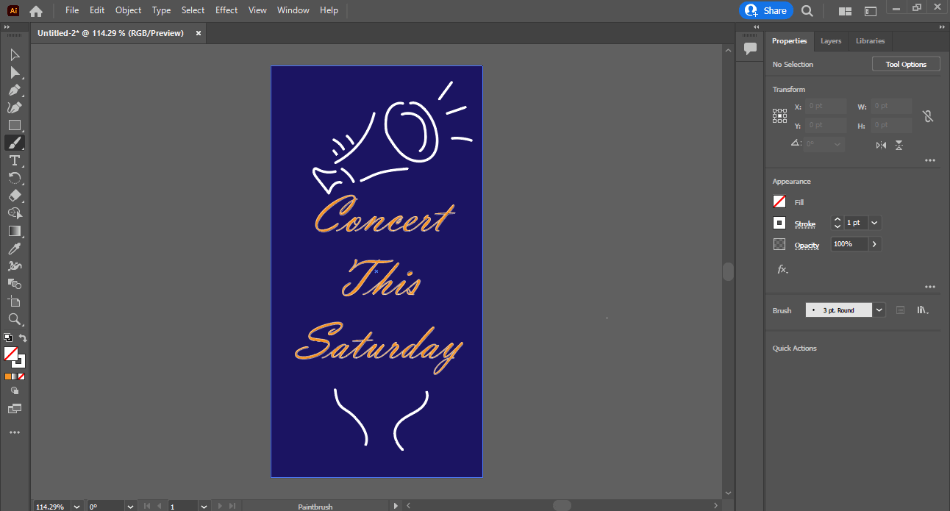 The left toolbar contains only the essential tools you'll need for creating and editing graphics refined, so there's not much of a submenu. The right toolbar contains all the properties and layers in a neatly presented series of tabs. I also enjoyed having access to my library of assets through the Library tab.
I was surprised at how easy it was to jump right into Illustrator. The convenience of having everything I need for essential projects presented in a handful of tabs can't be overstated. For being so easy to use and requiring minimal instruction, only a half-point gets taken off in this category.
Winner: Adobe Illustrator. The interface of Illustrator is much easier to use than Photoshop. While Photoshop requires a bit of a hunt for the right workflow, Illustrator has a neat look with a significant convenience factor. With a straightforward design, Illustrator wins for the interface.
2. Tools
Photoshop
The tools present in Photoshop go far beyond the simplistic editing tools it was initially known for. There are plenty of filters and effects to choose from. Whether you need something as simple as a color shift or detailed as smoothing pores of a portrait, there's a tool for just about any project.
Once you get used to the toolbar, you can find many handy tools for quick edits. If you need something blurred, grab the Blur tool, tweak the brush settings, and start painting on the blurs. If you want to remove a background, simply select the Background Eraser tool, and you can automatically begin removing the unwanted background.
There's undoubtedly a bit of a learning curve with so many tools presented. Thankfully, you can quickly learn most of the tools with enough experimentation. For the incredible power of Photoshop's tool, we're only deducting half a point for the learning curve.
Illustrator
Illustrator has plenty of unique tools for crafting vector graphics. You can choose to use shapes, the pen tool (with curves), or simply freehand draw your design. That being said, there are some significant limitations with the program when you compare it to Photoshop.
The tools for editing photos are mainly restricted. You can only crop photographs or transform them into vector graphics, which can be rather taxing on your computer. It's very telling how limited the software is when there's a button that says "Edit in Photoshop."
Even with these issues regarding photos, Illustrator still has robust tools in its area of expertise. I particularly liked how the text tool will automatically fill in with placeholder text. This is ideal if you plan on wrapping some text and want a rough idea of how it will appear before writing it out.
Illustrator's tools work well for graphic designs, specifically with print art, web design, or publishing. If you're trying to accomplish anything in the realm of more elaborate illustrations or photography-based projects, it falls behind compared to Photoshop. This is why we had to deduct one point for its limitations.
Winner: Adobe Photoshop. The tools in Photoshop are perfect for just about any project. They take some time to learn but can accomplish so much with drawing, photography, animation, and more. With so many exceptional tools, Photoshop wins this round.
3. Drawing
Photoshop
Photoshop has become an essential application used by digital artists, and it mainly has to do with how well it handles drawing. The program comes with a variety of brushes that can be customized with various options. These can be helpful with everything from subtle photography touch-ups to bold illustrations.
Finding the right brush can take some time, though. You may have to pick and choose through the various brushes and tailor the hardness and softness to your liking. There are plenty of brush plugins out there, but that's still extra time you'll have to spend customizing.
Photoshop's drawing tools take some effort to master, but they're pretty powerful once you get the hang of them. It can take some extra time to find the right plugins for more elaborate controls. Because of that, we had to deduct a point.
Illustrator
Illustrator can seem a bit limited when compared to Photoshop. It doesn't have many detailed brushes considering it works exclusively with vector-based graphics. This means you won't get a lot of options to recreate the strokes of a paintbrush or the pressure of a pen.
However, it does have plenty of advanced pen tools for creating detailed designs. Vector-based drawings are ideal for those not skilled at drawing since you can push and pull the shape of what you draw. So if you can't afford a stylus or you're not handy with one, Illustrator gives you a lot of control over your drawings with a mouse.
Illustrator is both powerful and easy to use in developing intricate vector graphics with its drawing tools. It took very little time to click around and create a curved and compelling design. There are still a few limitations compared to Photoshop's brushes, so we deduct a point.
Winner: Tie. Photoshop and Illustrator both function well in many different areas of illustration. In their respective areas, they're both robust programs at creating artwork. For being strong in their areas of expertise, it's a tie.
4. Plugins
Photoshop
As Photoshop continues to expand into other creative areas, plugins have come about to do more. The plugins available can aid in everything from HDR image rendering (Photomatix Pro) to font organization (FontExplorer X). Even plugins specifically focus on effects, as with Mister Retro's handful of lighting and texture plugins.
One of the most powerful plugins comes preloaded with the program. Camera RAW Filter is a plugin that allows you to easily edit your photos for contrast, color, and more. You don't even have to install the plugin, as it should already be available in your filters menu.
If you check Adobe's website, you can find dozens of third-party plugins. Some of the more unique plugins include Andromeda Software's Cutline for creating woodcut illustrations and Flaming Pear's Flood 2 for creating realistic water effects.
Some of these plugins are free, but most can cost a few tens to a few hundred. That being said, they're mighty at speeding up your projects. For spanning such a massive range and being helpful in numerous areas, the plugins are a perfect score for Photoshop.
Illustrator
Illustrator also has its fair share of plugins. If you want more variety in selecting the right color, try Anastasiy's MagicPicker for advanced color wheels. If you're more of an engineer seeking to design architecture, you'll want to use Hot Doo's Vector Studio to create more complex vector graphics easily.
While the third-party plugins are listed on Adobe's website, you'll notice there are far fewer when compared to Photoshop. They're also placed in particular areas that more or less improve functionality and don't precisely add radical new features. For being somewhat limited, we're deducting a point.
Winner: Adobe Photoshop. Photoshop's many plugins can expand the program past it's already massive range of possibilities. While Illustrator's plugins are excellent, they can't compete with the broader scope of creative options in Photoshop. Photoshop wins for plugins easily.
5. Output
Photoshop
Photoshop's very file type has become quite common. The PSD file type is how you save your projects, and it can be carried over into several programs. PSDs can not only be recognized in other Adobe programs (including Illustrator) but even Photoshop competitors like GIMP, CorelDRAW, and more.
In terms of exporting your project as a recognized image format, there's a lot to choose from. Aside from the detailed JPGs and PNGs, you can produce, the other file types include TIFF (Tag Image File Format) and HEIC (High-Efficiency Image File Format). TIFFs, in particular, are ideal for creating textures to be used in 3D programs.
I also dug being able to create a video in Photoshop. Once you get used to the timeline tools, you can push out MPEG videos or animated GIFs. You can quickly turn Photoshop into an animation program for producing high-quality animations ready for the web with enough training.
There's fantastic versatility with Photoshop's many formats. I dug into how essential the program is for creating textures for 3D animation. We're giving Photoshop a perfect score with so many possibilities and only a minor learning curve for the capabilities.
Illustrator
Illustrator focuses almost exclusively on vector artwork and outputs that accommodate it. This includes SVG (svg), TIFF (tif, tiff), and GIF. That being said, you can still export in much of the same formats as Photoshop, including Photoshop's PSD format.
Illustrator's native AI project format also has some versatility. It can be opened in Adobe programs such as After Effects and Photoshop. The major downside is that there are not as many options or choices for exporting, leading to a one-point deduction.
Winner: Adobe Photoshop. While Illustrator is adept at most print and web projects, Photoshop offers so much more in file types. Not only can you export for a variety of media formats, but the PSD files can be transferred over into other programs. Photoshop is the clear winner for output with such a high range of possibilities.
6. Price
Photoshop
Photoshop costs a monthly subscription to use Adobe's Creative Cloud platform. The cost is $20.99 a month under an annual plan. That's a price that can quickly add up over time, but luckily there's an alternative.
You can save some money by going with Adobe's Photography Plan at $9.99/monthly with an annual plan. This bundle will give you access to not only Photoshop but Lightroom and Lightroom Classic as well. The only catch is that you'll only get 20GB of cloud storage, but that can be upgraded to 1TB for $19.99/monthly.
Even if you have no use for the photo editing capabilities of Lightroom, the Photography Plan is a great deal. It costs half as much as purchasing Photoshop alone and comes with everything you'd get in the solo Photoshop subscription. Even if you need 1TB of storage, the upgraded price is still a cheaper choice, leading to only half a point being reduced.
Illustrator
Adobe Illustrator has a similar price to most applications in the Adobe Creative Cloud. The monthly cost for the app is $20.99 with an annual plan. That price gives you access to the program and all of its updates.
Despite being Adobe's average price for apps, it's still pretty exxy. Over time, that price can add up fast. Being such a costly application, we had to deduct one point for being so expensive in the long run.
Winner: Adobe Photoshop. Photoshop is easily the least costly of the two applications. While the two programs are evenly priced alone, the bundle of the Photography Plan makes Photoshop less expensive to acquire. The winner for the price is Photoshop.
| | | |
| --- | --- | --- |
| | Adobe Photoshop | Adobe Illustrator |
| Cheaper Alternative | Photoshop Elements ($99.99 one-time fee) | None |
| Primary Graphics Style | Pixels | Vectors |
| Primary Color Type | RGB | CMYK |
| Photo Editing Tools | Yes | No |
| Best Suited For | Photography Edits, Detailed Digital Art, Graphic Design, Animation | Logos, Web Graphics, Print Artwork, Graphic Design, Concept Designs |
| Price | $20.99/monthly or $9.99/monthly (Photography Plan) | $20.99/monthly |
Verdict
You can do so much with Photoshop that it is the clear winner over Illustrator. It is a program capable of drawing, photo editing, and animation. Photoshop is the best investment for any creative industry with so many robust features.
Which Application is the Best Choice?
Illustrator is a program best suited for those who need to design for print or web projects. The CMYK colors and vector drawing tools are perfect for creating designs that don't require much drawing skill. It's an ideal program for a designer who works more with a mouse than a stylus.
Photoshop is highly recommended for artists working in multiple fields. Whether you're a graphic designer, photographer, or digital illustrator, plenty of solid tools are present for any endeavor. Photoshop is also helpful if you're a video editor who has to create graphics or a 3D modeler who needs some textures.
Frequently Asked Questions (FAQs)
Is Illustrator harder than Photoshop?
Illustrator does take a bit more time to learn for the more common jobs of Photoshop. Since Illustrator functions more as a vector graphics editor, you'll have to get used to tracing photographs if you plan on inserting them into your projects. It's not so much more complicated than learning a different graphics illustration and editing process.
What does Adobe Illustrator do that Photoshop doesn't?
Illustrator is better adept at handling vector graphics projects than Photoshop. This means that Illustrator can handle documents that use CMYK colors for either web designs or print projects. Photoshop is capable of this, but it takes some learning to achieve the same effect, whereas Illustrator is easier to use for such jobs.
Why do artists use Photoshop instead of Illustrator?
Photoshop is far better suited for editing photographs. The tools present in the application are perfect for making such changes as removing backgrounds or removing blemishes from portraits. Illustrator is a program that doesn't offer much support for editing photographs as it's more focused on illustrations and designs.
Is Photoshop good for T-shirt designing?
Photoshop can be used to create designs for T-shirts. You'll have to keep in mind the limitations of printers to create a design that will print correctly. The ideal method is to work with CMYK colors. Illustrator is better to use when designing logos and illustrations for print. You'll find yourself spending less time prepping your designs for print when you work within Illustrator for your T-shirt designs.
Which is easier to learn, Photoshop or Illustrator?
Photoshop and Illustrator focus on specific areas and the learning curve ultimately depends on the type of project you're developing. If you're working with photographs, video, and detailed illustrations, Photoshop will be the more straightforward program for your tasks. If you focus on print and web design projects, Illustrator is the more accessible application to go with.
How much does Photoshop cost?
Photoshop costs a subscription to use it from the Adobe Creative Cloud, priced at $20.99/monthly. The Photography Plan, priced at $9.99/monthly, gives you Lightroom and Lightroom Classic access. If the monthly cost isn't your liking, you can try the alternative Photoshop Elements, a less feature-heavy version of the program, with a one-time fee.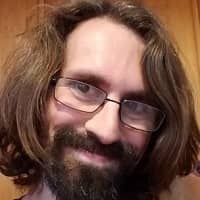 Mark McPherson has been working as a video editor and content writer for over ten years. His background started in animation and video editing before shifting into the realm of web development. He also branched out into content writing for various online publications. Mark is an expert in video editing, content writing, and 2D/3D animation.