(Last updated on January 9th, 2023)
Is Lightroom the best application for your photo editing needs? Or should you stick with the sturdiness of Lightroom Classic? We'll compare these two programs and determine which one is best for your photography projects.
We'll be comparing both programs on the basis of basic photo editing. We'll judge how well they perform at making edits for color, brightness, and more. Each area will be rated on a scale of one to five in how well they function in each area.
Overview of Lightroom
Adobe Lightroom is designed to be an intuitive photograph editor. It's similar to Photoshop as it gives you options for changing color, contrast, brightness, and more. It differs in that Lightroom is better tailored to photography edits than Photoshop.
This aspect is due to Lightroom being a non-destructive photo editing program. This means that edits you're making won't be painting over your image. You only manipulate the visual aspects of your photos and don't save over them immediately, preventing any unwanted edits to your original pictures.
The current version of Lightroom has existed in the Creative Cloud since 2017. It's been designed to work on PC and Mac desktop computers and mobile tablets and phones. This is possible due to Lightroom adopting slider tools that are ideal for touch displays.
Pros
The interface is simple enough that little to no instruction is required.
The tools are so easy to use that the workflow is speedy.
The app works on both desktop and mobile devices, making it easy to swap between computer and tablet.
Cons
The simple import process is not ideal if you're used to organizing your albums in your file explorer.
Though great for basic edits, more elaborate photo editing techniques of panoramic and HDR images are not as doable in this app.
The system requirements are pretty high if you want to take advantage of the software's speed.
Overview of Lightroom Classic
Lightroom Classic is more than just an older version of the same program. This version has a few more features and tools not present in the modern version of Lightroom. It also has the detailed look of a classic app that lays out all the tools in front of you with plenty of windows.
Lightroom Classic differs in a few ways from the modern version of Lightroom. Though it doesn't work on mobile, it still adheres to the current formatting of the Adobe Creative Cloud. You can install Lightroom Classic on any Mac or PC desktop computer.
Pros
The program can handle more advanced photography projects involving HDR and panoramic imagery.
More intricate tools are present to make more advanced edits to your photos.
The app comes bundled with Lightroom, so you don't have to choose between the two.
Cons
Lightroom Classic only works on desktop compouters and does not on mobile devices.
The interface is busier, so it can take longer to figure out.
The organization and import process is more complex than Lightroom.
At a Glance: Lightroom vs Lightroom Classic
1. Interface
Winner: Lightroom. Lightroom's interface is far more clean, straightforward, and easy to use.
2. Tools
Winner: Lightroom. The tools present within Lightroom is fast and powerful, with little instruction required.
3. Workflow
Winner: Lightroom. Thanks to a simplified workspace, Lightroom makes editing your photos a speedy and robust experience.
4. Organization
Winner: Lightroom Classic. When used in conjunction with Bridge, Lightroom Classic does a solid job keeping your photographs neatly organized on your hard drive.
5. Platforms
Winner: Lightroom. Lightroom will work on desktop computers and mobile devices, while Lightroom Classic only works on desktops.
6. Price
Winner: Tie. Lightroom and Lightroom Classic can be purchased together for a low monthly cost.
Short Verdict
Lightroom and Lightroom Classic work so well in tandem that it's hard to choose one over the other. For this reason, the verdict is a tie between the two. Considering you can get both for a cheap plan, you won't have to agonize over which one to purchase either.
1. Interface
Lightroom
Lightroom has been designed to be one of the most simplified photo-editing interfaces. It has this clean and robust look that keeps everything neat and organized. It's still highly customizable but is so well organized there's little you'll have to do in order to start editing photos fast.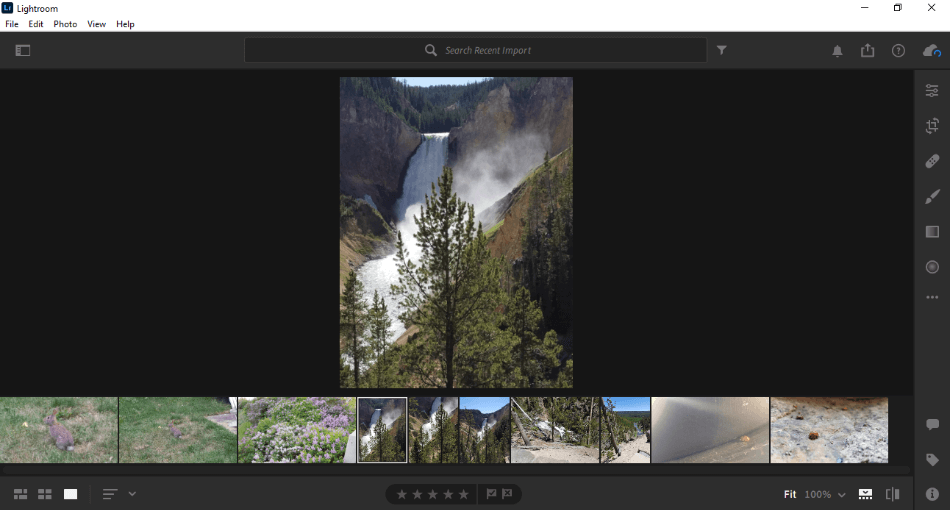 The interface has been designed for editing plenty of photos quickly. It helps to have the filmstrip gallery at the bottom of the screen. This makes it easy to switch between any image at any time.
The sidebar where you make all of your photo changes is also well organized. The use of sliders for tweaking color and brightness are a breeze to use. You can see the changes in real-time from the preview window with plenty of space to get a good idea of the details.
This type of interface is ideal for mobile users of Lightroom. Mobile devices don't give you much room to edit, and many tools need to be simplified as a result. Lightroom doesn't let down in this department as tablets and phones are just as clean and free of too many tools cluttering the screen.
The interface even automatically saves itself when you leave the program. You may be put off at first that Lightroom never asks you to save before exiting the app. But once you open back up Lightroom, you'll find that it starts up with the last photo you left off editing.
Everything about the interface is so tidy and organized. Novices will appreciate the appealing look while professionals will enjoy the ease of access. That's why we're giving it a perfect score.
Lightroom Classic
Navigating Lightroom Classic takes more time when compared to Lightroom. The various tools for organization and photo edits are not neatly assembled. You'll have to search around and learn the locations of the many options.
The organization of your photos, in particular, makes for a very dense interface when searching through your hard drive. Thankfully, the interface is compartmentalized well. Simply look at the top of the interface to select from one of the eight workspace environments.
There's more customization in Lightroom Classic, considering the wealth of windows. You can make it as busy or simplified as you wish, far more significant than Lightroom. Still, it's a bit busy, which is why we had to deduct a point.
Winner: Lightroom. Lightroom does a lot of work for you, from customizing your interface or searching around various tabs. Everything is neatly presented and easily labeled for easy access to all the powerful tools. Lightroom's inviting interface wins this round.
2. Tools
Lightroom
It's incredible how simple and powerful Lightroom's tools function. With a few pushes and pulls of sliders, I made a city scene look more luminescent and a nature scene more vibrant. The sliders are presented in an attractive manner that entices users to experiment with their photos.
The aid of sliders is excellent, but the tools for editing specific areas are also relatively robust. The gradient button will let you create a linear or radial gradient without much setup. Just click on the canvas, expand the area to how big you want it, and you're ready to tweak just that area with the sliders.
Every tool present is so straightforward that it's very easy to experiment with them all. They don't intimidate and they're easy to use. For such robust presentations of usability, Lightroom gets a perfect score for tools.
Lightroom Classic
Lightroom Classic has inherited much of the same tools as Lightroom. Altering aspects of Exposure and Contrast can be accomplished with a mere click and drag. The big difference is that the sliders feel crowded in a busy interface, leading to smaller sliders.
One of the critical reasons Lightroom Classic has remained is its superior features. While it may not be as robust in tools or speed, it does allow for more advanced projects. Specifically, Classic supports more high-quality photography.
I particularly dug the editable histogram in Classic. In Lightroom, you can view but not touch the histogram. In Lightroom Classic, you can select areas of the histogram and drag them as far outward or inward as you wish. These exclusive tools warrant a solid enough score.
Winner: Lightroom. Lightroom's tools are not only powerful but incredibly easy to use. There's very little time spent hunting for them and little instruction required for making quick edits. Lightroom wins for boasting some of the most enticing photography post-production tools.
3. Workflow
Lightroom
Lightroom has a speedy workflow, considering how quickly you can produce edited photos. Everything within the program just zooms by with little time doing the less important things. If you don't have time to put all your photos in an album, Lightroom will create one automatically within the program.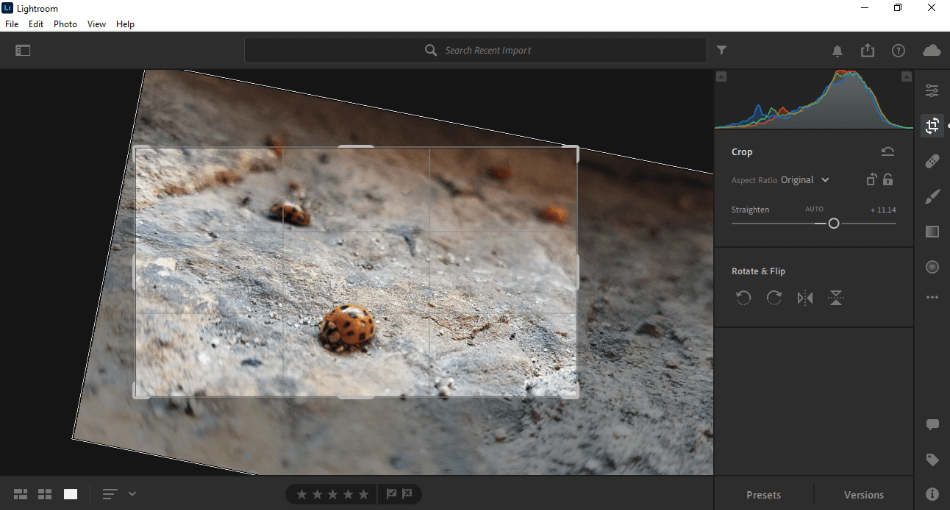 Even making more elaborate changes that involve rotation and cropping are effortless. The clearly-labeled cropping tool also uses sliders to accomplish this. You can drag around the photo within a gridded area to find just the right fit as well.
While all of the tools make for fast editing, the version control is also worth noting. Lightroom has a quick-view tool in the bottom toolbar that lets you easily switch between your original photo and the edits you made. If you want to make multiple edit versions to decide which is best, the Versions tab will let you save various iterations and name them.
Everything within Lightroom comes branded with a level of efficiency and speed. It's astounding just how quickly the app can get your photos edited. This is why we're giving it a perfect score for workflow.
Lightroom Classic
Editing photos in Lightroom Classic has been sectioned off into a handful of tabs at the top of the interface. This makes it easy to switch between analyzing the images you import into the program and editing each one. There are even tabs present for automating where you will send them once they're completed.
Lightroom Classic does take some getting used to. You will have to organize your photos and keep track of your folders. You may also find yourself getting lost with an abundance of windows, leading to us deducting a point for its cluttered nature.
Winner: Lightroom. With less clutter and simplified tools, it's a safe bet that Lightroom will help you produce more pristine photos at a faster pace than Lightroom Classic. Everything from the no-hassle import process to the straightforward version control takes a lot of stress off heavy workloads. If you've got a lot of photos to edit, Lightroom will end up being a big time-saver.
4. Organization
Lightroom
Lightroom takes little time when it comes to importing your photographs into the program. Once you've imported a selection of images, an album is automatically created in Lightroom. There's no file path or album names required, as you can jump right into editing.
While this method is excellent for those who need to make edits in a hurry, it is not ideal for those who like to keep their albums organized into files. Lightroom doesn't recognize albums outside of the app, meaning you'll have to rely on the album explicitly created inside Lightroom.
In terms of organizing those photos, Lightroom does have some handy tools for that task. Pictures in your album can be rated with either flags or stars, making it easier to sort through dozens or hundreds of photos. There's even intelligent technology present for sorting specific images based on patterns.
Despite the sorting tools, there's a lot of hassle the automatic album creation brings on the user. If you're used to sorting albums more through your system files, Lightroom's approach is cumbersome. The app gets a few points knocked off because of this concern.
Lightroom Classic
Lightroom Classic is easier to organize your photos if you're used to keeping your folders organized on your computer. The app finds your photographs on your machine through the import process or a file browser. You can browse through your device at any time with a handy mini-window in the interface.
The app still comes with the same level of arranging the photographs you edit in the program. You can rate your pictures and even use innovative technology to place them quickly. It's all of the same sorting tools but without the complexity of the automated album system. We're taking one point off, however, for the cumbersome browser.
Winner: Lightroom Classic. It's just a whole lot easier to organize your photos through Lightroom Classic. If you're familiar with managing your folders on the computer, Lightroom Classic accommodates your organizational skills and won't have you struggling to import and sort. Lightroom Classic wins, ironically, for the more classic of album creation methods.
5. Platforms
Lightroom
Lightroom is a highly versatile program considering where you can use it. It can be installed on desktops of PC and Mac varieties. You can also install it on mobile devices like your tablet or phone.
This versatility is critical for any photographer on the move. Let's say you just finished a photo shoot on location and won't be at your desktop computer soon. You can use Lightroom on your phone to start your photography edits, save them to your cloud storage, and then continue when you get back to your computer.
I tried Lightroom on mobile for a handful of edits, and it works pretty well. The interface is simplified, but all the handy sliders and color tools are present. I prefer the desktop version, but the mobile version will suffice for most edits. The versatility alone, however, wins it a perfect score.
Lightroom Classic
Lightroom Classic is limited in terms of where it can be installed. It works for PC and Mac desktop computers and can be installed the same way as Lightroom. It does not work on mobile devices.
Why won't Lightroom Classic work on mobile? Classic has an interface and tools that are not as ideal for tablets and phones. Take one look at the program's busy interface, and you'll see what we mean. For not being usable on mobile, though, we had to deduct a point.
Winner: Lightroom. Being able to use Lightroom on desktop and mobile devices will be a major deal-breaker for most photographers. That versatility will go a long way for those on the move. For this reason, Lightroom is the real winner when it comes to the platforms it works on.
6. Pricing
Lightroom
Lightroom comes under the Adobe Creative Cloud, so you'll be paying a monthly subscription to use it. The good news is that it's not the most expensive Creative Cloud library. It's one of the cheaper apps.
The monthly cost of Lightroom is $9.99. The fee covers the program for desktop and mobile. You'll also get 1TB of cloud storage for all of your photographs, making it easier to jump between devices where you're using Lightroom.
Lightroom Classic
Lightroom Classic can only be purchased through the Adobe Photography Plan. This monthly subscription bundles Lightroom, Lightroom Classic, and Photoshop. The price isn't much different either, priced at $9.99 a month.
The only catch is that the Photography Plan only offers 20GB of cloud storage space. You can, however, upgrade to 1TB for an additional $10. Considering the bundle covers the far more expensive Photoshop app (which costs $20.99 a month), the bundle is still a good deal even with the additional cost.
Winner: Tie. Considering there isn't much of a price difference if cloud storage isn't a factor, Lightroom and Lightroom Classic have an equal cost. Your best bet is to go with the Photography Bundle to save the most and get the most. It's also beneficial to have Photoshop on hand.
Lightroom is a great app, but it benefits from having the other programs' backup. Lightroom Classic can handle more heavy-duty projects that require more advanced tools. Photoshop can also aid in making more artistic additions of painting and text that you can't perform in Lightroom.
| | | |
| --- | --- | --- |
| | Lightroom | Lightroom Classic |
| Platforms | Desktops and Mobile Devices | Desktop Only |
| Image Organization | Creates Album Inside Lightroom | Recognizes Folders and Files on Your Computer |
| Tools | Sliders, Brushes | Sliders, Brushes, Editable Histogram |
| Price | $9.99/monthly with 1TB of cloud storage | $9.99/monthly, bundled with Lightroom and 20GB of cloud storage |
Which Version of Lightroom Should You Choose?
Lightroom and Lightroom Classic should be used in tandem, no matter your skillset. This isn't just because you can get both for a low price, although that is very convenient. It's that both applications can work for your different project needs.
For quick and simple edits, Lightroom can be used for photo edits in a hurry. If you're trying to work on a more elaborate photograph, Lightroom Classic is the program you'll want to use.
Frequently Asked Questions
Is Adobe Lightroom free?
Lightroom doesn't come in a free form, but Adobe does offer the program as a free trial. You can use Lightroom for free for seven days, giving you access to all the photo-editing tools. When that time expires, you will have to choose a monthly subscription package to use the app further.
Which is better: Lightroom or Photoshop?
The better program comes down to what you're using the application for. If you're only working on editing photos for their brightness, contrast, and similar cosmetic issues, Lightroom is your best option. If you're seeking to make more artistic edits by adding text and new colors, you'll want to go with Photoshop for those projects.
How Expensive is Lightroom?
Lightroom costs $9.99/monthly with an annual contract and comes bundled with 1TB of cloud storage space. However, you may want to consider getting Lightroom through the Photography Plan (includes Photoshop and Lightroom Classic), priced at $9.99/monthly. The only catch is that you'll only get 20GB of cloud storage, but you can upgrade that to 1TB for $19.99/monthly.
Can I still buy Lightroom Classic?
Lightroom Classic can still be purchased through the Adobe Creative Cloud. It's packaged in Adobe's Photography Plan, including Lightroom and Photoshop. The plan costs $9.99/monthly for 20GB of cloud storage or $19.99/monthly for 1TB.
What is the difference between Lightroom and Lightroom Classic?
Lightroom can be used on desktop and mobile devices, while Lightroom Classic only works on desktop computers.
What are some alternatives to Lightroom?
The Adobe alternative for editing your photos would be Photoshop. While the program doesn't feature the same intuitive interface, you can use the Camera RAW filter for slider tools. Other alternatives include Skylum Luminar, Capture One Pro, and ON1 Photo RAW. All of those programs function similarly to how they handle editing photos.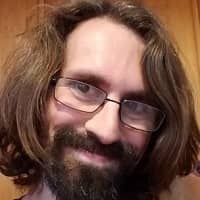 Mark McPherson has been working as a video editor and content writer for over ten years. His background started in animation and video editing before shifting into the realm of web development. He also branched out into content writing for various online publications. Mark is an expert in video editing, content writing, and 2D/3D animation.