(Last updated on November 2nd, 2022)
Canva can be great for doing professional design. But is it worth making the jump from the free version to the paid version for more professional work? Read on in this article that divulges how much more you get with Canva Pro.
Canva has come about as one of the top browser-exclusive designer programs you can find online. It's an application that is suited for the non-designer in mind who doesn't have the time or energy to compose something compelling for their next meeting, concept, or print project.
Canva has turned the tedium of such a task into something as simple as a drag-and-drop interface. Once you load Canva in your web browser, you're presented with everything you need to craft a professional-looking design project that's ready for online posting or printed off for publication.
There's no need for seeking out images or creating graphics as Canva offers an extensive library of templates and assets. If you have a specific image or photo you want included in your design, there are options available for uploading content you've made yourself.
You may notice on both the website and within the interface that there's a professional version of Canva you can purchase. But how much do you really get with Canva Pro? To answer this question, we first need to explain what Canva does and does not offer in its free version.
Canva Free Pricing: What Do You Get With Canva For Free?
Canva comes with a large assortment of templates and assets that is rather surprising for the free level. The templates range at over 250,000 to select from in everything from social media posts to business cards.
The selection of photos is at over 200,000 and you can select from over 13,000 videos. You can also choose from six different types of animation styles for bringing your online projects to life in your design.
The only areas where the free version has its limitations is in terms of storage. You only have two folders to use for organizing your design and the storage space you have access to is only 5GB. You do, however, have unlimited downloads which is an advantage over the likes of the competition of Crello.
What you won't have access to is the ability to resize your designs or upload your own fonts if you can't find the one you're seeking. You also won't be able to download designs with a transparent background, which will not be suitable if you intend to use your design for website graphics.
There are also a few limitations in terms of reviewing and downloading. The commenting system of sharing your design work is relatively limited, and you don't have much say in the quality of how you download your designs.
Canva Pro Pricing: How Much is Canva Pro?
The first significant thing you get with Canva Pro is access to more of everything. More templates and assets are placed at your disposal, with the template options expanding to over 420,000. The photos under the pro plan go well over 71 million, and the video selection increases to 2.5 million.
In terms of features, Canva Pro will give you more organizational tools. Brand kits of color are better saved, and the means to organize your many projects and assets improve. You'll also have access to collaboration tools to keep your design better in sync when working in a team environment.
Storage ascends on this level from 5GB to 100GB, and folders go from two to unlimited. You'll also be able to download your designs not only with transparent backgrounds but in the form of SVG formats as well. Rendered projects also have more options available where you have better control over the quality of your downloads.
The most helpful tool in terms of design that you gain with Canva Pro is resizing designs. There are already many tools present for honing your design, but this aspect is almost crucial if you desire complete control over the size of the entire document you're designing.
Another valuable aspect of the pro plan is the addition of the Content Planner. Say you have a social media post, but you want to time it just right. Rather than setting all that up through Facebook or Twitter, you can plan this post scheduling directly through Canva's planning tools.
Is Canva Pro Worth The Price?
The pricing for Canva is $12.99/monthly. If you go with an annual plan, that works out to $119.99/yearly or $9.99/monthly. As far as designer software goes on the market, that's a relatively low price. Considering the likes of Photoshop can cost you upwards of $20/monthly, and the similar application of Crello runs about the same price.
However, this price covers only one user, so it's better suited for solo use rather than having an entire office use it. If you do want to use Canva with more than one user for your company, there is an Enterprise level of the service that can be negotiated.
On a broader level, Canva Pro does have the benefit of being better suited for team environments. The ability to easily share your work and have real-time comments on your design streamlines much of the workflow. The organizational tools also aid in this department as well.
The broader range of choices for assets is also well worth the price, considering how much material you're granted. That being said, the selection may also seem a bit daunting with millions of photos and videos to choose from. It's a good deal but perhaps overwhelming in selecting those who want to keep their project of the utmost simplicity.
It's for this reason why Canva should be better recommended as a try before you buy process. Thankfully, there's no trial period for using the accessible version of Canva, and you can use it for as long as you like in your professional work. You may even find it suits your designer needs just fine without the pro version.
But when the day comes when you decide you do need more templates or want some more designer options, Canva Pro can be activated at any time. The benefit of having a monthly subscription also allows you to only use the program for a short amount of time, whether it's for one project or a single campaign.
| Product | Regular Price |
| --- | --- |
| Adobe Photoshop | $20.99/month |
| Canva Pro | $9.99/month |
| Crello | $10/month |
Conclusion
Canva Pro isn't a massive investment compared to either the powerful design software or similar browser-based designers. Considering the expanded materials offered, the price is pretty low with the access granted.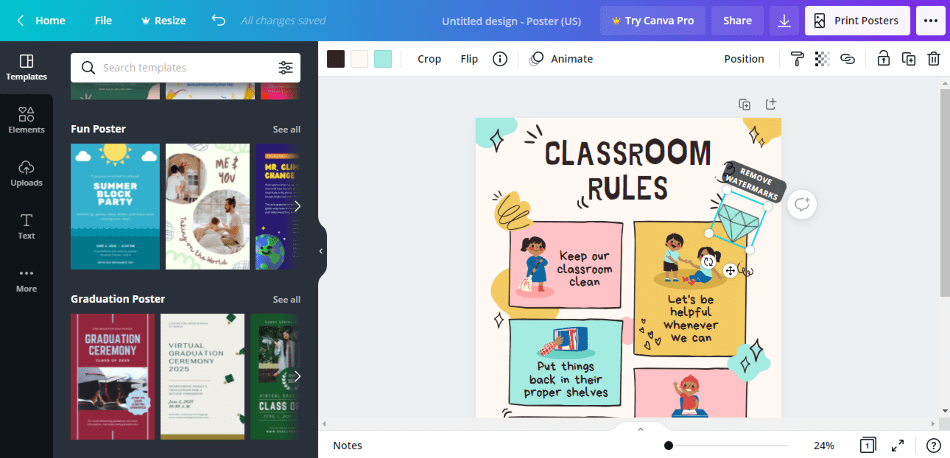 Whether the application is worth it or not will ultimately depend on what you're using it for. If you just need a simple design for a project or two and don't foresee yourself in a constant state of designing marketing of business materials, the free version should suit you just fine.
It's only when you find yourself swamped with design tasks or within a team environment that purchasing Canva Pro becomes justifiable. The aspects of team collaboration, improved tools, and more extensive organizational options will give complete control to an office environment that needs to meet multiple deadlines.
With all of these components of the application considered, Canva is a solid investment for a non-designer. The program harbors more than enough assets to suit your needs; it's easy enough to use for even the most novice designers and streamlines much of the review and publishing process.
Frequently Asked Questions
Is Canva for free?
Canva brands itself as being available to use for free for professional and personal use. All you need to do is go straight to the website, sign in, and you'll be designing in no time. While Canva can do quite a bit in the free version, you will need to pay for the professional version if you want access to more features, assets, and templates.
What is Canva good for?
Canva is a practical browser-based application for designing various graphics-based images for either print or web. Some examples of what Canva can be used for include social media posts, invitations, business cards, posters, and other marketing materials. Canva also helps streamline some of the rendering processes by easily sharing your finished projects online.
How much does Canva cost per month?
The cost of Canva Pro depends on what subscription plan you choose. Monthly pricing is $12.99, while an annual program will run $119.99/yearly or $9.99 a month. Keep in mind that this pricing will only cover one user.
Is Canva better than Photoshop?
Canva can perform many familiar tasks akin to Photoshop when it comes to design and offers far more assets for your projects. That being said, Canva hasn't been built to handle all the same functions of Photoshop that span illustration to photo editing. In this regard, Canva will only benefit non-designers who don't want to spend a lot of time learning the intricacies of Photoshop.