(Last updated on November 1st, 2022)
Crello or Canva. Which application is best suited for your design needs? Which has the most bountiful of templates? Which has the vastest of features? Find out in this head-to-head comparison of these two top programs in the realm of visual design.
Crello has been a reasonably new design application. Having first started development in 2016, it debuted in 2017 as a browser-based program for crafting design. The developers behind Crello have improved the program to such a degree it houses 20 million designs and is used by over two million users worldwide.
Canva is a bit of an older program that was founded in 2012. Established in Perth, Australia, the company's design template platform has risen to be one of the most popular and profitable companies. Canva has been developed for businesses and education and a partnership with FedEx Office and Office Depot.
Related: Canva Pricing: How Much is Canva Pro (Explained)
Crello and Canva both share several similarities. They operate out of browsers, have a drag-and-drop interface, numerous designs to choose from, and come in free and paid versions. However, as you'll see in this comparison, they do have some noticeable differences.
Comparison At a Glance
1. Interface
Winner: Tie. Both applications are remarkably similar in their interfaces that it's easy enough to confuse the two.
2. Features
Winner: Tie. Canva and Crello are both loaded with simplified features powerful enough for almost any project.
3. Templates & Assets
Winner: Crello. The vast selection of assets amid thousands of templates makes Crello an easy choice for those who don't want to sift through too many templates for the right design.
4. Workflow
Winner: Tie. Considering that Canva and Crello both have guided tours and a simplified toolbar, the workflow of both proceeds incredibly smooth.
5. Output
Winner: Canva. Canva grants the ability to control the output quality of your designs fully.
6. Integrations
Winner: Canva. The fact that Canva even has additional integration makes it the obvious choice.
7. Pricing
Winner: Canva. By a narrow lead, Canva's professional plan offers more than Crello.
8. Support
Winner: Canva. Canva offers more inviting tutorials and resources that are far easier to use than Crello.
Short Verdict
Canva and Crello are both such remarkable and identical applications for design that it's impossible to pick a winner when they replicate so much of each other. Considering that both of them share an easy-to-use functionality of dragging and dropping elements for quick and simple design, this competition ends up as a tie.
1. Interface
Canva has been perfecting its interface for many years to be as intuitive and straightforward as possible. It's also been organized to both be convenient for those who don't want to spend hours searching for the right design and those who just want to poke around to find what works.
The various tools for templates are all located on the left in a handy sidebar of both icons and text. Selecting any of them will display the options you'll have in a slightly larger sidebar next to it. This will show everything from templates to choose from to different types of fonts to insert.
Naturally, the most significant part of the interface is the workspace where everything will be placed, located on the right of the interface, and taking up two-thirds of the environment. You'll also notice that tools for making image and text altercations.
Once you've finished a design, you can find everything you need for the final preparations of exportation in the top bar of the interface. Look on the right, and you'll find options to share, download, or publish your finished design.
As for Crello, the look is practically identical. All the toolbars and workspaces mentioned with Canva are located in the same areas and function the same way. The only significant differences are minor ones, such as the top bar featuring more icons than text for publishing.
The only significant difference is that Crello seems to have a pop-up window for making altercations on assets when needed. In other words, if you drag some text onto the workspace, you'll get a mini-window with options to make adjustments as opposed to using the top bar of the workspace.
The differences between Canva and Crello are so minor that there's no clear winner in terms of the present when it comes to their interface. Considering you could place these apps side by side and have to squint to notice the difference, these two apps are tied for their presentation.
Winner: Tie
2. Features
Crello and Canva both operate under the drag-and-drop principle of simple design. You're supplied with several presets, templates, graphics, and photos to draw from, all of which can be altered to certain degrees.
For example, if you add in a header, you can tweak the writing and size of the text and the font, color, alignment, dimensions, and more within the workflow window. You don't even have to activate a transformation setting like in Photoshop; just hover and resize to your heart's content.
Both applications offer various types of assets that can be as simple or detailed as you want. If you want something as elementary as a colored circle, that's present under graphics. If you want a neon title for your signage, simply scroll to that particular heading type.
A handful of specific features are not present in the free versions, mainly relating to the resizing of templates and the removal of backgrounds. Thankfully, most of these aspects are present and usable in the paid versions of these programs.
Considering the differences in features are so minor, both applications get a tie. In the same way that they boast familiar layouts, their features are just as robust and mimic the same sense of vast control.
Winner: Tie
3. Templates & Assets
This is the point in the comparison when the applications come down to a bit of a numbers game. This topic ultimately comes down to how numerous your options are when choosing a template, and you may be surprised at how distinct these two programs are in this department.
Let's start with Canva. Under the free plan, you have access to over 250,000 different templates. Design types come in a variety of over 100. There are a handful of animations to choose from, and the choice in graphics and images ranges in the thousands.
Crello, by comparison, has a more limited stock. The free templates range over 30,000 and come in the forms of being either being static or animated. Various design types can be utilized for everything from social posts to logos.
Where Crello makes up for the lack of templates is in its assets. Users can pull from over 650,000 different images and graphics and over 32,000 HD video clips and animations. This makes Crello an easy choice if you know you will have a lot of movement in your design.
So while it would seem that Canva has a bit of an upper hand in the choices you have for free templates, Crello certainly proves that quality beats quantity. With so many variances one can create with the broader array of visuals and animation, Crello wins in this category.
However, one caveat to be mindful of is that Crello's free version only allows for five downloads per month. So if you intend to use the free version, keep this in mind if you find yourself working in a team environment where multiple revisions may be required.
Winner: Crello
4. Workflow
While Canva and Crello are such a simple program to use for the astute designer who knows their way around Photoshop and Illustrator, they've been designed with the non-professional designer in mind.
Even with its simplified layout, newcomers will need some instruction, and both programs won't leave them high and dry. Despite the program opening immediately once you've selected a template, a guided tour will also start to navigate you through the process.
The left toolbar has been organized in such a way to proceed vertically down the line of what you need. You'll start with a template, move onto assets, then headings, and so on. Naturally, you don't have to proceed linearly and can jump back up the toolbar for any specifics.
The publishing process has also been simplified to three critical functions at the top of the browser. From the top right corner, you can choose to download, share, or publish your design on a specific platform. These tools are out in the open, so you won't have to search for how to finish your design.
The replication of these workflows makes both Canva and Crello stellar applications when it comes to bare-bones designing. There are more than enough guides and tutorials to walk you through the process, but the guided tour and easy layout should be enough for most users to be comfortable with each program.
Winner: Tie
5. Output
Under the professional plans, Canva and Crello can be downloaded with much detail. Both offer options to alter the output of the final product for an immense level of control in what comes off the screen and goes into your presentation.
That being said, there is a distinct advantage that Canva has over its competition with Crello. While both allow you to download your design without a background, Canva grants you the ability to download as a vector SVG file, ample for passing onto developers and designers.
Another special function of Canva is just how much quality control you have over downloads. Whether you need a low-quality download for the sake of space or the highest quality for the best presentation, Canva has you covered in this area.
With all things considered, Canva is a far superior program in just how many variations of design can be downloaded. Crello has similar potential but there's no denying how much control Canva grants to designers who want an exceptional handle on their designs unique.
Winner: Canva
6. Integrations
While these two applications take a lot of the grunt work out of composing compelling designs, you may find yourself seeking a bit more out of the program. There are only so many assets and altercations to choose from before you find yourself yearning for something more.
Thankfully, Canva has some options when it comes to seeking third-party integrations with the design application. As far as assets go, you can easily integrate the program with the likes of Pexels and Pixabay for access to a wider array of stock images for free.
As far as publishing is concerned, Canva can integrate with the top social media platforms. So if you're trying to develop an appealing Facebook post or a design worthy of Pinterest, you can publish directly from Canva to your social media account of choice, taking the extra work out of downloading and uploading.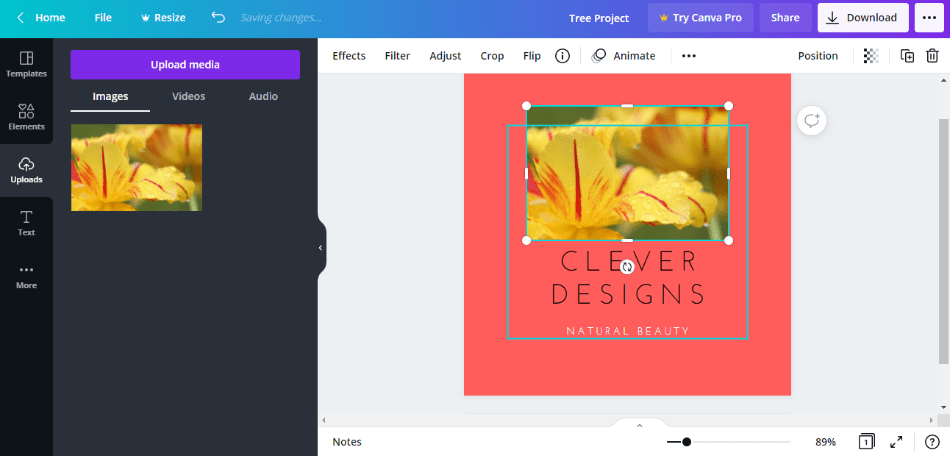 While Canva does have its means of uploading files, one can quickly lose track of such files if you're uploading many. Canva's integrations with Dropbox and Hubspot offer the perfect solution for keeping all your photos and images for your designs neatly organized, saving time on organization.
Crello, unfortunately, doesn't offer such integrations at all. The most you'll find in sending out your designs to other platforms is a share option that posts your designs to social media, though with more limitations in what will be displayed.
There may come a day when Crello does become more suitable for integrating with more social media and image storing platforms. Until that day, however, Canva remains the winner of the design platform with the most connections to other essential social platforms, image websites, and data lockers.
Winner: Canva
7. Pricing
| Product | Regular Price |
| --- | --- |
| Adobe Creative Cloud | $52.99/month |
| Canva Pro | $12.99/month |
| Crello Pro | $7.99/month |
Crello and Canva are both free to use with their limitations under the free plans. Crello, for example, will only allow you to download five finished designs a month, whereas Canva doesn't have a means of organizing assets. The paid versions of these programs have more to offer.
Canva Pro will cost you $119.99/yearly or $9.99/monthly. Under this plan, you essentially gain access to more of the same and some previously missing features. Such additional functions include the ability to resize designs and better organize your elements into folders.
Some of the more essential tools you'll want to have under this professional plan are collaborating with teams and having better control over colors with the brand kit. You'll also want to look into the Enterprise paid level for a better deal (see their website for details on working out a budget for your company).
Crello Pro is pretty much the same deal as Canva Pro. It costs the same at $9.99/monthly ($7.99/monthly on an annual plan) and offers even more options for templates and assets. You'll also gain access to the possibilities for team management and better control of editing your design.
Numerous annoyances of the free version have also been removed. Limited downloads per month no longer bind you, and tools are now present for removing backgrounds. All of this makes Crello far more palatable for a more professional environment.
This category is pretty narrow, considering how close the pricing is to the two programs. Despite being so similar, Canva ultimately ends up being the better value. You get just a bit more than you would with Crello, and the team environment is far superior.
Winner: Canva
8. Support
Canva has an entire Learn part of their website devoted to extensive resources on learning the ins and outs of the application. Courses will take you to a host of various instructions on using Canva for everything from personal branding to graphic design.
Tutorials are also present that comes in various forms for numerous levels. If you're new to the program, simply start with Getting Started. If you're seeking to use the program in the classroom, try the Canva for Education block of videos.
Finally, you can keep yourself updated on the latest trends and news with the Blog section. It is here where you can learn about everything new and inspirational when it comes to using Canva, whether you're a designer in need of some trendy examples or a non-profit who could use some tips.
In terms of seeking technical support, Canva is a bit limited. All questions or concerns appear to direct towards an FAQ section and some articles on common issues and problems one might run into using the application.
Crello is far more limited by comparison. The only resources you'll be able to find are under a template section, and these mostly appear to relate to specific projects. While this aspect is handy if you know you're trying to create a YouTube thumbnail or resume, it is a bit more intimidating for those coming into the program fresh.
Crello also has a help center that pretty much replicates the same guidance articles of Canva. Crello does seem to have a better edge in its easy-to-find contact form that gives users a chance to connect with the developers.
With all aspects considered, Canva is a better design application for the support behind it. They may not have an easy means of contacting technical support, but their resources for learning the program and getting inspired are vast and inviting enough for any skill set.
Winner: Canva
Final Verdict
Canva and Crello have both been built to be the most straightforward design software on the market. Both of them seem to have accomplished that with the two programs featuring similar interfaces, features, templates, assets, and tools.
The two are so minor and become even less so when incorporating the professional paid versions. Considering the more considerable differences primarily relate to resizing and background tools, elements that may not be as crucial, you can't go wrong with either option.
It should be noted that the more dominant of the two programs in terms of age and appeal has been Canva. Not only has Canva been highly successful as a business, but it's also been targeting and absorbing similar programs. It's pretty likely that it may consume Crello in the future.
When it comes to choosing between the two programs, it's ultimately a tie. Canva and Crello have similar strengths and limitations that you can't exactly go wrong with either choice.
Frequently Asked Questions
Is Crello better than Canva?
Crello is the better option for features when it comes to how much you can do in the free version. However, Canva is more notable for those working with images considering how much easier it is to insert and tweak photos that are either from the library or imported from your own files.
How much does Crello cost?
Crello has a free version where you can pretty much accomplish every essential aspect you need for exporting out a robust-looking design for your projects. A more feature-heavy paid version priced at $7.99/monthly which will allow you more control over customizations.
Is Canva for free?
Canva is free to use and doesn't come with many limits for the designs you can push out with the lengthy library of templates, images, graphics, and many more drag-and-drop items. However, you'll have to pay extra for additional templates and images as well as some extra customization options.
What is Canva good for?
Canva is suitable for making branding visuals thanks to its drag-and-drop interface. It is best suited for those who are not familiar with professional creative software and need to create something quickly without having to learn the ins and outs of an entirely new program