(Last updated on November 1st, 2022)
Canva or Adobe Photoshop? Which software is right for you?
Read this in-depth Canva vs. Adobe Photoshop comparison if you want to make a wise decision.
Both Canva and Adobe Photoshop are giants in the graphic design industry, filling a need for different niches in the market. Canva is a web-app, made for the non-designer. Creating work is easy, with tons of resources and guides at your fingertips.
Photoshop is the industry-standard powerhouse, able to do the most advanced edits to raster-based images with its feature-heavy application.
Canva was created back in 2007. Originally, the founders created Fusion Books, an online tool to create yearbooks. They realized that the software had major potential beyond its current product. From here, Canva was born and is now used by over 30 million users worldwide and growing.
Adobe Photoshop has been around for over 30 years. It was developed back in 1987 by John and Thomas Knoll, later sold to Adobe in 1988.
Related: 10 Best Apps to Fix Blurry Pictures in 2023
Year after year, Photoshop has been reinvented and upgraded into the incredible program that it is today, one of the most popular applications that Adobe has to date. Its features are seemingly endless, with some of the most powerful editing tools currently on the market.
This review will compare and contrast Canva and Adobe Photoshop. Read on to find out what program suits you best.
Comparison At a Glance
1. Features
Winner: Adobe Photoshop. In terms of features, Photoshop takes the cake. Canva has limited editing features designed to do basic changes. Photoshop takes photo manipulation to the extreme, giving you the most control over the final image.
2. Pricing
Winner: Canva. Canva has a much better price point than Photoshop. Per year, Canva is hundreds less. Scaling up for a team is easy for Canva, only costing you $12.95/month. Photoshop costs $79.99 per user license. That is more than $60 more per month than Canva!
3. Collaboration
Winner: Tie. Both Photoshop and Canva have plans with teams in mind. Canva's system is directly integrated, making it easy to collaborate, set branding guidelines, and more. Photoshop utilizes the Creative Cloud to connect everyone in real-time, keeping assets updated.
4. Photo Editing
Winner: Adobe Photoshop. Photoshop offers the most photo-editing features. It has advanced tools for altering images and retouching blemishes out of photos. Canva is more focused on creating a finished, full design quickly and has the assumption that the photos are already finished. Canva is not mean to be a high-functioning photo editor.
5. Compatibility
Winner: Tie. Both Photoshop and Canva are at a tie when it comes to compatibility. Adobe Photoshop can work on both Mac and Windows computers, while Canva is a web app accessible anywhere. No software download is required. Both programs have mobile and tablet capabilities. Overall, they are very similar.
6. Users
Winner: Tie. Both Canva and Photoshop are versatile programs, meaning a wide range of users would find them useful. Photoshop has tools for everything from photo-editing to animation. Canva is made for everyone, from the small business owner to the hobbyist looking to design family portraits. The options are endless.
7. Learning Curve
Winner: Canva. Photoshop is a beast to learn, requires hours of tutorials and hands-on learning. You can pick up Canva in less than 30 minutes, understanding the program's layout quickly without issue. Both programs have a ton of support as well.
8. Longevity
Winner: Tie. Both Canva and Photoshop continue to adapt to the changing environment. They both have a huge user base that continues to grow. At this rate, both will stick around for a long time.
Short Verdict
The best program depends on what your needs are as a user. If you need a quick editor that requires little learning and gets fast results, use Canva. The pricing is reasonable, and the output is great.
If you want the best editor on the market, get Photoshop to learn one of the best applications out there.
You can get Canva or Adobe Photoshop at a special price using the links below.
1. Features
Both Photoshop and Canva offer a ton in terms of features. Photoshop offers more, providing a wider range of quality tools. Canva is meant to do simple editing, keeping their interface uncluttered and focused on simple edits.
Templates: Photoshop opens with templates fitted for different resolutions. You can pick sizes for print, web, and more.
Canva has thousands of ready-made templates on hand, with more tools for quick, simple changes like altering color themes, swapping out images, etc. Photoshop can do similar techniques but often requires more steps.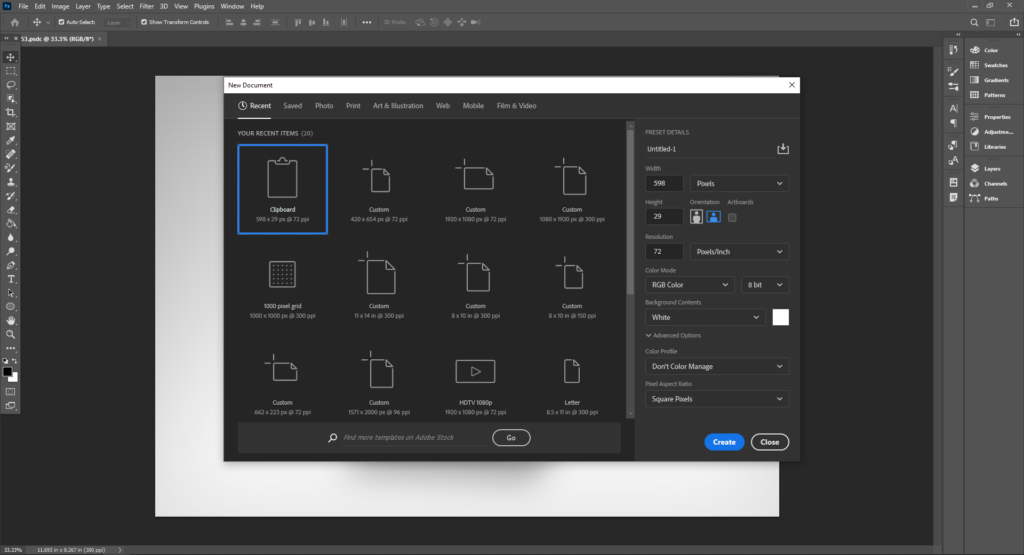 Color: Both Canva and Photoshop have color libraries and theme options. In Canva, there are pre-selected font and color schemes ready for you to change your project's look quickly.
In Photoshop, you can set color schemes using libraries. You can also make color palettes using www.color.adobe.com, creating unique color palettes or downloading schemes online.


Photo Editing: Canva has limited photo editing. You can crop, add artistic filters, remove the background, and make small adjustments.
Photoshop takes this to the next level, allowing you to use powerful tools like liquify, moving pixels around like water, detailed retouching, removing unwanted objects, masking with advanced controls, and more. In terms of photo editing, Photoshop can do the most.


Filters: Branching off the last feature, Photoshop gives you the most control with filters. You can choose blending, opacity, mask a layer, complicated filtering options that you won't get on Canva.
Canva has basic filters to overlay on the photo, with intensity being the only adjustment.


Text: Adobe is connected to a huge font library containing thousands of fonts. The selection is easy to browse through, and you have the most control over character attributes in the application (alter kerning, leading, and more).
Canva has an extensive font library. You can also upload your own fonts into the program. In Canva, you can also do basic font effects and customizations.


Layers: Both Canva and Photoshop work with layering. Photoshop has a layering function allowing you to organize and sort layers into a group, hide/show layers, move them up and down, and more.
Canva has only basic layer functions, allowing you to move them up and down or expedite a layer to the back/front of layer order.


Stock resources: Both programs have stock resources. Photoshop has Adobe Stock, and Canva has its own content. Adobe Stock is an additional, expensive subscription that you can pay to get a number of assets monthly or get credit bundles for premium content.
Canva has free and premium content, all of which is included in the affordable Canva Pro Plan and higher.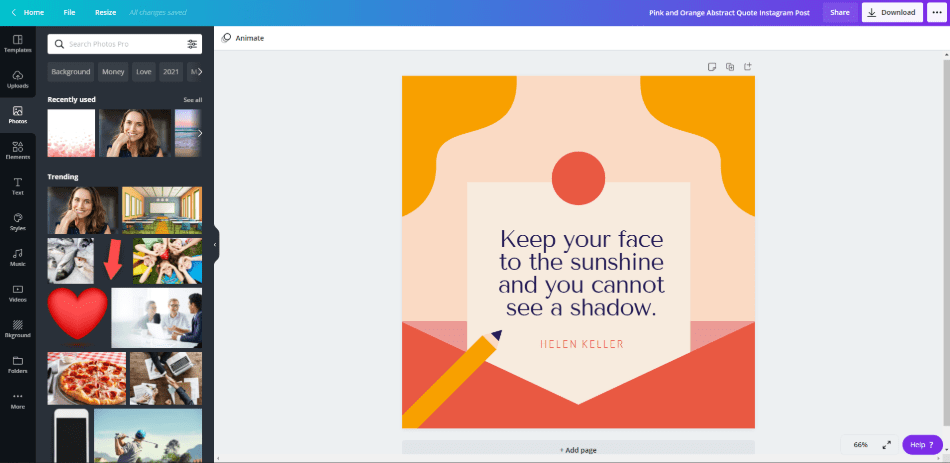 Print Ready: Canva lets you make your creations straight from the application.
Photoshop, meanwhile, does not have this built-in. You will have to use an external source like Shutterfly.


Support: Both programs have extensive support channels. With Photoshop, you can speak to a specialist 24/5, with dedicated support that will solve any problem that you have. It can take time, but they will always answer your questions.
Canva doesn't have a direct support line for Free or Pro plans, only Enterprise. There are extensive online lessons and articles to help you along the way.


Skill-Building Resources: Both Canva and Photoshop have skill-building resources. Canva has many business-related articles teaching you how to improve your social media game and make better content decisions.
Photoshop teaches you how to utilize advanced techniques and new features to make even better content.


Animation: Photoshop has the timeline animator, letting you make animations right in the application. While it's not customized for animation like Adobe AfterEffects or Adobe Animate, Photoshop lets you do the basics.
Canva has basic animations, letting you creating text transitions and photo animations. You can download these projects as GIFs or videos.


Exporting: Canva simplifies the exporting process. The choices are simple, without advanced settings.
Photoshop gives you the most control over exporting, letting you choose the resolution, format, resampling, color space, and more.


Vector Support: Both Canva and Photoshop support vector shapes. They both create vector squares, circles, and more.


Pen Tool: The pen tool is a powerful tracing tool available in Photoshop but not Canva. The pen tool lets you create paths, allowing you to mask objects precisely or create custom shapes. Canva does not have this tool or any drawing tools.


Digital Illustration: Photoshop has a myriad of brushes, allowing for digital painting. You can mimic traditional tools, adjusting the fine details of a brush, changing pressure, etc. You can even import brushes or make custom ones of your own. Canva does not have painting capability at all.
Photoshop is a powerful application with a ton of features. Canva is not meant to be a powerhouse editor but rather a quick pitstop to get your idea made from start to finish with no hassle. If you want fully loaded, Photoshop is the way to go.
Winner: Adobe Photoshop
2. Pricing
| Product | Regular Price |
| --- | --- |
| Adobe Creative Cloud | $52.99/month |
| Adobe Photoshop | $20.99/month |
| Canva | $12.95/month |
Let's go over pricing. Adobe Photoshop and Canva have different pricing models.
Canva:
Free Plan: This gets you free templates, access to free stock resources, the ability to invite team members and collaborate, and 5 GB cloud storage.


Pro Plan: $12.95/month or $119.40/year. You get up to five people on this plan and everything the free plan has, plus one Brand Kit, magic resize, more templates and stock resources, 100 GB cloud storage, save designs as templates, and the ability to schedule social media content.


Enterprise: $30/month per person or get a custom quote and contact sales. You get everything Pro gets plus, multiple Brand Kits, branding control for your team, control over team uploads, approval-based workflows, unlimited cloud storage, single-sign-on (SSO), and 24/7 Enterprise-level support.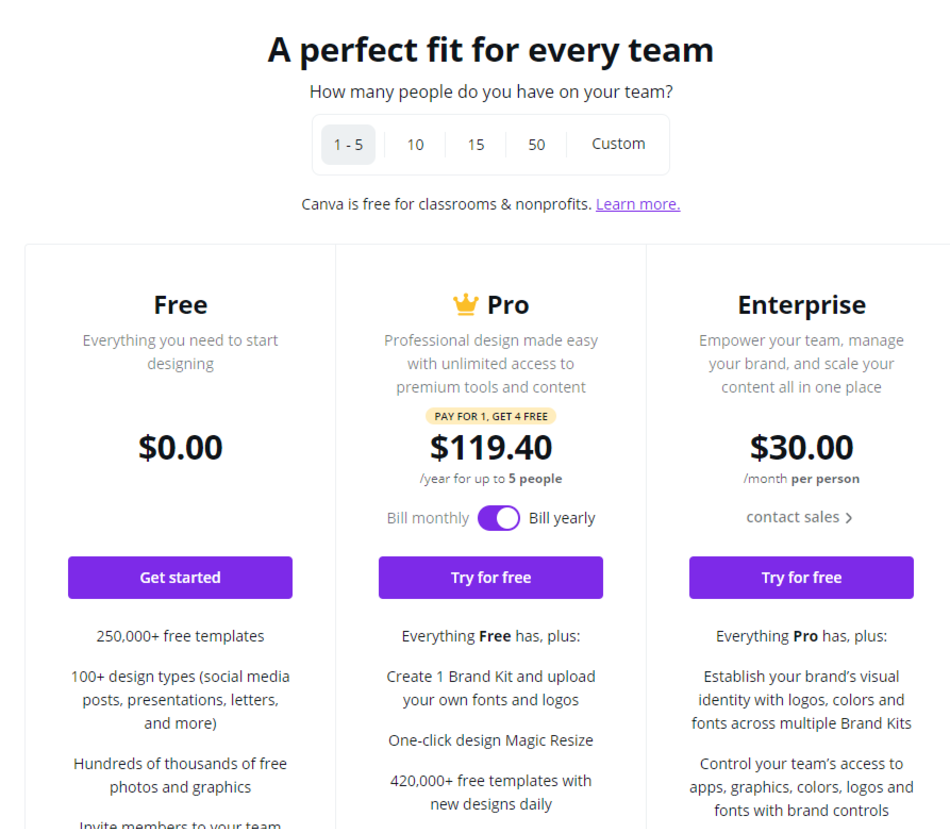 Photoshop:
For all plans, you will get Adobe Portfolio, Adobe Spark, and Adobe Fonts.
Photography Bundle(20GB): You get both Photoshop and Lightroom, costing you $9.99/month or $119.88/year, yearly commitment only. You get 20GB of cloud storage.


Photography Bundle(1TB): You get both Photoshop and Lightroom, costing you $19.99/month or $239.88/year, yearly commitment only. You get 1TB of cloud storage.


Individual App: For just Photoshop alone, this will cost you $31.49/month with a monthly commitment, or $20.99/month for the yearly commitment. If you prepay for the year, it will cost you $239.88/year(a $12 discount for paying upfront). You get 100GB of cloud storage.


Full Suite: For all Adobe applications, including Photoshop, this will cost you $79.49/month with a monthly commitment, or $52.99/month for the yearly commitment. If you prepay for the year, it will cost you $599.88, giving you a $36 discount.) In addition, you will get 100GB of cloud storage.


Student/Teacher Plan: This plan includes all Adobe applications, including Photoshop and 100GB of cloud storage. You can only get this plan if you a currently enrolled teacher or student. In the first year, this will cost you $19.99/month or $239.88/year, yearly commitment only. After this, the plan will cost $29.99/month or $359.88/year, yearly commitment only.


Team Plans: These plans are annual commitments only. $79.99/month per license for All Apps, $33.99/month per license for a single app. You get centralized administration tools, 24/7 tech support, the ability to share libraries across all devices and stay in sync, unlimited job posts on Behance, integration with popular collaboration applications such as Slack or Microsoft Teams, and 1TB cloud storage per user.
A big difference between Canva and Photoshop is that Canva includes all asset resources in the basic paid subscription.
Adobe, on the other hand, charges way extra. Adobe Stock pricing is astronomical in comparison to cheaper or even free alternatives. You will have to pay hundreds yearly for even the cheapest plans.
Canva is a steal, their paid plan including all resources. Adobe Photoshop's subscription plans cost hundreds of dollars a year without including a subscription to Adobe Stock. For the price, Canva is the winner.
Winner: Canva
3. Collaboration
Both Canva and Photoshop have extensive tools for collaborating with other team members.
Canva Pro lets you add up to five team members to your project. You can make a branding kit, allocate team permissions, and more. In the project editor, you can assign team members to projects and directly markup the project. Once finished, you can then share the project directly to social media using the social media planner.
In Canva Enterprise, you get all of these features and more. You can do multiple branding kits, designing the look for multiple companies, and control uploads by team members, with built-workflows for approval. And you have 24-7 Enterprise-level support.
For Adobe, you get many sharing and collaboration options with the team plans. If you have the team level, you get 24/7 tech level support and expert sessions. You can assign license permissions, revoking access as well.
You can all use the Creative Cloud to connect to each other, allowing easy access to files and saved earlier versions of projects. Adobe is also integrated with Slack, helpful for team communication.
If you don't have a team plan with Adobe, sharing is less integrated. You can, however, share your project online to get feedback and resolve issues.
Inside the creative cloud online, you can share a link of your project with people who don't have Adobe, getting feedback and comments. As you save, your project will update in real-time.
If you are looking for a system to share between team members that won't break the bank, Canva is a much better choice. Adobe has everything you need with advanced features, but the prices are exorbitant.
Winner: Tie
4. Photo Editing
Adobe Photoshop's focus was to be a powerhouse photo editor. The photo editing capabilities are very advanced, giving you the utmost precision when editing a photo. Canva just does editing basics.
Adobe Photoshop has many tools for retouching a photo. The clone stamp tool will paint sections from other parts of a photo into a new section, letting you clone clear skin over a pimple, for example.
The spot healing tool can remove marks and blemishes. The Liquify tool turns your canvas into a water consistency, letting you push and pull pixels to adjust your image.
Meanwhile, Canva doesn't have any advanced features for editing an image. Their tools are limited to filters, minor color adjustments, and cropping. You don't get full control over the final image as you do with Photoshop.
Overall, Photoshop was meant to edit photos at a very advanced level, adjusting every detail. Canva is limited in this regard.
Winner: Adobe Photoshop
5. Compatibility
Both Canva and Photoshop are very compatible with mobile and tablet capabilities. Canva is a web app that can be accessed from anywhere. Photoshop can be used on both Mac and Windows and works great in its family of applications.
Canva has integrations with external programs such as Giphy, Dropbox, and more. You can easily share your projects on social media if you have the Canva Pro plan or higher. Canva has a mobile application as well. As long as you have an internet connection, you can use Canva anywhere.
Photoshop is versatile too. The program works well with its sister programs, such as Adobe Illustrator, Premiere, and InDesign. You can move from app to app easily.
Photoshop has Adobe Photoshop for iPad, and their iPhone-only sister apps are Adobe Photoshop Fix and Adobe Photoshop Sketch. The sister app for both Android and iPhone is Adobe Photoshop Mix.
Both Canva and Photoshop work to be compatible for multiple devices and work with other programs. They are compatible choices.
Winner: Tie
6. Users
So, who uses Adobe Photoshop and Canva? Let's explore this.
Canva is meant for beginners and the non-graphic designer. You can easily jump into the program without prior knowledge of any graphic design software or skill. New business owners who need to DIY everything themselves find Canva a helpful tool to launch their business. They can make everything from social media posts to flyers and more.
Canva is affordable and much cheaper to scale than Adobe. A team rate starts at $33.99/month per individual license for Adobe, while you can have a team of up to 5 at the Canva Pro rate of $12.95/month.
So why would you use Adobe Photoshop? If you are an advanced graphic designer, Photoshop is the clear answer. When working in the graphic design field, you need a versatile tool that can do everything.
Photoshop can retouch an image, digitally paint, create animations, make flyers, craft web graphics, and so much more. While the program takes many hours to master and is expensive, it can be the most resourceful tool.
Many standard graphic design jobs require Photoshop as a learned skill. If you want to work in the industry, the program is an important one to master.
Both Canva and Adobe Photoshop are meant for a wide range of users. It all depends on what your needs are for the software.
Winner: Tie
7. Learning Curve
Canva is a much easier program to learn than Photoshop. Instead of wasting hours learning the program's basic functions, you can easily jump right in and get to creating. While Photoshop offers a ton of tools, the sheer number can be a detriment to the beginner.
Canva keeps its program relatively uncluttered. On the homepage, you are greeted with many templates filled with colorful ideas. Getting started is as easy as hitting the "Create a Design" button. From here, you can choose a template based on asset size, examples being an Instagram post or logo. Or, you can use custom dimensions.
From here, the editor is simple, giving you graphics to place or photos to add. You can follow the templates or branch off and create something completely your own.
If you have questions while working in the software, there is a help button at the page's bottom right corner. Here, you can search for questions, and the automatic chatbot will relay articles and answers right in the editor.
You can also browse the many articles in the help section or learn a new skill in the Design School. If you have a major issue in Canva, you can report it directly to support.
In comparison, Adobe is difficult to learn. As the program was developed, more and more features were added, turning the program into the mega application that it is today, able to do a huge range of things. Most designers will continuously use a fraction of the features of Photoshop without touching the rest.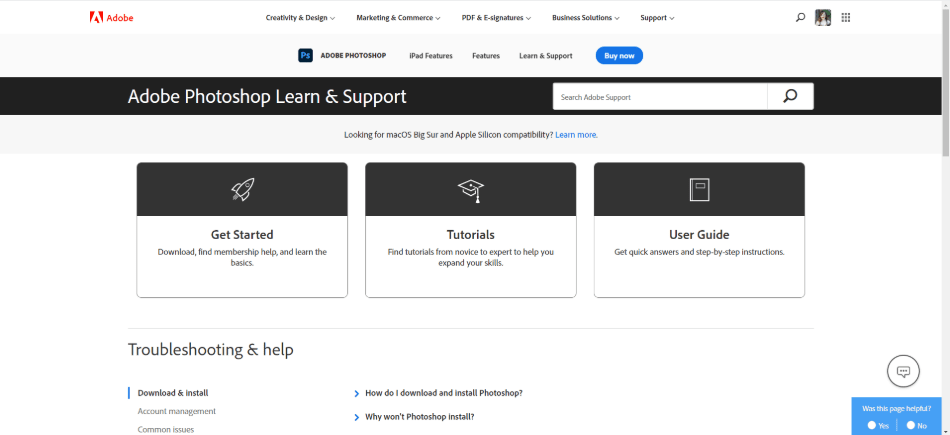 The program takes a long time to master. Thankfully, Adobe has many support options available for you to learn the program and explore all the features. They have the Adobe Help Center, organized by program.
You can begin with the "Get Started" tutorial for Photoshop, read the "User Guide," or dive into tutorials, ranging in skill from advanced to beginner. Adobe will also continue to create tutorials as new features are added to the programs.
Adobe also has 24/5 support experts to help guide you and answer your questions. You can call or chat immediately, Monday – Friday.
If you have team support plans, you can reach someone 24/7. Another way of getting help is by reaching out on the Community Forum. Here, experts and other users like you answer questions posted in the community.
Both programs have many resources for you to learn the program and get help with your questions. Canva is much easier to master being a simple program. Adobe Photoshop is meant for people who want to do advanced graphics editing, giving you more features and, in turn, a steeper learning curve.
Winner: Canva
8. Longevity
Canva and Photoshop continuously adapt to the changing world around us, updating with new features and giving us fresh ideas. Let's explore how these applications will stay in the game.
Adobe Photoshop continues to upgrade and add new capabilities to its program. They come up with new features and bug fixes, making the software work even better. While some users get annoyed with the constant learning curve, the continuous upgrades keep Photoshop relevant, giving us better features with optimized programs.
Canva has a growing user base with over 30 million users. They continue to add new templates and features to their repertoire, improving their software over time.
Both programs continue to upgrade and grow, leaving us with adaptable business models with a growing userbase. Because of this, both Adobe and Canva will continue to be here long into the future.
Winner: Tie
Final Thoughts
Which program should you choose? Canva or Adobe Photoshop? It depends on what your needs are.
If you are looking for a high-power raster-based program, the obvious choice is Adobe Photoshop. The application has hundreds of incredible features and gives you the most control over your design. If you are looking to work professionally in the graphic design space, learning Adobe Photoshop is a must.
If you want a simple editor that can get the job done fast, get Canva. You will have a finished product in less than thirty minutes, ready to share on socials or get printed into physical copies. The program is easy to learn and cheap to expand. If you are a new business owner searching for a great program for the non-designer, get Canva.
Frequently Asked Questions
Can you Photoshop in Canva?
Canva is a completely different program than Adobe Photoshop. Canva can quickly make a complete, finished design but does not do advanced photo editing.
Is it worth paying for Canva?
The free version is limited to one user and free resources only. If you want access to premium assets and are planning to work with a team, then yes.
Which is better Crello or Canva?
In practice, Crello and Canva are similar, both web app editors with template-to-ready models. In terms of resources, Canva is superior with over 400 thousand templates and 75+ million stock assets, versus Crello's 30 thousand and 650 thousand, respectively.
What is the difference between Canva Pro and Premium?
Canva Pro and the next level up, Canva Enterprise, both offer solutions for teams, with brand kits, role allocation, and more. Canva Pro is meant for teams of five or smaller, while Enterprise is meant for bigger teams, allowing multiple brand kits, brand controls, and more.
Is Canva better than InDesign?
Canva and Adobe InDesign are two different programs, each with its pros and cons. InDesign gives you the most control over a publication, working seamlessly with sister programs. At the same time, Canva is a one-size-fits-all program, able to do more in terms of quantity but offers less precision-based work.
Anne is a filmmaker and writer with a passion to bring stories to life. She has created several short films, specializing in stop-motion animation. Anne has over eight years of filmmaking experience, and she is always ready to share her knowledge with other creators. She started her company Anne Gets Creative in 2020.
Anne is extremely familiar with many Adobe programs: Photoshop, Illustrator, InDesign, After Effects, Premiere, and Audition, to name a few. She has also worked with other programs such as Procreate, Canva, iMovie, and Final Cut Pro. She always strives to give the best software reviews, researching diligently so her readers don't have to.