(Last updated on November 2nd, 2022)
Corel Painter or Adobe Photoshop, which software is right for you?
We've researched and tested both programs extensively. See this ultimate Corel Painter vs. Photoshop comparison to see which program is right for you.
Adobe Photoshop is the industry standard, raster-based software. The program is used worldwide by graphic designers, illustrators, hobbyists, and more. The features are numerous, giving creators to most control over their art.
Corel Painter is a raster-based program designed by Corel that attempts to simulate traditional painting behavior in a digital medium. The software is a professional painting program with realistic brushes and a variety of artistic tools.
Related: 10 Best Apps to Fix Blurry Pictures in 2023
For clarity's sake, I will be reviewing Corel Painter 2023, the newest version out on the market.
Comparison At a Glance
1. Features
Winner: Adobe Photoshop. Adobe Photoshop can do anything and everything. Corel Painter is fantastic for illustration but is more limited in comparison.
2. Pricing
Winner: Adobe Photoshop. Overall, Adobe Photoshop has a better pricing model than Corel Painter. The price is steep for both the subscription and the one-time purchase for Corel Painter. Especially with the photography bundle of $9.99/month, Photoshop gives you the best software on the market for a reasonable price.
3. Illustration
Winner: Corel Painter. Corel Painter makes digital illustration feel intuitive. The default brush pack is nothing short of incredible, complete with textured paper and a great color picker. While you can download plug-ins and brushes to make Photoshop better, Corel Painter is the best default choice.
4. Compatibility
Winner: Tie. Both Adobe Photoshop and Corel Painter are available for Windows and Mac. They work great alongside external programs as well as within their own family suites.
5. Workflow
Winner: Tie. Adobe Photoshop and Corel Painter are very customizable. The tailor-made design feature allows for easy workflow, custom to the project.
6. Users
Winner: Adobe Photoshop. Adobe Photoshop is the standard graphic design program for professionals. Corel Painter is geared towards niche, professional illustrators, and hobbyists.
7. Learning Curve
Winner: Corel Painter. Corel Painter is not nearly as overwhelming as Adobe Photoshop. The program's focus allows the user to jump in and start creating art without the hindrance of learning the program for hours and hours.
8. Longevity
Winner: Adobe Photoshop. Adobe Photoshop wins for longevity because of its ubiquitous use in the professional world, the support of a family of collaborative apps that work great with Photoshop, and because the software is ever-evolving.
Adobe products have dominated the market and will continue to come out on top if they keep up with the standards they've maintained for decades.
The Short Verdict
Corel Painter is tailored to make digital illustration intuitive and beautiful, while Photoshop is the industry standard tool for photo editing and graphic design. Overall, Photoshop is a better value if you want the newest software and the most versatility on what you can do.
1. Features
Adobe Photoshop is focused on precise image-editing. The program also has many other focuses, including illustration, animation, 3-D design, 2-D asset creation, and more.
Corel Painter is centered on replicating traditional art techniques like painting and drawing. The tools and filters are aimed at recreating the feel of this work.
Corel Painter has mainly two types of selection tools – pixel-based selection and path-based selection. The selection tool separates a piece of the canvas from the rest, protecting it from accidental modification.
Photoshop also has selection tools– Lasso, Magic Wand, shape selection, and Quick Selection, to name a few.
Corel Painter has a great color selection tool, giving you a harmonious color palette below your selected colors. You can switch from six different harmonies: analogous, complementary, split complementary, tetradic, Monochromatic Light, and Monochromatic Dark. Also, you can lock the palette and save it in a library for future use.
Photoshop has similar color palette choices, but it's not as intuitive. They have color and swatches palette. In Swatches, you can save colors that you want, organizing them in folders.
Both Corel Painter and Adobe Photoshop utilize layers. Photoshop lets you blend layers, set blending mode, opacity, visibility, and reorder and organize layers. Corel Painter also lets you blend layers, organize layer order, and set the blending mode.
Both Corel Painter and Adobe Photoshop let you customize the brushes. Brush customization includes opacity, size, brush pressure, and more.
Corel has more unique features to customizing the brushes, like establishing grain amount and freehand versus straight-line strokes. Photoshop customizes via flow, smoothing, brush angle, and blending mode.
Corel Painter comes with over 900 brushes, while Photoshop comes with over 50. There are many brush packs available for download online from other creators and on Adobe's website. While Corel Painter comes with more brushes outright, you can download many of the same brushes to Photoshop.
The Perspective Grid and Straight-Line Stroke tool are great tools in Corel Painter, easily allowing the user to paint in 3D and create straight lines.
Photoshop is less straightforward, with lots of options for everything. You can create a grid, guide-line layout, make straight lines using the pen tool, the shift and click method with the Brush tool, and more.
The overall performance is better in Photoshop than in Corel Painter. Photoshop runs better with older machines than Corel Painter does.
In terms of customization, both Corel Painter and Photoshop are extremely customizable. Photoshop has more default workspace options to choose from, such as Essentials, 3D, Motion, Photography, Illustrations, Graphics, and Web. In both programs, you can save custom workspaces for future use.
Photoshop has more precise control over character spacing using the Character Windows to fine-tune text. The program also comes with Adobe Typekit, an online font library with Adobe that houses hundreds of fonts and makes it easy to download/offload fonts for projects.
Photoshop is also better at Photography re-touching and editing, with tools such as the Spot Healing tool and the Liquify filter that easily allow for pixels to be swapped and adjusted. Adjustment layers allow the user to change lighting, exposure, shadows and create a precise color adjustment.
Photoshop also has an animation feature with Timeline. In Photoshop, you can create a simple animation, adding to the clip frame by frame.
Corel Painter gives you several workflows for creating animation. Both programs allow you to playback your film, use onion skinning, basic workflow to create a digital animation sketch, or put together a very short complete movie.
Photoshop is great to create a ton of fast, graphic design assets like a mockup for a website or logo. The software is a great tool to combine with other Adobe tools such as Adobe Illustrator and InDesign. You can create a logo in illustrator and finish painting it in Photoshop.
Overall, Photoshop has a wider range of possibilities than Corel Painter. Corel Painter is fantastic for illustration, and that's where its talents lie. Adobe Photoshop can do everything.
Winner: Adobe Photoshop
2. Pricing
| Product | Regular Price |
| --- | --- |
| Adobe Creative Cloud | $52.99/month |
| Adobe Photoshop | $20.99/month |
| Corel Painter 2023 | $199.00/year |
Corel Painter is available for $429.00 as a one-time purchase or $199/year subscription fee. Buying the one-time purchase includes a Signature Style Brush Pack Bundle.
Corel also offers a 30-day money-back guarantee. If you aren't happy with Corel Painter, you can return it with a full refund within thirty days.
Adobe Photoshop is only available via a subscription model. Here, I'm going to list the cheapest deals. They have four options:
Photography Bundle – Adobe Lightroom and Photoshop for $9.99/month. You also get 20 GB of cloud storage included in this plan.
Full Creative Cloud Suite – Get all twenty Creative Cloud applications for $52.99/month, including Adobe Photoshop. You also get 100 GB of cloud storage included in the plan.
Full Creative Cloud Suite (For Students/Teachers)—Same deal as above except $19.99/month.
Adobe Photoshop – Just Adobe Photoshop for $20.99/month. You get 100 GB of cloud storage included in the plan.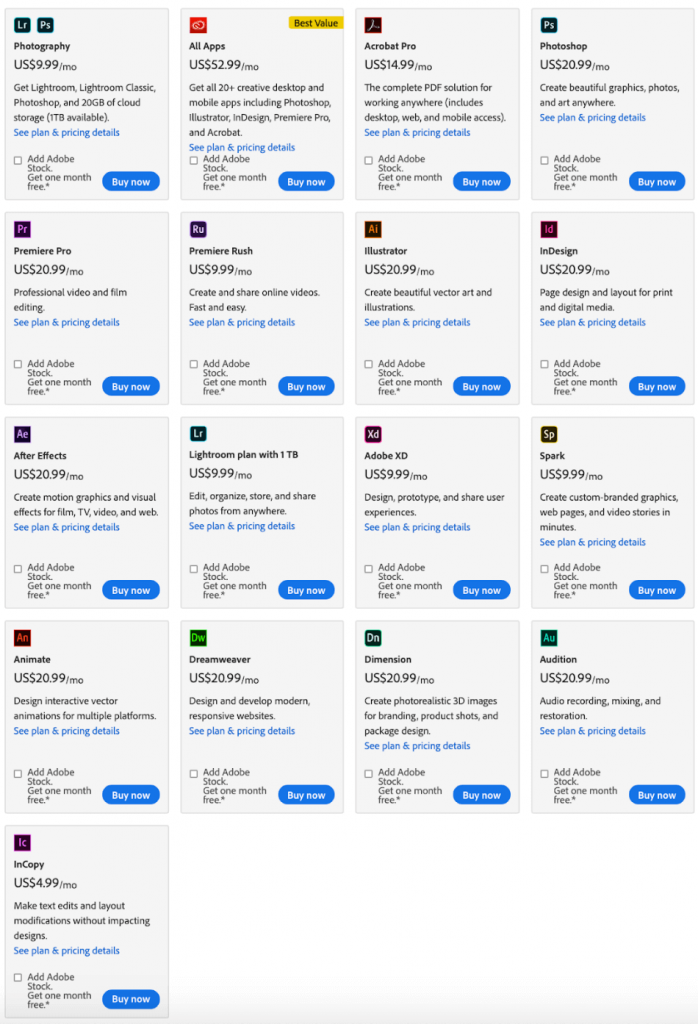 So, which plan should you do? That depends on what you are looking for. I always suggest trying a free trial before you buy anything, setting a reminder on your phone to cancel the subscription, of course. Nobody likes a surprise membership.
Corel Painter gives you a 15-day free trial and 30 days after buying the software to return it, full refund guaranteed. Adobe Photoshop gives you seven days.
In the long run, a one-time fee will be cheaper than a subscription in terms of price. However, Photoshop's lowest rate of $9.99/month comes to $119.88/year. That is $79.12 cheaper than Corel's subscription price of $199.00.
You would have to avoid buying software for 3.5 years to make up the difference with Corel's one-time purchase of $429.00.
If you never want another program again, Corel is a good fit. However, Photoshop gives you more affordable rates while giving you the latest and greatest program. And you can cancel the subscription within the year and still save yourself money. Overall, Photoshop is the winner.
Winner: Adobe Photoshop
3. Illustration
In terms of brushes, Corel Painter has over 900 brushes in total. This number dwarfs Photoshop's 56 brushes. While many brush packs are available for download for Photoshop, having this many default brushes is incredible.
The types of brushes include gouache, acrylic, marker, watercolor, oils, pens, chalk, pencils, erasers, blenders, pastels, crayons, airbrush, effects, and more!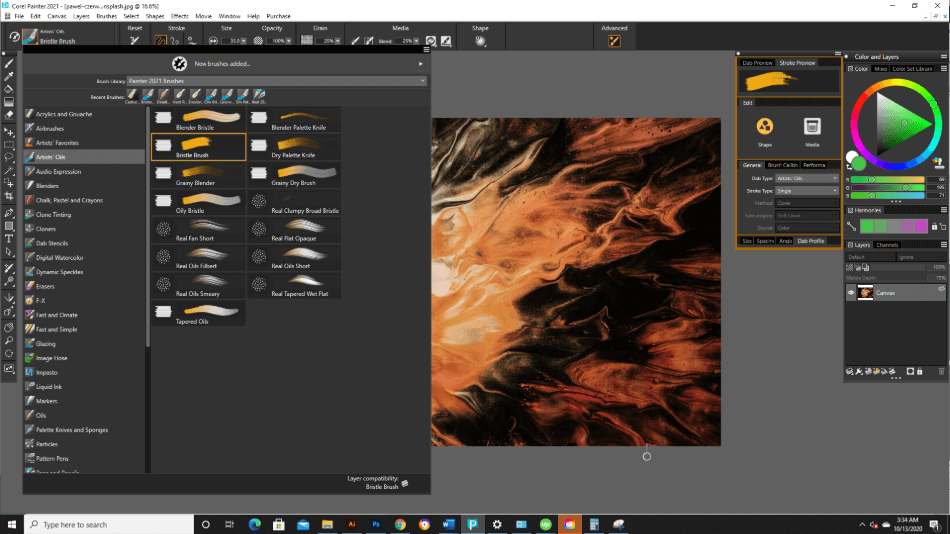 Something I immediately notice in Corel Painter is that some of the brushes are very different from Photoshop.
The Artistic Oil painting brushes actually runs out of paint, so you have to click again to refill the brush. It's an amazing small tweak to digital painting that makes you feel like you are painting a real canvas.
Corel Painter also asks you if you want to incorporate texture into the paper. While Photoshop can replicate this with layering, this intuitive feature is unique to Corel Painter. You can choose between over 60 paper textures.
In terms of illustration texture, Photoshop is great at giving you clean and smooth. Corel Painter holds on to the painterly quality of imperfect painting technique, incorporating realistic textures into the brush strokes, making the appearance that much more lifelike.
As discussed previously, Corel Painter has a great color picker, complete with an intuitive color palette below that you can lock and save for later.
The color picker in Photoshop, however, is clunkier. Photoshop has a color picker and the swatches tool. While it can do the same thing, it's not nearly as natural as Corel Painter's version. There are outside color palette plug-ins available for Photoshop to make this feature better.
Overall, Corel Painter makes illustration intuitive and look realistic. The brushes and textures available make it the obvious choice over Photoshop.
Winner: Corel Painter
4. Compatibility
Adobe Photoshop works on both Mac and Windows desktops. Photoshop has a limited iPad app as well as sister apps for iOS and Android.
Corel Painter is also available for both Mac and Windows. The software is not available at all on the iPad. In terms of tablet compatibility, it works on Wacom, and windows-based tablet computes like The Surface. Corel Painter can open .psd files and save them.
Corel Painter is very versatile, able to be used side by side with Adobe, Krita, GIMP, and more. Photoshop can save in many different file types, allowing the program to move across platforms. Photoshop also works seamlessly with the Adobe Creative Cloud marketplace.
Both Corel Painter and Adobe Photoshop are versatile programs, able to work alongside each other as well as within their own manufacturing family.
Winner: Tie
5. Workflow
Both Adobe Photoshop and Corel Painter are extremely customizable. You can alter either workspace to fit your needs.
Corel Painter focuses primarily on illustration. Therefore, the UI is very clean and organized. From start to finish, the workflow is very smooth.
Adobe has over twenty windows to choose from. You can use everything from the Glyph panel, which allows you to insert superscript and subscript text, currency symbols, and more to the Histogram panel, allowing you to read tonal range in an image.
You can move any window of the program to create a custom, savable layout. Adobe can get overwhelming with the sheer number of tools.
Adobe Photoshop has tons of workspaces to choose from (Essentials, 3D, etc.). However, with the hide tool and workspace function, you can customize the layout for yourself and the project at hand.
Overall, both programs give you tons of customizable features and tailor themselves to the user.
Winner: Tie
6. Users
Adobe Photoshop is designed with Photography editors in mind. The tools are powerful and centered around revising and upgrading a photograph, including a Camera RAW plug-in.
Corel Painter is aimed at digital illustrators, making digital illustration intuitive and easy to jump right into.
Adobe Photoshop is an industry-standard with graphic designers. The program can do absolutely everything, from photo retouching, editing, digital illustration, 3D modeling, layout, 2-D asset creation, and more.
Because of its versatility and longevity, the program is taught even as a college course worldwide. Adobe Photoshop, being part of the giant Creative Cloud Suite, tends to be chosen by businesses.
The applications, all together, can do everything that a business needs. From creating newsletters to logos to graphics for presentations, Adobe Creative Cloud does it all.
In comparison, Corel Painter is a great illustration tool. It doesn't have the same easy to use workflow as Adobe. Overall, Adobe Photoshop can be used by more people in a variety of specialties.
Winner: Adobe Phtooshop
7. Learning Curve
Adobe Photoshop is notoriously hard to learn. The vast amount that you can do in the program can be very overwhelming.
Thankfully, there is a great number of resources on Adobe's Learn tab online. Skillshare, Lynda.com, and YouTube have tons of how-to tutorials. Newbies and experts alike need to train themselves for new features in Photoshop constantly.
Adobe Photoshop also updates monthly, often with new tools and features. For the graphic design professional, this is part of the job, constantly training to ensure you know what new features are out there. In this respect, it can also be frustrating to have to rework your craft constantly.
Corel Painter, on the other hand, is very easy to learn. The brushes and layout are very intuitive. There is a Hints panel that guides you through every tool in Corel Painter. Online, there are community forums, how-to guides, and tutorial lessons to teach you the ins and outs of Corel.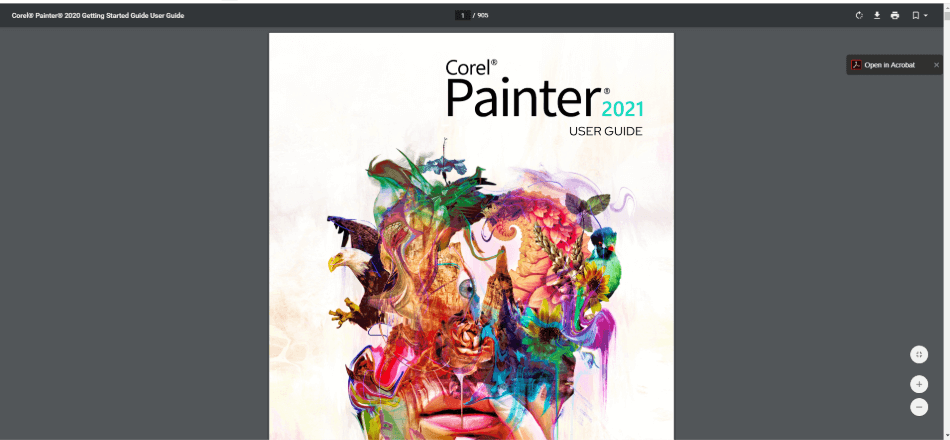 There is a huge Corel fanbase online. Here, there are also plenty of people creating tutorials, teaching you the basics, and advanced illustration tools of Corel Painter.
Overall, Corel Painter makes it easy to jump in and go. While learning Photoshop is worth it, it can be quite a tedious process.
Winner: Corel Painter
8. Longevity
Adobe Photoshop comes out on top for longevity. While a great digital painting application, Corel Painter doesn't have Photoshop's universal appeal and abilities. If one could replace the other, Adobe Photoshop would win.
Adobe Photoshop can do everything that Corel Painter does and more. While Corel Painter is more intuitive and has great illustration features, the combination of plug-ins and downloadable brushes make Photoshop the same and better than Corel Paint overall.
Adobe Creative Cloud is also marketed well. Adobe applications cover everything from photo editing to advanced video editing and animation. Adobe products aren't going anywhere. Adobe Photoshop is one of the most popular applications and the most versatile.
Corel Painter is marketed as a standalone application, leaving it more fragile to better bundles on the market.
Photoshop works great with other Adobe applications, making it a more lucrative resource. Why pay for a single-use program when you can get software that is a jack of all trades?
Overall, Photoshop will last and continue to be taught in classrooms as one of the best applications on the market. If Adobe continues the drive to add features and constantly adapt to the market, it will remain on top.
Winner: Adobe Photoshop
Final Thoughts
Overall, Adobe Photoshop is preferred for image-editing. Corel Painter is perfect for an illustrator, focused on digital illustration.
If you are primarily a digital illustrator, Corel Painter may be your perfect choice. The digital illustration is unmatched in comparison to Photoshop. The brushes, textures, color palettes, and more make the program perfect for creating digital artwork.
Adobe Photoshop is an industry-standard. If you want to work in the professional world of illustration and graphic design, Photoshop is a great tool to learn. Many businesses use it, and knowing the program and the Adobe suite makes it easier to collaborate with other artists.
While Corel Painter is a great tool, Adobe Photoshop is the gold standard for any graphic designer.
Frequently Asked Questions
Is Corel Painter better than Photoshop?
In terms of photo editing and retouching and overall features, no. Corel Painter is better than Adobe Photoshop for intuitive digital illustration.
What is the difference between CorelDRAW and Corel Painter?
Corel Painter is a raster-based program focused on creating digital illustration. CorelDRAW is vector-based.
Is Corel Painter a subscription?
Corel Painter can be bought as a one-time purchase or a subscription.
Is Corel Painter free?
You can get a free trial for 15 days. Corel Painter also offers a 30 day trial period after buying the software that offers a full refund within the time frame.