(Last updated on November 1st, 2022)
Filmora or Camtasia? Which software is right for you?
Read this in-depth Filmora vs. Camtasia comparison if you want to make a wise decision.
Filmora is a video editing software made by Wondershare. The editor is simple and easy to use. You can make quick edits and connect with the vast Filmstock library to add media quickly.
For the sake of this review, we will be reviewing Filmora 10. FilmoraPro is a separate, more advanced version of Filmora 10, meant for professional editors who want even more creative control over the final image.
Camtasia is a screen recorder and video editor by TechSmith. The program aims to be an easy, intuitive system to make videos. Camtasia is geared towards educators, businesses, and entrepreneurs to create instructional videos and tutorials.
Please read our review to make the best choice.
Comparison at a Glance
1. Features
Winner: Filmora. This program has more features to offer than Camtasia. Filmora does more than basic editing, also incorporating additional effects and tools that are lacking in Camtasia.
2. Pricing
Winner: Filmora. Filmora offers more pricing options for the individual. Camtasia's choices are limited and expensive.
3. Resources
Winner: Filmora. In comparison to Camtasia, Filmora has more resources built-in to their program. In addition, it also has integration with Filmstock, a massive online library with millions of royalty-free assets. In comparison, Camtasia has a much smaller asset library.
4. Longevity
Winner: Tie. Both programs continuously offer bug fixes and new features, keeping their services current in the competitive software landscape. If they keep this up, Camtasia and Filmora should be around a long time.
5. Compatibility
Winner: Filmora. Filmora is more compatible than Camtasia, able to work on mobile devices as well as desktop. Camtasia also has fewer export options than Filmora.
6. Workflow
Winner: Tie. Both Filmora and Camtasia have clean, simple, intuitive interfaces that are easy to use.
7. Users
Winner: Filmora. This program reaches a wider audience of users. Camtasia, on the other hand, is geared towards editors and is more basic.
8. Learning Curve
Winner: Tie. Both Camtasia and Filmora are easy to learn with plenty of documentation to help you along the way. They both have video tutorials online as well as quick start help in-app.
Short Verdict
Both Filmora and Camtasia are great, simple editors that are easy to learn and make beautiful, finished work. Camtasia is geared towards educators and has a more limited program. Filmora is meant for a wider audience, giving you more tools and features and a better program overall.
1. Features
Camtasia's features are as follows:
Screen Recording: A big upsell of Camtasia is the fact that it can do screen recording. This feature is perfect for creating video tutorials, how-to videos, YouTube, training, webinars, and more.
Templates: You can create custom templates for your videos, and use presets to make editing time even faster.
Packages: Share assets in a single file. Quickly share your themes, presets, and more, quickly and easily.
Video Editing: Camtasia utilizes a drag-and-drop editing system, making the process simple and fast. You can easily trim a clip, drag new ones in, and move them around in the timeline.
Audio Recording: Record voiceovers right in the video timeline. Camtasia includes narration features that let you input scripts as well.
Music: Choose music from the library or add your own. Camtasia also comes with built-in sound effects.
Interactivity: Add interactive quizzes to your videos.
Themes: Keep your branding consistent using themes for your projects.
Add device frames: Make your video look like it's playing on different devices.
Green Screen: Use green screen effects to change the background of your video.
Table of Contents: Add an interactive table of contents to your video so people can easily navigate.
Audio editing: Fix your audio by removing background noise, adjusting the sound, and more.
Built-In Assets: Add customizable assets to your project.
Assets for Camtasia: Camtasia has an online library filled with additional media for your project. Here, you can find stock images, video, effects, and more. Using it requires an additional plan.
Easy Sharing: Share directly to social media platforms such as YouTube or Vimeo.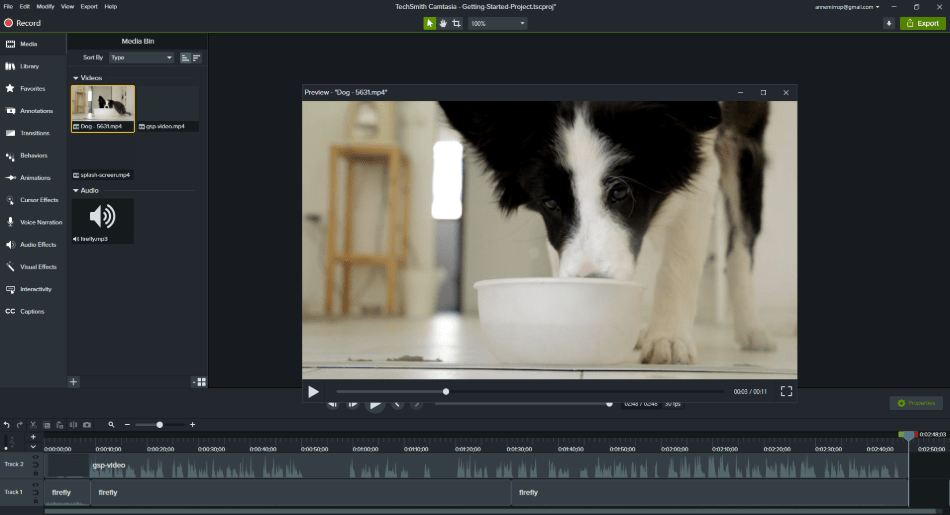 Filmora has these features:
Keyframes: Set keyframes in your video to create and adjust animations.
Motion tracking: Use motion tracking to track objects, adding animations, filters, and more to your subject. For example, if you want to blur out a face in a video, you can use motion tracking to follow the face and then add a blurring effect.
Audio Effects: Apply audio ducking, so your music fades during dialogue.
Color Matching: Apply color correction to several clips at once, helping you create a consistent look for your film.
Keyboard Shortcuts: There are default keyboard shortcuts set-up in Filmora to enable you to take quick actions or select tools with just a click of the keyboard functions. You can use these shortcuts to edit your films even faster or customize them for you.
Green Screen: Replace the backgrounds of your video using the green screen effect.
Split Screen: Split your screen into sections. You can place different video clips in each part, giving your film an interesting look.
Speed Up/Speed Down: Change the speed of a clip.
Color Grading: Fix color imperfections in your film. Fix white balance, enhance the color, and change the tone to adjust the image.
Filters: Filmora includes dozens of filters to add to your video footage. You can give your video everything from a black and white look to adding warm filters and more.
Filmstock: A huge online library filled with resources for your projects. You can get audio, video, effects, and images for your projects. This resource comes with some plans and can be added on to others.
Included Audio: Filmora comes with royalty-free music and sound effects. You can get everything from a folk or rock song to camera snap sounds, and page turns.
Titles: Filmora comes with titles. Some are basic, while others have beautiful graphic animation. You can customize the text and animation.
Record Voiceover: Record your voice directly into Filmora to create voiceovers for your work.
Transitions: Filmora comes with many transitions to add to your video, categorized into different themes. You can make warp transitions, do basic ones, use shapes, and more.
Simple editing: The editing style is drag-and-drop. Cutting, trimming, and moving around clips is intuitive.
Overall, Filmora has more to offer as a fully equipped video editor. You get more tools overall, more filters and effects than Camtasia. While Camtasia can do the basics, Filmora goes further.
Winner: Filmora
2. Pricing
| Product | Regular Price |
| --- | --- |
| Adobe Creative Cloud | $52.99/month |
| Camtasia | $49.99 (one-time) |
| Filmora | $39.99/year |
Camtasia lets you do a free trial for 30 days, adding a watermark on exported videos. The pricing works as follows:
Full License: $249.99 per user, you get the full Camtasia program as a one-time fee. You have the option of adding $49.75/year to get the next version for free, adding priority support and additional training to better your skills.

Business: $249.99 per user, same features as the full license plus a volume discount and site licenses.

Education: $169.99 per user, same features as the Business plan plus text exempt ordering.


Government & Non-Profit: $223.99, same features as the Education plan.
You can also buy Camtasia in large quantities, getting a discount if you buy five or more. If you are buying over one hundred licenses, they suggest you contact sales to get a quote. There is also a 30-day money-back guarantee for the product.
If you want the Assets for Camtasia, an online resource library, you will have to pay a subscription fee:
Assets for Camtasia: $199.99/year. You get unlimited downloads, full access to royalty-free media, video, image, and music assets. The library continuously updates, adding new media. You can also purchase licenses for teams.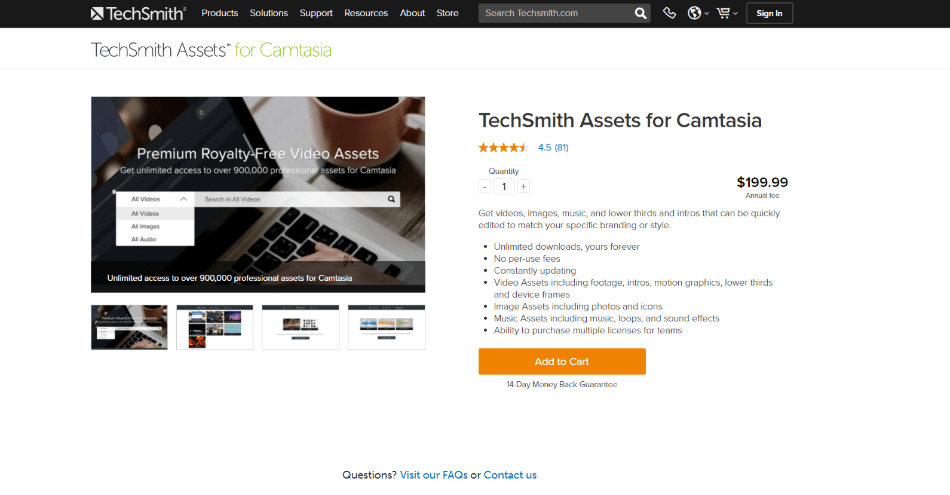 Filmora Pricing is divided into Individual, Business, and Educational sections. Let's go through them.
Individual
Subscription Plan: $49.99/year, an automatically renewing plan that gives you all features, the latest version, no watermark, and free tech support.


Perpetual Plan: $79.99 one-time fee, a lifetime subscription to Filmora X. You will get all updates for Filmora X, but nothing beyond. You get all features, no watermark, free tech support, one-month unlimited downloads from Filmstock Standard Library, and new effects every month.


Bundle Subscription Plan: $159.87/year, same features as the subscription plan, plus new effects every month, and one-year unlimited downloads from Filmstock Standard Library.
Business
Business Annual Plan: $155.88/year, All of Filmora's editing features, updates, tech support, company permission, and multi-user control. You also get a volume discount, 1-1 sales report, and flexible payment options. The Business Annual Plan is the pricing plan for up to five users, the price starting at $155.88, with discounts for each additional user.


Business Plan for More than Five users: Quote, if you have more than five users, you are directed to contact a sales rep to discuss a plan suitable for your business.
Educational
Students: $7.99-69.99, the prices tiered for how you want to bill. You get all features, free updates, no brand watermark, and free tech support. You must be a current student to get this discount.


Educator Plan: Quote, from university professors to elementary school teachers, all educators can qualify for an educator discount. You will fill out a form to register and get a quote.
Filmora also has a stock library, called Filmstock. The pricing works as such:
Free, you get unlimited downloads of all free content, with no access to premium. The media is royalty-free and ready for use.


Standard: $9.99/month, in addition to the features of the free plan, you will also get standard assets plus free tech support.


Premium: $49.99/month, in addition to the features of the standard plan, you also get up to twenty premium assets per month.
Standard and Premium have discounts if you choose to pay quarterly or annually. There are over ten million assets.
Overall, Filmora gives more tailored options, fine-tuned for individual needs with subscription and out-right licenses. While a reasonable price compared with the competition, Camtasia is limited with no subscription options and limited options for each category.
Winner: Filmora
3. Resources
Filmora has more resources than Camtasia. Filmora is integrated with Filmstock, while Camtasia is connected to Assets for Camtasia. Filmstock has a bigger library, giving Filmora more options for their projects. Filmora also has more options built-in to the default program.
Filmora libraries are more specific, with more categories for specific features. While Camtasia has a page of transitions, Filmora organizes it by type, giving you Warp transitions or 3D transitions. There are more options for your projects.
Online, Filmora also has a free online video trimmer, perfect if you need to quickly trim a video. They also have a meme creator. You can access these online editors from anywhere; no program download is required.
Filmora also connects seamlessly with Filmstock, a giant online resources library with over 10 million assets. You can download everything from effects, images, sound, and film clips. Premium, unlimited downloads do require a subscription. All media is royalty-free.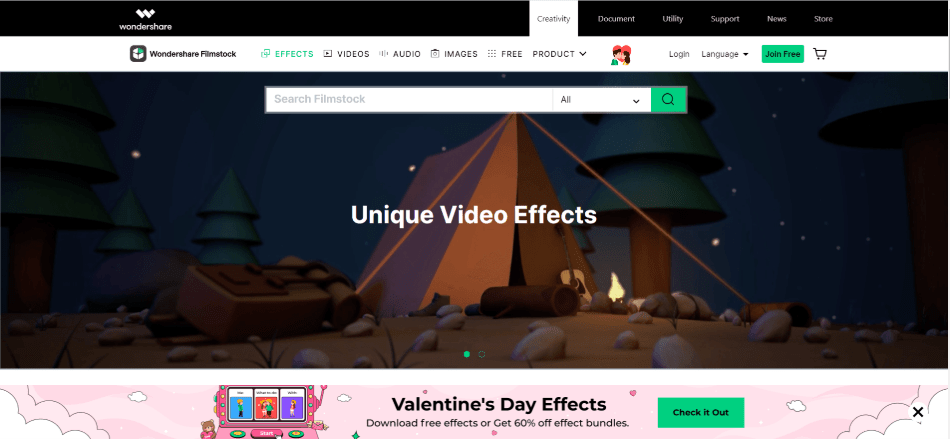 Camtasia has some built-in effects/transitions. Compared to Filmora, their options are very limited. For example, Camtasia has only seven options with transitions, while Filmora has dozens, categorized by type.
Camtasia has more graphic assets built-in than Filmora, with graphic libraries organized by theme. You can finds graphics for Business, Education, People, Transport, and more.
Camtasia also has a royalty-free stock library called Assets for Camtasia with videos, images, audio assets and effects, themes, and transitions. You must pay an additional subscription fee to access the 900,000 assets available.
Overall, Filmora has more built-in resources and bigger online resources than Camtasia.
Winner: Filmora
4. Longevity
Both Filmora and Camtasia continue to upgrade their software and have a family of apps supporting them. This continuous adaptation helps their longevity and relevance in the long run.
Filmora continues to upgrade its software. Year after year, new updates bring bug fixes and new features to the current version. Continually adapting is great for longevity, meaning that it will continue to match and have features for the current market.
Camtasia continuously updates their software as well. They have added many features and bug fixes over the years, adapting their software to the changing times.
Filmora also is part of a family of applications. In addition to Filmora X, there is FilmoraPro, Filmii, FilmoraGo, Online Meme Maker, and Online Video Trimmer. Camtasia also has a family of applications, with Snagit, Knowmia, Screencast, Audiate, Assets for Camtasia and Snagit, and Video Review.
Having a family of applications helps support longevity. Having different apps draws in different users, increasing your audience reach.
Both programs work to continuously upgrade their products and have a family of apps supporting them. Overall, they both tie for longevity.
Winner: Tie
5. Compatibility
Here, Filmora is the winner over Camtasia. The program is more compatible, with the sister app FilmoraGo letting you edit on mobile devices and iPads. You can also export in more formats. While Camtasia has the basics, Filmora gives you even more.
Camtasia works for both Windows and Mac systems, with older versions even available for download. However, the program is not fully cross-platform compatible. Meaning, if you edit a Mac-edited project on a Windows computer, not all of the media and effects will be supported.
Unfortunately, Camtasia is only available for desktop use. You will not be able to edit on iPad, iPhone, or Android with Camtasia. When exporting, you can export your video as a .mp4, .wmv, .avi, .gif, or .m4A. You can also directly upload to YouTube, Vimeo, Screencast, Knowmania, TechSmith Video Review, or Google Drive.
Filmora works for both Mac and Windows users. The program also has a sister application FilmoraGo for iPhone, Android, and iPad users. This app is great if you want to edit on the go.
In Filmora, you can export as a .mp4, .wmv, .hevc, .avi, .mov, .f4v, .mkv, .ts, .3gp, .mpeg-2, .webm, .gif, or a .mp3. You can also directly export to YouTube, Vimeo, DVD, or format it specifically for a device. Here, you can set the resolution for everything from an iPhone to a Smart TV. Filmora has you covered.
Filmora is the winner here, with more export options and device compatibility.
Winner: Filmora
6. Workflow
Both Filmora and Camtasia have a simple workflow. They are easy to use. Both programs are organized without a ton of features cluttering up the workspace, making video editing an even smoother process.
Filmora has a beautiful, intuitive interface. The color scheme is dark and clean, colored in grey and green. The navigating menu is situated at the top left panel, the video monitor on the right. The timeline is situated at the bottom.
The flow of the program is drag-and-drop. Adding features, transitions, text, and elements is easy. To adjust an effect or asset, you double click on it. To adjust, you drag the sliders.
With Filmora's mobile capabilities with its sister app, FilmoraGo, editing is even easier. You can edit your film on mobile devices too.
Camtasia's interface is clean. You have the tools to the left, the video browser on the right, and the timeline below. The color scheme is all dark greys, making it easy on the eyes. There are many tools on the left. They are organized in one place, keeping it less cluttered.
The recording tool is the star of Camtasia, easily letting you record your screen for video tutorials, webinars, and more. With a click of a button, you can record your screen.
Also, after the recording session is finished, the clip will automatically be placed in your timeline, cutting down cumbersome recording/importing workflow, making the whole process much more efficient.
Both Camtasia and Filmora have dark color schemes and organized interfaces. They tie with a smooth workflow and intuitive user experience.
Winner: Tie
7. Users
Filmora is meant for everyone, providing a comprehensive video editor. Camtasia, while providing all the basics, is an educator focused with a narrow niche.
Filmora works as a beginner's editor – easy to learn and use. However, what makes it different from other beginner editors like iMovie or Movie Maker, is that it has many more options built-in to the program.
More effects are available, overlays, and other tools that give you more creative freedom over the final image. Filmora's only focus is to be an intuitive editor, making it accessible to everyone, especially beginners.
Camtasia is focused as an editor for educators. The structure of the program shows this, with a built-in recording device that works seamlessly. You can easily record your screen, and the program automatically drops them into the timeline without extra effort on your part.
Inside the program, there are other features geared towards teaching techniques, such as annotations and voice narration additions.
There are also some interactivity features like quizzes, captions, and a wide range of graphics to teach a subject. Additional features in the Assets for Camtasia also have teacher-minded additions to make the process even easier.
Both Filmora X and Camtasia are not meant for the professional film editor. They don't have quite enough adjustment control over the features. For editors looking to work in the professional industry, you will need a high-powered program like Adobe Premiere Pro or DaVinci Resolve.
That being said, Filmora or Camtasia might be enough for the typical user. It all depends on how much control you want over the final image. High-power programs just give you more options.
Overall, Filmora reaches a wider audience than Camtasia, built to do more comprehensive video editing overall rather than focusing on a niche.
Winner: Filmora
8. Learning Curve
Both Filmora and Camtasia have great online resources. You can watch video tutorials and read guides. The programs themselves are easy to learn, not bogged down with too many features.
Camtasia gives you a quick tour as soon as you open the program for the first time with the "Getting Started Project," walking you through the basics of the program so you can work right away.
If you need additional help, there is online support. Here, you can watch video tutorials walking you through the motions step-by-step and written documentation. You can also contact support directly, leaving them a message on their website.
Camtasia also has online blog resources and TechSmith courses to help you learn new skills for creating instructional videos. There are guides, articles, and videos to help you.
Inside Filmora's application, there is a quick-start feature that will guide you through all of the panels of Filmora, helping you make a project from beginning to end, leading you around the program.
Filmora has a large learning center online. There are quick FAQ pages as well as video tutorials and guides to learn the program. If you are still having issues, you can also contact customer service and email them with your issue.
For Filmora, there are also additional learning resources. You can learn editing tips and content curation for specific social media sites like Instagram or TikTok. You can also read the blog online, learning new material every day.
Both programs have quick start tutorials in-app and offer online resources. They have contact points with customer service and thorough documentation. The programs themselves are intuitive and easy to learn. Camtasia and Filmora tie, giving you everything you need to learn the program.
Winner: Tie
Final Thoughts
Both Filmora and Camtasia accomplish the task of a simple video editor. However, Filmora offers more in terms of features and encompasses a wider audience.
Filmora's film editor is richer in tools and features. You have more options for every tool and an even bigger resource library with Filmstock. And the drag and drop feature makes editing a breeze.
If you are an educator looking to make lessons and courses, Camtasia might be the perfect solution for you. The recording function is excellent, and the tools are geared towards you. You will easily be able to make instructional videos using the narration features. You can even add interactive quizzes to your projects.
If you need a simple editor, either program will work. If you are not an educator and looking for the best of the two, get Filmora. You will get a better editor overall.
Frequently Asked Questions
Is Filmora better than Camtasia?
Yes, Filmora has more to offer than Camtasia in terms of tools and features.
What is better than Filmora?
More advanced video editors than Filmora X include FilmoraPro, Premiere Pro, DaVinci Resolve, and Final Cut Pro, to name a few options.
Is Camtasia good for video editing?
Yes, Camtasia is a good, basic video editor.
Is Filmora worth the money?
Yes, Filmora is worth the money. Their one-time fees and subscription plans are very reasonable, especially in comparison to competitors on the market.
Anne is a filmmaker and writer with a passion to bring stories to life. She has created several short films, specializing in stop-motion animation. Anne has over eight years of filmmaking experience, and she is always ready to share her knowledge with other creators. She started her company Anne Gets Creative in 2020.
Anne is extremely familiar with many Adobe programs: Photoshop, Illustrator, InDesign, After Effects, Premiere, and Audition, to name a few. She has also worked with other programs such as Procreate, Canva, iMovie, and Final Cut Pro. She always strives to give the best software reviews, researching diligently so her readers don't have to.