(Last updated on November 30th, 2022)
Final Cut Pro or Filmora, which video editing software is better in 2023?
See this ultimate Final Cut Pro vs. Filmora comparison to make a smart decision.
It should be mentioned upfront that Final Cut Pro is only compatible with Apple computers that use Mac OS. Filmora, however, functions on multiple operating systems including Mac OS, Windows, and Linux. This can be a quick deciding factor when determining which software is for you.
Related: Final Cut Pro vs Premiere Pro | The Ultimate Battle (2023)
The decision to use a specific video-editing software is yours to make. It's an important choice depending on the way you edit and the type of editing you'll be doing, which may be a better fit for a certain software. That's why we've done the leg-work for you on this review to help you decide which platform suits you best.
Final Cut Pro Vs Filmora: Comparison at a Glance
1. Interface
Winner: Final Cut Pro. The interface is what defines the program for many users. For this, we declare the Final Cut Pro has the superior interface, as it offers quick and easy access to most tools and features.
2. Playback and Rendering
Winner: Final Cut Pro. Apple has designed Final Cut Pro to import footage and transcode it to an appropriate codec for seamless playback on its exclusive Mac OS file structure.
3. Ease of Use
Winner: Filmora. Filmora is specifically designed for a newer editor user base. The program almost looks like it was modeled after Premiere Pro but for newer editors looking to gain more skills.
4. Color Correction
Winner: Final Cut Pro. Color correction is a tool that is limited to users that can afford to pay for costly editing programs. That being said, Final Cut Pro simply offers more color correction tools than Filmora. Is it because it costs more? Perhaps.
5. Plugins
Winner: Final Cut Pro. Final Cut Pro has a much larger user base. The more users a video-editing program has, the more plugins available. These plugins span from chroma keying technology, color grading, warp stabilization, and super slow motion warping all the way to advanced titles.
6. Graphics/Text
Winner: Final Cut Pro. Final Cut Pro is a more advanced system allowing more advanced graphics and text features to users. Because of this, Final Cut Pro offers a wider array of visual effects than Filmora.
7. Pricing
Winner: Filmora. Filmora is offered at a tiered pricing structure of $39, $69, and $99 for the full package, which includes a stock footage library. Final Cut Pro is offered at a flat rate of $299.
Short Verdict
While Filmora is a great beginner program to get started editing, has a wide array of preset graphics, and is offered at a reasonable rate, Final Cut Pro is a better program on almost all fronts. For being a major player in the film industry, Final Cut Pro still maintains a fairly easy to use interface, hosts a huge array of preset graphics and plugins, and has a huge user base to seek support.
After consulting hundreds of reviews and countless hours of testing, we have decided that our winner is Final Cut Pro. However, each individual must make this software decision themselves. Therefore, we have constructed an in-depth list of what each platform offers to follow.
1. Interface
The interface of just about every editing software is what determines them. That is why this is our first category to consider when analyzing Filmora vs. Final Cut Pro.
Right off the bat, you'll notice some similarities between the two. You can customize the setup on both platforms, which means that you can move panels to different locations and create a setup that is designed by you, for you. This is what any professional editor would want for themselves. Think of it like how you arrange your car or living space. Do you have 0 messages in your email inbox or 17,897? It's an entirely preferential decision that takes time to establish.
Let's first take a look at what Final Cut Pro offers. You'll see that the bottom of the interface is the timeline. This is perhaps what Final Cut Pro is most known for, the magnetic timeline. Here, when you place a clip in, it will automatically snap to the end frame of the clip already in the timeline. This can be aggravating to many editors, and really helpful to others.
You'll see the libraries panel in the top left, which is how you can import clips into the project. Another method would be to drag and drop in. To the right of the libraries panel, is the media panel which holds all of the media that was imported. In this panel, you can quickly view each clip by dragging the mouse over it for a fast and minuscule look at what each clip has in it. In the top middle panel, you will find the playback panel. This is… well, where you can playback the clips in the media panel and the timeline, whichever is selected.
And finally, the far top right panel is the effects panel, where you can both access the effects and manipulate them while they are implemented onto selected clips.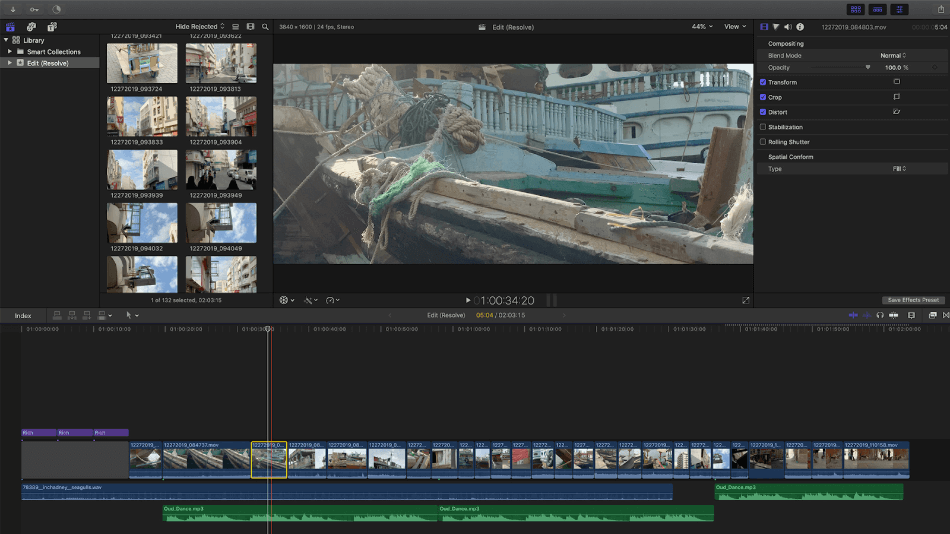 Let's now look at Filmora. As you can see, the interface looks pretty similar to the Final Cut Pro interface. The biggest difference is perhaps in the timeline, which runs along the bottom. The Filmora timeline is not magnetic, which means that you can select where to import clips, even well after the last clip in the timeline, leaving a potential gap if that is what's intended. This aspect of the timeline can slow some down and speed others up, depending on your skill set and type of project.
To the left of the timeline, you'll see the media and effects panel. These are combined together to save space and make the interface more efficient. Right above is a panel dedicated specifically to manipulating the effects in a clip. This holds every effect that is placed on the clip.
This is similarly used in Premiere Pro, another powerhouse video-editing platform that effectively uses this technique in their interface. Next to this are two playback panels. One panel is for playing back the media that is imported into the project or a selected clip, and the other panel plays back the timeline. These can be helpful to keep separate.
Overall, both Filmora and Final Cut Pro interfaces can be totally customized and made to fit you. On top of that, both have color, graphics, and editing interfaces that can quickly toggle back and forth, depending on which type of work you are currently doing. However, the Final Cut Pro interface seems to be a bit less laggy giving it a win for this category.
Winner: Final Cut Pro
2. Playback/Rendering
Playback is an extremely important aspect of video-editing. And generally, the more effects on the clips in your timeline and the more cuts you have, the slower and laggier it will playback. And of course, the computer you are working on, it's the processor, RAM setup and graphics card all play a role in this.
However, one platform dominates almost all others in the industry for its seamless playback and that's Final Cut Pro.
But first, let's talk about Filmora. As we explained earlier, Filmora has two playback panels. Each functions independently from the other. However, you can only play one at a time. That being said, one great feature is that you can select the playback quality at which to watch. This will cut the quality into ½, ¼, or ⅛ which greatly affects the speed and amount of lag you may experience.
The downside, however, is that you won't be able to access all of the pixels. In fact, you'll access either ½, ¼, or 1/8th the number of pixels. Of course, there is also a full quality playback option that can bog down your system if you're using a lot of effects and cuts.
Final Cut Pro is the better of the two with playback. This is due in part to the fact that Apple limits the use of Final Cut Pro on only Mac OS, meaning that Final Cut Pro and its assets, media and hard drive are all operating on the same operating system and therefore are perfectly compatible.
Another aspect that affects the seamlessness of Final Cut Pro's playback is its intake of media. All media imported in the project is transcoded into a similar and specific file structure to all of the other assets and media. This allows for a perfectly compatible system and therefore less lag.
Because of these aspects of Final Cut Pro, it's no wonder that it wins this playback and rendering category when compared to Filmora.
Winner: Final Cut Pro
3. Ease of Use
When it comes to ease of use, it's a bit more of a split decision. Final Cut Pro is definitely on the easier side to use of all professional editing platforms. However, Filmora is more tailored to new users. This is because of Filmora's preset titles, the ease of interface use, and features designed to help users with text like "drag and drop media here to import into the project."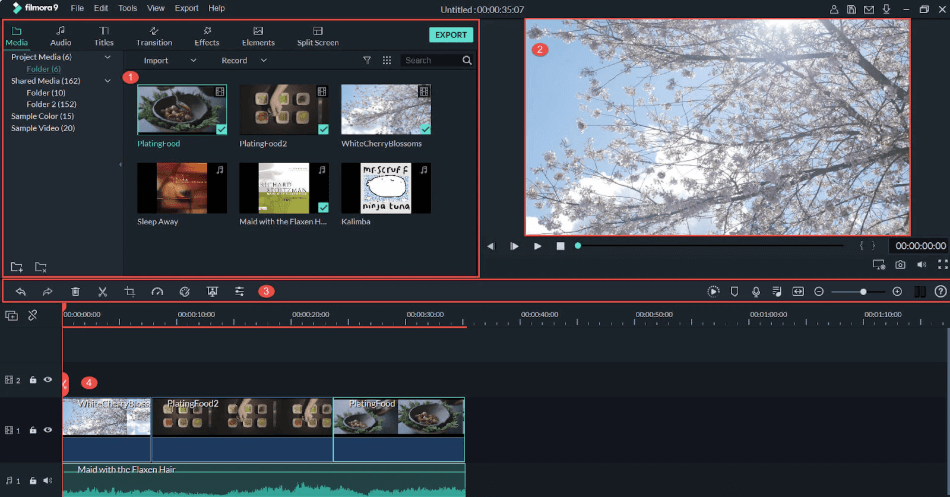 Other aspects that make Filmora an easy to use program are the transitions, titles and preset graphics. These are already on boarded into the program so there is no need to download the basic package that Filmora provides. Of course, if you want more extensive plugins, those are available as well.
One thing that we should mention is the user-friendliness of Final Cut Pro. Apple has created their brand behind high-powered technology that is somewhat easy to use for the masses and Final Cut Pro is no different. However, if we had to choose an easier to use program, Filmora is it.
Winner: Filmora
4. Color Correction
Color correction is of the utmost importance when it comes to crafting a look that fits the mood of your project. Whether it is a commercial, branded video, short film, home movie, or feature-length film, color correction will bring your project to the next level.
Both Filmora and Final Cut Pro have the color correction tools to really improve the look of each one of your clips. But if we had to choose a better program for this, it would be Final Cut Pro.
Whether you prefer color wheels, spectrum bars, or waveform tools, Final Cut Pro can provide them. Not only that, but all of the coloring tools are easy to use and help to create the look you want to achieve in an efficient manner.
Filmora also contains a hefty amount of coloring tools. The program even provides a coloring interface for quick control over color correction. However, it lacks when compared to Final Cut Pro. The control you have with each pixel is about 90% of what you can do in Final Cut. Granted, most people would never know the difference, it's the 10% that really matters.
Winner: Final Cut Pro
5. Plugins
Plugins are added on tools that aid an editor to achieve faster and better effects on a clip. These are most likely from a third-party that either wants to support the editing community and offers the plugins for free or for a small fee. This means that the more users a program has, the more plugins will most likely be available for this product.
As of now, Premiere Pro is the program that leads all others when it comes to plugins, but Final Cut Pro is definitely close behind.
One of these must-have plugins is 'cinema-grade'. This plugin rivals the Lumetri Color effect that Premiere Pro has. This means that you have more control over color correction when working in Final Cut Pro. If you're working with models and fashion, you might be interested in SkinSmoother 2, which does just that!
On top of that, there's mMessage2 to create text message graphics easily on-screen, Primatte Keyer 6 for advanced chroma keying, X2ProLE for advanced audio engineering, and Universe3 for film grain, VHS overlays, and many more. These are just a small taste of the huge array of plugins that are compatible with Final Cut Pro.
Filmora also has its fair share of plugins. However, it is not much when compared to other programs. For example, there are CoPilot Presets for lightsaber graphics, AE flame for flame graphics, and AnimationLover for all things animation. While there are many more plugins, you'll have a much more difficult time finding specific plugins for a project. And if you do find what you're looking for, there's an even lesser chance that you'll find another option.
Winner: Final Cut Pro
6. Graphics/Text
Again, Final Cut Pro takes the cake with the graphics/text category. While Filmora does have some good graphics and titling tools, the program is more designed for a new user so the control you have over certain aspects of editing and compositing is limited.
With Final Cut Pro, you can use an advanced warp stabilizer to make your footage look more professionally shot on a Steadicam. Most importantly, with Final Cut Pro, you can create layers and masks that allow control over creating immersive visual effects by layering a multitude of clips.
One thing that Final Cut Pro has mastered is a middle ground of customization and preset effects that can easily be dumped onto clips. In fact, many users start with a preset title that they are kind of going for, then manipulate it so it fits the font, color scheme, and styling of the entire project.
Filmora also allows for some visual effects creation, but you are severely limited when it comes to customization. Filmora prides itself on its preset titles that many users hail as an efficient way to create sleek looking titles from a wide array of options that will be able to fit whatever type of project you're working on. However, Filmora lacks a search bar, so you have to manually find the effect you want to use.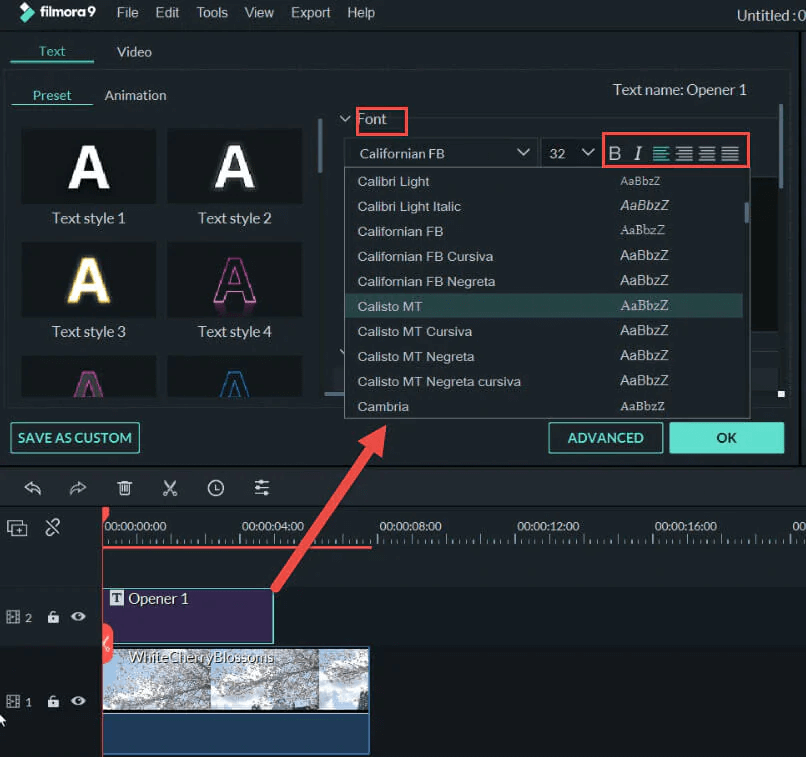 While there are many great text options in Filmora, Final Cut Pro offers more control over graphics and text.
Winner: Final Cut Pro
7. Pricing
| Product | Regular Price | Discounted Price |
| --- | --- | --- |
| Adobe Creative Cloud | $52.99/month | Check here |
| Filmora | $39.99/year | Check here |
| Final Cut Pro | $299.99 (one-time) | No Discount |
Filmora's pricing structure is a bit more complex than that of Final Cut. A huge benefit of Filmora is that they offer a free version, so you can try it out and edit as if you're paying for the program. The only downside of this is that you can't export without a watermark.
To remove the watermark, there are three pricing options. The higher-priced option gives you access to the updates and unlimited uploads from the Wondershare film stock library which is actually a huge asset to have for many users.
Final Cut Pro, on the other hand, is priced at a flat rate of $299. For this, we're going to give Filmora the win in the pricing category, as they offer a myriad of options for what price works for you.
Winner: Filmora
Final Thoughts
Based on the many customer reviews we consulted and extensive testing, we've found that Final Cut Pro is the better program here. This can be attributed to its magnetic timeline, ease of use for being a professional program, and its ability to let you learn and grow as an editor. With Filmora, you're limited to beginner tools and features. This can be a drag on you as an editor and you may lose interest.
Of course, each individual user must make this decision for themselves. However, as a blanket statement, Final Cut Pro is the better video-editing program.
Frequently Asked Questions
Is Filmora the same as Final Cut Pro?
Filmora and Final Cut Pro are different video-editing platforms. These two programs offer different tools and features, which we discuss in this article.
What's the difference between FilmoraPro and Filmora 9?
Filmora9 is more of a beginner program, which offers a huge array of preset graphics and titles. With FilmoraPro, you have access to these preset effects but you can also customize them. So, in short, the difference between the two software is control.
Is Filmora worth the money?
Filmora offers many great tools for beginner video editors. Of course, it's worth the money if you're willing to put the time into learning more about video-editing. Video-editing is a skill that will surely be worthwhile for some time to come.
Chris is an LA-based filmmaker and video editor who has a passion for writing and creating video content. He has produced and edited a wide variety of projects, most notably his documentary series "Off the Cuf," which explores the world's most fascinating and obscure communities. He has over 10 years of experience under his belt and is known for explaining complex concepts in simple, easy-to-understand way.
He is extremely familiar with all the top video editing software out there such as the Adobe Premiere Pro, Adobe After Effects, Final Cut Pro, iMovie, Adobe Animate, and DaVinci Resolve. Chris also has extensive know-how of top graphic design & photo-editing tools, including Photoshop, GIMP, Canva, Snappa, and more.