(Last updated on January 9th, 2023)
Are you thinking of using Premiere Pro for your next big video project? Or does DaVinci Resolve sound like a better option when it comes to video editing? We'll compare both of these post-production applications in this head-to-head comparison so that you can decide which program is right for you.
In this comparison, we'll look at both applications regarding how well they can edit video. We'll consider them for interface aspects, editing, features, workflow, and similar elements. We'll judge them on a scale of one to five in each area.
Overview of Premiere Pro
Premiere Pro has been active since 1991 as Adobe's leading post-production software. It started as a Mac-exclusive application for basic video edits. As time went on and the app was made available on Windows machines, the program has expanded into the areas of color correction, audio mixing, camera effects, and even a few motion graphics features.
The powerful application has become recognized as an industry-standard app for being so versatile. Premiere Pro is now used in movies, TV series, commercials, and video games. It has become such a professional editing app that spawned simpler spin-off versions with Premiere Elements (for beginners) and Premiere Rush (for YouTubers).
Pros
The interface is clean, organized, and neatly presented.
The editing tools are powerful enough to handle editing, color correction, audio tweaks, and a handful of effects.
The app works well with other Adobe applications such as Photoshop, After Effects, and Illustrator.
Cons
The monthly cost is relatively expensive and can add up over time.
There's very little support if you're trying to render 4K video footage.
Little to no support for visual effects and 3D graphics.
Overview of DaVinci Resolve
DaVinci Resolve has been around since 2004 and continues to impress with improvements by Blackmagic Design. It's a non-linear editor that can cover numerous post-production areas. These areas include HDR color grading, compositing, and video encoding.
DaVinci Resolve can serve well in all these areas but is perhaps best known for its color correction tools. Some studios use the app for its color tools alone. Those editing projects include movies like The Avengers and The Hunger Games.
Pros
The application is free to use, and the more feature-heavy studio version isn't too expensive.
There are visual effects tools present for compositing and motion graphics.
4K and 8K videos can be edited and rendered quickly with support from the software.
Cons
The learning curve is steeper when it comes to learning all of the program's functions.
The many software-specific hardware offered by Blackmagic Design can be very expensive.
The optional hardware can be pretty expensive too.
Premiere Pro vs DaVinci Resolve: At a Glance
1. Interface
Winner: Tie. Both interfaces are neatly organized and easily customizable for the best layout possible.
2. Editing
Winner: Premiere Pro. Editing in Premiere Pro is so straightforward that it's worth the time to learn.
3. Features
Winner: DaVinci Resolve. DaVinci Resolve offers far more in its features of 4K editing, color correction, and even visual effects.
4. Workflow
Winner: Premiere Pro. The organized workspace tab makes the workflow of Premiere Pro flow well.
5. Hardware Support
Winner: DaVinci Resolve. DaVinci not only has GPU support but even editing keyboards available specifically for the program.
6. Price
Winner: DaVinci Resolve. DaVinci Resolve comes in a free and paid version.
Short Verdict
Premiere Pro is a better program to learn than DaVinci Resolve as an all-purpose editor. While DaVinci is strong when it comes to effects and color correction, Premiere is straightforward enough for any skill set. It's also one of the most widely used programs worth your time to learn.
1. Interface
Premiere Pro
Premiere Pro's interface is pretty straightforward for editing and every other part of the post-production process. You won't have to poke around finding the right setup for either your editing process or color corrections. These workspaces are supplied via the tabs at the top of the interface.
These various interfaces are designed to provide only what you need. The Assembly tab will give only the windows required for an assembly cut with the asset library, timeline, and preview window present. You'll get more of the timeline and more tools for cutting up your footage for the Editing tab.
The interface tabs extend to every aspect of post-production. This includes color correction with Lumetri color scopes and audio production with a mixing board window. Naturally, you can customize any of these layouts to feature however many windows you wish.
Even with all these layouts for your workflow, the interface can still take some time to master. There are also some limitations in these spaces, where your text format won't carry the same font if you edit outside of the Graphics interface. Because of these limits, we took off one point.
DaVinci Resolve
DaVinci Resolve has an interface that appears just as clean as Premiere Pro but with far more complexity. It's an interface that has been built to be intricate enough for working on VFX nodes, color correction, and timeline edits all within one workspace. This can make for a crowded interface for novices.
Thankfully, DaVinci Resolve can also be trimmed down to be a straightforward post-production editor. The asset library is pleasing to the eye for the thumbnail presentation, making finding the right clip easy. The color wheels are also less intimidating when experimenting with color correction.
DaVinci Resolve is perhaps not as straightforward in its interface organization, but it is still easy to navigate. There's a clean and neat look present that is inviting enough for any skill set to learn. We only deducted one point for being just a tad crowded with its windows.
Winner: Tie. Both applications have mildly different looks but have the same level of learning and usability. It should take about the same amount of time to get used to either application. For being so similar, this category ends up as a tie.
2. Editing
Premiere Pro
One of the most important aspects of a post-production program is the ability to edit your content. Whether you're working on a YouTube video or a big movie project, being able to get your footage in the right order is crucial. Premiere Pro is ideal for this department.
If you click on the Editing tab, you'll have everything you need to edit your videos. The non-linear timeline is easy enough to drop, drag, snap, and split any asset you place upon it. It's such a straightforward experience with editing that it's easy enough to give Premiere Pro a perfect score.
DaVinci Resolve
DaVinci Resolve proves to be just as powerful at editing for having a non-linear timeline. It boasts much of the same editing tools and layout, with notable additions. Aspects of 4K and 8K editing are possible in the program with enough learning.
Much like Premiere Pro, DaVinci also has an editing tab labeled Cut. It's just as strong when it comes to making quick edits on the fly. That being said, learning 4K or even 8K editing within the program takes some extra time to learn, leading to us deducting a half-point.
Winner: Premiere Pro. It's a close call in the areas of editing, but Premiere Pro is the narrow winner. While DaVinci Resolve does have some powerful tools for editing 4K footage, the available editing tools of Premiere Pro are stellar enough to be worth learning. For being so robust, Premiere Pro wins for editing.
3. Features
Premiere Pro
Premiere Pro has a handful of valuable features for a handy post-production editor. There are many effects tools and presets to alter your footage drastically. This can range from changing the temperature of the colors to a more cinematic look to giving your audio a crisper sound with noise cancellation.
The area where Premiere feels a bit lacking is more high-quality video features. 4K video is possible to edit through the program without much support. You'll also have to rely on other programs when it comes to compositing and visual effects.
Even with these limitations, Premiere Pro does have a lot to offer. This app covers all the essential bases in terms of the most crucial aspects of post-production editing. On that level, we only deducted one point for the limitations.
DaVinci Resolve
DaVinci Resolve does match Premiere Pro in terms of its standard features. Aspects of color correction are present, though less intimidating for using color wheels instead of the Lumetri color scopes. But what's fascinating about the application is how it features 3D aspects for visual effects.
Having the ability to craft 3D titles and objects within the program will significantly benefit more advanced filmmakers. In Premiere Pro, you'd have to rely on another program for these aspects, such as After Effects. For offering such convenience, we're giving it a perfect score.
Winner: DaVinci Resolve. The ability to pull off advanced visual effects will be a massive deal-breaker for post-production editors who need those VFX functions. Premiere Pro doesn't offer much in that area, considering the lack of 3D tools. When it comes to features, DaVinci Resolve wins this round.
4. Workflow
Premiere Pro
The workflow for Premiere Pro has been simplified to a handful of workspace layouts to make the process fast. You can quickly jump from editing your footage to tweaking the audio without having to reorient a bunch of windows. All you have to do is click the Audio tab at the top, and you're all set with mixers to experiment with.
When you're finished with your video editing, you can send your project to the Adobe Media Encoder. This allows you to render your project in the background while still working on other projects in Premiere Pro. It's a real-time-saver, especially since you can queue up multiple videos to render simultaneously.
Once you get used to the process and the workspaces, Premiere Pro is an incredibly speedy program. However, it will take some time to get over its learning curve, which is why we're deducting half a point.
DaVinci Resolve
DaVinci Resolve's workflow can proceed relatively smoothly with some practice. Once you can figure out the compositing tools, you'll save even more time by not having to jump between programs for visual effects additions. If you were working in almost any other editing program, like Premiere Pro, you'd have to rely on another app for this aspect.
Despite being so abundant with features, DaVinci Resolve takes extra time if you want to get used to all its tools and functions. If it's just simple edits you seek, the program can easily handle the most common modifications for sequencing, color, and audio mixing. This is why we're only deducting one point.
Winner: Premiere Pro. Premiere Pro may be less dense with features, but that's a benefit for workflow. The numerous workspace tabs guide you through the process to help you develop a workflow that works for you. With such a range for customization, Premiere Pro wins this round.
5. Hardware Support
Premiere Pro
Premiere Pro offers some hardware acceleration when it comes to video encoding. You'll want to make sure you have a 7th generation Intel processor and a compatible video card that is either from NVIDIA or AMD. Adobe's website lists which video cards are applicable.
You will also have to keep your hardware updated. I updated my program version, and Premiere Pro could not recognize my NVIDIA card without updated drivers. Without the drivers being edited, my renders started experiencing errors in the video of clips bleeding together.
With the right drivers, Premiere Pro can work well on most machines. However, when it comes to hardware acceleration, there's a bit of a hunt to find which card and drivers work best. For being a bit of a hassle in this department, we deducted a point.
DaVinci Resolve
One of the most astounding aspects of DaVinci Resolve is its support of hardware, both external and internal. The program not only supports GPU acceleration but even multiple GPUs. This means that computers with advanced video cards will deliver the speediest playback and video rendering.

If you're willing to plunk down the extra cash, DaVinci also offers a host of editing keyboards. This can range from a slight speed editor (with a toggle wheel) to a complete editor keyboard. These accessories can significantly speed up your workflow, and the prices can range anywhere from $400 to $2500.
While the hardware seems proprietary, it's still a handy option to have. Combined with the GPU support, DaVinci Resolve has the most options for putting your hardware to work. We've got to give it a perfect score.
Winner: DaVinci Pro. DaVinci Pro just has so much to offer, not just in hardware support but the hardware in general. Having the option to use specific hardware without much configuration is a huge benefit for editors who want complete control of their projects. DaVinci Pro easily wins this round.
6. Price
Premiere Pro
Adobe used to price Premiere Pro at a one-time cost for the current version. That pricing structure has changed since they've moved most of their products to the Creative Cloud platform. This means that you'll be paying for Premiere Pro more as a service than a product.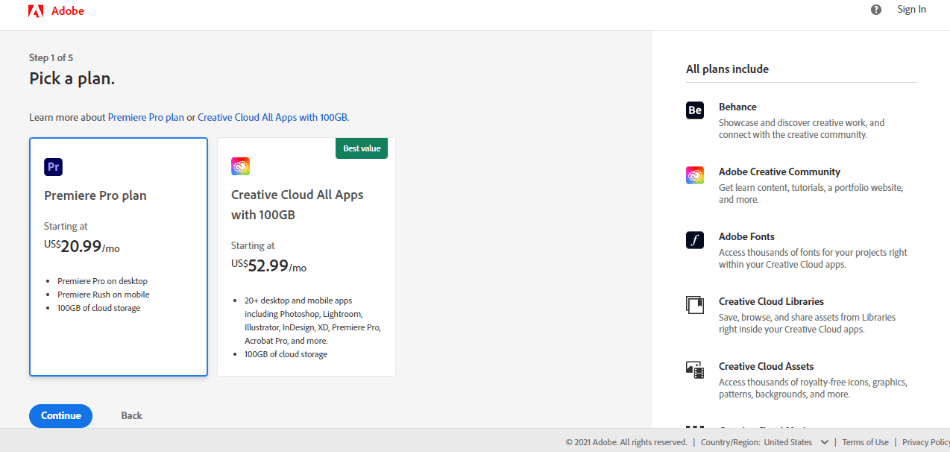 Premiere Pro costs a monthly fee of $20.99 with an annual contract. If you're seeking to add visual effects as well, you'll have to pay $52.99/monthly for the complete Creative Cloud plan. That plan includes After Effects, which is essential for compositing, motion graphics, and 3D effects.
The cheaper alternative offered by Adobe is Premiere Elements. This app can be a more scaled-down program for novice video editors. It's not as feature-heavy, but it will only cost you a one-time fee of $99.99 with no monthly subscription required. As it stands, Premiere Pro is rather expensive so we had to take off a point.
DaVinci Resolve
DaVinci Resolve comes in two versions. There's a free version that is capable of delivering professional video. The paid studio version also comes with additional features for 4K video and visual effects.
The free version can be downloaded directly from the Black Magic Design and comes with the same features as Premiere Pro. The studio edition will cost you $295 and gives you access to more high-quality editing features and a host of VFX tools and presets.
The best part is you can get the studio version bundled with their editing hardware, and you don't even have to buy it off the Black Magic Design website. You can buy from numerous retailers listed right on their website. This means you can shop around and buy the software/hardware at places like B&H or Mac Business Solutions.
DaVinci Resolve has so much to offer with so many pricing options, optional hardware enhancements, and various places to buy from. We're giving it a perfect score for being so versatile in this area.
Winner: DaVinci Resolve. The investment in DaVinci Resolve is incredibly cheap when compared to Premiere Pro. Those seeking basic edits can stick with the free version, while professionals dealing with 4K or VFX can pay only $295 for the support. Whichever path you choose, both are comparatively cheap choices.
Premiere Pro
DaVinci Resolve
Platforms
PC and Mac
PC, Mac, and Linux
4K Support
Limited
Studio Version Only
VFX Support
No
Studio Version Only
Price
$20.99/monthly
Free
(with limitations) or $295 (more features)
Verdict
DaVinci Resolve does have some vital aspects of color correction and visual effects. But when it comes to a complete editing application, Premiere Pro is the better option. It's a more straightforward app to use and is worth learning for being an industry-standard application.
Which Application Is Right For You?
DaVinci Resolve has a lot of components that make it a good choice for advanced editors. The abundance of hardware options, color correction, and 4K video support. DaVinci Resolve may be the right editing program for you in these specific areas.
Premiere Pro is a solid choice for all things in terms of video-editing applications that cover all areas. It covers the core aspects of editing, color correction, and audio mixing. On this basis, including the organized interface, it's a multi-faceted application ideal for general editing.
Frequently Asked Questions (FAQs)
Is DaVinci Resolve free?
DaVinci Resolve comes in both a free version and a Studio version. The free version can be downloaded off the Black Magic Design website, and it can be used for professional video editing projects. If you want additional features that will support 4K video, you'll have to pay for the studio version, which costs $295.
How much does Premiere Pro cost?
Premiere Pro costs a monthly or annual subscription cost. The monthly fee is $20.99/monthly under a yearly plan. You can save a few dollars by going with the yearly price of $239.88/yearly. You can also get Premiere Pro as part of the complete Creative Cloud package for $52.99/monthly, including After Effects.
Which is better, Premiere or DaVinci Resolve?
Premiere and DaVinci Resolve both have strengths and weaknesses, making it tough to choose the better app. Premiere has a better workflow and interface while DaVinci has so many features for visual effects. The choice ultimately comes down to how much control you need. If it's just essential video editing you require, Premiere Pro is better. If you need more features, visual effects, and color correction, you'll want to go with DaVinci Resolve.
Can I use Premiere Pro for free?
Adobe requires a subscription fee to use Premiere Pro. The only way to use it for free is through the trial version. You can download it for seven days, then pay for it monthly or annually.
Do professionals use DaVinci Resolve?
DaVinci Resolve has grown to a level where it is widely used in the video industry. It is perhaps best known for editing big mainstream films such as Alien: Covenant, Avatar, Spectre, and Star Wars: The Last Jedi. These projects have used DaVinci Resolve for either video editing or color grading.
What are some alternatives to Premiere Pro?
Adobe does offer some alternatives to the professional version of Premiere. There's Premiere Elements, a cheaper and beginner-focused version of the app that only costs $99.99. The app doesn't have all the features of Pro but can still accomplish background removal and a handful of effects. There's also the free app of Premiere Rush for desktops and mobile devices that is ideal for YouTubers who just want to edit their videos for social media.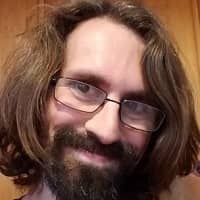 Mark McPherson has been working as a video editor and content writer for over ten years. His background started in animation and video editing before shifting into the realm of web development. He also branched out into content writing for various online publications. Mark is an expert in video editing, content writing, and 2D/3D animation.