(Last updated on January 9th, 2023)
Have you found that Photoshop is not right for your creative needs? How do you cancel your subscription if you don't want to continue using the application? In this article, we'll go over how to cancel your plan for Adobe Photoshop.
How Much Am I Paying For Photoshop?
If you're considering canceling Photoshop, chances are it might be for a monetary issue. You may find that the monthly or annual fee is too steep. Or you might have wanted to get Photoshop at a one-time cost. For a bigger picture, check out the table below on just how much you're paying each year:
| | | | |
| --- | --- | --- | --- |
| | Monthly Payment Under Annual Contract | Total Cost a Year | Discounted Price |
| Photoshop CC | $20.99 | $251.88 | Check here |
| Photography Plan | $9.99 | $119.88 | Check here |
| Photography Plan (Upgraded) | $19.99 | $239.88 | Check here |
| Complete Creative Cloud | $54.99 | $659.88 | Check here |
Keep in mind these are just the costs for monthly payments on an annual contract. The month-to-month plan is much more expensive. The annual prepaid payment plan is the same as the annual contract with monthly payments.
Here's a rundown of how much the month-to-month cost a year:
| | |
| --- | --- |
| | Month-to-Month Plan Yearly Total |
| Photoshop CC | $377.88 |
| Photography Plan | No plan. |
| Photography Plan (Upgraded) | No plan. |
| Complete Creative Cloud | $989.88 |
Are There Any Penalties for Canceling Photoshop?
Before canceling, you should be aware that there are some fees if you're canceling a certain contract. If you've been paying for the month-to-month, there's no charge. The same goes for an annual payment which requires no additional payments to finish the contract.
The monthly payment with an annual plan is where you'll be charged a fee for canceling early. Depending on when you signed up, you'll be charged the remainder of your contract but at a rate of about 50% remaining on the contract. So if you cancel before the end of the annual contract, you'll have to pay the remainder at a reduced rate.
To better illustrate these fees, take a look at the table below for how much you'll pay when canceling at certain times:
| | | | |
| --- | --- | --- | --- |
| Month Canceled | Photoshop CC | Photography Plan | Complete Creative Cloud |
| 1 | $115.45 | $54.95 | $302.45 |
| 2 | $104.95 | $49.95 | $274.95 |
| 3 | $94.46 | $44.96 | $247.46 |
| 4 | $83.96 | $39.96 | $219.96 |
| 5 | $73.47 | $34.97 | $192.47 |
| 6 | $62.97 | $29.97 | $164.97 |
| 7 | $52.48 | $24.98 | $137.48 |
| 8 | $41.98 | $19.98 | $109.98 |
| 9 | $31.49 | $14.98 | $82.49 |
| 10 | $20.99 | $9.99 | $54.99 |
| 11 | $10.50 | $5.00 | $27.50 |
Can I Get a Refund?
Adobe can give you a full refund of your purchase of Photoshop if you cancel within a certain timeframe. The limit is 14 days after the purchase of a monthly plan with an annual contract. When those 14 days pass, however, you'll have to pay the remainder.
It's for this reason why it's best to take advantage of the seven-day free trial if you can. If you don't intend to use the program after a week, you can simply cancel it and won't have to worry about getting a refund. To make sure you're not charged under this trial, you'll still have to go through the same cancellation process.
How Do I Cancel Photoshop?
To cancel your subscription to Photoshop, follow our step-by-step guide:
Log in to your Adobe account on the Adobe website. Once you're logged in, you'll have to find your plans, located here: https://account.adobe.com/plans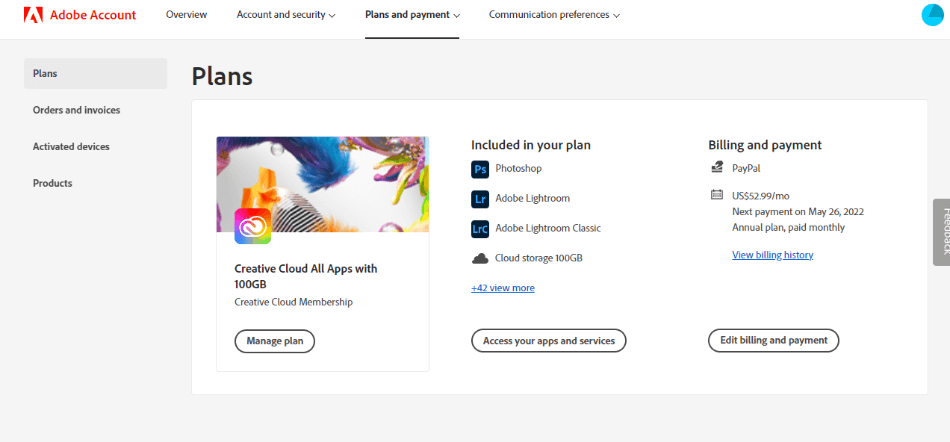 You will then click "Manage Plan." Now find the plan for Photoshop.
Next, click on the "Cancel Your Plan" button and you'll be taken through the process of canceling your plan.
Before finishing, be sure to leave a comment about why you chose to cancel your plan.
For more information regarding cancelation, you can check out this page on Adobe's website: https://helpx.adobe.com/manage-account/using/creative-cloud-subscription-terms.html
What Do I Lose With Canceling Photoshop?
In addition to no longer having access to Photoshop, Adobe restricts a few other options when canceling. You won't be granted your cloud storage account anymore. This means all assets you might store there will be lost so you should back them up before canceling.
You also won't have access to Adobe Stock if you purchased it as an add-on. If purchased with the Photography Plan or the complete Creative Cloud, you will lose access to the bundled applications as well. Keep this in mind if there are certain Adobe programs you wish to keep.
What Are Some Alternative Applications?
If you've uninstalled Photoshop, you may be seeking a different type of program. If you don't have one in mind, there are some alternatives to consider. Check out the table below for some alternative apps comparative to Photoshop.
| | | |
| --- | --- | --- |
| | Pros | Cons |
| Photos Pos Pro | Highly customizable. Recognizes PSD and RAW file types. Easy-to-learn tools. | Limited features. Few keyboard shortcuts. |
| Pixlr | Work in your browser. Free. Easy to learn. | Can't read Photoshop files. Limited features. |
| GIMP | Free and open-sourced. Recognizes Photoshop files. Replicates more of the same features and tools. | No CMYK color. Steep learning curve with tools and interface. |
| Luminar | Smart features. Automated photo editing tools. Easy sky replacement tools. | Taxing on slower computers. No mobile version. |
| Vistacreate | Free. Plenty of templates to choose from. Plenty of assets to use for free. Works in your browser. | Can't save as PSD files. 10GB storage limit on photos. Requires premium version for more assets. |
If, however, you tried the alternatives and decide that you want to install Photoshop again, here is a special discount for you.
Get a Special Discount On Our Top Picks!
---
BEST OVERALL PICK FOR PROFESSIONALS
---

Adobe Creative Cloud
Get all 20+ creative apps and services for photography, design, video, UX and more.
at adobe.com
---
BEST FOR GRAPHIC DESIGN & IMAGE EDITING
---
Adobe Photoshop
The world's most powerful image editing and graphic design software.
BEST FOR BEGINNERS & PHOTO HOBBYISTS
---
Photoshop Elements
A simpler version of Photoshop CC. Great for beginners and photo hobbyists
Frequently Asked Questions
How do I cancel Photoshop without fees?
You'll have to cancel Photoshop within 14 days of purchase if you want to avoid a fee. The fee only applies if you purchased a monthly plan with an annual contract.
Why am I being charged a cancellation fee for Adobe?
Adobe charges this fee for plans with an annual contract. If you'd like to avoid a fee, you can optionally choose to pay on a month-to-month basis without an annual contract.
How do I cancel my Photoshop subscription?
You will have to go to the Adobe website to cancel your Photoshop subscription. Locate your Photoshop plan in the 'manage plan' area and choose to cancel it.
How much is Adobe's early termination fee?
Adobe charges you 50% of the remaining annual cost if you terminate your annual contract with a monthly payment plan. The full amount will depend on what time in the contract you cancel.
What happens if you stop paying for Adobe Creative Cloud?
If your payment information is outdated and you don't pay, your Creative Cloud plan will be terminated. Adobe will notify you if your card or Paypal account isn't working. You should fix the information immediately once you are notified.
Does Adobe's free trial automatically cancel?
No, Adobe Creative Cloud apps will automatically start charging you if you don't choose to cancel the trial. This is why you'll still need to fill out payment information when applying for the free trial period.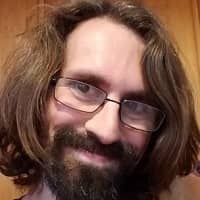 Mark McPherson has been working as a video editor and content writer for over ten years. His background started in animation and video editing before shifting into the realm of web development. He also branched out into content writing for various online publications. Mark is an expert in video editing, content writing, and 2D/3D animation.