(Last updated on November 30th, 2021)
Adobe Illustrator or CorelDRAW? Which software should you choose and why?
We researched both programs extensively. Read this in-depth Illustrator vs. CorelDRAW showdown to see which one is a better fit for you.
Adobe Illustrator is a vector-based program by Adobe that creates beautiful graphics. Illustrator is great for graphic designers looking to create logos, posters, flyers, and more, able to be resized without losing quality.
CorelDRAW is a vector-based program by Corel, designed to create beautiful graphics and illustration. The software is print-focused, creating beautiful print media.
For clarity's sake, we will be focusing on CorelDRAW from the CorelDRAW Graphics Suite. There are cheaper versions of the CorelDRAW with fewer features that we won't be looking at today. (CorelDRAW Essentials, CorelDRAW Standard)
Comparison At a Glance
1. Features
Winner: Tie. Both CorelDRAW and Adobe Illustrator have a ton of tools for creating vector-based work. Their features are powerful and make professional results.
2. Pricing
Winner: CorelDRAW. CorelDRAW is the better-priced model. You get a better value with the suite as a subscription or a one-time fee. Adobe Illustrator is more expensive and does not have a one-time purchase option.
3. Collaboration
Winner: CorelDRAW. CorelDRAW has the best collaboration tools simply because you don't have to leave the app to comment. You can share a link, getting other CorelDRAW collaborators involved to review your work. Adobe Illustrator does not yet have an in-app function.
4. Compatibility
Winner: Tie. Both CorelDRAW and Adobe Illustrator have great compatibility. They work on Mac and Windows. CorelDRAW has an amazing online web app, allowing you to access/edit/comment on a project from anywhere without downloading the software.
Adobe Illustrator has now come out with an iPad application, letting you work on the go.
5. Support
Winner: Tie. Illustrator and CorelDRAW offer a ton of support resources. They both have online, step by step guides as well as in-app help.
6. Longevity
Winner: Adobe Illustrator. Adobe Illustrator is seen as an industry standard. If CorelDRAW keeps adding to its suite of programs, it could become competition in the future.
7. Users
Winner: Tie. Both professionals and hobbyists use Adobe Illustrator and CorelDRAW. CorelDRAW is better for newbies because there is less of a learning curve, and the program overall is more intuitive. Illustrator is better for professional graphic designers needing complex vector assets.
Illustrator vs. CorelDRAW: The Verdict
Both Illustrator and CorelDRAW are powerful vector-based programs that create professional results. If you already work within the Adobe family, go with Illustrator. It's the industry standard tool for vector editing and illustration.
If you want a better value and aren't an Adobe user, get CorelDRAW.
Get a Special Discount On Our Top Picks!
---
BEST OVERALL PICK FOR PROFESSIONALS
---

Adobe Creative Cloud
Get all 20+ creative apps and services for photography, design, video, UX and more.
at adobe.com
---
BEST FOR VECTOR EDITING & ILLUSTRATION
---
Adobe Illustrator
The best vector graphics and illustration software used by millions of creators & artists.
at adobe.com
---
BEST FOR GRAPHIC DESIGN & IMAGE EDITING
---
Adobe Photoshop
The world's most powerful image editing and graphic design software.
1. Features
Features of CorelDRAW:
Vector Shapes: Has several methods to create vector shapes, including the Pen tool, Bezier tool, and Freehand tool. Also has simple vector shapes like rectangle, ellipse, and polygon.
Mesh Fill tool is extremely powerful. It allows the user to paint using gradients and create a perfect vector shape that can be resized and recolored. The tool is great for creating prototypes and realistic-looking objects.
Color Harmonies quickly changes the color scheme of your artwork. You link similar colors and then change the palette to be influenced by the new color, preserving exiting color harmonies while changing the whole look.
Has CorelDRAW.app online, an online CorelDRAW application that allows you to edit your drawing remotely. If you use Corel Cloud, collaborators can view your document, making comments in the Comments panel.
Typography Editing: Refine type in your projects precisely, adjusting fill, kerning, alignment, and more. You can add drop shadows and contours, managing the details of the font with variable font support.
Corel Font Manager: Organizes and manages the font library.
PowerTRACE feature: Create a beautiful vector illustration from photographs seamlessly. CorelDRAW allows you to adjust the final vector image in a preview mode. The results are stunning, accurate vector images.
Powerful upsampling, allowing you to create much improved final works from pixelated images.
Fast software performance.
Vector illustration: Create curves, lines, and shapes to create stunning logos and vector graphics.
Utilizes layers for non-destructive editing.
Includes right to left typesetting, necessary for Arabic, Hebrew, Persian, and Urdu.
Integrates with Corel Cloud, allowing you to store your documents online.
Corel PHOTO-PAINT, a great sister app for editing photographs that work seamlessly with CorelDRAW. Included in the graphic suite.
Corel Font Manager: Manages your library, saving your favorite fonts. Included in the graphic suite.
CAPTURE 2021: Saves screenshots of your computer screen. Included in the graphic suite.
AfterShot 3 HDR: Makes corrections to JPEG or RAW photo files. Included in the graphic suite.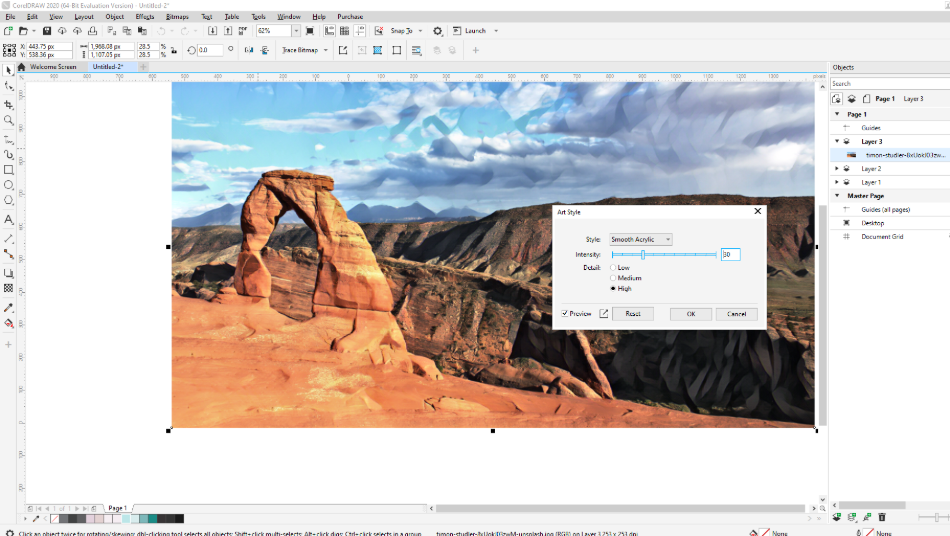 Features of Adobe Illustrator:
Many vector-design tools, including the Pen tool and Curve tool. Illustrator uses Bezier handles, allowing you to adjust your graphics with the utmost precision.
Has dozens of templates to choose from, allowing you to start with templates for brochures, posters, flyers, and more. The templates are organized by final output such as Mobile, Web, Print, Film & Video, and Art & Illustration.
Shape Builder tool: You can merge and subtract shapes using this tool. This tool is so helpful when creating unique shapes in a design.
Integrates seamlessly with Adobe Stock and Typekit. Adobe Stock has thousands of Illustrator files, allowing you to bring in pre-made artwork/templates. Typekit has thousands of fonts to choose from, easy to download.
Library Tool: Lets you create color palettes, font styles, and more, keeping your project's branding organized.
Integrates with Cloud documents, allowing you to access your file from anywhere. Autosave keeps your file up to date, protecting you against crashes.
Recolor tool: This panel is powerful, allowing you to recolor your work easily. By opening up the panel, you can draw existing colors into a new color range. You can use color palettes to pick the new colors or take the colors from an existing photograph using the color theme picker.
Uses layers for non-destructive editing. Allowing you to group layers together, hide/unhide and lock for maximum control and ease of workflow.
Overall, Adobe Illustrator and CorelDRAW have a ton of intuitive vector drawing options. They both create professional-grade work.
Winner: Tie
2. Pricing
| Product | Regular Price | Discounted Price |
| --- | --- | --- |
| Adobe Creative Cloud | $52.99/month | Check here |
| Adobe Illustrator | $20.99/month | Check here |
| CorelDraw Graphics Suite 2020 | $785.00 (one-time) | No Discount |
| CorelDRAW Standard 2020 | $419.00 (one-time) | No Discount |
| CorelDRAW Essentials 2020 | $155.00 (one-time) | No Discount |
Comparing the price between Adobe Illustrator and CorelDRAW depends on your needs. If you are looking for the latest and greatest, getting an Adobe subscription is the best because they routinely roll out software fixes and new features.
CorelDRAW, on the other hand, offers a one-time fee for the software. If you only want to buy once and not think about it for five years, CorelDRAW is the way to go.
Adobe Illustrator is only available via a subscription model. The plans range from $20.99/month for just Adobe Illustrator to a steep $52.99/month for the full creative suite. Yearly, this will cost you $251.88 or $635.88, respectively. Adobe doesn't come cheap!
As a side note, if you are a teacher or student, you can get the full creative suite for as low as $19.99/month. Jump on this deal. This plan is the best option that Adobe has to offer. You must be currently enrolled to receive this package.
In comparison, CorelDRAW offers both subscription and one-time purchase options. You can get:
Month to month subscription of $34.95.
A yearly subscription of $249.00.
One-time purchase of $499.00.
If you want a subscription model, CorelDraw is cheaper than Adobe and gives you more features for roughly the same price as the single-program Illustrator package.
If you want to buy the software, once and done, CorelDRAW will still save you money in the long run. The CorelDRAW suite is cheaper than the Adobe Suite, saving you over $100.00 just in the first year.
Overall, CorelDRAW is a better option, giving you lower prices at a better value.
Winner: CorelDRAW
3. Collaboration
CorelDRAW has a great collaboration feature, allowing others to comment and markup artwork for revision. Comments can be resolved and replied to by everyone.
The tool is awesome because it allows you to get feedback without leaving the application, keeping all of the discussion and work in one place.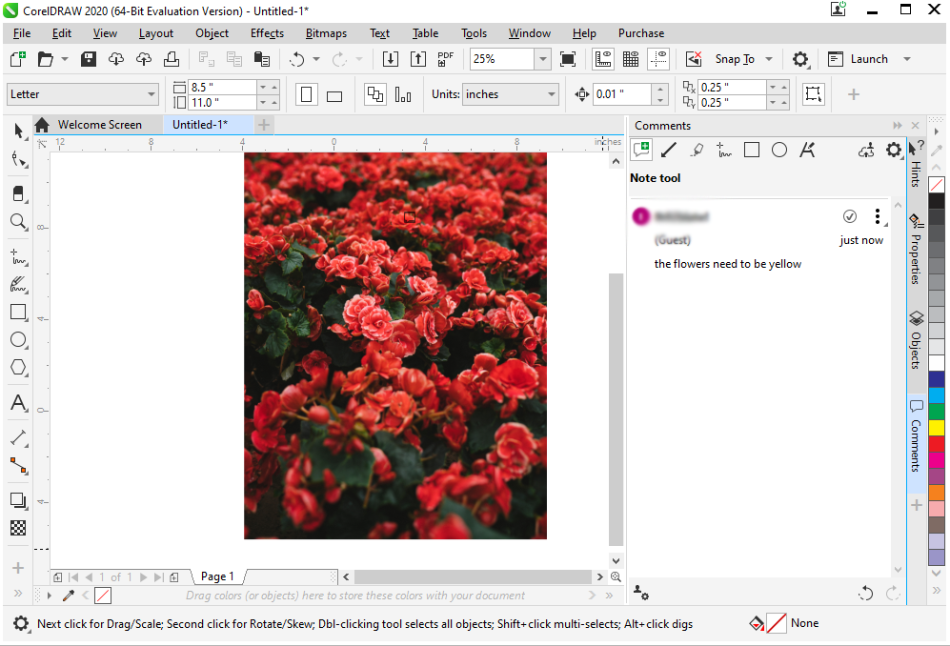 For Illustrator files, there isn't a current way to comment and share in-app. However, a useful workaround is to save your document with Cloud Documents.
Here, you can share a link to your project, allowing others to comment and make a suggestion. The process isn't perfect but still is better than nothing.
Overall, in-app collaboration is the best. It's efficient for a project and skips the messy file exchange. CorelDRAW wins for making the design process that much easier.
Winner: CorelDRAW
4. Compatibility
Adobe Illustrator works for both Mac and Windows Users. Adobe just came out with Illustrator for iPad on October 21st, 2020.
This new release is a huge deal for designers, allowing you to create on the go and giving you the versatility of iPad to a desktop workflow. The iPad app is available for all plans that include Illustrator.
CorelDRAW works for both Mac and Windows users. There is an iPad application; however, the ratings are relatively low.
A great feature of CorelDRAW is CorelDraw.app, an online application so you can access and edit your work from anywhere, without having to download the software.
The online app is great for people who are on the go and need to make a quick edit or comment on a coworker's project. The online application is meant specifically for desktop use.
CorelDRAW imports and exports Illustrator files. Illustrator does not open CorelDRAW files. In order to open a CorelDRAW file, the workaround is to export as an Illustrator file and then open in Illustrator. Also, the conversion isn't seamless, so some features from either app won't carry over.
Overall, Adobe Illustrator and CorelDRAW tie for compatibility. They work across a variety of platforms and have features that make the software that much more accessible.
Winner: Tie
5. Support
Overall, both apps have a ton of resources to help you learn the program. Read on to see what they give you to teach you the program and help you with problems.
CorelDRAW has tons of resources in the Corel Discovery Center. Here, you will find step by step tutorials, detailing tools, and guidance on how to use the program to the max. The website also features video tutorials, showing you the tools in action.
CorelDRAW also offers additional bundles for purchase on the site. They offer everything from Clipart to templates and artistic effects. CorelDRAW has tech support through Zendesk. You can call or chat with a customer service rep, getting the help you need.
In-app, CorelDRAW also has a lot to offer. They have a hints feature, giving you a hint for the current tool you are using. They also link you to a Quick Start guide, which walks you through all of CorelDRAW's basics.
Adobe Illustrator has tutorials in-app, teaching you new features and program basics. The Learn panel includes written and video instruction, giving you step by step guidance on tools and techniques.
On their website, Adobe has a Learn and Support page for every Adobe Program. The Get Started Page walks you through the basics, from downloading the app to getting to know the interface and tools.
The main tutorials page has written instruction, walking you through a technique like creating shapes or adding text to your design. Lastly, the Illustrator User Guide is a written online manual, going through topics in-depth, all in one place.
Adobe also has community forums and 24/5 tech support, available for chat or call. You can talk to a live person quickly or find your answer already resolved on the forum. The forum is very organized, separated by program with controls to filter out date and relevancy to your question.
CorelDRAW's learning site, Corel Discovery, is much harder to navigate than Adobe Illustrator's. Adobe's site is intuitive and organized, leading you to a solution faster.
Overall, both programs have a ton to offer when it comes to supporting. Adobe Illustrator and CorelDraw have in-app help as well as live customer support help to answer any questions. They give you everything you need to master the program.
Winner: Tie
6. Longevity

At this moment, Illustrator offers more longevity than CorelDRAW. Illustrator is an industry-standard and supported by a huge family of apps that work seamlessly together. If CorelDRAW adds more programs to its suite, it could become a competitor.
Illustrator is an incredible vector-based program that graphic designers use worldwide. The program is powerful and seamlessly connects with the Adobe Creative Cloud Suite.
Adobe products as a whole are standard in the industry. Businesses need versatile software that can address all of their needs. Adobe offers a suite of over twenty programs that does just that.
From video editing to publication design, Adobe does it all. Illustrator is part of this suite, one of the best programs in the lineup.
With that said, CorelDRAW has improved a ton over the years, updating its software to incorporate new features and fix software problems. If CorelDRAW keeps adding more software to their suite and improving at their current rate, Adobe could have some major competition in the future.
Winner: Adobe Illustrator
7. Users
Who uses Adobe Illustrator and CorelDRAW? Adobe Illustrator is meant for graphic design professionals, aimed at creating a myriad of vector graphics.
CorelDRAW is focused on making 2D publications and print media and is perfect for hobbyists and graphic designers working in niche fields.
CorelDRAW is great for hobbyists and new graphic designers. The learning curve is easier, and the program is quick to master. Adobe Illustrator is complicated, full of features you may or may not use depending on what you create.
CorelDRAW is perfect for anything printed. It's great for creating media like signs, flyers, or photo composites. The app has page design features, great for adjusting documents for printing.
Meanwhile, Adobe Illustrator is designed for web media and creating vector assets like logos, complex illustrations, and typography. The program is not as focused on page layout and dimension.
Overall, CorelDRAW is best for people looking for an easier program. Newbies and professionals both use the program while Illustrator is industry-standard.
However, its high learning curve does make it a less appealing choice for newer artists and is mostly used by people needing a complex vector program.
Winner: Tie
Final Thoughts
Both Adobe Illustrator and CorelDRAW are great programs with a ton to offer. Getting the best program for you depends on who you are and your needs as a creator.
If you are looking for a program that can tackle anything and everything vector, get Adobe Illustrator. Overall, it's one of the best programs on the market, worth the steep learning curve. You will be able to create everything from flyers to logos.
If you are working primarily in print-based media, get CorelDRAW. The app is designed specifically for 2D work and is easy to learn. The app is a great value, available at a variety of price points.
Frequently Asked Questions
Is CorelDRAW compatible with Adobe Illustrator?
You can import Adobe Illustrator files into CorelDRAW and export it as Illustrator files. The conversion isn't perfect because the programs are built in a completely different way.
Does anyone still use CorelDRAW?
Yes, graphic designers still use CorelDRAW. The software has gotten major upgrades, fixing problems, and keeping up with the times.
Is CorelDRAW difficult to learn?
CorelDRAW is very user friendly and not hard to learn. There are many tutorials online to get you started and walk you through the basics.
What is the best CorelDRAW software?
The best CorelDRAW software is CorelDRAW Graphics Suite 2020. This software is the latest release with the most features.
Anne is a filmmaker and writer with a passion to bring stories to life. She has created several short films, specializing in stop-motion animation. Anne has over eight years of filmmaking experience, and she is always ready to share her knowledge with other creators. She started her company Anne Gets Creative in 2020.
Anne is extremely familiar with many Adobe programs: Photoshop, Illustrator, InDesign, After Effects, Premiere, and Audition, to name a few. She has also worked with other programs such as Procreate, Canva, iMovie, and Final Cut Pro. She always strives to give the best software reviews, researching diligently so her readers don't have to.