(Last updated on January 9th, 2023)
Read this ultimate Adobe After Effects vs. Apple Motion comparison to find out which one is the best editing platform for you.
Both Adobe After Effects and Apple Motion are constantly being updated. We have the most up to date comparison with extensive time spent using both software, as well as analyzing hundreds of customer and user reviews.
By doing this, we have created an in-depth review that'll help you decide which software is for you, rating both apps in various criteria on a scale of one to five.
Overview of Apple Motion
Apple Motion was first developed in 2004 as Apple's answer to video post-production effects. The app is capable of creating 2D, 3D, and 360° effects for various video projects. It can be used for animation, titles, and compositing visual effects.
Apple Motion is only compatible with macOS. As such, it's a program that takes advantage of the Apple silicon and the Apple Neural Engine.
Related: Adobe Illustrator vs CorelDRAW: Who Wins & Why? (2023)
Pros
Cheap cost with a one-time fee of only $49.99.
Runs fast on Apple hardware.
Easy to use with an intuitive workflow.
Cons
The app only works with macOS and not Windows.
Not as many options for creating text titles.
Limited features that are not as ideal for professional video projects.
Overview of Adobe After Effects
After Effects has been Adobe's long-running video post-production tool for visual effects. The primary uses include keying, tracking, compositing, and animation. The app has been widely used in various industries, including movies, television, commercials, and video games.
Adobe After Effects functions on a wide variety of operating systems including macOS, Windows, and Linux. It can also work in conjunction with Adobe's video editing application, Premiere Pro.
Pros
Robust industry-standard tools for creating detailed and high-quality composites and animation.
Impressive features for various types of projects.
Strong compositing tools that can save you a lot of time when comes to placing visual effects over your video footage.
Cons
The program is expensive with a monthly subscription cost.
Steeper learning curve.
Lacking in hardware support for better rendering.
Short Verdict
If you're on a budget or looking to produce quick motion graphics and light composition work, Apple Motion is for you. On the other hand, if you're seeking a full compositing program to learn and grow as a visual effects editor and work professionally After Effects is for you.
Adobe After Effects vs. Apple Motion: At a Glance
1. Interface
Winner: Adobe After Effects. The After Effects interface is superior to that of Apple Motion because it's designed for professional use rather than user-friendliness. That does sacrifice ease of use for functionality.
2. Ease of Use
Winner: Apple Motion. As with many Apple products, Apple Motion is fairly easy to use for a new editor, especially considering the intensity that often comes with motion graphics.
3. Text
Winner: Adobe After Effects. The text effects offered in After Effects allow you to do just about anything you dream up, including 3D text animation, masking, key-framing, and more.
4. Compositing
Winner: Adobe After Effects. This is precisely what After Effects was designed for. Whether you want to explode an object, add an object in, animate footage or add extensive visual effects, After Effects is the program for you.
5. Playback/Rendering
Winner: Apple Motion. Apple Motion exclusively runs on macOS, as it is specifically designed for Apple products. This makes the rendering and playback non-conforming to other operating systems and is therefore only seamless on just the one operating system.
6. Features
Winner: Adobe After Effects. The pure scope of features that After Effects offers is attractive to most users, especially professionals.
7. Pricing
Winner: Apple Motion. Apple Motion's one-time fee of $50 is a winner in the pricing category when compared to Adobe's subscription plan of $20.99 for After Effects and $52.99 for the entire Creative Cloud.
1. Interface
Adobe After Effects
The After Effects interface is admittedly a bit more difficult to comprehend at first glance. But once you dive in and learn a bit about how each tool functions, you'll quickly realize how powerful this setup and interface is. While each panel and tool is customizable as far as arrangement and ease of access, the basic and most used interface is shown here.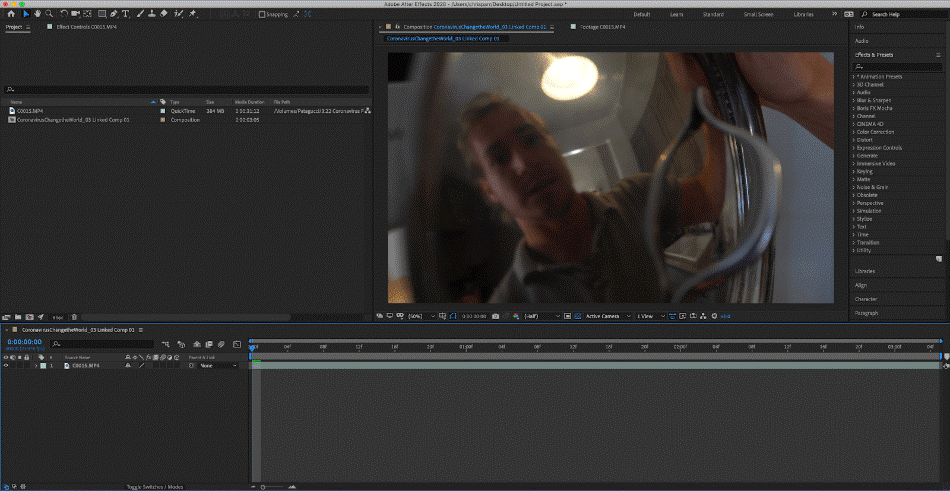 This basic After Effects interface is conveniently arranged with the timeline below with clearly color-coded layers and a timecode. The timeline can be a bit tricky to comprehend as a video-editor, but compositors should have no problem navigating it. The project panel runs along the left edge, with easily accessible compositions. Here, you'll also see effect controls when selecting a clip or layer.
Along the left edge runs the effects panel. Here you'll find the effects, motion trackers, audio tools, and font tools. At the top of the interface, various tools are listed for easy access. It's even easier to access these tools via keyboard shortcuts, which can be customized. In the middle of the interface is the playback panel, which involves most of the manipulation if you're working on compositing and masking.
After Effects is compartmentalized enough that it's easy to use after some getting used to. With some customization, workflows can also proceed rather smoothly. For a minor bit of learning, only a half-point was deducted.
Apple Motion
Let's now take a look at the Apple Motion interface. As you can tell upon first glance, the interface is a bit more user-friendly for first-time users. This, however, is often seen as a downside to professionals who note a lack of extensive and customizable features.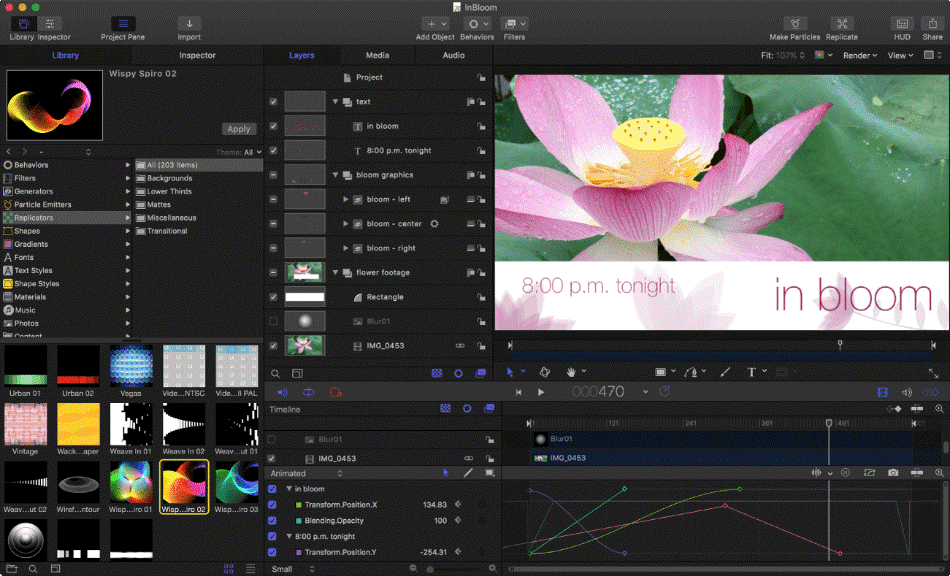 While Apple Motion offers most of the same features as the After Effect interface, each panel is arranged slightly differently. Similar to After Effects, the timeline runs along the bottom. However, the timeline has a different management. Along the left edge are both the preset effects as well as the effect controls. In the middle are the layer adjustments. And along the right edge is the playback panel.
The good and bad of Apple Motion is that it has a simplified interface. For beginners, it makes the program easy to use. For professionals, however, it may be frustrating for these limitations, which is why one point was taken off the score.
Winner: Adobe After Effects. The interfaces of Apple Motion and Adobe After Effects are similar to each other in that they each have panels designated to different functions and are both customizable. Beyond that, each interface is branded to its respective wider customer base of Adobe and Apple. That being said, Adobe After Effects has a better interface which is why it's the winner.

Overall, the After Effects interface is designed more for professional use, which means that it's easier to do complex and higher quality compositing, masking, graphics, and visual effects. Apple Motion is also an excellent program for these uses, but it lacks the full power of Adobe After Effects.
2. Ease of Use
Apple Motion
This is where Apple Motion has a clear advantage over After Effects. It's no secret that Apple prides itself on bringing user-friendly products to the market. And that's no different in the case of compositing and visual effects programs. While this work is generally tricky and time-consuming, Apple Motion makes it about as easy to use as possible. That being said, a high-quality production takes time and requires a steep learning curve no matter which way you slice it.
Apple Motion is designed for a first-timer to potentially churn out some light compositing or visual effects. On top of that, Apple Motion's preset effects and easy 3D integration allows users to pop-in high-quality effects on text and footage to improve the video. With all of these simple-to-use aspects, Apple Motion gets a perfect score.
Adobe After Effects
While Apple Motion takes the cake for its generally intuitive nature, After Effects has a wide array of online learning resources for you to toy with and pick up the features and functions of this powerful tool. It generally takes a few sessions of After Effects use before you can actually produce anything worth a final product.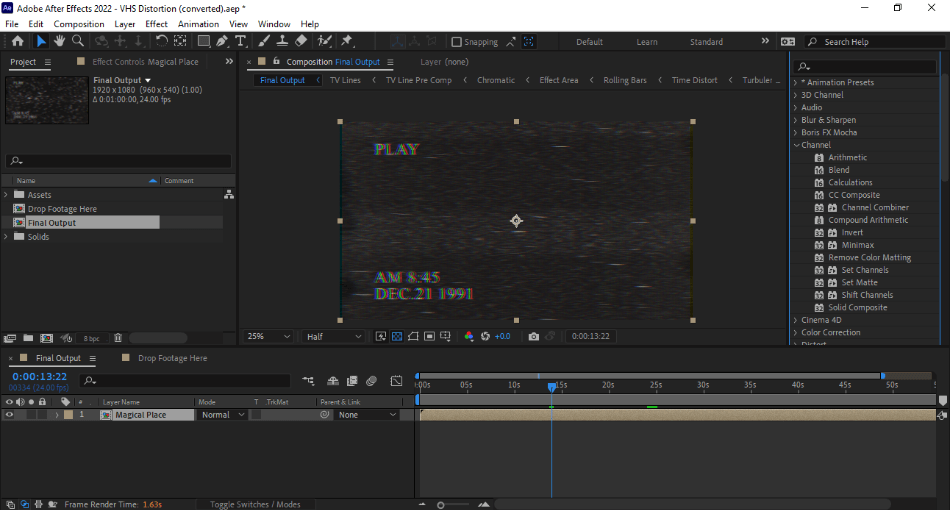 Adobe After Effects has created both free and reasonably priced plugins for quick and easy use. But for relying on these plugins for an easier experience, a point had to be taken off the score.
Winner: Apple Motion. Apple Motion has been simplified to such a degree that it's ideal for beginners. It doesn't require much documentation to read or tutorials to go over. For that simplicity, Apple Motion is the clear winner.
3. Text
Apple Motion
There is a lot you can do with Apple Motion, including the ever-popular 3D text animation. Packed with presets, as many Apple products are, Apple Motion has great 3D text effects.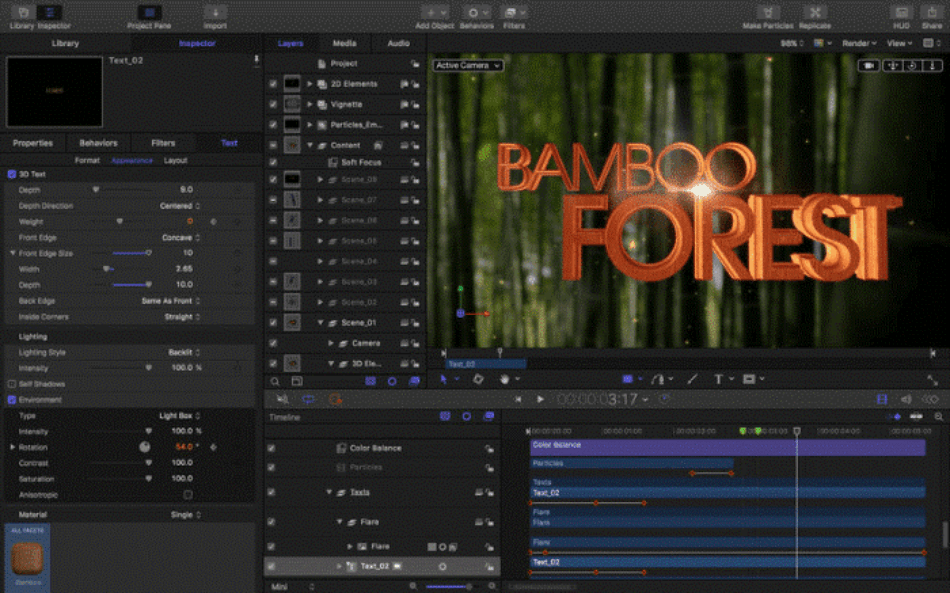 Much like After Effects, Motion provides the opportunity to customize the scale, font, leading, aspect ratio, drop shadow, glow, masking, color, and individual effects of each text layer you create. It also allows you to add keyframes and animate text.
Considering that most of these text features are already present in After Effects, they're not that impressive. They're easy to use but don't have the same range. This is why we took off a point from the final score.
Adobe After Effects
What makes After Effects so much better of a program for text is its seamless user experience and advanced features. When manipulating text from Premiere Pro, editors will often-times use the dynamic link to After Effects for more control. Every change you make in After Effects will automatically appear in the Premier project, as well. No exporting, or distortion of pixels.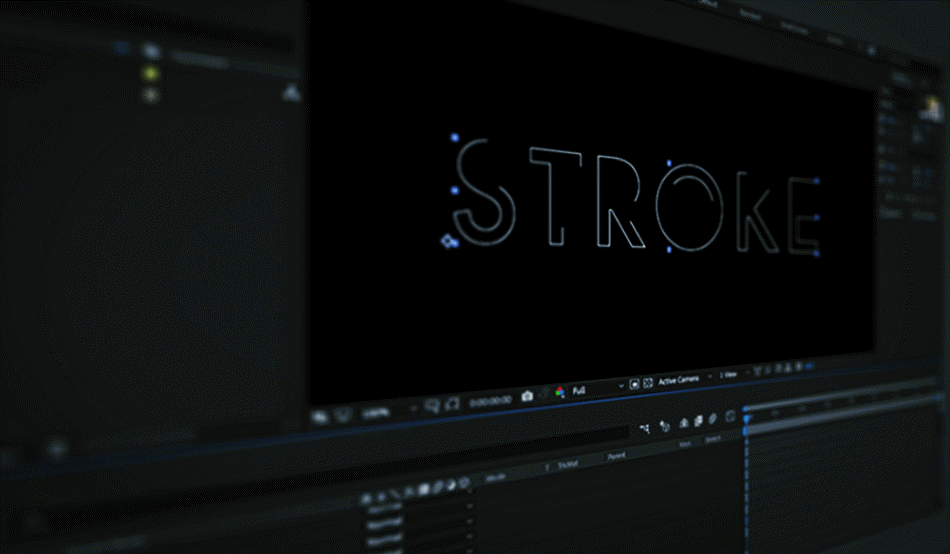 But the real power of After Effects, like it's siblings in Adobe Creative Cloud like Photoshop and Premiere Pro, is its full integration with the system. Yes, most effects can be done on both Apple Motion and After Effects, but the method with which you do this is important, along with the total customization.
One thing is for sure if you take the time to use After Effects properly, your final product will be uniquely yours. If you quickly use Apple Motion with a preset, that might not be the case. This is the defining factor of After Effects, especially when using text, and why it gets a perfect score for this area.
Winner: Adobe After Effects. After Effects is a superior text editing platform when compared to Apple Motion. While both programs are fairly similar in their capabilities After Effects is proven to be more powerful and effective with text animation and formatting. This is one of the many reasons that After Effects is considered the industry standard for motion graphics and why it's the winner in this category.
4. Compositing
Adobe After Effects
Compositing is where After Effects shines, in particular. This is precisely what After Effects was designed for. Compositing is when two or more layers of video are used to produce a single image. This often requires creating masks, which After Effects is particularly keen on. If you are professionally compositing, this also usually requires creating keyframes, which After Effects users love about the program.
Compositing is often what brings users to After Effects in the first place. You can edit yourself exploding, traveling through walls, shooting guns, and more. The sky's the limit to the creative control you have with After Effects.
Compositing in After Effects frequently means removing a logo, changing a number, and manipulating environments. This platform combined with its layer control and full control allows users to create industry standard visual effects that are fit for the big screen.
This doesn't necessarily mean that it's easy or fast, but the beauty of After Effects is that it's possible on your computer. For that minor learning curve, only a half-point was taken off the score.
Apple Motion
Compositing in Apple Motion happens by adding masks and layering video. Simple but eye-catching motion graphics can easily be done in Apple Motion. In fact, with the replicator tool, you can effectively copy and paste effects done on one layer and apply them to the other layer for seamless compositing.
Comparatively, Motion just doesn't offer as much when it comes to compositing. The lacking features is what led to a one-point reduction.
Winner: Adobe After Effects. After Effects is the clear winner here for being one of the top compositing programs in the industry. The compositing tools are not only easy to use but will save you a lot of time with their innovation. Considering how widely used it is in the industry, this is an applications you'll certainly want to learn for this core function
5. Render/Playback
Apple Motion
The power of Apple Motion's almost seamless playback lies in its compatibility with the Mac operating system. Because Apple Motion is only accessible via Apple products, this means that it only operates on Apple's operating systems. That also gives you complete control over every step of the process; therefore the program runs very efficiently and lacks the clunkiness that versatile applications inevitably face.
The downside of that is not only Apple Motion but all software produced by Apple is exclusive to its products. For this small issue that won't affect Mac users, a half-point was taken off the score.
Adobe After Effects
After Effects has variable playback settings to allow for faster playback at ½, ¼, ⅛, and 1/16th quality. However, After Effects often-times renders out a sequence before playing back, so there are no dropped frames as is frequently the case. Sometimes the best thing to do is just export out the sequence to view in full quality with no dropped frames.
The benefit of After Effects, however, is that it can be used on any operating system. But the software also lacks the seamless capability with the operating system it is used on.
That being said, with a powerful enough processor and RAM speed, you'll have no difficulty running After Effects at regular playback. For the issues regarding software capabilities, one point was taken off the score.
Winner: Apple Motion. Apple Motion takes the cake when it comes to rendering and playback. While After Effects has customizable RAM control and processor stabilization via its preferences, it often lags while layers are compiled with effects and composites.
6. Features
Adobe After Effects
After Effects offers the popular roto-scoping effects, which allows users to key out a background, foreground, or object while in motion. The camera doesn't even have to be locked off. Obviously this takes some fine-tuning to master, but the results will amaze you.
Another great feature that After Effects offers is its chroma-key effect. The Keylight effect is so powerful that even a poorly lit green screen can be keyed out properly with the help of some masking. The edges can be finely manipulated to remove the green that bleeds through hair and slightly transparent edges. This allows for perfect matching to a setting when using a green or blue screen.
While Adobe Animate (see its comparison with After Effects) is generally the preferred application for cartoon animation for Adobe customers After Effects does excellent work of character animation. Using its sophisticated keyframing and mesh character animation settings, After Effects actually allows you to composite cartoon characters into cartoon settings and create something from nothing.
Motion tracking in After Effects allows you to track an object in the footage and use this tracking data to place other objects into the footage to make them appear as if they were already in there. This is a fairly commonly used method in motion graphics for After Effects users, as the software is really easy to use.
After Effects has so many features to take advantage of that it can be used for a variety of projects. With such versatility, the app gets a perfect score.
Apple Motion
Apple Motion actually has motion tracking, as well, but the software isn't quite as easy to use and customizable as it is in After Effects. That being said, it's really fast and efficient to use. On top of this, Apple Motion has chroma-key effects and rotoscoping capabilities as well.
But each of these tools doesn't quite match the scope of what After Effects can do. There are many limitations that are not ideal if you desire more detail and control from your visual effects. For these issues, a point and a half was taken off the score.
Winner: Adobe After Effects. The features offered by both After Effects and Apple Motion are what make each program desirable in their own way. However, if we were to choose a program with better and more powerful features, it would have to be After Effects.
7. Pricing
Apple Motion
Apple Motion's pricing is pretty simple. It costs a one-time fee of $49.99 from the Apple app store. That's all you have to pay.
There's no extra costs of add-ons, updates, or subscription fees to deal with. Just pay the flat cost and the app is yours with lifetime access. For being so cheap upfront, Motion gets a perfect score.
Adobe After Effects
After Effects is priced at a monthly subscription rate. The single app is $20.99 per month. But the full Adobe Suite, which contains Photoshop, Lightroom, Audition, and Premiere Pro is $52.99 per month. There are often deals where this full suite is offered for $29.99 per month, but this comes and goes.
Adobe also offers student pricing, which makes for affordable app purchases. Apple actually also offers Apple Motion in a bundled offer with Final Cut Pro X. These prices are constantly changing but significantly less than the full rate.
After Effects is an app with a cost that can add up over time. For this expensive investment, two points were taken off of its score.
Winner: Apple Motion. The clear winner on this front is Apple Motion. For a flat rate of $50, you can get Apple Motion forever. It can only be used on Apple products, though. That being said, it makes for a great pairing with Final Cut Pro X, which many users combine when using motion graphics.
| | | |
| --- | --- | --- |
| | Apple Motion | Adobe After Effects |
| Platforms | MacOS | MacOS, Windows, Linux |
| Compatible Video Editing Software | Final Cut Pro | Adobe Premiere Pro |
| Best Suited For | Apple Users, Visual Effects Artists on a Budget | Windows/Apple Users, Industry Professionals |
| Pricing | $49.99 | $20.99/monthly |
| Discounted Price | No Discount | Check here |
Final Thoughts
Because motion graphics software is often a secondary use to video-editing software, this makes pairing a simple decision. That is if you're using either Premiere Pro or Final Cut Pro. If you're using Final Cut Pro, the simple choice would be to use Apple Motion for graphics, as the transfers between platforms will be seamless and efficient.
On the other hand, if you're using Premiere Pro or the Adobe Suite, it would make sense to use After Effects as the transfers using Dynamic Link will be seamless.
If you're using another editing software, After Effects is the more powerful tool. Adobe also designs its products so you can grow and learn as the industry develops. This is a very important aspect for a professional.
Frequently Asked Questions (FAQs)
What is Apple's version of After Effects?
This would be Apple Motion. Apple Motion is the motion graphics, visual effects, animation, and compositing application, much like After Effects. It is available with the Final Cut Studio.
Can Apple Motion work without Final Cut Pro?
Apple Motion can be used without Final Cut Pro. However, in order to continue a video edit, you'll most likely need a video-editing software to accompany Motion. This is most commonly done with Final Cut as it is seamlessly integrated, but it can certainly be done with another video editing software.
Can you permanently buy Adobe After Effects?
As of 2017, Adobe no longer offers a buy option. Instead, the Creative Cloud subscription plan operates at a monthly fee.
Can Apple Motion Open After Effects?
After Effects saves its projects as AEP files. These files cannot be read by Apple Motion so you can't transfer over your After Effects projects.
How much does After Effects cost?
After Effects costs a monthly fee of $20.99/monthly to use. You can also subscribe to Adobe's entire Creative Cloud library of apps, which includes Adobe Premiere Pro, for $52.99/monthly.
How much does Apple Motion cost?
Apple Motion costs $49.99 off the Apple app store. It's a one-time fee with no addition costs or subscriptions.
Chris is an LA-based filmmaker and video editor who has a passion for writing and creating video content. He has produced and edited a wide variety of projects, most notably his documentary series "Off the Cuf," which explores the world's most fascinating and obscure communities. He has over 10 years of experience under his belt and is known for explaining complex concepts in simple, easy-to-understand way.
He is extremely familiar with all the top video editing software out there such as the Adobe Premiere Pro, Adobe After Effects, Final Cut Pro, iMovie, Adobe Animate, and DaVinci Resolve. Chris also has extensive know-how of top graphic design & photo-editing tools, including Photoshop, GIMP, Canva, Snappa, and more.