(Last updated on November 2nd, 2022)
Is iMovie right for your video editing needs? If it isn't, what other choices do you have? Find out in this list of alternative applications for video editing that will work in Windows?
For over 20 years, iMovie has been the iconic video editing software of the Mac environment. It was initially built for Mac computers that came with Firewire capabilities, making the editing process run relatively smooth with such a connection.
The software also came bundled with the iLife suite of other applications. Though both Firewire and iLife have been retired, iMovie remains a consumer-friendly video editor.
Since 2013, it has come bundled standard with all Mac computers. Since 2017, it has been free to download for anyone who needs a fast and free editor for their video content.
Of course, iMovie is only available for Mac computers, leaving Windows users left to look for alternatives. Thankfully, there's no shortage of video editing software available for the platform.
Whether you're looking for something just as consumer-friendly for your hobby desires or require something just as powerful for professional projects, plenty of video editors are out there.
But which one is right for you? Which one will give you all the tools you need and which one is just too expensive for your needs? Find out in this list of the best alternatives to iMovie.
1. Adobe Premiere Pro
As Adobe's flagship editor software, Premiere Pro has been an industry-standard tool since coming about in 1991.
The timeline-based application has become such a staple of video production that it has been adopted by many high-profile companies developing film and television. This includes television networks such as CNN and the BBC and such film productions as Gone Girl and Deadpool.
Premiere was one of the first video-editing applications to adopt the format of non-linear editing techniques. It's also a highly versatile program that has been built to integrate with Adobe's vast library of graphical software, such as After Effects and Photoshop.
Though Adobe had abandoned the Mac platform for a brief period, it now works in both Windows and macOS environments.
Pros
Since the platform compatibility is an issue here, one of the positives right off the bat is that Premiere can work in both Windows and Mac environments.
This makes it an ideal program for a multi-platform work environment or if you plan on handing off your project to those with different computers. So if you plan on passing your project off with other editors, Premiere serves this purpose well.
Premiere's interface has been competently compartmentalized for every aspect of production that has been placed within tabs. These tabs include Assembly, Editing, Effects, Color, Graphics, and Libraries.
Choosing Assembly will create a clean look built for getting all the footage edited for an assembly cut. Choosing Effects will give you all the tools you need for video and audio effects and transitions. And so on. Keeping everything together like this makes the workflow progress quite smoothly.
The integrations available for Premiere are powerful considering how many programs it can work in concert with. Projects from the likes of Illustrator, After Effects, and Photoshop can be read through Premiere.
Furthermore, numerous effects and transitions can be integrated with a massive salvo of plugins that span far and wide.
Cons
The subscription pricing model will undoubtedly be a con for many and give pause for those on a budget. The program runs $20.99 monthly or $239.88 annually. Though this cost does cover support and upgrades, it can add up to be quite a hefty sum over time.
Premiere also lacks a bit in some areas of higher-quality production. Those seeking to go for 4K quality will be disappointed at the lack of support in this area.
Though improvements are being made over time, this aspect can be a frustrating dealbreaker for those dabbling in shooting with advanced cameras with more ambitious projects.
Short Verdict
Premiere Pro has a wide range of functionality to be a professional application for pros and beginners alike. With a robust workflow interface that's easy to retool for any skillset, it's the perfect program for either simple edits or elaborate details of effects and transitions.
While it could use some improvements for high-quality rendering, there's enough present to be worthy of the subscription fee.
2. Premiere Elements
Premiere Elements is the more consumer-friendly version of Premiere Pro that is better built for the hobbyist than the professional editor. The program was initially released in 2004 and by 2006 had become one of the top-selling video editors for consumers.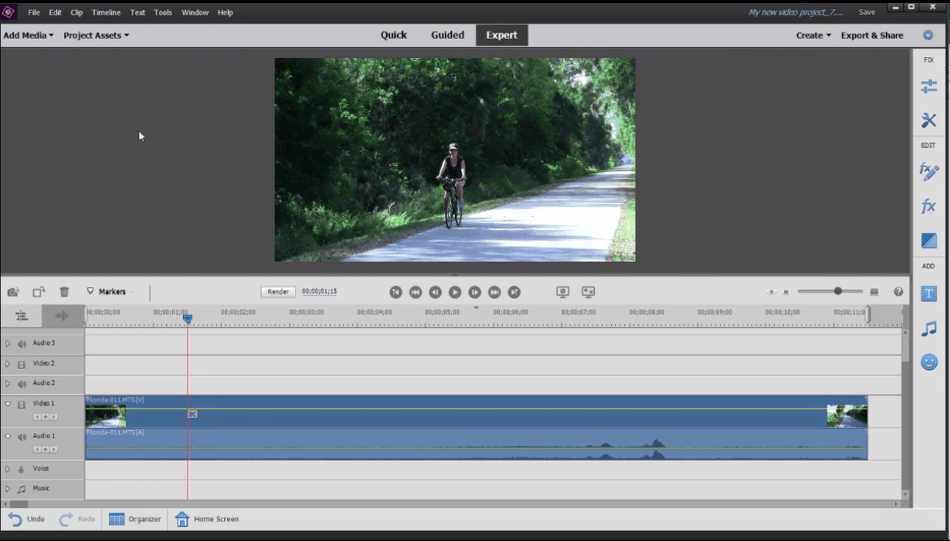 It has also come bundled with Adobe's other consumer-friendly software, Adobe Photoshop Elements. The Elements version differs from the Pro version in several ways. There are fewer features, a trial version, and a one-time purchase fee instead of the usual subscription model.
This has been implemented for the program to be usable by those just starting to edit video and do some detailed yet straightforward video projects.
Pros
A bigger draw for Premiere Elements comes from its comparatively cheaper pricing model. Not only is it less expensive than Premiere Pro, but it doesn't require a subscription fee, favoring a one-time-payment method instead.
The cost is only $99.99, or you can get both Premiere Elements and Photoshop Elements for $149.99, which is a relatively low investment considering how much is offered. Where Elements soars higher above its similar competition of consumer-grade video-editing applications is in its capabilities.
Unlimited video and audio tracks are available, so users won't have to sacrifice to layering visuals and audio. Also, effects can be keyframed for all tracks the same way they're placed in Premiere Pro. It's surprising just how many of the handy features from Premiere Pro carry over into Elements.
Cons
Naturally, being more consumer-focused than Premiere Pro, Premiere Element has several limitations. A handful of the features not included are multi-camera editing, time remapping, scopes, advanced color correction tools, and an advanced audio mixer interface.
While this may not be a significant issue for hobbyists and social media talents, it is not at all preferable for the professional video-editor dealing more in production than personal projects.
Short Verdict
Premiere Elements is the cheaper solution to Premiere Pro but comes with a lot fewer features. It's a capable enough tool for those who just want to experiment with some cunning video editing functions and effects.
But if you're seeking to produce more professional work, Premiere Pro is worth the extra money.
3. Movavi
Born from a small startup in 2004, Movavi was a video editor that both amateurs and professionals could efficiently utilize. The company developing the video editor has continued to make the software more accessible to others. Such new functions have included Mac, mobile, and multiple language versions.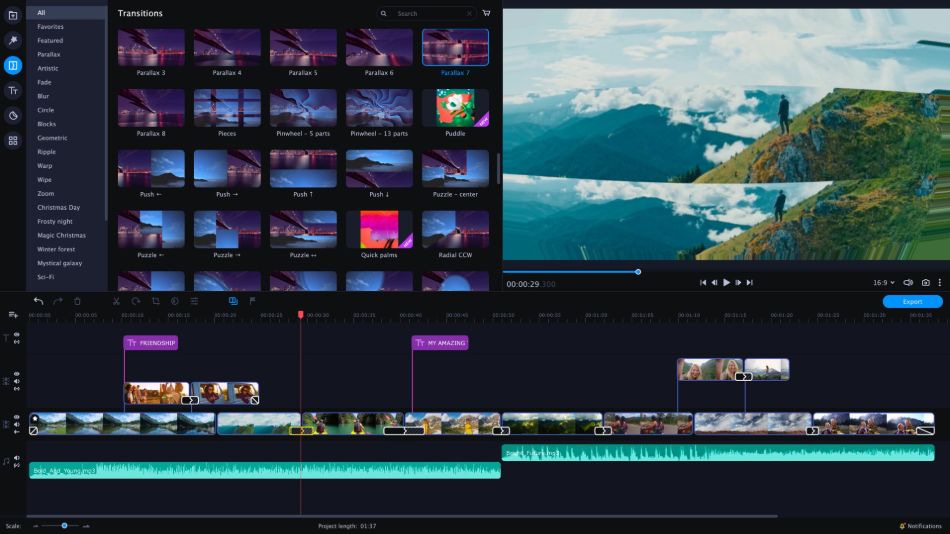 Movavi has also expanded into different areas by tackling different types of creative software. Areas of photo editing and screen recording have been explored, catering to photographers and gamers. Their video editor, however, remains their flagship product.
Pros
Movavi is surprisingly versatile with what it can support, and what tricks it's capable of. Any video format can be read through the software, so you won't have to worry about conversion issues. Numerous effects are present that you can find in most high-end editing applications.
One of their more intriguing effects is the Callout feature, allowing editors to quickly point out specific spots in the footage, ideal for sports recaps and documentaries where you want to focus the attention on something small.
The application is purchased via a subscription fee, but it's one of the cheaper editors priced at $39.95 a year. They also offer bundle packages for their more comprehensive range of graphical software as well.
If you have a school or business in need of the program, you can strike favorable deals to purchase licenses in volumes.
Cons
Movavi still has a ways to go in terms of functionality when compared to the competition. The effects, though abundant, are somewhat limited and appear more useful for consumers than professional editors.
This is most evident with the sticker function that essentially places clip art over your video footage. Even the areas where Movavi does try to be more professional leaves much to be desired. The Stabilization, Pan & Scan, and Chroma Key tools are incredibly lacking in options which severely limits their capabilities.
This aspect doesn't bode well for those who require precise control over their video footage. Another major flaw is that the application doesn't support AVCHD camcorder importing. This means all the footage you can bring into the application must be locally stored on your computer.
This will be a problem for both amateurs and professionals alike who want to get their footage directly into the editing application.
Short Verdict
Movavi works reasonably well for consumer usage but isn't quite robust enough to handle more professional projects. The lack of camera importing, stabilization tools, and color correction is not suited for high-quality video production. Recommended only for hobbyists.
4. Wondershare Filmora Pro
Filmora Pro is a video editing application that seems to have been intended for those who want to share their social media footage.
Operating under the Wondershare brand, it's a company that boasts its products being used by over 77 million users in 150 countries. It has been designed to be simple-to-use for editors who only require basic editing with a handful of advanced effects.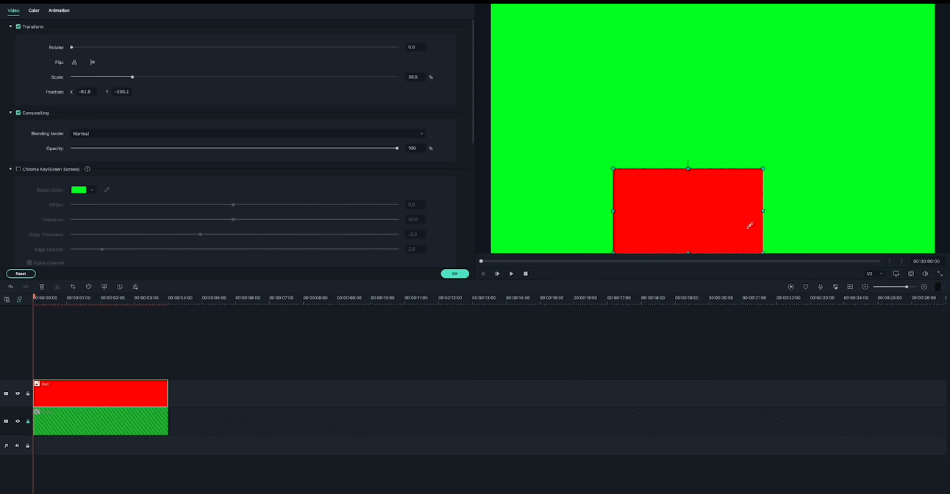 Pros
Filmora stands taller in the competition with more professional tools than most video editors out there. The finer details of shadows, mid-tones, and highlights can be tweaked for optimal image quality.
You can also make fast and precise color adjustments with the aid of color wheels, present in most professional editing software.
One of the unique things about Filmora Pro is its pricing tiers. The application is free to download, but it comes with watermarks. You can then decide to purchase a lifetime license for a one-time fee of $199.99 or be billed annually at $119.99 a year.
Cons
Filmora sadly only seems to work on Windows operating systems. This may not be a dealbreaker for those seeking an alternative to iMovie's Mac environment exclusivity.
But it does limit the scope for those who work with other editors in an environment with both Windows and Mac machines. Consider this factor when deciding.
It should also be taken into account that Filmora is rather taxing on computers. Machines with less RAM may experience playback issues, resulting in laggy previews and instabilities in the functionality.
To avoid a slower workflow and the potential of crashing, you'll need to invest in a high-end computer to make sure it can handle Filmora.
Short Verdict
Filmora will be of the best benefit for those seeking software for social media projects. If your real desire for a video-editing app is to be a YouTube star or show off your on-the-go footage, this program is well-suited for those needs.
Those seeking an application capable of more professional projects for film and television may have to look elsewhere.
5. Corel VideoStudio
Although Corel has long been associated with graphic design given PaintShop Pro's popularity, their video editing application has stood just as firm. Originally known as Ulead VideoStudio, Corel VideoStudio has evolved to become an award-winning video editing application.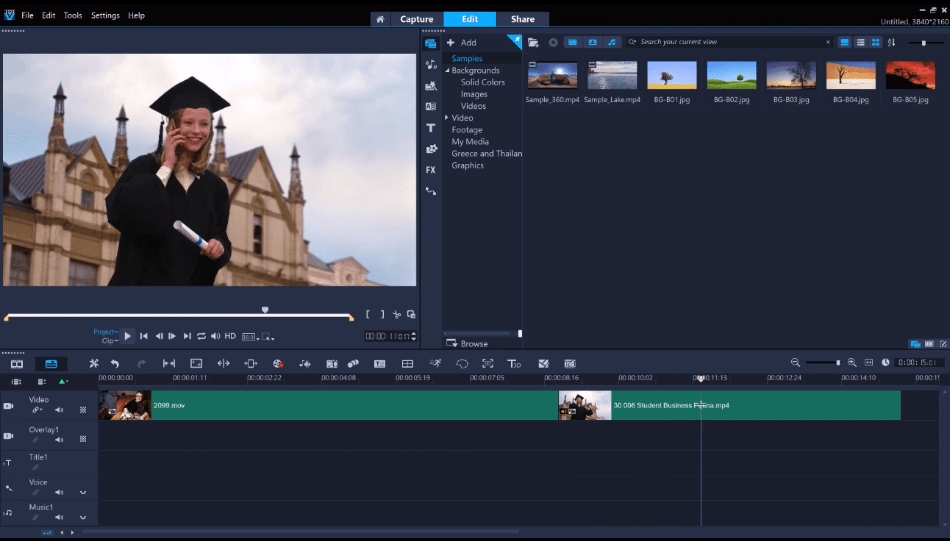 Pros
The favoring of a storyboard and timeline interface makes the application suitable enough for newcomers. Further making the application better suited for a novice is the abundance of automation in the numerous features.
Everything from slideshows to titles can be easily added to any project with handy tools and shortcuts. Though it does appear that VideoStudio seems more consumer-grade on its face, it does boast some uncommon functionality within this crowd.
Consider how the program offers easy tools for making video corrections (lens correction, aspect ratio tweaking) and color corrections.
Cons
VideoStudio's interface has been simplified a bit too much because it lacks both features and ease-of-use for professional editors. This is most evident in the bulky timeline interface, which is not very friendly to editors who appreciate more control in their tracks.
Working within VideoStudio feels more restrictive in its editing workflow because of this aspect. There are also concerns about how media is brought into the program.
Not only does the storyboard look not made for a sound library, but a lack of tagging makes the organization more challenging. More crucial, however, is that the program is a bit buggy and prone to crashing, depending on how intricate your projects are.
Short Verdict
Though relatively handy for simple video projects, Corel VideoStudio offers little to distance itself from other consumer-grade video editors.
It's easy enough to use for beginners but will be a chore to configure for professionals used to more of a timeline-style and complex environment. Recommended for hobbyists.
6. Cyberlink PowerDirector
CyberLink Corp was initially widely known for its DVD-reading software of PowerDVD but had also been developing a video editor for just as long. Initially released in 2001, Cyberlink PowerDirector has gone on to become one of the company's most renowned products.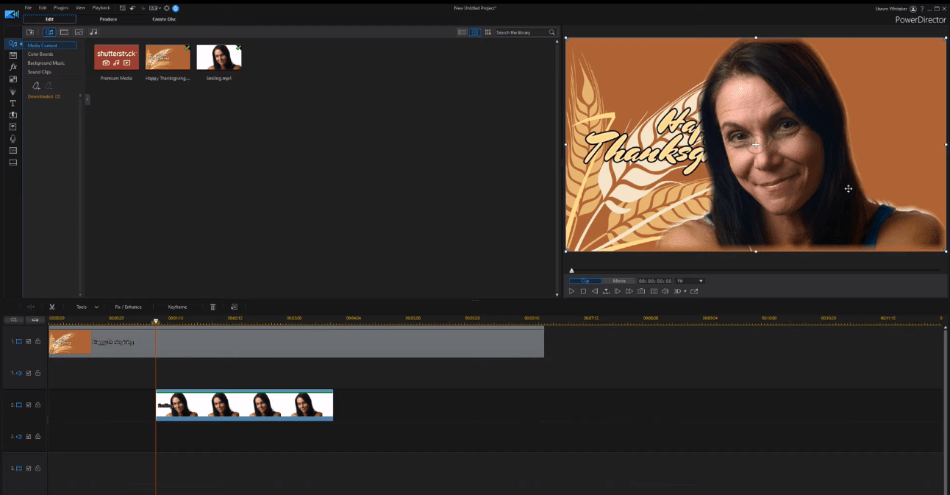 The application has received such awards as the Best Product of 2020 by PCMag and Best Video Editing Software of 2020 by TechRadar.
Pros
Those seeking out PowerDirector for use with their online videos will be astonished at how easy and accommodating the program appears. The 1:1 aspect ratio is perfectly suited for social media.
The motion-graphics tools are some of the least complicated of any video editor, and handy track-ordering tools make the process flow relatively smoothly.
All of this is easy to weave with an interface that seems like a compromise between professional editing programs and consumer-grade editing software.
Cons
You'll have to sort through the different versions to find the specific features you're looking for. For example, 4K video editors should seek out the Ultimate performance.
If you purchase the standard version, you'll be dismayed not only at the lack of 4K video support but the absence of audio scrubbing and library preview, which are an absolute must for professional editors.
Short Verdict
PowerDirector is a powerful editor for beginners by offering them many top-quality tools without an intimidating interface. It's easy enough to use considering all it supports, though you'll have to spend a little more for the Ultimate version.
That being said, it is recommended for the beginner editor who wants to jump right into the 4K videos.
7. Pinnacle Studio
Initially developed by Pinnacle Systems, Pinnacle Studio has been the top product of the broadcast development company.
Having been under Avid and Corel's banner, the editing program was developed as a means of both editing video and writing projects to physical formats. This includes DVDs and Blurays, complete with options for assembling menus.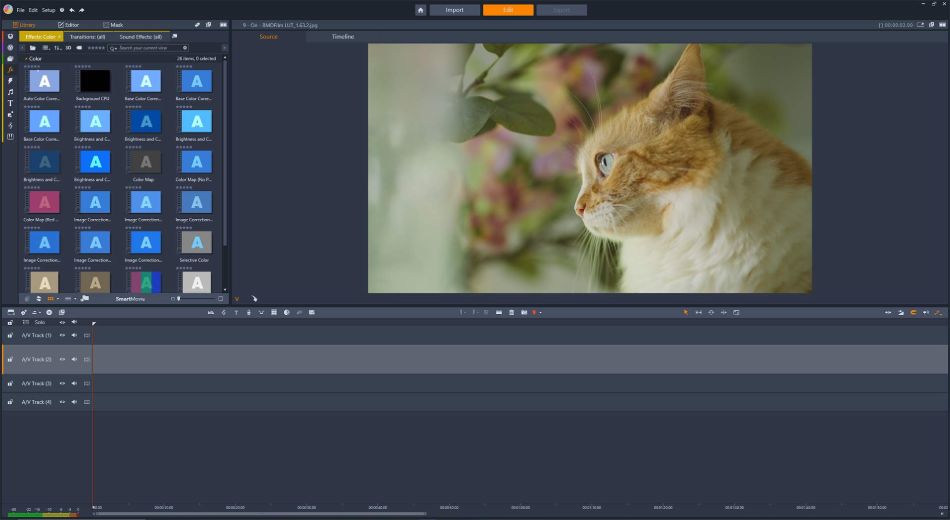 Pinnacle has significantly expanded since its initial release to be far more flexible with new technologies and platforms. The application is available on both Windows and macOS environments and a mobile iOS version for use on iPads and iPhones.
The application can be purchased in three different packages, called Studio, Studio Plus, and Studio Ultimate.
Pros
Pinnacle Studio has made some great strides in areas where most video editors seem to be lacking—considering the Ultimate version, which supports 4K video footage, multi-camera edits, motion tracking, and video masking.
Other unique features include various DVD menu layouts, ranging from 20-100 options depending on your purchase package.
Naturally, the ability to directly write your video projects to either DVD or Bluray is going to be a significant draw. Most video editors are not adept in this area and require an external program for such a process.
The convenience of pushing your video onto a physical copy will be of great use for consumers who just want an edited video to pop in a player without trying to figure out output formats for sending a digital file.
Cons
A significant drawback to Studio is that being split between three different versions means the lesser versions will carry fewer features. This is concerning with such aspects as limited tracks, meaning you'll be far limited in what edits you can accomplish in the software's basic version.
Though Pinnacle Studio Ultimate takes care of all this, it's a bit concerning that users will have to research each version to find exactly what they need. Even with the Ultimate version, however, there are still some limitations.
AMD users should take note that the program does not support HEVC video compression on AMD hardware. This is a big deal as the HEVC allows for the H.264 video type, the most appropriate for online video performance and size.
Short Verdict
Pinnacle Studio is a powerful enough program for those seeking to write high-quality videos to physical formats. The combination of 4K support, motion-tracking effects, and DVD writing technology make it ideal for those who will find themselves putting out professional content.
Since the program is quite intricate and not as well-suited for simple videos, it's a program that works best for professional editors willing to spend a little extra to do a bit more.
8. Vegas Pro
Vegas Pro came about in 1999 under Sonic Foundry as an audio editing program. Over the years, it has continued to develop to be a firm contender as a video editing application under MAGIX.
The application mixes different elements from various editors, such as a timeline similar to Premiere and a storyboard catalog identical to iMovie.
Pros
Vegas Pro simplifies a lot of familiar tools in other video editors. Tools for cropping and panning are better automated so that users will spend far less time trying to find just the right part of the footage to focus on.
The color grading tools are also pretty straightforward. Just about anyone can jump right into color correction without a big intro, and the 4K video support is also a significant draw.
Cons
Even though Vegas Pro favors the preferable route of a one-time purchase fee, it's still rather steep. The cost is $698.00 with an upgrade price reduced to $599.
Thankfully, you can go for the application of Vegas Pro 365, priced at $23.99/monthly, but even this is a bit more expensive than the likes of Premiere Pro.
Feature-wise, Vegas Pro is also missing quite a bit. Chief among those concerns is the lack of motion-graphics controls. This will be a massive turn-off for any editor who likes to add an extra touch of detail to their projects.
Several effects can be applied, but they leave a lot to be desired from the altercation options.
Short Verdict
Vegas Pro does have a wealth of functionality, but it also comes at a hefty price. Unless you find yourself with a firm desire for 4K support with many standard features of Adobe Premiere, it's not entirely worth the price. Recommended only for hobbyists willing to pay more for the power.
Frequently Asked Questions
Can you get iMovie on Windows computers?
As an Apple product, iMovie only works on Mac computers.
How much does Adobe Premiere Pro cost?
Adobe Premiere Pro costs $20.99/monthly on an annual plan or $31.49/monthly if you'd rather go month-to-month.
What is the difference between Adobe Premiere Elements and Adobe Premiere Pro?
Premiere Pro is more of an industry-standard application for professional video editors while Premiere Elements is a more stripped down version for consumers and hobbyists.
Is Movavi free?
Movavi is free to use but all videos rendered will come with a watermark, meaning you'll have to buy the software to remove it.