(Last updated on November 2nd, 2022)
Does Photoshop seem too expensive? Would you rather just pay for lifetime access? Is that even possible? We'll cover that topic in this article and let you know how to use a version of Photoshop for a price you only pay once.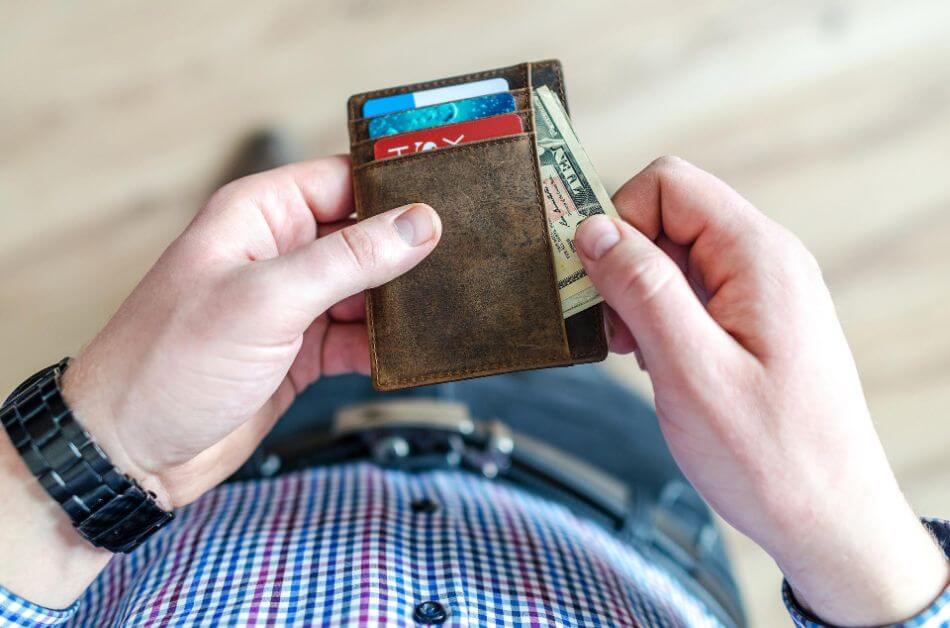 What is Photoshop?
Photoshop started as primarily a photography application but has grown into something much bigger. As the program has improved, it's become enhanced with tools for graphic design, illustration, and more. Due to such advancements, it's used in various creative industries.
The newest version of Photoshop is referred to as Photoshop CC. This version can only be purchased from the Adobe website as a subscription. By purchasing as a subscription, your software is constantly updated with the latest version, patches, and fixes.
Pros
Fast and powerful photo editing tools.
Brush support for ideal illustrations.
Many plugins and support resources are available.
Cons
The monthly cost can get expensive over time.
Could use better organization tools.
Not as easy to use if you're a beginner.
How Can I Buy Photoshop?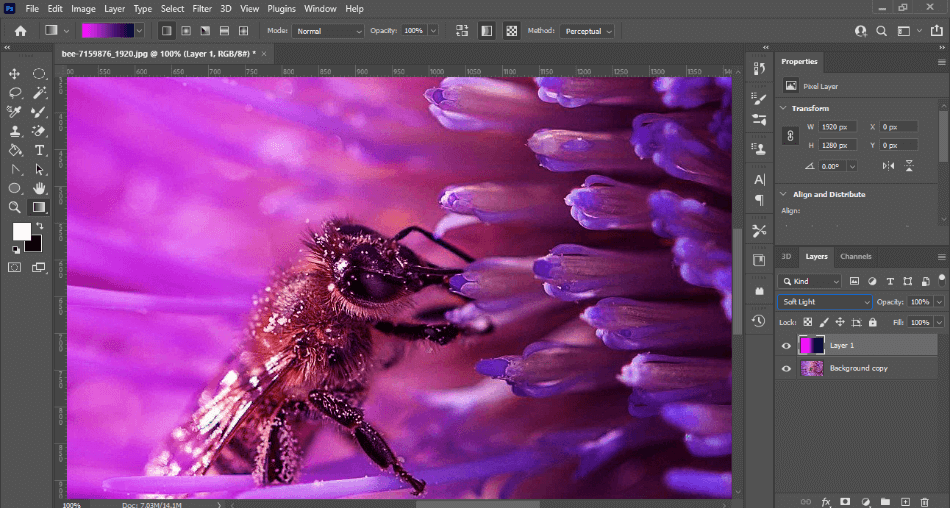 Photoshop CC requires a monthly subscription to use. The program's cost is $20.99 a month under an annual contract and comes with 100GB of cloud storage space. You can also choose to pay a costlier month-to-month contract or pay annually. Before buying, you can try out Photoshop for a week in the form of a free trial and see if it meets your requirements or not.
The Photography Plan is the cheaper choice for buying Photoshop. It's priced at $9.99/monthly and comes with Photoshop CC, Lightroom CC, and Lightroom Classic. It only comes with 20GB of cloud storage space, but you can upgrade it to a whopping 1TB for only $19.99/monthly.
The other plan to be aware of is the complete Creative Cloud. This plan gives you access to all Adobe apps (including Photoshop) and 100GB of cloud storage for $54.99/monthly. If you're a student or teacher, you can get this plan at a discount of $19.99/monthly.
To see your options for purchasing the program, check out the table below:
| | | | | |
| --- | --- | --- | --- | --- |
| | Photoshop CC | Photography Plan | Complete Creative Cloud | Student & Teacher Creative Cloud |
| Cloud Storage Space | 100GB | 20GB, 1TB (Upgraded) | 100GB | 100GB |
| Includes | Photoshop CC | Photoshop CC, Lightroom CC, Lightroom Classic | Photoshop CC, Lightroom CC, Lightroom Classic, Illustrator CC, InDesign CC, and more. | Photoshop CC, Lightroom CC, Lightroom Classic, Illustrator CC, InDesign CC, and more. |
| Price (with annual contract) | 20.99/monthly | $9.99/monthly, $19.99/monthly (Upgraded) | $54.99/monthly | $19.99/monthly |
Why is Photoshop Worth It?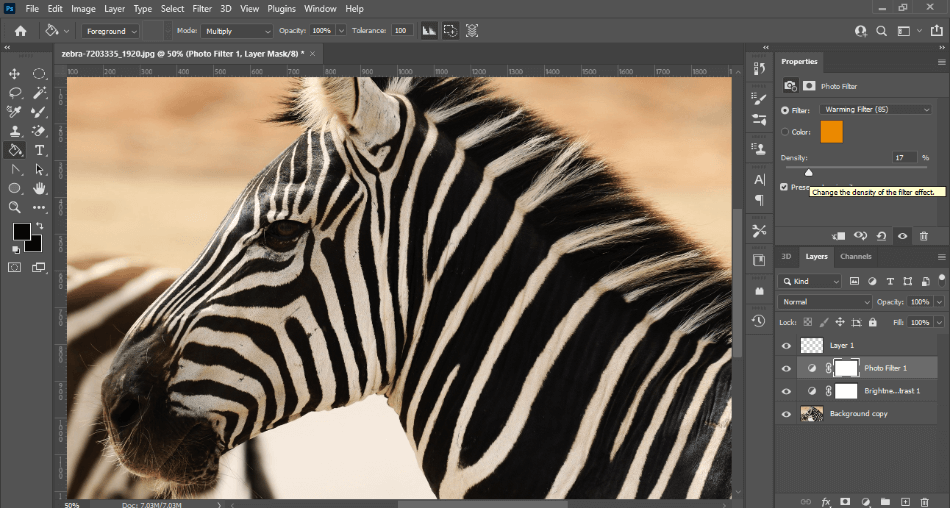 With such a high cost, you may be wondering just what you're getting for this monthly price. Here is everything you get with Photoshop when you pay for a subscription.
The latest version of Photoshop.
Patches, bug fixes, and upgrades.
Access to templates and plugins.
Adobe Sensei AI for smart features like facial expression changes.
Cloud storage space for all your project files.
Adobe Photoshop Express for working on mobile phones.
The iPad version of Photoshop with support for stylus pens.
Is There a Lifetime Price for Photoshop?
Unfortunately, Photoshop CC does not come in the form of a lifetime payment option. This used to be possible when Photoshop was sold as Photoshop CS, but that is a retired line. As Photoshop CC, you can only buy the program in the form of a monthly or annual subscription.
Thankfully, there is an alternative Photoshop program you can buy that does have the choice of a lifetime price. That application is Photoshop Elements and it should work for most common Photoshop needs. It has become just as prolific as Photoshop CC for being able to accomplish many of the same tasks without much hassle.
Photoshop Elements was built for beginners. It has a far simpler interface, various theme presents, and straightforward tools for making precise edits fast. For being so easy to use, it has mostly been used to edit family photos.
To make the application more cost-friendly for non-photographers, the program only requires you to pay a one-time fee of $99.99. That price gives you lifetime access to Photoshop Elements with no hidden fees. You will have to pay to upgrade to future versions at a discounted rate. Keep that in mind if you're planning on investing for the long haul.
Pros
Cheap one-time price.
Easy to use for beginners.
Has many of the same tools and features as Photoshop CC.
Cons
Requires payment for future upgrades.
Can't handle CMYK color output.
Lacking in plugins.
To see just how Photoshop Elements compares to Photoshop CC, check out the table below:
| | | |
| --- | --- | --- |
| | Photoshop CC | Photoshop Elements |
| Color Output | RGB, CMYK | RGB |
| Camera RAW Filter | Yes | No |
| Plugins | Many | Few |
| Skill Set | Intermediate | Beginner |
| Price | $20.99/monthly | $99.99 once |
Is Photoshop Elements Worth It?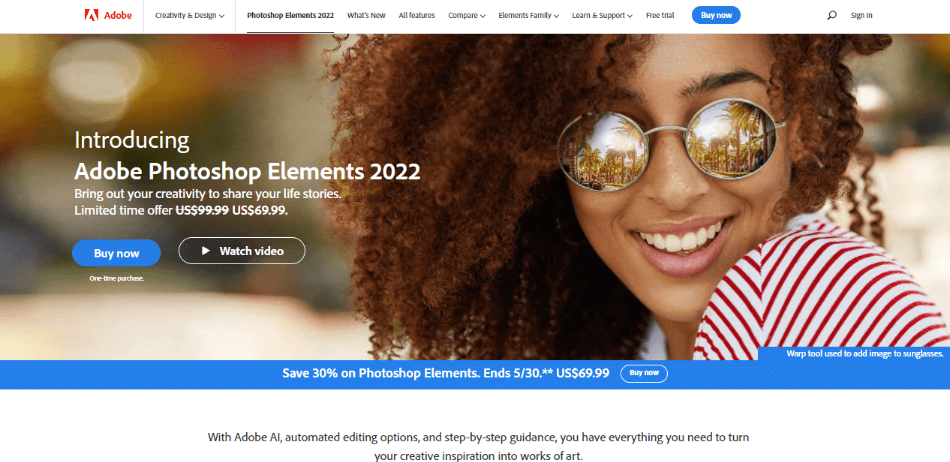 Photoshop Elements is worth buying for a lifetime price alternative but only for most photography projects. It can perform the same functions as Photoshop for removing red eyes, changing backgrounds, and creating animations. It's also straightforward to use, making it the obvious choice for those who don't want to spend much time learning Photoshop.
Photoshop Elements may not be the right choice if you're trying to create professional projects. The lack of CMYK color support and the uncertain nature of whether or not specific plugins will work doesn't make it ideal for intricate projects. You may also want to be aware of paying for upgrades as that cost may add up if you update every year with each iteration.
If you're a beginner, you will get the most benefit out of Photoshop Elements and its lifetime price. The abundance of templates and an intuitive interface and tools make it easy to recommend for that skill level. If you're professional, however, you may get frustrated with its limitations that don't allow for complex and smart-tech edits, such as changing facial expressions.
What Are Some One-Cost Alternatives?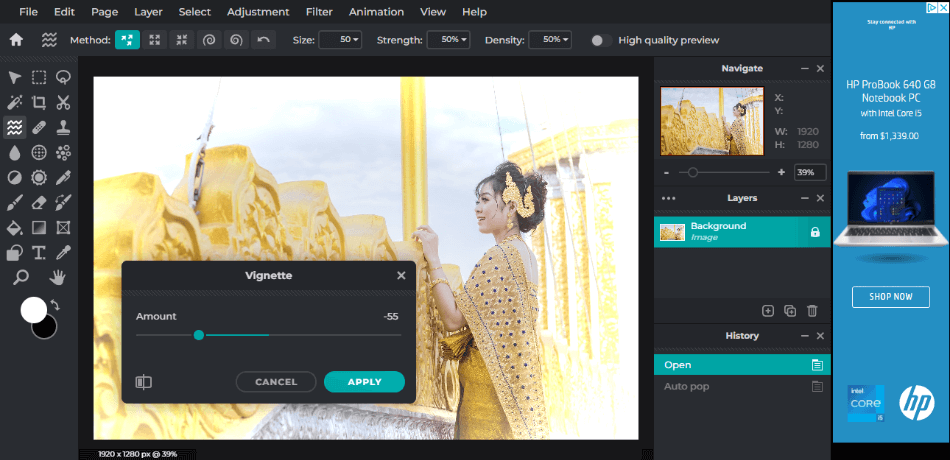 If you want an alternative application that only requires a one-time payment, check out the table below:
| | | | |
| --- | --- | --- | --- |
| Alternative Applications | Lifetime Cost | Pros | Cons |
| Affinity Photo | $54.99 | Great for RAW photo editing. Can handle raster and vector graphics. Variety of customizable brushes. | Lacking in important management. Awkward interface. Missing some essential Photoshop tools. |
| Luminar | $79.00 | Intricate AI features. Can be used as an Adobe plugin. Sync changes for multiple photos. | No mobile version. Requires a heavy-duty computer to handle it. |
| GIMP | Free | Easy interface. Comparable Photoshop tools. Open-sourced. | Steep learning curve. No CMYK color mode. |
If you are sure that Photoshop is right for you, below is a special discount for you.
Frequently Asked Questions
How much does Photoshop cost for a lifetime?
There is no lifetime cost for Photoshop CC. Photoshop Elements is the only Photoshop alternative offered by Adobe where you only pay a one-time cost of $99.99 for a lifetime license.
Is it possible to permanently buy Photoshop?
Not in the form of Photoshop CC. You'll need to look into Photoshop Elements if you want to permanently buy the program.
How much is Photoshop as a whole?
Photoshop CC costs $20.99/monthly under an annual contract. That works out to $239.88/yearly.
Is there a non-subscription Photoshop?
Yes, Photoshop Elements doesn't require a subscription to purchase. It doesn't have all the same features and can't handle CMYK colors but it can perform most of the same functions.
Is GIMP as good as Photoshop?
Yes, GIMP has been considered a prime competitor for Photoshop. It can accomplish most of the same features and has many of the same tools. The interface, however, is much different and may take more time to learn.
Is Photoshop $10 a month?
Photoshop CC can be purchased for $10 a month under the Photography Plan. The only catch is that you only get 20GB of cloud storage space as opposed to the 100GB you'd get with the solo Photoshop plan. You can upgrade the Photography Plan for 1TB of cloud storage at $19.99/monthly.