(Last updated on November 2nd, 2022)
Krita or Adobe Photoshop? Which software is better and why?
Read this ultimate Krita vs. Photoshop comparison to find out which software works best for your needs.
Krita is a free, open-source program for digital illustration and animation. Many professionals prefer the program for painting.
Adobe Photoshop is the industry-standard program, great at photo-manipulation, illustration, and creating various media assets.
If you're in a rush, see the summary of the comparison below.
Comparison at a Glance
1. Features
Winner: Adobe Photoshop. Overall, Krita does less than this powerhouse. Photoshop can do everything from 3-D models to photo-editing. It has an almost endless number of features.
2. Pricing
Winner: Krita. This program is the winner because it's free. Photoshop is only available via subscription.
3. Usability
Winner: Krita. This software is very easy to use and understand. The flow is like Photoshop, but simpler. The user can easily jump in and not get lost.
4. Digital Painting
Winner: Krita. Krita is a fun illustration program that is both easy to use and creator-friendly. The brush library is beyond impressive and customizable, huge wins for digital painters.
5. Compatibility
Winner: Tie. Both Krita and Photoshop are very compatible. Krita works on a variety of operating systems. Photoshop works on more devices with sister apps available for mobile, an iPad application, and designed for desktop.
6. Support
Winner: Adobe Photoshop. Krita is a free service run by volunteers. While Krita is fantastic, it is understandable that the support is limited. On the other hand, Photoshop has a great support system with tons of contact points, extensive community forums, and tutorials in-app and online.
7. Users
Winner: Adobe Photoshop. Photoshop has a much wider user-base than Krita. Krita's audience is hobbyists and illustrators. Most digital creators will need a more robust program like Photoshop.
8. Longevity
Winner: Adobe Photoshop. Overall, Adobe Photoshop is the application that will last in the long run. While Krita is a great resource, it is only run by volunteers on a non-profit basis. The motivation behind keeping Krita going is based on the community effort, while Adobe products are run as a big business that is motivated to keep innovating to grow sales.
Read More
Photoshop vs GIMP | The Ultimate Battle (2023)
Short Verdict
The main difference between Photoshop and Krita is the price. Krita is a free and open-source graphics editor, whereas Photoshop is a subscription-based product. Krita is mostly used for digital painting, whereas Photoshop is the industry standard in photo editing and graphic design.
1. Features
Krita and Photoshop are full of great features. Overall, Photoshop is a powerhouse with a much bigger range of features. Krita has many features of Photoshop too, but often without as many adjustment settings or choices.
Adobe Photoshop and Krita are both raster-based programs, meaning that their assets are made up of a grid of individual pixels. Meanwhile, vector-based programs use mathematical equations to create an image.
Photoshop has a ton of great tools. Included are selection tools, shape tools, cloning tools, and more. The Liquify tool is one of Photoshop's most powerful tools, turning your canvas into a liquid, allowing you to push and pull the pixels around. This feature is often used in photo retouching.
The text tool is much better in Photoshop than in Krita. When clicking into the Krita canvas to add text, a new window pops up. Separate windows are inconvenient and disrupt the workflow.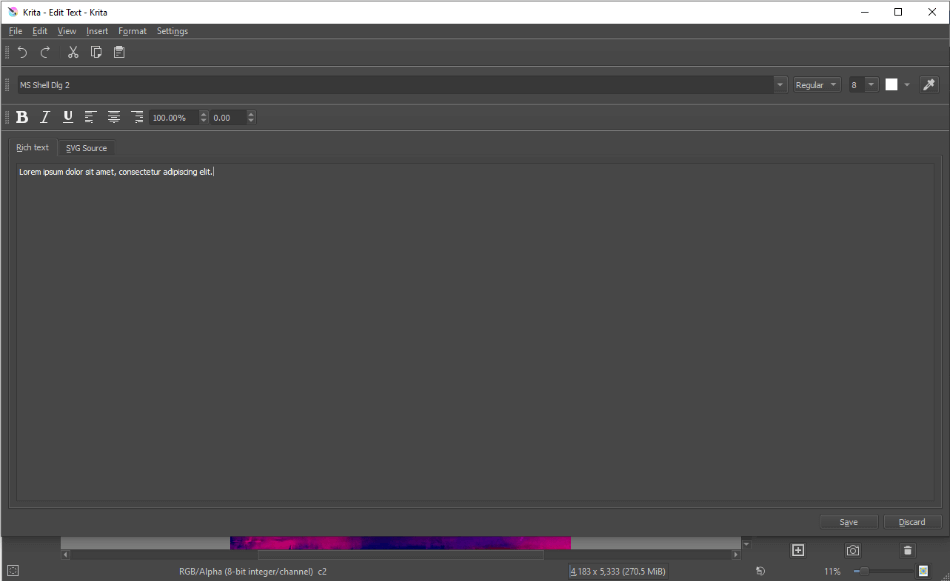 Photoshop's text editor is much more intuitive. You can type and see the text right on the canvas. Adobe also gives you access to Adobe Typekit, a font library housing hundreds of fonts free for you to use with an Adobe subscription.
Krita has a great tool called the Multibrush Tool, which allows you to easily create mirrored or symmetrical images. There are three modes, Symmetry, Mirror, and Translate. You pick the axis, the default being the center axis. The image will reflect across the axis as you draw, creating an identical image.
Krita is limited for editing RAW photos. The Krita system is destructive, and there are only so many tools to use, Exposure, Highlight, and Color Correction.
Meanwhile, Photoshop excels in editing RAW photos, utilizing a plug-in Camera Raw through Adobe Bridge. The RAW features are extensive, allowing you to modify default settings for camera models or ISO settings, and most importantly, all edits are non-destructive, leaving the metadata preserved.
In both Krita and Photoshop, you can create shapes using paths. These paths are editable by moving the points, allowing you flexibility. Krita has a few basic vector tools. Photoshop has the Smart Objects feature, which allows you to import vector and photo graphics and resize them without losing the object's data.
Both systems also have animation capabilities. You can animate in Photoshop using the Timeline feature. Krita has basic animation features, allowing you to do basic cell animation with onion skinning and keyframes.
In terms of using new features, Krita's newest features are not tested thoroughly enough. Releases are often with little testing time between them. While they do patch these bugs pretty quickly, it's still an annoying con of using Krita.
In comparison, Adobe tests its systems thoroughly before releasing a new version. They are constantly creating new tools to use, releasing updates monthly to fix bugs and add more features.
Importing images in Krita is very easy. You can drag photos into the canvas, just like Photoshop. Krita, like Photoshop, also has layer support and the ability to change layer blending modes. In both, you can group layers, renaming them, and reposition them.
Both Krita and Photoshop have tons of filters. Krita has blur, color adjustments, artistic ones like oil painting, emboss, and more. Photoshop does have more filters to choose from overall.
Photoshop, unlike Krita, can also create 3D models. From 2D layers, you can convert the image into 3D shapes either with planes or by wrapping the image using a cone, cube, or cylinder. Using your mouse, you can move around in perspective, looking at your 3D model from all angles. You can adjust the lighting and textures.
Photoshop is also available for iPad, unlike Krita. There is a Photoshop application, which is limited, but still has good features. Even better is the Adobe Fresco app, which has a vector capability, integrating great with Adobe Illustrator as well.
Photoshop also has a content-aware fill. This feature retouches a photograph quickly, taking out distracting objects from a photograph and replacing it with a seamless cover. You can adjust the cover to better match the photograph. It's a great feature for quick editing.
Photoshop also works especially well with the other Adobe Creative cloud applications. If you create a vector logo in Illustrator, you can easily finish painting the logo in Photoshop. Then, you move this asset to InDesign to finish the magazine layout you need to send to your editor. This workflow example is one scenario of many where you can jump from program to program to create any asset you could need.
Lastly, Adobe Photoshop has access to Adobe Stock. Adobe Stock is a powerful tool because it connects you seamlessly to a library full of creative assets, such as photos, graphics, and more. With an additional Adobe Stock subscription, you can get stock credits to redeem and use for your projects.
Overall, Photoshop has more features than Krita. While Krita is great for illustrating, its photo manipulation features are lacking. Photoshop lets creators make practically anything.
Winner: Adobe Photoshop
2. Pricing
| Product | Regular Price |
| --- | --- |
| Adobe Creative Cloud | $52.99/month |
| Adobe Photoshop | $20.99/month |
| Krita | Free |
Krita is the clear winner in terms of price because it is free. Adobe Photoshop is only available via subscription.
There are no hidden fees for Krita. The program was developed to be a free program, open for all. As a side note, if you find yourself using Krita and enjoying it, donate to the developers to show your support.
Photoshop is only available via subscription. If you are a student or teacher (lucky you), they offer a discount for the Creative Suite bundle at $19.99/month – a great deal to get all of the applications. If you aren't a student, the full suite bundle costs $52.99/month.
To get just photoshop, this will be $20.99/month. To get the Photoshop and Lightroom suite, a better deal, in my opinion, this costs $9.99/month.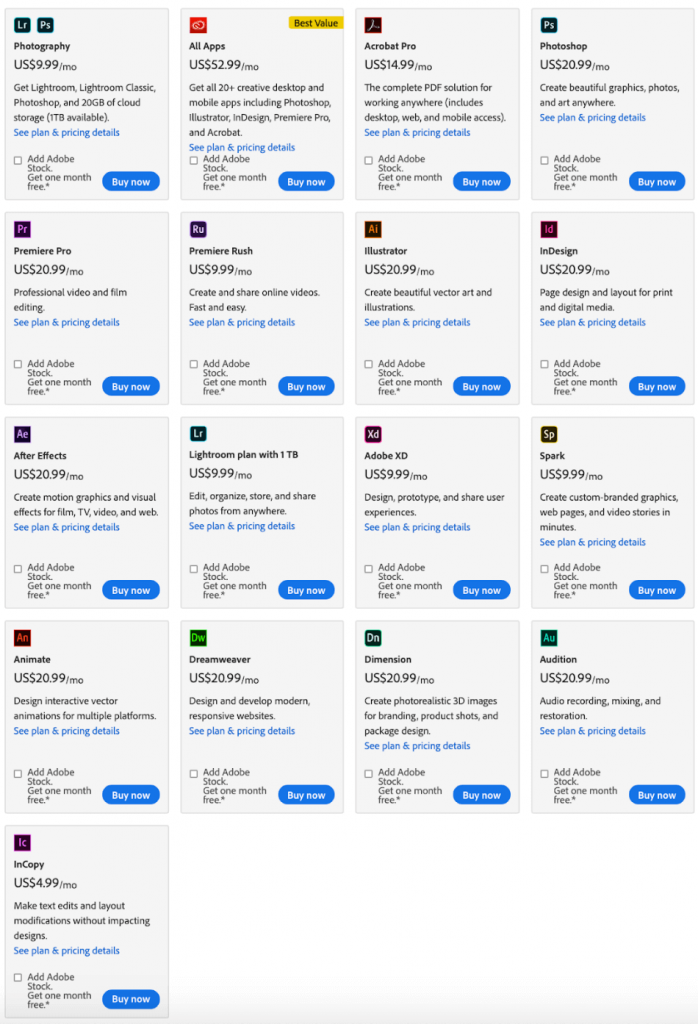 There is no harm in downloading Krita because it is free. Try Krita, see if that's enough for you. If you want more features, get Photoshop. Free is always better for software. Adobe gets expensive, fast!
Winner: Krita
3. Usability
Krita is super user-friendly, as compared to the daunting and overwhelming Photoshop. The layout is very similar to Photoshop without extra bells and whistles. A newbie can jump in and learn the interface easily.
Krita has many essential buttons. While the tools are not as extensive as Photoshop, you can find almost everything that you would use routinely on Photoshop. In the default workspace, the tools panel is to the left while the color picker and layers are on the right.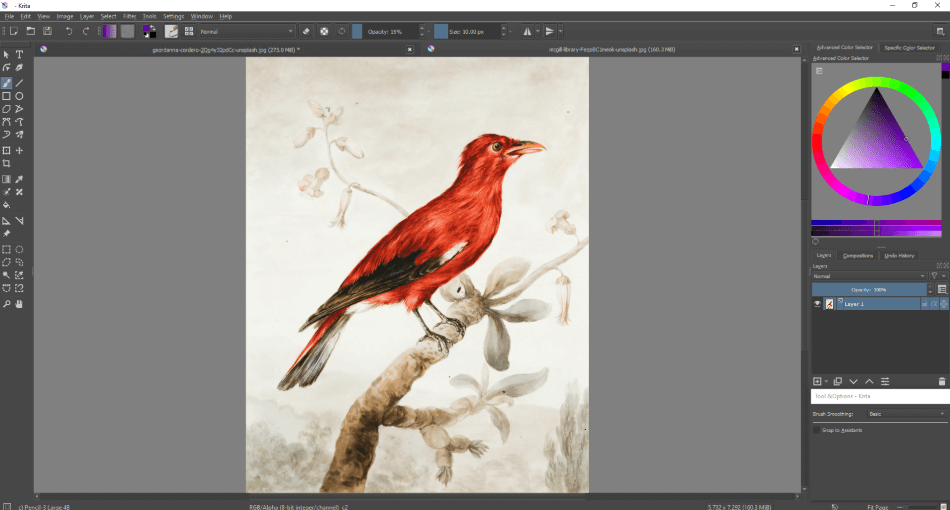 Krita and Photoshop are both customizable. Photoshop has more custom workspace options, such as 3D, Photography, and Motion. Photoshop also has more flexibility on window placement, allowing you to arrange and save custom workspaces.
However, it is worth noting that extensive customization can be unnecessary and overwhelming for new users who accidentally close out tabs. This feature is really for professionals who use the software daily and tailor it to their workflow.
Winner: Krita
4. Digital Painting
In terms of brushes, Photoshop and Krita have a ton of options. Both Krita and Photoshop can fine-tune the brush, changing size, color, blending mode, and opacity. Also, Krita can use Photoshop brushes. Third-party providers have tons of brushes available for online download in bundles.
The Krita brushes are truly impressive with over 120 options, and the variety is huge, inspired by real brushes and smudge tools. You can also make your own custom brushes. Also, you create a fast-grab section of favorite brushes and favorite color palette in Krita, a great feature when painting, so you can go back to the palette and brushes again and again. Both are great features for easy access as you paint digitally.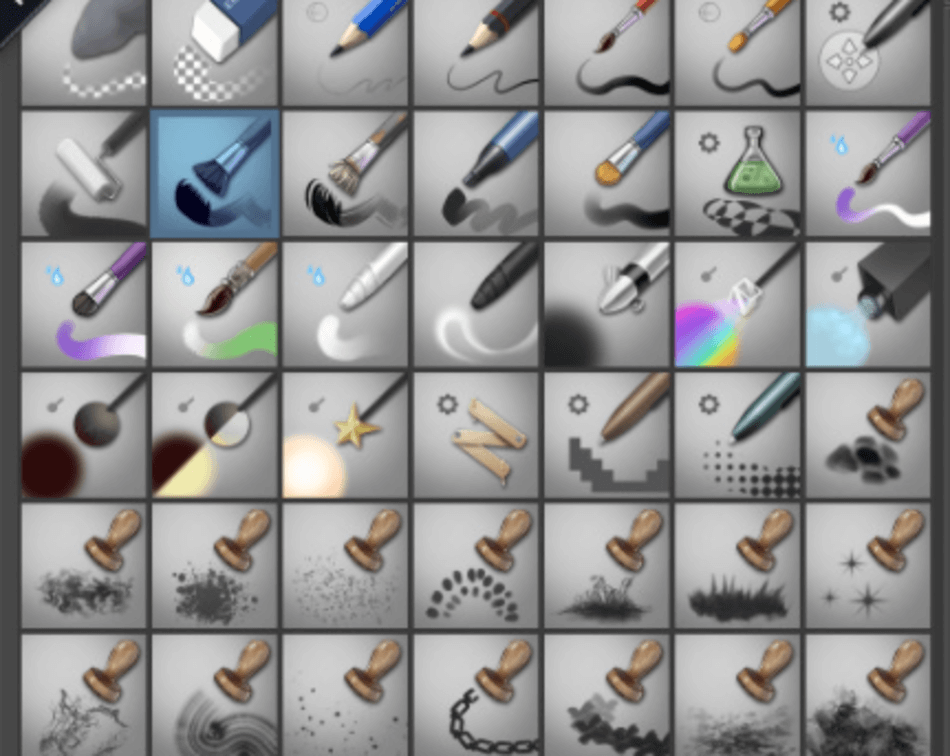 Over and over again, users say that Krita is fantastic for creating digital drawings. The feedback from a stylus is great, with the application responding well to pressure sensitivity without lag. The ease of use makes the program fun to draw and sketch with.
The default layers are also a nice feature in Krita. The program automatically loads up with a white layer and a clear layer for you to draw on. Photoshop, on the other hand, starts with a locked white layer. It's a small difference that means a lot for illustrators.
When comparing Krita to Photoshop, it is clear that Krita can create the same quality illustrations. The ease of use makes it even more enjoyable to work with than Photoshop.
Winner: Krita
5. Compatibility
Krita works for Linux, Mac, and Windows. Adobe Photoshop only works for Mac and Windows users.
You can also get very old versions of Krita, unlike Photoshop. Adobe limits its users on the versions of the software that you can use. Krita has versions available for download going back to 2012!
If you are switching from Krita to Photoshop, you may wonder, does Krita open .psd files? Yes, it does, and Krita supports most layer styles, so you shouldn't run into too many compatibility issues. Krita can even save in .psd too, which is a must because many programs do not support Krita files.
Krita has limited tablet capability. Their online community curated lists informing which tablets are supported for Krita. Wacom, a popular choice, is supported. However, there is nothing for the iPad at this time.
Meanwhile, Adobe Photoshop has an application for the iPad. You can also use Adobe Photoshop on tablet-computers like Windows Surface.
Krita is a stand-alone application without a large family of programs. Adobe has over twenty applications with great compatibility.
Krita is available for a wider variety of operating systems. Adobe Photoshop is not available for Linux but has available usage for both iPad and windows-based tablets. Overall, they tie for compatibility.
Winner: Tie
6. Support
Overall, Photoshop has more support features. This program is a multi-million dollar business. Therefore they can afford to have support staff available constantly. Krita is run by volunteers, thus with a less robust support network.
Nevertheless, Krita does have many resources for learning the software as well as solving issues. They have the Krita Artists forum, a Krita KDE forum, and a Krita subreddit. Online, they have a User Manual, teaching you how to navigate, learn basic concepts, make brush presets, etc. Krita gives you resources, just not as extensive as Photoshop.
For Photoshop, they have customer service agents available via phone and chat. You can talk to them 24/7, Monday through Friday. There are also huge community forums that you can organize by program and search for questions. The tutorials are numerous, guiding you on the basics of Photoshop to the advanced editing features.
Outside of their respective websites, both platforms have tons of users with tutorials on Skillshare and YouTube to teach you the programs' basics and advanced techniques. There is a ton of information out there at your disposal.
Overall, Photoshop has more to offer in terms of support. Their website and tutorials are easy to navigate. Their chat is fast and helpful in solving issues.
Winner: Adobe Photoshop
7. Users
Photoshop is the standard program for professional graphic designers. Krita is more for illustrators and hobbyists. Practically everyone in the creative industry has used Photoshop. This software is taught in college courses and is also one of the oldest programs out there.
More people will be using Photoshop because of its feature versatility and the fact that it is part of the extensive Adobe Creative Cloud. Businesses use it because it has a large amount of flexibility, working great with the other creative cloud applications. Photoshop also does more than Krita. In addition to illustration and animation, Photoshop can edit photos extremely well, has great text integration, and creates 3D assets, to name a few extra features.
Krita is so much easier to use than Photoshop. The software is designed just for illustrating and basic animation. Therefore, there is less clutter and ways to get lost in the program. However, this limitation also limits the people who would use the program.
Overall, Photoshop can reach more users because it is the standard application. This program also does much more than Krita, expanding its audience.
Winner: Adobe Photoshop
8. Longevity
Adobe Photoshop will stand the test of time. Why? The application is part of a huge suite of Creative Cloud applications and constantly evolving to become a better program. While a fantastic open-source software, Krita isn't used by professional companies because of its limits as an application. Overall, Photoshop can do more and is more accessible to a wider audience.
Krita is a great free resource. At some point, however, volunteers may stop updating the software. In this day and age, software and technology age out rapidly. If you only knew Krita, then you may fall behind your peers in the creative industry.
As a business professional, learning Adobe Photoshop gives you a little sense of security because you know that Adobe will continue to adapt to the ever-changing world, giving you new features and bug fixes. Per the Adobe website, over 90% of creative professionals use Adobe Photoshop, meaning that you will also have an easier time collaborating with other creatives.
Overall, Photoshop has a more solid foundation than Krita. While I recommend downloading and using the free, open-source program, getting and learning Photoshop is always a good idea.
Winner: Adobe Photoshop
Final Thoughts
Everyone should get Krita. It is a free application that has fantastic illustration ability. The software has all the brushes you can need, the layer feature, and so much more. I was very impressed with the capabilities and ease of use of the software.
If you are looking to work in graphic design or illustration, I will get Photoshop too. Adobe Photoshop is the industry standard. Businesses often are looking for graphic designers who know how to use the program. Photoshop is also a must for photographers looking to up their photo editing skills.
Final verdict, if you're just a newbie or hobbyist, get Krita. If you need more features or are looking to get into this profession, get Photoshop too.
Frequently Asked Questions
Is Krita a good program?
Yes, Krita is a great image editing and painting program. The program is also free as a bonus.
Why is Krita free?
Artists created Krita so everyone could have access to a digital program without having to fork over lots of cash. Getting into the graphic design business can be notoriously expensive, so this was a great initiative to be more inclusive of everyone.
Can Krita edit photos?
Yes, Krita can edit photos, but the tools are limited. Krita aims to create digital illustration, with many brushes, smudge tools, and features all designed for easier illustrating.
Is Adobe Photoshop worth the money?
If you are using all that Photoshop and Creative cloud has to offer, then yes. If you bought the subscription and have barely touched it, cancel!
Anne is a filmmaker and writer with a passion to bring stories to life. She has created several short films, specializing in stop-motion animation. Anne has over eight years of filmmaking experience, and she is always ready to share her knowledge with other creators. She started her company Anne Gets Creative in 2020.
Anne is extremely familiar with many Adobe programs: Photoshop, Illustrator, InDesign, After Effects, Premiere, and Audition, to name a few. She has also worked with other programs such as Procreate, Canva, iMovie, and Final Cut Pro. She always strives to give the best software reviews, researching diligently so her readers don't have to.