(Last updated on November 30th, 2022)
Adobe Dimension or Blender, which software should you choose and why?
We looked at both programs, comparing their strengths and weaknesses against each other. Read this in-depth Adobe Dimension vs. Blender comparison to see which program is right for you.
Adobe Dimension is one of the youngest pieces of 3D software out there. It was developed in 2017 and serves more as product concept displays.
The program was designed for simple concepts and coincides with other raster programs to help assemble what your product may look like plastered on a can or wrapped around a box.
Blender has been in development for quite some time that it has grown to be more than just the cheaper alternative to the more expensive 3D applications out there. Each iteration continues to add more advanced features that have made the application ideal for crafting everything from 3D models to complete 3D animated videos.
Related: Blender vs Maya | Head-to-Head Comparison (2023)
Animation within Blender has been showcased in everything from short animated films to YouTube visual effects to feature-length animated productions.
Comparison At a Glance
1. Interface
Winner: Adobe Dimension. For serving less-complete 3D functions, Dimension is designed to be easy to navigate and utilize.
2. Materials
Winner: Blender. Though it requires an extra dose of learning, Blender's material editor is better suited for having fuller control.
3. Lighting
Winner: Blender. With a broader range of options, Blender's lighting tools are stellar.
4. Features
Winner: Blender. Given that Blender is far more just a 3D modeling software, the abundance of features is staggeringly high to make just about anything.
5. Ease of Use
Winner: Adobe Dimension. Dimension has a fairly specific purpose and is designed to be easier to use for simple 3D displays.
6. Extensions
Winner: Blender. The plugins present for Blender are simply unrivaled to the limitations of Dimension.
7. Pricing
Winner: Blender. Blender once more reigns supreme in the price department as the top-dog in free 3D software.
8. Support
Winner: Blender. Blender has been around far longer and holds a far dedicated crowd to providing support and resources.
Adobe Dimension vs Blender: The Verdict
Adobe Dimension is capable of crafting fine 3D mock-ups but requires outside programs to truly produce something of stellar quality.
Blender is more of a complete package in that it offers full control of your 3D models, materials, lighting, and rendering. Blender is also free making it a low-risk investment.
1. Interface
Blender is branded as the complete 3D application and thus has a lot going on within its interface. Thankfully, unlike most 3D software, Blender keeps a reasonably clean layout, so it's not as overwhelming.
In 3D design, as is more comparable for comparing to Dimension, the structure can be customized only to have the proper functions of modeling, materials, lighting, and cameras active.
You will have to open some more oversized windows should you desire a firmer control of material nodes, which can grow quite dense depending on the 3D models you're working within the application.
Dimension has an interface that is better attuned to the basics and seems familiar to Adobe users who have dealt with Lightroom.
Given that Dimension adheres more to 3D placement and lighting than heavy-duty modeling or rigging, almost everything for your Dimension scenes will be imported from elsewhere.
This aspect of importing makes the program even more akin to Lightroom in that you're mostly just taking your completed branding image and plopping it on a 3D product.
For being so simple and specific in purpose, the libraries for organizing your 3D objects and materials is incredibly clean and devoid of clutter. The more astute of 3D users could most likely poke around in this program with little instruction.
For its intended purpose, Dimension is relatively robust in that its interface is simplified and organized enough that even those who have rarely touched a 3D program should feel comfortable playing around with the application.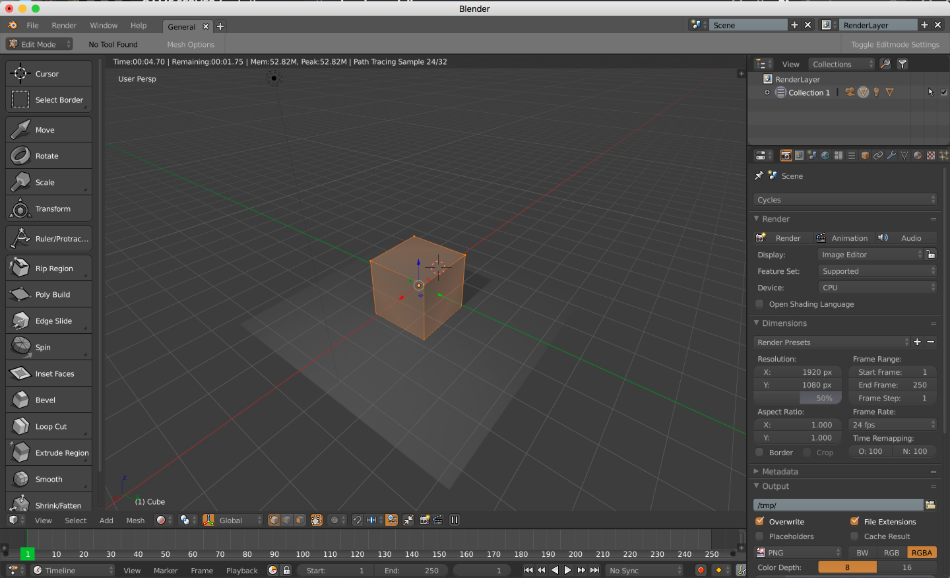 Winner: Adobe Dimension
2. Materials
While Dimension can't precisely craft 3D models, it's mostly known for implementing 2D created graphics layered upon a 3D object.
Dimension has its own set of pre-made 3D models to add material, or you can bring in objects that can be textured in the formats of OBJ, Autodesk FBX, STL, and Sketchup SKP. From there, you can tweak a 3D model to fit your branding just right.
This aspect is exceptionally easy as Dimension treats image materials much like decals upon an object, complete with tools intended to simplify logo and pattern placement. Most of its material placement is pretty much drag-and-drop.
Blender's material editor is a bit denser and will take some getting used to utilizing all its functions. The texturing process involves navigating and connecting nodes, but there are also many excellent tools for the material process.
This includes the ability to paint directly on the mesh, UV layout image exporting, and a UV sculpting mode that makes it easier to smooth out how your materials will wrap.
Blender may take some training for becoming accustomed to the material editor, but it's an investment well worth your time considering the depths of the many maps and UV layers you can control.
Winner: Blender
3. Lighting
To better simplify the rendering process, Dimension has some powerful lights that will do much of the work for you. Dimension's lighting is built for Physically Based Rendering (PBR), which means it can better simulate real-world effects on objects.
You can add an environmental light to wrap a panoramic image around and give the entire scene a specific feel. You can add spotlights to better focus on the 3D object most pronounced in a scene. Your materials can also have glow properties as well.
However, Dimension also has strict limitations on these lights to make users not as intimidated by their usage. Specifically, you can only cast one environmental light and only point your spotlight in one direction.
Compare this to Blender with entirely open and free use of multiple lights from multiple angles. Area lights can be doubled and tweaked for just the right environment, while spotlights can be altered from any direction for a more photography friendly layout.
Dimension can get your essential lighting completed quickly, but Blender just offers way more in this department.
The lighting parameters may not be as intuitive but they're well worth studying up on to bring out the best in your scene with the same amount of control as a professional photography shoot.
Winner: Blender
4. Features
While Blender and Dimension both seem to function in their own avenues of 3D rendering, they serve the same functions and have wildly differing capabilities.
The main appeal of Dimension for its users who will mostly be in the profession of marketing is that it's a drag-and-drop application of sorts. 3D objects and materials are neatly presented and simple enough to push and pull in the most basic of tools that are easy enough to get used to.
The background and lighting is also exceptionally easy to alter that even the most novice of those working within a 3D environment shouldn't experience too much trouble in terms of implementation.
For those a bit more advanced in 3D, however, there are tools for tailoring UV maps to make your 2D images wrap just the right way around a 3D product.
Blender, on the other hand, is just bursting with features that not only rival Dimension but even a host of industry-standard animation applications as well. The software has been designed to model, texture, rig, light, animation, and even edit a 3D project all the way to the final product.
As such, Blender is more than capable of besting Dimension when it comes to the amount of control you'll have over your 3D scene. There are improvements in the control of altering UV maps and editing the specifics of various light sources to get just the right shot.
Compare that with Dimension which will not only limit the altercations you can make to your lights but even limit how many lights you can have.
If you're desiring a high level of control from your 3D photoshoot of sorts, Blender has every feature under the sun to make you display a success.
And even if it doesn't, there's plenty of developers present within the Blender community who have either built a plugin to make life easier or may just hear out to make an improvement.
Dimension is certainly suited for simple shoots but the more detail-oriented designer will very much appreciate how much control they'll have within the Blender environment.
Winner: Blender
5. Ease of Use
Blender was built to be more of the complete 3D program that could compete with the heavy-duty contenders of 3D Studio Max, Maya and Cinema 4D.
As such, the application comes with all the tools for both 3D model rendering and 3D animation, including some additional features of motion editors and video editors not as present in other programs.
However, this does require a bit of training, even for the express purpose of generating a 3D product display.
In this regard, Dimension is far better suited for this singular goal. Those who don't want to tinker much with vertex manipulation or object modifiers and just get down to the basics of making a 3D product display should be pleased with how focused Dimension is in completing such projects.
Everything from object placement to material adding to lighting a scene has been simplified to such a degree it's possible to churn out some quality concept art in record time for that big presentation.
For being so laser-focused on 3D product display, one would hope that Dimension delivers. Thankfully, it lives up to those narrow expectations.
Winner: Adobe Dimension
6. Extensions
Dimension is already such a simplified program that it would seem baffling that there would be extensions. And yet it feels as though there should be.
The limitations within Dimension's environment can be so maddening for the more seasoned 3D professional that it feels as though there should be a plugin for a little vertex tweaking here or some material shaders there.
Dimension better serves in conjunction with other programs though. You'll most likely be using Photoshop to properly build your materials and another 3D program to make your 3D objects.
But if your extensions go so far as to incorporate other programs, it begs the question why you don't just use those programs, to begin with.
Basically, you'd HAVE to use Blender to bring in a more custom 3D object to style if you don't feel like hunting for a free one or paying for a pre-made object.
Meanwhile, Blender has been most accommodating for its application that pretty much take any 3D project from start to finish without outside help.
But should you need some extra features for Blender, there's a host of plugins to chip in to make your vision complete. They have open-sourced their application to allow for all sorts of developers to tailor the program for any user, from those who need a simpler method of modeling to a firmer control of the camera.
What makes Blender the absolute winner of this category is that Blender offers plugin for additional support while Dimension requires additional applications to make even the most minor of edits.
Winner: Blender
7. Pricing
| | | |
| --- | --- | --- |
| Product | Regular Price | Discounted Price |
| Adobe Creative Cloud | $52.99/month | Check here |
| Adobe Dimension | $20.99/month | Check here |
| Blender | Free | No Discount |
Dimension comes under the Creative Cloud package license. The cost for the application itself is pretty par for the course as most Adobe products go, priced at $20.99/monthly.
Naturally, it comes under the complete Creative Cloud package for $52.99/monthly, which is a better value with all things considered.
If you're developing product displays in Dimension, you're most likely going to require some 2D textures, which may need Photoshop if you don't have an alternative lined up.
Anyone familiar with Blender will tell you one of the biggest draws for the software is that it's a free license. There's no cost to download it, try it out, and start making some professional animated models.
Not only does this mean it's a virtually no-risk investment for trying out, but it's also open-source, so you're free to tinker and tailor the application to however you wish it to suit your whims.
For all these reasons, Blender is by far the clear champ for being the cheapest option, though it's certainly not to be considered the dollar-store version of 3D software.
Winner: Blender
8. Support
Blender's backing for users to feel the most comfortable with their application is exceptionally stellar.
Right from the Blender website, you can access numerous resources tailored for rough beginners or astute experts. Developers are watching and listening to take note of any bugs you may experience.
Perhaps what is most astounding of the support is how the community is teeming with artists and developers along all stretches of social media, from the forums to YouTube videos.
There are even industry professionals present in the forums to give out some expert advice on any issues you may experience.
Dimension, a far younger program with a far niche appeal, only comes with the standard Adobe resources. Phone and ticket support is present for about as competent as any Adobe software.
But if you're hoping for some extra tips and tricks on how to better tailor the application to your needs, your options are about as limited as the application itself.
Though Blender does take a lot more learning to master compared to the simple solutions of Dimension, there are just so many helpful avenues of advice and resources in the Blender community that it doesn't seem to daunting to give the 3D software a go.
Winner: Blender
Final Verdict
Blender is just the full package when it comes to 3D displays. Not only is it free, but it also comes with all the tools to take a 3D still or animation from concept to finished product.
Dimension is severely limited to this degree and will benefit those who already have the Creative Cloud complete subscription for other applications and just need a 3D presentation quick and dirty. By comparison, Blender is complete and clean.
Frequently Asked Questions (FAQs)
What is Adobe Dimension best used for?
Dimension is mostly built for 3D modeling only, to be best utilized for 3D stills and product displays.
What is Blender best used for?
Seeing as Blender boasts extensive animation tools and a video editor, Blender appears best suited for making animated shorts, commercials, and feature films.
Can Dimension make 3D animation?
Dimension is an application developed more for displays than animated video, though it does support 360-views for web presentations.
Does Dimension work with other Adobe applications?
Dimension can export your 3D scene as layers to be edited in Photoshop.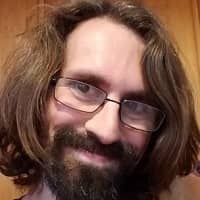 Mark McPherson has been working as a video editor and content writer for over ten years. His background started in animation and video editing before shifting into the realm of web development. He also branched out into content writing for various online publications. Mark is an expert in video editing, content writing, and 2D/3D animation.