(Last updated on December 6th, 2021)
Adobe Photoshop or Procreate, which software is better in 2021?
Please read our detailed Photoshop vs. Procreate comparison to determine how these programs compare and which one is right for you.
We used our own experience using both Adobe Photoshop and Procreate as well as compiling dozens of reviews to create the ultimate comparison.
Procreate is a relatively new competitor, created in 2011. The app was designed specifically to utilize the full artistic capabilities of the iPad and Apple Pencil. Procreate also aims to recreate the feeling of natural drawing while using helpful digital features. As a bonus, the application is a one-time purchase of $9.99 in the App Store.
Adobe Photoshop is a much older application, created back in 1987, upgraded dozens of times to the ultimate powerhouse that it is today. This program has become a staple for many creative industries, specializing in editing photographs and creating media assets. It fits snugly into the world of Adobe Products, integrating seamlessly with other Adobe apps.
It should be noted that Adobe Photoshop works on both Windows and Mac and now even has an iPad application, albeit a limited version of the desktop model that is missing many key features. On the other hand, Procreate is limited to only the iPad and iPhone (Procreate Pocket) and doesn't have nearly as many features as Adobe Photoshop for desktop.
Let's take a deep dive comparing the two and see which one comes out on top.
Comparison At a Glance
1. Features
Winner: Adobe Photoshop. Adobe Photoshop provides the most features, being the most versatile app in comparison to Procreate. Procreate's focus and design intention was for illustration on the iPad. Overall, Adobe Photoshop has much more to offer.
2. Ease of Use
Winner: Procreate. While digital painting requires a learning curve, Procreate gives the user the ability to jump right in. Photoshop can do the same things as Procreate, but the learning process is much harder.
3. Pricing
Winner: Procreate. Procreate can be purchased for $9.99 on the App Store, with no additional purchases necessary. On the other hand, you must buy Adobe Photoshop via a subscription model through Adobe Creative Cloud. Subscription options include getting the full Adobe suite at $52.99/month, just Adobe Photoshop for $20.99/month, or the Photography Bundle for $9.99/month. Owning Procreate outright is much cheaper than the Adobe subscription model.
4. Longevity
Winner: Adobe Photoshop. Adobe Photoshop is seen as a vital tool for creatives, utilized in businesses and many media creation facets. While Procreate is a great app that should be here for a long time, Adobe Photoshop is recognized as an essential program that every professional should be familiar with.
5. Illustration
Winner: Procreate. Procreate is a favorite in terms of illustration. Its ease of use, dazzling brush library, and UI for illustration make it a favorite among creators.
6. Photo Editing
Winner: Adobe Photoshop. While Procreate has the basic tools to get the job done, Photoshop gives you the most control over editing images.
7. Users
Winner: Tie. Finding the perfect program for you depends on what you are using it for. Adobe Photoshop can do everything, while Procreate specializes in making digital illustration intuitive and easy to use. While one probably will never replace the other, they work great together.
8. Compatibility
Winner: Adobe Photoshop. Adobe Photoshop wins for compatibility. Procreate is only available through the App Store for Apple users. Meanwhile, Adobe Photoshop has software for both Microsoft and Apple users.
Short Verdict
Photoshop is the industry-standard tool that can tackle everything from photo editing and graphic design to animation and digital painting. Procreate is a powerful and intuitive digital illustration app available for iPad. Overall, Photoshop is the better program among the two.
While Procreate has astounded users year after year for its incredible illustration capabilities, Adobe Photoshop is our overall winner. Adobe Photoshop boasts a powerful feature set, is compatible with both Mac and Windows, and has stood the test of time as a fantastic software. While Procreate is a good addition to your toolbox, Adobe Photoshop takes the cake.
Get a Special Discount On Our Top Picks!
---
BEST OVERALL PICK FOR PROFESSIONALS
---

Adobe Creative Cloud
Get all 20+ creative apps and services for photography, design, video, UX and more.
at adobe.com
---
BEST FOR GRAPHIC DESIGN & IMAGE EDITING
---
Adobe Photoshop
The world's most powerful image editing and graphic design software.
BEST FOR PROFESSIONAL VIDEO EDITING
---
Adobe Premiere Pro
Quite simply the best video editing software on the planet, used by professionals.
at adobe.com
---
1. Features
Adobe Photoshop is incredible in terms of features. You can do anything with Photoshop. The software can do everything from creating digital artwork and media assets to editing photographs and so much more. At a glance, let's explore the capabilities of this powerful program.
Photoshop can:
Retouch Photographs: Retouching puts it lightly. Photoshop can alter lighting, hue, saturation, contrast, and so much more in a photograph. You can mask, liquify, and use a variety of filters, all within layers. The tools available are so numerous, they are almost endless.
Create Digital Illustration: Photoshop comes with many brushes on its own. There are also tons of Photoshop brushes available online from other creators. There are blur and sharpen tools, filters, and adjustment layers.
Create any media assets: Need a Facebook Banner? How about a stylized Instagram post? You can make any media using Photoshop.
Integrates with many Adobe assets, such as Adobe Typekit and Adobe Stock.
Integrates with the entire Adobe Family seamlessly, allowing the user to jump between Adobe software.
Now, this doesn't mean Procreate is useless. In fact, Procreate beats the Photoshop iPad app in terms of features. A big downgrade in the iPad app for Photoshop is missing the blur tool, an essential for illustrators. Procreate really focuses on illustration, making the tools you need available firsthand.
Procreate can:
Create beautiful digital illustrations. The app is excellent for taking a drawing from start to finish. The app offers 190 Procreate brushes in total, all customizable. You can also import Photoshop brushes into the program. The tools and functions are great for fine-tuning your work.
Integrate photographs and illustrations into the same workspace. Procreate, like Photoshop, also uses a layer-based model. You can also use filters and text to add to your design.
Create media assets. When you start a new canvas, you can select canvas size and resolution, allowing the creator to create any size asset.
Overall, Photoshop offers more in terms of features. While Procreate is a great additional tool specifically for illustration, it cannot compare to Adobe Photoshop in versatility.
Winner: Adobe Photoshop
2. Ease of Use
Digital painting is a completely different medium than traditional painting and sketching. With every digital program, there will be a learning curve. You may ask yourself, is there a software that I can jump right into? Procreate is the closest digital painting software that allows you to do just that.
While mastering Procreate still requires the numerous tutorials available online, you really can jump right in. The buttons are simple: the two left buttons adjust for size and opacity. The main buttons you use, brush, smudge, erase, layers, and color are all nestled in the upper right corner. Within a few minutes of tinkering, you can start drawing.
Adobe Photoshop, on the other hand, is a completely different beast. While you can do everything on Photoshop that you can on Procreate, you must learn more about the Adobe system and how everything is organized, or you'll get lost. Also, there is a huge difference between Photoshop for tablet vs. desktop.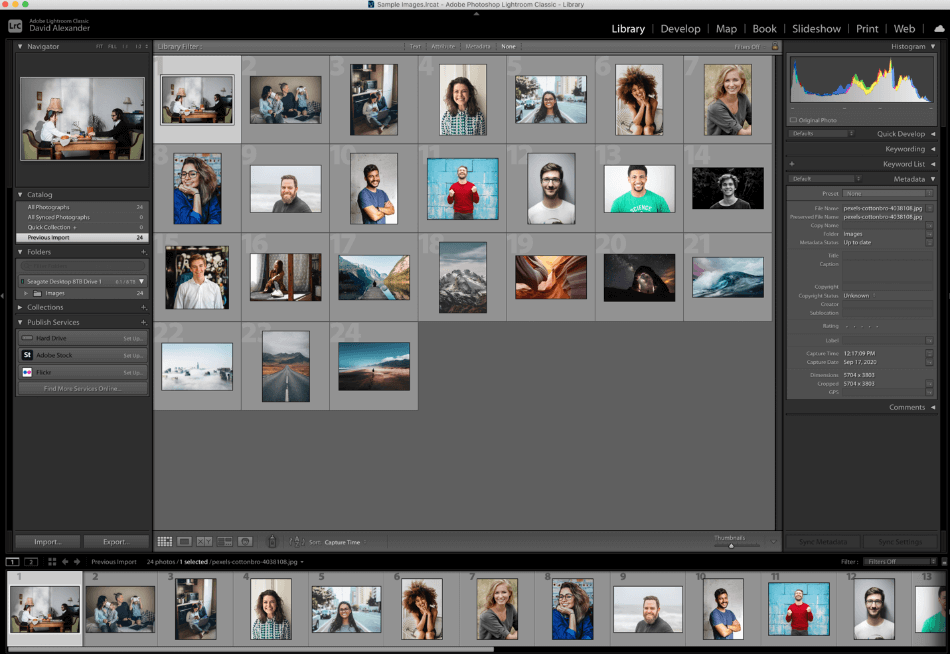 For the desktop version, there are tons of buttons all over the interface. For a newbie, it can be very overwhelming. For professional graphic designers who have used Photoshop for years, you can routinely take Photoshop courses and discover new ways to use tools and shortcuts. While the sandbox is deep in terms of versatility and capability, Photoshop requires a ton of learning hours.
For the tablet version of Photoshop, the UI is simpler. However, many desktop functions are missing from the app, causing you to relearn the software's limits. Overall, usage is clunky and not intuitive.
All in all, Procreate is more intuitive than Photoshop. While both require classes to master techniques and the software's full capabilities, Procreate gives the user the ability to get started immediately.
Winner: Procreate
3. Pricing
| Product | Regular Price | Discounted Price |
| --- | --- | --- |
| Adobe Creative Cloud | $52.99/month | Check here |
| Adobe Photoshop | $20.99/month | Check here |
| Procreate | $9.99 (one-time) | No Discount |
Overall, Procreate beats Adobe Photoshop in terms of price, hands down. Why? You can own Procreate outright for $9.99 in the App Store, no additional purchases necessary. To get Adobe Photoshop, you must purchase a subscription through Adobe Creative Cloud.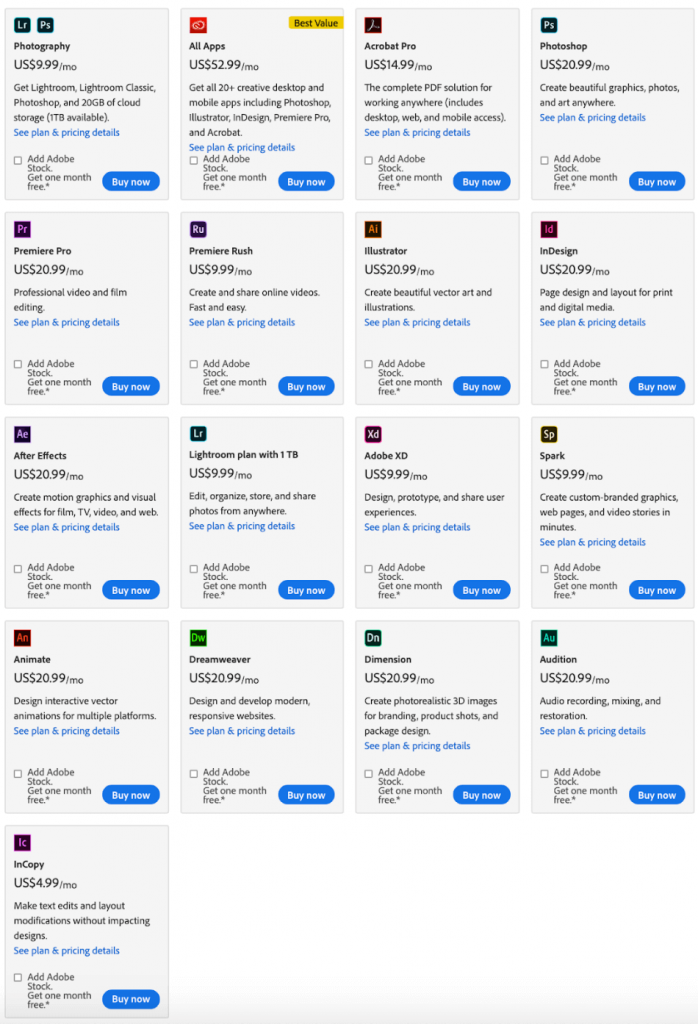 For Photoshop, subscription options include:
The Full Adobe Suite at $52.99/month or $635.88 per year. The suite includes the full bundle of all Adobe applications, including Illustrator, InDesign, and more. (If you are a teacher or student, you can get this same bundle for as low as $19.99/month or $239.88 per year. You must be a currently active student or teacher to enroll.)
Just Adobe Photoshop at $20.99/month or $251.88 per year. This subscription also includes Adobe Fresco.
The Photography Bundle for $9.99/month or $119.88 per year. This subscription also includes Adobe Lightroom and 20 GB of cloud storage.
Subscription models are much less appealing than owning software outright. The cheapest Adobe Plan of $119.88 per year dwarfs Procreate's one-time payment of $9.99.
Winner: Procreate
4. Longevity
The most frustrating point for a creator is realizing the application you are using is either outdated or terminated altogether. How do Procreate and Adobe Photoshop stand up? Let's take a look.
Adobe Photoshop, part of the giant suite of the Adobe Creative Cloud marketplace, is a powerhouse used by millions of people worldwide. This software will stick around for a variety of reasons:
The application is one of the most versatile apps of the Adobe Family. From creating assets to manipulating photographs, this software does it all.
It is a standard application usually required by most media companies.
The application is used by both Windows and Mac users, so the audience is wide.
Procreate has less longevity. Why?
For one, it is only available for Apple.
The app does not have a large family base of other applications tied to the program like Adobe Photoshop.
While many professionals now use it as an illustration tool, Procreate is not usually required for most businesses.
While Procreate is an amazing app that will probably stick around for a very long time, Adobe Photoshop is a cornerstone in the design market.
Winner: Adobe Photoshop
5. Illustration
When they come head to head, Procreate and Photoshop offer different pros and cons in illustration. The Procreate app for iPad is the most user-friendly and fun to use. Deciding what is better for you depends on the software you have and your illustration process.
If you have an iPad:
Procreate is the clear winner. The Photoshop app isn't even close to the performance of Procreate, missing key illustration elements. The ease of use and the app's configuration to the iPad and Apple Pencil make the illustration process seamless and fun on Procreate.
If you only paint on desktop or only have Windows-based products:
Photoshop is the winner because there isn't a Procreate desktop program available. Procreate is only available for iPad and iPhone (Procreate Pocket).
If you have an iPad and a Windows product:
Choosing between Procreate and Illustrator here is tricky. For tablet illustration purposes, iPad with Procreate inches out over competitors. The Procreate app is tailored for illustration, while Photoshop is meant to do illustrations plus many other functions. If you tend to finish your procreate drawings in Photoshop and dislike the transfer process, perhaps using Photoshop on a Windows tablet or desktop is the choice for you.
Over and over again, we saw Procreate with the iPad being the favorite illustration choice, with the frustration of only being an Apple iPad app. Ultimately, it comes down to technology preferences, what you have, and what you are willing to invest in. If you want the best illustration experience, we say use Procreate.
Winner: Procreate
6. Photo Editing
Both Adobe Photoshop and Procreate have tools for photo editing. However, Adobe Photoshop takes photo editing to a master level, giving you the most control over altering a photograph.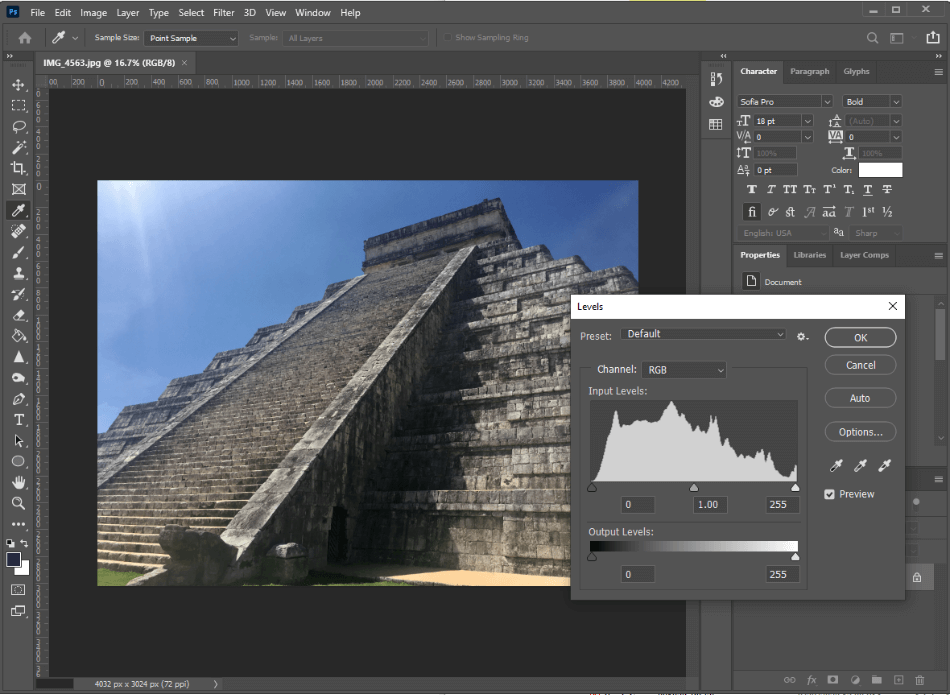 Adobe Photoshop's photo editing capabilities are unmatched. The software provides you with dozens of tools to help you create the perfect photograph. These functions include:
Cropping/resizing
Adjustment layers allow you to change lighting and color with tools that fine-tune this adjustment.
Removing unwanted content using the Patch tool or the Spot Healing Brush.
Add filters like sepia tone, black and white, and other creative effects.
Powerful features like liquify, making your photo act as a liquid canvas, giving you the ability to push, pull, bloat, or shrink the pixels to your desired look.
These features are just the tip of the iceberg of what Photoshop can do with a photograph. The functionality is endless.
Procreate has many features of Photoshop for photo editing but on a limited scale. Photoshop gives you a lot more control over individual features. Procreate has:
Cropping/resizing
Adjustment layers that adjust lighting/color.
Filters and special effects.
Liquify feature that acts a lot like Photoshop's.
Does Procreate have basic functionality that gets the job done? Yes. Does Photoshop give you more options and give you even more control of your photo? Yes. Photoshop is the king when it comes to photo editing.
Winner: Photoshop
7. Users
Choosing a software ultimately comes down to why you need it. Are you a newbie looking to try your hand at digital painting? Are you hoping to start a career in the world of graphic design? Let's break down, who uses Photoshop and Procreate to see where you fit in.
Adobe Photoshop is industry standard, hands down. Many companies in the digital creative sphere require Photoshop as a basic tool, and ultimately, businesses must choose what software to invest in. Because of its diverse set of applications, Adobe Creative Suite is the universal language that most industry professionals use, making it easier to collaborate and share projects with people.
Then who uses Procreate? Illustrators are the main target for this application and what it was originally intended to be used for. Many illustrators who used Photoshop have switched to Procreate because of ease of use and the flow of intuitive drawing.
Many people also use Procreate and Photoshop together. In terms of illustrating on iPad, Procreate has the best flow and ease of use. It also exports and imports to a Photoshop file, so the transfer is simple. You can draw an illustration in Procreate and finish fine-tuning in Photoshop.
In this way, Procreate is another tool to put in your toolbox alongside Photoshop. Together, they work great in creating a beautiful illustration. All creative professionals and newbies can benefit from having both programs.
Winner: Tie
8. Compatibility
Overall, Adobe Photoshop wins for compatibility. Procreate is limited to Apple users only for iPad and iPhone use. Adobe Photoshop has desktop applications for Mac and Windows and is also available on mobile for Android and iPhone users and the iPad.
Procreate was designed for iPad use specifically, the designers working within the Apple framework to create an application that works seamlessly with the Apple Pencil and the iPads. There is no desktop version for Procreate. Procreate Pocket is available for iPhone only.
In terms of technology needed to use the application, the expensive Apple Pencil is recommended along with the newer tablets to get the best use out of Procreate (2018 versions and onward). Also, the app is limited by the storage and graphics capacity of the tablet. The more storage and better graphics card you get for your iPad, the better Procreate will perform.
Adobe Photoshop has both a desktop and a mobile version. While the mobile version of Photoshop is limited, it is available for the iPad. Adobe also has various mini-apps for mobile (Adobe Photoshop Fix, Adobe Photoshop Mix, Adobe Photoshop Sketch), all available on the iPhone, some available on Android. The desktop version is available for both Windows and Mac users.
Overall, Adobe makes its software available to most users, while Procreate is limited to Apple.
Winner: Adobe Photoshop
Final Thoughts
Software decisions come down to what you are using the software for. Are you a newbie wanting to start digital artwork? Get Procreate. It's a low, one-time cost, and you can pretty much dive right in.
If you are looking to get started in the professional graphic design market, learn photo retouching, or only have a desktop, get Adobe Photoshop. Photoshop is part of a large suite of Adobe products. Learning Photoshop is a keystone in Graphic Design.
Also, once you learn Photoshop, the other Adobe programs get easier to learn. Adobe has a world of its own with its specific language. The functionality of each program, while different from one another, also has a lot of similarities.
If you are looking to become an illustrator and draw primarily on a tablet, I would get both. Why? Procreate outshines the Photoshop drawing app on the iPad. The gestures are intuitive, the brushes are great, and overall, Procreate is better designed than the hobnob Photoshop iPad approach. Photoshop is great for finishing a design, adjusting lighting, colors, and exporting. Together, using the Procreate app and Adobe Photoshop on desktop, you have a powerful illustration duo.
Frequently Asked Questions
Can I replace Photoshop with Procreate?
If you are a professional illustrator or graphic designer, no, because Photoshop still gives you much more creative control and options than Procreate. If you are just looking for a fun, digital illustration hobby, then ditch expensive Photoshop and use Procreate.
Is Procreate worth getting?
100% yes. Procreate is a fantastic illustration tool that magically makes digital illustration feel more natural, user-friendly and only costs a one-time fee of $9.99.
Which iPad is best for Procreate?
iPad Pro is the best choice for Procreate, at the highest storage capacity you can get. While you can use older models and options with less storage, the newer models with greater storage allow the user to make bigger artwork with more layers and give better performance with Procreate.
Do graphic designers use Procreate?
Yes, many graphic designers use Procreate to make illustrations. Up to this point, Adobe hasn't made an illustration application that is truly up to par with Procreate.
Anne is a filmmaker and writer with a passion to bring stories to life. She has created several short films, specializing in stop-motion animation. Anne has over eight years of filmmaking experience, and she is always ready to share her knowledge with other creators. She started her company Anne Gets Creative in 2020.
Anne is extremely familiar with many Adobe programs: Photoshop, Illustrator, InDesign, After Effects, Premiere, and Audition, to name a few. She has also worked with other programs such as Procreate, Canva, iMovie, and Final Cut Pro. She always strives to give the best software reviews, researching diligently so her readers don't have to.