(Last updated on November 30th, 2022)
Blender or 3ds Max? Which animation software is better and why?
Read this in-depth Blender vs. 3ds Max showdown to find out which one is the better animation platform for your 3D animation needs.
3ds Max, formerly known as 3D Studio Max, has been in the game for quite some time. After various test versions, it settled on 3D Studio Max in 1996 (later renamed 3ds Max). It has become an industry standard ever since, utilized in everything from major motion pictures to top-selling video games.
Blender is the younger 3D program on the block, having gone through long development before becoming stable enough in 2002. Unlike a lot of competing software of the era, Blender not only survived but thrived with a supportive community for its free price tag and open source technology.
Related: Blender vs Maya | Head-to-Head Comparison (2022)
If you're in a rush, below is a quick rundown of the comparison.
Comparison at a Glance
1. Modeling
Winner: 3ds Max. The modeling mechanics of Max have proven to remain comfortable and organized enough for beginners and experts.
2. Texturing
Winner: 3ds Max. The material elements of Max are straightforward enough to be a breeze for texturing.
3. Rigging
Winner: 3ds Max. The rigging tools within 3ds Max have an extra level of care in their ease of use.
4. Animation
Winner: Blender. Blender's animation tools have been refined to the point of being the least frustrating to manage.
5. Rendering
Winner: 3ds Max. Max's render environment is detailed enough for accurate previews yet organized enough not to be daunting.
6. Interface
Winner: Blender. Part of Blender's big appeal for being more of a complete package is that the interface is free of most clutter.
7. Workflow
Winner: Blender. The production workflow in Blender is intuitive enough that it doesn't take too much time to manage a product from modeling to rendering.
8. Pricing
Winner: Blender. There's no chance of any animation software beating Blender's free price tag.
9. Support
Winner: Blender. The community support surrounding Blender is simply unparalleled among any other animation program.
10. Gaming Integration
Winner: 3ds Max. Video games have become quite friendly with the output of 3ds Max.
Short Verdict
Overall, 3ds Max is a better tool compared to Blender. 3ds Max offers a robust set of animation, rendering, simulation, and modeling tools as well as easy customization and scripting, while Blender is a free tool with limited features and capabilities.
Overall, it's a tough call, but 3ds Max ultimately wins this comparison by an inch. While Blender will better appeal to those seeking experimentation and low-budget alternatives, the versatility and range of work that can be accomplished within 3ds Max is simply too vast to overlook for the cost.
1. Modeling
For quite some time, 3ds Max has been one of the most balanced tools for modeling. Objects can be easily placed anywhere in the viewport upon creation. From there, a robust list of editing options becomes available, all of which are customizable through various modifiers and easy enough to manage and tweak without a steep learning curve.
Some of their stellar new features include improved texture baking and weighted normal modifiers. Procedural edge modeling has become all the easier to jump into with improved chamfer and bevel modifications.
Generating models through splines is less of a chore with enhanced tools. And the tools for mesh and surface modeling have made vast improvements in the realm of subdivision surfacing.
Blender comes close to nipping at Max's heels in this area with the advancements in vertex grouping and object families. For as organized as Max's environment appears for its level of control, Blender has a more appealing layout for being so clean and uniquely robust.
That being said, Max's environment has an incredible balance of intricate details and a simple enough layout that makes it easy enough to click around and explore your options. So while it's quite close in trying to choose a winner here, Max's modeling aspects make it a bit more palatable for both beginners and experts.
Winner: 3ds Max
2. Texturing
3ds Max allowed for a great deal of control over the years that continues to meet the high demands of modelers seeking the most detail. The Material Editor is simple enough in its layout that it's about as easy as dragging and dropping your maps to make your models complete in everything from bump mapping to refraction.
One area where Max has always been pretty robust is in the department of hair and fair with dedicated controllers to have full control of everything from hair counts to frizziness.
Blender functions much differently for its texturing by embracing more of a node connection layout. It's a bit trickier to get used to. It can have a bit of a learning curve, though there are more than enough tutorials to usher one through the process.
However, it still lacks a few extra features in the materials department that will require some digging around for the extensions and workarounds that are usually accessible within a few clicks in Max.
So if you know your 3D models are going to require some extra care in making them shine just right or sway a certain way with their hair, 3ds Max is the application you'll want to choose.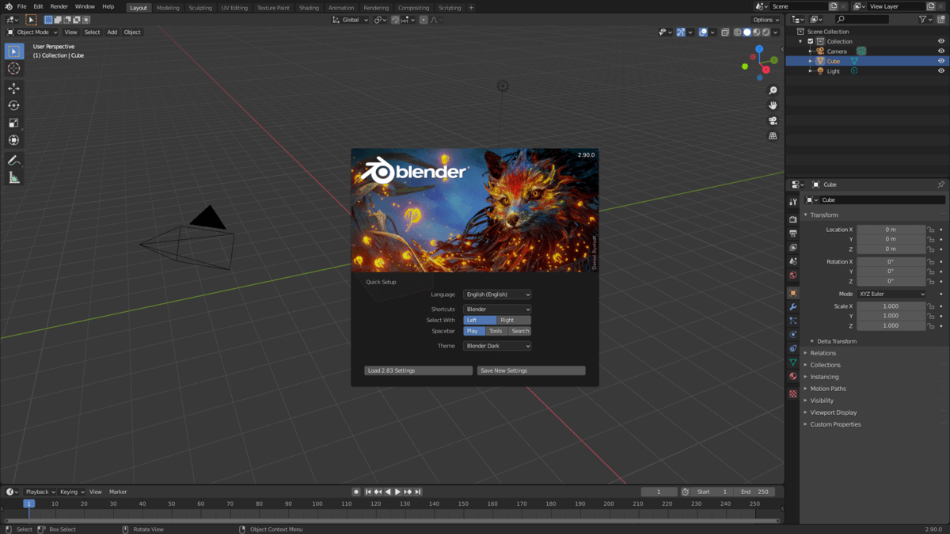 Winner: 3ds Max
3. Rigging
What's most remarkable with the rigging systems of 3ds Max and Blender is that there are some stark similarities. Everything from the design of the bones, the weight-painting materials are eerily alike. There is so much in common that it's almost a tie for what they're capable of in rigging.
Given that Blender's whole deal is to be as simplified as possible, their rigging system is remarkably slick. This is mostly due to the simplified working environment that makes adding bones fairly simple and gives greater options in views and connections.
3ds Max rigging does take a bit of getting used to, but given that it's been around for quite some time, Autodesk has the benefit of having more time to improve the process. And it has made a lot of remarkable improvements that essentially matches many of the same functionalities as Blender but with a few more tricks as well.
There's also a slew of plugins that better streamline the time-consuming activity of rigging, as with InstantRig that takes a lot of the grunt work out of bone placement and weight painting.
For a first-timer, Blender is a good start. But when it comes to more intricate means of rigging, especially if you have characters with lots of moving parts and muscles with specific movement functions, 3ds Max is a bit more accommodating.
Winner: 3ds Max
4. Animation
Just when it seems as though Autodesk has a bit of a monopoly on its application advancements, Blender stands tall and proud for loading in a few more aspects than its competition. Nowhere is this more clear than in their animation tools, which offer far more features than 3ds Max or Maya for that matter.
The additions of a character poser, non-linear animation tools, and audio sync stress how competent Blender is at churning out a finished product from beginning to end.
3ds Max boasts many of the same features as Blender when it comes to animation, including the more dynamic animation features of particles, fluids and physics simulations. And there's no shortage of additional plugins to refine more complex animations you may find yourself rendering.
But since so many of these aspects feel more external, as is the case with the MotionBuilder plugin that has been running alongside Max for quite some time as a companion, Blender just feels far more complete for what it offers.
For this reason, the animation tools within Blender are best suited for short films, considering how many have been successfully developed with the software.
Winner: Blender
5. Rendering
While both applications can accommodate a number of rendering outputs, 3ds Max comes with just a few more tricks. Much like Autodesk's other 3D program, Maya, Max has the added benefit of Arnold, a built-in tool that allows for faster rendering speeds in both previews and final output.
The addition of Raytracing Renderer also gives greater control. But what's most compelling about Max is that its rendering capabilities can be perfectly tailored to use as much or as little on your CPU and GPU as possible. So for faster machines, Max will give you the most benefit for its efficient and speedy rendering capabilities.
Blender doesn't quite match in quality for controls, but there are still a few pleasing aspects. Most noteworthy is the Frame Sequence format that makes it far easier to render scenes where framerate is a prime factor. The compositing is also not too shabby, and the addition of a video editor certainly helps streamline the process.
Blender's render process is pretty spiffy for what it is. But when it comes to top-quality renders, 3ds Max simply has it beat.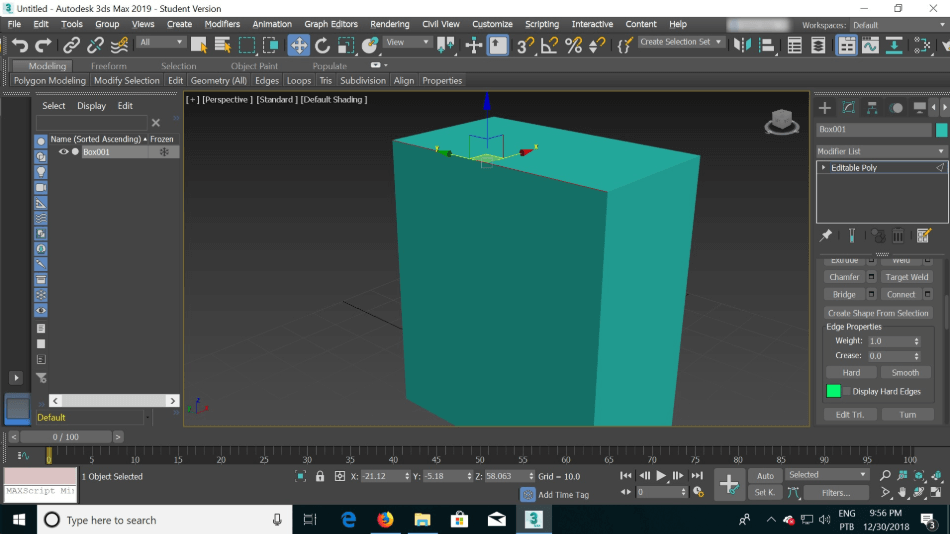 Winner: 3ds Max
6. Interface
Blender boasts a cleaner work environment to poke around in but may become a bit messier to navigate when it comes to more elaborate 3D projects. However, you need not be worried about a lot of clutter on the screen as Blender has been built to best suit those who require an airy workspace to work with.
3ds Max is a bit more organized than Autodesk's other 3D program of Maya, making it easier for newcomers to hop right in. But it does require a bit of pushing and pulling to make it less intimidating than does Blender. And even then, you may find yourself using more windows just to keep your interface less busy.
Both applications are simple enough to navigate, though. It's just that Blender has made a bit more room in this aspect.
Winner: Blender
7. Workflow
Surprisingly, Blender has many features that can make the complete workflow for most projects progress quite rapidly. Not only do the various animation tools and rigging materials make the key process of animation flow smooth, but the addition of animation motion editors and video editing capabilities really make Blender stand as a 3D application in a league of its own.
3ds Max has several different aspects to help streamline the workflow, perhaps not as intuitive, though. Their tools for spline manipulation have made the process of creating from splines quite easy, from modeling to animating.
The listing of modifiers and grouping functions can make projects flow quite well. With the addition of numerous plugins, it can go even faster.
But, all things considered, Blender has Max beat for keeping things robust and light when it comes to organization.
Winner: Blender
8. Pricing
| Product | Regular Price | Discounted Price |
| --- | --- | --- |
| Adobe Creative Cloud | $52.99/month | Check here |
| 3Ds Max | $250.00/month | Check here |
| Blender | Free | No Discount |
3ds Max has had a history of being exceptionally expensive. The price tag was so hefty, costing thousands of dollars for one version, that a student version was developed at a cheaper rate and later made free for non-commercial use.
As with most commercial software now, Autodesk has taken on the subscription model. The price tags for 3ds Max now is $205 a month, $1620 for a year-long contract, or $4375 for a three-year contract.
Blender, of course, has the upper hand in that the open-source software is free to download and use for personal and commercial use. So there should be no doubts about who is the winner when it comes to cost.
This aspect makes Blender exceptionally well-suited for animation majors, fresh freelancers, or just those interested in toying around with 3D animation to see if it's their thing.

Winner: Blender
9. Support
The community around Blender is one of the best out there for its supportive and adaptive behavior. As if the program's free price tag wasn't reason enough to give it a spin, the application's website is also home to a vast array of resources. This spans everything from tutorials to templates to plugins.
The people behind Blender are very engaged on several platforms that include YouTube, Stack Overflow, and Reddit. On YouTube, they host video demonstrations and live Q&A sessions to stay more active within the community.
Further making the application more lucrative is the social network on the Blender website, headed by trainers and developers within the community to make connections and probe for animation queries.
This is not to say that 3ds Max isn't as engaged as well, but it's perhaps spread too far and wide. Autodesk prides itself on live calls for technical support, ranging from addressing technical issues to whether or not 3ds Max will be a good fit for you or your business.
As with Blender, Autodesk has a ticketing system as well. There are also plenty of tutorials and templates to learn from on Autodesk's site.
But it can be tough to find a more engaged 3ds Max community outside of Autodesk, even trying to find just the right plugin as that can turn into a hunt. It's just a whole lot easier that so many of Blender's best community options are housed under one convenient roof.
Blender is highly recommended if you require some extra guidance on your animation journey and especially if you're seeking to get into the plugin game.
Winner: Blender
10. Gaming Integration
3ds Max has been in the game of, well, games for quite some time. They've been relied upon for several top-quality video games from popular studios. Some big titles that use the program include the likes of Call of Duty, Halo, Dragon Age, Uncharted, and many more.
The software has also been quite easy to build elements for existing games. So if you ever feel like adding in a modified weapon to your favorite shooter, chances are high it'll be the easiest to do so via 3ds Max.
This is not to say that Blender hasn't been rising up in the game world as well. It wouldn't be featured on the game distribution system of Steam if it wasn't. The software has been used for some smaller games of Yo Frankie, Sintel The Game (based on the Blender-made film), and Euro Truck Simulator 2.
However, it's become harder to integrate Blender with gaming considering the Blender Game Engine's recent closure. That being said, there is still integration with such gaming engines as Godot, Armory3D, and Blend4Web.
While Blender certainly has room to grow in the realm of video games, it still has a long way to go. It does have the potential to become an indie-friendly tool for low-budget game developers, given its open-source formatting allowing for low overhead.
But, at the moment, 3ds Max is the most versatile program to both develop new games and modify current ones.
Winner: 3ds Max
Final Verdict
It's a very close call considering the similarities between the two platforms, but the choice is ultimately 3ds Max by an inch. While Blender will better appeal to those on a budget, the versatility and range of work that can be accomplished by 3ds Max is simply too vast.
The price may still be a deal-breaker, but for being utilized in games and animation, 3ds Max is quite worth the steep investment for its capabilities.
FAQ
What has 3ds Max been used for in production?
Both feature film studios and big-name gaming studios have used 3D Studio Max in their work, as with Disney's Alice in Wonderland movie and Blizzard's Warcraft game series.
What has Blender been used for in production?
Blender has been used in both gaming and movies but is perhaps rising more notably in the realm of short animated features that have won awards.
Does Blender have a game engine?
Not anymore. As of 2018, the engine was shut down as Blender shifted their focus to better integrated with engines of Godot, Armory3D, and Blend4Web.
Which software is more of a commercial standard?
3ds Max. If you're looking to get into developing for big-name companies, you'll want to hone in on this program.