(Last updated on January 9th, 2023)
So you have a Mac computer, and you want to use Photoshop on it. But how can you install and use the program on your computer? This article will cover how to get Photoshop onto your Mac computer.
What is Photoshop?
Photoshop has become Adobe's most popular application for its versatility. It was initially designed as an application for photo manipulation. The app's development over the years has led to it being used for graphic design, illustrations, publishing, and animation.
The current version of Photoshop is called Photoshop CC, referring to Creative Cloud. This means that Photoshop can only be downloaded from Adobe's cloud platform as a service. Adobe uses this naming convention for all its Creative Cloud apps.
The benefit of this model is that you don't need to choose between a PC and Mac version to purchase. Previous versions of Photoshop required you to select which platform you're using. Photoshop CC can be installed on either PC or Mac, requiring no change in your plan if you switch computer platforms.
Pros
Works on both Mac and PC.
Robust tools for developing everything from photos to illustrations.
Video development tools for creating frame-by-frame animation.
Cons
Costly application with an expensive monthly subscription.
Steep learning curve.
Lacking in organizational tools.
What Is Photoshop Used For?
Photoshop is used by both hobbyists and professionals for many types of projects. This is due to the variety of tools and features which can accommodate most creative professions. Here are some examples of how Photoshop benefits different professions:
Photography
The Camera RAW filter allows for quick and easy adjustments to your photographs.
Easily remove backgrounds from photos using the background eraser tools.
Touch up the skin of portrait photographs with the cloning and layering features.
Graphic Design
Adobe Fonts allows you to use numerous types of font families.
Plenty of presets that are ideal for any type of graphic design project.
Can easily recognize files from other Adobe graphic design apps such as Illustrator and InDesign.
Illustration
An abundance of brushes that only increases with the availability of plugins.
Stylus support allows artists to get the most detail out of their drawings.
Layering and filter tools make it easy to create elaborate designs.
Animation
A simple frame-by-frame timeline makes animation simple enough to assemble.
Tools that allow for onion skinning to view the progress of your animation.
Export tools for creating everything from videos to animated GIFs.
How Much Does Photoshop Cost?
Photoshop CC currently costs a monthly subscription of $20.99. The cost gives you access to updates, mobile versions, and 100GB of cloud storage space. This package also includes mobile versions of Photoshop for your phone and iPad.
Keep in mind that the $20.99/monthly cost is only if you sign up for an annual plan. If you want to pay month-to-month and cancel at any time, the cost is $31.49/monthly. You can also pay an upfront yearly fee of $239.88/yearly.
Here's a quick breakdown of the pricing for Photoshop:
| | | | |
| --- | --- | --- | --- |
| | Monthly With Annual Contract | Monthly Without Annual Contract | Annually |
| Price | $20.99/monthly | $31.49/monthly | $239.88/yearly |
For a lower price, you may want to go with the Photography Plan from Adobe. The plan costs $9.99/monthly and includes Photoshop CC, Lightroom CC, and Lightroom Classic. Lightroom is an application best suited for editing your photographs simplified and organized.
But with a price much lower than Photoshop CC on its own, there must be a catch, right? The catch is that you'll only get 20GB of cloud storage space instead of 100GB. That may not be as appealing for those who need to keep a high volume of photos and assets organized.
However, if you do need more space, you can simply upgrade the Photography Plan. For an additional $10, you can get 1TB of cloud storage space. You get more space than the solo version of Photoshop CC and it still costs less.
Here's a breakdown of the different pricing tiers:
| | | | |
| --- | --- | --- | --- |
| | Photoshop | Photography Plan | Photography Plan Upgraded |
| Cloud Storage Space | 100GB | 20GB | 1TB |
| Includes | Photoshop CC | Photoshop CC, Lightroom CC, Lightroom Classic | Photoshop CC, Lightroom CC, Lightroom Classic |
| Price | $20.99/monthly | $9.99/monthly | $19.99/monthly |
Another plan to consider is the Complete Creative Cloud package offered by Adobe. This plan contains all of the programs above in the Photography Plan and Illustrator, InDesign, Premiere, and many more apps.
This plan is the most expensive as it costs $52.99/monthly under an annual contract. It's only recommended if you know you're going to be working in more than one medium, such as publishing and video editing. If you only need Photoshop for your creative needs, you may not need to consider this plan.
How to Download Photoshop Onto Your Mac for Free
If you're not entirely sure you want to pull the trigger on one of these plans, you can try Photoshop for free. You will still have to choose a pricing plan to download Photoshop. The good news is you don't have to pay right away and can try before you buy.
Here's a step-by-step process of how you can download Photoshop to your Mac computer for free:
Go to Adobe.com and sign up for a free Adobe account. You should see a Sign In button in the top right corner. Click it and then click the Create Account button on the Sign In page.
Once you've created your account and signed into Adobe, navigate to the Adobe Photoshop page located here.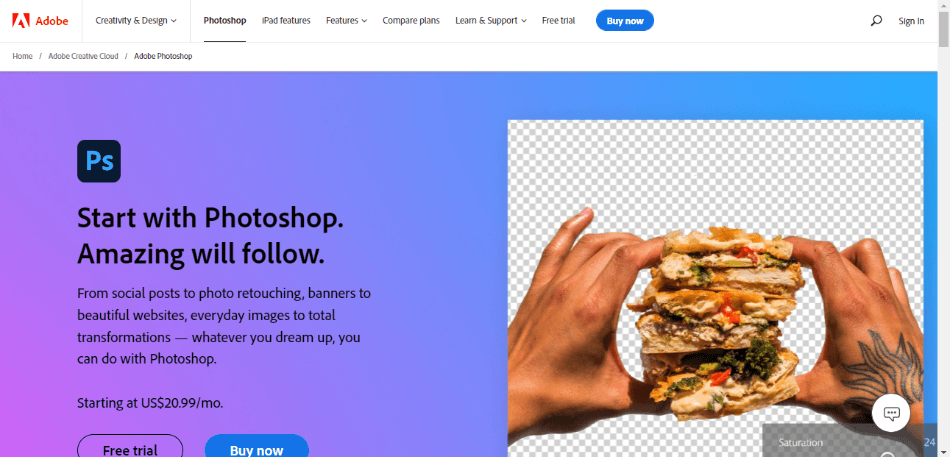 On the Photoshop page, click the Free Trial button. It should be located right next to the Buy Now button. This will take you to the page that starts the purchase process for Photoshop, where you'll select "For individuals – I'm trying for myself."
On the next checkout page, you'll be asked to pick a plan. You can choose from either Photoshop CC on its own, the Photography Plan, or the Complete Creative Cloud. You can select any of them but let's keep things simple by going with the Photoshop CC plan. Select it and click Continue.
You'll have to select which type of pricing you want on the next page. Select between monthly with an annual contract, monthly without an annual contract, or an annual payment plan. Then click Continue.
The next page will ask you if you want to include Adobe Stock in your order. Unless you want some example photos to work with while you try out the program, you don't need to sign up for this. Simply click No Thanks if you don't want to add it on.
If you haven't signed in, the next page will ask for an email address so you can sign in or sign up for an Adobe account. Once you're signed in, you'll be taken to the next screen when you click continue.
The final page should ask for billing information. Relax, you won't be charged for the trial. Keep in mind that you will start being charged automatically at the end of the trial period. So if you're not sure if you want to pay for Photoshop, cancel before your week is done.
Once you've purchased a plan, you should be directed to download the Adobe Creative Cloud desktop adaptation. Once you've downloaded the app, install and open it.
Once the Creative Cloud application opens, it should automatically start downloading the trial for Photoshop. Once Photoshop finishes downloading, click the Open button next to Photoshop in the All Apps menu of the desktop app.
And, voila, you have Photoshop on your computer, free for a week. There are no restrictions on how the program functions during this trial period. It's the professional version of Photoshop, free of limitations or watermarks.
If you like using Photoshop during the trial and want to continue with a paid subscription, you don't have to do anything. The subscription model you selected will kick in immediately after the trial period is over. There are no additional downloads for the software in its paid version.
Related: 11 Best Laptops for Photoshop That Are Actually Great
How to Cancel Photoshop Subscription on Mac
If you don't want to pay for Photoshop at the end of the trial, you'll have to go to Adobe's website and cancel your order. You actually have 14 days from the time you start the trial to get your money back just in case you forget. Keep in mind you'll have to cancel the order and not just uninstall Photoshop from your computer.
Here's how to cancel your free trial to avoid paying after the trial period:
Go to the website https://account.adobe.com/plans and sign in.
Click on "Manage Plan" to find your Photoshop plan to cancel.
Click on "Cancel Your Plan" and follow the instructions to finish the cancellation process.
You can also precisely give a reason why you're canceling before finishing the plan's termination.
After 14 days, you can still cancel, but you'll have to pay a percentage of the contract you signed up for. So if you choose an annual contract, you'd still have to pay 50% of that contract. For example, if you chose the regular Photography Plan of $9.99/monthly and canceled after 14 days, you'd have to pay $54.95 for the cancellation.
How to Use Photoshop Without a Subscription
If you're turned off by the idea of paying for Photoshop as a monthly service, there is an alternative. Adobe has continued to distribute Photoshop Elements, the simpler version of the program. This application works the same as Photoshop but with layout and tools better suited for non-photographers.
Photoshop Elements is better suited for non-professionals because of how it functions. There are several effects and feature presets available that are much easier to apply and customize than they would be in Photoshop CC. Professionals will find the program frustrating, however, for not being able to export projects in the CMYK color format.
Pros
Cheap price of $99.99 for a lifetime license.
It can perform most of the essential features present in Photoshop CC.
Easy to use for beginners.
Cons
Requires you to pay for future upgraded versions, though at a reduced price.
Limited in some features and tools.
Can't export in CMYK colors.
Here's a brief comparison of the differences between Photoshop CC and Photoshop Elements:
| | | |
| --- | --- | --- |
| | Photoshop CC | Photoshop Elements |
| Skill Level | Intermediate | Beginner |
| Mobile Version | Yes | No |
| Export Color Types | RGB, CMYK | RGB |
| Plugins | Many | Few |
| Price | $20.99/monthly | $99.99 once |
Which Plan is Right For You?
If all you need is Photoshop and a little bit of cloud storage space, the solo plan for Photoshop CC will suit you just fine. It provides plenty of cloud storage space and gives you access to various mobile versions. It's best suited for those already working professionally.
Going with the Photography Plan would be best for those who are beginners. It's cheap, and the addition of Lightroom may offer a more straightforward app for your photo projects. Professionals should consider the upgraded plan if they find themselves organizing many photos and images.
For hobbyists, Photoshop Elements is recommended. It doesn't require much time to learn and can quickly accomplish many Photoshop CC tasks. The abundance of templates and simplified tools makes it ideal for beginners but may not be palatable for professionals.
Creative professionals who know they're dabbling in many mediums will want to go with the Complete Creative Cloud plan. Photoshop can accomplish most of what the Creative Cloud apps offer but not as well in some areas. Lightroom is better at organizing photos, and Animator is easier to use for frame-by-frame animation.
Alternatives to Photoshop on Mac
For those seeking an alternative to Photoshop, consider these other applications.
| | | | |
| --- | --- | --- | --- |
| | Affinity Photo | Sketch | GIMP |
| Price | $54.99 | $9/monthly | Free |
| Platform | PC, Mac, iPad | Mac | PC, Mac, Linux |
| Best For | Photo Editing | Graphic Design, Illustrations | Photo Editing, Graphic Design, Illustrations |
| Free Trial | Yes | Yes | No (Already Free) |
Frequently Asked Questions
Can you use Photoshop on Mac?
Yes, Photoshop can work on both PC and Mac computers. It can also be installed on different computers through Adobe's Creative Cloud platform.
What does Photoshop cost for Mac?
Photoshop costs $20.99/monthly on Mac and PCs. You can also subscribe to the app through the Adobe Photography Plan, which includes Lightroom and Lightroom Classic, for only $9.99/monthly.
Can I use Photoshop on a Mac for free?
Photoshop can be downloaded and used for free in the form of a trial version. The trial lasts one week and gives you access to all the features of Photoshop. When that week is over, you will have to pay a monthly subscription to keep using the app.
Do I have to pay a monthly price for Photoshop?
Yes, Photoshop requires a monthly price to use the program. The price keeps the app updated with patches and upgrades to the latest versions. If you'd like to pay one flat price instead of a monthly cost for the program, you may want to look into buying Photoshop Elements. The program costs $99.99. Though it doesn't have all the same features, it doesn't require subscriptions to continue using.
Is Photoshop worth learning?
Yes, Photoshop is a program worth learning, considering its widespread use in various industries. Numerous companies worldwide use the program for everything from photography to graphic design.
Is there a Mac alternative to Photoshop?
Yes, there are some alternatives to Photoshop on Mac computers. If you're specifically looking for a photography app, try Affinity Photo. If you're using Photoshop for illustrations, you'll want to use Sketch. If you're seeking a free application that can do a bit of everything, GIMP has been a long-running alternative to Photoshop.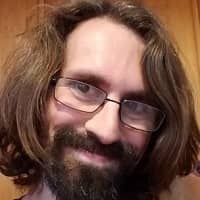 Mark McPherson has been working as a video editor and content writer for over ten years. His background started in animation and video editing before shifting into the realm of web development. He also branched out into content writing for various online publications. Mark is an expert in video editing, content writing, and 2D/3D animation.