(Last updated on January 9th, 2023)
Adobe InDesign or Adobe Photoshop? Which software should you choose and why?
We looked at both programs, comparing their strengths and weaknesses against each other. Read this in-depth InDesign vs. Photoshop comparison to make a wise decision.
Comparison At a Glance
1. Features
Winner: Adobe Photoshop. Adobe Photoshop can do everything. From altering photos and creating raster graphics to creating posters and digital illustration, Photoshop can be considered a universal tool.
In comparison, InDesign has fantastic features for publication design. However, the tools are limited for creating and editing individual digital graphics.
2. Pricing
Winner: Adobe Photoshop. Photoshop has a cheaper plan in comparison to InDesign. You can get Photoshop for $9.99/month bundled with Lightroom in the Photography package.
3. Collaboration
Winner: Adobe InDesign. InDesign has the Share For Review feature, allowing you to collaborate in-app. Photoshop has similar sharing features, but outside the app.
4. Publication Design
Winner: Adobe InDesign. Adobe Photoshop does not have the awesome publication tools of InDesign. InDesign makes creating publications easy and straightforward.
5. Compatibility
Winner: Adobe Photoshop. While both InDesign and Photoshop are part of the same Adobe family, Photoshop has more compatibility. Photoshop has its own iPad app and can be opened by many other programs.
6. Photo Editing
Winner: Adobe Photoshop. Photoshop was designed to edit photos with utmost precision. It leads as one of the best applications on the market.
7. Users
Winner: Adobe Photoshop. Photoshop appeals to more users simply because it can do so much. While InDesign is great for publishers, the projects you can use it for are much more limited in comparison.
8. Learning Curve
Winner: Adobe InDesign. Adobe InDesign is easier to learn than Photoshop with its ocean of features. InDesign is focused solely on publication layout with less tools to learn overall.
The Short Verdict
InDesign and Photoshop are totally different software. If you are looking for a program that specifically works with publication layout, InDesign is for you. If you need to edit photos or create graphics, use Photoshop. If you need to do both, get the full Creative Cloud suite.
1. Features
Both Adobe InDesign and Photoshop have tons of powerful features. Read on to see what these programs can do.
Features of Adobe InDesign
Mostly creates: eBooks, Books, Magazines, Flyers, Brochures, Business Cards, and Pitch Decks. Think anything text related.
Document Formatting: Easily add, delete, and rearrange pages in your design. Changing your layout is easy, allowing you to move text and photos around with InDesign, suggesting intuitive layout suggestions.
Text: The text tool is supported by Adobe Typekit, a library containing thousands of fonts for you to choose from. Downloading is easy, activating a font a click away. You can adjust leading, kerning, and more in InDesign, precisely formatting your text.
Text Flow: Text adjusts to the boxes' size intuitively, giving you the best layout and looking for your text.
Master Pages: InDesign lets you set master pages, creating standard layouts to apply to other pages.
Publish Online: Allows the user to publish an InDesign document directly to social media easily.
Character Styles: Creating and saving text styles that can be applied. Character Styles are a great feature if you are changing the font style for several documents. Instead of choosing font size and color, for example, you can apply the saved style to a body of text, making the process seamless.
Grids: InDesign has baseline grids for aligning columns of text, and document grid, for aligning objects. Both grids are customizable and are just for the design process. They won't print with the final image.
Adobe Stock integration. The program comes with access to this huge library of stock photos, templates, and more. Adobe Stock is a separate, additional subscription fee.
Integrates well with other Adobe applications, especially Photoshop and Illustrator.
Share for Review: Allows the user to collaborate with others in-app.
Imports a variety of graphics formats, including Illustrator vector assets and bitmap Photoshop assets.
Intelligent text wrapping: Wrap text around the contours of a subject. After running the tool, InDesign uses Adobe Sensei, AI technology, to identify the main subject and wrap around it.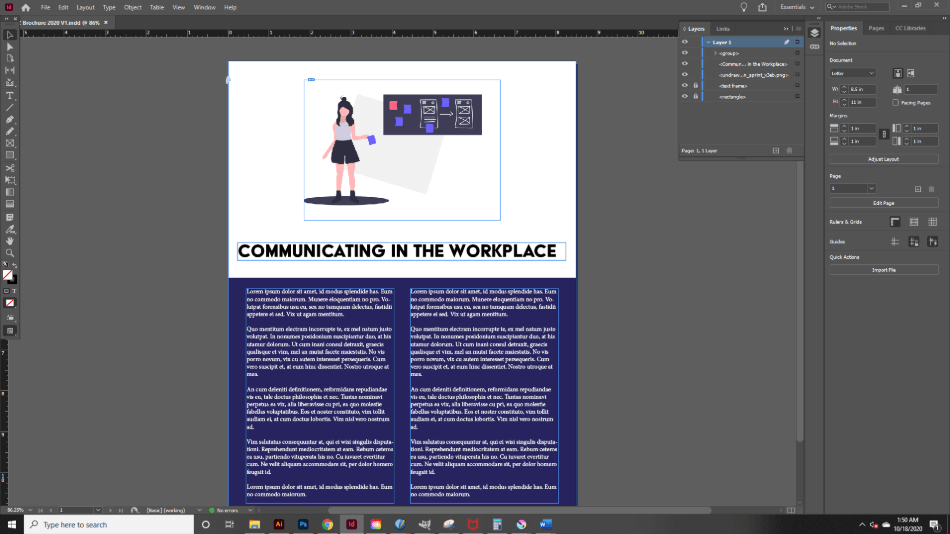 Features of Adobe Photoshop
Mostly creates: Photos, Composite Photos, Illustration, Animation, Mockups. This software does everything with pixel-based images.
Filters: Photoshop has dozens of filters for you to use with your images. Gaussian blur, Lens Correction, and Vanishing Point, to name a few.
Liquify: A powerful tool that turns your pixel-image into a liquid canvas, allowing you to pull, tug, bloat, and pinch your work to fine-tune the design. This feature is commonly used during retouching.
Pen tool: Create curves and straight segments using this tool. Pen tool includes the Bezier function, allowing you to adjust to curves with precision.
Text: The text tool incorporates Adobe Typekit. The character styles panel allows you to adjust kerning and more, fine-tuning the text.
Integrates with Adobe Stock, just like InDesign.
Integrates well with the full Adobe Suite. Examples include Photoshop, Illustrator, InDesign, Premiere Pro, Lightroom, and After Effects.
Works great with Adobe Camera Raw, allowing Photoshop to pre-edit raw images and convert them before working with photos directly in Photoshop.
Brush tool: Allows you to paint with pixels. Photoshop comes with many brushes. Online, many people sell and distribute brush packs with hundreds of custom brushes. You can also make and save custom brushes for your creations.
Timeline Animation: Let's you create frame-by-frame animation. The workflow is great, giving you features like onion skinning and letting you playback the movie in real-time, in-app.
Smart Objects: Layers that contain data from vector or raster assets that preserve the source content while allowing the user to perform nondestructive edits.
3D modeling: Create 3D models, specifying lines, light sources, and materials for your object.
Adobe Photoshop has the most features. From 3D design to motion graphics, Photoshop can do everything you need and more.
Winner: Adobe Photoshop
2. Pricing
| Product | Regular Price |
| --- | --- |
| Adobe Creative Cloud | $52.99/month |
| Adobe Photoshop | $20.99/month |
| Adobe InDesign | $20.99/month |
Adobe Photoshop beats Adobe InDesign for the price because Adobe does offer a special deal with Photoshop and Lightroom for $9.99/month.
Pricing packages offered at Adobe:
$9.99/month for Photoshop and Lightroom bundle.
$20.99/month for individual Photoshop.
$20.99/month for individual InDesign.
$52.99/month for All Adobe applications. (Including InDesign and Photoshop)
$19.99/month for All Adobe applications if you are a current Student or Teacher.
If you want access to more than one app, I recommend getting the full creative suite. Overall, Adobe Photoshop has the cheapest option at $9.99 a month.
Winner: Adobe Photoshop
3. Collaboration
InDesign has better collaboration features than Photoshop. The share feature is built-in to the app, unlike Photoshop.
InDesign has a great collaboration feature called Share for Review. This feature allows the user to collaborate with others in-app. People can comment and markup your work in the panel.
Non-InDesign users can also use the feature, making this accessible to clients. The owner can resolve, delete, and reply to comments.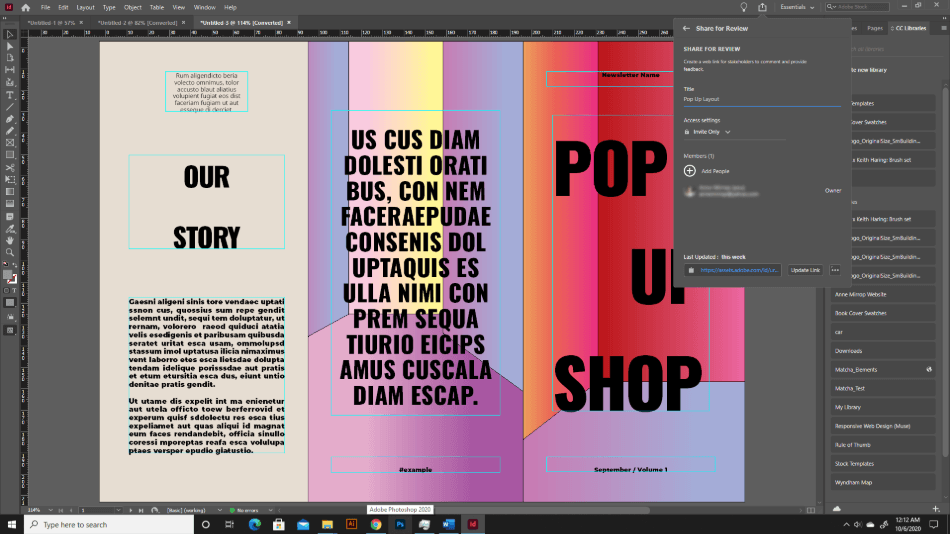 Photoshop does not have this feature in-app. To work around this, you can share a private folder on your creative cloud. Here, people can comment and markup in the same way online, off-app. However, it's noted that none of this will show up as you work the document.
Overall, InDesign's collaboration plan is the most seamless.
Winner: Adobe InDesign
4. Publication Design
InDesign was made specifically to create beautiful publication layouts for magazines, articles, and more. While Photoshop can do similar designs, InDesign makes the process simple and straightforward.
InDesign is great for working with huge documents, unlike Photoshop. The app is organized, allowing the user to navigate between pages easily. The user interface only contains essential publishing tools, not filling the panels with extraneous tools that would probably never be used.
InDesign has a Master page feature, allowing the user to create a template and look for a bunch of other pages at once. It's super useful for large spreads.
Meanwhile, if you tried to replicate the process in Photoshop, changing a style across several pages would have to be done manually, a much more tedious task.
Intuitive text wrapping is a great feature in InDesign. Text wrapping allows the user to resize a text box and have the text wrap automatically, filling the box to look aesthetically pleasing. You can easily break up text into columns to utilize as much of the page as possible.
InDesign also comes with great templates to help you get started making beautiful zines and publications. The templates are fully customizable, allowing you to adapt them to whatever project you are working with.
Meanwhile, text wrapping in Photoshop is not nearly as easy. There is no text wrap feature. You have to use workarounds to make this work.
Overall, InDesign is the best choice for publication design. It makes the process simple and creates clean layouts.
Winner: Adobe InDesign
5. Compatibility
Adobe Photoshop is more compatible than InDesign. Photoshop has its own iPad app and can be opened by a bunch of different programs.
In terms of iPad compatibility, Photoshop has a direct application and InDesign has a sister app, Adobe Comp. The Photoshop app is a limited version of the desktop program, missing key features.
Adobe Comp is a layout app made to create the mockups of a layout design and then import it into Adobe InDesign, Illustrator, or Photoshop to finish.
When opening with external applications, InDesign can run into some issues. InDesign .indd files can be opened directly by QuarkXpress and Adobe's InCopy. Otherwise, InDesign files need to be converted, usually working okay as a PDF.
In terms of importing, InDesign supports a wide variety of formats. These formats include GIF, JPEG, BMP, EPS, and more. InDesign supports both raster and vector formats.
On the other hand, Photoshop files can be opened by a ton of other apps. Adobe Photoshop Elements, CorelDRAW, Corel's PaintShop Pro, Adobe Illustrator, Adobe Premiere Pro, and Adobe After Effects, and more can all open Photoshop files.
Adobe Photoshop wins for compatibility. InDesign files are limited.
Winner: Adobe Photoshop
6. Photo Editing
In terms of photo editing, Photoshop is king. InDesign does not have the functionality to do anything besides cropping and resizing for the publication. Photoshop is the master, with tools to do everything from editing basics to advanced retouching techniques.
InDesign was never meant to be a photo editor. The application can only rotate or reflect an image. When right-clicked, there are options to "edit original" in the original setting that it came from or "edit with," leading you to different apps like Photoshop to edit the photo.
Meanwhile, Adobe Photoshop is a master photo editor, one of the best programs on the market. The program allows you to:
Retouch old photographs, fixing age spots and making them look brand new.
Enhance and manipulate the coloration of an image. Changing the color is especially helpful if you want to change the mood of a photograph.
Make Editorial-Level Retouch: Smoothing skin, fixing acne, altering body shape, and more. Photoshop is the common editing choice for professional magazine retouching.
Crop and resize an image.
Use adjustment layers to fix lighting, contrast, shadows, and more.
Add Filters to give artistic spins to your photos or create an effect.
Create Composite Images using layers. Photoshop can blend layers with different blending modes, creating fascinating blended layers.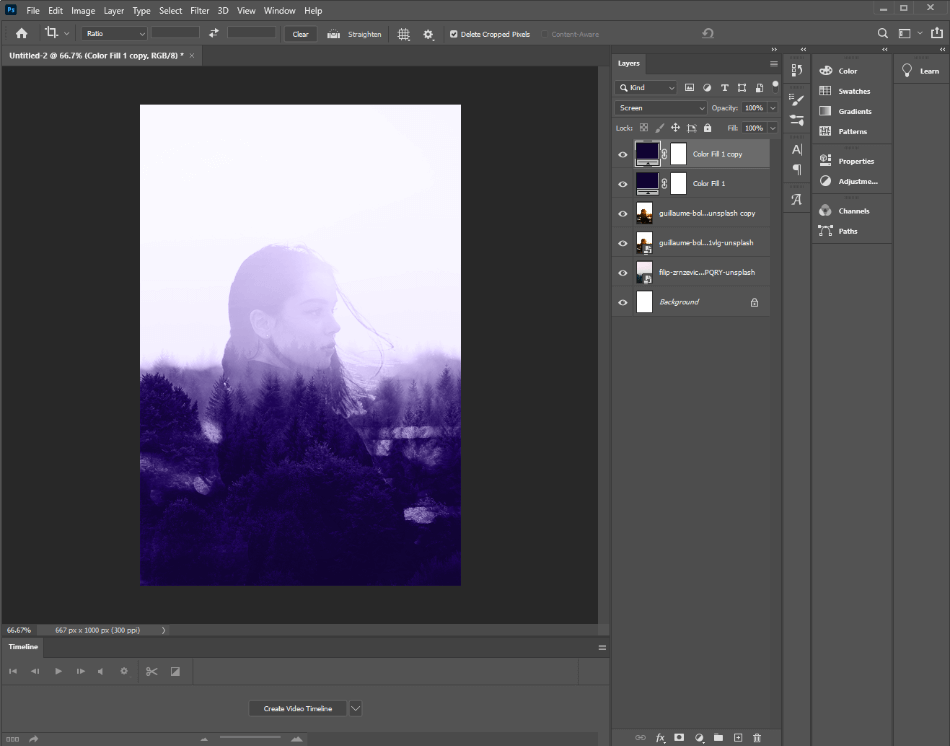 Overall, Adobe Photoshop is the clear winner for photo editing.
Winner: Adobe Photoshop
7. Users
Overall, Adobe Photoshop will appeal to more users. The appeal is because it can do a wider variety of things than InDesign.
Photoshop is a useful tool for a huge range of projects. The app can create animations in-app using the Timeline tool, make 3-D models (great for prototypes), design web mockups, and so much more.
InDesign is great for print media. E-books, interactive PDFs, posters, and more. Media asset creation, such as creating logos, graphics, photographs, and more, is not part of this program. This program is for putting text and these pieces all together in a cohesive way.
InDesign will always be meant for a specific crowd. As it stands now and for the future, Photoshop will continue to be used by over 90% of creatives.
Winner: Adobe Photoshop
8. Learning Curve
InDesign is easier to learn than Adobe Photoshop. Overall, there are fewer tools than Photoshop because InDesign was made solely for publication design.
Photoshop is notoriously difficult to learn. Why? The features and tools are so numerous that many graphic designers don't know everything the software offers. Usually, you will end up using a fraction of its features to do all of your work.
Photoshop has morphed from just a photo editor to a giant toolbox useful for a huge range of artists. Most digital creatives will come across Photoshop and learn it during their career. With that versatility comes a daunting complexity that requires a huge learning curve.

Meanwhile, Illustrator is curated for publication designers. The audience using this software is much smaller than Photoshop. InDesign isn't focused on creating raster or vector-based graphics or editing images, but just finishing the layout, laying out text, and placing elements.
Both programs have in-app tutorials to teach you the software basics as well as advanced techniques. The learn panel features videos and written step by step instruction to help you learn the new skill. The topics include new features as well.
Online, there is a giant community forum at Adobe, organized by program and relevancy. Both InDesign and Adobe Photoshop have their own forums. Here, professionals and peers answer questions all day long.
There is also a live support feature Monday through Friday, 24 hours a day. Here, the customer service reps are ready to help you with anything you need.
Lastly, there are manuals, how-to guides, and videos all over Adobe's main site for learning, constantly updated to keep up with Adobe's changes. Externally, other people make great YouTube and Udemy tutorials, teaching you anything you would ever need to learn about the software.
In comparison to Photoshop, learning InDesign is much easier.
Winner: Adobe InDesign
Final Thoughts
Adobe creates its apps to solve a specific problem, usually focusing on a unique project element. Photoshop was designed to be the go-to for editing pixel-based images, allowing you to do everything from simple edits like crop and straighten to combining images into a single composite.
InDesign was created for the publishers, curated to make editing large print documents easy to manage, design, and print. The app contains features that quickly allow you to make consistency changes across the document and professional typesetting, making sure your text flows evenly.
Getting a specific program depends on what you need to do. Are you editing photos? Get Photoshop. Are you publishing zines? Get InDesign. Are you creating the artwork, taking the photos, and formatting the final mag? Get both with the Adobe suite and do it all.
Frequently Asked Questions
Can you convert InDesign to Photoshop?
Yes, and a great way to do this is to export your InDesign file into a PDF. From here, Photoshop will import the PDF, allowing you to make edits.
What is the use of Adobe InDesign?
Adobe InDesign is perfect for publication design, anything with multiple pages. Think magazine layout, book design, and more.
Can I open an InDesign file without InDesign?
Yes, you can open .indd files with Adobe InCopy or QuarkXPress.
Is Photoshop good for graphic design?
Yes, Photoshop is a fantastic tool for graphic design. The app is versatile, allowing you to do everything from creating mockups to editing photos.
Anne is a filmmaker and writer with a passion to bring stories to life. She has created several short films, specializing in stop-motion animation. Anne has over eight years of filmmaking experience, and she is always ready to share her knowledge with other creators. She started her company Anne Gets Creative in 2020.
Anne is extremely familiar with many Adobe programs: Photoshop, Illustrator, InDesign, After Effects, Premiere, and Audition, to name a few. She has also worked with other programs such as Procreate, Canva, iMovie, and Final Cut Pro. She always strives to give the best software reviews, researching diligently so her readers don't have to.