(Last updated on November 30th, 2022)
Microsoft Publisher or Adobe InDesign? Which one should you pick and why?
Read this ultimate Microsoft Publisher vs. Adobe InDesign comparison to find out which software works best for your needs.
Adobe InDesign is a desktop publisher made to create beautiful print and digital media. The program creates everything, including brochures, books, interactive PDFs, and more. InDesign is industry-standard and a fantastic tool for creating gorgeous designs.
Microsoft Publisher is a desktop publisher made for people who aren't graphic designers. The software focuses on creating intuitive software that creates beautiful layouts with ease. The program comes with many templates to get you started.
Read our review to compare Adobe InDesign and Microsoft Publisher.
Comparison At a Glance
1. Features
Winner: Adobe InDesign. Adobe InDesign has more features and capabilities than Publisher overall. You can do a ton with the program, the tools are designed better, and you have more control over the final image.
2. Pricing
Winner: Microsoft Publisher. Microsoft Publisher is way less expensive than Adobe InDesign. Publisher offers a one-time purchase license and has a much lower rate than Adobe. Buying Publisher over InDesign will save you hundreds.
3. Collaboration
Winner: Adobe InDesign. The Share to Review feature cannot be beat. You don't have to leave InDesign to collaborate, and outside reviewers can give you feedback from anywhere. They can look over your work and comment remotely via Adobe's web app. They don't have to be Adobe users either, making this ideal for outside client collaboration.
4. Publication Design
Winner: Adobe InDesign. In terms of publication design, Adobe InDesign has much more to offer than Microsoft Publisher. InDesign is meant for high-level media editing while Publisher is ideal for simple edits.
5. Compatibility
Winner: Adobe InDesign. Adobe InDesign is much more compatible than Microsoft Publisher. InDesign works across both Windows and Mac platforms and can work with more file types.
6. Workflow
Winner: Tie. Both InDesign and Publisher have a smooth workflow. The UI design is intuitive in both.
7. Longevity
Winner: Adobe InDesign. InDesign's capabilities make it one of the best programs on the market. Publisher's lack of capability feels outdated.
8. Learning
Winner: Adobe InDesign. Adobe InDesign's support system is much better than Microsoft Publisher. The support resources are organized and extensive, with filtered community forums and tons of tutorials available in-app and online.
The Short Verdict
Adobe InDesign is the industry standard for desktop publishing, while Microsoft Publisher is for beginners who are not looking to invest in high-power, graphic design software.
Adobe InDesign gives you the most control over your final image but if you're on a budget, Microsoft Publisher is the best choice for you.
1. Features
Both Adobe InDesign and Microsoft Publisher have a ton of powerful tools. In the end, InDesign beats out Publisher for the huge range of features and its incredible precision.
Adobe InDesign features
Templates: InDesign comes with a ton of templates. You can start with everything from brochures, flyers, and business cards, to magazines, books, and more. Adobe Stock has a ton of templates to add to the default collection.
CC Libraries: Allows you to organize color palettes and graphics for a project, organized by folders. Libraries are great for projects that have specific branding requirements.
Properties Panel: This panel gives you quick access to the document's properties, allowing you to adjust the size and layout fast. You also have easy access to pages, letting you jump around the project. Here you can turn grids and rulers on/off, customizing the document layout.
Share for Review: A great collaboration feature that allows you to make and get feedback right in the app. Collaborators can even mark up the design to reference in the chat. You can resolve the comments as you go, keeping the project organized and up to date.
Adobe Stock and Fonts: Adobe has huge libraries of stock photos, templates, and more. Asset licenses can be bought with an additional Adobe Stock subscription. Adobe Fonts have thousands of fonts at your disposal, easy to upload/offload into your system.
Digital Publication: Creates gorgeous digital publications such as e-books and digital mags. You can easily finish your books in InDesign, making sure the layout is perfect for the digital medium at hand.
Layers: The layering feature is great for organizing objects and controlling the layout. You can move, hide, delete, and group layers within a project.
Master Pages: A feature that allows you to apply the same look to many pages quickly. Objects on the master page appear the same on all of its pages with that master.
Adaptive Text: The flow of the text in InDesign is seamless. There are automatic adjustments that make the text look organized and polished. Text can wrap perfectly around objects in InDesign, saving you time from manually adjusting.
Interactivity: You can add links, forms, animations, and more to your digital work. You can preview the effects using the EPUB Interactivity Preview panel.
Workspace Layout: InDesign gives you several options to choose from for a workspace, Essentials, Book, Review, Typography, and more. You can customize the panels, snapping them to the sides or bringing them out onto the canvas. You can save custom workspaces for future use.
Adobe Color Themes: A powerful color picker feature that selects the colors from your work and allows you to play around, changing the other colors based on your color rule setting.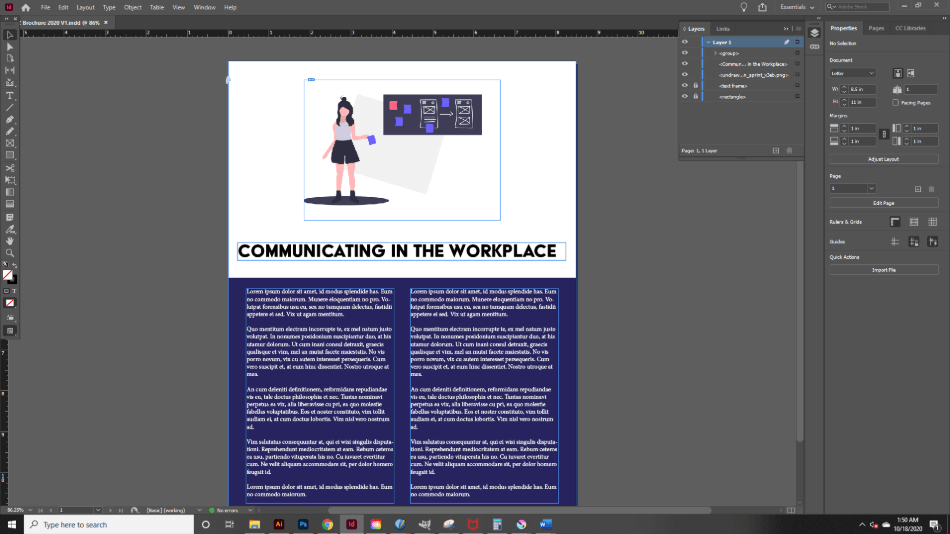 Microsoft Publisher Features
Templates: Many templates to get you started on your publication. Layouts included flyers, thank you cards, address labels, and more.
Layers: The feature is limited in Microsoft Publisher. You can move objects between layers, but there isn't a layer panel that makes selection easy. The system is clunky.
Shape Format: This panel lets you add any shape to the finished work. You can wrap text, bring an object forward/backward. You can apply effects to shapes and more.
Page Design: In this panel, you can adjust the document's orientation, margins, color schemes, and more.
Stock Images: Microsoft has stock images built into the program. They also connect to the Bing image search, refining out free images with no copyright claims.
Master Pages: Allows you to have themed pages. The master repeats the design and layout elements. Super helpful when trying to create style continuity for a large publication.
Building Blocks: Reusable assets such as headings, borders, or calendars. You can use the default ones or customize your own.
Review: Gives you spellcheck, a research tab, and the ability to set language preferences in the document.
Workspace Layout: You can close, hide, and move windows around Publisher to create whatever layout you need for your workspace.
When placed head-to-head, Adobe InDesign has more features and capabilities. Each tool gives you more precise control over your art while Microsoft Publisher sticks to essentials.
Winner: Adobe InDesign
2. Pricing
| Product | Regular Price | Discounted Price |
| --- | --- | --- |
| Adobe Creative Cloud | $52.99/month | Check here |
| Adobe InDesign | $20.99/month | Check here |
| Microsoft Publisher (Microsoft 365 Personal) | $69.99/year | No Discount |
The pricing for Microsoft Publisher:
$69.99/year for Microsoft 365 Personal, a plan for one individual, 1 TB of storage.
$99.99/year for Microsoft Family, a plan for up to 6 people, 1 TB storage per person.
$139.99, one-time purchase, Publisher only, for one device.
The pricing for Adobe InDesign:
$20.99/month, just InDesign, 100 GB cloud storage included.
$52.99/month, all 20+ Adobe apps, 100 GB cloud storage.
$19.99/month, all 20+ Abode apps, 100 GB cloud storage, if you are a currently enrolled student or teacher only.
Microsoft Publisher is overall a much better deal than InDesign in terms of price. Publisher pricing is reasonable, and they even offer a one-time purchase for a lifetime license. Getting Publisher over InDesign will save you hundreds of dollars in the long haul.
Winner: Microsoft Publisher
3. Collaboration
Adobe InDesign has much better collaboration options than Microsoft Publisher.
InDesign has the Share for Review feature. The tool is incredible because you can invite outside collaborators to look at your work. They don't even have to be Adobe members. The comments are connected to a web app online, letting reviewers work from anywhere.
They can pin, markup, and comment on your piece. The reviewers' comments show up automatically in your workspace. You can delete and resolve comments, keeping everything tidy.
Microsoft Publisher does not have a built-in sharing feature. For collaboration, the support tool recommends saving as a PDF and emailing to your reviewers. Could Microsoft try any less?
Overall, InDesign takes the cake. The collaboration tool makes sharing work and receiving feedback easy.
Winner: Adobe InDesign
4. Publication Design
Adobe InDesign has better publication design. There are more features, templates, and precise control over the final image. Microsoft Publisher is great as a simple editor but doesn't compare overall.
Adobe InDesign has tons of templates to choose from. InDesign can pull from thousands of options in Adobe Stock, the choices almost endless.
Microsoft Publisher was designed for users with no graphic design experience whatsoever. The developers wanted Microsoft word users to be able to jump into Publisher without feeling lost.
Publisher does accomplish this with a simple user interface with many templates to get you started. On this note, simplicity costs you functionality. You have fewer export options than InDesign.
InDesign has an especially good system for e-book publishing, allowing you to choose different formats. In InDesign, you can export to EPUB, SWF, XML, style sheets, and more, easily creating the correct format for your final project.
InDesign also has responsive layouts, Liquid layouts, that make adaptive designing so much easier, helping you adjust the final look to the device, such as tablet or iPhone. You use page rules to set the standards, reducing manual edits. Microsoft Publisher does not have this capability.
Adobe InDesign works seamlessly with the family of Adobe apps, especially Photoshop and Illustrator. Access to a full creative suite is powerful for graphic designers because you can fine-tune all of the elements in a piece.
For example, you could retouch and finish a photo in Photoshop, make a logo in Illustrator, and bring those elements into InDesign to make a finished flyer. In comparison, Microsoft Publisher is designed to be more of a stand-alone desktop publisher.
Overall, Adobe InDesign makes the publication design easier and in your control.
Winner: Adobe InDesign
5. Compatibility
Adobe InDesign is more compatible than Microsoft Publisher. InDesign is available for more operating systems, devices and can work with more file formats than Publisher.
Microsoft Publisher only works on Windows desktop computers. Publisher is limited in the documents that it can import, unable to import PDF or InDesign documents. You have to use workarounds, converting the project into a compatible format such as Word before bringing it to Publisher.
Adobe InDesign works on Mac and Windows computers. There is a sister app called Adobe Comp available for mobile and iPad that creates beautiful compositions. From Adobe Comp, you can import your layouts seamlessly into Adobe InDesign, Illustrator, or Photoshop.
Adobe InDesign can import a variety of file types with limitations, including Photoshop and PDF. InDesign can also import Bitmaps, PNG, JPEGs, and a variety of other formats.
Adobe InDesign is much more compatible than Microsoft Publisher overall.
Winner: Adobe InDesign
6. Workflow
The workflow in Adobe InDesign and Microsoft Publisher is intuitive. InDesign, while crowded with many features, allows you to customize the workspace. Publisher is simple, sticking to essentials without overwhelming the user.
InDesign gives you the most control over customizing the workspace. You can save custom looks and choose between workspace presets, moving panels from one side of the screen to another.
Publisher has fewer options for customization, but it's not necessary. The workspace is clean and uncluttered. You can hide and show elements of the workspace to simplify the look even more.
InDesign has better-designed tools than Microsoft Publisher.
The tool functions of Publisher can sometimes feel outdated. For example, the selection tool is clunky, without a layers panel to organize and select objects. It's easy to get an object hidden/lost underneath layers in Publisher.
In comparison, InDesign uses a layers panel. A layers panel makes selecting and moving individual layers very easy. You can organize the layers, bring layers forward and back, and lock them. This organization makes designing so much easier.
Adobe InDesign provides better output solutions to publish projects. InDesign gives you many options for final e-book outputs, allowing you to customize your final product. If you publish in EPUB, Adobe includes the eBook reader Adobe Digital Editions.
In comparison, Microsoft Publisher has options for exporting as a PDF and commercial printing, but it doesn't have e-book formatting on the platform.
In the end, Publisher has a smooth, simple workflow, and InDesign organizes its vast array of tools very well. Both have an intuitive design.
Winner: Tie
7. Longevity
Adobe InDesign wins for longevity because of its powerful capabilities, making it one of the leading desktop publishing programs on the market. The software also connects to the huge Adobe Suite, making it an ideal choice for graphic designers.
Publisher is a very simple version of InDesign. While Publisher is great for simple publication, it is not in the same league as InDesign.
Adobe InDesign is considered industry-standard. The program has every feature you could think of. While newbies can be intimidated by the many features, the learning curve isn't too bad. The precision offered is astounding.
Publisher is great for hobbyists and newbies. The software is simple, cheap, and often will come with your Microsoft plan. The software was designed for people who aren't graphic designers. Easy graphic design software is ideal for small business owners who have to wear many hats and may or may not have design experience themselves.
Longevity also depends on usage. If a business is already using the full Adobe Suite, InDesign is the obvious choice. If a business is using the full Windows suite, then Microsoft Publisher might be perfect for them.
Smaller businesses tend to use Publisher because it's cheaper. Businesses who want more creative control will get the full Creative Suite because the system has such a huge range of capability, from video editing to photo retouching and desktop publishing.
Adobe InDesign is also constantly adapting to the world. There are frequent bug fixes and new features added. Microsoft Publisher, as of right now, feels outdated.
In the end, InDesign is being used by more people. Until Publisher gets a major facelift, InDesign will reign supreme.
Winner: Adobe InDesign
8. Learning
Adobe InDesign's tutorials and resources are much better than Microsoft Publisher.
Adobe has an incredible amount of online resources. You can read through extensive community forums, talk to experts 24/5, and look at the dozens of lessons(online and in-app). The learn panel teaches you right inside Adobe InDesign without you having to leave the app.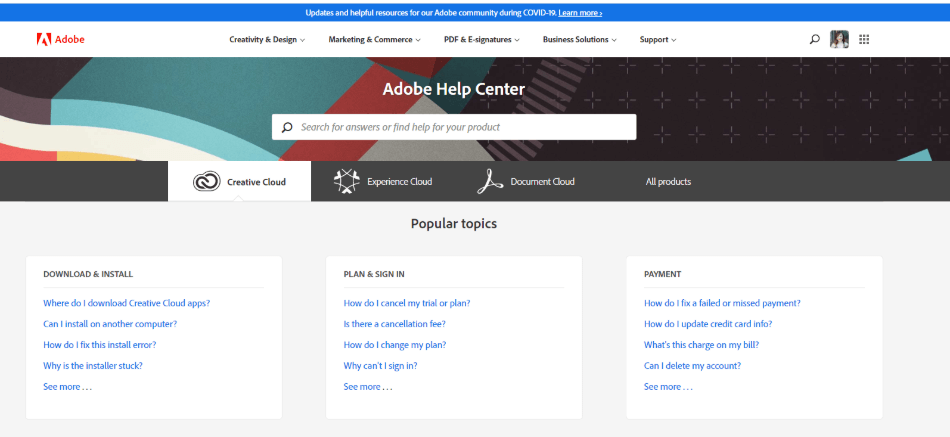 Microsoft Publisher has in-app and online support. The Support Query forum is very barebones in terms of structure. For example, you can't filter by program or relevancy, unlike Adobe's forums. All of the tutorials are just bundled up together in the same place, causing you to waste time by sifting through material that isn't even for Publisher.

If you need to chat with a live person, Microsoft Publisher does have you covered. They have live support 24/7. First, you will speak to a virtual assistant. Once this bot's resources are exhausted, it will connect you to a real person.
When comparing InDesign to Publisher in terms of ease of use, Publisher is a faster tool to learn. That being said, InDesign, while it has a steeper learning curve, has a ton of support to make the process pretty seamless.
Overall, Adobe InDesign has the best and most organized learning system in place. You can find your answers quickly.
Winner: Adobe InDesign
Final Thoughts
Adobe InDesign is an industry-standard for publication in print and digital. If you want to work in the graphic design publishing world, the tool is a good one to learn. While the software is expensive, the system is worth it.
Microsoft Publisher feels like a cross between InDesign and Microsoft Word. Overall, functionality can feel outdated, but it still gets the job done. If you need a budget-friendly desktop publishing tool, get Microsoft Publisher.
Frequently Asked Questions (FAQs)
What is Microsoft Publisher good for?
Microsoft Publisher is a great desktop publishing program, useful for making anything text-based such as newsletters, brochures, and flyers.
Can Microsoft Publisher open InDesign files?
Not directly, no. You will need to convert the file to open in Microsoft Publisher.
Does anyone still use Microsoft Publisher?
Yes, people still use Microsoft Publisher.
Can publishers edit PDF files?
Publisher cannot open a PDF file directly. You have to use a workaround.
Anne is a filmmaker and writer with a passion to bring stories to life. She has created several short films, specializing in stop-motion animation. Anne has over eight years of filmmaking experience, and she is always ready to share her knowledge with other creators. She started her company Anne Gets Creative in 2020.
Anne is extremely familiar with many Adobe programs: Photoshop, Illustrator, InDesign, After Effects, Premiere, and Audition, to name a few. She has also worked with other programs such as Procreate, Canva, iMovie, and Final Cut Pro. She always strives to give the best software reviews, researching diligently so her readers don't have to.