(Last updated on November 2nd, 2022)
Luminar or Lightroom, which software is right for you?
Read this ultimate Luminar vs. Lightroom comparison to find out which one is the right software for your needs.
Luminar was developed in 2016 as a photo-editing application by Skylum. Winner of the 2019 gold award at the Digital Camera Grand Prix, the software works with raw photo files and can either be used on its own or in conjunction with Photoshop.
Adobe Lightroom has been in the photo-editing game far longer, having first found life as a plugin for Adobe Photoshop. That was back in 2007, and since then, the application has evolved into a solo piece of handy software.
Like Luminar, Lightroom works with raw image files where effects can be placed on top of the image.
Comparison At a Glance
1. Interface
Winner: Luminar. The interface of Luminar is not only pleasing to the eye but rather smart as well.
2. Tools
Winner: Lightroom. The tools within Lightroom are advanced enough to handle projects big and small.
3. Workflow
Winner: Lightroom. Though both applications have automated processes, Lightroom wins out the complete workflow system.
4. Ease of Use
Winner: Luminar. Built to be speedy and straightforward, Luminar has an edge for being comfortable enough to wield for hobbyists and professionals alike.
5. Output
Winner: Lightroom. There are so many high-quality options for rendering out your photos within Lightroo1m that can make it ideal for any project type.
6. Extensions
Winner: Lightroom. Lightroom's many plugins improve upon an already astute application.
7. Pricing
Winner: Luminar. Free from subscriptions, Luminar is a better investment for those on a budget with long-term use in mind.
8. Support
Winner: Lightroom. Adobe's dedicated support behind their products remains just as firm with Lightroom.
Short Verdict
Lightroom is far more robust than Luminar when it comes to photo editing. Though both applications perform remarkably well with similar features, it's ultimately Lightroom that comes across the finish line by being a few inches ahead in capabilities.
1. Interface
Lightroom has two different interfaces since there are two different versions of the application. There's Lightroom Classic, which is better built for desktops, and the latest version of Lightroom accommodates for mobile with more slider options. Like Adobe's other applications that improved over time, Lightroom's layout is relatively clean and unopposing.
That being said, there's a big point of distinction is that switching between Lightroom and Lightroom Classic for certain features may make working in the application a bit disorienting if you find yourself bouncing around machines during your photo work.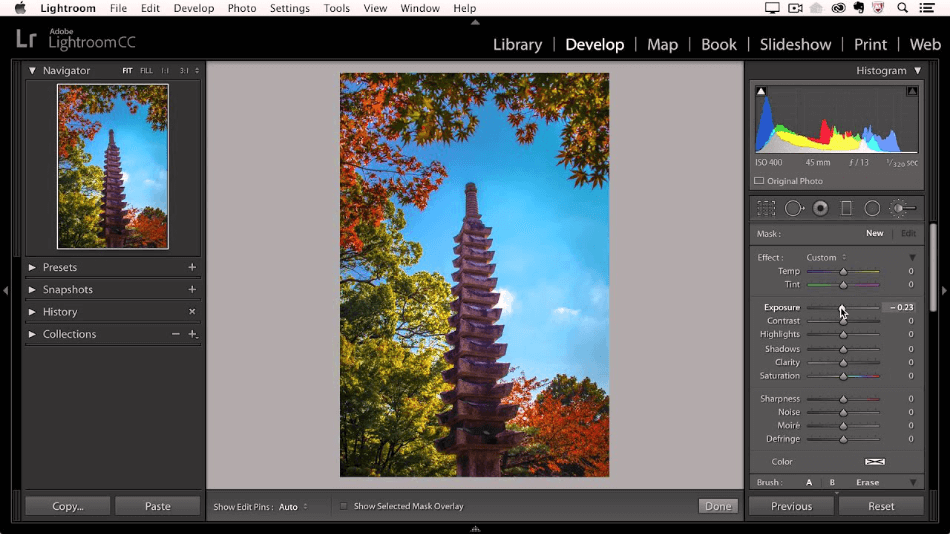 Luminar wins almost by default in this category for not being so divergent with the program's two present versions. But the positives go far beyond such simplicity. Luminar's layout looks just as clean and inviting without crowding the screen as much.
The catalog function is pretty new but easy enough to sort through when creating albums. All of the essential tools are visible and organized in clean toolbars for ease of access.
For refining the environment to such a degree that it is still developing and getting better with each release, Luminar has a layout that doesn't have to require as much instruction to navigate when compared to that of Lightroom.
Winner: Luminar
2. Tools
Lightroom has been built in such a way to provide a wealth of tools yet also offer great ease using them for more complex and detailed photo projects. Lighting and color can be tweaked with a wide range of variables and sliders. Some tools will be handy, such as the cloud sync tool is ideal for those who will be working from mobile and desktop.
The sync option is great for someone needing to continually move and make their photo touch-ups on any device, from a tablet at the shooting location to the desktop back at the office.
Luminar is still catching up in this department but is making some great strides. One area where they could use some improvement is in their catalog system, which is pretty barebones at the moment for how far you can organize your files.
Luminar does have more similarities in the more advanced editing tools, and the prospect of better AI-driven tools upon the horizon just makes this application all the more irresistible for the future.
Their AI tools, in particular, are so robust they can change an entire sky in a photo with relative ease.
As it stands, however, Lightroom just has a few more unique tools to bolster its acclaim in the photo-editing market. However, don't be surprised if Luminar goes further in the coming year with significant improvements for later releases.
Winner: Lightroom
3. Workflow
Lightroom's versatile workflow comes with some good and bad points. On the plus side, the cloud sync option can make editing your photos a relative breeze for those working off both tablets and desktops at the same time.
The catch, however, is that Lightroom utilizes different versions for some devices. The modern version of Lightroom can be used on desktop and tablets, but it's missing a few features that are still present in Lightroom Classic, which only works on desktop.
This can be frustrating if you're working off a tablet and realize you'll have to wait until you get to a desktop to finish up with the other features in Classic.
It may not exactly be a nightmare considering Adobe still offers Lightroom and Lightroom Classic, but the distance in features from desktop to mobile may throw some users off depending on how they get their photos.
That being said, if you're more comfortable doing all your photo editing at your office desktop, this isn't much of an issue.
Another useful Lightroom tool in the workflow process is Smart Previews, which creates small RAW files that are rendered out quick and short depictions of the final product. Hence, you're not continually working in the dark for what will come out on the final render.
Luminar falls a bit behind in this arena since their catalog system isn't all that robust in terms of sorting. Unlike Lightroom, Luminar has yet to master the inclusion of keywords or IPTC metadata, which is an absolute must if you're developing photos for stock footage websites and require copyright info attached.
They could also benefit from adding in layer options as well. There is still promise within Luminar as it's exceptionally speedy and helps with AI-infused tools that grow stronger with every release.
Both applications have some pros and cons in their workflow. But when the push comes to shove, it's ultimately Lightroom that wins out for having made so many improvements over its course of development.
However, being mindful of Luminar in the coming years, as they may strive to evolve at an accelerated path with coming versions, show much promise of better automating the photo-editing process.
Winner: Lightroom
4. Ease of Use
Lightroom has had a lot of time to develop and hone its work environment to be as serviceable as possible for any skillset. Though both versions of Lightroom are relatively easy to navigate and utilize, the advancements in the latest version of the application are rather stellar considering the use of sliders, a more friendly option for tablet users.
There's a refinement to the process when everything feels so clean and organized within a robust layout. Even better, the latest version of Lightroom has been designed to run much faster than previous versions, which tended to run a bit on the slow side.
Luminar, however, has met the challenge of being so simplified that very little instruction is required to start the editing process quickly. There's a great benefit in the application's automatic catalog, which removes many hassles in importing materials. The filters are very straightforward, making them comfortable enough to use for most beginner levels.
Even the more advanced tools are intuitive enough to jump right in and use. And for as many improvements as Lightroom has made in terms of its performance, Luminar runs much faster by comparison.
The learning curve for Luminar is much less steep than that of Lightroom in that it doesn't overwhelm the user with its many options, retooled to the point of being a relative breeze to master. By comparison, Lightroom takes a bit longer to utilize professionally properly.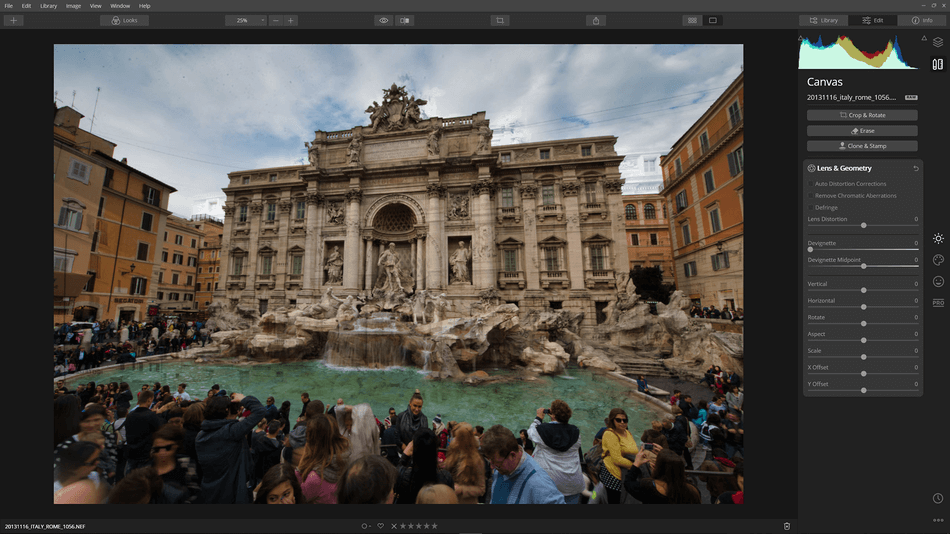 Winner: Luminar
5. Output
Luminar can render images of all the familiar formats of JPG, PNG, TIFF, JPEG 2000, PSD, and PDF. Most of these formats have additional options for varying quality, whether your photo needs to be crisp for printing or small for uploading online.
Lightroom reigns supreme in this department, specifically for its high-quality render functions. Photos requiring panorama and HDR rendering can be exported with great detail in Lightroom's advanced control options.
In terms of churning out a final product, the application also boasts a book module for turning your images into a photo book for printing.
And speaking of printing, there's a host of plugins that can integrate with Lightroom for easy exports, anywhere from your WordPress website to the Costco printing center.
Lightroom looms large in this area primarily because the application has more control in what formats can be exported and where they can be exported towards, be it a website or printer. That simplification in the workflow process can significantly benefit fast photographers who need to get their touched-up photos uploaded or printed as soon as possible.
Winner: Lightroom
6. Extensions
The additional features for Lightroom provided through plugins are numerous and incredibly handy. For instance, the addition of the ProShow plugin gives greater control over developing slideshows. For handling CPU crash fears, the TPG LR Backup provides peace of mind by keeping your files backed up.
If you know your photos will be heading straight for your WordPress website, there's a plugin that can make that happen faster and smoother. And if your images are intended more for print, plugins with automation for SnapChat and Costco's printing center.
Luminar also has a few third-party plugins to help ease the workflow process, but you'll have to do some hunting around for them. You'll also have to take a peek at a tutorial video on installing them as the process is not so intuitive.
Adding plugins, Luminar is a bit of a hassle in installation and finding them with this in mind. A quick Google search for Luminar plugins will reveal more articles on installing them than to find them.
Since there's less of a headache involved in working with Lightroom, not to mention an abundance of more easy-to-find plugins, Lightroom comes out on top in the extensions department.
Winner: Lightroom
7. Pricing
| Product | Regular Price |
| --- | --- |
| Adobe Creative Cloud | $52.99/month |
| Adobe Lightroom | $9.99/month |
| Luminar | $67 (one-time) |
Lightroom follows the familiar pricing model established by other Adobe products.
The most basic version of the software is $9.99/monthly.
For the more feature-heavy version of Lightroom Classic, the subscription price will run you $19.99/monthly.
There's a bundle deal of $20/monthly for a complete photography package that includes Lightroom, Lightroom Classic, and Photoshop.
And if you find yourself needing more in the way of graphics editors, consider the full Adobe Creative package for $52.99/monthly.
Luminar is vastly different in that there is no subscription model, favoring a one-time purchase of the application via three other packages.
To license Luminar for one computer, the cost is $67.
For two computers, the price will run you $188.
And for two computers with the addition of the Aurora HDR photo editor, it'll run you $287.
Each package also has a 30-day money-back guarantee.
With all of this in mind, Luminar is better built to be economical for web designers, be they one person or a whole team.
Winner: Luminar
8. Support
As a product under the Adobe catalog, Lightroom gets the star treatment for support as other items in the Creative Cloud line of software. Those seeking help from Adobe can find support in the form of either calling in or submitting a ticket on their website.
If the issue isn't as simple that the support line can aid with, there's no shortage of articles and tutorials present to help guide any user, as well as a uniquely helpful support forum. Their plugin page also boasts much of the essentials you'll need if trying to automate Lightroom as much as possible.
Luminar isn't too far behind in support either. Their website boasts tackling fundamental issues with a form, FAQ for simple answers, a user guide for novices to read through, and a community forum to connect with the development team and other customers.
There's also plenty of tutorials, classes, and podcasts to peruse through to keep up on everything Luminar is capable of performing.
While Luminar will by no means leave the user high and dry, Adobe has much more support to offer right on their website without having to search too far outside the developer website.
Winner: Lightroom
Final Thoughts
Luminar is a rather zippy program given its relatively quick speeds, simple interface, and AI-infused tools that can take a lot of the hassle out of more complex tasks. All of that being said, it feels as though it still lacks in a few more features and a bit of polish to make it stand out from the competition.
Even if you have to use both the new and classic version for the full benefit, Adobe Lightroom just feels far more robust when it comes to photo editing. Despite the learning curve, mastering Lightroom can lead to the fastest results for the most time-demanding of photographers working on tight deadlines.
Lightroom is the winner of this comparison but doesn't count Luminar out quickly as future release could yield just enough improvements to be a more severe challenge for the competition.
Frequently Asked Questions (FAQs)
Can Lightroom replace Photoshop?
No, Lightroom is built more as a raw photo touch-up application than a full-blown raster graphics program.
Which application is better for HDR imaging?
Lightroom is better equipped to process HDR imaging.
Which application is better for the organization of photos?
Lightroom works best for organizing catalogs by more than just names and albums.
Does Luminar have a catalog function?
Yes, Luminar does feature a catalog organization tool, but it's still relatively new and not as defined for more complex projects.
Anne is a filmmaker and writer with a passion to bring stories to life. She has created several short films, specializing in stop-motion animation. Anne has over eight years of filmmaking experience, and she is always ready to share her knowledge with other creators. She started her company Anne Gets Creative in 2020.
Anne is extremely familiar with many Adobe programs: Photoshop, Illustrator, InDesign, After Effects, Premiere, and Audition, to name a few. She has also worked with other programs such as Procreate, Canva, iMovie, and Final Cut Pro. She always strives to give the best software reviews, researching diligently so her readers don't have to.