(Last updated on January 9th, 2023)
How good is Adobe After Effects? Is it the right tool for your needs? See this in-depth After Effects review to find out.
Adobe After Effects is an incredible compositing software that makes great motion graphics and visual effects. Used in conjunction with the myriad of Adobe applications, like Premiere Pro and Animate, this application is a powerful tool for filmmakers. The program is one of the best applications on the market.
After Effects was created back in 1993 by the business Company of Science, eventually acquired by Adobe in 1994. The program was a pivot for the original company, brainstorming ideas until they landed on creating a program that would enhance videomaking forever.
After Effects was born and took off in popularity, a compositing master that could even run on a home computer, unheard of at the time. The application was upgraded again and again until becoming the present-day powerhouse, able to layer dozens of effects and create incredible motion graphics.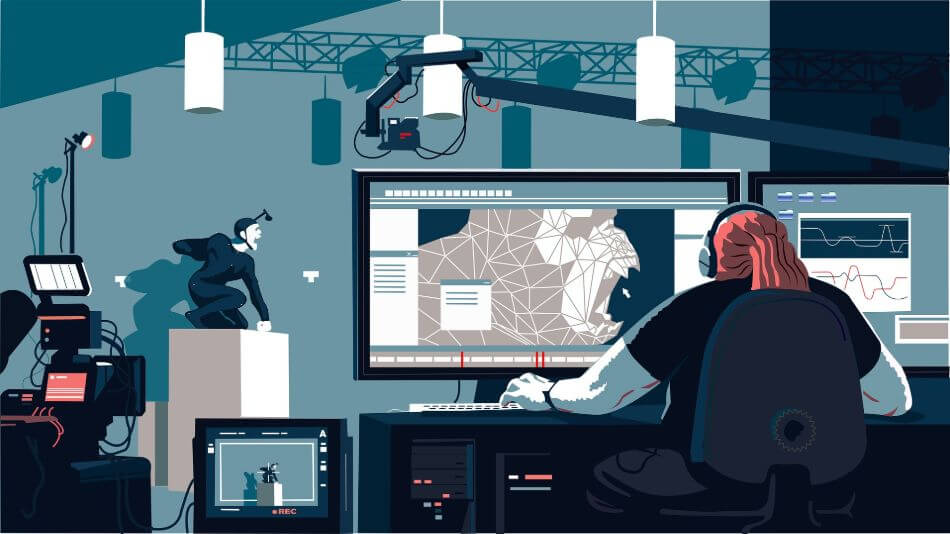 After Effects remains as one of the best programs for creating special effects and animated graphics. The software is widely used in the industry, utilized by professionals and hobbyists alike. Read the following review to see if this program is the perfect fit for your projects. We'll rate the app in different areas on a scale of one to five.
Related: Is Adobe After Effects Available for One-time Purchase?
Pros and Cons of Adobe After Effects
Pros
Features: There are many features in After Effects at your disposal. You can finetune everything in your project. Using keyframes, templates, and effects, you can create beautiful, finished animations.
Longevity: After Effects is widely used in the filmmaking world. For animation and filmmaking careers, learning the program is a good choice. Jobs may expect you to have experience with it.
Compatibility: The program works on both Windows and Mac computers. After Effects works very well in conjunction with its sister application Premiere Pro, and other Adobe apps such as Photoshop, Animate, and Illustrator.
Support: Adobe has a comprehensive online portal with tons of tutorials and comprehensive manuals. There are customer support specialists available to you and a giant community forum where you can post questions.
Cons
Price: Adobe will not let you purchase After Effects for a one-time fee. You will have to continuously pay a subscription fee to use the software, adding up to hundreds spent yearly. You must have an active subscription at all times.
Hard Learning Curve: After Effects is not an easy program to learn. New users will have to watch many videos and read countless tutorials to master the program. The feature list, while impressive, is extensive and can be overwhelming.
Limited 3D Animation: After Effects wasn't built to do everything 3D. While the application has some 3D capability, creating 3D models and environments is not the program's main focus.
Short Verdict
After Effects remains one of the most essential of video post-production applications. The advanced tools are ideal for everything from background removal to computer graphics compositing. Seeing as how it's an industry standard, it's an absolute must-have app for anybody seeking to get into video production.
Features
Compositing: After Effects is a master at layering effects. Compositing is the program's specialty, mixing 2D and 3D elements.
Plugins: After Effects allows you to add plugins to your application, adding more capability to the program. Many external sources have plugins to add to your toolbox, giving you new effects, text templates, and more.
Presets: Adobe offers a ton of animation presets for After Effects, giving you a fast option to start your project off quickly. After Effects comes with default presets automatically. Outside companies will offer preset packages too. Other creators will sell them or even give them away for free.
Effects: After Effects has many effects to add to your project. Content-Aware Fill is an especially impressive new effect. This effect will remove unwanted or distracting items in a video clip with a click of the mouse. Once you click around the object, the program will fill the space with the scene surrounding it, erasing it away completely.
Templates: You can make your own custom graphics template for Adobe Premiere Pro in After Effects. Making your templates is a great feature that will speed up your editing process in Premiere, letting you easily add custom text graphics to your projects.
Animate Text: You can animate text and choose unique fonts from the huge Adobe Fonts database. The text objects will have their specialized parameters in addition to the normal transform properties. There are text presets to use as well to make the animation process even easier.
Rotoscoping: After Effects will let you isolate a subject using Rotoscoping. The program even has specialized tools, the Roto Brush, to make the process even faster. Using Adobe Sensei (AI) technology, the program automatically finds your subject. You can then go back and clean up the selection.
3D: You can add multiple cameras into a scene and manipulate the viewpoints. It is worth noting that Adobe After Effects is not focused on 3D animation. After Effects, while it can integrate 3D into its projects, is not made to create 3D environments and models. This type of editing requires a more advanced specialized program like Blender or Autodesk Maya.
VR: After Effects will let you create virtual reality, allowing you to make 180- and 360-degree edits. You can create immersive storytelling for video games, training videos, movies, simulations, and more. As you edit, you have the option to wear an immersive VR headset. This way, you can work and simultaneously view the full VR version of your project as you progress.
Scripts: Scripts allow you to do a complex task by automation, speeding up the design process immensely. You can set a series of commands into a single script, writing your own or modifying existing ones.
Customization: You can customize the program to fit your editing needs by using workspaces. If you are working on graphics, for example, you can switch to the Essential Graphics workspace. You can also create a custom workspace to create a default setup for yourself.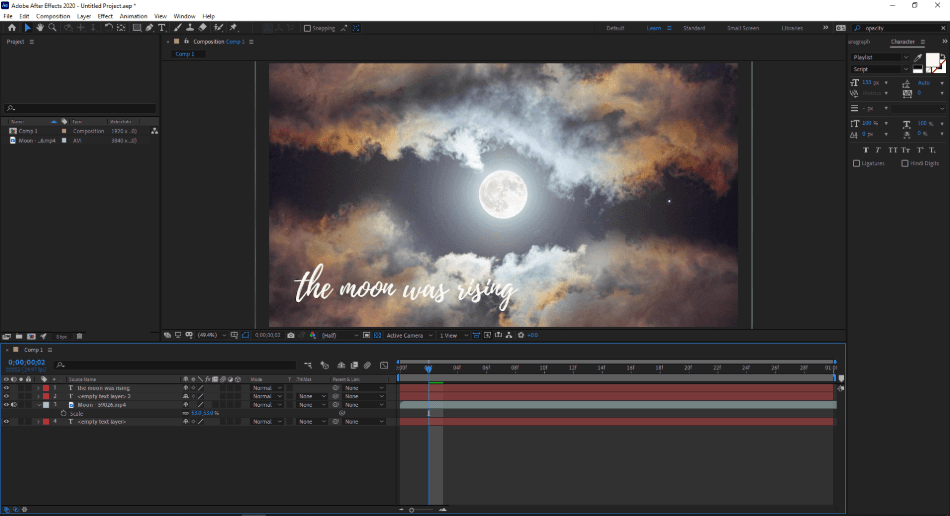 After Effects is chockfull of tools to help you create your projects. While you will probably only use a fraction of what's offered, it's great to have a ton of features available to you.
Pricing
| | |
| --- | --- |
| Product | Regular Price |
| Adobe Creative Cloud | $52.99/month |
| Adobe After Effects | $20.99/month |
Adobe is one of the most expensive creative suites on the market right now. Most of their applications are subscription-only and offered at a high price for regular consumers. (Teachers and students get an exclusive discount.)
For the Individual Plan of just Adobe After Effects:
Monthly Plan: $31.49/month, costing you $377.88 a year. This plan is a monthly commitment.
Annual Plan, paid monthly: $20.99/month, costing you $251.88 a year. This plan is a yearly commitment.
Annual Plan, prepaid: $239.88/year, the cheapest plan of the three per year. This plan is a yearly commitment.
For the full Adobe Suite:
Monthly Plan: $79.49/month, costing you $953.88 a year. This plan is a monthly commitment.
Annual Plan, paid monthly: $52.99/month, costing you $635.88 a year. This plan is a yearly commitment.
Annual Plan, prepaid: $599.88/year, the cheapest plan of the three per year. This plan is a yearly commitment.
For the full Adobe Suite, currently enrolled students and teachers only:
The only option is a yearly commitment, either for $19.99/month or $239.88/year. There is no discount for the yearly prepaid subscription.
As you can see, even the cheapest options will still cost you hundreds per year. Adobe knows the worth and power of its software in the market. They have a relative monopoly on creative software because of the incredible suite of programs they offer in the full bundle.
If you are a student or teacher, I highly recommend taking advantage of the discounted plan. This subscription cost is relatively affordable in comparison to their other options.
The only benefit of the subscription model with Adobe is that you will always get the latest and greatest application version. Adobe regularly updates software, some applications more than others, and you will always get the latest version at no additional cost.
The pricing is expensive. You can try the software for a 7-day, free trial. If you have a cheaper alternative to After Effects working for you, I say stick with it as long as possible. For the pricing as it stands, After Effects gets two points taken off the score for the expensive price tag.
Learning Curve
Adobe After Effects is a difficult program to learn. You will need to spend many hours on tutorials and lessons to master the software's full capabilities. With this in mind, Adobe thankfully provides many resources to help you learn the program.
Adobe has many learning resources available to you. Inside the application, there is an entire learn panel. Here, you can download tutorials and watch videos on everything from the basics to advanced editing techniques.
You can also search for a question inside After Effects, and the program will open up the most relative article from Adobe's website.
Online, Adobe has a huge learning portal. Here, you can go through written and video lessons about the entire program. These are step-by-step tutorials detailing the ins-and-outs of the software.
If you still can't find the answer, you can also post to the Community Forum, a huge online bulletin board of questions. The forum is organized by relevancy and program, answered by other users and professional experts.
If you want to contact someone directly in Adobe, you can! Adobe offers a 24/5 chat and phone service to get you in touch with an Adobe specialist. While wait times can be long, the customer service representative will always try to answer your question to the best of their ability.
There are also many external resources to learn After Effects. Because the program is so popular, you can find courses on Lynda.com and free tutorials on YouTube to master the software. There is tons of information online.
A common theme with most Adobe products is that the next Adobe application will be easier to learn once you learn one program.
As you begin to master more Adobe programs, learning the next one will get easier and easier. Layouts and tools will have some similarities across the programs, giving you a leg up when learning new software.
Learning Adobe After Effects may take some time. With the right resources, patience, and perseverance, you will get the hang of it. For having a bit of a learning curve, only one point was taken off the score.
Motion Graphics & Special Effects
Adobe After Effects is primarily a motion graphics editor. This editor type should not be confused with traditional frame-by-frame animation (Adobe Animate is great for this), but rather working by manipulating objects by the transformation.
In After effects, you can rotate, turn, scale, move, change the opacity, and more for an object. You can manipulate the motion to accelerate and decelerate, smoothing motion to the most precise detail.
You can add flickering and wiggling, building custom transitions, looping shapes, animate logos and text, anything that you can think of. You can even place 2D layers in 3D space.
After Effects can help you animate title sequences and captions for videos, becoming a part of your animation and editing process.
Meanwhile, the special effects capabilities are incredible in After Effects. They have been used in Hollywood productions, "The Walking Dead," "Enders Game," and "Star Trek," to name a few examples.
In After Effects, you can add the weather to a scene, making it snow or hail, rain or shine. You can eliminate mistakes or distractions using Content-Aware fill. You can smooth shaky footage and add 3D elements.
After Effects is powerful, giving you great control over effects and your final footage. If you are already using Premiere Pro, add After Effects to your workflow. The possibilities are endless and that's why we're giving a perfect score for effects.
Compatibility
After Effects is compatible with both Windows and Mac and, you will need a high-powered computer to run the program well. The more RAM and the better graphics card you have, the better the program will work. After Effects is a technical hog in terms of energy and memory needed to make the program run optimally.
After Effects works great in conjunction with applications such as Photoshop, Adobe Animate, and Premiere Pro.
For example, suppose you were creating a title sequence. In that case, you could create the frame-by-frame animation in Photoshop, animate it in After Effects, and then place the finished animation into Premiere for your video.
Here's a breakdown of how After Effect compares to the other programs mentioned:
| | | | |
| --- | --- | --- | --- |
| | After Effects | Premiere Pro | Animate |
| Motion Graphics | Yes | Limited | Yes |
| Video Editing | Limited | Yes | No |
| Video Compositing | Yes | No | No |
| Character Animation | Yes | No | Yes |
| 3D Effects | Yes | No | No |
| Real-Time Previews | No | Yes | Yes |
After Effects is only made for desktop. The application is not supported for any mobile apps and does not have a sister-app equivalent.
Overall, After Effects is a compatible system. The program works well on multiple operating systems and works great within its family of applications. With the lacking mobile support only being a minor issue, only a half-point was taken off the score.
Longevity
Adobe After Effects is one of the top programs in the business. Learning this software is a plus in the industry. It's widely used and has a ton of capability.
Adobe continuously updates their software, keeping their programs relevant. After Effects continues to get new features and updates, making the software run better and adding new tools to help filmmakers.
After Effects is also part of the huge Adobe family. Being part of a full suite of software makes the After Effects brand stronger, supported by a family of apps that you can get when purchasing the bundled pack of software.
With all this being said, the price of Adobe has created a need for alternatives. The subscription-based model is expensive and a hard price to stomach when it costs you hundreds of dollars a year.
While After Effects can make you competitive in the job market, several alternatives can do many of the same things and are free or a better value. Blender, Nuke, Motion, and RedGiant are all viable alternatives.
If you need the best 3D animating software, After Effects doesn't quite make the cut. Sure, it has a decent amount of capability, but it isn't at the top of this specific niche.
Great 3D programs included Blender, Autodesk Maya, and Cinema 4D. (Blender is open source and completely free, a nice bonus.)
Here's a breakdown of each 3D program:
| | | | |
| --- | --- | --- | --- |
| | Blender | Autodesk Maya | Cinema 4D |
| Pricing | Free | $215/monthly | $59.91/monthly |
| Best Used For | 3D Shorts, 2D Animation, Simple Visual Effects | Feature Films, Video Games, Complex Visual Effects | Feature Films, Motion Capture, Complex Visual Effects |
| Skill Level | Beginner | Intermediate | Expert |
Will Adobe After Effects stand the test of time? Most likely, yes. The software continues to adapt and get even better year after year, even with alternatives looming close behind. For the alternatives offering up some competition, a half-point was taken off the score.
Uses
Why would you need After Effects? Let's go over problems that After Effects specifically solves.
Captions: You can create customized captions for your video. If you are doing a project like a documentary, you can create matching caption and title graphics that suit your project.
Intro Sequences: Create stunning intro sequences, moving objects, and using effects to make the animation pop.
Weather: You can add weather effects to your footage.
Erase Distractions: Use Content-Aware Fill and erase unwanted figures and objects from your footage.
Clone Objects: Duplicated objects in your footage. For example, if a plane flies in the sky, you can copy the object using the Clone tool, duplicating the object.
Smooth Footage: Clean up shaky drone footage or handheld shooting with the Warp Stabilizer or Track Motion.
Futuristic Digital Displays: Create futuristic digital graphics to overlay in the footage.
Templates: Create a template to use in Adobe Premiere Pro.
Blurring faces: Need to blur a face in your video? Track faces using the face tracker, using a blur effect and a mask to blur out that part of the face.
Custom Transitions: Use combinations of layers, masks, and solids to build custom transitions for your project.
Position 2D Layers in 3D space: Enable 3D mode and create a z-axis in your project panel, allowing you to move your object along the x-, y-, and z-axis.
Parenting Animation: You can set layers to follow the movement of another layer.
Add Motion Blur: Add realistic motion blur to your animations. For example, if you are rotating the blades of a fan, you can add motion blur to make the movement look more natural.
Create an Animated Brush Stroke: Animate the brush stroke to make it look like a design is being painted on your video.
As you can see, everyone from hobbyists to professionals can use the software to their advantage. The program solves basic problems to advanced needs. Utilizing After Effects can up your filmmaking game. With some small issues involving playback and editing, only a half-point was taken off the score.
Final Verdict
If you need to create stunning motion graphics, Adobe After Effects is the program for you. After Effects has all the tools you need to create a fantastic final product.
If you just need a basic animation program, other free applications like Krita might be a better option. If you want a 3D-oriented program but don't want to pay Adobe prices, you could also download Blender. This application is powerful and can do many of the same things as Adobe After Effects.
Overall, Adobe After Effects is a great choice for filmmakers and animators alike. You will create beautiful animations for your projects.
Frequently Asked Questions (FAQs)
How much is After Effects?
After Effects will cost you between $19.99 -$79.79/month, depending on your plan. Adobe has a subscription-only model for most of its applications, including After Effects.
What is better than Adobe After Effects?
While After Effects is one of the best on the market, comparable alternatives include Blender, Nuke, Fusion, and HitFilm Pro.
Who uses After Effects?
Professional filmmakers and animators use After Effects to create beautiful motion graphics and animations. You can make both 2-D and 3-D animations in After Effects.
Can you use After Effects for video editing?
After Effects, while it could edit video, was made to create stunning motion graphics and special effects. The program is really meant to add to a video, not act as a video editor, and is often used in conjunction with Adobe Premiere Pro.
Is Adobe After Effects hard to learn?
Yes, Adobe After Effects is a very difficult program to learn and truly master. There are simply tons of features and workflows.
Is After Effects on mobile?
As of this writing, Adobe does not offer a mobile version of After Effects to use on phones or tablets. In terms of video editing, however, Adobe does offer a mobile version of the editing program Premiere Pro.
Anne is a filmmaker and writer with a passion to bring stories to life. She has created several short films, specializing in stop-motion animation. Anne has over eight years of filmmaking experience, and she is always ready to share her knowledge with other creators. She started her company Anne Gets Creative in 2020.
Anne is extremely familiar with many Adobe programs: Photoshop, Illustrator, InDesign, After Effects, Premiere, and Audition, to name a few. She has also worked with other programs such as Procreate, Canva, iMovie, and Final Cut Pro. She always strives to give the best software reviews, researching diligently so her readers don't have to.