(Last updated on November 2nd, 2022)
Blender or After Effects, which software should you pick and why?
We've researched these programs extensively. See this in-depth Blender vs. After Effects comparison to see which program is right for you.
Adobe After Effects has been highly recognized as Adobe's top product for compositing visual effects and assembling motion graphics and has been a leading industry tool since 1993.
After Effects has evolved to perform better with such complicated post-production tasks of green screening objects, rotoscoping figures, crafting 2D animation, and altering 3D models.
Blender has been seen as the cheaper alternative to expensive 3D software but is far from just being the dollar-store version of 3D Studio Max or Maya.
Related: Adobe Illustrator vs Procreate | In-depth Comparison (2022)
Whereas other competitors of Bryce and Poser were so lacking, Blender has made vast improvements in its many years of development, with many creatives utilizing it for their animation projects and developers making incredible advancements with the open-source software.
Comparison At a Glance
1. Interface
Winner: Blender. The interface for Blender is both clean and inviting, yet still holding a lot of powerful tools.
2. Animation
Winner: Blender. Aided by some intricate animation tweaking tools, Blender offers much more control for animators.
3. Tools
Winner: After Effects. Armed with much control over scenes and numerous machine-learning enhancements, the tools for After Effects are multiple and of great ease to utilize.
4. Editing
Winner: After Effects. After Effects already has a video editor environment making it easy to compile footage.
5. Workflow
Winner: Blender. With an extensive array of tools, Blender has a workflow that can smoothly progress from animation assembly to finished project.
6. Extensions
Winner: Tie. Both After Effects and Blender have a wealth of enhancement plugins to accomplish almost any project.
7. Pricing
Winner: Blender. Being an open-source application, Blender is free, making it the cheaper application by default.
8. Support
Winner: Tie. Both communities have excellent support for both technical issues and learning resources.
Short Verdict
After Effects is the industry-standard tool for compositing, visual effects, and motion graphics, while Blender is mainly used for 3D designing and animation. After Effects is a subscription-based product, while Blender is completely free.
Overall, After Effects is the better program among the two.
1. Interface
The interface for After Effects has a striking resemblance to Adobe Premiere and similar video editing software. The layout consists of a timeline, asset library, viewport, and effects window.
Of course, the interface itself can be tailored for more or less, whether you need a bigger viewport or require the rendering window at the same time. Adobe has made this aspect a little easier to manage over time with interface presets for whichever stage of the current project.
Blender is much cleaner and not just because it's better built for operating in a viewport environment than a video editor (though it does have video editing capabilities).
The assembly tools are relatively off to the side that they will not interfere with your animation crafting. It's worth noting that some of the more intricate tools within Blender are kept relatively off to the side to be accessed only when they're most crucial.
This aspect is most pronounced in the animation tools for fine-tuning the movement of your models.
While both applications offer some help in navigating around, Blender's approach feels more like a few tips within an intuitive setting. In contrast, After Effects feels more like reading an elaborate road map to get your where you need to be.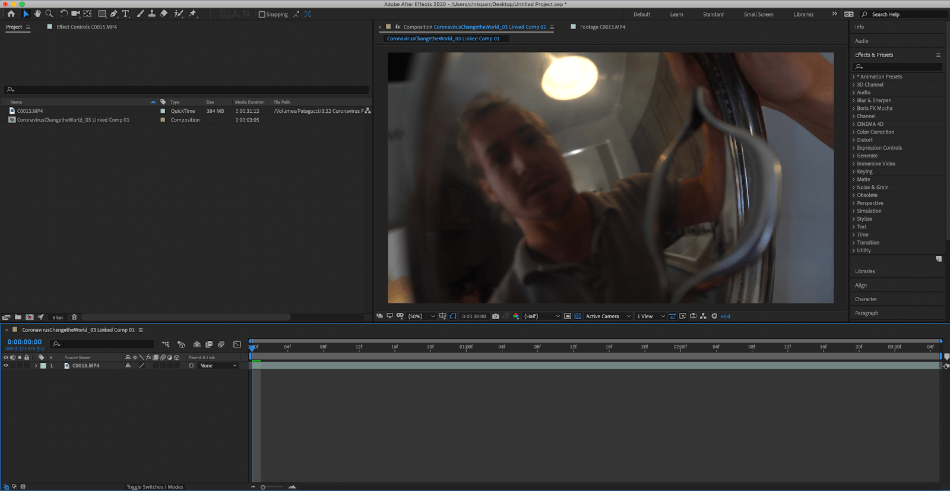 Winner: Blender
2. Animation
After Effects is capable of both 2D and 3D animation, but it's perhaps best suited for the likes of mostly 2D motion graphics. The method involves pushing and pulling assets like Adobe Animate (formerly known as Adobe Flash).
This method means that if you want to assemble, say, character animation, each movable piece would have to come in as a separate object (head, arms, legs, etc.). So you're essentially just pushing and pulling different objects like controlling a puppet.
Of course, both drawing and breaking out these objects will require additional graphic software.
Blender, better branded as animation software suitable for beginners, has all the 3D animation front and center tools. Modeling objects, material shaders, rigging components, and animation tweaking tools are all present to start and finish an animation project with no external applications.
In particular, the motion editor makes crafting the most complex of animations a relatively easy ordeal. But even outside the realm of additional plugin assistance, Blender is just much more comfortable to utilize.
With a less cluttered interface and comprehensive tools that hardly crowd the interface, it's just a lot easier to create animations with ease. By comparison, After Effects takes a bit more learning to master its keyframes and effects controls that are dense in number and somewhat complex.
Winner: Blender
3. Tools
After Effects and Blender have quite a bit of crossover in their tools for assembling scenes. They both have cameras, lights, text, and textures, though they vary quite a bit in what they're capable of rendering.
Blender comes with the familiar tools accustomed to top-tier CGI software. Materials are assembled via a node-like connection for everything from bump maps to refraction.
Cameras and lights can be perfectly positioned within the viewport with plenty of controls for how they project and how long they stretch, be it an area light for an outdoor scene or a cinematic lens for an epic vista.
After Effects features much of the same functionalities but presents them through different means. The camera can be placed and tweaked, but it takes a bit of learning as you'll mostly be editing them from within the relatively small viewport.
The lights can also be added though it takes a bit of time to figure out how to work this aspect into your project. Textures also take a bit of time to master, but they're still present.
However, from a visual effects standpoint, After Effects has much more nifty features for churning out a completed project. Their rotoscoping is a significant drag for how much more automated and attuned it is at removing objects from backgrounds, green screen, or no green screen.
Many of the familiar video effects have made astounding advancements that there's far less intimidating to master such essential functions. By comparison, Blender asks a bit more of the user when tailoring your animation to perfection.
Winner: After Effects
4. Editing
Even for being better based in different mediums of animation, After Effects and Blender both boast their means of editing animation assembled.
Blender's built-in video editor can make the necessary cuts you'd need without having to bring your finished project into another application. Working for up to 32 shots, the editor can do quite a bit considering it offers luma waveform, chroma vectorscope, and histogram displays.
Audio is also accounted for, so you can perfectly sync your 3D animation to the scene's movements. Unlike other 3D animation software, this aspect of editing generally requires a video editor for whatever final product you render.
After Effects, however, will be more at home for video editors. The application has all the same features of Blender and so much more. Editing video is pretty much built into the process of assembling and timing animation that you'll find yourself dicing up footage as you go.
Logging your animations within sequences that can be embedded into other sequences makes it simple enough to push and pull scenes around in your timeline. I
t can get a bit crowded, especially if you're dealing in motion graphics with many moving parts; it's pleasing to know that the final product won't take some outside help before proceeding to the render queue.
After Effects just has Blender beat in this department as its video editing process feels more like a natural part of the process than an additional feature.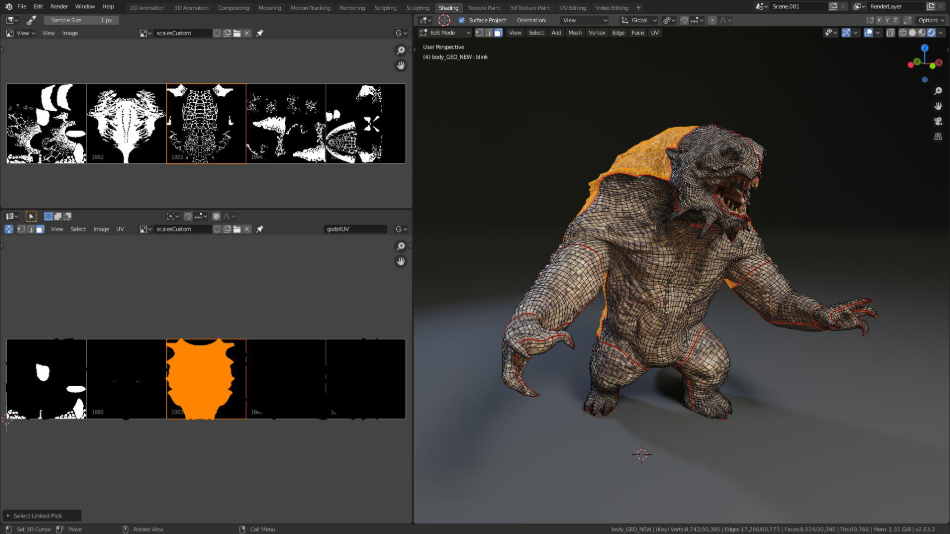 Winner: After Effects
5. Workflow
Blender and After Effects carry themselves in incredibly different ways to take a project from its first few strokes to rendered-out video.
Blender's organization of assembling 3D animation is keen enough for users to start with the basics of shape and build their scene up from there. The process is pretty straightforward, as everything from character animation to environment crafting can be tackled with much overlap.
As has already been stated, Blender is highly organized when it comes to fine-tuning your animation to editing the camera contents before rendering out a finished video.
The workflow for After Effects can fluctuate wildly depending on what project you're seeking.
Suppose you know you'll be doing character animation. In that case, you'll need to assemble all the moving parts in a separate program, place them within a sequence, and decide just how much of the features you want breaking into other sequences.
If you know you'll be compositing footage, you'll need to prepare the layers required for masking and plan out the extent of your rotoscoping.
Whatever the project, you'll not only have to master a different workflow but change up your interface as well to make sure everything you need is present.
While After Effects is capable of far more functions than Blender, the daunting amount of conflicting workflows can make it a challenge. Comparatively, Blender works best with a workflow that has stood the test of time for most 3D applications.
Winner: Blender
6. Extensions
The range of plugins available to After Effects and Blender are so massive and distinctive that they're almost incomparable for serving such wildly different purposes.
After Effects plugins can range anywhere from the automation of social media outputs to elaborate animation generated procedurally.
One of the longest-running plugins is Trapcode Particular, which generates particle-based animation for such renderings of clouds, rain, smoke, and pretty much anything with volumetrics.
Lockdown can make it far easier to wrap a graphic around surfaces of either live-action footage or 3D models.
For more 2D physics, Newton 3 should deliver a smoother journey into crafting capable motion graphics. The only catch is that these plugins, useful as they are, will run you a pretty penny as prices can range anywhere from $50 to $1000, depending on the package and capabilities.
Blender, being open-sourced, has absolutely no shortage of plugins as well. Ragdoll Tools makes creating rigid body rigs much less of a headache with improved simulations and settings. Magic
UV can reduce the stress taken on when trying to map out your UV coordinates for your textured objects. FLIP Fluids provides better automation when it comes to simulations of liquids.
There are even highly specific plugins such as BookGen, which, as the name implies, can generate book objects on command should you require a shelf of novels or a full library. These plugins can range from being entirely free to costing a few dollars, usually well under $100.
Though Blender certainly has the cheaper of plugins, both applications have such an extensive library of add-ons that make them nearly equal in their span for animation capabilities.
Winner: Tie
7. Pricing
| Product | Regular Price |
| --- | --- |
| Adobe Creative Cloud | $52.99/month |
| Adobe After Effects | $20.99/month |
| Blender | Free |
After Effects comes under the Adobe Creative Cloud pricing subscription. For just the After Effects application, the monthly cost is $20.99.
However, to have a little more control over After Effects materials, it's most likely that you'll need Adobe's other graphic programs, leading to the immense value of purchasing the entire Creative Cloud for $52.99 monthly (there's a much cheaper version for students/teachers as well).
But Blender has Adobe beat once more for being an entirely free application for use, both personal and commercial.
With no licenses to worry about, you can simply download the program, install it, and tinker away to your heart's content, whether you're curious about animation or want to produce some professional content.
And for being open-source, it's easy enough for developers to retool the program however they wish.
So unless Adobe decides to make one of its higher-profile animation applications for free, Blender will always have it beat in this department.
Winner: Blender
8. Support
Adobe dedicates as many resources to supporting After Effects as to any of their other industry-standard applications. They have a troubleshooting guide for basic questions and a phone and ticket system for all technical issues.
In terms of learning the program, Adobe supplies tutorials and a user guide, and a support forum on everything from scripting to SDK. Poke around the internet a bit more, and you can find no shortage of presets and walkthroughs.
However, Blender's support has grown considerably more extensive for the community that has come together to support this open-source application.
While Blender may not have the benefit of a ticketing system per se, they do have an enormous amount of resources to more than compensate. Their documentation is highly extensive in versions built for both animation beginners and coding experts.
Tutorials on their website are free, and there are plenty of demo files to play around with as well. But it's the forums that are the biggest draw of Blender's support network. There's no shortage of creatives and developers in these spaces to assist with any questions, bugs, plugins, or other issues.
Even better, their support network also boasts a collective of certified trainers and studios, giving you a professional foot in the door.
The support offered by Blender just goes above and beyond what most animation software provides.
Winner: Tie
Final Verdict
Both applications excel incredibly well in different areas, and for other uses, there isn't a clear winner in either motion graphics or animations.
The mediums will create the most divide, given that After Effects is better built for procedural 2D animation while the likes of Blender is tailored more for 3D animation.
But another factor is the industry you'll be using them for. If you know you're going to be doing a lot of integration with recorded video, After Effects is the obvious choice.
If you know you're going to assembling heavy CGI either for an animated segment or accompanying visual effects, Blender is the application for you.
In truth, both applications can be used in conjunction with one another. Many artists will use Blender to craft 3D animation and then composite it alongside live-action footage in After Effects.
So if you're seeking to throw some starships or explosions in your video footage, it's advisable to use both. For being so useful for one another, this match has got to be a tie.
Frequently Asked Questions (FAQs)
What animation is Blender best suited for?
Blender has come branded as a 3D animation software, though it is capable of some toon-shaders and can be utilized for 2D animation with some tinkering.
What animation is After Effects best used for?
After Effects is mostly used to composite special effects over video and is also used for 2D animation and motion graphics. It can also be used as a video editor.
What projects have After Effects been used to create?
In terms of animation, After Effects has been used in several lower-budgeted animated series, namely adult animation. These projects include such TV shows as Archer, BoJack Horseman, and Aqua Teen Hunger Force.
In terms of visual effects, After Effects has been utilized for such films as Sin City, Iron Man, Sky Captain and the World of Tomorrow, and Stranger Than Fiction.
What projects have Blender been used to create?
Blender has been utilized to craft award-winning short animated films and is starting to be used in more movies, such as the animated feature Next Gen.