(Last updated on January 9th, 2023)
Which one is the better application when it comes to making photo edits? Find out in this head-to-head showdown to determine which one is the unique program for your photography needs.
Both applications of Affinity Photo and Adobe Lightroom were reviewed for this article based on how well they perform for photography edits. The two apps were reviewed for their aspects of interface, workflow, pricing, and more. With these aspects considered, they were rated in these areas on a scale of one to five.
Overview of Affinity Photo
Affinity Photo has been one of the critical applications in the Affinity Trinity, the other two apps being Affinity Designer and Affinity Publisher. As a successor to PhotoPlus, Affinity Photo operates as a raster-based photo-editing software.
Related: Affinity Designer vs Illustrator: Which One is Best in 2023?
Considered one of the key competitors for Photoshop, Affinity Photo has continued to be a powerful photography application since 2015. The program can read RAW and PSD files and is available on macOS, Windows, and iOS.
Pros
Cheaper one-time price when compared to Lightroom.
Powerful features that can aid in a number of different creative projects.
Detailed organizational tools for keeping projects together.
Cons
No Android version for mobile.
Steeper learning curve when compared to Lightroom.
Less intuitive workflow.
Overview of Adobe Lightroom
Lightroom started life as an off-shoot of Photoshop, favoring more of the photography angle and less of the raster graphics editing. After becoming its own thing, the app took off as a non-destructive photo-editing program, capable of editing RAW photos.
Unlike Photoshop, Lightroom's non-destructive format doesn't allow for graphical edits. It does, however, allow for easy changes for color and lighting through handy sliders. Specific changes to areas of a photo can also be accomplished with various brushes and other tools.
Worth noting is that Lightroom comes in two versions. The modern version of Lightroom, also known as Lightroom CC, can be used on desktop and mobile with a clean layout. Lightroom Classic is only usable on desktop computers and has a few more high-quality features for HDR imaging and panoramic edits.
Pros
The slider tools makes editing photos an incredibly fast experience.
Simplified import and export process for a workflow that doesn't require much extra time to organize.
Works on PC, Mac, iOS, and Android.
Cons
The monthly subscription price can add up over time to make this an expensive application.
Limited edits can be made in a non-destructive editing app.
Requires the addition of Lightroom Classic for certain projects.
Short Verdict
Lightroom is much easier to master and organize your photos than Affinity's complex yet robust photo-editing software.
Comparison At a Glance
1. Interface
Winner: Lightroom. The simplicity of Lightroom, makes for a cleaner interface that is easier to navigate.
2. Tool
Winner: Lightroom. The abundance of tools in Lightroom are not only handy but easy to use.
3. Feature
Winner: Affinity Photo. Affinity has a bit more than Lightroom when it comes to unique features of photo-editing and organization.
4. Workflow
Winner: Lightroom. The abundance of automation within Lightroom makes it the speediest of choices for quick editing of numerous photos.
5. Output
Winner: Lightroom. With more exportation options, Lightroom has a lot to offer when it comes to the output of finished photographs.
6. Platform
Winner: Lightroom. Lightroom edges out Affinity by being usable on Android devices.
7. Pricing
Winner: Affinity Photo. The one-time pricing of Affinity Photo makes it an easy choice for selecting the cheaper application.
8. Plugin
Winner: Lightroom. Lightroom's many plugins are not only greatly extended in their abundance but can even duplicate similar photo-editing programs.
9. Support
Winner: Lightroom. Adobe's extensive and helpful support for all their apps remains robust for Lightroom.
1. Interface
Adobe Lightroom
Lightroom's interface has been designed in such a way to guide the user through the photo-editing process quickly. The program has changed a bit over time to be more accessible, which you can see for yourself between the active versions of Lightroom and Lightroom Classic.
While Lightroom Classic was more of a bulky design, the latest Lightroom version is better built for both desktop and mobile. Images are easily accessible via a thumbnail album always present, tools are all located in a handy sidebar, and various tabs smooth out the workflow process.
The interface of Lightroom is so simple that it requires little to no instruction. For being such an easy interface to navigate, the application gets a perfect score.
Affinity Photo
Affinity Photo, by comparison, is far denser in its interface assembly. It's a look that's far more akin to Photoshop, given that it's not a non-destructive editor, unlike Lightroom. Thankfully, the interface is just a bit more simplified than Photoshop so that you're not too cluttered with options.
It should be noted that Affinity Photo is designed to a little bit more than just photo edits as you can add in color and draw on top of your photos. It is so similar to Photoshop that Affinity can even read PSD files.
That being said, Affinity Photo is also just as troublesome to navigate as Photoshop. For not being as easy to get used to as Lightroom, we had to take off a point.
Winner: Adobe Lightroom. Lightroom is just the natural choice in this category considering how clean, neatly organized everything appears. It is such a simple setup that even the most amateur photographers can hop right in and start making edits without much instruction. There's little poking around, or handbook reading required.
2. Tools
Adobe Lightroom
Lightroom has made a significant jump in better usability by changing most of its tools into sliders. Making edits to photographs is as simple as dragging the colors this way or pushing the contrast. The tools are easy to use and organized adequately for going from one editing parameter to the next.
The tools are incredibly intuitive that just about anybody can jump into the program without any training. The many sliders used for altering photos are perfect not just for quick fixes and real-time experimentation but also easier to use on mobile devices.
It's not just the tools for photo-editing that are compelling within Lightroom but for processing as well. Not only can you keep track of all your photos in a useful slider but experiment with multiple previews to find just the right one to publish.
The tools are a perfect mixture of simplicity, power, and speed. With all of these elements combined, Lightroom gets a perfect rating when it comes to editing tools.
Affinity Photo
Affinity Photo doesn't lag when it comes to tools, either. Many of the same functions can be accomplished within the program and even adopt a similar slider method for generating results. But there's far more to it than that.
Affinity Photo is also bursting with numerous other tools not present in Lightroom, ranging from background removal to paintbrushes of all sorts. You also have the added benefit of layers to try out different combinations of photographs and effects to achieve the best image possible.
All of this may sound like Affinity Photo would be the winner for having more tools. However, Lightroom edges out the competition here for the tools to be more intuitive but less of a challenge to navigate when trying to find the simplest of sliders. For these limitations, one point was taken off the score.
Winner: Adobe Lightroom. In terms of photo-editing applications with the most streamlined tools without a lot of hunting involved, the winner is Lightroom for having everything essential for the process out in the open instead of hidden behind windows and various toolbars.
3. Features
Adobe Lightroom
Given that Lightroom is non-destructive, this means that you can't precisely paint over any areas or make significant cosmetic changes to your photographs. You can still zoom in on pictures, focus on areas to highlight, or blur parts of the image. When it comes to changing more, however, Lightroom can't help you much there.
Lightroom's non-destructive approach to photo editing makes the process simple. While that makes the program sufficient for the most common of photography edits, it's not as ideal for making more elaborate edits of removing backgrounds and touching up faces. This is why the app gets one point taken off the final score.
Affinity Photo
This is Affinity Photo's moment to shine. As an application with more familiarity with Photoshop, you can accomplish most of the same techniques within that program. This includes everything from erasing backgrounds to painting over areas to cloning different graphical elements.
Affinity Photo is more of a raster graphics program that allows for more artistic changes than mere tweaks. This gives it a bit of an edge over Lightroom considering how much more you can do in the app. With only minor limitations in the many features, only a half-point was deducted.
Winner: Affinity Photo. There's just so much more that is capable within Affinity Photo than that of Lightroom. Everything that you can do in Photoshop you can accomplish in Affinity Photo. And since Lightroom's origins are more simplified and stripped down Photoshop, it's Affinity Photo that wins out in this category.
4. Workflow
A key component for a smooth workflow is organization. The most accomplished photographers will find themselves editing dozens or even hundreds of photos. For professionals, an organized assortment of photos can be the difference between a few minutes of edits and hours of sorting.
Adobe Lightroom
Lightroom, thankfully, has an organizational method of keeping all your photos nearly together. The process also doesn't take long as Lightroom automatically generates albums with the images you bring in, removing the extra effort it usually takes to import pictures.
But Lightroom's workflow stands out for more than just its organization. The modern version of Lightroom can be used on both mobile and desktop with cloud storage. This makes using the program ideal for those who find themselves going from working in the field to transitioning back to desktop when they get back to their office.
Also, Lightroom can automate the final process of exporting out your finished work. Specific plugins can push your finished photos straight out to either your website or the printers of choice. Once again, the exportation middle-man is removed from the equation.
The many innovations present for the workflow is what led to Lightroom getting a perfect score.
Affinity Photo
Affinity Photo, however, doesn't have much of anything present to keep your photos organized. You're pretty much on your own in this department when it comes to sorting through everything. This has been an issue with Affinity Photo for quite some time that users continue to bring this up as an issue to be resolved.
With enough practice, you could easily get used to the organizational methods of Affinity Photo. That being said, it's not as ideal for bigger projects. With this major issue, a point and a half was taken off the score.
Winner: Adobe Lightroom. Though Affinity can be suitable enough for editing photos on a one-by-one basis, Lightroom just has more to offer when speeding up the workflow process. The automation of organization and exportation coupled with the mobile support and dynamic sliders makes for a smooth and quick experience.
5. Output
On the surface, Affinity and Lightroom seem pretty similar in the quality of their output. They can both produce high-quality renders of altered photographs. However, there are a few areas where they differ in terms of the final product.
Affinity Photo
One area where Affinity Photo seems to have an advance is that it can push out HDR images. Affinity can produce HDR images on the mobile version, whereas Lightroom can not do so.
In addition, Affinity Photo can also push out photos in a variety of common formats. The key factor here is how well it handles HDR images, leading to this app getting a perfect score.
Adobe Lightroom
Lightroom's overall output is a bit stronger in terms of general output. This mostly has to do with Lightroom CC and how much of it can be automated. Additional plugins can streamline your photos directly to the source, cutting out extra time for exportation and uploading.
While Lightroom is capable of HDR image edits, this is only possible through Lightroom Classic and not the modern version. Switching between both versions is not as ideal, considering the extra effort and difference in interfaces. For this major issue, a half-point was taken off the score.
Winner: Lightroom. The race is pretty close in this department as both Affinity and Lightroom are quite competent. However, when it comes down to the variety of outputs, Lightroom wins out for simply having more options and cutting out the middle-man of sending pictures off to a website or the printers.
6. Platform
Affinity Photo and Lightroom are both thankfully usable on a wide range of platforms. Both programs can be used on PC, Mac, or iPad environments. However, as you may have noticed, there's one platform missing where they don't have the same crossover.
Affinity Photo
Affinity Photo appears to only be useable on iPads and not Android devices or iPhones. While the iPad version of Affinity is quite pleasing and powerful, the lack of support for other mobile devices may hinder the choice for those who need to make photo edits while traveling.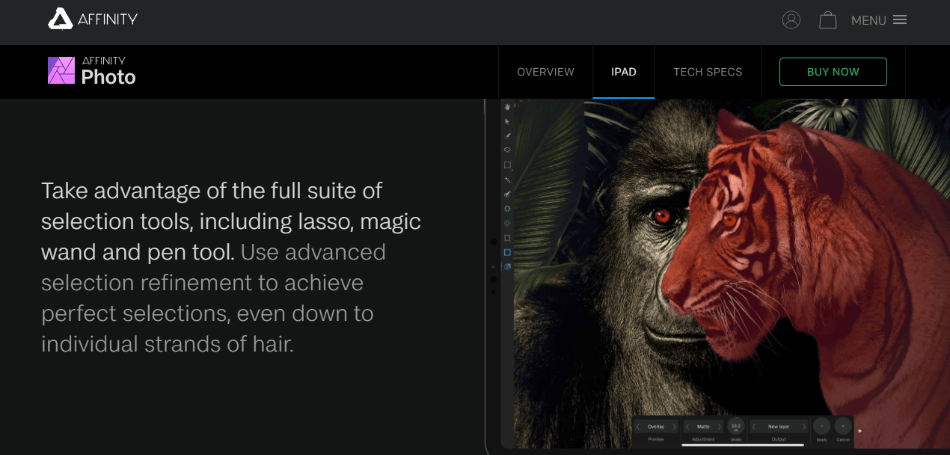 However, it's hard to overlook the lack of an Android version. While this may not be an issue for those who don't find themselves making photo edits on mobile devices, it will certainly be a dealbreaker for some. This big issue led to a one-point deduction.
Adobe Lightroom
Lightroom doesn't have this issue as the app is useable on numerous mobile devices. The only catch is that this is only possible with the latest version of Lightroom as Lightroom Classic will only work on desktop for your higher-quality edits.
For most photography edits, however, Lightroom can get the job done just fine. Having that application on all devices is a major step up from Affinity's mobile limitations. This is why Lightroom only gets a half-point deduction.
Winner: Adobe Lightroom. This category ultimately comes down to how functional the apps are at being useable for different devices as everyone has a different setup for photography. Given the scope of Lightroom, it's the clear winner for offering more to mobile users.
7. Pricing
Affinity Photo
Affinity Photo can be purchased at a simple one-time price. The cost is only $49.99, and that's all you have to worry about when it comes to owning the program. There are no hidden fees, pricing tiers for levels of access or subscriptions to take into account.
Considering how cheap this lifetime access pricing is, we had to give the app a perfect score pricing.
Adobe Lightroom
Lightroom, however, adopts the standard pricing method of all Adobe applications. Similar to every Adobe app, Lightroom requires a subscription to use. However, there are a handful of pricing tier options to get a better deal.
For $9.99/monthly, you can gain access to Lightroom for both desktop and mobile, with 1TB of cloud storage. For that same price, however, you can additionally purchase Lightroom Classic and even Photoshop.
The only significant difference between the simple Lightroom purchase and the photography plan is the matter of cloud storage. Sure, the photography plan gives you more apps, but you'll only get 20GB of storage. 1TB can still be obtained with this package if you pay $19.99/monthly.
The other option is you can just buy the complete Adobe creative suite for $52.99/monthly. This is a better deal if you think you'll be diving into other graphic programs such as Illustrator or InDesign.
No matter the choice, however, you will be spending quite a bit over time with a monthly expense for the app. This is not exactly a cheap photo-editing application, leading to a point and a half taken off the score.
Winner: Affinity Photo. Taking both Affinity Photo and Lightroom into account, Affinity is the clear winner here. The one-time price is a significant advantage over the subscription model and isn't too much when considering how Lightroom's monthly costs can add up.
8. Plugins
Affinity Photo
Affinity Photo does have an assortment of various third-party plugins that you can find listed on their website. Diced up between Windows and Mac plugins, the listings cite everything from Absoft to Zaxwerks when it comes to handy plugins for improving the application.
But when you look through the lists, you'll notice that each plugin has a symbol next to it. These symbols indicate how compatible or tested these plugins are, and it's a bit concerning how few green checkmarks for compatibility are present.
Most of the Affinity Photo plugins are either not tested, not compatible, or harboring their usage errors. While such information is undoubtedly helpful for selecting plugins, it does showcase how limited the range is for your choices. This is why one point was taken off the final score.
Adobe Lightroom
Lightroom plugins, by comparison, are far more stable and much more capable. Some of the most notable plugins can duplicate the effects of other photography programs. The likes of Luminar and Snapheal can easily be replicated within Lightroom after a simple plugin installation process.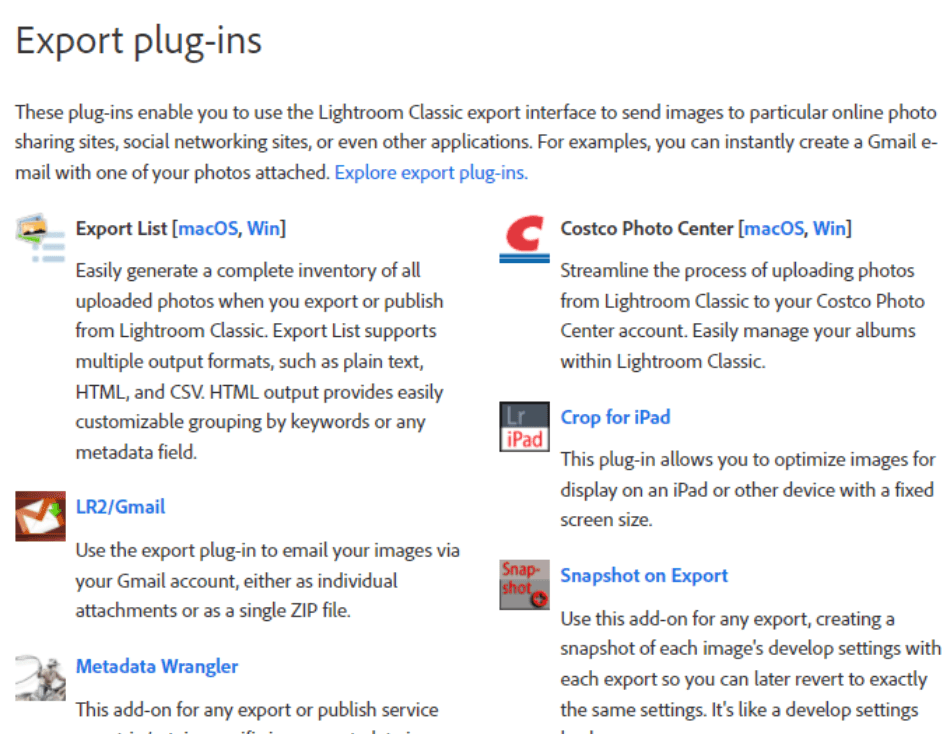 Some of the more technical plugins are pretty impressive as well. Hypertyle can make it possible to apply more than twenty filters to a single photograph. Topaz Adjust is an ideal choice for simplified color correction. Aurora HDR can grant higher quality to those seeking more dynamic photos.
The wide variety of plugins available are not only useful but will save a lot of time on your workflow. The versatility of these many extensions is why the app gets a perfect score.
Winner: Adobe Lightroom. With so many more stable and versatile options to choose from, there's no question that Lightroom is the more dominant application when it comes to plugins.
9. Support
Adobe Lightroom
Adobe's many programs have not become as revered as they are because the company skimped on support. Lightroom is no exception as it has the same level of dedicated support users expect from Adobe.
For starters, Adobe has various options for getting your tech questions answered. You can choose from either submitting a support ticket, calling a toll-free number, or reading through the various FAQs and manuals present on the website.
When it comes to mastering Lightroom, you can dig into the wealth of tutorials and plugins to browse through. There's also a forum for users to either submit questions or show off their work, as well as take a peek at what other photographers have been using the product for.
With so many avenues of help, Lightroom gets a perfect score when it comes to support.
Affinity Photo
Affinity Photo comes very close to matching a similar level of support. Under the Learn section of their website, you can find just about everything you need. There are video tutorials, PDF guides for both installation and shortcuts, a forum for asking questions, and a contact email for addressing bugs and other issues.
There are only a few small areas where Affinity lacks in support when compared to Lightroom. It mostly has to do with no phone support to ring up and the limited resources when compared to Adobe. With these issues considered, a half-point was taken off the score.
Winner: Adobe Lightroom. This category is a bit of a close call considering the abundance of support behind both applications. However, by sheer volume, Lightroom wins out simply for how long the app has been around and how many resources are present within tutorials and forum posts.
| | | |
| --- | --- | --- |
| | Affinity Photo | Adobe Lightroom |
| Platforms | Windows, Mac, iOS | Windows, Mac, iOS, Android |
| Graphics Format | Raster | Non-Destructive |
| Pricing | $49.99/monthly | $9.99/monthly |
Final Verdict
When it comes to editing photos, Lightroom is the far more ideal application. It has taken all the power of editing photos in Photoshop and refined it to such a degree that you won't need to fumble through various guides and tutorials to accomplish fixes for brightness, contrast, blurring, and focus.
Affinity Photo is by no means a terrible choice when it comes to editing photos. The app has a lot of features and is capable of pumping out the same results. The only issue is that it shares too much in common with Photoshop that there's far more searching involved for taking full advantage of the software.
If you want a more comprehensive and stylized photography editor, you can stick with Affinity Photo and Photoshop. Suppose you're seeking one of the more robust, speedy, organized, and more straightforward methods of editing many photos with excellent quality in record time. In that case, Lightroom is the winner when it comes to these aspects.
Frequently Asked Questions (FAQs)
Is Affinity photo as good as Photoshop?
Considering the price and capabilities, Affinity can perform just as much of the same tasks as Photoshop.
How much does Affinity Photo cost?
Affinity Photo can be purchased for a one-time price of $49.99.
Is Adobe Lightroom free?
Lightroom is free on mobile devices, but using the program on desktops will cost you the subscription price.
Which is better, Photoshop or Lightroom?
Lightroom is better built specifically for photo-editing, while Photoshop can do a little bit of everything as a raster graphics program.
How much does Lightroom cost?
Lightroom costs a monthly subscription of $9.99/monthly. You can also pay the same amount for the Photography Plan which comes with Lightroom, Lightroom Classic, and Photoshop.
Is Lightroom worth it for beginners?
Lightroom has been designed with such intuitive tools and an easy-to-read interface that it's easy to recommend for beginners. The simplified process for importing photos, editing them with sliders, and exporting them takes little time to learn.