(Last updated on January 9th, 2023)
Adobe Fresco or Procreate? Which is the better software these days?
Read our in-depth Adobe Fresco versus Procreate showdown to determine which software is right for you.
The two applications will be reviewed regarding how they handle digital illustrations. To review them, we'll look at how well they perform in the areas of interface, features, tools, and more. After being compared, we'll grade them on a scale of one to five and declare a winner of each category.
Overview of Adobe Fresco
Adobe Fresco is a digital painting app designed for tablet and mobile use. There are live brushes, vector and raster options, layering, stylus optimization, and more.
Related: Photoshop vs Photoshop Elements | Head-to-Head (2023)
The app is newer, released in 2019, and complements programs like Photoshop and Illustrator, especially.
Pros
Works well at developing projects with both vector and raster graphics.
Compatible with more devices and syncs well with other Adobe programs via the Creative Cloud.
Numerous resources and an active community to aid in technical and creative issues.
Cons
Costly subscription service to use that can add up quickly over time.
Limited customization tools for drawing.
Overview of Procreate
Procreate was created in 2011, specifically created for the iPad and Apple Pencil. The app is used by professionals and hobbyists worldwide.
Procreate is affordable, being a one-time purchase of $9.99, and is a powerful piece of software. The software is one of the best digital painting apps on the market.
Pros
The application is incredibly cheap with a one-time price of $9.99.
A wide variety of brushes with plenty of customization features.
Straightforward features and tools that are not too tough to learn.
Cons
The app can only be used on Apple devices and not devices with a Windows or Android operating system.
Lacking in support when compared to Fresco.
No in-app tutorials.
Adobe Fresco vs. Procreate: At a Glance
1. Features
Winner: Tie. Adobe Fresco and Procreate are great programs with a myriad of different tools. Each has its own unique set of powerful, customizable, and intuitive features.
2. Pricing
Winner: Procreate. Procreate is the winner for the price. The software is only $9.99 as a one-time purchase. In comparison, the full version of Adobe Fresco is only available via a subscription with Adobe. You can get a free version, but it's limited and not nearly as powerful.
3. Illustration
Winner: Procreate. Procreate was created specifically for digital illustration. The app provides many natural brushes that artists would use traditionally. Procreate also has more customizations to help you adjust your tools with precision.
4. Compatibility
Winner: Adobe Fresco. Overall, Adobe Fresco wins for compatibility. The app can be used on more devices and works seamlessly with the Creative Cloud family.
5. User Interface
Winner: Adobe Fresco. Adobe Fresco and Procreate have very similar interfaces. Fresco edges out because it is more customizable and intuitive.
6. Longevity
Winner: Adobe Fresco. Adobe Fresco wins over Procreate for longevity because of Adobe's program powerhouse. The full Creative Suite offers over twenty other applications.
In addition, Fresco works seamlessly with its most popular program Photoshop and works great with Illustrator. The versatility makes Fresco stand the test of time.
7. Support
Winner: Adobe Fresco. Adobe Fresco wins out over Procreate for Support. While both programs have a huge resource of tutorials, community forums, and more, Adobe's immediate chat support and in-app tutorials can't be beaten.
Short Verdict
Both Adobe Fresco and Procreate are professional programs with a lot to offer. If you are looking for a budget-friendly illustration tool, Procreate gives you the most value. If you're already using the Adobe products or want the flexibility of doing raster or vector work, Fresco is the best choice.
1. Features
Adobe Fresco and Procreate have a huge range of features. Both have unique strengths and many great tools that help you create a great illustration.
Adobe Fresco
Vector and Raster Brushes: In Adobe Fresco, you can have both pixel and vector layers with the ability to use both of them in the same project. While most software forces you to use either raster or vector, Adobe Fresco allows you to do both. The layers are labeled to differentiate between vector or pixel layers.
Live Brushes: This allows you to paint more naturally, with paint flowing according to the medium of oil or watercolor. Colors will mix as you paint on the canvas. You can also dry the layer as you go and paint over colors, allowing you to build up thickness.
Fresco provides a huge library of brushes. You can download Photoshop brushes to use here too.
Has built-in learning tutorials, walking you through step by step. Here, you can learn everything from the application's layout to in-depth tutorials on a skill.
Has layering ability, allowing you to stack, merge, and group layers. You can adjust opacity and blending modes. You can also mask layers.
Share your work for feedback in-app. Fresco has an incredible feature labeled Share for Feedback, giving you a link to send your work out to Adobe users and non-users. The tool allows them to comment on the work, pining, or circling the design and leave notes. The designer can reply, delete, and resolve the comments.
Has a color wheel that shows you recent colors, gives you Hue/Saturation/Brightness sliders, and lets you adjust the opacity.
Livestream your work to Behance, a platform for Adobe creators to share and display their work.
Gesture control, allowing the user to use finger movement shortcuts in the application.
With so many features, Fresco is a stellar application for mobile design. The various brushes are great for creating detailed illustrations, and the collaboration/sharing tools are rather handy if you want multiple eyes on your work. For these many features, the application gets a perfect score.
Procreate
Over 200 brushes are included in the application. Types of brushes are sorted by activity, ranging from calligraphy, sketching, painting, charcoals, airbrush, and more. It can also import Photoshop brushes.
Brush customization is very precise. You can adjust everything from the taper, grain, color dynamics, Apple Pencil settings, wet mix, and more.
Exclusively created for iPad. Therefore, curated to work seamlessly with the iPad and Apple Pencil. The responsiveness of the stylus is excellent and intuitive.
Extensive color palette options. You can switch the layout from disc classic, create palettes, and view color history.
Intuitive animation using the Animation Assist tool. The design is incredibly easy to use. You can set the running to be in a loop, ping-pong, or as one shot. The app also can set the frame rate and adjust onion skinning with precision.
Has a smudging tool, allowing you to blend and mix the colors in your artwork. Customizable, allowing you to use different brushes to create a variety of effects.
The interface includes personalization, allowing you to switch the view from light/dark, left or right-handed, add a brush cursor, and more.
Adjustments: This allows you to adjust hue, saturation, color balance, curves, and more. You can add filters like Gaussian Blur or even use powerful tools such as Liquify.
Gesture control. Lets the user create shortcuts. For example, double-tap means to undo, three-fingered tap means redo. Press and hold selects a color.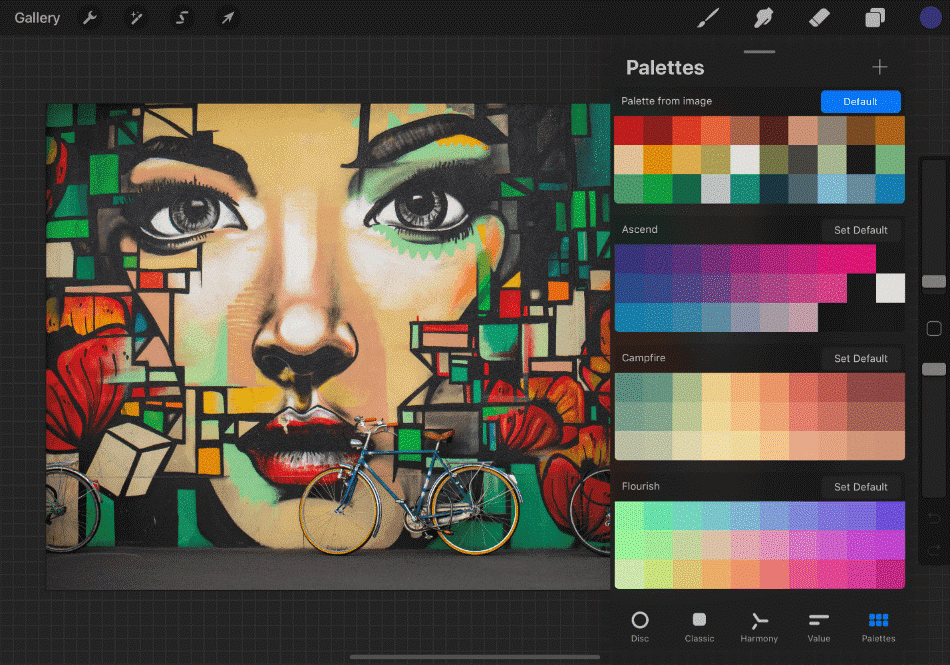 As you can see from the list of features, Procreate has a lot of similarities to Illustrator. Even with some minor limitations, it still has some unique functions exclusive to itself. With so many incredible features, this app also gets a perfect score.
Winner: Tie. Overall, both Procreate, and Adobe Fresco are jam-packed with features. The programs tie with each other because they both have unique tools that the other doesn't have. They are fantastic apps with a ton to offer.
2. Pricing
Both Adobe Fresco and Procreate offer reasonable plans for pricing. However, Procreate's one-time fee is a better value than Fresco. Let's break down why.
Adobe Fresco
Adobe Fresco has a few options when it comes to pricing. Here's what Adobe offers on their website:
Free: Adobe offers a free version of Fresco. While the free version is limited, you can still try out many application features to see if you want to buy the premium paid version.
$9.99/month: The premium paid version offers a 30-day trial, then a $9.99/month price after. The plan includes 100 GB of cloud storage.
$20.99/month: This subscription bundle includes Photoshop for desktop and iPad, Adobe Fresco, and Adobe Spark. The plan includes 100 GB of cloud storage.
$52.99/month: This is the full Creative Cloud Suite Subscription, giving you access to over 20 Adobe applications, Fresco included, and 100 GB of cloud storage.
$19.99/month: Adobe offers a discounted plan for the same full Creative Cloud Suite listed above if you are a student or teacher.
Fresco can work well with certain limitations with a few options to choose from. That being said, you will have to pay more if you want more. For these additional costs, a point was taken off the score.
Procreate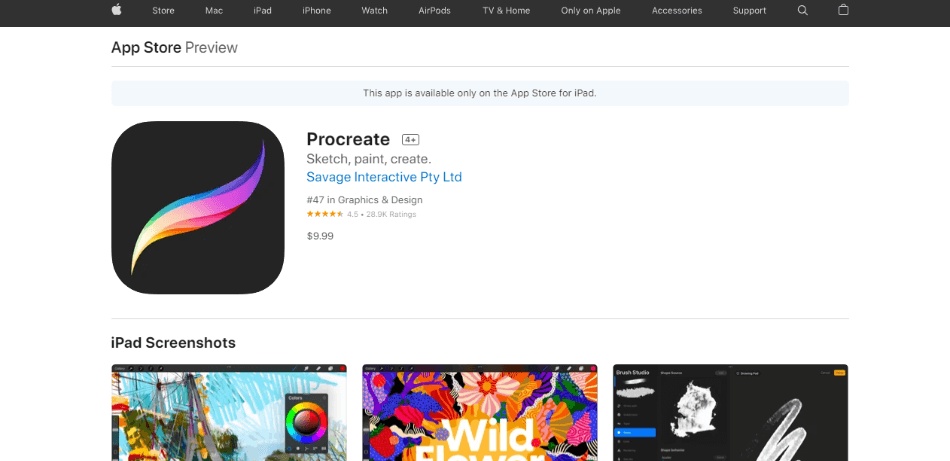 Procreate is available for $9.99 as a one-time purchase with no additional fees. You also get upgrades for free. Meanwhile, to get the fully functional Fresco app, you must sign up for a recurring Adobe Subscription.
Paying a one-time fee is going to save artists a lot of money. Considering that the initial investment is rather cheap, it's absolutely worth the $10, considering the free upgrades. For being so cheap, Procreate gets a perfect core for pricing.
Winner: Procreate. Overall, Procreate is the better choice when it comes to price. You only have to pay $9.99 once for a full-featured application. While Adobe gives you the choice of a free Fresco application, Procreate gives you more for a great value.
3. Illustration
Adobe Fresco
Adobe Fresco has brush packs available for free download. Online, tons of creators make brush packs for free or purchase, available to download and import into either program.
In Fresco, there is a color wheel, color history, and color adjustment by hue, saturation, and brightness. Fresco has a combination of vector, raster, and live brushes, making the program compatible with vector-based programs like Illustrator and raster-based programs like Photoshop.
There are some similarities Fresco has with Procreate. Both programs use layers, allowing you to make non-destructive edits. Layering is vital when creating texture layering or collages, layering different media on top of one another. Both programs have blending and opacity modes as well.
Looking over the many tools, it seems that Fresco is lacking a bit in the same level of customizations and details. For such limitations, a point was taken off from the score.
Procreate
Procreate has better options for color. You have the familiar features of color wheels, plus you can create color palettes, enter a hex code to find a color, switch between color wheel layouts, and more.
Procreate has color drop: with the layer selected and locked in Alpha Lock mode, a selected color can be dragged and dropped on the painting, quickly changing out one color for another. Procreate also has several filter modes, including the liquify tool and gaussian blur.
The Brush Studio panel lets you precisely adjust Stroke Path, Taper, Shape, Grain, Wet Mix, Color Dynamics, and more, allowing you to live sketch with the brush inside the panel to test the brush and see the changes in real-time.
The palette tool is especially powerful, allowing you to create color palettes from photos custom palettes, and import other palettes. Procreate offers more precision when customizing brushes as well.
While Procreate is only raster-based, the brush library is extensive, with over 200 brushes to choose from. Procreate has resource libraries on their website, allowing you to download brush packs from other creators. Still, for having that limitation of being raster only, a point had to be taken off.
Winner: Procreate. Overall, Procreate wins out as an illustration tool. The features are intuitive, and there are more brush and color customizations, making digital illustration a piece of cake.
4. Compatibility
Adobe Fresco
Adobe Fresco is available across a variety of platforms. You can use it on Windows and Apple Desktop, iOs, Android, and iPad. The app supports the Wacom tablet and other pressure-based workflows to get the most out of the brushes.
As a mobile application, there are plenty of options that no matter the device, you can use the program. Be it an iPhone or an Android, Fresco covers these platforms. For being so versatile, Adobe's application gets a perfect score.
Procreate
Procreate was created exclusively for iPad users. While the app is best used with the Apple Pencil, other styluses can be used.
Procreate Pocket, its sister app, can be used on iPhones. Procreate cannot be used on Windows models and other tablets. This limitation makes the application unavailable for non-apple users.
Both Adobe Fresco and Procreate allow users to import and use Photoshop brushes. Importing Photoshop brushes is great for someone switching to Procreate as their main drawing application, also widening the number of brush resources for Procreate.
With Fresco having more to offer when it comes to compatibility and Procreate seeming so limited, two points were taken off for the inconvenience.
Winner: Adobe Fresco. Overall, Adobe Fresco is more compatible, working across mobile and desktop, Windows, and Apple. Because Procreate was made exclusively for iPad, the audience will always be limited.
5. User Interface
Both Adobe Fresco and Procreate's interfaces are very customizable. The programs contain several switches and adjustments, allowing you to have the best user interface experience.
Both Adobe Fresco and Procreate adjust for left or right-handed people. By switching to the right mode, all of your tools will be easily accessible from the right side or vice versa.
Adobe Fresco
Adobe Fresco's interface is very clean. You have tools on the left, right, and top bars. After clicking on a tool, you can drag the panel anywhere on the canvas.
Movable panels can be very helpful. For example, if you are painting and need to switch colors, you can drag the color panel with you and keep it close at hand. Such versatility and pleasing layout are why Fresco is getting a perfect score.
Procreate
Procreate's interface is simple and easy to use. In the default, you only have tools to the top and left of the screen. The functions are neatly tucked away, allowing the interface to be clean of distraction.
That being set, the customization settings are rather limited compared to Fresco. It's also a tad tougher to grasp how compartmentalized the whole interface appears. For such issues, a half-point was deducted.
Winner: Adobe Fresco. Overall, Adobe Fresco's user interface is better. You can do more customizations, utilize a clean, full-screen mode, and move panels around to be in a better position. Overall, Fresco is more user-friendly.
6. Longevity
Fresco
Fresco is a newer app than Procreate, released to iPad in 2019. The application is already a direct competitor, super powerful with the tools provided, and a gamechanger in the industry.
Fresco is powerful because of its versatile ability to work in both vector and pixel. This ability allows you to create vector graphics that are scalable at any size. With a myriad of traditionally based brushes at your fingertips, you can also create natural-looking digital artwork as well.
One negative factor for Fresco has been the subscription model. This plan has been alienating many Adobe users, causing people to leave the software altogether or begrudgingly feel trapped in a monthly payment cycle.
If other companies start to have a similar family of apps with the same robust support system as Adobe AND offer a one-time purchase model, Adobe will be in trouble.
If they don't rethink their pricing model, users will switch to a more affordable solution. Why pay more for the same features?
For now, the software's vast capability and frequent updates, new features, and support system keep Adobe's fanbase captivated, even with the annoyance of shelling out hundreds year after year. For the longevity of Fresco, only half a point is being taken off for the pricing.
Procreate
Meanwhile, Procreate is an awesome app. The illustration tools are incredible. Many professionals and hobbyists use it as their main digital application.
Procreate's limitations include its exclusivity to iPad users and the fact that it doesn't have a huge family of support applications surrounding it. For these many issues, a point was removed.
Winner: Adobe Fresco. Adobe users will flock to using Fresco. While Procreate is great as a stand-alone program, its single-app status makes it more vulnerable to standing the test of time.
In terms of longevity, Adobe Fresco takes the cake. Procreate is a great application, but it doesn't have a huge family of sister programs to support it.
7. Support
Adobe Fresco
Adobe Fresco has great in-app tutorials to teach you the program. You can do lessons on brushes, program basics, advanced tutorials to teach you realistic oil paintings, and lessons on making editorial collages.
Fellow artists also broadcast live streams, allowing you to watch their process from beginning to end.
On Adobe's website, they have tons of written instructions. You can read about a specific feature, look over the overview, and so much more. For Fresco, they go over the basics and advanced techniques.
On Adobe Support, you can contact live Adobe professionals 24 hours a day, Monday – Friday. There is a huge community forum where users post questions, where professionals and other peers then answer.
This support system is especially helpful when new updates and features roll out, sparking new bugs and questions that come with big changes. With so many strong options for support, Fresco gets a perfect score.
Procreate
Procreate has a full online handbook for teaching you the ins and outs of the software. The handbook provides an overview of topics such as Adjustments, Selections, and Transforming, and then breaks them down in detail. The handbook is extensive with photos and instructions, allowing you to dive in and learn everything.
Procreate also has a community forum online. Here, you can do everything from posting your latest creation to sharing suggestions and getting help on a topic. You can search, look for topics, and sort by postdate or recent activity.
The resources tab on the community page is especially useful. Here, users post brush and texture packs, tutorials, and helpful links for the creative community. The page is a great way to find new ideas, learn a skill, or get a new resource.
Lastly, you can also contact the developers directly or browse the FAQ page. The developers encourage you to message them about bugs in the program or provide a suggestion. They make direct contact easy. Considering that the support is only mildly limited compared to Adobe, only half a point has been taken off the score.
Winner: Adobe Fresco. In terms of support, Adobe Fresco edges out over Procreate. Both have great tutorials and support features, including community forums and step-by-step guides. While Procreate has a ton to offer, Adobe Fresco gives you a bit more to work with.
Overall, Adobe Fresco has more support than Procreate, giving us in-app tutorials and, 24/5 support, fantastic features when working with complex software. While Procreate's support resources are abundant, Adobe Fresco edges out.
| | | |
| --- | --- | --- |
| | Adobe Fresco | Procreate |
| Works On | Apple Desktop, iOs, Android, iPad | Apple Desktop, iOs, iPad |
| Best Suited For | Industry Professionals | Designers on a Budget |
| Pricing | $9.99/monthly | $9.99 once |
| Discounted Price | Check here | No Discount |
Final Thoughts
Procreate, and Adobe Fresco have great illustration capabilities. Getting the programs depends on what you currently use and what you need the software for.
Adobe Fresco users may already have the Adobe suite. If you plan to use the Adobe Suite now and in the future, there is no reason to get an additional app. Fresco is included with the Photoshop plan and the full Creative Cloud Suite already, making it the best choice.
Adobe Fresco also wins out if you want to create vector illustrations. Here, you can create resizable vector graphics, finishing in applications like Adobe Illustrator.
Procreate is a great choice if you want a budget-friendly and powerful illustration tool. The illustration capabilities are fantastic, and a one-time fee of $9.99 doesn't break the bank.
Frequently Asked Questions (FAQs)
Is Adobe Fresco better than Procreate?
Both programs have their strengths and weaknesses; procreate is the best for digital, raster-based illustration. Fresco has more flexibility, letting the user create raster and vector illustrations.
Do you have to pay for Adobe Fresco?
If you want the full-featured premium version, yes. Adobe also offers a limited free version.
How much will Adobe Fresco cost?
The cheapest plan for the premium application is $9.99/month. Adobe only offers subscription-based pricing.
Is Procreate a one-time purchase?
Yes, Procreate only costs a one-time fee to use. Once you pay $9.99, the application is yours to use personally or professionally. Updates are also free for the app.
Is Procreate as good as Illustrator?
Procreate doesn't have the same depth as Illustrator when developing detailed designs. It lacks some tools for scaling designs and doesn't have the same level of integration with other Adobe programs.
Is Adobe Fresco free for iPad?
Yes, Fresco can be downloaded for free on the iPad. However, it does come with limited features, and you'll have to pay for a monthly subscription if you want more options.
Anne is a filmmaker and writer with a passion to bring stories to life. She has created several short films, specializing in stop-motion animation. Anne has over eight years of filmmaking experience, and she is always ready to share her knowledge with other creators. She started her company Anne Gets Creative in 2020.
Anne is extremely familiar with many Adobe programs: Photoshop, Illustrator, InDesign, After Effects, Premiere, and Audition, to name a few. She has also worked with other programs such as Procreate, Canva, iMovie, and Final Cut Pro. She always strives to give the best software reviews, researching diligently so her readers don't have to.